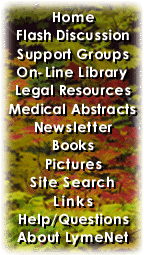 ---
LymeNet on Facebook
LymeNet on Twitter
---
---
The Lyme Disease Network receives a commission from Amazon.com for each purchase originating from this site.
When purchasing from Amazon.com, please
click here first.

Thank you.




Dedicated to the Bachmann Family


LymeNet needs your help:
LymeNet 2020 fund drive

The Lyme Disease Network is a non-profit organization funded by individual donations.

| | |
| --- | --- |
| | |
Author
Topic: Scared Mother of 2

Michele
LymeNet Contributor
Member # 13669


posted

---

I've been off abx for about 3 weeks and some symptoms are coming back...muscle achiness and a rash on my head....very tired. I have to be off of abx for at least 14 days before appt. with Dr. C.

I have an appt with Dr. C late this month and I'm just so scared that I'm not going to be around to see my kids grow up. Or I won't be in any shape to enjoy anything with them anymore.

I'm only 37 and my kids are so young and just don't understand that mom doesn't have the stamina that she used to. It took everything I had to go to to my son's ballgame last night.

I've read notes out here about people that have been sick for years and I'm just scared.

So many people have told me not to see Dr. C that he is not a "real" physician.

I get confused.....sorry, I know this probably isn't the right place to post.....I just needed to vent to people who understand.

Thanks for listening...

---

Posts: 124 | From Indiana | Registered: Oct 2007 | IP: Logged |

HaplyCarlessdave
Frequent Contributor (1K+ posts)
Member # 413


posted

---

quote:

---

Originally posted by Michele:
I've been off abx for about 3 weeks and some symptoms are coming back...muscle achiness and a rash on my head....very tired.

---

Yes, this sounds similar to what happened to me. I ended up having to have multiple antibiotics (abx for short) for well over 2 years. But that probably could have been considerably shorter if I had found a doc that knew about lyme and other tbd's (tick-borne diseases) right away. The system of medical 'care' in this country is, of course, partially responsible for the difficulty is getting proper treatment for Lyme, and associated tbd's.

This board is sure to be very helpful to you; without it I'd still be sick. Welcome, and I hope you get on the right track toward recovery soon!
DaveS

---

Posts: 4567 | From ithaca, NY, usa | Registered: Nov 2000 | IP: Logged |

bettyg
Unregistered



posted

---

hi michele,

fear ofthe unknown is pure hell! so the more we prepare for our 1st lyme visit, the less we will be apprehensive.

be sure to read FIRST LLMD APPOINTMENT in newbie package i sent you earlier. if you haven't copied it over to your "word processor whatever name it is", please do!

then use EDIT, FIND, and type in what i typed; if it doesn't find anything, eliminate a word like first.

keep hitting enter until it's searched all 88 pages.

are you talking of dr. C in missouri; you've got the best the midwest has to offer!! worth every dollar.

if you post in support, GENEAL also has to very young boys; perhaps sometime you can PM here or just post online for other young moms w/kids to benefit from your combined wisdom!

good luck; we're here for you anytime!

---

IP: Logged |

hardynaka
Frequent Contributor (1K+ posts)
Member # 8099


posted

---

Michele, most people improve with treatment, no matter what treatment they choose.

I've seen this on and on here since I came to this board. It may take time to figure out what to do, the treatment must be changing often to work, but most people, IF treated, improve. Many considerably and some reach full remission.

I'm also a mother of a little girl, I know exactly your thoughts.

I'm back to fully active life. No more on lyme treatment, except for preventive herbs (I DON'T want a relapse).

My girl suffered more while I was still here, but NOT present, just a piece of 'meat' lying on the sofa the whole day. That was the biggest suffering for me, seeing her desperation for getting some attention, and I was unable to give her any, that went months and months on.

Just do your treatment, be positive. Talk to your children, even if they're too small to understand.

My child today is 4, she was only 1 when I fell very sick like that. She still has 'scars', she keeps asking me 'are you alright, Mom?' if I look tired or thoughtful sometimes.

Since she was 2 and 3, she knows these questions: 'are you fine, mom?', or 'do you feel well, mom?'

I'm glad I'm here now for her and for myself. Full of energy to read, dance, sing, teach her things and languages, go out with her to exercise, for sun, to the swimming pool, to tell her stories, things that I didn't give her fully when she most needed.

Take care and never ever give up!
Selma

---

Posts: 1086 | From Switzerland | Registered: Oct 2005 | IP: Logged |

Geneal
Frequent Contributor (5K+ posts)
Member # 10375


posted

---

I knew I was dying prior to being diagnosed with Lyme.

I thought I had a brain tumor. What else could explain all of the

Neurological symptoms I had?

I googled my symptoms and came up with Lupus or Lyme.

Well I knew it wasn't Lupus. I had a complete ANA panel done and it was negative.

At the time of diagnosis, my children were 3 and 5.

I was scared to go to sleep at night because I was afraid my children

Would find me dead in the bed in the morning.

I've been treating for a year. It has not always been a pretty sight either.

Then about 5 months after my diagnosis my husband was diagnosed.

Then I started noticing strange symptoms in my kids.

They were diagnosed with Lyme last June.

I know in my heart that we are going to make it.

Me to remission. My children, God willing, will be cured.

I have to admit I didn't know anything about Lyme except that it was carried

By ticks and found in the NE of US.

I had no idea that it could cause all of these horrible physical/neurological/mental

Issues that I had and still at times have.

I know you are scared. Take that fear and turn it into

Determination. I am determined to beat this thing back.

I am determined to raise healthy children.

I may have not always been the "funnest" Mom to be around (still aren't) .

I have quality now. That is so important. I can appreciate my children.

Prior to diagnosis and beginning of treatment, I was like a zombie going through

The motions. My life was like a dream, or nightmare to be more exact.

I still can't jump on the trampoline most days.

(That may be a good thing )

I can, however, take care of my children and really appreciate the ability to do so.

They know I love them and I tell them all the time.

I explain how Lyme makes Mommy not feel well.

Since they don't feel well all the time either, they understand for the most part.

Hang in there. You need to get well for your children.

For yourself. There is life....Always the most important thing.

If God had wanted me, I wouldn't be here now.

Without Lymenet (I prayed to find help), getting a referral to a LLMD

(I prayed for that too) and getting the right treatment, (yet another prayer)

I don't think I would be here. God led me to this site and to treatment

Through the Angels here.

Get mad. Get mad at this disease. Get after it and get better.

BTW, although I don't see Dr. C, My LLMD trained under him.

I adore my LLMD. I've never heard bad things about Dr. C.

Just how he has saved so many people's lives.

Sending you positive thoughts and prayers.

You will get through this.

PM me if you need to. I am always here.

Hugs,

Geneal

---

Posts: 6250 | From Louisiana | Registered: Oct 2006 | IP: Logged |

WillBDone
Member
Member # 14269


posted

---

What wonderful words of wisdom everyone has shared!

I know I have found a great deal of comfort just coming here to Lymenet and discovering that I am not alone in this journey. You are on the right track just by being here

I am a 39 year old mother of 4 children under 8 years, and just found out I have Lyme this past November.

In the meantime, my husband is beginning to experience some of the same symptoms and just began treatment this week.

What I found the most encouraging was to read all of the success stories! There are some remarkable ones...

Those success stories have given me great hope that things will improve.

This experience has brought me to my knees in prayer, like I have never prayed before.

When it comes to suffering, most of us naturally want to avoid it like the plague. But the reality is, each of us will suffer at some point in our lives. Whether it's from the loss of a loved one, a serious illness, financial hardship, etc.

My hope is that all of us would endure this suffering with hope and confidence that things can improve. Knowing we aren't alone in this makes all the difference. YOU are not alone!

We can come out on the other side of this experience THAT much stonger and wiser because of it, with an even greater appreciation for each precious day the Lord gives us.

May you find the strength to endure...whether it's through your spiritual connection, or by leaning on the shoulders of those who have gone before you on this weary road.

Keep looking up and keep putting one foot in front of the other. I'm right there with you, creeping along in my recovery, as I try to be a decent mom to my children. THEY are reason enough to keep fighting!

Be well- Brandie

--------------------
"You play the hand you're dealt. I think the game's worthwhile."

C. S. Lewis


---

Posts: 36 | From Illinois | Registered: Jan 2008 | IP: Logged |

CaliforniaLyme
Frequent Contributor (5K+ posts)
Member # 7136


posted

---

Dear Michele,

I was very very ill with bad neuro Lyme and going into demetnia and am 100% symptom free due to longterm abx. I know you have a great doctor if he is who I think he is- and I believe you will get better!!!
Just hang in there!!!
Best wishes,
Sarah

--------------------
There is no wealth but life.
-John Ruskin

All truth goes through 3 stages: first it is ridiculed: then it is violently opposed: finally it is accepted as self evident. - Schopenhauer


---

Posts: 5639 | From Aptos CA USA | Registered: Apr 2005 | IP: Logged |

Lymetoo
Moderator
Member # 743


posted

---

Hi Michele! Hang in there...help is on the way!!!

I don't quite understand why you've been off abx for 3 weeks and you have two more weeks to go when you only HAD to be off for 14 days?

I guess it's too late now to do anything about that, but I feel for you!! I know how rotten you must feel!!

As for Dr C....He's the most "real" doctor I've ever had!

Onward, forward to better health!!

When to Suspect Lyme Disease
http://tinyurl.com/lx2pz

More info:
http://www.ILADS.org/

Wild Condor's Links and information:
http://www.wildcondor.com/lymelinks.html



--------------------
--Lymetutu--
Opinions, not medical advice!


---

Posts: 95978 | From Texas | Registered: Feb 2001 | IP: Logged |

mtree
LymeNet Contributor
Member # 14305


posted

---

Michele.....

I was undiagnost for years.........
diagnost in 1990......
very sick........couldn't walk.....neuro stuff....pain......went through....hell.....

but after years of antibiotics......Iv's and orals..and.....great doctors....
I did go into remission.....for years!

I had some icky stomache problems etc......but was Lyme symptom free....

I am back on antibiotics right now.........started getting symptoms in August 2007......possibly re-bit....who knows...

..thinking that its just my fibromyalgia.....I didn't do anything.....finaly in december it was very clear to me....its Lyme.....

so here i am back on Doxy.. ..and ya know what.....yes I'm bummed...yes I'm mad.... ....yes i'm sick again....

but I know that i will get back to remission......I was there.....it can happen....

I know your fear.....

When I was at my worst...for several years....my kids were 4 and 7.......

my prayer everyday was......that I just wanted to take care of my family......the daily stuff....
I wanted to read to them..fix dinner..give them there baths....play.....be the class mom.....

my mom would come stay with us....for short amount of times.....and my son would cry when she left each time.....broke my heart.....

I was couch bound for so very long......

I did seek counceling once......and something she said I'll never forget..

..I told her that I didn't want this for my children.....I didn't want them to be a part of this...horrible life of...nurses coming to the house ...

..seeing mommy on the couch all the time.....coming to doctor appoinments with my husband and I (no babysitters)....

and she said to me......that maybe I might be raising .....wonderful..compassionate.individuals...

..and that they are wittnessing and growing up watching you and your husband... your commitment to each

........your unconditional love for each other....

.....and I have to say Michele.....
my kids...young adults ( 21 and 24)now

grew up and did become what she said.....they are both very careing individuals....good hearted....would do anything for anyone...

and they both are going to school for medical stuff....they have no problem being around sick people....go figure...

you would think they would be the opposite.....

.my son will be graduating as a respitory therapiat in May.....daughter is going for Radiology Tech....

...and she works at a hospital (for years)..as a patient transport and now..as a one on one...

yes their lives were pretty awful ....no money....just god awful..it was difficult for all of us.....

but what I've noticed over the years.as my kids grew up was.

..my kids friends families were so disfunctional...so not together...and ......they had health and money..but...

.by the time my kids graduated highschool most of their friends parents weren't together..divorced..

.even with healthy moms....my kids friends loved coming here...I had the snack drawer..(their own moms were working full-time)......I was always around.

I was home throught there childhood....not by choice.....

..but when I look back now...that was a blessing........the things I would have missed........

...and I was class mom.....several years..girlscout leader ...CCD teacher...(all the other moms were working full time)

I guess my point is.....(sorry that I rambled).....

you will get better.....

and talk to your kids......ask them if they have any questions of whats going on...

even if you just sit and watch a movie together...make it a date...

we watched America's Funniest home video's......especially when it was IV time......tried to make it not such an icky time of day....

we all still love that show....

my son never wanted to talk about me being sick...which was ok....he was getting what he needed from my mom and my husband....

but my daughter she always asked questions.....
....is mommy going to die?? at 5 years old........

nope!nope!nope!.....sometimes they just want to hear that.........

Michele......
just the fact that you are concerned with your kids well being....makes for a great mom...

I hope any of that helps.....
I know I rambled........but somethings that people have talked about on here......

has really helped me........

stay strong.....
and go by some America's funniest home video's.....!!

have a good day!
mtree

--------------------
worrying about tomorrow takes its strength away from today


---

Posts: 970 | From Point PLeasant , NJ | Registered: Jan 2008 | IP: Logged |

Vermont_Lymie
Frequent Contributor (1K+ posts)
Member # 9780


posted

---

Hi michelle,

Hang in there! While the beginning of treatment is not always easy, proper treatment by a lyme literate doctor works, and people (including me) do get better!

It is not always easy when you first start treatment, and I hope you get back some of your energy soon. I was very ill with years of untreated lyme and babesia when I started antibiotics last summer, and today I have most of my energy back! And that feels great.

Please be sure to read lots, being an informed patient is really important for folks with tick borne diseases. Take care.

---

Posts: 2557 | From home | Registered: Aug 2006 | IP: Logged |

luluMN
LymeNet Contributor
Member # 12703


posted

---

Michele~

I was 37 when I was diagnosed in Sept(38 now) and have 2 young kids as well..(5 and 7)

When I was at my sickness and had no idea what was wrong with me, I was so scared. And that fear is so unhealthy for our bodies that are trying so hard to heal. I know that's if tough right now, but you have to be positive...Though I am not totally better yet (have only been in treatment for 5 months,) I truly do think I will get better, with time. I read about too many people who have been successful!

I also see Dr. C ( I am assuming you are speaking of Dr. C in MO?) He is wonderful, and I have never heard anything about him not being a "real" doctor. I would say quite the opposite! The first thing he did for me was make that terrible fear of the unknown go away! He gave me my hope back! That was the biggest gift....

As for my kids, I still am heartbroken about last year when my daughter was in Kindergarten..I was so sick and she just went to half day...she would come home and it took everything for me to crawl out of bed, dry my tears off, and open the door for her..She'd come in all happy and I could hardly hold my head up to talk to her...I was so fearful of what what would become of me.

I'd have to lay back down on the couch and she'd end up making her own lunch: Crackers with cheese. I'd watch her and just cry with guilt. But if you ask- her she loved it! Loved "being big" and doing things for herself...Kids can be so oblivious to "real" life, whcih is great sometimes.

Please hang in there until you see Dr. C, he will help you.. You are not alone though! I have have also left you a private message as well...

Thinking of you,
Laura

---

Posts: 232 | From MN | Registered: Jul 2007 | IP: Logged |
Contact Us | LymeNet home page | Privacy Statement

Powered by UBB.classic™ 6.7.3

---
The Lyme Disease Network is a non-profit organization funded by individual donations. If you would like to support the Network and the LymeNet system of Web services, please send your donations to:
The Lyme Disease Network of New Jersey
907 Pebble Creek Court, Pennington, NJ 08534 USA
http://www.lymenet.org/
---
Home | Flash Discussion | Support Groups | On-Line Library
Legal Resources | Medical Abstracts | Newsletter | Books
Pictures | Site Search | Links | Help/Questions
About LymeNet | Contact Us
---
© 1993-2020 The Lyme Disease Network of New Jersey, Inc.
All Rights Reserved.
Use of the LymeNet Site is subject to Terms and Conditions.
---