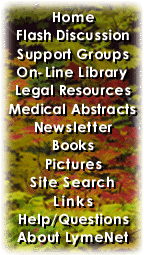 ---
LymeNet on Facebook
LymeNet on Twitter
---
---
The Lyme Disease Network receives a commission from Amazon.com for each purchase originating from this site.
When purchasing from Amazon.com, please
click here first.

Thank you.




Dedicated to the Bachmann Family


LymeNet needs your help:
LymeNet 2020 fund drive

The Lyme Disease Network is a non-profit organization funded by individual donations.

| | |
| --- | --- |
| | |
Author
Topic: Vaccines, Depression, Neurodegeneration (Good Article on Inflammation)

FuzzySlippers
LymeNet Contributor
Member # 13658


posted

---

Since Lyme and Co-infections are inflammatory infections, I thought this article might be useful to some people.

I found Dr. Blaylock's explanations of the release of inflammatory immune cytokines as a result of flu shots and the body's reaction to live virus vaccines interesting. The issue of mercury and aluminum contained in vaccines was also explained very well here, in my opinion.

Good information even for those who are not over 50.


Fuzzy

__________________________________


Vaccines, Depression and Neurodegeneration After Age 50
By Russell L. Blaylock, M.D., CCN

It has been estimated that 14.8 million Americans suffer from major depressive disorder and of this number 6 million are elderly. If we include anxiety disorders, which commonly accompany depression, the number jumps to 40 million adults. At a cost of $44 billon dollars a year just for care of the seniors, this impacts the national budget as well.

Depression later in life tends to last longer and be more severe than at younger ages. It is also associated with a high rate of suicide.

Previously, it was thought that major depression was secondary to a deficiency in certain neurotransmitters in the brain, particularly the monoamines, which include serotonin, norepinephrine and dopamine. While alterations in these important mood-related neurotransmitters is found with major depression, growing evidence indicates that the primary culprit is low-grade, chronic brain inflammation.

In addition, we now know that inflammatory cytokines can lower serotonin significantly and for long periods by a number of different mechanisms.

MSG and Depression

Researchers have also discovered that most people with major depressive disease (MDD) have higher levels of the neurotransmitter glutamate in their spinal fluid (CSF) and blood plasma. This is the same glutamate found as a food additive-for example, MSG (monosodium glutamate), hydrolyzed proteins, calcium or sodium casienate, soy protein isolate, vegetable protein concentrate or isolate, etc.

Much of the free glutamate in the brain of depressed people comes from within, that is it escapes from special cells within the brain itself (microglia and astrocytes). Free glutamate, that is, existing outside the neurons, is very toxic to brain connections and brain cells themselves -- mainly by a process called excitotoxicity.

This connection between high brain glutamate levels and major depression was discovered quite by accident, when researchers observed that the anesthetic drug ketamine could relieve depression for a prolonged period. Ketamine is a powerful blocking drug for a class of glutamate receptors (NMDA receptors).

For quite some time it was known that depression could cause a loss of neurons in the hippocampus of the brain-the area most important for recent memory (declarative memory or working memory), the form of memory most affected in Alzheimer's disease.

This shrinkage of the brain usually occurred with long-term depression, yet it was shown, using sophisticated testing, that even without brain shrinkage, memory could be adversely affected. Some antidepressants could not only reverse the memory loss but could reverse the shrinkage as well.

The implication was that the elevated brain glutamate, via excitotoxicity, was destroying brain connections and later killing brain cells in the hippocampus and that the antidepressants were lowering brain glutamate levels. Subsequent studies have confirmed that drugs that block excitotoxicity also reduce depression and that some antidepressants reduce brain glutamate levels.

The Link Between Elevated Brain Glutamate and Inflammation

A tremendous amount of research has now demonstrated the link between chronic low-level brain inflammation, elevated brain glutamate levels and major depression. We know that as we age, the level of inflammatory immune cytokines increase (such as interleukin-1ß (IL-1), IL-6 and TNF-a). That is, the level of inflammation in our body increases, with high levels being seen at the extremes of life -- the 80s and 90s.

This progressive elevation in the body's inflammation increases our risk of a number of inflammation-linked diseases, such as cancer, arthritis, muscle weakness, fatigue, sleep disturbances, memory loss and confusion. People with Alzheimer's and Parkinson's disease have even higher levels of these inflammatory cytokines -- much higher.

When inflammatory chemicals are elevated in the brain it makes brain cells more vulnerable to a number of toxins, many of which are in the environment. One study demonstrated, using a series of sophisticated techniques, that if brain cells were exposed to low levels of a pesticide there was little toxicity seen and that if you exposed these same brain cells to an immune stimulant alone, little damage occurred.

But if you first exposed the brain cells to the immune stimulant, the same low dose of pesticide could destroy a great number of brain cells.

The importance of this observation was that the vaccine made the brain cells hypersensitive to the toxin so that even in concentrations that normally would do not cause harm, could wiped out most of the neurons. One of the strongest connections between an environmental toxin (pesticides) and a neurological disorder is with Parkinson's disease.

The reason it is more common in the elderly is that they have the highest levels of inflammatory cytokines. This also explains the high incidence of Alzheimer's disease, which reaches incidences of 50% after age 80.

The link to depression was also serendipitous

Doctors using immune cytokines to treat patients with cancer or hepatitis found that one third of the patients developed major depressive illness within days of the treatment and that it resolved only when the treatment was terminated. Other studies, in which inflammatory cytokine levels were measured in people with major depressive illness, also found most had high levels of these inflammatory chemicals.

To their surprise, they found that many of the antidepressant medications commonly used lowered inflammatory cytokines levels and that patients who failed to respond had the highest level of the cytokines.

So, how is this linked to excitotoxicity?

Neuroscientists have known for some time that inflammatory cytokines cause the brain to release higher levels of glutamate -- the more intense the inflammation, the higher the brain glutamate level. The highest levels are found in the prefrontal lobes and limbic system, the areas most related to mood control. MSG also increases brain inflammation.

Vaccination and Brain Inflammation

A great number of studies have shown that when you vaccinate an animal, the body's inflammatory cytokines not only increase dramatically, but so do the brain's inflammatory chemicals. The brain has its own immune system that is intimately connected to the body's immune system. The main immune cell in the brain is called a microglia. Normally, these brain cells are lying throughout the brain in a resting state (called ramified).

Once activated, they can move around, traveling between brain cells like amoeba (called amoeboid microglia).

In the resting state, they release chemicals that support the growth and protection of brain cells and their connections (dendrites and synapses). But when activated, they secrete a number of very harmful chemicals, including inflammatory cytokines, chemokines, complement, free radicals, lipid peroxidation products, and two excitotoxins -- glutamate and quinolinic acid.

In essence, these brain immune cells are out to kill invaders, since the body's immune system sent an emergency message that an invasion had occurred. With most infections, this phase of activation last no more than a few days to two weeks, during which time the immune system successfully kills off the invaders.

Once that is accomplished, the immune system shuts down to allow things to cool off and the brain to repair what damage was done by its own immune system.

What researchers knew was that during this period of activation, people generally feel bad and that what they experience closely resembles depression -- a condition called "sickness behavior". Most of us have experience this when suffering from a viral illness -- such things as restlessness, irritability, a need to get away from people, trouble sleeping, fatigue and difficulty thinking.

Studies have shown that there are two phases to this "sickness behavior"; one in which we have the flu-like symptoms and a later onset of depression-like symptoms that can last awhile. They have also shown that all of these symptoms are due to high levels of inflammatory cytokines in the brain, which come from activated microglia.

A number of studies have also shown that after age 50, people have exaggerated and prolonged "sickness behavior", much more so than younger people. This is one of the reasons why many elderly hang onto flu symptoms for months after exposure.

There is also another immune phenomenon that plays a major role in vaccine-related brain injury. Researchers discovered that when you vaccinate an animal, the brain microglia immune cells turn on partially (called priming), that is, they are in a state of high readiness. If the immune system is activated again soon after (days, weeks to months), these microglia explode into action secreting levels of their destructive chemicals far higher than normal. This overreaction can be very destructive and make you feel very depressed.

Stimulating your immune system with a vaccine is far different than contracting an infectious illness naturally. Vaccines are made of two components -- the agent you wish to vaccinate against -- for example, the measles virus; and an immune system booster called an immune adjuvant.

These adjuvants are composed of such things as aluminum compounds, MSG, lipid compounds and even mercury. Their job is to make the immune system react as intensely as possible and for as long as possible.

Studies have shown that these adjuvants, from a single vaccine, can cause immune overactivation for as long as two years. This means that the brain microglia remain active as well, continuously pouring out destructive chemicals. In fact, one study found that a single injection of an immune activating substance could cause brain immune overactivation for over a year. This is very destructive.

Flu Vaccines and an Expanding Vaccine Schedule for the Elderly

Public health authorities and physician societies are in an all out campaign to have every elderly person vaccinated every year with the flu vaccine as well as a growing number of newer vaccines. When I was practicing neurosurgery, the hospitals had an automatic written order on all older patients' charts mandating a flu vaccine, unless it was countermanded by the physician, which I always did.

Now, they are giving the shots in malls, tents and every available site they can muster. And worse still, using lies and scare tactics to frighten the elderly into getting the shots (such as the bold lie that 36,000 elderly die of the flu every year).

As you age, your immune system, including that special immune system in your brain, releases significantly more inflammatory immune cytokines than when you were younger. This serves to prime the microglia, as discussed. So, when you get your first flu shot your microglia overreact and does so for a very long period -- perhaps years.

Many elderly report that the flu shot gave them the flu. Proponents of vaccines, retort with a condescending laugh; that it is impossible because the flu vaccine contains killed flu viruses. In truth, what these people are reporting is a prolonged, intense "sickness behavior" response to the vaccine. To the body, it is worse than getting the flu.

Remember, no one is recording the number of elderly who die after getting the flu shot, especially if they die months later, which can happen with sickness behavior, especially if they have a preexisting chronic illness or are infirm.

The Shocking Truth

With the elderly already having increased inflammatory cytokine levels both systemically and in their brain, stimulating these primed microglia so that a chronic overstimulation of the brain's immune system is triggered, will not only increase their risk of developing one of the neurodegenerative diseases, but will also substantially increase their risk of developing major depression. Remember, this also increases their risk of suicide, and even homicide, dramatically.

Anxiety is a major problem with depression, and vaccinations will greatly worsen the condition. In fact, vaccination, especially multiple vaccinations, will maintain the brain in a state of inflammation that will be self-perpetuating, because the excess release of glutamate in the brain, as well as glutamate in the diet, will further enhance microglial activation and excitotoxicity.

Those who are prone to developing one of the neurodegenerative diseases, such as Alzheimer's disease or Parkinson's disease will be at a drastically increased risk as we have seen experimentally when even animals exposed to subtoxic concentrations of environmental toxins and vaccinated develop neurologic worsening.

Most people use pesticides in their home, and studies have shown that the concentrations in homes are sufficient to trigger Parkinson's disease in susceptible people. Vaccinations, as these studies have shown, will greatly increase that risk. Most doctors are completely unaware of this important research.

You must keep in mind that "health authorities" urge the elderly to get the flu vaccine each and every year. This will keep the microglia in a primed and even activated state continuously. Recently, neurologists announced that the incidence of neurodegenerative disease had been grossly underestimated and that neurological diseases of aging were increasing at a frightening rate. They have no explanation.

Over the last three decades the number of elderly receiving yearly flu vaccines has risen from 20% before 1980 to over 60% today.

If this were not depressing enough, now the public health authorities and medical specialty societies are adding a whole new set of vaccines for those above 50 years of age, including the pneumococcal and meningiococcal vaccines. What is being completely ignored by the promoters of these vaccines is the effect of multiple doses of immune adjuvant that accompany each of these vaccines.

Let's say you see your doctor and he talks you into getting the flu vaccine, the pneumococcal and meningiococcal vaccine all during the same office visit. That way, he can save you extra office visits. What your doctor ignores is that he is giving you three doses of powerful immune adjuvant all in one sitting, which means that your body and brain are assaulted by a massive dose of powerful immune activators, which have been proven to activate the brain's immune system to dangerous levels, even when given as a single dose.

Proof of this mechanism exists not only in animal studies, but in humans as well.

Mercury and Aluminum

There are other ways that vaccines can cause havoc in the brain. Most vaccines contain aluminum compounds. A multitude of studies have shown that aluminum, especially if combined with fluoride, is a powerful brain toxin and that it accumulates in the brain. With each vaccine injection, a dose of aluminum is given. These yearly aluminum inoculations accumulate not only at the site of the injection, but travel to the brain, where it enters neurons and glial cells (astrocytes and microglia).

A number of studies have shown that aluminum can activate microglia and do so for long periods. This means that the aluminum in your vaccination is priming your microglia to overreact. The next vaccine acts to trigger the enhanced inflammatory reaction and release of the excitotoxins, glutamate and quinolinic acid.

You must also appreciate that any infection, stroke, head injury or other toxin exposure will also magnify this inflammatory brain reaction initially triggered by your vaccines. Studies have now indicated that the more one's immune system is activated the more like he or she will suffer from one of the neurodegenerative diseases.

Mercury is also a powerful activator of brain microglia and can do so in extremely low concentrations -- in nanomolar amounts. Because of its numerous reactions with sulfhydral compounds in the body (which are ubiquitous), mercury can poison a number of enzymes, both systemically and in the brain. Of special concern is the ability of mercury, especially ethylmercury (the kind found in vaccines called thimerosal) to inhibit the regulation of brain glutamate levels. (It does this by inhibiting the glutamate transfer proteins that control the removal of glutamate from outside the neuron, where it does its harm.)

In essence, mercury, in the concentrations being injected with vaccines, triggers excitotoxicity, increases brain free radicals and lipid peroxidation products, inhibits critical brain enzymes, inhibits antioxidant enzymes and impairs DNA repair ability. The flu vaccine contains enough mercury to do all of these things. You must keep in mind that each flu vaccine adds to the mercury supplied by your last vaccine -- that is, it is progressively accumulating in your brain.

In addition, the aluminum in the vaccines also primes microglia, and when combined with mercury is infinitively more toxic to the brain. Now, if this is not enough, we also have to consider the contamination of vaccines with foreign viruses and viral components. Studies have shown that this is not a rare occurrence, with up to 60% of vaccines being contaminated in one study of several major manufactured vaccines.

When confronted with this fact, vaccine proponents just shrug their shoulders and say -- "We don't think these things are harmful."

Yet, the studies say otherwise.

It has been found that insertion of viral fragments, not even the whole virus, is sufficient to trigger the brain's microglial system and subsequent excitotoxicity, leading to progressive brain degeneration. This is accepted to be the mechanism by which the HIV virus causes dementia in a great number of AIDS victims. Fragments of the virus (gp140 and Tat) are engulfed by the microglia and this triggers chronic brain inflammation and excitotoxicity. The herpes virus and measles virus can do the same thing.

Danger of Live Virus Vaccines

A number of studies have shown that live viruses used in vaccines can enter the brain and reside there for a lifetime. One such study, in which autopsied elderly were examined for the presence of the measles virus, found that 20% of the brains had live measles viruses and 45% of other organs were infected. These viruses were highly mutated, meaning that they could be just as potent as other measles viruses, but could be even more virulent.

Worse, is that in most cases they cause a smoldering destruction of tissues without the obvious symptoms of infection, which has been shown in a number of studies.

Live virus vaccines are made using a process to attenuate the pathogenic or disease-causing virus by passing it through a series of cultures. The problem is that the reverse can also happen within the body. A number of studies have shown that when we produce free radicals in our body (and we produce tons of such radicals over a lifetime), it mutates the viruses residing in our tissues. This is what was found in the autopsy study I referred to above.

Likewise, these viruses can trigger brain inflammation and degeneration, which has been shown in a number of studies -- that is, there exist a chronic degeneration of the brain over years or decades. Because it is so far separated from the time of the original vaccine, physicians just attribute it to old age or heredity. Anything but the vaccines.

Virologists are also concerned that such mutated live viruses can also infect other people, leading to outbreaks of disease totally unsuspected by health authorities.

Conclusion

Current recommendations by the CDC for adult vaccinations include a total of 14 separate inoculations with infectious agents and powerful immune adjuvants. To be fair, some of these are for special medical risks and conditions, such as high-risk behaviors, illegal drug use and HIV infected individuals.

If we eliminate these, women will be exposed to 10 inoculations and men 7, should they follow CDC guidelines, which doctors follow.

According to CDC recommendations, multiple vaccinations for a single disease are separated by no more than 4 weeks, which is close enough together to produce priming and subsequent hyperactivation of brain microglia. We have seen that this can trigger a smoldering process of brain inflammation and excitotoxicity that can not only result in depression, anxiety and high suicide rates, but can increase one's risk of developing one of the neurodegenerative diseases as well.

We have also seen that in many cases a person will be injected with several vaccines during a single office visit and that this means their body is exposed to a very large dose of immune adjuvant. Compelling studies, using many animal species as well as humans, have shown that this overactivates brain inflammatory mechanism that can last for years.

In addition, several additives to vaccines, such as mercury and aluminum, are powerful brain toxins that are known to accumulate in the brain over years and can trigger brain inflammatory/excitotoxic mechanisms. Vaccine contaminants, such as bacteria, mycoplasma and viral fragments can also produce prolonged brain inflammation and neurodegeneration.

Because the elderly already have high levels of inflammatory cytokines, they are at a special risk. The very young (babies and small children) are at a high risk because their brains are undergoing the most rapid development at the very time they receive the greatest number of vaccinations -- the first two years of life. In fact, they receive 22 vaccines during the first year of life, one of which contains a full pediatric dose of mercury.

Like adults, they receive many inoculations (up to 9 inoculations) in one office visit. This is insane and in my estimation, criminal.

Nasal flu vaccines are even worse, because they introduce a live virus into the nasal passages, which can then travel along the olfactory nerves, which leads to the very part of the brain first and most severely affected by Alzheimer's disease. A number of studies have shown that viruses and bacteria can pass along this route to the brain.

In fact, in one study scientists sprayed a bacterium into the nose of mice and observed a rapid development of Alzheimer's type plaques in the mouse's brain.

So What Should Older People Do?

First, studies have shown that the primary cause of immune deficiency in the elderly is purely dietary. The carotenoids, such as beta-carotene, alpha-carotene, canthaxanthin, lutein and lycopene significantly enhance the immunity of the elderly. Zinc, magnesium and selenium are also essential. One should also avoid omega-6 oils (the vegetable oils: corn, safflower, sunflower, canola, soybean and peanut oils), since they greatly enhance inflammation and depress immunity. The EPA component of fish oils (omega-3 oils) is also a powerful immune suppressant. DHA is not.

A healthy immune system means that you can fight infections efficiently and rapidly.

Regular exercise, such as brisk walking or weight exercises three to five times a week also boost immunity, while extreme exercise suppresses immunity. Sugar and refined carbohydrates also suppress immunity and inflame the brain. Exercise protects the brain from aging effects and from degeneration.

Adequate sleep is also vital to both brain health and good immune function.

Pubic health officials and spokesmen for the major medical societies are lying to the public concerning vaccine safety. We now possess sufficient information from a great number of studies to halt this disastrous vaccine policy. We are facing a medial disaster in this country, which is already well on its way.

1. McGeer PL and McGeer EG. Local neuroinflammation and progression of Alzheimer's disease. J Neurovirology 202; 8: 529-538.
2. Tavares RG, et al. Quinolinic acid stimulates synaptosomal glutamate release and inhibits glutamate uptake into astrocytes. Neurochem Int 2002; 40: 621-627.
3. Eastman CL, et al. Increased brain quinolinic acid production in mice infected with a neurotropic measles virus. Exp Neurol 1994; 125; 119-124.
4. Glass JD and Wesselingh SL. Microglia in HIV-associated neurological diseases. Microsc Res Tech 2001; 54: 95-105.
5. Turowski RC and Troozzi PL. Central Nervous System toxicities of cytokine therapy: In: Plotnikoff NP, et al, Eds. Cytokines, Stress and Immunity. Boca Raton, CRC Pres, 1998, pp 93-114.
6. Mrak RE, et al. Glail cytokines and Alzheimer's disease: Review and pathogenic implications. Human Pathol 1995; 26: 816-823.
7. Klatschmidt C, et al. Stimulation of inotropic glutamate receptors activates transcription factor NFkB in primary neurons. Proc Nat Acad Sci USA 1995; 92: 9618-9622.
8. Gao HM, et al Distinct role for microglia in rotenone-induced degeneration of dopaminergic neurons. J Neurosci 2002; 22: 782-790.
9. Dyatlov VA et al. neonatal lead exposure potentates sickness behavior by Listeria monocytogenes infection in mice. Brain Behav Immun 2002; 16: 477-492.
10. Nakai Y, et al. Apoptosis and microglial activation in influenza encephalopathy. Acta Neuropath (Berl) 2003; 105: 233-239.
11. Anderson T et al. NMDA-receptor antagonist prevents measles virus-induced neurodegeneration. Eur J Neurosci 1991; 3: 66-71.
12. Conner TJ, et al. Depression stress immunological activation: the role of cytokines in depressive disorders. Life Sciences 1998; 62: 583-606.
13. Renault PF, et al. Psychiatric complications of long-term ineterferon-alpha therapy. Arch Internal Medicine 1987; 147: 1577-1580.
14. Adams F et al. Neuropsychiatric manifestations of human leukocyte interferon therapy in patients with cancer. JAMA 1984; 252: 938-941.
15. Broderick PA, et al. Interleukin-1a alters hippocampal and norepinephrine release during open field behavior in Sprague-Dawley animals: differences from the Fawn-Hooded animal model of depression. Prog Neuropsychopharmacol Biology 2002; 26: 1355-1372.
16. Katayama Y, et al. Detection of measles virus nucleoprotein mRNA in autopsied brain tissues. J General Virology 1995; 76: 3201-3204.
17. Nicolson GL et al. High frequency of systemic mycoplasma infections in Gulf War Veterans and civilians with amyotrophic lateral sclerosis. J Clin Sci 2002; 9: 525-529.
18. Blaylock RL. Interaction of cytokines, excitotoxins, and reactive nitrogen and oxygen species in autism spectrum disorders. JANA 2003; 6: 21-35.
19. Blaylock RL. Central role of excitotoxicity in autism. JANA 2003; 6: 7-19.
20. Blaylock RL. Food additive excitotoxins and degenerative brain disorders. Medical Sentinel 1999; 4: 212-215.
21. Blaylock RL. Chronic microglial activation and excitotoxicity secondary to excessive immune stimulation: Possible factors in Gulf War Syndrome and Autism. J Amer Phys Surg 2004; 9: 46-51.
22. Pilc A, et al. Mood disorders: regulation by metabotropic glutamate receptors. Biochem Pharmacol 2007; (Epub ahead of print)
23. Palucha A, Pilc A. The involvement of glutamate in the pathophysiology of depression. 2005; 18: 262-268.
24. Paul IA, Skolnick P. Glutamate and depression: clinical and preclinical studies. Ann NY Acad Sci 2003; 1003: 250-272.
25. Pittenger C, et al. The NMDA receptor as a therapeutic target in major depressive disorder. CNS Neurol Disorders Drug Targets 2007; 6: 101-115.
26. Magaki S et al. Increased production of inflammatory cytokines in mild cognitive impairment. Exp Gerontol 2007; 42: 233-240.
27. Gao H-M et al. Synergistic dopaminergic neurotoxicity if the pesticide rotenone and inflammogen lipopolysacchride: relevance to the etiology of Parkinson's disease. J Neurosciences 2003; 23: 1228-1236.
28. Holmes C et al. Systemic infection, interleukin 1ß, and cognitive decline. J Neurol Neurosurgery Psychiatry 2003; 74: 788-789.
29. Godbout JP et al. Exaggerated neuroinflammation and sickness behavior in aged mice after activation of the peripheral innate immune system. The FASEB J 2005; 19: 1329-1331.
30. Perry VH et al. The impact of infection on the progression of neurodegenerative disease. Nature Rev Neuroscience 2003;4: 103-112.
31. Feiring B et al. Persisting responses indicating long-term protection after booster dose with meningococcal group B outer membrane vesicle vaccine. Clin Vaccine Immunology 2006; 13: 790-796.
32. Vaccine Excepients and Media Summery Center for Disease Control and Prevention. (also the source for recommended vaccines for adults and children).

---

Posts: 503 | From Maryland | Registered: Oct 2007 | IP: Logged |

bettyg
Unregistered



posted

---

up; too tired to read this, and it's at bottom of page 1 ...

---

IP: Logged |

lymie tony z
Frequent Contributor (1K+ posts)
Member # 5130


posted

---

zomething is fuzzy around here...but not slippers...

It's probably just me but...You are suggesting that neuroborreliosis is due to vaccines???

Personally I think neuroborreliosis is caused by too many ticks, not vaccines.


As a matter of fact...I believe it has been shown to be linked to way too many lyme carrying lyme disease/co-infections.


But like BettyG....I'm half asleep here....could have been too many inoculations.


zman

--------------------
I am not a doctor...opinions expressed are from personal experiences only and should never be viewed as coming from a healthcare provider. zman


---

Posts: 2527 | From safety harbor florida(origin Cleve., Ohio | Registered: Jan 2004 | IP: Logged |

FuzzySlippers
LymeNet Contributor
Member # 13658


posted

---

Tony, No . . . I am not suggesting that Lyme Disease is caused by vaccines. Neither did the author of the article suggest it.

Lyme Disease is NOT caused by any of the vaccines currently on the market, as far as I am aware.

I posted this article because it has an excellent explanation of how the inflammatory response can react in some people who are exposed to vaccines.

Since Lyme Disease is an inflammatory bacterial disease, some Lyme patients try to avoid provoking further inflammatory responses in their bodies during particular phases in their Lyme treatment until they are well.

Caveat Emptor here. Let the buyer beware. Lyme patients who are trying to decide whether a vaccine (e.g., a flu vaccine) is necessary, might find this information helpful when making their decision.

Some might find it necessary to take the flu vaccine, despite what it can do to the body. Others might elect to forego a particular vaccine(s) during Lyme Treatment.

I think it's an individual decision -- but a decision that should be made with as much knowledge as possible.


Fuzzy

p.s. What's with the sarcasm? That's a rhetorical question, by the way.

[ 04. March 2008, 02:27 PM: Message edited by: FuzzySlippers ]

---

Posts: 503 | From Maryland | Registered: Oct 2007 | IP: Logged |

lymie_in_md
Frequent Contributor (1K+ posts)
Member # 14197


posted

---

Thanks Fuzzy, It does explain a great deal surrounding the inflammatory process.

Would brain fog occur because of inflamation? If so, does the brain or can the brain completely recover? What things can someone with lyme do, to reduce brain inflammation?

P.S. I now regret every flu vaccine I ever took.

All the accumulated body/brain burden from those vaccines make it more difficult for us to recover from lyme.

--------------------
Bob


---

Posts: 2148 | From Maryland | Registered: Dec 2007 | IP: Logged |

FuzzySlippers
LymeNet Contributor
Member # 13658


posted

---

hi Bob,

That's interesting that you ask that question about brain fog. During my recent appt. with my Lyme specialist, he said that brain fog is simply inflammation. In Lyme patients there is an infectious cause of the inflammation -- and that cause is the bacterial infection(s). Brain fog represents inflammation.

I believe that the brain can recover from inflammation that presents as brain fog in Lyme Disease. But that would be something to ask your Lyme specialist, I think.


As to what to do to help reduce your body's inflammatory response, I'm not a doctor and I wouldn't feel comfortable advising. I know that there are several things they can do in addition to killing the bacterial pathogens. Some of the methods are natural substances and supplements and others are pharmaceutical.

Our immune systems are designed to use the inflammatory response as a matter of course and it's part and parcel to a healthy immune response. However, it's my understanding that when the inflammatory response becomes too much, and lasts for too long, is when we get into trouble. Chronic bacterial infections (i.e., chronic Lyme Disease) can be one example of a long-standing inflammatory response.

I know in my own case, that I'm going to have to try to avoid provoking any further inflammatory or over-reactive responses in my body during treatment. So, no vaccines for me.

Fuzzy

---

Posts: 503 | From Maryland | Registered: Oct 2007 | IP: Logged |

lymie_in_md
Frequent Contributor (1K+ posts)
Member # 14197


posted

---

I had brain fog, but I don't have it now. In other words I reduced the inflamation in my brain by kill pathogenic organisms. Good bye brain fog, but it isn't just lyme & company, it's candida, viruses, parasites and other bacteria causing the inflamation. So in essense a treatment plan has to involve all pathogenic organisms. Probably for the long haul

It is interesting to view the problem as brain inflamation which causes an immune response due to toxins. It better explains why we may have persistent insomnia. I'm sure there's others.

All in all, I had just viewed it as getting rid of toxins and that would fix things such as symptoms. There is certainly more to the idea of inflamation as to treatment then just ridding oneself of toxins. As you mentioned there is the idea of certain anti-depressants may help lower glutamates and thereby inflamation.

It may sound silly, but just a combination of cooling and heating the head might reduce some of the inflamation, similar to a sports injury if it applies to the brain. It might be interesting to see what an LLMD might think of viewing part of the problem as an inflamation issue and not just pathogenic.

--------------------
Bob


---

Posts: 2148 | From Maryland | Registered: Dec 2007 | IP: Logged |

D Bergy
Frequent Contributor (1K+ posts)
Member # 9984


posted

---

Thank you for bringing this topic up. It actually cleared up a lot for me concerning inflammation as it relates to depression.

I do not have Lyme but Crohn's disease. Depression has been part of my life forever until I started taking large doses of Turmeric and Ginger for Crohn's. Then to my surprise, my depression disappeared. While I found some evidence that Turmeric is capable of doing this, I did not know why. Now I suspect it was because it controlled my inflammation from Crohn's. But only in large enough doses.

Another piece to the puzzle.

D Bergy

---

Posts: 2917 | From Minnesota | Registered: Aug 2006 | IP: Logged |

FuzzySlippers
LymeNet Contributor
Member # 13658


posted

---

Bob, thanks for your response. I think you are spot on. I agree with everything you said.

D Bergy, turmeric was one of the supplements my regular doctor suggested I take to try and bring down my overall inflammation. This was before I knew I had Lyme and Co-infections. I also have candida, lots of allergies, and don't know right now what my viral load might be.

I didn't know about the ginger. That's interesting. I've only tried it for nausea.

Quercitin/bromelain is another supplement that was recommended to me by yet another conventional doctor. Again this was before my Lyme diagnosis. I still take the quercitin/bromelain because it seems to do wonders for my sinuses. I understand that the bromelain can potentiate some antibiotics and herbal remedies. So, slow and steady seems to be the recommendation in using this when being treated for Lyme.

Fuzzy

---

Posts: 503 | From Maryland | Registered: Oct 2007 | IP: Logged |

Anneke
LymeNet Contributor
Member # 7939


posted

---

tHANKS for posting this. It helped me understand the inflammatory aspect of disease.

I received 3 or 4 vaccines years ago in preparation for a trip to Africa. My health really deteriorated after these. It's so hard to pinpoint the 'felling' point, but I have wondered about the vaccines.

D Bergy - how much Tumeric do you use?

Thanks,

Anneke

---

Posts: 364 | From California | Registered: Sep 2005 | IP: Logged |

Cass A
Frequent Contributor (1K+ posts)
Member # 11134


posted

---

This is a fascinating article!! Inflamation definitely seems to be the key item!!!

I'm not very happy about the promotion of anti-depressants--recent inspection of ALL the data of ALL the trials shows that they are not any better than a placebo, except for major depression. And, with all the icky side effects, like sleep problems, restlessness, suicidal thinking, and sometimes homicidal psychosis, I'd pass on them!

As for the elderly, a group that works in the Mental Health Department of L.A. County, Genesys, has about a 90% "cure" rate on patients manifesting dementia. How do they do it?? They cut back on their medications--slowly--until the person is taking only the very minium doses to treat their actual diseases. Many, many of the drugs given the elderly are actually treating the side-effects of OTHER drugs.

A recent study in California nursing homes found that the elderly there were being given psychiatric drugs at alarming rates, and that their life span was cut by several months over those with similar conditions who did not get the drugs.

On another issue, it seems to me that a 50% rate of Altzheimer's (the actual disease, not dementia--which is a symptom)in all older adults is a bit high. I've never seen any documentation of that level.

Other than these points, and on an overall note, I'm glad this data was posted!!

Best,

Cass A

---

Posts: 1243 | From Thousand Oaks, CA | Registered: Feb 2007 | IP: Logged |

D Bergy
Frequent Contributor (1K+ posts)
Member # 9984


posted

---

I was taking 2000 mg of Ginger and Turmeric per day.

I broke it into two doses.

I now only take 500 mg of each as I am controlling the inflammation by other means now. So far my depression has not returned. If it does I will simply bring my dosage back up.

D Bergy

---

Posts: 2917 | From Minnesota | Registered: Aug 2006 | IP: Logged |

bettyg
Unregistered



posted

---

wow, good thing i brought this up for me to read; many more of you missed it the 1st time!!

i don't regret my last 3 years of flu shots.

i did learn here that SEPARATE trips for flu and pneumonia, etc. mine were in 2 trips; someone forgot 1st time. makes alot of sense 2 POWERFUL INJECTIONS.

pneumonia not for another 10 years. plus tetnus i got too.

fuzzy, thanks also for BREAKING IT UP for all of us neuro lymies or i would NEVER have attempted to read this long article!

---

IP: Logged |

lymie tony z
Frequent Contributor (1K+ posts)
Member # 5130


posted

---

Yep fuzzy
now that I am awake....

I never have flu shots....

I got rid of my encephalitis(swelling of brain)by using appropriate anti-biotics and anti-virals which were exceedingly more helpful then any herbs I have ever taken in my life.

Once the swelling went down so did all the malfunction(brain fog), stiff painful neck and backside on left side of head.....

I do believe we can and I have retrained any dammaged brain parts along with the possibley dammaged cells I used for synapse, that I might have lost due to neuroborreliosis (swelling) of my brain.

Inoculations is NOT one of my favorite things....I believe it reacts to the many co-infections of lyme disease....micro viro and fungo....so no shots for me please...thank you!

zman

--------------------
I am not a doctor...opinions expressed are from personal experiences only and should never be viewed as coming from a healthcare provider. zman


---

Posts: 2527 | From safety harbor florida(origin Cleve., Ohio | Registered: Jan 2004 | IP: Logged |

Stacyb
LymeNet Contributor
Member # 13084


posted

---

Hi

Lots of good information.
Thanks!!!!!!

Just going to add my 2 cents in.
Yes the TUMERIC and the GINGER.

and a few more.......
Herbal supplements that are good for inflamation:
Vitamin E 800 mg
Co Q10 300 mg
Magnesium 1500 mg (or up to tollerance-I know I am going to hear about the biofilms on Bart-just a list of suggestions).
Vit C 2000mg
Bromelain (dose? anyone??)
Folic acid 800 mg
and yes there was a another reccomendation for
Fish oil 6 grams (which I think contradicts the above article).

Also many say Wobenzyme help a lot with inflamation and ear ringing.
Go to the web site and see the Dr. that is treating chronic ear ringing (tinitus) and cured his own Tinitus with it.

No I am not an expert just trying to help when I can. So hopefully no body gets uptight here.

---

Posts: 476 | From Columbus, Ohio | Registered: Aug 2007 | IP: Logged |

FuzzySlippers
LymeNet Contributor
Member # 13658


posted

---

Bob, brilliant find. Bookmarked and read. I'm fixin' to re-read it when my cuppa tea has finished steeping. (I hope my inflammation gets better soon. I'm tired of having to read things several times before absorbing them, lol).

Thanks again!

Fuzzy

---

Posts: 503 | From Maryland | Registered: Oct 2007 | IP: Logged |

Cass A
Frequent Contributor (1K+ posts)
Member # 11134


posted

---

Thanks for the great post!!!

I found a much less technical and very easily applied approach in "Enter the Zone" by Barry Sears, PhD. This is about using diet to control inflammation. The easiest formulation of the diet, with tests to take to see how you're doing, is in his book "Mastering the Zone." The book, "Enter the Zone," has the scientific explanations.

I'm sure this article has a great amount of data not in these books, but from a short read, the ZONE diet would be the diet of choice. I used it successfully with my husband to drop his triglycertides, weight, and cholesterol all into normal range within 3 months following a triple bypass due to a heart attack.

And, although I've had Lyme for many years, my symptoms are relatively minimal, perhaps partly because I have followed this insulin-controlling diet even longer.

Love,

Cass A

---

Posts: 1243 | From Thousand Oaks, CA | Registered: Feb 2007 | IP: Logged |

Cass A
Frequent Contributor (1K+ posts)
Member # 11134


posted

---

Thanks for the great post!!!

I found a much less technical and very easily applied approach in "Enter the Zone" by Barry Sears, PhD. This is about using diet to control inflammation. The easiest formulation of the diet, with tests to take to see how you're doing, is in his book "Mastering the Zone." The book, "Enter the Zone," has the scientific explanations.

I'm sure this article has a great amount of data not in these books, but from a short read, the ZONE diet would be the diet of choice. I used it successfully with my husband to drop his triglycertides, weight, and cholesterol all into normal range within 3 months following a triple bypass due to a heart attack.

And, although I've had Lyme for many years, my symptoms are relatively minimal, perhaps partly because I have followed this insulin-controlling diet even longer.

Love,

Cass A

---

Posts: 1243 | From Thousand Oaks, CA | Registered: Feb 2007 | IP: Logged |

FuzzySlippers
LymeNet Contributor
Member # 13658


posted

---

I was asked to bump this thread. Thanks folks.

---

Posts: 503 | From Maryland | Registered: Oct 2007 | IP: Logged |
Contact Us | LymeNet home page | Privacy Statement

Powered by UBB.classic™ 6.7.3

---
The Lyme Disease Network is a non-profit organization funded by individual donations. If you would like to support the Network and the LymeNet system of Web services, please send your donations to:
The Lyme Disease Network of New Jersey
907 Pebble Creek Court, Pennington, NJ 08534 USA
http://www.lymenet.org/
---
Home | Flash Discussion | Support Groups | On-Line Library
Legal Resources | Medical Abstracts | Newsletter | Books
Pictures | Site Search | Links | Help/Questions
About LymeNet | Contact Us
---
© 1993-2020 The Lyme Disease Network of New Jersey, Inc.
All Rights Reserved.
Use of the LymeNet Site is subject to Terms and Conditions.
---