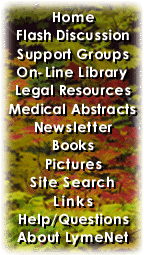 ---
LymeNet on Facebook
LymeNet on Twitter
---
---
The Lyme Disease Network receives a commission from Amazon.com for each purchase originating from this site.
When purchasing from Amazon.com, please
click here first.

Thank you.




Dedicated to the Bachmann Family


LymeNet needs your help:
LymeNet 2020 fund drive

The Lyme Disease Network is a non-profit organization funded by individual donations.

| | |
| --- | --- |
| | |
Author
Topic: Tachycardia, Air hunger and palps scaring me

merrygirl
Frequent Contributor (1K+ posts)
Member # 12041


posted

---

Hi all. I started babs tx about 4 weeks ago and started herxing about a week ago.

I have been being treated for tachycardia and palps for about 5 months with a betablocker, Propranolol. The last few days My heart has really gone wacky. It pounds and flip flops and aches. Then the air hunger too. I had no idea air hunger was so bad. I actually cant get through singing a song to my son cause I cant breathe.

I also couldnt sleep last night because my heart was pounding so badly, I couldt stand it. Out of all my many Lyme and Babs symptoms, these symptoms are the ones that scare me the most and I am not easily frigtened.

My pcp doubled my propranolol dose yesterrday. Still not working yet. My last hear rate was 112 resting.

I decided to skip my Mepron zith tonight. Not sure this is the best idea but I feel like I am going to drop dead any second.

What do your LLMDS say about tachycardia, airhunger etc?

Is it ever an emergency?

What causes the air hunger? (I know babesia, but why)

Thanks
Melissa <---- me trying to breathe

---

Posts: 3905 | From USA | Registered: May 2007 | IP: Logged |

disturbedme
Frequent Contributor (1K+ posts)
Member # 12346


posted

---

I wish I could answer your questions, but my LLMD has never really said much about my tachycardia or shortness of breath, palps, etc.

All I can say is I know what you're going through -- I have those same symptoms once in a while.


I hope you feel better soon!

--------------------
One can never consent to creep when one feels an impulse to soar.
~ Helen Keller

My Lyme Story


---

Posts: 2965 | From Land of Confusion (bitten in KS, moved to PA, now living in MD) | Registered: Jun 2007 | IP: Logged |

sixgoofykids
Moderator
Member # 11141


posted

---

Yeah, air hunger is my last remaining symptom ... or my first to come back, whichever way you look at it.

I had cut down on the babs meds, and it came back. I called my LLMD and he increased my malarone to try to get rid of it. It has helped already.

Air hunger was an early symptom for me. Before I got really sick, I got tested for asthma and was told I was actually hyperventilating. Googling hyperventilation and reading what it had to say gave me some ideas.

First of all, focus on breathing out, then hold breath "out" for a few seconds before breathing in. You are not getting insufficient oxygen, it just feels like it.

Also, try to remain calm.

We say prayers with the kids at night, and early in treatment, I was incapable of doing that and breathing, so I know what you mean.

It does get better. There were few times I had to skip a dose of Mepron/Biaxin because of the symptoms. You don't want to make a habit of it, but early in treatment it's sometimes necessary.

Hang in there, it gets better. Sounds like you're treating the right bugs.

--------------------
sixgoofykids.blogspot.com


---

Posts: 13449 | From Ohio | Registered: Feb 2007 | IP: Logged |

amkdiaries
LymeNet Contributor
Member # 7035


posted

---

If I were you I would get a heart monitor either from my PCP or cardiologist. You can't assume that the palpitations are benign and that you are herxing.

From my experience I was getting SVT runs and ventricular tachycardia which are runs of PVC's and can be life threatening. I was hospitalized for this after taking doxycycline and had a strong die off.

The m onitor will show exactly what is happening and what you are getting. I wore one once for six months so they could catch everything that was happening and it was worth it. Hope this helps!

---

Posts: 425 | From NY, United States | Registered: Mar 2005 | IP: Logged |

merrygirl
Frequent Contributor (1K+ posts)
Member # 12041


posted

---

Actually I am waiting to get a holter monitor so I am glad. But I wish I had it already!!

---

Posts: 3905 | From USA | Registered: May 2007 | IP: Logged |

Vermont_Lymie
Frequent Contributor (1K+ posts)
Member # 9780


posted

---

Hang in there Melissa!! That is exactly how I felt 4 weeks into treatment for babs. It is a babs herx, they are the worst.

It got much better for me with tachycardia, air hunger and palps about 7-8 weeks into babs tx. I was on malarone and amoxy, and at 4 weeks it was pretty rough with these symptoms.

If you can hang in there a couple of more weeks with this treatment, hopefully you will experience the great breakthrough that I did at 7-8 weeks; breathing and all got much better.

I started Welchol to help with detox at this stage. I think it helped a bit.

Take care.

---

Posts: 2557 | From home | Registered: Aug 2006 | IP: Logged |

swedish lyme sufferer
LymeNet Contributor
Member # 14579


posted

---

"which are runs of PVC's and can be life threatening."

Please, what does this mean?

I agree with the ones above, when it comes to the heart it is better to have e good check up with EKG and maybe ultra sound to see that everything is OK.

Hope you are doing better soon!

---

Posts: 347 | From sweden | Registered: Feb 2008 | IP: Logged |

Lymetoo
Moderator
Member # 743


posted

---

If it were ME [and it's not] I would definitely back off the meds.

Babs herxes are herxes from H---. I did end up in the ER twice during a babs herx. Learned to back off the meds.

Of course, right now your main herx is the monthly thing....so I'm not sure that backing off will really help...but it might.

Hang in there. I'm glad you're getting a Holter monitor.

--------------------
--Lymetutu--
Opinions, not medical advice!


---

Posts: 95806 | From Texas | Registered: Feb 2001 | IP: Logged |

ElaineC
LymeNet Contributor
Member # 9857


posted

---

I know exactly what you are going through cos I'm going through the same at the mo!!! Babs herx from hell, with the palps and other scary stuff you mention!

My LLMD has told me to back off meds for up to a week, as die-off is becoming too dangerous. I'm just regretting that I waited 2 weeks before contacting him about it!....Kept think this will end and I'll just push through, but I have learnt my lesson, when the heart is involved it's no time to "push" through! And I will not make that same mistake again!

I still have some palps and that weird fluttery feeling, but am hoping in another day or two it will go. Am due to get an EKG week after next, not poss to get one sooner.

So, yes, I think you should back off meds for a while and give your body a chance to recover! And great you are getting a holter monitor!

---

Posts: 261 | From Herx-ville!! | Registered: Aug 2006 | IP: Logged |

JayG
Member
Member # 14594


posted

---

Hello Melissa. I am hoping this post finds your breathing easier and more towards normal.

I was going to post about exactly this problem when i signed on here tonight, and here you were.

I was mere seconds from either calling an ambulance or driving myself to the ER last night ( driving myself,something I have been scolded for doing in the past by the ER personnel).

I chose to ride it out but ended up falling asleep sitting up on the couch.

I was sure I was never going to wake up again, but I was wrong.

I feel your pain.

The breathing sixgoofykids speaks of does wonders for me during these episodes.

I have been taken to ER twice via ambulance and driven myself there 3 times during the past six years.

Three of those visits got me a catheter look into my ticker and 4 of them got me the holter monitor.

Clean every time, but better safe than sorry.

Trying to remain calm is so difficult when in the throes of these episodes, but along with the breating exercises, it is the best way to make it through the next few minutes, hours, days etc.

My thoughts and prayers go out to you and I hope you get relief from this craziness.

Our hearts go out to you and yours,

JayG and Sheila

swedish lyme sufferer wrote:



quote:

---

"which are runs of PVC's and can be life threatening."

Please, what does this mean?


---

Premature ventricular complex, or PVC: This electrical impulse starts in the ventricle causing the heart to beat earlier than expected. Usually, the heart returns to its normal rhythm right away.

For me, this is anatomically true as it is a proven fact, but our bodies and minds don't agree and or know this fact, and so the air hunger and resulting panic continues in my case.

C'est la vie


Until that day,

JayG

--------------------
JayG


---

Posts: 42 | From North | Registered: Feb 2008 | IP: Logged |

Geneal
Frequent Contributor (5K+ posts)
Member # 10375


posted

---

Dear Melissa,

I have had the tachycardia, major air hunger and palps too.

Especially in the last 3 weeks.

I increased my magnesium which helps my tachycardia, pain and palps.

I am already on florinef for POTs....

I actually had two pretty good breathing days...until today.

It was heavenly. I don't get occasional air hunger....for me it is an

Occasional good or deep breath. I hate this symptom.

It is my most bothersome and worrisome one...besides the heart stuff.

I am in my 6th week of babesia treatment...mepron and biaxin.

The week off of mepron (week 4) was one of my worst.

I actually had two nights, the same two good breathing days...

Where I didn't wake up drenched in sweat. Just glistening.

Hang in there sweetie. I expect to have to change the sheets again tonight.

I haven't backed off my meds, but I would if I didn't have a nuclear stress

Test done which indicated my heart was perfect.

PM me if you need to....I am always here for you and definitely feeling

Your anxiety and pain.

Hugs,

Geneal

---

Posts: 6250 | From Louisiana | Registered: Oct 2006 | IP: Logged |

shazdancer
Frequent Contributor (1K+ posts)
Member # 1436


posted

---

Sometimes a brisk cough will kick a flippy heart back into its rhythm, so be sure to try that as an easy remedy.

I also noticed that if my heart was racing, mild exercise didn't make it go any faster, and it seemed to abate afterward (or maybe it was going to stop racing anyway, who knows). I don't recommend trying this if you have other symptoms (such as dizziness), but it was my experience.

And yes, talk to your doctor, it is serious enough!

Feel better soon,
Shaz

---

Posts: 1558 | From the Berkshires | Registered: Jul 2001 | IP: Logged |

merrygirl
Frequent Contributor (1K+ posts)
Member # 12041


posted

---

Thanks so much for everyones caring words and experiences.

This is why I love this site and this is the best site!

I am working on my breathing as six suggested. I think it helps. It makes it easier to deal with knowing that others have dealt with the same things.


Lets see how tonight goes!!

Thanks again everyone,

oh and Geneal, thanks very sweet of you! I will PM you if I need to!

Melissa



---

Posts: 3905 | From USA | Registered: May 2007 | IP: Logged |

yanivnaced
LymeNet Contributor
Member # 13212


posted

---

my colleague's wife gets palpitations off and on.

her doctor told her it's due to an electrical impulse problem or something. He said she should clench her fists and tense her entire body for a few seconds to get the impulses back in synch. Don't know if it works - might be some idiotic duck advice but maybe worth a try for those people with flutery hearts.

---

Posts: 655 | From USA | Registered: Sep 2007 | IP: Logged |

WildCondor
Unregistered



posted

---

Same thing happened to me when I contracted babesiosis, and it is very scary. When the tick was still attached to me my heart rate went up to 130 resting, and lasted for weeks afterwards until I got put on Mepron+ Zithromax. I needed 50 mg Atenolol in the morning and 50 mg at night. It was awful!
The infections inflamed my vagus nerve leading from brain to heart and caused the neurally mediated hypotension (NMH)

Are you on babesia treatment now?

If so, it may not be strong enough. When I went from 2 doses of Mepron/day to 3 and then 4 with 1,200 of oral Zithromax, then added artemesinin, my heart calmed down in 3 days.

Hope you feel better!


---

IP: Logged |

justwondering
LymeNet Contributor
Member # 12813


posted

---

I experienced the same type of problems my first 2 months of Babs treatment.

I am only on month (almost) 4, but it has gotten easier.

I was very close to going to the ER several times.

You should definitely talk to your doctor, of course.


I found taking a 1/2 dose of Xanax helped calm things down. I would become so consumed by my breathing and chest symptoms and my anxiety would make them much worse.


Hang in there. I understand how scary it is!

---

Posts: 209 | From maryland | Registered: Aug 2007 | IP: Logged |

lymeinhell
Frequent Contributor (1K+ posts)
Member # 4622


posted

---

The halter monitor is a good idea. Always better to be well informed.

I've had the palps many many times and have found that no amount of beta blockers fixes it if my magnesium levels are too low.

An IV Magnesium sulfate can work wonders. I take orals of course, but also give myself weekly IM shots. But if I get careless and skip days and days (or weeks and weeks) because I feel so 'normal', it catches up with me. And went through the palps and resting heart rate of 120.. until I went and got an IV.

I realize too that herxing does cause this - so perhaps an RBC (red blood cell) magnesium test could be done the nexgt time you see your LLMD. I believe LabCorp does them.

--------------------
Julie
_ _ ___ _ _
lymeinhell

Blessed are those who expect nothing, for they shall not be disappointed.


---

Posts: 2258 | From a better place than I was 11 yrs ago | Registered: Sep 2003 | IP: Logged |

KH
LymeNet Contributor
Member # 4170


posted

---

I had this too when treating lyme and babs. It lingered on even after I stopped treatment, and is now gone. As someone else mentioned I could also hear by hearbeat in bed at night. I've read that lyme makes your blood thicker, do not really remember why, and some LLMD's perscribe heparin a blood thinner. I was never on this, but what I would do is take an asprin, which also thins the blood. I really think this helped me for the heart issues.

---

Posts: 101 | From Houston, Tx | Registered: Jul 2003 | IP: Logged |

Dawn in VA
Frequent Contributor (1K+ posts)
Member # 9693


posted

---

If it were me, I would take a couple of days- or maybe more- off all Babs treatment. If it helps, maybe it's a herx. If it doesn't alleviate or lesson your symptoms, maybe it's not.

I took a week off recently during my fifth month of mepron/zith when the air hunger thing began lasting nearly all day long. It was gone by the fourth day off of meds.

Whatever you choose, I hope you feel better very soon! I would be scared if I was going through what you've described, too. Hang in there.

--------------------
(The ole disclaimer: I'm not a doctor.)


---

Posts: 1349 | From VA | Registered: Jul 2006 | IP: Logged |

Mrs. G.
Junior Member
Member # 14668


posted

---

Melissa,

As with everyone else who has commented here, this is my scariest symptom, too, but for me it was a blessing in disguse. I had gone to the MD for vertigo symptoms when they noticed the irregular heartbeat (PAC: Premature Atrial Complex - the less dangerous one).

I did the Holter monitor & EKG and was put on Atenolol (a beta blocker) which helped, but didn't completely cure the PAC.

The blessing was that another doc of mine put 2 & 2 together when I told him of those symptoms and said he wanted to test me for Lyme. I had never noticed a rash or found a tick, but I lived in the woods and he was savvy (and openminded) enough to consider the possibility.

Lo & behold, I have Lyme and possibly Babesia. (and after reading this thread, I'm more and more convinced of the Babs!) I have been on treatment since July '07 and have made some improvements.

The heart palpitations, flip-flops and air hunger freak me out, but the coughing & deep breaths help.

My worst episode yet was at the dentist after getting the novacaine shot in my jaw muscle & lower inner jaw. My heart went crazy! I just tried to relax and I managed to get through it. My doc said that's common because the novacaine can go directly into your bloodstream and affect your heartbeat.

My advice is to find whatever coping skills help you best and try not to let it get into your head too much. (I know...easier said than done!)

My best to you.
~Mrs. G.

---

Posts: 3 | From NH | Registered: Feb 2008 | IP: Logged |

Tracy9
Frequent Contributor (1K+ posts)
Member # 7521


posted

---

Melissa,
I have had PVCs and an abnormal heartbeat and heart murmur since I was about 20. It is one of the reasons our LLMD is convinced I originally contracted Lyme around age 17 or so.

I have had every workup in the book over the years, and the end result is always that it is benign and nothing to worry about. I am so used to the irregular beat, skipping beats, and heart pounding noises in my ears at night I don't even notice them anymore. I can often see my shirt move up and down my heart pounds so hard.

Just sharing this to let you know that as scary as it may be, it doesn't mean something bad necessarily.

Lots of good feedback here, but it must be confusing as well; some say take more meds, some say take less. I do agree that these symptoms are frightening, which then leads to anxiety and panic and makes them worse. As long ago as it was for me when this all started, I do remember that well, and remember discussing it with my doctor.

I also firmly believe I have untreated babs, and since my liver can't handle Mepron, I don't know what the future holds for me with that.

I am just so glad you are kicking the babs butt, and I am sure you are going to feel a whole hell of a lot better soon!!

Love ya!

--------------------
NO PM; CONTACT: [email protected]

13 years Lyme & Co.; Small Fiber Neuropathy; Myasthenia Gravis, Adrenal Insufficiency. On chemo for 2 1/2 years as experimental treatment for MG.


---

Posts: 4480 | From Northeastern Connecticut | Registered: Jun 2005 | IP: Logged |
Contact Us | LymeNet home page | Privacy Statement

Powered by UBB.classic™ 6.7.3

---
The Lyme Disease Network is a non-profit organization funded by individual donations. If you would like to support the Network and the LymeNet system of Web services, please send your donations to:
The Lyme Disease Network of New Jersey
907 Pebble Creek Court, Pennington, NJ 08534 USA
http://www.lymenet.org/
---
Home | Flash Discussion | Support Groups | On-Line Library
Legal Resources | Medical Abstracts | Newsletter | Books
Pictures | Site Search | Links | Help/Questions
About LymeNet | Contact Us
---
© 1993-2020 The Lyme Disease Network of New Jersey, Inc.
All Rights Reserved.
Use of the LymeNet Site is subject to Terms and Conditions.
---