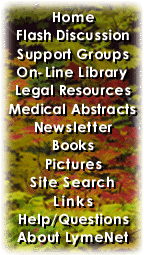 ---
LymeNet on Facebook
LymeNet on Twitter
---
---
The Lyme Disease Network receives a commission from Amazon.com for each purchase originating from this site.
When purchasing from Amazon.com, please
click here first.

Thank you.




Dedicated to the Bachmann Family


LymeNet needs your help:
LymeNet 2020 fund drive

The Lyme Disease Network is a non-profit organization funded by individual donations.

| | |
| --- | --- |
| | |
Author
Topic: babesia in brain?

trish4
LymeNet Contributor
Member # 14156


posted

---

Can this infection affect the brain?

---

Posts: 370 | From NJ | Registered: Dec 2007 | IP: Logged |

Lymetoo
Moderator
Member # 743


posted

---

I would think so. I know I had lots of dizziness and terrible headaches from it.

I'm not at my desktop computer, or I would post the list of babesia symptoms.

Maybe someone here will know.

--------------------
--Lymetutu--
Opinions, not medical advice!


---

Posts: 95978 | From Texas | Registered: Feb 2001 | IP: Logged |

adamm
Unregistered



posted

---

Yep--infected RBC's plug up cerebral capillaries.

---

IP: Logged |

psano2
LymeNet Contributor
Member # 11711


posted

---

I believe that Babesia in the brain is the cause of the brain herxes I've been experiencing since starting artemesia and plaquenil.

Plus, since starting those antibiotics, my peripheral neuropathy (numb hands and feet) has decreased significantly.

---

Posts: 975 | From California | Registered: Apr 2007 | IP: Logged |

groovy2
Frequent Contributor (1K+ posts)
Member # 6304


posted

---

Hi Trish --

Sure babs can cause many kinds of brain
impairment - Fog -memory loss -Killer Migraines-
hard to speak-find the right words ect -

with correct treatment these will get better-

-- Jay--

---

Posts: 2999 | From Austin tx USA | Registered: Oct 2004 | IP: Logged |

trish4
LymeNet Contributor
Member # 14156


posted

---

Thanks...Ive been diagnosed with Lyme and Babs. Im trying to decide which one is mainly causing my neuro symptoms.

After starting treatment for Lyme A LOT of my symptoms went away and have not returned. (daily stomach aches, daily headaches, panic attacks, and some others).

But than all these new neuro symptoms came out. Difficulty finding words (VERY DIFFICULT), well probably every cognitive problem you can think of.

I think Ive come to the conclusion that while treating for Lyme my Babs symptoms came out. My main symptoms now are fatigue (also worse than it was before treatment) and brain related. I would much rather have my old symptoms back rather than have my brain not functioning right.

Im just extremely discouraged that I am worse than before treatment. I wish, sometimes that I never started the medicine, because I can deal with stomach aches and headaches and pain but cannot deal with not being able to hold a normal conversation.

I just started babs treatment though, so maybe Ill get my brain back soon. I sure hope so!

---

Posts: 370 | From NJ | Registered: Dec 2007 | IP: Logged |

Michelle M
Frequent Contributor (1K+ posts)
Member # 7200


posted

---

Hi Trish.

That's a great question.

Also a hard one:

For example, word finding problems, headaches, memory loss, etc -- those are symptoms -- but it's so hard to differentiate between that and lyme symptoms. I was always bothered wondering whether babesia was actually IN my brain.

One reason we don't know much about it is because people are not going around routinely having biopsies of their brains to have a look-see.

However, one guy with babesia DID -- well, not a biopsy..but rather, an autopsy....um, yeah..

They found an interesting result.

He had FIVE TIMES as many babesial organisms in his brain as in any other organ in his body!!

This was after two treatments -- in the hospital -- to clear babesia! (I think he was asplenic.)

Now, my first thought was that babesia must some weird affinity for the brain.

But after thinking about it (hah---pun intended!), it might be that babesia don't really prefer the brain over other locations so much as that the brain is more protected than other locations, so that killing agents (mepron, etc) don't really reach there as successfully. Thus the brain population stays higher.

Maybe?

All idle speculation, as very little real research has been done on this, since far more important research needs done on serious matters like "post lyme syndrome," or how to put people in prison for smoking pot, or other such weighty topics.

But the bottom line: Does babesia affect your brain: For sure!!

Michelle

---

Posts: 3193 | From Northern California | Registered: Apr 2005 | IP: Logged |

scared08
LymeNet Contributor
Member # 14695


posted

---

Hi,

I'm sorry as I know how frustrating and worrisome this is!!

I have no proof, however after starting treatment for babesia; my brain 'fog', memory, ability to spell, mixing up words, reversing letters, can't find the right word, so much more tired than ever before!

So my GUESS is yes!!

I am always tempted to stop treatment also, but that's part of the fight!!!

If you don't follow through with the treatments, you can get so much worse! I can no longer drive. I'm in a wheelchair about 80% of the time. Bed-ridden more often than I even want to think about. ETC.....

I know how hard it is, but talk to your LLMD about it. Don't give up on your treatment no matter how hard it gets!!

Trish, I've read stories about people being on treatment for 3 to 4 years. They say that is was the hardest time of their lives. But, they're better now!!!! I should add that these are people that went undiagnosed for years and years. Me--16 yrs. I pray that your recovery will be much faster!

Hang in there.

---

Posts: 351 | From Georgia | Registered: Feb 2008 | IP: Logged |

CherylSue
Frequent Contributor (1K+ posts)
Member # 13077


posted

---

I was on almost 5 months of doxy, but recently relapsed. Low concentration, lethargy, burning skien, brain fog, fried brain, fatigue,& depression are back.

I asked my doc to put me on malerone since a week of plaquenil literally made me crazy. Side effects listed are mood disturbance in the flier. Oh, yeah.

My LLMD hadn't considered babesia because I don't get the headaches associated with it. However, my initial illness began 8 years ago with prolonged 103 fever, drenching sweats, and chills. The sweats subsided into mild sweats and I recovered a year later for 3 years before another fever relapsed me.

Currently, I am in a relapse and am getting brief mild sweats occasionally at night.

Am I correct in targeting the babesia? Any opinions?

Thanks,
CherylSue

---

Posts: 1954 | From Illinois | Registered: Aug 2007 | IP: Logged |

tailz
Unregistered



posted

---

I think all of these bugs have an affinity for brain tissue for one reason and one reason alone - because magnetite is located there. I know because I see oxidized metal staining on my teeth, and I can feel it, too.

I don't believe they are there with malicious intent - any of these bugs - I believe they are merely trying to survive like we are. Maybe they are even attempting to correct something for us, or they are simply lost.

http://findarticles.com/p/articles/mi_m1511/is_n1_v14/ai_13670068

Magnetic minds - magnetite found in human brain - Biology - 1992...

THE ABILITY of homing pigeons to fly home and of honeybees to make beelines for the hive probably has something to do with their ability to synthesize crystals of magnetite, a strongly magnetic mineral.

The crystals seem to act as internal compasses to help these creatures, along with such others as bacteria and whales, navigate from place to place.

Until this spring, though, no one knew that humans also make internal magnets in their brains. The discovery probably won't make road maps obsolete, but it may provide a long-sought link between electromagnetic fields and disease.

SINCE THE LATE 1970s biologists have been perplexed by claims that electromagnetic fields from power lines and electrical equipment cause childhood leukemia, male breast cancer, and other diseases.

There was nothing in human tissue that could be affected by such fields, they said. "We're certainly in a different ball game now," says Joseph Kirschvink, a Caltech geobiologist and head of the research team that made the discovery.

"Magnetite is the first permanent magnet to be discovered in human tissue, and it has new and novel physical properties."

Kirschvink found the magnetic crystals using a fairly simple technique. In a magnetically shielded and dust-free "clean room," Kirschvink and his colleagues dissolved brain tissue in vials sealed by fingerlike glass caps that contained a strong magnet and extended down into the thick solution.

Over the course of a week the magnetite crystals in the dissolved brain tissue slowly migrated through the solution to the glass wall surrounding the caps' magnets.

When the researchers used a high-resolution transmission electron microscope to examine the crystals that clung to the caps, they found that a thimbleful of brain tissue contains about 5 million magnetite crystals, most of which are about a millionth of an inch long.

The crystals are strikingly similar to crystals some bacteria use to tell up from down.

The researchers sampled magnetite from different areas of the brain and learned that the crystals were consistent in size, shape, and distribution, suggesting that they have some biological function. But no one knows where the tiny magnets are located in intact cells.

One possibility is that the crystals could be coupled to ion channels that regulate the flow of materials in and out of cells. When exposed to strong electric fields, the tiny magnets could reorient themselves and either open the channels or slam them shut. That would affect a cell's health or its rate of activity...

This is also why I never shut up about the harmful effects of wireless technology. I don't know how anybody could read this and not have that logic jump out at them.

We're never going to kill Lyme with antibiotics - never - and I don't want to live like this forever.

---

IP: Logged |

psano2
LymeNet Contributor
Member # 11711


posted

---

I would think so, also. I've had a couple of very persistent neuro problems go away since starting plaquenil and artemesinin (esp. the artemesinin) this year.

---

Posts: 975 | From California | Registered: Apr 2007 | IP: Logged |

Aligondo Bruce
LymeNet Contributor
Member # 6219


posted

---

Yes without question babesia affects the brain. It is a blood-borne infection and the brain recieves more blood than any other part of the body.

It is well known in veterinary circles that infection of dogs with the strain Babesia gibsoni can result in a wide array of organ involvement including generalized cerebral vasculitis - of the same sort noted by fallon in his studies of TBD SPECT scans.

Human strain WA-1 - Babesia duncani - has been noted to be very, very similar morphologically to Babesia gibsoni. They are apparently closely related. Gibsoni in dogs is almost impossible to eradicate, but it can be forced into remission.

Don't buy into the 'duncani is only on the west coast' crap. Duncani, in vet pubs, has been noted across the south and in parts of midwest in animals like rabbits. The CDC/IDSA types are simply not interested in discovering how widespread the human epidemic of these diseases are.

I would caution anyone with any of these diseases to review what is known about their veterinary counterparts. The CDC and IDSA etc. seem most reluctant to conduct many lines of research or report on certain types of cases in humans.

In the instance of lyme, bartonella, and babesia, far more has been reported on the scope of disease in animals than in people.

My guess is there are babesia strains circulating out there, similar to lyme disease, in that the establishment doesnt want to acknowledge the extent or degree of human infection or consequences likely because they are bioweapons.

One BIG thing to keep in mind - there are literally dozens of babesia strains found in american ticks, but so far only four strains are testable in humans. There is the highest likelihood that other strains are causing human infection but the testing is not developed yet for IFA or PCR. Blood smears will still work BUT they have to see them. A negative smear does not mean no disease - particularly in the case of small babesias such as duncani, which even with staining can be very hard to see under microscope.

Sometimes using smears you have to have several before one turns up positive.

---

Posts: 523 | From Stillwater,OK,USA | Registered: Sep 2004 | IP: Logged |

HaplyCarlessdave
Frequent Contributor (1K+ posts)
Member # 413


posted

---

Thus I have heard: (from reputeable LL sources)
(keep in mind, though, that I don't generally know about this stuff and may not remember everything perfectly.) [..
Unlike lyme, which can infiltrate virtually any part of the body or brain, Babesia stays mainly in the blood. Of course, there is plenty of blood in the brain!-- therefore one can imagine babesia can affect mental processes, through inhibiting blood flow to critiocal ateas, at least. Lyme, though, I believe, gets out of the bloodstream and might attack neurons directly, so is much more likely to cause long-lssting neuro symptoms...]
I am also asplenic, but I managed to beat the lyme through combining atovaquone with artemesia anua and various forms of garlic. So Hang in there, and good luck in your fight!
DaveS

---

Posts: 4567 | From ithaca, NY, usa | Registered: Nov 2000 | IP: Logged |

madge
LymeNet Contributor
Member # 13704


posted

---

we are sure my hubby has it in the brain..other than the flu like stuff from the start 6 yrs ago...all his pain has been in his head and eyes..5 yrs ago eye Dr said he had Glacuma...now being on abx for 16 mts his eye pressure has droped to normal...if it was Glacuma and he is on the same eye med all this time now the pressure dopes!!!!eye Dr. of course dose not think it can be lyme!!!anyone else have this happen...just think its such a drop all of a sudden..maybe its a start that meds are working...also his CD54 test was 69... not that good but not below 60..take care all

--------------------
madgen


---

Posts: 342 | From newjersey | Registered: Oct 2007 | IP: Logged |
Contact Us | LymeNet home page | Privacy Statement

Powered by UBB.classic™ 6.7.3

---
The Lyme Disease Network is a non-profit organization funded by individual donations. If you would like to support the Network and the LymeNet system of Web services, please send your donations to:
The Lyme Disease Network of New Jersey
907 Pebble Creek Court, Pennington, NJ 08534 USA
http://www.lymenet.org/
---
Home | Flash Discussion | Support Groups | On-Line Library
Legal Resources | Medical Abstracts | Newsletter | Books
Pictures | Site Search | Links | Help/Questions
About LymeNet | Contact Us
---
© 1993-2020 The Lyme Disease Network of New Jersey, Inc.
All Rights Reserved.
Use of the LymeNet Site is subject to Terms and Conditions.
---