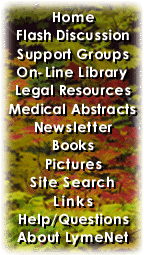 ---
LymeNet on Facebook
LymeNet on Twitter
---
---
The Lyme Disease Network receives a commission from Amazon.com for each purchase originating from this site.
When purchasing from Amazon.com, please
click here first.

Thank you.




Dedicated to the Bachmann Family


LymeNet needs your help:
LymeNet 2020 fund drive

The Lyme Disease Network is a non-profit organization funded by individual donations.

| | |
| --- | --- |
| | |
Author
Topic: Accidents at Plum Island disease lab acknowledged 4/11/2008

hcconn22
LymeNet Contributor
Member # 5263


posted

---

By LARRY MARGASAK, Associated Press Writer Fri Apr 11, 7:12 PM ET

WASHINGTON - The only U.S. facility allowed to research the highly contagious foot-and-mouth disease experienced several accidents with the feared virus, the Bush administration acknowledged Friday.

A 1978 release of the virus into cattle holding pens on Plum Island, N.Y., triggered new safety procedures. While that incident was previously known, the Homeland Security Department told a House committee there were other accidents inside the government's laboratory.

The accidents are significant because the administration is likely to move foot-and-mouth research from the remote island to one of five sites on the U.S. mainland near livestock herds. This has raised concerns about the risks of a catastrophic outbreak of the disease, which does not sicken humans but can devastate the livestock industry.

Skeptical Democratic leaders of the House Energy and Commerce Committee demanded to see internal documents from the administration that they believe highlight the risks and consequences of moving the research. The live virus has been confined to Plum Island for more than a half-century to keep it far from livestock.

The 1978 accidental release "resulted in the FMD virus in some of the cattle in holding pens outside the laboratory facility," Jay Cohen, a senior Homeland Security official, wrote in response to the committee.

"Detailed precautions were taken immediately to prevent the spread of the disease from Plum Island, and new precautionary procedures were introduced."

Cohen, undersecretary for science and technology, said there also have been "in-laboratory incidents" -- contamination of foot-and-mouth virus within the facility but not outside it -- at Plum Island since 1954. That was the year the Agriculture Department acquired the land and started the Plum Island Animal Disease Center.

One government report, produced last year and already provided to lawmakers by the Homeland Security Department, combined commercial satellite images and federal farm data to show the proximity to livestock herds of locations that have been considered for the new lab.

"Would an accidental laboratory release at these locations have the potential to affect nearby livestock?" asked the nine-page document. It did not directly answer the question.

A simulated outbreak of the disease in 2002 -- part of an earlier U.S. government exercise called "Crimson Sky" -- ended with fictional riots in the streets after the simulation's National Guardsmen were ordered to kill tens of millions of farm animals, so many that troops ran out of bullets. In the exercise, the government said it would have been forced to dig a ditch in Kansas 25 miles long to bury carcasses. In the simulation, protests broke out in some cities amid food shortages.

"It was a mess," said Sen. Pat Roberts, R-Kan., who portrayed the president in that 2002 exercise. Now, like other lawmakers from the states under consideration, Roberts supports moving the government's new lab to his state. Manhattan, Kan., is one of five mainland locations under consideration. "It will mean jobs" and spur research and development, he says.

Other possible locations for the new National Bio- and Agro-Defense Facility are Athens, Ga.; Butner, N.C.; San Antonio; and Flora, Miss. The new site could be selected later this year, and the lab would open by 2014. The number of livestock in the counties and surrounding areas of the finalists range from 542,507 in Kansas to 132,900 in Georgia, according to the Homeland Security Department's internal study.

Foot-and-mouth virus can be carried on a worker's breath or clothes, or vehicles leaving a lab, and is so contagious it has been confined to Plum Island since the research began. The existing lab is 100 miles northeast of New York City in the Long Island Sound. Researchers there who work with the live virus are not permitted to own animals at home that would be susceptible, and they must wait at least one week after work before attending outside events where such animals might perform, such as a circus.

Leaders of the House Energy and Commerce Committee also are worried about the lab's likely move to the mainland. Chairman John Dingell, D-Mich., and the head of the investigations subcommittee, Rep. Bart Stupak, D-Mich., also demanded reports about "Crimson Sky" and other studies on the consequences of live virus research on the U.S. mainland. Cohen, the Homeland Security official, said those documents were provided.

Two lawmakers from New York, Sen. Hillary Rodham Clinton and Rep. Timothy Bishop, both Democrats, expressed concerns in letters they wrote last year about the Homeland Security Department's ability to protect the existing lab at Plum Island, which relies for security on a private security company and local police rather than federal agents.

"We are particularly concerned that DHS has not been meeting the security needs of the facility since Federal Protective Service agents were removed from the island," Clinton and Bishop wrote in a letter obtained by The Associated Press.

Cohen responded that Plum Island used a contract with a private security firm and relied on an agreement with local police, who were deputized to enforce federal laws on the island.

Will Jenkins, Bishop's spokesman, said Friday that Homeland Security "has been responsive to the concerns raised last year, and Congressman Bishop is pleased with the progress DHS is making regarding security for Plum Island."

The White House said modern safety rules at labs are sufficient to avoid any outbreak. But incidents in Britain have demonstrated that the foot-and-mouth virus can cause remarkable economic havoc -- and that the virus can escape from a facility.

An epidemic in 2001 devastated Britain's livestock industry, as the government slaughtered 6 million sheep, cows and pigs. Last year, in a less serious outbreak, Britain's health and safety agency concluded the virus probably escaped from a site shared by a government research center and a vaccine maker. Other outbreaks have occurred in Taiwan in 1997 and China last year and in 2006.

If even a single cow signals an outbreak in the U.S., emergency plans permit the government to shut down all exports and movement of livestock. Herds would be quarantined, and a controlled slaughter could be started to stop the disease from spreading.

Infected animals weaken and lose weight. Milk cows don't produce milk. They remain highly infectious, even if they survive the virus.

The Homeland Security Department is convinced it can safely operate the lab on the mainland, saying containment procedures at high-security labs have improved. The livestock industry is divided. Some experts, including the former director at the aging Plum Island lab, say research ought to be kept away from cattle populations -- and, ideally placed where the public already has accepted dangerous research.

The former director, Dr. Roger Breeze, suggested the facility could be safely located at the Atlanta campus of the Centers for Disease Control and Prevention, or at Fort Detrick in Frederick, Md., home of The United States Army Medical Research Institute for infectious diseases.

Another possibility, Breeze said, is on Long Island, where there is no commercial livestock industry. That would allow retention of most of the current Plum Island employees.

The former head of the Agriculture Department's Agricultural Research Service said Americans are not prepared for a foot-and-mouth outbreak that has been avoided on the mainland since 1929.

"The horrific prospect of exterminating potentially millions of animals is not something this country's ready for," said Dr. Floyd Horn.

The Agriculture Department ran the Plum Island lab until 2003. It was turned over to the Homeland Security Department because preventing an outbreak is now part of the nation's biological defense program.

Plum Island researchers work on detecting the disease, controlling epidemics using vaccines and drugs, testing imported animals and training professionals.

The new facility will add research on diseases that can be transferred from animals to humans. The Plum Island facility is not secure enough to handle that higher-level research.

A new facility at Plum Island is technically a possibility. Signs point to a mainland site, however, after the administration spent considerable time and money scouting new locations. Also, there are financial concerns about operating from a location accessible only by ferry or helicopter.

The Homeland Security Department said laboratory animals would not be corralled outside the new facility, and they would not come into contact with local livestock. All work with the virus and lab waste would be handled securely and any material leaving would be treated and monitored to ensure it was sterilized.

"Containment technology has improved dramatically since foot-and-mouth disease prohibitions were put in place in 1948," said Homeland Security spokeswoman Amy Kudwa.

____

Associated Press writer Sharon Theimer contributed to this report.

--------------------
Positive 10 bands WB IGG & IGM
+ Babesia + Bartonolla and NOW RMSF 3/5/09 all at Quest

And still positive ELISA and WB two years after IV treatment
http://www.lymefriends.org/profile/blake


---

Posts: 607 | From Tick Town, Connecticut | Registered: Feb 2004 | IP: Logged |

hcconn22
LymeNet Contributor
Member # 5263


posted

---

After reading this please someone pinch me and tell me that Lyme disease did not escape from Plum Island too-- and about that same time.

If they were screwing up in 1978 with the worst diseases in the world-- what about the prior 25 years...what else got out of that lab.

--------------------
Positive 10 bands WB IGG & IGM
+ Babesia + Bartonolla and NOW RMSF 3/5/09 all at Quest

And still positive ELISA and WB two years after IV treatment
http://www.lymefriends.org/profile/blake


---

Posts: 607 | From Tick Town, Connecticut | Registered: Feb 2004 | IP: Logged |

lou
Frequent Contributor (5K+ posts)
Member # 81


posted

---

Here's another one on the subject. Quotes our buddy Klempner.

Isn't it amazing that one rogue scientist steals anthrax from a govt lab sends it to people in the mail, and instantly we have a biolab bonanza. Piles of money and a new empire for scientists. I personally think that was the plan all along. Scare everyone, inconvenience Congress (out of an office building for a long time for decontamination), and they will respond by awarding the malefactors!

----------------------------------------------

New Biolabs Stir a Debate Over Secrecy and Safety



By JUDITH MILLER
Published: February 10, 2004
New York Times

A flood of federal money has led to a building boom for high-security ''hot labs,'' where the world's deadliest germs and potential bioterrorist weapons can be studied.

The laboratories would more than triple the space to develop vaccines and treatments for anthrax, plague, hemorrhagic fevers and other killer pathogens, officials estimate.

Scientists, biodefense experts and officials say the shortage of Biosafety Level 3 and 4 labs, those that handle the most dangerous forms or the most lethal germs, has hindered research on vaccines and treatments for diseases they cause.

''We desperately need this new space,'' said Dr. James M. Hughes, director of the infectious disease center at the Centers for Disease Control and Prevention.

Some biodefense experts challenge the need for so many highest-containment labs. Those experts say that heightened security, along with other recent federal actions aimed at controlling exotic germs, is greatly increasing secrecy and threatening to reduce the scientific openness that nourishes good research. They said the elaborate rules might also discourage scientists from working in the field,

''Becoming an armed camp to prevent organisms from falling into the hands of malefactors is a self-defeating approach,'' said Dr. Stanley Falkow, a professor of microbiology and immunology at Stanford, who has criticized Washington's approach to biodefense.

Dr. Falkow decided last year to destroy his own plague cultures rather than abide by proposed regulations on germs that can be used as weapons. Even after the rules were loosened in response to complaints, he declined to work on such agents.

''These rules affect not just the scientists who work with me,'' he said, ''but those who clean labs and all who have access to them. It's just not worth it.''

The projects are unsettling local residents and researchers, too, particularly near a proposed Level 4 lab at the Boston University Medical Center, near Roxbury.

''The issue is one of trust,'' said Dr. David M. Ozonoff, an epidemiologist at the Boston University School of Public Health. ''Though I still support such a lab in principle for public health reasons, there aren't sufficient safeguards to prevent work that violates the ethical standards of the scientific community. Nor can safety through civilian authority be assured.''

The expansion is fueled by the National Institutes of Health, which has poured more than $1.7 billion a year into biodefense since the attacks of Sept. 11, 2001, and the lethal anthrax mailings a month later.

Last September, Dr. Anthony S. Fauci, director of the National Institute of Allergy and Infectious Diseases, announced that the institutes would grant $240 million to build two Level 4 National Biocontainment Laboratories, at the University of Texas Medical Branch at Galveston and Boston University. Weeks later, the infectious diseases agency issued an additional $120 million in grants ranging from $7 million to $21 million to nine institutions to build Level 3 space at the Regional Biocontainment Laboratories.

The institutes are also overseeing the construction of Level 3 and 4 centers a $66.5 million building at its Rocky Mountain Laboratories in Hamilton, Mont., and a 100,000-square-foot $105 million Integrated Research Facility with Level 3 and 4 laboratories near the Army research installation at Fort Detrick, Md.

Although the research budget of the acclaimed biodefense lab at Fort Detrick is supposed to be cut, the health institutes are more than doubling the Level 3 and 4 space at its Centers for Disease Control and Prevention, a spokesman for the centers said.

Moreover, an official of the health institutes said, so many universities and companies had built laboratories or were expanding them for Level 3 research that it was hard to determine how much Level 3 space existed.

''We're considering conducting an inventory,'' said Rona Hirschberg, an administrator at the infectious diseases agency.

Dr. Richard H. Ebright, a professor of chemistry at Rutgers, who is a lab director at its Waksman Institute of Microbiology in Piscataway, N.J., called much of the Level 4 construction overkill, as well as a misdirection of scarce resources.

The needs, he added, ''can be met entirely by the construction of a single large facility in a secure environment.''

In interviews, Dr. Fauci and other senior American scientists and experts said more space was greatly needed, and they dismissed safety concerns. They said there had never been a documented case of illness in a community caused by an escaped pathogen from a high-security laboratory.

But many experts agree that such laboratories radically change scientists' working conditions. Tighter security is evident, and not just at the Centers for Disease Control, which have armed the guards there, installed permanent perimeter fencing and taken other steps to ensure safety.

The University of Texas Medical Branch at Galveston, which won the grant to build the 13,000-square-foot Level 4 laboratory, has installed elaborate security at its new 2,000-square-foot ''baby'' hot lab, where about 12 researchers will soon start to work on viruses that cause diseases like Lassa and Crimean Congo hemorrhagic fevers.

Entry to the $15.5 million center, once open to most on campus, is now restricted to people with coded identity cards who pass through two checkpoints. Background checks on researchers are routine, and access to the Level 4 lab requires electronic fingerprints. The university is also installing special doors and posting armed guards.

On a tour, administrators called the lab a veritable ''safe within a safe,'' separated on its own floor from the rest of the complex by pressurized air seals and welded scrubbed air ducts that filter air to and from the lab. In case of a loss of power loss, bioseals are to close off the lab automatically.

The lab is kept at a lower pressure than the atmosphere, so that a leak lets air in, not out. Scientists and technicians take chemical showers before and after work, which is carried out in pressurized suits and is monitored by security cameras.

Planning for the Level 4 complex, which will cost $750,000 a year to operate, began in 1997. Dr. David H. Walker, executive director of the Galveston branch's center for biodefense and emerging infectious diseases, has slowly transformed a sleepy medical backwater into a top center to study naturally and unnaturally inspired disease. The center has recruited scientific superstars like Dr. C. J. Peters, its biodefense director who is widely known as the quirky hero who battled the Ebola outbreak in ''The Hot Zone,'' the best-selling 1994 book by Richard Preston.

Since the attacks of Sept. 11, biodefense has become big business. Galveston received $3.7 million in federal grants in the 1996-1997 fiscal year. In fiscal 2003-2004, it won nearly $200 million.

Dr. Walker said some community groups were initially hostile to placing a hot lab in an area prone to devastating hurricanes. He and his staff, he said, met repeatedly with the community to explain safety measures.

Juan Pena, the president of the University Area Association and an employee of the institution, and Robert Mihovil, the program director of the group whose wife is a nurse at the campus, said the university had addressed their concerns.

''They really included us in the planning,'' Mr. Mihovil said.

Several community leaders said that was not the case in Boston, the other winner of the competition, where opposition to the hot laboratories has been building.

Although the University of Texas gave neighborhood groups an edited version of its grant application, Boston University did not do so for months. University representatives said the lab would not have classified work, but the application suggested that unidentified government subcontractors might work in the Level 3 and 4 areas, especially in the event of a bioterrorist strike or other national emergency.

The complex, near Roxbury, is in a poor and densely populated area.

''The university has been uncooperative, elitist and condescending,'' said Chuck Turner, the Boston City Council member who represents the area.

Mr. Turner, who has introduced a resolution in the council to keep Level 4 labs out of Boston, said he questioned using Federal Express and other such couriers to deliver dangerous materials to the lab.

Alternatives for Community and Environment, a neighborhood association, plans to sue Boston University and the Boston Redevelopment Authority to block the project for environmental reasons.

Dr. Sheldon Krimsky, a professor at Tufts, who is with the Council for Responsible Genetics, another opposition group, said he favored establishing a more active city biosafety committee similar to one formed in the mid-70's in neighboring Cambridge to oversee research and to review building plans for safety.

In an interview, Dr. Mark S. Klempner, Boston University medical school's associate provost for research, who is in charge of the project, said the laboratory would enhance the scientific and economic standing of the region and be a magnet for talent.

''That's the biggest frustration,'' Dr. Klempner said. ''A year after telling people all these things, we find ourselves in front of the same people who are not in favor of the project, who still supply no data supporting the threats they say exist, asking the same questions. There are groups out there that don't really want a dialogue, which is what we want.''

Public opposition helped thwart competitors for the federal labs. The University of California at Davis, 90 minutes northeast of Berkeley and highly regarded for its research on infectious disease, was not selected partly because of community opposition, critics and public health officials said.

Donald Mooney, a lawyer opposed to the lab, said his community group had sent more than 1,200 pages to the university and the N.I.H. documenting opposition.

''They would tell us which pathogens were on campus, but not their location or which researchers were working on them or the type of research that would be conducted,'' he said.

Maril Stratton, a spokeswoman at Davis, said the university had repeatedly reached out to newspapers, city officials and neighborhood groups to build support and had tried to be open and transparent in all its dealings.

''We made a most unusual effort to reach out,'' Ms. Stratton said. ''But this is an activist community, and although the project was safe, it was a hard project. It sounded scary.''

Concern that increased secrecy and security may harm science is increasing. Dr. Peters, head of the Galveston project, said he was worried that new restrictions might alienate researchers whom labs like his are trying to attract.

Dr. D. A. Henderson, who helped lead the campaign to eradicate smallpox and has been advising the federal health institutes for nearly two years, said the clash of cultures between scientific openness and tight security might not be resolvable.

''We've been well served by being pretty open,'' Dr. Henderson said. ''And I worry about not sharing information that might advance the development of better antibiotics, more vaccines and drugs.''

Dr. Hughes of the Centers for Disease Control said scientists would have to adjust to tighter security because of the growing threat of naturally occurring infectious diseases and bioterrorism.

''It took some of our people time to adjust,'' he said. ''But most scientists understand the threat and are excited to take advantage of the new research opportunities that were never before available.''

---

Posts: 8430 | From Not available | Registered: Oct 2000 | IP: Logged |

lou
Frequent Contributor (5K+ posts)
Member # 81


posted

---

And it should be mentioned that safety lapses at a TX biolab resulted recently in a stiff fine for the university.

Wherever these things are, there will be accidents and sloppy procedures. It is only human nature, even without rogue scientists.

---

Posts: 8430 | From Not available | Registered: Oct 2000 | IP: Logged |

Greatcod
Unregistered



posted

---

Tghanks for posting this.
I'll add that Klempner has had a couple of getaway incidents at his Boston University lab in the last few years.
I think it was tuleremia(sp).

---

IP: Logged |

Greatcod
Unregistered



posted

---

What is almost funny is the deep concern over animals being threatened by a getaway, but of course not poor people.

---

IP: Logged |

lou
Frequent Contributor (5K+ posts)
Member # 81


posted

---

Have heard there was recent local public concern in the Ft. Detrick area re the possibility of accidents. So far I can't find a newspaper article on the subject. But not sure to what extent a local paper is going to blow the whistle on an installation that brings federal money to that county.

---

Posts: 8430 | From Not available | Registered: Oct 2000 | IP: Logged |

groovy2
Frequent Contributor (1K+ posts)
Member # 6304


posted

---

Close to Austin TX there was escape of
some test monkeys that were infected
with something Really Bad -
( cant remember name)

All of the BIO Weapons Labs should be
located in Washington DC --

Right next to the people that think
Making Bio Weapons is a Good Idea -

--Jay--

---

Posts: 2999 | From Austin tx USA | Registered: Oct 2004 | IP: Logged |

Cold Feet
LymeNet Contributor
Member # 9882


posted

---

GreatCod, you were right about that "little mishap." See this link for the "official" version:

http://www.bphc.org/news/press_release_content.asp?id=281

You'll see that it refers to the full report, which is either not found or buried.

So nice of the authorities to be developing such dangerous pathogens within a few hundred feet of a highly populous area. It's INSANE.

[ 13. April 2008, 02:20 PM: Message edited by: Cold Feet ]

--------------------
My biofilm film: www.whyamistillsick.com
2004 Mycoplasma Pneumonia
2006 Positive after 2 years of hell
2006-08 Marshall Protocol. Killed many bug species
2009 - Beating candida, doing better
Lahey Clinic in Mass: what a racquet!


---

Posts: 828 | From Mass. | Registered: Aug 2006 | IP: Logged |

lpkayak
Honored Contributor (10K+ posts)
Member # 5230


posted

---

how come no one's talking about lab 257 here?

--------------------
Lyme? Its complicated. Educate yourself.


---

Posts: 13712 | From new england | Registered: Feb 2004 | IP: Logged |

Eight Legs Bad
LymeNet Contributor
Member # 13680


posted

---

quote:

---

Originally posted by lpkayak:
how come no one's talking about lab 257 here?

---

I will. This is an extract from the excellent book "Lab 257: the Disturbing Story of the Government's Secret Plum Island Germ Laboratory", by Michael C. Carroll (pub Harper Collins 2004 ISBN 0-06-001141-6):

"[The Steere camp's] theory assumes that Lyme disease was a gradual problem that 'attracted attention'. Nothing is further from the truth.

What occurred in Old Lyme in 1975 was the outbreak of an unknown illness, concentrated within a defined geographic location that infected thirty-nine children and twelve adults. It was a modest epidemic.

Old Lyme's outbreak was a footprint of something that had deposited itself there and ***festered***. Lyme disease cannot simply be ascribed to poor land use patterns, when ten miles south of Old Lyme lies an untamed island teeming with ticks, birds, deer, and mice, hosting two high-hazard germ laboratories proven to be anything but reliable in containing foreign germs..."

In Europe the erythema migrans rash and certain other manifestations of Lyme such as the skin disease ACA were known well over a century ago. However there appears to be no historical record of chronic Lyme neuroborreliosis symptoms in numbers of people, until around the time of the Second World War.

Elena

--------------------
Justice will be ours.


---

Posts: 786 | From UK | Registered: Oct 2007 | IP: Logged |

WildCondor
Unregistered



posted

---

Look at a map of that area...see how Lyme CT is right in the air current path from Plum Island.

Check this out you guys, it's true fiction and an amazing read www.poisonplum.com

---

IP: Logged |

Neil M Martin
LymeNet Contributor
Member # 2357


posted

---

http://www.very-clever.com/information/dziozquzdq

True To Life

The Poison Plum is presented as fiction but yet the underlying basic message of the book is very true to life. This is a book that everyone needs to read. You don't have to be a Lyme disease patient to appreciate this gripping tale of political intrigue. It is most definitely a page turner and it was very difficult to put down.

The book begins in Alabama, back in the 1940s, where the famous Tuskegee Syphilis Experiment took place. This subject later ties into the plot. Next we visit New London, Connecticut where a retired respected colonel with lyme disease, takes revenge on a boatload of microbiologists returning home for the day from Plum Island. Plum Island is an animal disease research facility off the tip of Long Island, New York. One of Plum Island's employees, Susan Collins, was not on the boat that particular day because she was taking her son, Toby, to the doctor. Toby had contracted a mysterious illness and she was hoping her son would finally be diagnosed with something tangible so he could be treated.

Homeland Security and Plum Island officials discovered that the Colonel had been dying of Lyme disease and they realized that he had traced the origins of this disease to the research labs on this island. The officials did not want this connection to be discovered by the public, so to divert attention away from the Colonel and to put the blame somewhere else, the government officials then conducted raids on the offices of all the Lyme doctors in the area. A particularly famous lyme doctor, Dr. Glen Klinner, was arrested and taken to some unknown location. The Colonel had been a patient of Dr. Klinner and the official government lie stated that Dr. Klinner had given the Colonel specific drugs which caused the colonel to commit this desperate act of what the government called "terrorism", against the United States.

Congressman McDonald then became involved in this developing saga, as Dr. Klinner and his wife Fran, were very close friends of the Congressman.

In the meantime Susan Collins was still having problems trying to get her child, Toby, diagnosed. Susan returned to work at Plum Island where her bosses complained of all the time she had taken off to be with her sick son. They were suspicious and wondered why she hadn't been on the ferry that fateful afternoon.

Finally, Toby was diagnosed with Lyme disease and Babesiosis. Susan had difficulty finding a local doctor to continue Lyme treatment because all the Lyme doctors in the area had been arrested. While Susan is struggling to save her son's life, Congressman McDonald is trying to find where his friend, Dr. Klinner, had been taken to. The Congressman held press conferences to inform his constituents as to what was happening. McDonald received information which led him to realize that Lyme disease may have actually originated at and spread from Plum Island.

As the story evolves, many of the characters are connected, share information and together they fight for the Truth to be revealed. Sometimes the reader may be able to discern where the plot is headed and other times he may not.......especially near the end.

I feel that there is an important lesson to be learned from this book. The main idea I came away with was that we have to come together, we have to do what's right and we need to ask God for guidance, before it's too late.

This book encompasses many aspects of what is really taking place in our world and I think we need to heed the author's warnings. The Poison Plum is very well written and includes all the essential elements of a spellbinding thriller.

The above review was contributed by: Marjorie Tietjen: Marjorie is a freelance investigative journalist with a B.S. in nutrition. She writes on various topics but has a special interest in public health, education and awareness. Her writings can be found online and in several print publications. She also reviews books for Bookpleasures.

New author, Les Roberts, has given a thrilling. chilling account of laboratory science gone awry. The chill comes from the awareness of what could become, if oversight is itself suspect. What really did happen? What did the "powers that be" know? I highly recommend this new novel.


Part history lesson, todays headline and tomorrow's news!

"This book has all the sizzle and excitement of a Clancy or Grisham novel with realistic characters you get to know and some you'll wish you didn't know. Some you may even recognize."

Did it happen - Will it happem?

Whether you are a Lyme disease sufferer, know or support one, or are just looking for great thriller/conspiracy story - this book fits the bill.

--------------------
Neil


---

Posts: 697 | From Tucson, AZ USA | Registered: Apr 2002 | IP: Logged |

sparkle7
Frequent Contributor (5K+ posts)
Member # 10397


posted

---

All this stuff just makes me so mad I don't even know where to begin...

I'm glad you posted it. I actually heard it on the radio last night on Coast to Coast AM.

I always thought it was "Hoof in Mouth"... maybe the gov't really means they put their foot in their mouth!

---

Posts: 7772 | From Northeast, again... | Registered: Oct 2006 | IP: Logged |

Greatcod
Unregistered



posted

---

I thought that they were experimenting with DNA transfer very early on in the 70's , and one of their "creations" got away from them.

---

IP: Logged |
Contact Us | LymeNet home page | Privacy Statement

Powered by UBB.classic™ 6.7.3

---
The Lyme Disease Network is a non-profit organization funded by individual donations. If you would like to support the Network and the LymeNet system of Web services, please send your donations to:
The Lyme Disease Network of New Jersey
907 Pebble Creek Court, Pennington, NJ 08534 USA
http://www.lymenet.org/
---
Home | Flash Discussion | Support Groups | On-Line Library
Legal Resources | Medical Abstracts | Newsletter | Books
Pictures | Site Search | Links | Help/Questions
About LymeNet | Contact Us
---
© 1993-2020 The Lyme Disease Network of New Jersey, Inc.
All Rights Reserved.
Use of the LymeNet Site is subject to Terms and Conditions.
---