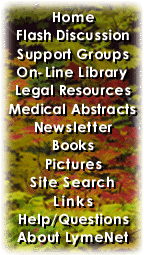 ---
LymeNet on Facebook
LymeNet on Twitter
---
---
The Lyme Disease Network receives a commission from Amazon.com for each purchase originating from this site.
When purchasing from Amazon.com, please
click here first.

Thank you.




Dedicated to the Bachmann Family


LymeNet needs your help:
LymeNet 2020 fund drive

The Lyme Disease Network is a non-profit organization funded by individual donations.

| | |
| --- | --- |
| | |
Author
Topic: can you die from air hunger?

realist
Member
Member # 15105


posted

---

Today I had a pretty scary episode of air hunger. I thought I might pass out and die. I was getting ready to dial 911 on my cell phone if it got any worse. I tried deep breathing and it didn't really help. I also tried EFT to no avail.

After doing a search on this forum, I discovered air hunger is pretty common for those with Babesia. Whew, at least I'm in good company. As disconcerting as it is, can one die from it? Should I start carrying around a bottle of oxygen? (Would pure oxygen even help?) How about an epi-pen? Or is this something that simply feels scarier than it is?

I felt like I was starved for oxygen yet my lungs were taking in full breaths. There was no physical reason I couldn't breathe fully. I thought maybe I was having a panic attack or something. Does it mean I truly wasn't getting enough oxygen (which obviously is an issue), or was it simply a false alarm I can safely ignore? I also found I couldn't think straight at all today at work and got absolutely nothing done. Perhaps I really was oxygen-deprived?

In case it matters, I've tested positively for Babesia and started treatment with MTE9 3 days ago. I've had minor episodes of air hunger before but chalked it up to stress/anxiety. I suppose the treatment could have stirred up the Babesia and caused the air hunger to get worse, hopefully temporarily.

I also wonder if it could be due to a no-carb diet that I started 3 weeks ago. I ate some rice crackers and the air hunger seemed to subside, but that could be a coincidence.

(For those of you who read my other post about testing positive for Lyme but feeling in general OK, this experience definitely got my attention!)

Thoughts? Experiences? Advice?

Thanks!

---

Posts: 31 | From Leesburg, VA | Registered: Apr 2008 | IP: Logged |

Geneal
Frequent Contributor (5K+ posts)
Member # 10375


posted

---

I don't think air hunger can kill you....if so I'd be dead a long, long time ago.

I once had this horrible episode where I couldn't breathe.

It definitely elevated my anxiety causing it to get worse.

I went to the ER. First thing they did was put a pulsox on me. Read 99.

I thought I was losing my mind.

The only time I breathe well is laying flat to sleep.

Now anyways. Prior to two babesia treatments ( I am on my 3rd )

I struggled with air hunger all day and night.

Hang in there.

Sometimes breathing into a paper bag helps.

So do breathing exercises.

Hugs,

Geneal

---

Posts: 6250 | From Louisiana | Registered: Oct 2006 | IP: Logged |

Tincup
Honored Contributor (10K+ posts)
Member # 5829


posted

---

If anyone ever died from it they didn't tell me.

I have had some dealings with it and it IS frightening. So do know you aren't alone.

I ended up in a chiropractors office one day and they had me lay on my back and put a warm heating pad on my chest. It seemed to help.

And like Geneal said... you can start hyper-ventilating... it's happened to me several times.

But so far I ain't died from it.

Hope you don't either!



--------------------
www.TreatTheBite.com
www.DrJonesKids.org
www.MarylandLyme.org
www.LymeDoc.org


---

Posts: 20353 | From The Moon | Registered: Jun 2004 | IP: Logged |

ElaineC
LymeNet Contributor
Member # 9857


posted

---

I know how scary this is - and sometimes it certainly can feel as if one is going to die!! But stressing about it (which is hard not to do!!) just exacerbates the prob.......I try to take as many calm deep breaths as I can, putting my hands on my chest to calm it.....and just keep telling myself this will pass again.

Maybe you are herxing now and that is why it's worse past few days, if you say you started a new Babs treatment a few days ago?

Hope it eases for you!

---

Posts: 261 | From Herx-ville!! | Registered: Aug 2006 | IP: Logged |

roro
LymeNet Contributor
Member # 13383


posted

---

i passed out from it a few times. if i can lie down it definitely helps. if I am at work, I cant do that.

i think mine has a lot to do with my posture. i think my back is slowly collapsing into a hunche over, flexed position and its cutting off my breathing and my digestion too.

---

Posts: 615 | From maryland | Registered: Oct 2007 | IP: Logged |

justwondering
LymeNet Contributor
Member # 12813


posted

---

I had very bad air hunger episodes in my first couple of months of babs treatment.

They would cause full blow panic attacks.

I personally found a small dose of xanax very helpful to relieve most of those symptoms.

I also would wake and take a gasp of air while falling asleep at night, almost as though I had forgotten to breathe.

I am still here to tell about it, so don't worry too much, you'll get through it.

Just try to stay calm!

Jackie

---

Posts: 209 | From maryland | Registered: Aug 2007 | IP: Logged |

sixgoofykids
Moderator
Member # 11141


posted

---

In my case, I'm hyperventilating and am getting plenty of oxygen, it just doesn't feel like it.

I found that breathing into a paper bag helps .... now I can duplicate that without the bag by focusing more on breathing out, then holding my breath out.

That doesn't take away the air hunger, but it takes away the panic that I'm not breathing enough. Temporarily I feel better as long as I'm breathing that way.

--------------------
sixgoofykids.blogspot.com


---

Posts: 13449 | From Ohio | Registered: Feb 2007 | IP: Logged |

LymeMECFSMCS
LymeNet Contributor
Member # 13573


posted

---

I have found that taking lemon water at the first sign of air hunger actually helps, and so does burbur. I haven't found supplemental oxygen all that helpful in acute air hunger attacks.

---

Posts: 929 | From Massachusetts | Registered: Oct 2007 | IP: Logged |

Niere
LymeNet Contributor
Member # 14387


posted

---

Lecithin really has helped me with this. I have JohnnyB and TerryK to thank for that.

You can find lecithin at any health food store. It's cheap and was very effective in counter-acting the air hunger for me.

---

Posts: 237 | From Rhode Island | Registered: Jan 2008 | IP: Logged |

AlisonP
LymeNet Contributor
Member # 7771


posted

---

Thanks to everyone who replied on this thread, especially Geneal!!!

I had some really really bad air hunger a few weeks ago and had the exact same question - can you die from this?

But the one question that was burning in my mind (as I'm gasping like a fish out of water)was what my pulseox was at the moment of air hunger. Geneal, you totally cleared up that mystery for me.

Anyone else had their pulse ox taken whilst having air hunger? I'm curious as to what other people's numbers were too.

Thanks!

Alison

--------------------


The obscure we see eventually. The completely obvious, it seems, takes longer. --- Edward R. Murrow


---

Posts: 923 | From California | Registered: Aug 2005 | IP: Logged |

Geneal
Frequent Contributor (5K+ posts)
Member # 10375


posted

---

Dear Alison,

I actually had a Pulmonary Function Test done while having air hunger.

I passed it. I even had a panic attack in the middle of it.

The "gasping like a fish out of water" totally describes how I feel.

Except I almost always feel this way....I treasure each deep breath I can get.

Hugs,

Geneal

---

Posts: 6250 | From Louisiana | Registered: Oct 2006 | IP: Logged |

groovy2
Frequent Contributor (1K+ posts)
Member # 6304


posted

---

Hi All

Maybe try this -
when having trouble breathing -

Open the door on your fridge

Breath in the cold air -

Doing this when my son had Croup


The cold air would help him
Quickly -- seconds --

Hope this helps --- Jay --

---

Posts: 2999 | From Austin tx USA | Registered: Oct 2004 | IP: Logged |

Paul M in MA
Member
Member # 14630


posted

---

Has anyone ever tried an Albuterol inhaler when experiencing air hunger? It is what asthmatics use when they have trouble breating.

I know asthma is different than Babesia air hunger but you never know what might help until it's tried.

Thanks, Paul.

---

Posts: 80 | From Massachusetts | Registered: Feb 2008 | IP: Logged |

bettyg
Unregistered



posted

---

one more scenario on this:

do you have sleep APNEA where you stop breathing when sleeping and wake up gasping for air?

you have to have a sleep study and 2 nights in hospital hooked up to MANY wires on your head.

mine confirmed i had: apnea, restless leg, and NO DELTA 4...can't heel body injuries and feel refreshed waking up after sleeping.


with apnea/gasping for air; YES, YOU CAN DIE!

with SEVERE PANIC ATTACKS, above were good answers for you; both are scary situations especially when you lose your VOICE and can't holler out to spouse/etc!

best wishes to you! Bettyg

---

IP: Logged |

Rhonda J. K.
Junior Member
Member # 16783


posted

---

Paul M in MA

I had asthma years prior to my tick bite some time this early May 2008. I was diagnosed ~6 wk ago. I developed severe trouble breathing about the same time(with many many many other symptoms). Initially I thought I was having an asthma attack. For me, My albuterol inhaler dose help a little, which is better than none. Just as an aside, I hadn't nedded my inhaler since Nov., typically only needing it 3-4 times a year, so my asthma is under control. Remember that Lyme's is basically inflammation, of the joints, organs, tissues, and nervous system. You can have inflammation of the lungs without constriction. I also find slow and controlled deep breathing exercises and pursed lip breathing help a little. Every bit helps!

Has Albuterol helped anyone else?
Does anyone else get worse when they lay down?

(I also have heaart arrhythmias)

hugs to all

--------------------
~Rhonda

Posts are to be considred correspondence and NOT medical advice. Please discuss all treatment options, both traditional AND alternative with your doctor. Be well & God bless.


---

Posts: 2 | From Vernon, NJ | Registered: Aug 2008 | IP: Logged |

Angelica
Unregistered



posted

---

I had severe air hunger while undiagnosed so I had no clue what it was. My family duck tested me on some sort of lung capacity machine and told me I was fine.

One night I had air hunger so badly I called a friend for help. She was supportive yet did not know what to tell me to do so she had me call suicide prevention not that I was suicidal but my friend could not figure out what to do for me and thought they might be able to help. I think they had me breath into a paper bag. I don't recall it helping me much at the time.

Before being diagnosed I thought my air hunger was just something scary that was part of my anxiety. I never had anxiety until the week I found a bulls eye rash and then I had full blown panic attacks with air hunger.

---

IP: Logged |

Wimenin
LymeNet Contributor
Member # 15294


posted

---

With air hunger, one of the best tricks you can do is a deep breathing method of counting.

I know, I know, its hard to do that when you feel like you're dieing, but all it takes is practice, meaning you do the breathing routine even when you feel great, so that when the bad crap hits, you can go right into the mode.

Start with a deep breath in through the nose (if your nasal area is plugged, open the mouth).

Count a slow count of 1-2-3-4 while breathing in. Then hold it for a count of 1-2-3-4. Then deep breath out all the way to 1-2-3-4-5-6. To calm down, make sure the exhales are longer then the inhales.

Probably what was happening is you were taking in deep breaths, but, you weren't exhaling completely. The more that happens, its a cycle, and the end result is panic and hyperventilation.

Another trick to slow down the breathing...when breathing out, purse your lips and blow as if blowing a trumpet. Do that while you exhale to help slow down the breathing even more.

You can also center yourself by placing your hand on your belly to make sure that the belly goes out as you breathe in, followed by your chest enlarging as well for the full, deep breaths.

Dont be surprised if you get a little dizzy at first as it takes a while to get used to the breathing technique. It wont hurt you, and the more you do it, the better you'll be at stopping the panic/breathing episodes, and the more oxygen that will go to your brain.

---

Posts: 514 | From . | Registered: Apr 2008 | IP: Logged |

scared08
LymeNet Contributor
Member # 14695


posted

---

VERY GOOD ADVICE BETTYG!!!!!!!

I suffer from severe air hunger and my pulse ox has been down to 80%.

Also, waking up and gasping for air----very dangerous! I would get a sleep study done A.S.A.P.

---

Posts: 351 | From Georgia | Registered: Feb 2008 | IP: Logged |

h8lyme
LymeNet Contributor
Member # 11765


posted

---

I actually do a light exercise when I have my air hunger attacks. A little walk with a hot cup of tea works wonders. I haven't had a bad attack in about 6 months, but when I was having them every day for long periods of time I would go for a slow walk with a hot mug of tea, and boy it did help some.

It may have been in my head, but it felt like it helped me. I have noticed that since I have started regular light exercise that I have less air hunger attacks.

---

Posts: 158 | From Santa Monica | Registered: May 2007 | IP: Logged |

TexasChaos
LymeNet Contributor
Member # 7465


posted

---

My neighbor was over at my house when I had an air hunger attack... I couldn't talk, couldn't breathe, and was so light-headed and dizzy that I started to pass out. She called 911. The paramedics put a pulse ox on me and it read 96, so they were mystified. They hit me with a bunch of stuff (epinephrine, Benadryl) and it helped a teeny bit. It wasn't until they gave me morphine that it stopped.

---

Posts: 220 | From central TX | Registered: Jun 2005 | IP: Logged |

MariaA
Frequent Contributor (1K+ posts)
Member # 9128


posted

---

This is a great thread. I just developed air hunger recently (frustrating- I was symptom-free and training heavily for an exciting mixed martial arts tournament when I got re-bitten by another tick)- and I have been trying to figure out what exactly happens physiologically. Is it "all in our heads" (ie the brain or brain stem is mis-firing somehow, giving us the impression that we're out of air) or are these actual oxygen or CO2 issues, or is it something to do with cells not getting their oxygen?

The pulmox test- are they looking for oxygen in the blood, or just something in your breath?

Air hunger in general is caused by CO2 buildup in tissues (so I learned on the internet), and several nasty conditions and infections can cause it to come up.

For those whose air hunger is caused by babesia, is the physiological cause discussed in Schaller's book by chance?

I'm wondering if some of these respiratory function tests would actually tell you about what's happening in the blood or the cells- ie , whether oxygen is reaching it's destination, being used effectively, or whether CO2 is being removed in a timely manner. Babesia is similar to malaria and malaria works inside the blood cells, so I'm curious if there are any more appropriate tests or studies that look at what babesia is doing that causes the air hunger.

Also, I've had minor air hunger before this recent reinfection, and I'm pretty sure I didn't have babesia at the time. It went away for two years with just doxycycline treatment, which shouldn't have hit babesia, but definitely knocked down my Lyme (I know, maybe I had babesia all along and it went dormant, but I didn't have any other symptoms till my recent tick exposure this summer). I assume air hunger can also be caused by Lyme, and my LLMD says that it's also caused by other kinds of infections.

--------------------
Symptom Free!!! Thank you all!!!!

Find me at Lymefriends, I post under the same name.
diet: http://lymefriends.ning.com/group/healthylowcarbrecipes
Homemade Probiotics thread
Herbal Links Thread


---

Posts: 2552 | From San Francisco | Registered: Apr 2006 | IP: Logged |

katc
LymeNet Contributor
Member # 17210


posted

---

Can anyone tell me if this is the way they feel too, or if I am way off base here. I will try to make this short, I think I might have Lyme,been sick 16 years now. Tested for Lyme in 1993, negative. First symptom was stiff neck for months, then numbness, tingling, muscle spasms, pain through out body, facial pain and headaches, and a feeling in my head that I think is what others refer to as "brain fog"..my head hurts but different than a headache sometimes. Symptoms go on, on and on. Lately, for like 2 or 3 months now, I have trouble breathing. Even went to ER, where they said my Oxygen level was great, like 97%, yet I feel pressure in my chest. Sometimes it goes up the front of my neck, not throat, almost like someone has their hands around my neck, and along with that sometimes the pressure continues to jaw bone area and ears. I get short of breath walking up a hill, yelling, sometimes just talking. If I lay down, it usually goes away. Sometimes I feel it the instant I get up from laying down. I have also experienced a cold feeling like menthol in my throat before. Along with a bruised feeling in my chest. I am so confused with what is going on. I don't think this is air hunger, I really don't know. No doctor seems to know what is wrong, they just assume I am crazy. I just came across Lyme when I was trying to research my symptoms myself. I printed the Lyme questionaire and I had all the symptoms except 5 out of 54 questions I think. Is it possible though to have Lyme for 16 years and not be dead? And to have had days, that were pretty good, where I could function like a normal person? Plus, I have had 3 kids, and all my symptoms seem to get better during pregnancy, though I have had 4 miscarriages that doctors can't explain. Go figure, they can't explain any of my symptoms that is why I stopped going years ago, until this breathing thing..I don't know where to go. I really just would like some input from someone whom does for a fact have Lyme, and maybe I can figure out if I am looking for a diagnosis in the wrong place. Sorry, I didn't keep it too short did I..hard to do with all the symptoms. Thanks for any advice ya'll can give!

---

Posts: 117 | From Winston Salem NC | Registered: Sep 2008 | IP: Logged |

SmurfyMom
LymeNet Contributor
Member # 13688


posted

---

Paul M in MA-

I've had asthma all my life (that I can remember).

About 4 (??) years ago I had several months where I would have to 'hit the inhaler' every time I turned around.

I just constantly felt like I could not get a deep breath.

The mornings were by far worse, but it was there all day and night.

I assumed it was asthma which is why I used the inhaler. Thing is I didn't wheeze once.

I remember at the time wondering whether it was really asthma or just a general "shortness of breath" because of the lack of wheezing.

I also remember thinking my inhaler was old because it didn't seem to do much, if any, good.

I finally got a new one and it didn't help much either.

I chalked that up to the fact that the EPA or whoever had just made the manufacturers change the propellant in the inhalers.

Things finally improved after several months and I just forgot about the whole thing until I started looking into Lyme for other symptoms.

Once I read about babesia and air hunger, I immediately remembered the "bad bout of stubborn asthma" I'd had a few years back.

I don't think it was asthma anymore.

Chris

---

Posts: 155 | From Texas | Registered: Oct 2007 | IP: Logged |

c3mom
LymeNet Contributor
Member # 16412


posted

---

Is air hunger only related to babs or can it

come from the other infections? Thanks char

---

Posts: 262 | From ohio | Registered: Jul 2008 | IP: Logged |

katc
LymeNet Contributor
Member # 17210


posted

---

Thanks Chris,

Have you ever had a problem clearing your throat? I get this a lot after eating, sometimes without eating, but eating usually makes it worse. I sort of get this feeling like I can't swallow yet I can. It's weird. Sometimes I also get this itchy sort of feeling in my chin. Ever had that? If its asthma why does it get worse when eating and better by laying down. I find that strange, but I am not a doctor. When I went to an allergist and blew, I only had 77% of air to blow. And my oxygen was great. One other thing, doctor gave me symbicort to take, I did it and literally thought I was going to die. It was as if it froze me from the chest up . I really couldn't swallow and it was just an indescribale feeling, one I never want again. However, I have had a near fatal reaction before to amoxicillin and humibid (decongestant). My insides were swelling, had to be rushed to ER. Later they tested me and said I wasn't allergic to amoxicillin. I also reacted to the z-pak once. It was the second time I took it and I had these horrible back pains and then began throwing up continuously and once again had to be taken to hospital, where I lost oxygen from throwing up so much, guess I hyperventilated or something, and lost my speech and my fingers and hands curled up real tight. So maybe I don't have Lyme, I haven't read where anyone with Lyme started having reactions to medications. Thanks again.

---

Posts: 117 | From Winston Salem NC | Registered: Sep 2008 | IP: Logged |

Larae30
LymeNet Contributor
Member # 35220


posted

---

I'm glad I found this thread. I've been having horrible air hunger since starting malarone a week ago. Before starting it, it would come and go, but this week it has been affecting me greatly.

I feel like I'm going to pass out and am scared I'm going to die or something. I checked my O2 with a pulsometer at work and it was 95%, so a little lower than my usual 99-100% from before all the lyme and co. fun this past year.

I am having trouble finding WHY babesia causes this air hunger. Is there anything to help alleviate it? Right now is also allergy season, so I'm unsure if allergies are playing a role in it all for me right now, too. My nose is pretty clogged.

When should I be worried? What if I pass out?

--------------------
Treating lyme, bart and babs


---

Posts: 506 | From NE | Registered: Dec 2011 | IP: Logged |

poppy
Frequent Contributor (1K+ posts)
Member # 5355


posted

---

Babesia inhabits red blood cells. Oxygen is carried by red blood cells. Fewer cells means less oxygen. This is why you have air hunger.

---

Posts: 2888 | From USA | Registered: Mar 2004 | IP: Logged |

Larae30
LymeNet Contributor
Member # 35220


posted

---

Thanks, poppy. Why do they symptoms increase when adding in babs treatment?

When I started arteminisin, it helped my air hunger. Since starting malarone last week and pulsing flagyl...it is the worst it's ever been.

--------------------
Treating lyme, bart and babs


---

Posts: 506 | From NE | Registered: Dec 2011 | IP: Logged |

poppy
Frequent Contributor (1K+ posts)
Member # 5355


posted

---

Hmmm, my guess would be that the meds are killing the babs and therefore more blood cells are busting up. This is called hemolysis. But red blood cells are constantly renewed, so if you get the babs under control, you should have some improvement in the air hunger.

---

Posts: 2888 | From USA | Registered: Mar 2004 | IP: Logged |

Lymetoo
Moderator
Member # 743


posted

---

If you pass out, you will come to again! Trust me! Unless you have heart disease, passing out will not hurt you. WEll, if you hit your head, that would hurt you!!!

So, if you feel you are about to pass out, sit or lie down until you feel better.



--------------------
--Lymetutu--
Opinions, not medical advice!


---

Posts: 95821 | From Texas | Registered: Feb 2001 | IP: Logged |
Contact Us | LymeNet home page | Privacy Statement

Powered by UBB.classic™ 6.7.3

---
The Lyme Disease Network is a non-profit organization funded by individual donations. If you would like to support the Network and the LymeNet system of Web services, please send your donations to:
The Lyme Disease Network of New Jersey
907 Pebble Creek Court, Pennington, NJ 08534 USA
http://www.lymenet.org/
---
Home | Flash Discussion | Support Groups | On-Line Library
Legal Resources | Medical Abstracts | Newsletter | Books
Pictures | Site Search | Links | Help/Questions
About LymeNet | Contact Us
---
© 1993-2020 The Lyme Disease Network of New Jersey, Inc.
All Rights Reserved.
Use of the LymeNet Site is subject to Terms and Conditions.
---