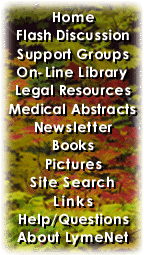 ---
LymeNet on Facebook
LymeNet on Twitter
---
---
The Lyme Disease Network receives a commission from Amazon.com for each purchase originating from this site.
When purchasing from Amazon.com, please
click here first.

Thank you.




Dedicated to the Bachmann Family


LymeNet needs your help:
LymeNet 2020 fund drive

The Lyme Disease Network is a non-profit organization funded by individual donations.

| | |
| --- | --- |
| | |
Author
Topic: 2 questions-Lyme transmitted by intercourse?

Peedie
LymeNet Contributor
Member # 15355


posted

---

I have not been confirmed for Lyme yet. Bands 41 and 58 were reactive on a Lyme test done by a local lab (I know-not good enough). Ever since I have realized I could have Lyme's disease - I have read as much as possible, trying to understand. Based on what I've read...I think I may have it.
Q: I fear having sex with my husband as I do not want to pass Lyme on to him - this is straining our relationship. I have not "shared" with him that it may possibly be transmitted by intercourse and that he should also get tested. Should I have this discussion with him - or sit tight until I get confirmation Lyme's.
Q: Could I have contracted Lyme's from him? I'm the one with the symptoms, so I'm thinking no. But a few years back he was involved with other women. Can Lyme's symptoms develop more slowly in some people? Can someone simply be a carrier - like some can "carry" mono?

Please help. He is a good guy now and I want to get things back to the way they were but be responsible too.
Peedie

---

Posts: 641 | From So. CA | Registered: May 2008 | IP: Logged |

Keebler
Honored Contributor (25K+ posts)
Member # 12673


posted

---

-

Peedie,

Wow, you sure have lots of good questions. Unfortunately, no one can say for sure about your particular case, but there have been cases where sexual transmission seemed likely.

More likely is that shared activities such as a walk in the woods, or tending your yard would bring family members into contact with the same ticks. But, once one person has it, sexual transmission is possible, according to some researchers.

Yes, one can have lyme (no "s") and not have symptoms flair until the system is further stressed.

My opinion is that you should share your thoughts with your husband. However, my assumption that if lyme is present, you've had it a while.

If this were a brand new exposure with a bulls-eye rash, I'd avoid all intimate contact (or use protection) until you got good medical advice about that.

There are many other ways anyone can be exposed to lyme. As long as birds fly and mice scamper, ticks will travel, too. Mosquitoes have also been know to transmit lyme. (Not all ticks or mosquitoes, though. If bitten in future, save the tick and try to sho away mosquitoes rather than smash 'em on your arm.)

The bulls-eye rash does not always come with this, though, but if it does, that's a sure sign.

You might go to the menu here and check out the NEWBIE packet. Others, better at all this than I, will come along soon to help.

Personal advice: forget about the relationship of past - I assume you dealt with both physical and emotional issues from that at the time and it should stay out of this. Of course, if your doctor advised to have certain STD (inc. HIV & Hep. C) tests repeated at certain intervals, continue to do that for the time period recommended. If you still have emotional issues around the affair, please seek counseling, however. But your lyme concern in this context would appear to be a separate matter or, at least, certainly not easily figured out.

Anyone can get lyme. Many do not remember a tick bite at all. Share with your husband printed material to read. Select one or two of the best articles you find. Let him read from the experts. Then you can talk more about it.

ILADS - www.ilads.org is just one great site. The NEWBIE packet will have more

I hope you can find a good doctor to address your concerns. The listing to the left of this page will show a link to local support groups.

If you are dx with lyme, be sure to also get evaluated for other tick-borne infections. At that time, your husband should also be tested. Some doctors strongly recommend both partners be treated to minimize passing it back and forth. So, yes, it is possible.

BTW, lyme is a CLINICAL dx, and the presence of even one or two bands, with tell-tale symptoms, might be something a LLMD would want to strongly consider.

This is not easy. Remember, though, that knowledge is power.
What is, is. It's what you do next that matters.

Also, if you have a yard, preventative measures this time of the year are recommended.

Good luck.

-

[ 11. May 2008, 06:20 PM: Message edited by: Keebler ]

---

Posts: 48021 | From Tree House | Registered: Jul 2007 | IP: Logged |

Keebler
Honored Contributor (25K+ posts)
Member # 12673


posted

---

-

While the article does not address your questions, it will help you select a doctor once you get an idea about testing, the current climate in the medical profession, etc.

-

http://tinyurl.com/2dmvs2


The Clinical Advisor is a monthly journal for nurse practitioners and physician assistants in primary care.
home: www.clinicaladvisor.com

From the May 2007 issue of Clinical Advisor

CONTROVERSY CONTINUES TO FUEL THE "LYME WAR''
By Virginia Savely, RN, FNP-C


As two medical societies battle over its diagnosis and treatment, Lyme disease remains a frequently missed illness. Here is how to spot and treat it.

Controversy over the treatment of a particular disease is not uncommon. There are many illnesses for which there are different schools of thought and more than one treatment method--e.g., heart disease, prostate cancer, and breast cancer. When it comes to Lyme disease, a bacterial infection caused by the corkscrew-shaped spirochete ,Borrelia burgdorferi, the battle lines are particularly distinct, and the opposing viewpoints reach vitriolic proportions, to the ultimate detriment of the patients.

Lyme disease, which is most commonly acquired through the bite of an infected tick, has been reported in every state and has become the most common vectorborne disease in the United States

. In 2005, the CDC received reports of 23,305 cases, resulting in a national average of 7.9 cases for every 100,000 persons.

In the 10 states where the infection is most common, the average was 31.6 cases for every 100,000 persons. The CDC estimates that the disease is grossly underreported, probably by a factor of 10.

Meet the players
****************

The opponents in the battle over the diagnosis and treatment of Lyme disease are the Infectious Diseases Society of America (IDSA), the largest national organization of general infectious disease specialists, and

the International Lyme and Associated Diseases Society (ILADS), an organization made up of physicians from many specialties.


IDSA maintains that Lyme disease is relatively rare, overdiagnosed, difficult to contract, easy to diagnose through blood testing, and straightforward to treat (www.journals.uchicago.edu/CID/journal/issues/v43n9/40897/40897.html. Accessed April 6, 2007).


ILADS, by contrast, asserts that the illness is much more common than reported, underdiagnosed, easier to contract than previously believed, difficult to diagnose through commercial blood tests, and difficult to treat, especially when treatment is delayed because of commonly encountered diagnostic difficulties (www.ilads.org /guidelines.html. Accessed April 6, 2007).


Diagnosis: Where it all begins
*****************************

If all cases were detected and treated in the early stages of Lyme disease, the debate over the diagnosis and treatment of late-stage disease would not be an issue, and devastating rheumatologic, neurologic, and cardiac complications could be avoided. However, Lyme disease is often missed during its early stage when it could be most easily treated (Table 1).


Since the deer tick is no larger than the period at the end of this sentence, it is not surprising that people frequently do not realize they've been bitten. In a hairy part of the body, the tick is almost impossible to see, and even when it is noticed, it is often mistaken for a mole or scab.

When the tick latches on, it injects salivary components that anesthetize the area and decrease inflammation at the site of the bite, leaving the victim unaware of the tick's presence and allowing it to feast undisturbed.

The erythema migrans (EM) rash is commonly known as the ``bull's-eye'' rash for its characteristic shape.

The CDC maintains that a patient presenting with a bull's-eye rash does NOT require testing for Lyme disease because the rash is diagnostic in its own right.

However, the rash does not always present in the classic pattern of concentric, round, red circles. EMs can be oval in shape and/or solid in color, with shades of pink, purple, and red.

The rash may or may not contain pustules, itch, feature a dark spot in the middle, or have a denuded center. The size varies from that of a quarter to 12 in or more.

Some victims develop a diffuse rash over the entire body. EMs are commonly misdiagnosed as spider bites, cellulitis, or ringworm. To complicate matters further, as many as half the people who acquire Lyme disease from a tick bite develop NO RASH at all.

Frequently, a clinician mistakenly assumes that there are no Borrelia-carrying ticks in the patient's geographic area and fails to include the disease in the appropriate differential diagnosis. Lyme disease should be considered regardless of where a patient lives.


Ticks are carried on numerous animals, including household pets, rodents, deer, and birds, so it is little wonder that Lyme disease-transmitting ticks are not confined to a few distinct geographic areas.

A travel history should be obtained to determine whether the patient has recently traveled to a particularly Lyme-endemic area (the northeastern United States, north-central United States, and the Pacific coastal region).

Most clinicians are not familiar with the varied signs and symptoms of Lyme disease (Table 2), and this contributes to misdiagnosis (Table 3).


Children may present differently than adults, with predominant symptoms being changes in behavior and school performance.


In affected children, parents typically report mood swings, irritability, obsessive-compulsive behavior, and new-onset attention-deficit/hyperactivity disorder. Physical symptoms in children may include fatigue, frequent headaches or stomachaches, urinary symptoms, and migratory musculoskeletal pains.


When a patient presents with a collage of seemingly unrelated symptoms, there is a natural tendency to assume that a psychological component is at play. Patients with Lyme disease almost always have negative results on standard blood screening tests and have no remarkable findings on physical exam, so they are frequently referred to mental-health professionals for evaluation.

The testing conundrum
*********************

The CDC is aware of the insensitivity of the tests for Lyme disease and encourages clinicians to use judgment rather than a test result to make the diagnosis (www.cdc.gov/ncidod/dvbid /lyme/ld_humandisease_diagnosis.htm. Accessed April 5, 2007).


As previously mentioned, however, most clinicians do not feel confident in making this judgment call and continue to look to unreliable test results for confirmation of disease.

The Western blot test
**********************

Because B. burgdorferi is an extremely difficult bacterium to culture in the lab, testing has relied on detection of antibodies to the organism. The Lyme enzyme-linked immunosorbent assay (ELISA) gives a titer of total immunoglobulin (Ig) G and M antibodies and is currently the accepted initial screen for suspected disease.

Since a screening test should have at least 90% sensitivity, the 65% sensitivity of the commercial Lyme ELISA should lead to its reconsideration as an acceptable screening tool .


The Western blot, which is commonly used as a confirmatory test for Lyme disease, is more sensitive than the ELISA.

While the CDC has published strict criteria for positivity on the Western blot to make a more exclusive cohort for epidemiologic purposes, it never intended for these criteria to be used for diagnosis. Unfortunately, the restrictive criteria omit several of the important bands on the blot that are highly sensitive markers for the presence of B. burgdorferi (see ``Interpreting the Western blot,'').


Clinicians should become acquainted with the relative sensitivity and specificity of each of the bands on the blot to make an appropriate assessment for diagnostic purposes.

A negative test based on epidemiologic criteria may be a positive test for diagnostic purposes.


Treatment dilemmas
******************

The Lyme spirochete presents a formidable adversary. With more than 1,500 gene sequences, B. burgdorferi is genetically one of the most sophisticated bacteria ever studied.


Treponema pallidum (the spirochete responsible for syphilis), for example, has 22 functioning genes whereas the Lyme disease spirochete has 132.


Borrelia burgdorferi's stealth pathology makes eradication of the disseminated organism a near impossibility.


Before the tick delivers its inoculum of spirochetes into the host, it injects a substance that inhibits the immune response, allowing the spirochete to gain a strong foothold. The spirochete itself secretes enzymes that help it to replicate and infect the host.


Once disseminated throughout the body, B. burgdorferi secludes itself and becomes difficult to detect through laboratory testing--and by the host's immune system. The bacterium may hide in its host's WBCs or cloak itself with host proteins.


Furthermore, it tends to hide in areas not usually under immune surveillance, such as scar tissue, the central nervous system, the eyes, and deep in joints and other tissues.


Phase and antigenic variations allow B. burgdorferi to change into pleomorphic forms to evade the immune system and antibiotics.

The three known forms are the spiral shape that has a cell wall, the cell-wall-deficient form known as the ``L-form'' (named not for its shape but for Joseph Lister, the scientist who first identified these types of cells), and the dormant or latent cyst form.


Encapsulating itself into the inactive cyst form enables the spirochete to hide undetected in the host for months, years, or decades until some form of immune suppression initiates a signal that it is safe for the cysts to open and the spirochetes to come forth and multiply .


Each of these forms is affected by different types of antibiotics. If an antibiotic targets the bacterium's cell wall, the spirochete will quickly morph into a cell-wall-deficient form or cyst form to evade the chemical enemy.


Borrelia burgdorferi has an in vitro replication cycle of about seven days, one of the longest of any known bacteria.

Antibiotics are most effective during bacterial replication, so the more cycles during a treatment, the better.


Since the life cycle of Streptococcus pyogenes (the bacterium that causes strep throat) is about eight hours, antibiotic treatment for a standard 10 days would cover 30 life cycles.


To treat Lyme disease for a comparable number of life cycles, treatment would need to last 30 weeks.

Within the tick gut are hundreds of different types of pathogens. How many infect humans is unknown.


Some have been identified and are known to intensify morbidity and complicate treatment of Lyme disease.

Awareness of three coinfecting genuses in particular--Ehrlichia, Bartonella, and Babesia--has increased, and persistent infection with these organisms has been described.

Testing for and treating these coinfections has become part of the approach for clinicians who specialize in the treatment of Lyme disease.

Treatment methods
*****************

IDSA guidelines recommend treating certain high-risk tick bites with a prophylactic single dose of doxycycline. This is recommended only if the tick is clearly a deer tick that was attached for 36 hours or more, the patient was in an endemic area, and if treatment can be started within 72 hours of the time the tick was removed.

Most ILADS practitioners treat any high-risk tick bite with a full month of doxycycline.


If a patient presents with EM or has a positive Lyme test, IDSA guidelines recommend treating with either doxycycline, cefuroxime, or amoxicillin for 10-21 days.


All other antibiotics are specifically not recommended. After the prescribed amount of time, treatment is discontinued whether symptoms remain or not.


However, if symptoms remain severe after the patient has been off the antibiotics for a few months, treatment with another two to four weeks can be considered. One month of IV antibiotics is recommended for severe arthritis or neurologic disease.


IDSA stresses that persistent symptoms do NOT indicate chronic infection and that prescribing long-term antibiotics to patients unresponsive to the typical two- to four-week course is USELESS and potentially harmful.


``There is no convincing biologic evidence for the existence of symptomatic chronic B. burgdorferi infection among patients after receipt of recommended treatment regimens for Lyme disease,'' the guidelines state.


``Antibiotic therapy has not proven to be useful and is not recommended for patients with chronic (six months or longer) subjective symptoms after recommended treatment regimens for Lyme disease.''


Patients who continue to suffer from persistent fatigue, pain, and cognitive disturbances after a traditional short course of antibiotics are rare, the IDSA panel claims.


These patients have developed ``post-Lyme syndrome,'' probably due to an immune system that cannot shut down after the infection is gone. This syndrome can only be treated with symptomatic care and tincture of time.


ILADS, on the other hand, promotes the idea that the Lyme spirochete is very hard to eradicate and persistent symptoms are due to ongoing infection.


This organization's approach is to treat with antibiotics as long as symptoms remain. Off-label combinations are often used based on clinical experience.


Variable response to antibiotics and occasional antibiotic resistance are thought due to the fact that there are over 100 strains of B. burgdorferi in the United States and 300 strains worldwide
.

Since the Lyme spirochete is adaptive and morphs to a new cell type when under stress, clinicians who advocate aggressive, long-term treatment support giving two or three different classes of antibiotics at the same time and changing the treatment protocol every two to three months.


Higher-than-normal doses of antibiotics are given to achieve better penetration of both the tissue and the blood-brain barrier.

IM injections of long-acting penicillin or IV administration of antibiotics are recommended for patients with neurologic disease.

Precedent for the safety of long-term antibiotic use has shown that the benefits outweigh the risks.


According to ILADS, treatment is complicated by the frequent presence of coinfections, which can intensify symptoms and prolong treatment.

Therefore, antibiotics that target the coinfections are usually prescribed prior to or along with those that treat Lyme disease.

Table 4 lists treatment options used by ILADS clinicians to target the various forms of the B. burgdorferi bacterium, and Table 5 lists treatment options for the most common coinfections.


Occasionally, Jarisch-Herxheimer reactions complicate Lyme disease treatment. These symptom intensifications are due to elevated cytokines and toxins released during B. burgdorferi die-off.


Many patients notice that symptoms occur cyclically (every 21-28 days). When these intensification reactions occur, the treatment can be temporarily worse than the disease.


It is difficult to decide when to stop treating Lyme disease since there is no test that demonstrates a cure.


Because of the lack of simple culture techniques and the low sensitivity of antibody tests, a negative test does not rule out infection.

Treatment cessation is based on symptom resolution, which means that symptoms may return if the infection has not been eradicated.


The road ahead
**************

Rather than shy away from the complexities and controversies of Lyme disease, clinicians should welcome the chance to learn about this condition. Lyme disease is much more prevalent than most realize. Clinician education will reduce patient suffering and hopefully put an end to the ``Lyme War.''


For a list of references used in this article, contact the editor via e-mail ([email protected]) or telephone (number at link).


Ms. Savely is the owner of TBD Medical Associates in San Francisco. She is a nurse practitioner who specializes in treatment of Lyme disease and other tickborne illnesses.

-

---

Posts: 48021 | From Tree House | Registered: Jul 2007 | IP: Logged |

sparkle7
Frequent Contributor (5K+ posts)
Member # 10397


posted

---

There are lots of theories & studies about spirochetes in the blood, tears, semen, saliva, etc. but I don't think it's a huge issue. If it was spread easily by sexual contact everyone & their mother would have it by now. Lyme has been around for over 30 years.

I think part of the issue with contracting Lyme has to do with the saliva of the tick. Do more research & you will see about the interaction of the chemicals inside of the tick & the human immune system.

I just don't think it helps stressing over "what if" in regards to Lyme. Relationships are hard enough. You are going to need help & support if you are ill with Lyme. I don't think it's worth it to open up a whole can of worms by accusations or insinuations about Lyme & who did what.

Just my opinion...

---

Posts: 7772 | From Northeast, again... | Registered: Oct 2006 | IP: Logged |

von
LymeNet Contributor
Member # 8333


posted

---

I wonder and worry about this still.

Here is some conversation that I started.

http://flash.lymenet.org/scripts/ultimatebb.cgi?ubb=get_topic;f=1;t=050846

I got bit, had the rash, contracted lyme, but a year later, my husbands test are CDC positive..... many more bands then mine.

I guess there is some kind of immune supressent in tick saliva, causing my body not to recognize it easily.

I got real sick, and my husband did not. ( he was just a little stiff and a little extra tired)I believe, and our doctor suspects, that because I got the bite (and saliva) and he did not (that we know of) His body recognized the bacteria and has much higher antibodies, made a much better fight, and didn't get so sick.

The jury is still out.
Good luck !

I am still trying to learn how to use a condom and like it.

Von

Also search on this site: 'sexual transmission'
there are some good articles, as well as discussion.

---

Posts: 258 | From Washington State | Registered: Nov 2005 | IP: Logged |

sparkle7
Frequent Contributor (5K+ posts)
Member # 10397


posted

---

There are many strains of Lyme (over 300) & people with various genetics react differently to being infected.

Getting a rash from sex can have many causes other then Lyme.

I am not trying to be closed minded or avoiding the issue but it still seems a bit remote to me.

There may be different ways the body reacts to coming in contact with spirochetes - either from someone with Lyme to passing it to someone not infected.

It just seems that there is a connection between the tick & it's saliva to becoming infected. There are chemicals in the tick's saliva that affect the immune system of the person bitten to increase the opportunity of the spirochete to thrive in it's new environment.

This is just what I've read.

I don't know if it can be spread without this interaction.

---

Posts: 7772 | From Northeast, again... | Registered: Oct 2006 | IP: Logged |

METALLlC BLUE
Frequent Contributor (1K+ posts)
Member # 6628


posted

---

This is a very difficult discussion that keeps coming out in my own relationship.

Lyme Disease has been around millions of years. Research indicated the bacterium was found in a termite fossilized and had in-fact been there 20 million years. I'm sure it goes even further back.

[ 12. May 2008, 05:01 AM: Message edited by: METALLlC BLUE ]

--------------------
I am not a physician, so do your own research to confirm any ideas given and then speak with a health care provider you trust.

E-mail: [email protected]


---

Posts: 4157 | From Western Massachusetts | Registered: Dec 2004 | IP: Logged |

sparkle7
Frequent Contributor (5K+ posts)
Member # 10397


posted

---

http://www.sciencedaily.com/releases/2002/04/020409073628.htm

Tick Saliva Genes Key To Lyme Disease Vaccine

ScienceDaily (Apr. 9, 2002) -- KINGSTON, R.I. - April 8, 2002 -

When a deer tick bites a human or other mammalian host, it takes more than 24 hours before the Lyme disease bacterium travels from the tick's gut to the tick's salivary glands and then into the host.

During that time, bioactive proteins in the tick's saliva begin to suppress the mammal's pain response, increase blood flow to the area, and prevent clotting while at the same time battling the mammal's immune system response to the biting arthropod.

Two University of Rhode Island researchers believe that the proteins in the tick's saliva may be the key to developing a new vaccine for preventing Lyme disease and other tick-transmitted infections by protecting hosts against blood-feeding ticks.

The National Institutes of Health recently awarded them $2.3 million to screen for the most promising tick salivary genes over the next five years.

URI entomology Professor Thomas Mather and microbiology Professor David Nelson, director and associate director, respectively, of the URI Center for Vector Borne Disease, discovered the importance of tick saliva as a result of NIH-funded research in the late 1990s.

The new grant will help them pinpoint the genes and proteins that can best be developed into a vaccine.

"Ticks have more than 400 proteins in their saliva, many of which have evolved to help them steal blood from a host animal by inactivating specific factors of the immune system," explained Mather.

"We're attempting to identify, purify, and learn the function of these various proteins, because by disrupting their function we may be able to prevent ticks from feeding and transmitting disease-causing microbes."

Since they began studying the properties of tick saliva in 1994, Mather and Nelson, along with collaborators at NIH, have already identified a significant number of genes that appear promising.

More recently their work has focused on developing a system for rapidly screening additional gene candidates for those that might be effective antigens.

Mather's research team makes ticks drool into capillary tubes by administering a muscle relaxant to the ticks. A precious commodity, the team has collected more tick saliva than any other researchers in the world.

"That saliva has become a real treasure chest of potent molecules for us," Mather said. "It's now just a matter of sorting them out, which to me is very exciting."

While Mather focuses on the proteins in the tick saliva, Nelson is studying the Lyme disease bacterium itself.

"When the bacterium is in the tick's saliva - on its way from the tick's gut to the mammal host's blood - it's in a starvation mode because there aren't enough nutrients in the tick's saliva for it to grow," said Nelson.

"We think we'll be able to find a good vaccine candidate among the genes expressed in the bacterium's physiological response to starvation."

According to Nelson, the Lyme disease bacterium has about 1,000 genes, but he already knows that some aren't good candidates for a vaccine.

"To screen all of them isn't a trivial task. But we can predict which should be screened, so we'll probably only need to look at between 75 and 150."

Once Mather and Nelson identify the best vaccine candidates - either in the tick saliva or in the Lyme disease bacterium - they anticipate a pharmaceutical company will complete the process of developing it into a vaccine.

------

Wonder what happened since 2002?

-----

Also (excerpt) -

http://www.sciencedaily.com/releases/2005/04/050425203239.htm

Researchers Identify Protein Crucial For Survival Of Lyme-disease Bacterium

ScienceDaily (Apr. 25, 2005) -- DALLAS - April 25, 2005 -

When the tick-borne bacterium that causes Lyme disease lacks a specific protein that responds to an incoming meal of blood, it is unable to be transmitted from the tick to a new animal host, researchers at UT Southwestern Medical Center have found.

"This organism has to live half of its life cycle in a tick," he said. "There must be subsets of genes important to its survival there. If it can't exist in ticks, it can't maintain itself in nature and hence can't infect animals or humans."

-----
Also (excerpt) -

http://www.sciencedaily.com/releases/1998/06/980619073340.htm

Relapsing Fever Spirochete Switches Surface Proteins When It Changes Hosts

ScienceDaily (Jun. 19, 1998)

For example, they now know that when either Lyme disease or relapsing fever spirochetes are transmitted to a mammal via tick saliva, the spirochetes turn on similar surface proteins.

"We think this family of proteins is an important part of the spirochete in all Borrelia, possibly in their transmission from arthropod to mammal," says Dr. Schwan.

-----
Also (excerpt) -

http://www.canlyme.com/spitvacc.html

http://www.nytimes.com/2003/05/20/science/20TICK.html?tntemail0
May 20, 2003

Looking for a Vaccine to Defang the Lyme Tick... By JAMES GORMAN

Another scientist working on tick saliva is Dr. Stephen K. Wikel at the University of Connecticut Health Center in Farmington. He said the molecules in tick saliva, in addition to serving the tick, helped the disease-causing bacteria.

"It's abundantly clear," said Dr. Wikel, "that these molecules in the spit are essential for successful pathogen transmission."

---

Posts: 7772 | From Northeast, again... | Registered: Oct 2006 | IP: Logged |

sparkle7
Frequent Contributor (5K+ posts)
Member # 10397


posted

---

And more...

Journal of Experimental Medicine, Vol 180, 1077-1085, Copyright © 1994 by Rockefeller University Press

ARTICLES

Saliva of the Lyme disease vector, Ixodes dammini, blocks cell activation by a nonprostaglandin E2-dependent mechanism

S Urioste, LR Hall, SR Telford 3rd and RG Titus
Department of Tropical Public Health, Harvard School of Public Health, Boston, Massachusetts 02115.

Tick-borne pathogens would appear to be vulnerable to vertebrate host immune responses during the protracted duration of feeding required by their vectors.

However, tick salivary components deposited during feeding may inhibit hemostasis and induce immunosuppression.

The mode of action and the nature of immunosuppressive salivary components remains poorly described.

We determined that saliva from the main vector of the agent of Lyme disease, Ixodes dammini, profoundly inhibited splenic T cell proliferation in response to stimulation with concanavalin A or phytohemagglutin, in a dose-dependent manner.

In addition, interleukin 2 secretion by the T cells was markedly diminished by saliva. Tick saliva also profoundly suppressed nitric oxide production by macrophages stimulated with lipopolysaccharide.

Finally, we analyzed the molecular basis for the immunosuppressive effects of saliva and discovered that the molecule in saliva responsible for our observations was not PGE2, as hypothesized by others, but rather, was a protein of 5,000 mol wt or higher.

----

I just don't like it when people start fearing everything without actually knowing if it's true...

I was around the East Village in NYC when AIDS first broke out there. Everyone became terrified of sex & gay people.

Also, many rumors spread which had no basis in fact, like you can get AIDS from kissing or shaking someone's hand, etc.

I just like to know what is really happening before everyone starts jumping to conclusions.

Sex is the perfect area for everyone to start the rumor mill going... many people have taboos or psychological hang-ups about it so it fodder for untruths.

If someone has some conclusive evidence about sexual transmission of Lyme please prove me wrong & present it.

---

Posts: 7772 | From Northeast, again... | Registered: Oct 2006 | IP: Logged |

von
LymeNet Contributor
Member # 8333


posted

---

Sparkle,
I cannot prove it conclusively, but I think I have an argument or reason to cast some doubt. I wrote about it a little earlier in this post.

My husband and I live in Washington State. While I am certain that lyme is way under reported here in our state, there was just ONE case for our county in 2005 (me) and ONE in 2006 (my husband)

We live in an area where there is a creek that runs through our property, and I spent hours and hours outside, planting willows down by the creek, clearing brush (carrying old wood and brush and drift wood in bundles close to my body... and I was chronically underdressed...

usually shorts and a short sleeve shirt. I would come home all scratched up, and completely unaware of the danger I put myself in) and I did get bit by a tick, and did get the classic rash.

My husband on the otherhand is a super geek, works lots of long hours,(indoors)and has terrible allergies and litterly runs from the car to the house where we have special filterization for the air for him. Bubble boy.

So, for us to be the only 2 people with lyme from our county in the last two years...... and we do not go ANYWHERE outside together. Well I think it is aweful suspicious, and is something that needs further study.

So in some cases is is an resonable assumption to think couples both with lyme just pick up a tick bite in the same area that they go together.... But this really does not apply to us.

I would perhaps have a diffent opinion if it had not happened to us.

Von

PS I do think it is transmitable, but I doubt that it is HIGHLY transmittable.

Even syphilis is transferred five percent of the time.

Open to posibilities........ Yvonne

---

Posts: 258 | From Washington State | Registered: Nov 2005 | IP: Logged |

Peedie
LymeNet Contributor
Member # 15355


posted

---

Thanks to everyone who shared information
and experience. I have much reading to do.
Best wishes to all. Peedie

---

Posts: 641 | From So. CA | Registered: May 2008 | IP: Logged |

MariaA
Frequent Contributor (1K+ posts)
Member # 9128


posted

---

I think that I gave Lyme to my boyfriend. There's no way to tell, but it sure is suspicious in our case (he's totally paranoid about tick bites, is very diligent about checking himself for ticks after any potential exposure to them, and has spent most of his outdoor time either in he desert or in Alaska where I THINK they're not as common).


Incidentally, there are a few different condom options:

-polyurethane condoms are a lot thinner and men I've been with seem to like them a lot more. You can also use them with more types of lubricants (ie oil-based ones). They're called Trojan Supras I think- the most common name on the boxes at the drug seems to be 'non-latex condoms' (as long as that means they're polyurethane, which you'll see on the back of the box somewhere). They do not stretch as well as latex so I've actually seen them be impossible or clumsy to put on someone who's large.
They're also much more expensive than latex, but seem to be worth it.

The other drawback is that they can break more easily if lubrication is poor, which, considering many Lyme women have yeast infections (which can cause lubricity problems), is possibly a concern.

Use the lubes with those if that's a concern.

Many kinds of good lubes and good condoms are available through Good Vibrations and other sex-positive sex toys suppliers.

http://www.goodvibes.com/



-Kimono brand (more expensive latex) are also reported to be thinner and better, and are available in the 'large' sizes also, which polyurethane do not yet. Again, you can order an assortment to try out from Good Vibes if you can't find them locally.

--------------------
Symptom Free!!! Thank you all!!!!

Find me at Lymefriends, I post under the same name.
diet: http://lymefriends.ning.com/group/healthylowcarbrecipes
Homemade Probiotics thread
Herbal Links Thread


---

Posts: 2552 | From San Francisco | Registered: Apr 2006 | IP: Logged |

MariaA
Frequent Contributor (1K+ posts)
Member # 9128


posted

---

here's the text of one article about sexually transmitted Lyme, which doesn't really prove anything other than report on some doctors' observations. As pointed out in the thread here, there are other explanations for both people in a couple being positive for Lyme, but it certainly sounds suspicious if the doctors are correct about longer treatment times/more relapsing for those who may be reinfecting via unprotected sex:
http://www.canlyme.com/sex.html

This is an abstract presented by Dr. Bach at the International Scientific Conference on Lyme Disease, April, 2001.

RECOVERY OF LYME SPIROCHETES BY PCR IN SEMEN SAMPLES OF PREVIOUSLY DIAGNOSED LYME DISEASE PATIENTS
Dr. Gregory Bach, Do.O., P.C. 2415 North Broad Street, Colmar, PA 18915

OBJECTIVE

Lyme disease, being a spirochete with pathology similar to syphilis, is often found difficult to treat due to the spirochete invading sanctuary sites and displaying pleomorphic characteristics such as a cyst (L-form). Because a significant portion of sexually active couples present to my office with Lyme disease, with only one partner having a history of tick exposure, the question of possible secondary (sexual)vector of transmission for the spirochete warrents inquiriy.
Additionally, sexually active couples seem to have a marked propensity for antibiotic failure raising the question of sexually active couples re-infecting themselves through intimate contact.

METHODS:

Lyme spirochetes/DNA have been recovered from stored animal semen. Recovery of spirochete DNA from nursing mother's breast milk and unbilical cord blood by PCR (confirmed by culture/microscopy), have been found in samples provided to my office.

RESULTS:

Suprisingly, initial laboratory testing of semen samples provided by male Lyme patients (positive by western blot/PCR in blood) and the male sexual partner of a Lyme infected female patient were positive approximately 40% of the time. PCR recovery of Lyme DNA nucleotide sequences with microscopic confirmation of semen samples yielded positive results in 14/32 Lyme patients (13 male semen samples and 1 vaginal pap).
ALL positive semen/vaginal samples in patients with known sexual partners resulted in positive Lyme titers/PCR in their sexual partners. 3/4 positive semen patients had no or unknown sexual partners to be tested. These preliminary findings warrent futher study. Current a statistical design study to evaluate the possibility of sexual transition of the spirochete is being undertaken.
Our laboratory studies confirm the existence of Lyme spirochetes in semen/vaginal secretions. Whether or not further clinical studies with a larger statistical group will support the hypothesis of sexual transmission remains to be seen. A retrospective clinical study is also underway.
We are reviewing the medical records, collecting semen samples of patients who were previously diagnosed with current and previously treated Lyme disease are bing asked to provide semen,pap and blood samples for extensive laboratory testing.

CONCLUSION:

With the initially impressive data, we feel the subsequent statistical sudy on the sexual transmission of the Lyme spirochete will illuminate a much broader sectrum of public health concerns associated with the disease than the originally accepted tick borne vector.

--------------------
Symptom Free!!! Thank you all!!!!

Find me at Lymefriends, I post under the same name.
diet: http://lymefriends.ning.com/group/healthylowcarbrecipes
Homemade Probiotics thread
Herbal Links Thread


---

Posts: 2552 | From San Francisco | Registered: Apr 2006 | IP: Logged |

Blackstone
LymeNet Contributor
Member # 9453


posted

---

Nearly all of the doctors and articles that "believe in" sexual transmission refer back to the Bach study that Maria posted as their evidence for doing so. I really think we need updated studies to get this under control one way or another.

Here's something of note "ALL positive semen/vaginal samples in patients with known sexual partners resulted in positive Lyme titers/PCR in their sexual partners." Really? What is the threshold of sensitivity that is being tested here? After all, it seems like 85% of this board can't get positive Lyme titers (and certainly not from CDC/IDSA-levels) and the PCR assay has a 15-20% sensitivity under the very best circumstances.

So how the heck does this work? What specifications were they using that they managed to get basically positive lyme diagnoses out of every single partner? Something is fishy here.

Either the testing methodology was flawed, or its quite possible that most people are walking about with some level of lyme titers because of exposure - which is likely. People are exposed to hundreds of things over the course of their lives. I'm willing to bet at least a percentage of us would show immune responses to both tuberculosis and bubonic plague! Exposure doesn't mean infection, especially past exposure.

The other question is, were these tests done on untreated individuals? Even assuming (and that's a big assumption) that it is sexually transmitted when untreated, is it still transmissible while being treated by antibiotics?


This study alone seems to be causing a lot of panic, and we need more, better studies to confirm or deny it sometime soon.

Oh, and if anyone knows of a lab that is willing to test my semen for lyme or co-infections, let me know. I'll have it done.

---

Posts: 685 | From East coast, USA | Registered: Jun 2006 | IP: Logged |

Alv
Unregistered



posted

---

Well in our case DR J from CT said "If one of the partners has it the other one can get it also".

When we sent our son there he mentioned that if one of the parent is positive than the posibility is that the other partner got it also.

The reason is that I was misdiagnosed for many years ...when I was near death was found out was LYME and ALL coinfections !

---

IP: Logged |

sparkle7
Frequent Contributor (5K+ posts)
Member # 10397


posted

---

von - I had no idea I had Lyme. I don't recall being bitten nor did I have a bull's eye rash. My tests for Lyme have all been negative. I may actually have something other than Lyme but I discussed it with my doctor on numerous times & he seems convinced that Lyme is what I should treat to get well.

I don't spend alot of time in wilderness areas. I don't go camping & that sort of thing. I would often bring a blanket out to the park & sit outside for a bit but noting extreme. It is possible to be bitten by a tick just walking from the car to the house if you have grassy areas.

I don't have any definite answers but I just think if it was easily transmittable through sex more people would be ill now.

I also agree with Blackstone about having elevated titers for illnesses. I think people are exposed to a number of pathogens everyday. How we get them, I don't know but I do have some suspicions.

I just don't think it's worth it to go crazy over this issue. I do think some people are more genetically suseptable to having a hard time coping with Lyme. Some people are able to get over it easily with antibiotics & others have years of suffering.

There are still alot of unknowns which should have been addressed by this time. I don't know what the hold up is with better diagnostic tests, research, public awareness & treatments.

They can spend trillions in Iraq but we still don't have healthcare for the citizens of this country. Something is wrong with the whole picture.

---

Posts: 7772 | From Northeast, again... | Registered: Oct 2006 | IP: Logged |

sixgoofykids
Moderator
Member # 11141


posted

---

I have not been concerned that my husband will get it from me because we've been married for 23 years and he's still healthy. I've had it for 35 years.

I was concerned, however, that perhaps he has it and is asymptomatic and I could get it back from him. My LLMD said very unlikely.

Because of the length of time we've been married it's just not a concern to me.

I think you should talk to your husband about it. If it were sexually transmitted, he'd have been exposed already.

--------------------
sixgoofykids.blogspot.com


---

Posts: 13449 | From Ohio | Registered: Feb 2007 | IP: Logged |

Peedie
LymeNet Contributor
Member # 15355


posted

---

You all are so kind to help me.
I appreciate this so much. MariaA, when
my husband and I were "getting back together"
after his affair(s). I tried to get him to
wear a condom, mostly WE failed to get it
right. He was tested by our family doctor
for STDs and had none. I'm really worried about this and I really appreciate the advise. We have a week-end trip coming up and well... geeesh. Now I know we can try a different type of condom. I will talk to him about everything before the trip. I hope he won't be too upset.
I'm so glad I found this message board. If I
ever learn anything of value, I promise to help
others. Thanks again. Peedie

---

Posts: 641 | From So. CA | Registered: May 2008 | IP: Logged |

InADaze
LymeNet Contributor
Member # 7711


posted

---

Hi, good luck with your reconciliation.

I can't read most of this post, but I did want to share that I believe my husband has Lyme because of me. We don't have a definitive diagnosis, but he had a suspicious blood test, and suspicious symptoms.

Fortunately for me, he got tested because of HIS fear of passing it back to me and slowing my recovery. So, we are watching him closely.

So, IMHO, Lyme can be an STD in certain cases, but I personally doubt it is a high risk, especially with safe sex practices, or we would see a LOT more Lyme in the world.

---

Posts: 168 | From Delaware | Registered: Aug 2005 | IP: Logged |

shellbabe
Member
Member # 6948


posted

---

I know that I specifically asked Dr.C about sexual transmission at my last appt and he told me he doesnt believe it can be transmitted.

but ive heard that other docs think it can.....just not enough answers out there...

--------------------
AND NOW THESE THREE REMAIN:
FAITH,HOPE,AND LOVE.
BUT THE GREATEST OF THESE
IS LOVE.


---

Posts: 35 | From Springfield, Mo. | Registered: Feb 2005 | IP: Logged |
Contact Us | LymeNet home page | Privacy Statement

Powered by UBB.classic™ 6.7.3

---
The Lyme Disease Network is a non-profit organization funded by individual donations. If you would like to support the Network and the LymeNet system of Web services, please send your donations to:
The Lyme Disease Network of New Jersey
907 Pebble Creek Court, Pennington, NJ 08534 USA
http://www.lymenet.org/
---
Home | Flash Discussion | Support Groups | On-Line Library
Legal Resources | Medical Abstracts | Newsletter | Books
Pictures | Site Search | Links | Help/Questions
About LymeNet | Contact Us
---
© 1993-2020 The Lyme Disease Network of New Jersey, Inc.
All Rights Reserved.
Use of the LymeNet Site is subject to Terms and Conditions.
---