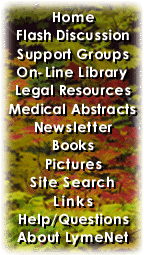 ---
LymeNet on Facebook
LymeNet on Twitter
---
---
The Lyme Disease Network receives a commission from Amazon.com for each purchase originating from this site.
When purchasing from Amazon.com, please
click here first.

Thank you.




Dedicated to the Bachmann Family


LymeNet needs your help:
LymeNet 2020 fund drive

The Lyme Disease Network is a non-profit organization funded by individual donations.

| | |
| --- | --- |
| | |
Author
Topic: bart

dian
LymeNet Contributor
Member # 14335


posted

---

i tested for positive bartonella henalase and quitana in igg. does this mean i have bart??

---

Posts: 256 | From Boston, mass | Registered: Jan 2008 | IP: Logged |

disturbedme
Frequent Contributor (1K+ posts)
Member # 12346


posted

---

Well, yeah, a positive is a positive.

Not sure what quitana is though...

--------------------
One can never consent to creep when one feels an impulse to soar.
~ Helen Keller

My Lyme Story


---

Posts: 2965 | From Land of Confusion (bitten in KS, moved to PA, now living in MD) | Registered: Jun 2007 | IP: Logged |

Tincup
Honored Contributor (10K+ posts)
Member # 5829


posted

---

Hi dian...

The IgG indicator is normally indicating an older infection but I am not saying it is an absolute must. If you haven't been treated for it .. and/or you have other tick borne diseases that may surpress the antibody production to get a response on the Igg... then yes.. it is very possible you have it.

Bartonella strains are pretty plentiful.

The henalase strain is most often associated with what they call "cat scratch fever"... although many dogs carry and can transmit it too.

The quintana strain was originally thought to be only from lice.. and was a common condition to get while in the military and over seas. It was commonly referred to as "trench fever" as it was thought to be passed from person to person while the military men were in the trenches during active war duty.

We now know ticks can carry and pass the strains too.

Bartonella q. was often associated with tenderness and pain in the shin bones.. like a number of us experience... which may or may not be something you experience from time to time. Some doctors diagnose it by squeezing your shin to see if you have pain there.. or unusal tenderness.

But yes.. my bet is you can have both strains if you have positive tests for both. I have had at least three strains which I tested positive for and had symptoms of for years... but I THINK it is gone now.

I am not a doctor and this is my opinion.

Hope you feel better soon!



--------------------
www.TreatTheBite.com
www.DrJonesKids.org
www.MarylandLyme.org
www.LymeDoc.org


---

Posts: 20353 | From The Moon | Registered: Jun 2004 | IP: Logged |

bernieb4
Member
Member # 14654


posted

---

tincup,
What drugs helped you get better when you had bartonella? I have it and I'm taking rifampin with minocycline right now, which is definitely doing something in my mind, not sure what though. I've had it for nearly a year now, and my worst symptoms have always been neurological/psychological ones, so I know it penetrated my brain pretty well. I just hope the abx will finally get it out of there.

---

Posts: 98 | From WI | Registered: Feb 2008 | IP: Logged |

dian
LymeNet Contributor
Member # 14335


posted

---

Tincup,
you seem to know a lot about this. those tests i got were done by quest labs only. i was on tetra for almost 2 yrs and a lot of my symptoms got better, such as the dizziness, etc. I have had numbness for 4 yrs and lately have been experiencing anxiety. i know anxiety is a big prob with bart. I am going to see dr. j in july and hope he will test me for all coinfections at better labs. what meds do bart people usually go on??
please let me know
diana

---

Posts: 256 | From Boston, mass | Registered: Jan 2008 | IP: Logged |

mrpotto
LymeNet Contributor
Member # 15123


posted

---

I have bart and I'm taking levaquin which is supposed to be one of the primary abx for it. The other is Rifampin. Where is your numbness? I have facial and head numbness (my wife had suspected my head was numb long before my bart dx-haha). Also the creepy crawlies or spiders in a web sensation in my head.

Good luck - I know the anxiety and panic have been the worst bart symptoms for me.

Chris

--------------------
dx in Dec 2003
tested 2x positive for bart
Lightly Chelating
3 weeks off abx and 1 week on:

10 day course a month: Plaq/Ceftin/Rifampin/Biaxin with Tindamax on last two days


---

Posts: 187 | From PA | Registered: Apr 2008 | IP: Logged |

dian
LymeNet Contributor
Member # 14335


posted

---

chris,
i have had numbness in my legs first, then it went to my head and face. it has never gotten better but i do get creepy crawly feelings occasionaly. do levaquin and riphamin cause any bad side effects and are they hard to take? please let me know when you get a chance. also, how long have you had bart and who tested for it and by what lab?
diana

---

Posts: 256 | From Boston, mass | Registered: Jan 2008 | IP: Logged |

ByronSBell 2007
Unregistered



posted

---

Now you need IV vancomycin for 28 days 2,000mg a day along with heprin and glutathione to wipe it out...

---

IP: Logged |

NMN
LymeNet Contributor
Member # 11007


posted

---

Hi Dian....I'm exactly the same high IGG for both. I'm doing doxy 400 and Rifampin 600 until I get to my LLMD in NY on June 20th. I am hoping he will know what to do next.

I'll keep you posted.

Good luck with your treatment!

--------------------
Pos BB and Bart(Q & H IGG pos)
Began treat 1 year after start of illness. Diagnosed Feb 2007.


---

Posts: 648 | From Ireland | Registered: Jan 2007 | IP: Logged |

adamm
Unregistered



posted

---

I have the pathognomonic rash and I'm only IgG positive.

---

IP: Logged |

galehane
LymeNet Contributor
Member # 15437


posted

---

I had igG titers for Bartonella Henselae and Quintana rising from 64 to 1048 for Bartonella Henselae and to over 2000 for Quintana in connection with an "attack" including a big rash on the trunk etc etc.
Because of the all the clinical symptoms I am sure the titers were correct.However, as my Crp was not very high I could get no treatment here in Denmark (stupid doctors)
In Europe the reference-laboratory is in Marseille. So I went there.Their serology was negative???!!Unfortunately, they messed up the skin biopsies and cultivation of the blood.Because serologywas negative they did not repeat these tests.
To me it seems like an indication that there is such a thing as BLOs.
In the infection-department in Marseille the doctors have worked out recommendations for treatment of bartonellosis. It may have been posted here before - but anyway here it comes again
http://aac.asm.org/cgi/reprint/48/6/1921

Galehane

P.S.

1.I have tried many of the antibiotics. nothing works.It seems as if you have to have a verified endocarditis to have the real strong effective stuff.
2.cross-reactions with Bartonnela serology is possible. Among the possibilities are Chlam. Pn.
, Borrelia B. and yersinia.

---

Posts: 268 | From europe | Registered: May 2008 | IP: Logged |

mrpotto
LymeNet Contributor
Member # 15123


posted

---

Byron:

Why would you suggest to right to IV Vanco for bart and not try oral levaquin or rifampin. Just curious.


Dian, I took Rifampin by itself for 6 months and it didn't wipe my bart out. I didn't take it with another abx which could have been why.

I've been tolerating the levaquin ok. Had some early tendon issues and my calfs have remained sore for the last week but its definitely stirring something up as I seem to herx pretty good on it. I added in some mino and had to stop last week due to ear/head buzzing. I'm on my 8th week of levaquin.

My full story is below:

Personal Information:

Age: 44
Sex: Male
Residence: Lansdale PA (25 miles NW of Philadelphia)
Marital Status: Married with 3 kids (13,11,9)
Occupation: Financial Services Professional
Interests: Running (semi-competitive), Music, Poker

My Story:

In December of 2003, I was with my family at a neighbor's birthday party outside near a bonfire and noticed my face began to feel numb as I sat by the fire.


As I moved away from the fire the numbness went away. I thought it very odd but didn't give it much thought.

In the next couple of days I had a re occurrence of some minor facial numbness and again didn't think much of it. One subsequent day, after drinking a glass of wine, I began to feel spacey and anxious.


I have been a life long social drinker (I'm an 18 year Philadelphia Eagles season ticket holder, avid tailgater and could always hold my liquor) so this was something new for me.


Finally, my face became completely numb at a work meeting and I had a co-worker drive me to the ER as I was unsure if I was having a stroke.


You see about six months prior, I was afflicted with a DVT in my right calf and some *minor* pieces had broken off and traveled to my lungs (pulmonary embolisms). I was on wafarin for the blood clot and was concerned that I was having a stroke. The hospital report checked out fine and I was discharged with ``unexplained parastetia''.

The following weeks my condition worsened and I felt periodically spacey and anxious and the facial numbness and head tingling was now present on a daily basis.


I saw my GP and a neurologist and had CTs and MRIs which all revealed nothing. I also had some lyme tests from Qwest which also came back negative. After doing some internet research, it seemed to me that I had many of the symptoms reported by people with lyme and lyme co-infections. As such, I began to see a lyme literate doctor in West Chester, PA.


That doctor initially put me on Ceftin which didn't completely resolve my symptoms. More lyme tests that all came back non conclusive but the symptoms persisted so my doctor continued to treat based on his clinical diagnosis.

In April of 2004 Bicillin injections were added to the mix and then Tinidazole. In August my liver enzymes were elevated and my doctor advised me to take a couple weeks off until they became decreased.


It was at the end of this two week period where my panic and anxiety symptoms plus insomnia became completely unmanageable. I was/am an avid semi-competitive distance runner (broke 60 minutes in a 10 mile race in May of 2002) and now I felt like my heart was going to explode as I walked up the street with my son.


Shortly after, my IGenex blood tests revealed a positive reading for Bartonella. I was put on Rifampin for the next 6 months.


The panic and anxiety subsided to a much more manageable level on Rifampin but the facial numbness, head butterflies and creepy crawlies persisted.


I was then treated for Babesia even though my Igenex blood work come back negative for that (I did have some air hunger and an occasional cough and wheeze which led my doc to think maybe I had that).


For Babs he had me take Ketek and Mepron (we later added Flagyl). I had to discontinue Ketek when I developed some ear ringing.


From August 2005 through August 2006, I was on an assortment of oral antibiotics that included Biaxin, Minocin and Flagyl. Symptoms persisted.

In late November of 2005, my Igenex Western Blot test revealed positives in the 30, 41 and 58 bands and I still showed a positive reading for Bartonella.


In April 2006, a PICC line was inserted and I received 12 weeks of IV Rocephin while also taking oral antibiotics which included Biaxin, Flagyl and Tindamax. I experienced a couple weeks of severe herxheimer reactions in the middle of this treatment (severe anxiety and panic and increased head and facial tingling and creepy crawlies).


During this time, my doctor had some personal issues which forced him to temporarily close his practice. It was his intention to rotate more IV medicines (I did do a week of Clindomycin and Vancomycin) to target lyme coinfections but he was never able to get around to that.

In August of 2006 the PICC line was removed and I took an anti-biotics holiday. Within a couple weeks it was apparent that I needed to go back on something.


I could feel the anxiety and panic returning and the head symptoms were worsening. I was on Bactrim for about a month before my new doctor decided to treat me again for Babesia (Mepron and Zithormax). We did this for about two months and because this combo wasn't really doing anything we stopped.


I again tried to go off anti-biotics but could not due to my symptoms flaring up again to unmanageable levels. From January of 2007 through March of 2008, I was on a variety of supplements and Minocin. Based on tests my doctor felt that I didn't really need anti-biotics and we tried to ``wean'' me off. This has always failed as the symptoms become problematic pretty quickly.


I was able to keep the symptoms at bay (present but not unmanageable) with 3-4 days of Minocin weekly but could never go off completely.

In March of 2008, I purchased Dr. Singleton's The Lyme Disease Solution and was immediately drawn to the case study in the Bartonella section. It sounded much like my own.


My symptoms mostly paralleled those listed in that section as well (even though my current Bartonella readings had been negative). I convinced my doctor to treat me with Levaquin. Within 3 days of taking levaquin, my herxheimer reactions were severe (weepy, increased symptoms, etc.).


I had to stop for a few days due to a tendon issue (incurred while jogging) and resumed at a lower dose (250 mgs). Since then I have worked back to up 500 mgs and continue to have herxheimer reactions.

Looking back, I recall a bite mark with a bulls eye on my midsection area around 1990 when I lived in Schwenksville, PA which is wooded area.


I can't remember if I dismissed it myself or saw a GP who did. Subsequent to that I had some bouts of anxiety/panic. One was a severe panic attack while driving in my car to meet a friend at a restaurant.


I thought I was having a heart attack as my left side seemed to go numb. An ambulance was called and I spent a few hours in the ER getting checked out. Blood and heart tests were fine. I spent about a week or two breathing into a paper bag before things resolved themselves.


A few years later I recall a few panicky/anxious days that as I look back may have been early manifestations of bart/lyme.


The DVT and pulmonary embolisms produced a great deal of stress and angst for me. I now think that this extra stress brought out the bart/lyme fully as about 6 -7 months later all of my symptoms were presented.


At this point, I feel that my current doctor is mostly taking guidance from me and my own research on my treatment.


Dr. XXXX appears to be one of the most knowledgeable doctors in the field of lyme and tick born illnesses. I feel that my case is complicated enough to want to have an expert treat me and get me back to where I need to be.


I miss being at 100% and the last five years have been extremely rough on me and my family.
Thus my rationale for seeking an appointment with Dr. XXXXX.

Antibiotic history

December 2003 - February 2003 - Ceftin
February 2004 - Added Bicillan Shots
April 2004 - Added Tinidazole
July 12 - August 2004 No antibiotics
August 11 - Bicillan shots with Tinidazole
September 2004 Rifampin
April 2005 Ketek/Mepron
July 2005 Ketek with Flagyl (alternating weeks)
August 2005 Biaxin and Minocin
Dec 2005 Biaxin and Flagyl (alternating weeks)
April 24, 2006 IV Rochephin
May 2006 Added Biaxin and Tinidazole
July 2006 Added Zithromax
July 20, 2006 IV Clindamycin
July 27, 2006 IV Vancomycin
Aug 2, 2006 - August 30 - no antibiotics
August 30, 2006 Bactrim
September 27, 2006 Mepron/Zithromax
Dec 9, 2006 = December 18, 2006 no antibiotics
Dec 18, 2006 Biaxin
Jan 8, 2007 Minocin
Mar. 29, 2008 Levaquin

Primary Symtoms

 Creepy Crawlies (Cranial nerve palsy?)
 Facial numbness and tingling
 Off and on neck stiffness
 Lymph node swelling
 Anxiety and panic attacks
 Irritability
 Poor sleep (especially difficulty falling asleep)
 Calf twitching and issues
 Episodes of breathlessness (part of anxiety?)
 Acid reflux

Symptoms seem to increase with:

 Consumption of sugar
 Barometric pressure changes (cold air)
 Stress
 Reading

--------------------
dx in Dec 2003
tested 2x positive for bart
Lightly Chelating
3 weeks off abx and 1 week on:

10 day course a month: Plaq/Ceftin/Rifampin/Biaxin with Tindamax on last two days


---

Posts: 187 | From PA | Registered: Apr 2008 | IP: Logged |

SForsgren
Frequent Contributor (1K+ posts)
Member # 7686


posted

---

Most of the doctors I have spoken to will treat Bartonella with only IgG, especially if there are symptoms to suggest it may be an issue.

--------------------
Be well,
Scott


---

Posts: 4617 | From San Jose, CA | Registered: Jul 2005 | IP: Logged |

galehane
LymeNet Contributor
Member # 15437


posted

---

hi

yes I´ll try to reconstruct the antibiotics i had. It wasn´t until two years ago that I recognized that I had Bartonella,up till then the antibiotics were meant to fight Borrelia.you just have to remeber that my short courses of antibiotics reflects the points of view among doctor´s way back in time and my lack of knowledge.

ordinary penicillin 4 weeks (dont recall the exact type.

2 weeks doxy- 200mg

4 weeks of erythromycine

2 weeks thelithromycine

3 weeks cefuroxime - in between fluconazol for 1 month.

3 weeks of ceftriaxone I.V. 4gr

2 weeks of doxy 200mg

5 weeks of doxy 200mg and riphamphecin 2x300mg

3 weeks of levofloxacain

3 weeks of doxy 350mg
4 weeks of ceftriaxone 2 mg
3 weeks of chlarithromycin
2 weeks of Mino and Metro

2 weeks of Azithromycine (good)
2 weeks of ciprofloxacain
2 weeks of Pimecillinam (for lung inf.)

galehane

---

Posts: 268 | From europe | Registered: May 2008 | IP: Logged |
Contact Us | LymeNet home page | Privacy Statement

Powered by UBB.classic™ 6.7.3

---
The Lyme Disease Network is a non-profit organization funded by individual donations. If you would like to support the Network and the LymeNet system of Web services, please send your donations to:
The Lyme Disease Network of New Jersey
907 Pebble Creek Court, Pennington, NJ 08534 USA
http://www.lymenet.org/
---
Home | Flash Discussion | Support Groups | On-Line Library
Legal Resources | Medical Abstracts | Newsletter | Books
Pictures | Site Search | Links | Help/Questions
About LymeNet | Contact Us
---
© 1993-2020 The Lyme Disease Network of New Jersey, Inc.
All Rights Reserved.
Use of the LymeNet Site is subject to Terms and Conditions.
---