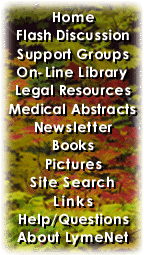 ---
LymeNet on Facebook
LymeNet on Twitter
---
---
The Lyme Disease Network receives a commission from Amazon.com for each purchase originating from this site.
When purchasing from Amazon.com, please
click here first.

Thank you.




Dedicated to the Bachmann Family


LymeNet needs your help:
LymeNet 2020 fund drive

The Lyme Disease Network is a non-profit organization funded by individual donations.

| | |
| --- | --- |
| | |
Author
Topic: Why is alcohol a no-no.

thomasx
LymeNet Contributor
Member # 13431


posted

---

If I recall correctly, Dr. B recommends that alcohol be avoided during treatment. Anyone know why?

---

Posts: 386 | From Southeastern PA | Registered: Oct 2007 | IP: Logged |

disturbedme
Frequent Contributor (1K+ posts)
Member # 12346


posted

---

Not sure about the lyme reason except that most people are not as tolerant to it when they have lyme and co-infections and become drunk/tipsy very quickly (I did when I only drank a small glass of wine).

Also, if you're taking anbitioics, alcohol is not good for the yeast and they'll thrive on it which could give you yeast problems.

Not to mention most alcohol is not good/safe in combination to many drugs, some of which are antibiotics.

--------------------
One can never consent to creep when one feels an impulse to soar.
~ Helen Keller

My Lyme Story


---

Posts: 2965 | From Land of Confusion (bitten in KS, moved to PA, now living in MD) | Registered: Jun 2007 | IP: Logged |

feelfit
Frequent Contributor (1K+ posts)
Member # 12770


posted

---

Your liver. toxic.

---

Posts: 3975 | From usa | Registered: Aug 2007 | IP: Logged |

thomasx
LymeNet Contributor
Member # 13431


posted

---

What do you mean by that? That it's toxic in general or moreso with lyme or on abx?

---

Posts: 386 | From Southeastern PA | Registered: Oct 2007 | IP: Logged |

TF
Frequent Contributor (5K+ posts)
Member # 14183


posted

---

Alcohol use dramatically compromises immune responses. Google it and you will see many medical references to support this.

Lyme already affects your body's immune system (much like AIDS), so you really don't want to do something else to make your immune system even less effective. You need your immune system to "wake up" during antibiotic therapy and begin to work properly if you are ever to conquer lyme. The antibiotics kill the bacteria, but your body has to be able to kill whatever is left so that you don't continue to relapse when antibiotics are stopped.

Alcohol also has to be cleared by the liver, which is a strain on the liver. That's why alcohol alone can actually ruin a person's liver. They say to maintain a healthy liver, a woman can have only one drink per day and a man two. That's all the liver can handle safely.

When you are taking antibiotics, they have to be cleared by the liver, which is hard on the liver, especially the high doses Burrascano recommends. So, if you drink alcohol while on antibiotic therapy, you are making it even harder on your liver which may then stop functioning properly and you will have to stop all antibiotics until your liver recovers. (You turn yellow--jaundice--or your blood tests show elevated liver enzymes.) This can take months. Some people's livers may never recover depending on their prior alcohol use.

In the mean time, the lyme and coinfections are free to grow again! So, you lost whatever ground you had gained.

Page 17 of the Burrascano guidelines says:

There are three things that will predict treatment failure regardless of which regimen is chosen: Noncompliance, alcohol use, and sleep deprivation.

So, it is crucial that people being treated for lyme avoid alcohol. On page 25, he says, "Absolutely no alcohol!"

---

Posts: 9931 | From Maryland | Registered: Dec 2007 | IP: Logged |

Keebler
Honored Contributor (25K+ posts)
Member # 12673


posted

---

-
Not only does Dr. B recommend avoiding alcohol, he has stated that it is one of the primary reasons for failure of treatment. As it is, fighting this illness is uphill enough.

When a few sips of wine would seemingly make this all less stressful in one way, it can actually create more stress on the body in many more ways.

This is how I understand it - in part. Just my interpretation.

Various infections can cause thickening and scaring of the liver.
Think of hepatitis. It is so damaging to the liver that alcohol is very dangerous. Lyme is not easy on the liver, either.

When the body has an infection all the body systems are pushed to the max to deal with that. Alcohol is just one stressor that places burden on several systems, pushing the liver and other detox organs into action, leaving little to give for the attention needed to address the infection, healing, etc.

When that happens, the liver easily becomes overtaxed and cannot get rid of toxins as effectively as possible.

Alcohol, while an enjoyable addition to the diet for many peoples for centuries, is not an essential food. Aside from some benefits from purple wine grapes, alcohol, itself is toxic to the liver. Always has been.

It's just that a healthy liver can get rid of small amounts - it's what livers are meant to do, detoxify. Not only is it harder for a liver that has been compromised to adequately detox, it may be further harmed by even small amounts. Lyme, itself, is VERY toxic. The liver just can't handle too much more.

Also to be considered is the interaction of alcohol with medicines and even with vitamins.

The creation of a more toxic environment and stress on the liver has a "back up" reaction (there is a better term, though) for other organs in the body, too, such as the brain and the heart. The lining of the GI tract also is at risk.

Blood glucose levels, as well as hormones, and even blood vessels are also strained in the presence of alcohol even if the liver is not compromised. When it is, the reactions can be profound.

-

---

Posts: 48021 | From Tree House | Registered: Jul 2007 | IP: Logged |

kehren
Member
Member # 15220


posted

---

I can only speak from my personal experience. Prior to having Lyme I was able to drink socially without any problem.

Since my husband works in the spirit industry I was quite accustomed to handling my liquor very well.

I first noticed that after any time I drank I was experiencing an exaggerated hangover with severe headaches, fatigue and a longer than usual recovery period.

That went on for a several months and then it progressed to the point where I could have less than 1/4 of a beer and the headaches would appear instantly.

They would last for several hours with no alleviation from hangover pills, motrin, hydration, food intake etc.

I continued on occasion to try and have 1 drink but this was not usually successful.

On 2 occasions I didn't notice the headaches starting and had between 3-5 drinks over a period of 5 hours.

I am typical a very sane, rational person. In my entire life I have only had one episode where I drank too much (during a pending divorce case).

On both occasions, I became extremely agitated, easily angered and displayed irrational speech and behavior attempts such as trying to jump out of a moving vehicle.

I have personally never experienced anything like this in my life. I know no longer touch alcohol.

I believe the reaction is due to the fact that alcohol is converted by our bodies into sugar and Lyme likes to feed on sugar.

I am only guessing that perhaps it stimulates the bacteria and that might cause the enhanced effect and create the intolerance and changed behavior patterns that can occur.

Along with the other host of reasons mentioned by Keebler to the long term harm of adding another toxin to the body.

I do hope that one day I might be able to have a glass of wine at dinner but for now I rather act sane and not add any additional headaches.

---

Posts: 12 | From Texas | Registered: Apr 2008 | IP: Logged |

tonyp
LymeNet Contributor
Member # 14960


posted

---

My lyme symptoms were in check for the 2nd half of last year. Over Christmas Holidays, I had several social functions and had too much too drink on several occassion. At the time, I did not know I had Lyme. Well, starting this new year all hell broke lose and the symptoms came back like crazy.

Since being diagnosed, I have now gone alcohol for now close too 4 months. I miss have a cocktail in a social setting, but I know it is the right thing to do.

The immune system has to be strong. Why give it a reason not to perform.

Liver has to function, why give it a reason not to perform.

Once we lick this awful disease, we can return to having a celebration drink and then some

my 2 cents.

--------------------
Dx 3/2008 Pos. WB and Bart- igenex
Levequin 500 mg March 2008
Amox 6000 mg - May 2008
Doxy 400 mg - June - oct
Biaxin and Flagly 1000 each, oct-dec
Zitro, Malarone and Flagly Jan - feb
Remission for 6 months
Relapse Sept 2009 zithro/flagyl


---

Posts: 130 | From canada | Registered: Mar 2008 | IP: Logged |

bernieb4
Member
Member # 14654


posted

---

I don't enjoy many things more than a cold beer while tailgating at a Brewer's game or a dozen while sitting around a campfire. Plus, I'm 21, and it's what we do.

And that alone has made me hate this horrific disease passionately. I cannot drink alcohol any longer, period. Not even a beer or two. The saddest part is I don't even want to drink anymore -- it inflicts psychotic and delusional thoughts on my brain. It's horrible.

All the previous posts basically nailed why you cannot drink alcohol when you have Lyme or any TBD. That is, if you ever want to be your old self again. I do. More than anything.

-any antibiotic is hard on the liver
-any alcohol is hard on the liver
-the combination is detrimental to liver health
-mixing alcohol with drugs like Rifampin and Metronidazole/Flagyl can be deadly
-alcohol impairs the mind (of which we lymie's have little to preserve when our sickness is bad)
-alcohol impairs the immune system temporarily
As long as there is alcohol in the body, your body's number one objective is to clear the body of the alcohol. Meaning, it could care less if there are b.Burdorferi running rampant throughout body. Even without alcohol in the body we have extremely weakened immunity, adrenals, you name it.


Bottom line: we don't experience exaggerated effects from alcohol for no good reason -- we experience these because our brain, our immune system, etc., have been compromised due to Lyme, bartonella, babesia.

I'd kill to enjoy an ice cold PBR again, but I'll wait...and wait until I feel like me again. And even then, I will take it slow.

If you really feel the need to indulge your senses, snort a line of nutmeg or climb a tree.

---

Posts: 98 | From WI | Registered: Feb 2008 | IP: Logged |

Lymetoo
Moderator
Member # 743


posted

---

quote:

---

Originally posted by feelfit:
Your liver. toxic. [/QB]

---

That's a big part of it. Abx are toxic for the liver and so is alcohol. Not too good when you're trying to get well.

editing... just read what bernie said .. He said it all!

--------------------
--Lymetutu--
Opinions, not medical advice!


---

Posts: 95729 | From Texas | Registered: Feb 2001 | IP: Logged |

sparkle7
Frequent Contributor (5K+ posts)
Member # 10397


posted

---

Everyone has listed very good reasons to avoid alcohol. I just have experienced that it makes me feel crappy. I didn't drink much before I had Lyme but now it's much worse.

I do like to have a drink of sake' or a margarita every now & then, when I'm up to it. Having a few sips every now & then are not that bad but if you like to get plastered - it's not a good idea.

There are some other reasons to avoid alcohol - one is that it's is like fuel to yeast growth. Many people take antibiotics & it's not good to encourage that. The other thing is that some people take painkillers or other drugs like antibiotics & it's not advised to mix them, either.

I think you have to try it out for yourself & see what happens. If you feel lousy after - avoid it. Alcohol does put alot of stress on the body - so, it's probably best to avoid it as a rule.

---

Posts: 7772 | From Northeast, again... | Registered: Oct 2006 | IP: Logged |

Tincup
Honored Contributor (10K+ posts)
Member # 5829


posted

---

I was at the recycling center today.

And yes ding dong... you say... what does THAT have to do with this topic? She HAS lost her mind.



When I walked past the nearly full containers of aluminum cans...

The smell of beer left overs sitting in the big receptacle in the hot and sunny 88 degree weather here... nearly made me drunk!



--------------------
www.TreatTheBite.com
www.DrJonesKids.org
www.MarylandLyme.org
www.LymeDoc.org


---

Posts: 20353 | From The Moon | Registered: Jun 2004 | IP: Logged |

cantgiveupyet
Frequent Contributor (1K+ posts)
Member # 8165


posted

---

I havent drank a drop since August 05. Before that I used to be very social, never missed a work happy hour etc. Always had a high tolerance to alcohol, and it never made me tired ever.

I notice before i got sick, my recovery time was longer, i felt like i was dying..so I would drink less while out or have a mixed drink instead.

In 05 when i had my last beer I remember my dizziness increasing, like i had drank a case of beer. I never drank after that.

I miss being social but I want my life back.

--------------------
"Say it straight simple and with a smile."

"Thus the task is, not so much to see what no one has seen yet,
But to think what nobody has thought yet, About what everybody sees."

-Schopenhauer

pos babs, bart, igenex WB igm/igg


---

Posts: 3156 | From Lyme limbo | Registered: Oct 2005 | IP: Logged |

Gert
LymeNet Contributor
Member # 13584


posted

---

Exactly what everyone else said and I can relate to what most of you said about the effects it has on our body.

I believe it's been about 1-1/2 years since I drank....my body just could not handle even a teaspoon full before my tongue got thick, I busted out in a sweat, my face and neck turned deep red and I felt like I would pass out.

Even cooking with it can cause some after effects with me. I just avoid it at all costs.

---

Posts: 261 | From NW Pa ~ Crawford County | Registered: Oct 2007 | IP: Logged |

treepatrol
Honored Contributor (10K+ posts)
Member # 4117


posted

---

Alcohol uses the same pathway to be elimanated through the liver as dose a lot of antibiotics Major Reason.
Others are the body converts to sugars yeast loves that.
Hey did you know A recent study found the average
American walks about 900 miles a year.

Another study found Americans drink,
on average, 22 gallons of alcohol a year.

That means, on average, Americans get about 41 miles to the gallon.

Kind Of Makes You Proud To Be American

--------------------
Do unto others as you would have them do unto you.
Remember Iam not a Doctor Just someone struggling like you with Tick Borne Diseases.

Newbie Links


---

Posts: 10564 | From PA Where the Creeks are Red | Registered: Jun 2003 | IP: Logged |

thomasx
LymeNet Contributor
Member # 13431


posted

---

"American walks about 900 miles a year.
Another study found Americans drink,
on average, 22 gallons of alcohol a year.
That means, on average, Americans get about 41 miles to the gallon."

TreePatrol - That's Funny.

---

Posts: 386 | From Southeastern PA | Registered: Oct 2007 | IP: Logged |
Contact Us | LymeNet home page | Privacy Statement

Powered by UBB.classic™ 6.7.3

---
The Lyme Disease Network is a non-profit organization funded by individual donations. If you would like to support the Network and the LymeNet system of Web services, please send your donations to:
The Lyme Disease Network of New Jersey
907 Pebble Creek Court, Pennington, NJ 08534 USA
http://www.lymenet.org/
---
Home | Flash Discussion | Support Groups | On-Line Library
Legal Resources | Medical Abstracts | Newsletter | Books
Pictures | Site Search | Links | Help/Questions
About LymeNet | Contact Us
---
© 1993-2020 The Lyme Disease Network of New Jersey, Inc.
All Rights Reserved.
Use of the LymeNet Site is subject to Terms and Conditions.
---