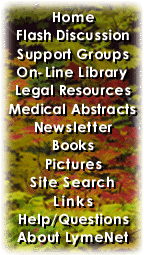 ---
LymeNet on Facebook
LymeNet on Twitter
---
---
The Lyme Disease Network receives a commission from Amazon.com for each purchase originating from this site.
When purchasing from Amazon.com, please
click here first.

Thank you.




Dedicated to the Bachmann Family


LymeNet needs your help:
LymeNet 2020 fund drive

The Lyme Disease Network is a non-profit organization funded by individual donations.

| | |
| --- | --- |
| | |
Author
Topic: Sister w/LD becomes VERY sick overnight due to stress????

lymebytes
Frequent Contributor (1K+ posts)
Member # 11830


posted

---

My sister is out of town visiting family. She has LD. She has never had what I would call a 'severe' case of LD (especially compared to me) w/fibro-type aches, very functional.

Suffice it to say last night something extremely, extremely stressful happened...during this my sister experienced a body wide tremor and became very ill over night.

She is 500 miles form home, with family, but called me and said she is so sick she can't even take a sip of water, she vomits. She is becoming dehydrated and she totally believes the stressful event that took place last night has triggered Lyme like never before. She insists she was fine up until the moment of this "event".

She said she can't remember ever being this sick, everything hurts even her hair. SHE IS INSISTANT this is stress triggering a very bad LD reaction. Do you believe this is possible? The tremor etc....sound like it could be. She sounds horrible, I could barely understand her on the phone she is so sick.

I told her to go to ER and get IV, I have a feeling this is what is going to happen.

I have heard LD can go from a dormant/mild stage to a very active stage from a stressful event..what are your opinions?

--------------------
www.truthaboutlymedisease.com


---

Posts: 2003 | From endemic area | Registered: May 2007 | IP: Logged |

northstar
Frequent Contributor (1K+ posts)
Member # 7911


posted

---

Absolutely I believe it. It has happened three times to me.

If she was on a med break, she could resume.
Remove herself from situation.
Be good to herself.

I think it has to do with cortisol levels rising.

Northstar

---

Posts: 1331 | From hither and yonder | Registered: Sep 2005 | IP: Logged |

cjnelson
LymeNet Contributor
Member # 12928


posted

---

ABSOLUTELY!!!!!!!!!! I FULLY belive this and belive this is what happenend to me almost 9 years ago. I was going through a divorce and BAM - I belive I had LD for many years prior and it was either dormant or my immune kept in check with only minimal and I mean very very minimal symtpoms some fibro issues mainly but nothing

of great concern. Then I got very very very sick, then better, then progessively worse over the past 9 years.

Yes...I do believe stress can really do this....

--------------------
Seeking renewed health & vitality.
---------------------------------
Do not take anything I say as medical advice - I am NOT a dr!


---

Posts: 830 | From TN | Registered: Aug 2007 | IP: Logged |

Keebler
Honored Contributor (25K+ posts)
Member # 12673


posted

---

-

Yes. This happened to me several times. And it may take quite a while to get back to her "normal" so patience is required from everyone. Gentle, gentle is the key here.

"Stress" seems easy. Our endocrine system is one of the most complex systems we have. When it is broken or dysfunctional some very serious effects occur.

You said she "experienced a body wide tremor" - this sounds like a seizure of some sort which happens with some patients who have neuroborreliosis (lyme advanced to the brain).

It can have to do with an overload of the lyme toxins, too much cortisol (from stress), or just too much stimuli. It would not necessarily be epilepsy as many types of seizures can occur from toxins and adrenal stress. This happens to me often.

Magnesium might be a very good thing to help settle down the overexcited neuro stuff. It's also vital to get some nutrition if your relatives can get her some good quality protein powder/vitamin/electrolyte drink - NOT ensure, though. That's all sugar.

Still, this could be unrelated to lyme and I think she should still get checked out. But, that, alone can be more stress for someone who can't even take a bit of water.

It also could be a severe adrenal exhaustion. It would help to go to the hospital or be evalauted where she is, however, most doctors are not educated to the level necessary to treat advanced lyme. You might contact the lyme support group in the town she is in - look to the left of this page on the menu.

Someone from the group might have a suggestion for the best medical care in her area for someone with her diagnoses. Perhaps a naturopathic physician at that location could assist, too, with certain adrenal support measures.

Adrenal failure, if this might be it, requires emergency treatment (however, if they give steroids, that can make lyme blossom). Still, adrenal failure can be very severe and needs evaluation. Cardiac functions should be checked, too.

Just flying can do this to me. It's very stressful, mostly from the intake of the toxic exhaust from the planes preceeding mine on the runway prior to take-off.

- I just went back to re-read your note. You started with " She is becoming dehydrated" - I missed that. THAT alone requires electrolyte replacement. Pediasure might help. If she can't get hydrated and get some glucose in she may need to go to the ER for an IV. Dehydration can have very serious effects.

I don't want to scare you. It's a pull knowing what to do. It might be that the best thing is for her to rest aggressively in dark quiet room for as long as she needs. Ultimately, she makes the decisions. She knows her body. She will need all your morale support and help along the way.

It's good she has a sister who wants to learn more about the complexity - and severity - of lyme and co-infections. It's scary for all of you, but knowledge is power. And, this can get better.

After this initial flair settles a bit, perhaps a massage therapist could go to where she is at and give a relaxing massage. That is so helpful to calm down the body.

Best of luck to you all.

-

---

Posts: 48021 | From Tree House | Registered: Jul 2007 | IP: Logged |

sixgoofykids
Moderator
Member # 11141


posted

---

Stress is my trigger for symptoms. I had manageable Lyme for years and years and didn't even know what it was. Stress would trigger severe symptoms.

Once I had a stressful job ... when I'd get to work, my fever would go up to 102 and I would vomit. When I would return home, I would be absolutely fine. Obviously, within a couple weeks, I had to quit that job.

That was the start of a three month's long lyme flare that resolved on it's own once the stress was gone and I rested up.

--------------------
sixgoofykids.blogspot.com


---

Posts: 13449 | From Ohio | Registered: Feb 2007 | IP: Logged |

tailz
Unregistered



posted

---

I've no doubt that this stressful event triggered her Lyme, but remember that since she's away from home, she is lkely also being 'stressed' by a different combination of electromagnetic and microwave fields from area cell phone masts and antennas.

Check her home address and then her away-from-home address here. More towers and/or antennas where she's at now?

www.antennasearch.com

---

IP: Logged |

lymebytes
Frequent Contributor (1K+ posts)
Member # 11830


posted

---

Thank you for your replies. I suspected it could cause LD to really come forward.

She called me because she knows I have had my share of this disease for years now.

I also contacted another sister who lives down there and told her not to mess around with this, to take her to ER if necessary and I can contact her LLMD.

She has only been on Artemisinin recently, no abx.

I fear (as mentioned) this could be the "start" of a long haul w/ a much more severe case of LD.

Thanks for your experiences and advice, I will be sure to read all your posts to her.

--------------------
www.truthaboutlymedisease.com


---

Posts: 2003 | From endemic area | Registered: May 2007 | IP: Logged |

BJK
LymeNet Contributor
Member # 13251


posted

---

Hello,

I've had lyme for (I think4) 4 years now and have been in treatment for a little over a year.

Stress of any kind, even seemingly small issues causing stress, increase and worsen my symptoms worse than anything else.

In my case, even making a simple descision or choosing from several things can set off a reaction of downward neurological spiral as my old symptoms come back, get worse or new ones pop up.

This is very comon with Lyme disease and some of its coinfections.

In the early parts of my illness (within the first 6 months), before anyone knew what was wrong with me, one of the first scary symptoms for me was a change in the way by body reacted to stress.

I was a supervisor in a position where my ability to calm situations and handle stress well made me very successful.

I started getting wierd headaches and a sort of disoriented confusion when making descisions or being around stress....this worsened over the years and eventually I had severe neurological involvement, and stumped even the best neurologists on the east coast.

At times I thought it was in my head, but no matter the mindset, i could not control these reactions.

This is much better now and I know it wasnt all in my head, at least in a manner of speaking, I have had brain testing that has shown damage in these areas of my brain (in fact every area),

damage caused by this disease, not something I could control or think positive to find my way out of, not something my "will" could overcome. these were psychological, mental, and very much physical symptoms I had no control over.

I feel and empathize with your sister, these events in our illness can be horrifying, and even worse if those who love and support us dont take the time to understand the disease, and even ridicule and disbelieve what we tell them as truth.

Im really glad you posted here, this shows you are not the type who will make false assumptions and will be supporting your sister when she needs it most.

Thanks

BJK

--------------------
BJK

Nothing I write here is medical advice...I'm just another lymie sharing how this disease has affected me personally


---

Posts: 175 | From Central Maine | Registered: Sep 2007 | IP: Logged |

lymebytes
Frequent Contributor (1K+ posts)
Member # 11830


posted

---

Hi BJK...I agree, I too noticed VERY early on (even before I knew I had LD) that if I "over worked" or became stressed, my pain would increase. I didn't know I had LD and kept thinking something had to be wrong in my endocrine system, but I had severe neuro issues, pain mostly throughout my body - head to toe.

I have no doubts what so ever that cortisol and adrenaline play a major roll (all hormones do) in this insane disease.

I have lived an "excruciating" version compared to my sister and hearing her now say her "hair" hurts, I understand that!

I just hope this hasn't triggered a long term, hard battle for her, as mine has been. She is a sweetheart and played a huge roll in finding me help when I was completely bedridden and had given up on doctors completely.

Thanks.

[ 26. May 2008, 08:52 PM: Message edited by: lymebytes ]

--------------------
www.truthaboutlymedisease.com


---

Posts: 2003 | From endemic area | Registered: May 2007 | IP: Logged |

Peacesoul
Unregistered



posted

---

Could it be she has a stomach virus or food poisoning?

---

IP: Logged |

lymebytes
Frequent Contributor (1K+ posts)
Member # 11830


posted

---

Hi Peace, I asked the same EXACT question.

She said, "NO, NO YOU DON'T UNDERSTAND....I was fine!" Then the stressful event took place - and she said she "KNOWS" she is extremely sick from the stress of it, she said she began to shake head to toe, tremor like, and instantly something happened horrible changed inside. She became very sick.

I forgot until just awhile ago...she was also recently diagnosed w/Hashimotos (auto immune destruction of the thyroid) I wonder if the rush of cortisol and adrenaline created a "crash" of sorts of her thyroid...wouldn't that be something like adrenal fatigue though?

This reminds me of when I had cortisone shots...I knew I was done, cooked, fried...and I was.

--------------------
www.truthaboutlymedisease.com


---

Posts: 2003 | From endemic area | Registered: May 2007 | IP: Logged |

Alv
Unregistered



posted

---

YES absolutly.MY LYME was activated from the death of my mother and I could not fly in EUROPE and burry her.I learned when I came back home from work and is no way to get there even if I had a privat JET.

I had active lyme and head pain from head to toe coming and going .I had lyme prior to that 10 years before that.

But within this 1 year of the death of my mother and me not even being closed to been recovered from it another stress related situation within this year made it active.

When I say active this is not not just FLARE UP -beeing sick like you have a flue and headaches and joint pain for a week or months as other times.I say active as I know active from having lyme FLARE UP is completly a diferent story.

A hit from head to toe started and I had tremors could not breath , almost chocking to death the day after that day I felt something STUCK -crust in my head and I could not rememeber a thing .

A sharp pain from my head to my right arm and a numbness came adn could not controll my entire right side.

I self diagnosed myself that I had lyme 2 years after that.MANY when I say MANY other drs had no clue what I had.

EVEN an educated Dr would knew that was LYME written all over place-associated with joints pain and headaches .I was like a parkinsons case very severe.

I had noticed that the presence of unpleasent people that had efect negative in my life or a very stressful situation with deadline would triger horrible headaches and Digestive track would get messed up.

---

IP: Logged |

lymebytes
Frequent Contributor (1K+ posts)
Member # 11830


posted

---

Alv - you bring up a point in me that scares me to think how much stress and death I have to watch in front of me, I am the "baby" of the family and if everyone dies in order starting w/my parents, brothers, sisters, aunts, uncles, I wil spend the second half of my life at funerals and trying to cope .... I SO fear never getting well. I know all this will start occurring in the next 5 years or less.

Even the thought of my dogs dying sends me into a pain frenzy.

How do we cope with Lyme and stress...when all of this is a part of life?

Scary.

--------------------
www.truthaboutlymedisease.com


---

Posts: 2003 | From endemic area | Registered: May 2007 | IP: Logged |

cantgiveupyet
Frequent Contributor (1K+ posts)
Member # 8165


posted

---

stress triggered my lyme as well....and keeps me sick still.

I wish i wasnt the type to get super stressed but I am.

--------------------
"Say it straight simple and with a smile."

"Thus the task is, not so much to see what no one has seen yet,
But to think what nobody has thought yet, About what everybody sees."

-Schopenhauer

pos babs, bart, igenex WB igm/igg


---

Posts: 3156 | From Lyme limbo | Registered: Oct 2005 | IP: Logged |

Alv
Unregistered



posted

---

Well my situation was diferent as I was far away from my family for very long time and tight up to start a new life with a lot of stress involved , learning a new language from scratch and not having time to be there for her frustrated me non stop .

She had an accident slided on floor and than somehow came up she had leuqimia and it lasted 1 year sick to her death bed .Nobody told me about it .Saw her in Rome 1 month before death but was a 2 day flight as I could not take more days off from my job .My son was little and no HELP AT ALL.

So I felt as I was in a cage with no choice to escape to be there and spent some time before she died.THAT is HUGE diference from beeing here and see them often.The Guilt of not beeing able b/c of my situation MADE me so angry to GOD and my decision of coming here and it was eating me alive.

I was mad while things were comming all at once to me and snaping me one after the other and I just had to hang in there for 4 years and than this was JUST TOO MUCH .

With yeu here sorrounded with friends and family and seeing each other it is way diferent.

But since than -since I saw death in the eye beeing myself sick and never thought I would make it and my son sick with lyme.I WOULD NEVER EVER let any thing like this hit me again.I already have prepared myself upfront for anything WEIRD that might come in.

I already went million times over the question WHY me , WHY my son , WHY NOW!
Also she was the only one that keep saying that it will get better hang in there.It was my mother that kept me going when I was telling something is wrong as NOBODY beilived -as I looked FINE !

She Was A VERY STRONG WOMEN and I was exstremely conected to her more than anybody else.She suffered b/c I left .She used to say -Why go there is SO FAR AWAY !!!!!

---

IP: Logged |

lymebytes
Frequent Contributor (1K+ posts)
Member # 11830


posted

---

Oh Alv,
I am so sorry. But how could you know? We make choices, that later may not seem right, but none of us can see into the future and what may or may not happen.

Yes, we must prepare ourselves for all things in life. Maybe we can stop the stress from being overwhelming if we realize everything and anything can change...even us, we can better in heartbeat.

I am sorry about your mom. I also understand what it is like to have a son with LD, it is horrible. My husband, son and I all have it!

I keep hoping and praying though...one day we will have renewed health.

I hope the same for you.

Take care.

--------------------
www.truthaboutlymedisease.com


---

Posts: 2003 | From endemic area | Registered: May 2007 | IP: Logged |

luvs2ride
Frequent Contributor (1K+ posts)
Member # 8090


posted

---

Stress suppresses the immune system. It is also one of the 3 main causes of Leaky Gut Syndrome. Abx is #1, Stress #2, Bad Diet #3.

Once the guts starts leaking, you can't get well until you fix the gut.

Alvs, so sorry about your Mom and your inability to be there. I'm sure your Mom understood and completely loves and forgives you. Please find a way to forgive yourself so you can heal from this terrible disease.

Luvs

--------------------
When the Power of Love overcomes the Love of Power, there will be Peace.


---

Posts: 3038 | From america | Registered: Oct 2005 | IP: Logged |

Rianna
Frequent Contributor (1K+ posts)
Member # 11038


posted

---

Yes without a doubt

Stress sends me in to freefall and all of my Lyme symptoms go crazy.

I understand it can make the dormant cyst forms open and become active.

Rianna

---

Posts: 1172 | From UK | Registered: Jan 2007 | IP: Logged |
Contact Us | LymeNet home page | Privacy Statement

Powered by UBB.classic™ 6.7.3

---
The Lyme Disease Network is a non-profit organization funded by individual donations. If you would like to support the Network and the LymeNet system of Web services, please send your donations to:
The Lyme Disease Network of New Jersey
907 Pebble Creek Court, Pennington, NJ 08534 USA
http://www.lymenet.org/
---
Home | Flash Discussion | Support Groups | On-Line Library
Legal Resources | Medical Abstracts | Newsletter | Books
Pictures | Site Search | Links | Help/Questions
About LymeNet | Contact Us
---
© 1993-2020 The Lyme Disease Network of New Jersey, Inc.
All Rights Reserved.
Use of the LymeNet Site is subject to Terms and Conditions.
---