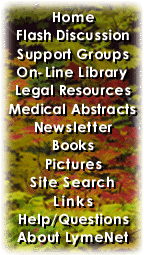 ---
LymeNet on Facebook
LymeNet on Twitter
---
---
The Lyme Disease Network receives a commission from Amazon.com for each purchase originating from this site.
When purchasing from Amazon.com, please
click here first.

Thank you.




Dedicated to the Bachmann Family


LymeNet needs your help:
LymeNet 2020 fund drive

The Lyme Disease Network is a non-profit organization funded by individual donations.

| | |
| --- | --- |
| | |
Author
Topic: Chronic nausea - low ejection gallbladder

KS
LymeNet Contributor
Member # 12549


posted

---

I know there have been a number of previous posts regarding gallbladder issues but I haven't seen any that address my specific issues....not sure whether anyone has any experience/expertise to share.

My #1 Lyme symptom has been chronic nausea. It is the constant queasy sensation in my throat. I have it everyday, regardless of whether I eat or not. The intesity varies with each day or each minute.

I have been treating Lyme for almost a year and although the nausea is not as intense as it was in the beginning, I now have it 24/7 whereas before treatment, I would have days with no nausea at all.

I have been diagnosed with a mild-moderate case of gastroparesis but MD doesn't believe it is the cause of my persistent nausea.

I just had a HIDA scan performed the other day and perliminary results show my gallbladder ejection fraction is low (about 9%). I never have any pain. CT scans and ultrasounds did not show any stones.

So, does anyone have any experience with gallbladder issues and chronic nausea. I suspect I'm going to be in a position to determine whether to have my gallbladder removed and I just don't know whether that is going to make a difference or not....my gastro. MD is unsure as well....

Thanks for any thoughts/suggestions.

Kristin

---

Posts: 561 | From mass | Registered: Jul 2007 | IP: Logged |

ByronSBell 2007
Unregistered



posted

---

My worst symptom is chronic nausea as well but it is due to the chronic toxins from the borrelia and other co-infections, my autonomic nervous system is off as well.

---

IP: Logged |

InADaze
LymeNet Contributor
Member # 7711


posted

---

My chronic nausea is partially relieved by Nexium. I'm doing all the big tests next week.

---

Posts: 168 | From Delaware | Registered: Aug 2005 | IP: Logged |

cordor
LymeNet Contributor
Member # 9449


posted

---

Well, I had my gallbladder removed 3 years ago as a result of it being ruined by Rocephin IV. My fraction was like yours.....below 10% on HIDA scan. My gastro doc said there was no promise that removing the gallbladder would help with nausea (and pain)....but that when the fraction was THAT low....that your gallbladder really is just a "pus pocket". Sorry to be gross, but that is how he actually said it to me. He told me anything below 10% is VERY low and basically is no longer working.
Don't know how true that is......and don't know if it would have corrected itself. I have to admit, I did not do alot of research ahead of time. I just wanted the darn thing out so that I could eat again.
Well, 3 years later....I still have lyme and I still have nausea. Granted it is not the same "type" of nausea, but I still suffer quite a bit from it.
Would I do it all over again? Yes.
I believe I would. The nausea prior to the gallbladder removal was pretty much constant. Now I just get episodes.
Just my 2 cents and my own gallbladder experience.

--------------------
Corinne


---

Posts: 529 | From Raleigh, NC | Registered: Jun 2006 | IP: Logged |

Keebler
Honored Contributor (25K+ posts)
Member # 12673


posted

---

-

Unless you are in an emergency situation, there may be some things that can help.

I'll post some articles I've collected in my own pursuit of finding relief.

Ginger is fantastic (for nausea) and turmeric help gallbladder action. I'll take a teaspoon full in warm water.

www.ncbi.nlm.nih.gov/sites/entrez - PubMed: gallbladder, turmeric - 3 abstracts


DGL (deglyczntd -sp?) licorice helps sooth the irritation of esophogus (sp?), stomach.

A rhubarb formula from my ND is also helps me when I have flair-ups. Increasing magnesium to my bowel tolerance has also helped at times - as it gets stuff moving on through.

Also for relief of nausea - is a slippery elm tea. I take spoonful of slippery elm and mix in a little cool water, then add hot water. When I just can't eat anything, that helps coat the stomach, too. Thayers' Slipper Elm Lozenges are another way to do that, but they also contain dextrose, sucrose and magnesium stearate.

If this info. helps, great. Just be sure to seek medical care if you feel it necessary - but it's great they don't see any stones on the scan.

Hope it eases up soon.

=======================================


Article is broken up for easier reading. For exact paragraph formation, go to link:

http://www.itmonline.org/arts/chlorogenic.htm


CHLOROGENIC ACID
FOR HEALTHY LIVER AND GALLBLADDER FUNCTION

by Subhuti Dharmananda, Ph.D., Director, Institute for Traditional Medicine, Portland, Oregon April 2006

BACKGROUND

One of the functions an herb may have is designated cholagogue, meaning, to promote the flow of bile (Latin: chole).

Herbs reputed to be cholagogues have several indications for use, but have been primarily given for alleviating diseases of the liver and gallbladder.

Today, we have some additional information about how the flow of bile affects health, so that we can better appreciate the action of cholagogues.

The gallbladder and the fluid it stores, bile, are considered part of the digestive system, though there are also other important functions of bile production and secretion not directly related to digestion of foods.

Bile is produced by liver cells (hepatocytes) which secrete it into microscopic canals (canaliculi) that empty into larger bile ducts (also called hepatic ducts), of which there are two branches (labeled left and right).

The bile secreted by liver cells has large amounts of bile acids (cholic acids), which are metabolites of cholesterol, as well as cholesterol itself, and some other fatty molecules.

In addition, bilirubin, a breakdown product of hemoglobin from red blood cell recycling, is also excreted by the hepatocytes.

The bile flows via the left and right bile ducts that join together to form the common bile duct, which then joins into a branch duct, the cystic duct, that empties into the gallbladder; the common duct continues on to an exit duct (distil common bile duct) that opens into the small intestine.


As the bile flows through these ducts, it is modified by secretions from the cells lining the ducts (ductal epithelial cells), which provide watery bicarbonate (calcium and sodium carbonates). The bile acids thus become bile salts.

The gallbladder is located just a few inches below the stomach and the common bile duct enters the upper part of the small intestine, adjacent to the pancreatic duct where digestive enzymes are released.


The bile entering the common duct flows either into the gallbladder for temporary storage, or is emptied directly into the small intestine via the distal common bile duct; it is about equally divided between these two destinations.

While residing in the gallbladder, much of the water is transported out (going into the blood stream), and the remaining material becomes highly concentrated.

Consuming foods triggers certain hormones (e.g. cholecystokinin and secretin) and nerve signals that cause the gallbladder to contract while a sphincter at the end of the bile duct (sphincter of Oddi) relaxes, so that a large portion of the concentrated bile in the gallbladder is quickly dumped into the small intestine.

The bile mixes with food and solubilizes the fats. Bile salts essentially function like soap to dissolve the fats (so that they are not in clumps), leaving them to be readily absorbed and exposing them to enzymes (e.g., lipases discharged by the pancreas) that break down any of the fats that are in complex form.

Aside from caloric fats, the bile also solubilizes other fatty nutrients, such as vitamins A, D, and E.

Most of the bile salts in the intestines are recycled: they are absorbed through the intestine wall and eventually make it back to the liver and then into to the biliary ducts.

It is estimated that bile salts are recycled 10-12 times per day. Some of the bile salts are excreted or broken down by intestinal bacteria.

Impairments to the flow of bile can arise from damage to the hepatocytes (e.g., with liver diseases); obstructions in the ducts or gallbladder; and dietary habits that might adversely affect emptying of the gallbladder.

Among the adverse consequences from any such disruption of bile flow are digestive disorders due to fats being inadequately solubilized and absorbed (symptoms can include nausea, gas, and loose stool), formation and growth of gallstones (with abdominal pain and possible need for surgery), and liver damage (due to stasis of flow in the ducts).


CHOLORGENIC ACIDS

Chlorogenic acids are cholegogues; their regular ingestion helps the flow of bile and thus reduces the adverse effects of bile stagnation.

Chlorogenic acids (see basic structure, below) are found in all higher plants and are understood to have a role in the plant's response to stress, particularly to damage such as breaking of leaves and flowers or nicking the skin of fruits (1). The quantities present in most plants are miniscule, and thus they do not play an important part in human diet or herbal medicines.

However, a few plants accumulate chlorogenic acids in quantities sufficient to have a physiological effect.

The primary dietary source of chlorogenic acid is coffee; the green coffee beans typically contain 6-7% of this component (range: 4-10%); roasted coffee beans contain somewhat less, as the roasting transforms chlorogenic acids into other molecules, which may still retain the same functions.

It has been estimated that coffee drinkers may consume about a gram of chlorogenic acid each day. This amount of chlorogenic acid, when consumed regularly, appears to be sufficient to yield obvious therapeutic effects.

Women are at greatest risk of forming gallstones, about twice that for men. In a large study conducted by Harvard University tracking of over 80,000 women, it was found that regular coffee intake reduced gallstone formation (2).

The researchers correlated daily coffee consumption with incidence of gallbladder surgery due to stones: with increasing coffee consumption, gallstone surgery went down compared to those who did not drink coffee:

1 cup per day had no evident effect, but 2 cups per day reduced the incidence of the surgery by 9%, 3 cups reduced the incidence by 22%, and 4 or more cups reduced the incidence by 28%. Clearly, 3 cups per day, which is a typical amount for people who drink coffee routinely, had a dramatic effect.

Further, coffee consumption was associated with a lower risk of a variety of liver diseases, including liver cirrhosis and liver cancer (3, 4).

This effect may come from a combination of cholagogue action (keeping toxins and fats flowing with the bile) and antioxidant effects (chlorogenic acid is a potent antioxidant and coffee drinking is one of the main sources of antioxidant activity in the American diet).

In response to the growing evidence of the value of chlorogenic acid, green coffee bean extracts, standardized to 50% chlorogenic acid, have been produced and sold has health products. Chlorogenic acid is also found as a significant component in certain commonly used medicinal herbs.

In Chinese medicine, the primary source is lonicera flowers (jinyinhua); extracts are standardized according to chlorogenic acid content, often at 25% of the extract. Eucommia bark and gardenia fruit are also major sources, with extracts standardized to 20% chlorogenic acid.


These extracts would yield a dose of about 1 gram of chlorogenic acids in 4-5 grams of extract, a rather large amount. Other Chinese herbs known for their chlorogenic acid content include chrysanthemum flower, crataegus fruit, artemisia leaves, and epimedium leaves.

In Western herbal medicine, an herb especially known for its chlorogenic acid content is artichoke leaves; the extracts are usually standardized to 15% of this compound. Other medicinal herbs known for content of chlorogenic acid include burdock root, dandelion root, and echinacea root.

When using any of these herbs (Western or Chinese) and the concentrated herb extracts, other compounds that may contribute to a therapeutic benefit are also present. For example, artichoke leaves contain caffeol quinic acids (as found in roasted coffee) and cynarin, which is reputed to relieve abdominal gas and bloating, symptoms that occur with gallstones and poor bile flow.

While chlorogenic acids are not the only compounds that serve well as cholagogues, the evidence for their effectiveness is by far the strongest. This is primarily because of the coffee research which has allowed for tracking of large numbers of people over a long period of time.

For other herbs, their effects on bile flow are usually observed in laboratory animal experiments, though the action might also be inferred from routine use of herbs in clinical applications of treating gallstones, abdominal bloating, upper abdominal pain, and constipation. In a data base for herbs, 140 species (representing 90 genera) were listed as cholagogues (5).

OTHER FACTORS INFLUENCING LIVER/GALLBLADDER HEALTH

High fat diet and high levels of blood cholesterol can lead to accumulations of fats in the liver, a syndrome which can eventually impair liver function.

The fatty liver disorder is often diagnosed after a finding of elevated liver enzymes, especially in persons who are obese and/or have diabetes; other prominent causes are excessive alcohol consumption and effects of hepatic viruses.

Viral hepatitis and chronic excess alcohol consumption can also lead to liver fibrosis, a scarring of liver tissue, which is (for the most part) irreversible.

Rapid weight loss is a significant factor in gallstone formation; this may come from shedding large amounts of fats via the bile while having too little bile flow stimulus from eating fats.

Therefore, gradual weight loss is recommended instead. Also, some people mistakenly believe that a healthy diet is one which is free from coffee, and if this bile-flow promoter is discontinued at the same time a weight loss regimen is pursued, gallstones may form rapidly.

Low to moderate alcohol use appears to help prevent gallstone formation, and excessive coffee consumption (e.g., more than six cups per day) may promote rather than inhibit gallstone formation.

A TRADITIONAL CHINESE HERB FORMULA FOR PURGING THE GALLBLADDER

The formula known as Capillaris Combination (Yin Chen Hao Tang) is well known for its ability to purge bile (6).

Two of its herb ingredients, capillaris (Artemisia capillaris) and gardenia, have chlorogenic acid as an active component; rhubarb acts as a bile stimulant and laxative based on its content of anthraquinones, such as emodin.

This formula was traditionally used for jaundice, hepatitis, and discomfort and fullness in the upper abdomen. Recently, there was much publicity about the use of a related formula called Yin Zhi Huang.

This formula also contains capillaris, rhubarb, and gardenia, but adds a fourth ingredient: scute (huangqin). Among its traditional uses is treatment of jaundice, and contributing to relief of neonatal jaundice is one of the possible applications.

. . .

REFERENCES - at link above and a search for "gallbladder" at ITM's home page brings up many links to similar articles:

www.itmonline.org

==================
==================

http://oneearthherbs.squarespace.com/

The One Earth Herbal Sourcebook (Tilltoson) - you might enjoy searching here, too, for a info. on the gallbladder.

==================


http://tinyurl.com/357ubf

Diets for Illness - from the above book.


--

[ 31. May 2008, 11:46 PM: Message edited by: Keebler ]

---

Posts: 48021 | From Tree House | Registered: Jul 2007 | IP: Logged |

Keebler
Honored Contributor (25K+ posts)
Member # 12673


posted

---

-

http://en.allexperts.com/q/Special-Diets-768/Foods-gallbladder.htm

Topic: Special Diets


Expert: Tanya Zilberter, PhD
Date: 6/17/2006
Subject: Foods for gallbladder

Some foods are recommended for increased bile secretion:

Avocado
Asparagus
Beets

Brazil nuts
Bell peppers
Broccoli

Brown Rice
Carrots
Cold-pressed flax seed oil

Garlic
Guava
Lemons

Limes
Melons
Mushrooms

Pears
Parsnips
Seaweed

Turmeric
Radish
Spinach

Tomatoes
Wheatgerm
Papaya

Plantains
Onion
Watermelon

--

---

Posts: 48021 | From Tree House | Registered: Jul 2007 | IP: Logged |

KS
LymeNet Contributor
Member # 12549


posted

---

thanks so much for the replies....ugh, seems the decision as to whether or not to remove it is going to be difficult.

Kristin

---

Posts: 561 | From mass | Registered: Jul 2007 | IP: Logged |

Nora DeBoard
LymeNet Contributor
Member # 15600


posted

---

Good post. I too suffer with CHRONIC nausea. I am on 4 Reglan a day. I can't even eat or drink without feeling even worse.

Docs and everyone wants me to keep my fluids up. The thing they don't understand is... That is hard when you are so NAUSEATED and feel like you want to hurl 24/7!!!

Lots of good info. Anyone know what brand of Activated Charcoal to get? That or exactly how to take it? Wondering if this will help...?

---

Posts: 109 | From San Antonio,Tx | Registered: May 2008 | IP: Logged |

KS
LymeNet Contributor
Member # 12549


posted

---

Nora DeBoard,

Just an 'FYI'....reglan can cause psychological issues.

Yeah, the nausea thing is awful...still searching for answers...

---

Posts: 561 | From mass | Registered: Jul 2007 | IP: Logged |

savebabe
Frequent Contributor (1K+ posts)
Member # 9847


posted

---

bumping

---

Posts: 1603 | From ny | Registered: Aug 2006 | IP: Logged |

Keebler
Honored Contributor (25K+ posts)
Member # 12673


posted

---

-

I hesitate mentioning this, but excess porphyrins can also cause the type of nausea described. There are dietary, detox and liver support methods that can help.

Millk thistle is one of those.

my hands are a wreck so I can't elaborate, a search here on "porphyria" - in posts, not topic headings, can lead to some previous posts about this. I checked - there are 52 threads addressing it in part. Someday, I'd like to put a composite thread together . . . someday.

If excess porphyrins are a player, as a result of a sluggish liver detox system for the cytochrome P-450 pathway, charcoal should help.

Also of help are natural beta carotene, frequent small meals (which is hard with nausea) or liquids meals balanced with protein, fat and carbs.

Meat proteins may be hard to digest and increase porphyrins for those with genetic porphyrias. Fish and chicken are easier that red meats. Lots of veggies are good. Legumes are great.

While ginger does help me, I still drink many meals - using BioGenesis BioCleanse. It just took a huge jump in price, though still is far less than the Metagenex medical food powders.

I also find very helpful greens' powders such as KyoGreen or Green Vibrance.

Contrary to the anti-yeast diet, if someone has excess porphryins (sp?), glucose can be a life safer.

at www.cpnhelp.org - there is a lot of discussion of "secondary porphryia" in relation to a combined abx protocol (CAP) in the treatment of a stealth infection (Cpn) that is similar to chronic lyme. While parts of that are different than with TBI, you might see what they have to say about porphryia and treatments.

While some doctors focus on simple sugars, I've been trying to find a way around that (as I deal with two kinds of chronic porphyria). Personally, I can't do the diet at Cpn to address this, but I do have to have grains, dark fruits and support for liver.

The American Porphyria Foundation site has info, too. There are many types and as many misconceptions.

This subject can be quite extensive, but just in case, this should be enough for someone to look into it. Most importantly, fasting and low-carb diets can be dangerous if porphyria is involved. But one does not have to swing over to a twinkie diet, either.

Tryptophan (including 5-HTP) should be avoided if porph. involved.

Spirulina may well be the key, too. I'm learning more about that in regard to this.

Most doctors do not know much about porph. other than acute attacks and a misconception is that psychiatric symptoms are the only symptoms. It can be part, maybe, not always. Many neurological symptoms can present.

-

[ 02. June 2008, 08:36 AM: Message edited by: Keebler ]

---

Posts: 48021 | From Tree House | Registered: Jul 2007 | IP: Logged |

richedie
Frequent Contributor (1K+ posts)
Member # 14689


posted

---

I don't have nausea all the time but many days it sneeks in but how would I know if I had gall bladder issues?

--------------------
Mepron/Zith/Ceftin
Doxy/Biaxin/Flagyl pulse.
Artemisinin with Doxy/Biaxin.
Period of Levaquin and Ceftin.
Then Levaquin, Bactrim and Biaxin.
Bactrim/Augmentin/Rifampin.
Mepron/Biaxin/Artemisinin/Cat's Claw
Rifampin/Bactrim/Alinia
Plaquenil/Biaxin


---

Posts: 1949 | From Pennsylvania | Registered: Feb 2008 | IP: Logged |

KS
LymeNet Contributor
Member # 12549


posted

---

Thanks for the continued responses. I just find this all so frustrating trying to navigate through. I'm not convinced my nausea is directly related to lyme infection but instead, something else...or damage as a by-product of lyme that won't be cured or resolved by continued antibiotic treatment.

Keebler, interesting that you mention porphyrins. I've mentioned this to my PCP and her response has been that people with pophyrias usually have pain or acute episodes of illness and that my symptoms (chronic, wax/wane of nausea) didn't fit. I'm thinking it might be worthwhile to push for the test as I keep coming back to this.

Richie, gallbladder issues USUALLY are accompanied with pain and gallstones. Most MDs will start with an ultrasound, then may do a CT scan....mine were both normal in that there were no stones observed, no mass obstructions, etc. The HIDA scan looks at the gallbladders ability to function and move material from the liver into the intestines. Problem with the HIDA scan is that there are many who have had negative results but removal of the gallbladder hasn't relieved symptoms.

---

Posts: 561 | From mass | Registered: Jul 2007 | IP: Logged |

ssmillik
Member
Member # 9635


posted

---

I had nausea until I was diagnosed with Addison's disease. Sometimes Lyme can cause adrenal problems, and adrenal problems can make you nauseous. Once I started treatment with hydrocortisone replacement, I felt better. If you feel extreme fatigue over and above what the Lyme is causing, and if your skin is getting darker, almost like a tan and you haven't been in the sun, and you are becoming very thin, this might be the problem.

---

Posts: 39 | From Massachusetts | Registered: Jul 2006 | IP: Logged |

KS
LymeNet Contributor
Member # 12549


posted

---

ssmillik,

Great idea but for me, Addison's has already been ruled out. I had a morning cortisol result of about 7. Did the Stim. test and my results were fine. Even made the doctor run a metyrapone test to evaluate whether I had secondary adrenal insufficiency and I passed that with flying colors as well. Still my morning cortisol levels are low.....

Thanks again....great suggestion!!

Ugh, sorry to hear you have to deal with that on top of Lyme...

Kristin

---

Posts: 561 | From mass | Registered: Jul 2007 | IP: Logged |

seibertneurolyme
Frequent Contributor (5K+ posts)
Member # 6416


posted

---

Haven't seen anyone mention phosphatidylcholine or lecithin. Both increase acetylcholine which is what reglan does. All work by increasing peristalsis -- move food through quicker. The phosphatidylcholine also has the benefit of improving liver function.

Most nausea meds are anticholinergincs -- block acetylcholne and slow down gastroparesis. Phenergran and Compazine are in this category.

Zofran works differently -- works on serotonin receptors in the gut.

Yes, chinese rhubarb is good. Can be used for constipation and helps with detox.

Hubby takes additional ox bile supplements. Will help with fat digestion.

Regular digestive enzymes and/or HCL (betaine hydrochloric acid) could help -- dose must be individualized.

To improve bile flow hubby uses either butterbur (helps with spasms in both gallbladder and migraines) or celandine under direction of his herbalist.

Bentonite clay (1 or 2 tablespoons in a glass of water) seems to work better than activated charcoal for hubby's nausea -- he usually ends up throwing up the charcoal. Works better if he also has a stomach ache.

This is not medical advice, just info from hubby's experiences.

Bea Seibert

---

Posts: 7306 | From Martinsville,VA,USA | Registered: Oct 2004 | IP: Logged |
Contact Us | LymeNet home page | Privacy Statement

Powered by UBB.classic™ 6.7.3

---
The Lyme Disease Network is a non-profit organization funded by individual donations. If you would like to support the Network and the LymeNet system of Web services, please send your donations to:
The Lyme Disease Network of New Jersey
907 Pebble Creek Court, Pennington, NJ 08534 USA
http://www.lymenet.org/
---
Home | Flash Discussion | Support Groups | On-Line Library
Legal Resources | Medical Abstracts | Newsletter | Books
Pictures | Site Search | Links | Help/Questions
About LymeNet | Contact Us
---
© 1993-2020 The Lyme Disease Network of New Jersey, Inc.
All Rights Reserved.
Use of the LymeNet Site is subject to Terms and Conditions.
---