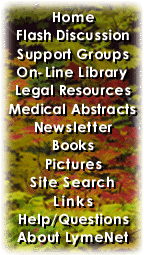 ---
LymeNet on Facebook
LymeNet on Twitter
---
---
The Lyme Disease Network receives a commission from Amazon.com for each purchase originating from this site.
When purchasing from Amazon.com, please
click here first.

Thank you.




Dedicated to the Bachmann Family


LymeNet needs your help:
LymeNet 2020 fund drive

The Lyme Disease Network is a non-profit organization funded by individual donations.

| | |
| --- | --- |
| | |
Author
Topic: Need some help regarding my 3 year old son!!

LaurenTurner
LymeNet Contributor
Member # 12320


posted

---

Yesterday I finally received my son's IgeneX test. On his IGG he has band 18 and 41 positive.
http://flash.lymenet.org/ubb/ultimatebb.php?ubb=get_topic;f=1;t=067126

Here are his results. (Sorry about the crazy paint job, I was trying to get rid of personal info.)

The IGM http://i19.photobucket.com/albums/b170/mcturner84/holdentest2a.jpg

The IGG
http://i19.photobucket.com/albums/b170/mcturner84/holdentesta.jpg


The last 2 days have been hell for me. I've tried to calm down, relax, de-stress.... but I'm just so SCARED. I'm so nervous. I'm worried sick for my baby.

Yesterday I went the whole day without eating. I didn't even realize that I hadn't eaten until that night. That's how nervous I was.

Worse of all my husband had a very last night a work yesterday. He has to travel and didn't get home 'til 2:30 in the morning. So I had no one to talk to all day long.

I know none of this is good for my health. I know. But I just can't calm down. I need answers.


I plan on calling Dr. J. tomorrow. I need someone who knows what he's talking about and I'm guessing he's the guy.


But in the mean time I would love if ya'll could listen to me and give me your honest opinion.


When I had my son tested it was just to be safe... I honestly didn't think I had anything to worry about. I didn't start getting sick until he was nearly 2. Plus my whole pregnancy with him was perfect and he has been fairly healthy his whole life.

So him having postive bands raises all of these questions...


Does he really have Lyme Disease? How can I find out?


I've looked countless times over the symptom list and can't find many that he has.

However now I find myself critiquing everything he does. This morning he was saying "Mama" while wobbling around like he was dizzy. I'm almost certain he was doing it just to be silly, but then it had me worried.

Yesterday we went to the park. It takes a good 15 min. to walk there. He walked, holding my hand all the way there, played, and then on the way back he wanted me to pick him up. So that had me worried. Even though I was tired myself from the walk.

Holden was born at a normal weight, he wasn't colicky, he had some reflux but after we switched him to a dr. brown bottle that slowed down a lot.

He has always been a great sleeper. Sleep throughout the night and takes naps.

He has a lot of energy and is very physical. Loves to go to the gym and run around and play with other kids.

His speech is delayed. He is 3 1/2 and we still can't understand a lot of what he says. He's in speech therapy. He had to have tubes put in his ears when he was 2 1/2. Not because of ear infections (actually he only had 1 that we know of) but because of the fluid that would sit in his ears. It was affecting his hearing. I attribute the speech delay to that. It was like he was hearing under water for the first 2 1/2 years of his life.\


*Sigh* I'm sorry this is such a ramble. I just need some insight.

I hear that if they show no symptoms, not to worry. However I'm not sure if he shows no symptoms... it's hard to tell.

There's the speech delay..
Other than that he doesn't seem to hurt. He sleeps well. He eats well. He's bright.

If you have 0 symptoms during pregnancy, can you still pass LD? Could it be that he just received antibodies from me and not the disease itself? I had a perfect pregnancy with him. No problems.

I didn't even start to get sick until the summer of 2006. By then he was 18 months.

I'm just so confused.

Also another thought that has gone through my head is that he was sick when we got his blood drawn for IgeneX. Nothing big- just a runny nose and a cough.

Could that throw the results off??

Since his IGM is negative except for bands 31 and 34 being IND, could his immune system of taken care of everything on it's own? (if he did get LD from me).


Ok I'll cut this off. I doubt anybody will read this far. LOL. I really thank everyone for listening to me. I just feel so sick. I can't stand to know my baby has this. I still don't know for sure. I hate the unknown.

I'm not sure if this will work, but I wanted to add a picture of my baby. God, I love this kid so much..



---

Posts: 248 | From Tejas | Registered: Jun 2007 | IP: Logged |

tad
Member
Member # 14433


posted

---

Hi Lauren,

I'm so sorry to hear you are going through all this.

I think you are going about this in the best possible way.

Here is a brief story about me.

I have had lyme for 15 years, but for the first 13 was well and functioning, until one day when I was 27, I woke from a nap with my son and drop to the ground. My whole right side was useless.
Long story short, after 8 months of nobody knowing what I had, I was diagnosised with lyme.

Although my kids were born before I got ill, I started to look through my medical history and I was shocked to discover I have had this a long time. So just to be safe I test both my kids.
Both tested with positive bands, my daughter more so than my son.

While both were happy, fairly well kids, there was something about them that always didn't feel right. They always were at the doctor for coughs, or ear infections or sinus infection. Almost every four weeks to the day. My daughter had such chronic tonsilitis that when she talked no-one could understand here. She had the worst glue ear her ENT had ever seen. Both her and my son had ear, nose and throat surgeries early in their lives. My daughter complained of joint pain that I had written off as growing pains. My son was the one who actually made me test them, he had some mild neurological problems. Nothing that stopped him from being a normal 3yr old. One child was overemotional, the other had rage.

While what symptoms I wrote about my kids, many non-lyme kids experience, it just didn't feel right. Believe your intinsticts. I did, and with the help of my doctor decide to treat both kids. The difference I see in them is unbelievable, which is suprising as I don't feel either were ill, they just had some issues. They are really now the kids they should be.

I just want you to know that you are not alone, that there are other mother's out there that had to do what you are doing. You are doing the right thing.

---

Posts: 41 | From Singapore | Registered: Jan 2008 | IP: Logged |

Geneal
Frequent Contributor (5K+ posts)
Member # 10375


posted

---

What a beautiful little boy!

I know how upsetting this can be.

Worry is not good for you either.

It will not change what Dr. J will or will not say.

So, please take care of yourself during this most stressful time.

Lyme loves stress you know.

I cried for about 20 min after receiving my children's Igenex results.

I have to say though that I knew they had it.

I just knew it.

I wish I could give you a hug in person, but will send one here.



My son is close to remission/cure at this time.

This is after one year of treatment.

He had more subjective symptoms of Lyme such as delayed development, VSD at birth,

Repeated bouts of thrush, etc.

He had the most positive bands of anyone in my family.

My daughter was and still is the most symptomatic of my children.

She always had fluid in her ears. I am a Speech Therapist so I was very aggressive about this.

She caught everything. Pneumonia 3 times.

She was not in day care.

Joint pain, lethargy, feeling like her body was shaking, headaches, stomach aches, etc.

Each of my children presented differently.

I guess what I am trying to share with you is that while horrified that my children

May have what their Dad and I have, I am glad I knew and went after it.

Wait and see what Dr. J says.

Take a deep breath and know that whatever the outcome, you can do this.

We are here for you.

Sending you positive thoughts and prayers to you and your family.

Hugs,

Geneal

---

Posts: 6250 | From Louisiana | Registered: Oct 2006 | IP: Logged |

Alv
Unregistered



posted

---

His speech is delayed. He is 3 1/2 and we still can't understand a lot of what he says. He's in speech therapy. He had to have tubes put in his ears when he was 2 1/2. Not because of ear infections (actually he only had 1 that we know of) but because of the fluid that would sit in his ears. It was affecting his hearing. I attribute the speech delay to that. It was like he was hearing under water for the first 2 1/2 years of his life.\

This is exactly what my daughter had in europe.The doctors decided to put her in IV and gave her orals until she was 5.She complained for shin pain by 6.

Was exelent on scholl ( IV antibiotics put lyme in remission I am sure).

She got bit by age 10 .No treatment who knew.Age 14 got Bit again.Send to Dr J.

Her bands are exactly what your son has.She is almost 16.She has symtoms and denies to be treated.Dr j wanted her to start some treatments.She refuses.

She has insomnia now, Luck of interst in scholl( she used to be 1 st in scholl ) now an average-acts lazy .Does not wants to be treated.

I do beilive that she has it.Started with gastrit problems and digestive tracks after she was 14.I think she got bart that activated everything but she is functionally but not the kid that used to be by age 9.

Emotionaly afected originaly now as teanager has RAGE.Since 14 wuit her sports as she feels her feet hurt.

AGAIN hard headed to be treated.Dr J can not force her.But she has LYME and bart.

My son had Reflux .And wanted us to carry him after he came back from playground .I wish I was back when he was 3 .He had Digestive track back than.

HE got reinfected and had fevers ( viruses I doubt ) and after anotehr reinfection at 6 he has FULL active NEUROLYME and 3 coinfection.

i honestly would treat him , and keep him on immune boosters or pulse him herbs...( with a holistic drs ) if no antibitocs are used.

My daughter does not even want to take the HERBS or anything .

When they grow up they do not listen.My son used to listen more when a little .Now he is 8 and is tired and sick and can not follow the schadule on all the medication that he is taking.

Do the best you can to help him.Speech dealy is definitly sign of lyme.My son was on IV in hospital cause of the diarea and a virus he got a 6 months old.I am sure that that helped his brain.But he walked later that usual and did not liked to walk but use a stroller.

I was so sick and when I checked my family -and loocked back and foudn my son had it since he was born ( every one has it in my family ) than it took me 1 year to accept what was hapening to my kids.

I could not forgive myself -and still can not.But I am accepting this now.

I used to say for hrs , Why , why my kids , Why my family.And watched the pictures when he was 5 years old before LYME became active.HE still says I was happy when I was 5 .I wished I had known and was day dreaming like praying to turn back on time.Just 3 years ago.Everything would have been so much easier.

But can not change it now.Just be strong and do teh best you can.At least you know.Peopel die and never know what is wrong with them.I would have been dead last year with a stroke .NEVER thought I would make it for my 39 birthday !

Knowing that your kids have it makes you stronger as you need to be there for them.

---

IP: Logged |

Lymetoo
Moderator
Member # 743


posted

---

He's beautiful!!

--------------------
--Lymetutu--
Opinions, not medical advice!


---

Posts: 94840 | From Texas | Registered: Feb 2001 | IP: Logged |

lymebytes
Frequent Contributor (1K+ posts)
Member # 11830


posted

---

When kids get into treatment this young they rebound quickly. I have a friend whose daughter was diagnosed at age 4 about a year ago, she is almost done with treatment. She has done well, I don't even think they herx honestly.

My son at age 7 overcame it quickly as well without herxing, just got better and better.

Don't panic, treatment will resolve it much more quickly in him than most adults.

I know it is not much consolation but try to be thankful you know now and he can start treatment and live a normal life.

Take care.

--------------------
www.truthaboutlymedisease.com


---

Posts: 2003 | From endemic area | Registered: May 2007 | IP: Logged |

bettyg
Unregistered



posted

---

WOW, what a sweetheart; there's so much love in his open hug to you, dear mom!


glad you posted and getting advise from other moms with congenital OR possibly congenital kids!

best wishes;

if you need support; go to support for ranting, a much needed cry, or folks to agree you are doing the right thing and WHY they feel that way!

---

IP: Logged |

dbourne
LymeNet Contributor
Member # 13833


posted

---

What a great looking kid! I know you are such a proud mommy.

I can completely relate to how you are feeling. We got my 2 1/2 year olds test back last Friday and she is positive. I knew their was a chance but I was completely crushed. We will be seeing Dr C on Monday.

I over analyze my daughter as well. Some things seem like symptoms but then again she is almost three and this age is so difficult to read.

I am going to keep a journal of her symptoms and how she feels each day. The things she says or the things I notice that either put up a red flag or give me confidence.

Please let me know what Dr J says. I have heard that knowing now (at 3) is the best thing for a child. Get him treated and let him live his life as normal boy. I guess I am trying to say knowing and treating no matter how hard it seems right now is better than not knowing and letting the lyme bugs secretly build an army against him.

Also, please keep in touch with how he is doing as well as how you are holding up as his care taker. I would love to support each other during this difficult time.

Dana

---

Posts: 183 | From Texas | Registered: Nov 2007 | IP: Logged |
Contact Us | LymeNet home page | Privacy Statement

Powered by UBB.classic™ 6.7.3

---
The Lyme Disease Network is a non-profit organization funded by individual donations. If you would like to support the Network and the LymeNet system of Web services, please send your donations to:
The Lyme Disease Network of New Jersey
907 Pebble Creek Court, Pennington, NJ 08534 USA
http://www.lymenet.org/
---
Home | Flash Discussion | Support Groups | On-Line Library
Legal Resources | Medical Abstracts | Newsletter | Books
Pictures | Site Search | Links | Help/Questions
About LymeNet | Contact Us
---
© 1993-2020 The Lyme Disease Network of New Jersey, Inc.
All Rights Reserved.
Use of the LymeNet Site is subject to Terms and Conditions.
---