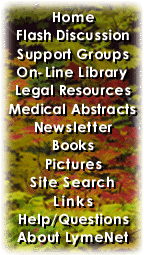 ---
LymeNet on Facebook
LymeNet on Twitter
---
---
The Lyme Disease Network receives a commission from Amazon.com for each purchase originating from this site.
When purchasing from Amazon.com, please
click here first.

Thank you.




Dedicated to the Bachmann Family


LymeNet needs your help:
LymeNet 2020 fund drive

The Lyme Disease Network is a non-profit organization funded by individual donations.

| | |
| --- | --- |
| | |
Author
Topic: In defense of diagnostic tests

Anneke
LymeNet Contributor
Member # 7939


posted

---

I am not writing to argue TinCups point AT ALL.

I just want to make the point that it is CRUCIAL to rule out every possible illness or cause of symptoms if you have not had a clear tick bite or a positive test.

When it's simple it's simple. When it's not simple it can be extremely complicated!!!

SOOOOOO many things can cause a lot of the symptoms of lyme disease - things one might think are too simple to cause such a mess of symptoms. Some examples are:

Thyroid or adrenal issues - these issues caused by other issues unrelated to Lyme can reek utter havoc: weight gain or loss, palpitations, anxiety, depression, pain, and so on.

Depression - ALONE can cause a myriad of symptoms:
chronic pain syndromes in different parts of the body, chronic headaches, incredibly debilitating fatigue, malaise, weight loss or gain, etc.

Sinus infections - same deal, although depression may be more situational. Sinus infections can cause night sweats as well. It can cause achiness all over the body. So can infected teeth or root canals.

Viruses - can cause a big majority of Lyme symptoms, incl heart issues, joint/muscle pain, neuropathy completely unrelated to Lyme. The symptoms of viral infections can be endless!! Just look up chronic fatigue, which they are finding can be caused by viruses.

The list goes on... People with MS may think they have Lyme and treat it aggressively with abx, but their issue remains MS.

There are also sometimes just unexplained wierd nerve stuff, or unexplained chronic pain syndromes - perhaps caused by accidents in the past that are forgotten.

Treating Lyme is a HUMONGOUS UNDERTAKING. Itis something that shouldn't be taken lightly. It can be a risk in some ways in terms of developing fungal infections, or problems with piccs and ports - though rarely. And, some of these antibiotics can cause permanent DAMAGE like tendon damage that is irrevocable, tinnitis, hearing loss, vision changes, etc. It is certainly not something to aggressively treat with antibiotics if in fact one doesn't have the disease.

I realize I'm sounding like an IDSA person, all of whom I think are criminals, but I do agree with one point they make, and that is that sometimes people are diagnosed with Lyme when they really do have something else going on.

From all I have heard about all the big LLMD's out there, they are all cautious and careful about starting treatment and doing broad diagnostic tests before doing. But since we are in charge of our own care, it is our responsibility to make sure these are done.

Anneke

---

Posts: 364 | From California | Registered: Sep 2005 | IP: Logged |

Anneke
LymeNet Contributor
Member # 7939


posted

---

ONe case in point...

I have a friend who got very very sick. She was diagnosed with Lyme. She had a big number of the symptoms.

She tried many different Iv'S and orals. All of them made her desparetly sicker, and several times put her in the hospital. She hung in there with some of them, but got worse and worse.

All this while, she had a constant low grade pain in her jaw. She had oral surgery to investigate, but the pain returned.

Meanwhile, she decided to stop all antibiotics. She heard about a great homeopathist and decided to just try. He was cheap, and one potion alone was prescribed for a week or longer.

She slowly got better!!! She is now resuming most of her life, but tires easily.

Because her jaw pain was still present, she tried another oral surgeon. This surgeon opened her up, and low and behold she had a huge hole in her bone. Undoubtedly there was plenty of bacteria in there because the blood could not get to dead bone. The surgeon who was shocked did her best to currette the bone until it bled. She sewed it up, and my friend's pain is gone.

There are many routes to wellness.

For me, the only thing that has helped me to live with a much better quality of life is antibiotics. I know I have an infection, and I have tested positive to Lyme 3 times - two of them CDC positive. I'm grateful for that in a way, because it gives me more confidence that I am on the right track.

Our stories are all so different, and the diseases and their coinfections are crazily complicated!! It is so frustrating.

I hope this helps someone.

---

Posts: 364 | From California | Registered: Sep 2005 | IP: Logged |

roro
LymeNet Contributor
Member # 13383


posted

---

i just wanted to point out that depression and MS have no diagnostic tests to rule them in or out.

i feeel the treatments for those (SSRI's, steroids) are worse than antibiotics, but that is just my opinion

i do feel it is important to rule out other causes for symptoms if there are tests available, but I dont recommend delaying treatment if lyme is suspected unless there is very good reason

---

Posts: 615 | From maryland | Registered: Oct 2007 | IP: Logged |

dmc
Frequent Contributor (1K+ posts)
Member # 5102


posted

---

ms is not a disease but a syndrome ... there is a cause Believe me told MS for 17 years befoe found a llmd.

Funny every personI've been in contact w/ "MS" who get PROPER lyme test finds out positive.

I do not believe all"MS" is caused by lyme. Clamidia pneumonia, and other infections can cause it.

The powers that be still can not prove that MS is a so-called autoimmune disease.

MS-Multiple Sclerosis literally means multiple hardening. Lesions are the "hardening"- so "got lesions - got MS"

An opinion from one who suffered due to ignorance
and lack of common sense of my MDs and myself for listening to them.

---

Posts: 2675 | From ct, usa | Registered: Jan 2004 | IP: Logged |

richedie
Frequent Contributor (1K+ posts)
Member # 14689


posted

---

INteresting thread. I had root canal years back and it bothers me on and off, that tooth is always sensitive! I saw an oral surgeon and he said root canal and the bacteria trapped within can never be linked with symptoms outside that area because the bacteria can not get into the blood to reach othr parts of the body.

My father had a root canal that turned into an infection but the gums swelled and he has puss, etc. I just have pain. Could it, is it possible for my root canal causing this? All my symptoms began slowly weeks after elbow surgery so either that weekend my immunity or I picked up something around the same time.

--------------------
Mepron/Zith/Ceftin
Doxy/Biaxin/Flagyl pulse.
Artemisinin with Doxy/Biaxin.
Period of Levaquin and Ceftin.
Then Levaquin, Bactrim and Biaxin.
Bactrim/Augmentin/Rifampin.
Mepron/Biaxin/Artemisinin/Cat's Claw
Rifampin/Bactrim/Alinia
Plaquenil/Biaxin


---

Posts: 1949 | From Pennsylvania | Registered: Feb 2008 | IP: Logged |

tailz
Unregistered



posted

---

My neighbor's ex-husband (who lives with her) was having shortness of breath last Sunday, and he explained his coughing as 'bronchitis'.

By Sunday evening my neighbor took him to the ER. Tests were run, and they were finding nothing to explain his rapid heart rate (which was 122 at rest and 143 when he coughed), as well as air hunger. He could not lie flat either.

EKG was normal. Chest x-ray showed he had pneumonia previously, so they put him on antibiotics (not sure which ones) just in case. They checked for clots - normal.

They did some special dye test, and he did indeed have a clot, so they put a stent in. They are also going to put a tiny box in to regulate his heart rate eventually.

When they weren't finding anything wrong with him, I kept badgering my neighbor to have him tested for Lyme - especially after she confessed he'd found a tick in his groin 4 years ago.

Well, now that they put a stent in, nobody wants to hear about Lyme anymore. They mentioned it to his doctor, and he assured him it wasn't Lyme.

What I'm trying to say is that, yeah, other problems arise if you allow Lyme to fester, but that doesn't mean you can't have Lyme and heart disease, Lyme and an underactive thyroid, Lyme and a bone infection...

Considering the parallel between his symptoms and mine 2 years ago, and the fact that he has heart damage, I'm convinced I probably have damage to my heart, too. In fact, my gums were turning blue on me and I was nearly passing out, yet nobody would help me, and the left side of my chest remains a visible roadmap of swollen blood vessels.

Do I have infection in my lower jaw bone? I lost gum tissue. No dental insurance either.

But there's no way down the road here that if they tell me I had a heart attack or if they tell me I have a bone infection that I will ever believe Lyme/some coinfection/some infection was not what started it all.

---

IP: Logged |

Tincup
Honored Contributor (10K+ posts)
Member # 5829


posted

---

Anneke said.. "I am not writing to argue TinCups point AT ALL."

Good thing too young lady!

It IS Saturday night... and you know what happens on Saturday night around here in the back woods of Florida, don't you?

We open the alligator pit up to the public... and YOU my dear might be the tiny morsal they are craving tonight!

HA!

Just so you know... I am not oppose to tests in general. Many are well worth it and are needed to do exactly what you said.. rule out other things. You are very right on with that statement.

Just like not everything is a herx. We do need to be careful.

I am, however, opposed to ducks having no clue and/or praying off people and their insurance companies and wasting precious time- sometimes it is years- while "fishing" or playing the... "Let's see if we can find ABL" (Anything but Lyme)... rather than treating Lyme early in the deal so it doesn't become a horrid mess.

Or.. doing a bunch of tests... and finding no significant abnormalities... then insisting patients have nothing wrong with them and/or shipping them out the door still sick... with a pass to go see the local mental health clinic... end of story.

Also I have a problem with ducks that do a Lyme test the day they remove a tick... not bothering to learn that it won't show positive that day anyway... and get a negative test result... and not treating because of the negative test result and their stupidity.

So dear one.. just so you know.... I encourage tests that are needed. I do prefer the BIG ones (like spinal taps, etc) be done with Lyme literate labs used and LLMD's ordering them if possible.

It is a good idea to not only be tested early on.. but during and after treatment if there is any chance at all it might not be Lyme related.

Now you got me thinking back. I would have CBC tests done on a regular basis before my coinfections were discovered. I was still very sick too.

Every CBC test report that came back had the "RDW" listed as out of range. If I asked once, I asked 20 times over the years what that meant. I was told repeatedly it meant nothing.. it was ok.. it was no big deal.. it wasn't important... etc.

Even when I showed the ducks that it was always out of range for years... they ignored it. Finally I got a computer and looked it up to see what I could find out... as it was still bugging me.

Only a few things.. of 4 total I think.. caused that reading to be off. One was an African disease which I hadn't been exposed to.. one from medication I wasn't on... etc... and one... was called babesiosis.

I looked up Babesiosis and bingo! All my symptoms matched and my questions were FINALLY answered.

Even with all that information though... it took me TWO stinking years of begging ducks for a Babesiosis test ... before I got a chiropractor to finally order it.

I kept hearing.. if they even knew about it or could spell it... there is no Babesiosis in Maryland... blah blah blah. JUST like what happened with Lyme when I got it.

Ahhhhhhhhhh!!!! The ducks make me nuts!

Oh.. and when I finally got my tests done after doing my own research... I added others in there too as I figured I only had one shot to convince someone to order them....

Every single test I ordered for myself.. that no one would do... was POSITIVE!!!

I had nine coinfections!!!

Soooooooooo.. sometimes when tests are used properly... I am ok with it. But when they aren't...

I GO BESERK!





--------------------
www.TreatTheBite.com
www.DrJonesKids.org
www.MarylandLyme.org
www.LymeDoc.org


---

Posts: 20332 | From The Moon | Registered: Jun 2004 | IP: Logged |

Sojourner
LymeNet Contributor
Member # 9424


posted

---

Tests are good.
BUTTTTTT!!!!
It's just that problems arise when tests (like the standard tests for lyme) are used to unequivically rule in or rule out a disease that is supposed to rest on a clinical diagnosis.

That is just bunk and bad medicine to boot.
I have lots of real life experiences to talk about if anyone wants to go a few rounds.

---

Posts: 554 | From Naples, Italy | Registered: Jun 2006 | IP: Logged |

Mtgirl
LymeNet Contributor
Member # 13278


posted

---

Anneke, I agree for the most part. Appropriate testing to either rule in or rule out conditions and diseases is necessary if treatment is going to be successful, be it lyme, MS, viral infections, etc.

BUT, the major issue here is that Lyme tests are so inaccurate and/or insensitive. To avoid missing the proverbial mark, we must demand a better test so that the right treatment is prescribed for the actual presenting illness. Excellent testing would make this issue a moot point.

--------------------
Mountaingirl

"What lies behind us and what lies before us are tiny matters compared to what lies within us."
~ Ralph Waldo Emerson


---

Posts: 138 | From West Virginia | Registered: Sep 2007 | IP: Logged |

Anneke
LymeNet Contributor
Member # 7939


posted

---

I am not at all opposed to testing for Lyme in the beginning of the diagnostic process! I hope I didn't give that impression.

When it's acute at the very beg., there's signs, symptoms, tick exposure, ect. of course it's time to pull out the Doxy pronto.

When it's not so clear, and the symptoms have been going on for a long time, if I were the patient, I would want every possible cause ruled out. I would want a hyper educted doc. who knew everything there is to know about lyme who would consider the disease and test for it. I would seek out the best, use my own addled brain etc. I would want to be fairly convinced that's what I had before putting in a chest port inches from my heart.

I agree with everyone about the need to test, the 50% accuracy of tests, the uneducated docs.

I really, really wish that the tests were accurate. It is just horrible that we have a 50-50 chance of getting properly diagnosed when the symptoms are so incredibly awful.

Best,
Anneke

---

Posts: 364 | From California | Registered: Sep 2005 | IP: Logged |

Tincup
Honored Contributor (10K+ posts)
Member # 5829


posted

---

There you are!

A hot date tonight?



You said.. "if I were the patient, I would want every possible cause ruled out. I would want a hyper educted doc. who knew everything there is to know about lyme who would consider the disease and test for it."

100 percent right. Good for you!



--------------------
www.TreatTheBite.com
www.DrJonesKids.org
www.MarylandLyme.org
www.LymeDoc.org


---

Posts: 20332 | From The Moon | Registered: Jun 2004 | IP: Logged |
Contact Us | LymeNet home page | Privacy Statement

Powered by UBB.classic™ 6.7.3

---
The Lyme Disease Network is a non-profit organization funded by individual donations. If you would like to support the Network and the LymeNet system of Web services, please send your donations to:
The Lyme Disease Network of New Jersey
907 Pebble Creek Court, Pennington, NJ 08534 USA
http://www.lymenet.org/
---
Home | Flash Discussion | Support Groups | On-Line Library
Legal Resources | Medical Abstracts | Newsletter | Books
Pictures | Site Search | Links | Help/Questions
About LymeNet | Contact Us
---
© 1993-2020 The Lyme Disease Network of New Jersey, Inc.
All Rights Reserved.
Use of the LymeNet Site is subject to Terms and Conditions.
---