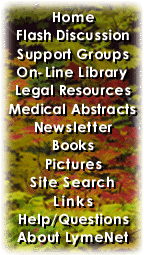 ---
LymeNet on Facebook
LymeNet on Twitter
---
---
The Lyme Disease Network receives a commission from Amazon.com for each purchase originating from this site.
When purchasing from Amazon.com, please
click here first.

Thank you.




Dedicated to the Bachmann Family


LymeNet needs your help:
LymeNet 2020 fund drive

The Lyme Disease Network is a non-profit organization funded by individual donations.

| | |
| --- | --- |
| | |
Author
Topic: I'm scared again you guys, my eyesight is TERRIBLE

Nessa1815
LymeNet Contributor
Member # 15697


posted

---

I'm sitting here with my eyes closed typing this. I told you guys previously that I was on Morpine trial run to see if it helped with the pain. Well, about that time, my eye sight started getting REALLY bad and I had BAD TRUE DOUBLE VISION.

I stopped taking it days ago and I had to drive an hour with my baby in the car to my pain management place to see if there was something else besides the Morphine to give me because I could not function because my vision was so bad. On the way there and back, I could barely drive, I felt like I was driving drunk. I was so scared. I could barely stay within the lines. I was surprised we made it home safely. My vision has always been PERFECT.

Days after the very small dose of morphine, I my eyes were going out and I've been so tired that I fall asleep so freaking fast, it scares me, because it's not like me. It's almost ilke my vision is so bad it puts me in a trance and makes me fall asleep instantly.

Last night my husband came home and started screaming at me for taking too much Morphine! My speech was slurring, I was bumping into things, and I would stand there with my eyes closed. I hadn't taken it in days!!! He told me to get out of his face and go to something (I was cooking a nice dinner in spite of my condition).

I went in the bathroom and one of my eyes (my right eye) turned "lazy" and kinda goes to the right. It doesn't "obey" like the other one does. I think that's why I can't see and everything in my vision is sooooo off. Plus, it's EMBARRASSING.

I can't see straight for the light of me plus, I'm going to be one of those people that when they look at me, it is going to be that thing like, "Who is she looking at/talking to?"

Another worry, a huge worry.....is this a sign of Bell's Palsy coming on? Or is the carry over of Morphine doing this to me?

I'm so scared.

--------------------
"~*~My smile hides my bite~*~."


---

Posts: 506 | From N/A | Registered: Jun 2008 | IP: Logged |

painted turtle
LymeNet Contributor
Member # 7801


posted

---

Nessa,

I don't know your history, what you've been dealing with, how long you've had lyme, or when you were diagnosed.

But if you have an LLMD, check in.

I have an appointment with a neuro opthamologist next week to help determine what is going on with my eyes.

You really shouldn't be driving, trust yourself that this is an issue.

I've learned spouses do their best, but only you know what is really going on in your body and how it really feels with your eyes and etc. and so only you can express this to your spouse or doc.

For me, I do not know if I am having loss of eyesight that comes with natural aging, or if it is the neuroborrelia. I hope to find out soon. I am sure the occasional blurry vision I get, and the floaters are from the disease.

Check in with a professional! And don't drive!

I know it's hard to take this seriously when the mainstream medical community barely knows how to acknowledge the extent of the effects of it.

Hope this helps.

--------------------
www.lymefire.blogspot.com


---

Posts: 855 | From United States of Mind | Registered: Aug 2005 | IP: Logged |

Nessa1815
LymeNet Contributor
Member # 15697


posted

---

I'm hoping it was just a reaction from the medicine they put me on. My vision is still quite bad, but I think that it might be getting a tad better. It's still bad though. I have to type with my eyes closed or with one eye open only so that I can focus.

I didn't realize how bad it was until I already got in the car and started driving, I will always regret that I didn't turn around, but I really needed that doctor's appt. In hindsight, I won't be going back to that place. I can deal with my pain and those meds are far too powerful when you have kids.

Let's just hope and pray that it's just the meds messing up my eyesight, because this is so unreal.

In fact, my mom came and got my lil 2 year old and my husband's parents are spending 2 weeks with my step daughter, so that I didn't drive him over there and so that maybe I can get some much needed rest, maybe sleep some of that crap out of my system - so to speak.

Sigh.

We are going to get this Lyme test from IGenex with in the month. I'll probably get the blood drawn in 2 weeks or so. So, then we will have a diagnosis.

--------------------
"~*~My smile hides my bite~*~."


---

Posts: 506 | From N/A | Registered: Jun 2008 | IP: Logged |

Larkspur
LymeNet Contributor
Member # 5131


posted

---

Hi. I found out last year (by going to "the lyme eye doc" in lancaster pa) that I had a condition called a convergence disorder (in my case very severe).

It is actually common with Lyme, this partic opthamologist has even published an article about convergence disorders and Lyme.

Individually each eye is ok, but they do not work together properly, thus it is called an "eye teaming" disorder. I guess it is primarily a muscular condition

In my case, my brain was shutting off info my left eye was receiving because otherwise I would have perceived double vision and my brain said "no way!" so it shut down the Left eye.

The good news is it is a completely correctable condition with vision therapy!

I actually driving on the highway and my left eye "went out" - that's when I finally made the eye doc appt.

Definitely don't drive until you figure out what is going on!!!!!

--------------------
"We must be willing to get rid of
the life we've planned, so as to have the life that is waiting for us" - e.m. forster


---

Posts: 921 | From PA | Registered: Jan 2004 | IP: Logged |

treepatrol
Honored Contributor (10K+ posts)
Member # 4117


posted

---

B12 shots will help you eyes. Make sure your taking all suppliments magnesium,cq10,acidophilis,multi vitamin,a good complex b vitamin also.

--------------------
Do unto others as you would have them do unto you.
Remember Iam not a Doctor Just someone struggling like you with Tick Borne Diseases.

Newbie Links


---

Posts: 10564 | From PA Where the Creeks are Red | Registered: Jun 2003 | IP: Logged |

Marnie
Frequent Contributor (5K+ posts)
Member # 773


posted

---

Oh God...NO MORPHINE!!!

This is very contraindicated in lyme.

I'll have to pull old files.

Doc in NC held responsible for death of a nurse (young mother) with lyme.

She was on morphine.

It took me a long time to find the reason why this is absolutely contraindicated.

Do you want me to find my files? I will...let me know. PM me.

Use another drug for pain relief...NOT MORPHINE.

The nerves maybe being damaged due to excessive inflammatory cytokines.

My sis (with lyme) HAD to resort to steroid shots IN HER EYES (x2) to halt uveitis. At one point all she could see was the big "E" on the chart. She was scared to death...esp. because she was misdx'd initally and was given steroids and lyme rapidly progressed to stage 3.

The shots in her eye did have a very "local" impact and did stop the permanent damage that was happening.

She is now "autoimmune" despite 3 years of powerful abx. (name them...she was on them) and a TON of supplements....

This is one tough pathogen!

---

Posts: 9402 | From Sunshine State | Registered: Mar 2001 | IP: Logged |

lpkayak
Honored Contributor (10K+ posts)
Member # 5230


posted

---

wow marnie...i never knew about the no morphine...maybe you should make a new post and put that in the subject line.

i guess it's a lyme thing that we need repetition...

--------------------
Lyme? Its complicated. Educate yourself.


---

Posts: 13712 | From new england | Registered: Feb 2004 | IP: Logged |

Marnie
Frequent Contributor (5K+ posts)
Member # 773


posted

---

Okay...I'll try to find my old files...

Bear with me - the computer god is not with me...

I have to call the Best Buy Geek squad.

Computer virus...I am battling it ongoing while I research.

So much for my network protection!

---

Posts: 9402 | From Sunshine State | Registered: Mar 2001 | IP: Logged |

roro
LymeNet Contributor
Member # 13383


posted

---

I have been on morphine for over a year with no problems. I would not be able to function painwise without it. oxycontin was too strong and made me itch. fentanyl patches too unreliable. there are not many choices for long-acting narcotics.

i had episodes of double vision years ago, well before the morphine. both after bouts of meningitis. was told cranial nerve palsy and very common with lyme. both episodes lasted only a few days

some drugs can cause double vision or worsen it. any neuroleptics, nasea med like reglan

---

Posts: 615 | From maryland | Registered: Oct 2007 | IP: Logged |

Nessa1815
LymeNet Contributor
Member # 15697


posted

---

Hey, I can see! It might be a little early to say but it's so much better than it was the other day.

I had NO IDEA that Oxycodone which was what was rxd was OXYCONTIN!!!!! There wasn't a "generic for" sticker on the label. It came in what looked like the manufacturers' bottle and not the pharmacy's.

So that day, I took like 80mg of Morphine at like 6am (or earlier) and then around 3pm I took 30mg of Oxycodone. My husband said I sounded like Anna Nicole Smith. I felt terrible For some reason, I thought Oxycodone, for some reason, was Tylenol 3 with CODINE. But not once did this doctor mention that the drug he was giving me was oxycontin.

I guess I'm right on that? The next day after I thought I lost my eye sight, I looked it up on the internet, "Oxycodone" and Oxycotin kept coming up as a brand name for it.

Ugh. I don't know why ppl go nuts for that stuff. I does NOTHING for me. What's the big hooplah about it?

Either way, I'm off to get ready for my consult with a nose doc for my parasinus disease or something and to talk about getting tubes in my ears. Which me luck. This place is too far of a drive for me, during rush hour even.

--------------------
"~*~My smile hides my bite~*~."


---

Posts: 506 | From N/A | Registered: Jun 2008 | IP: Logged |

hshbmom
Frequent Contributor (1K+ posts)
Member # 9478


posted

---

Hi Nessa, here's an old post of Marnie's. I wonder if this is what she was trying to find for you????


http://flash.lymenet.org/scripts/ultimatebb.cgi?ubb=get_topic;f=1;t=044197


posted May 25, 2006 01:25 PM


Topic: Potentially fatal combination...Morphine and ethanol


"Spirochetes have a limited metabolism and can only ferment a few types of organic molecules.


They ferment carbohydrates to acetate,*** ethanol***, CO2, and H2 as major end products.


All spirochetes so far examined use the Embden-Meyerhoff-Parnas pathway to take glucose to pyruvate.


Under anaerobic conditions this is converted to acetate and ethanol using common fermentative pathways.


Interestingly, the facultative anaerobes in the group use both oxidative phosphorylation and substrate level phosphorylation in the presence of air and seem to be dependent on at least some fermentation. The TCA cycle has not been detected in these microbes, and it is unclear how they get their ATP by oxidative phosphorylation.


B. burgdorferi will also move away from ethanol and butanol."


http://www.bact.wisc.edu/Microtextbook/index.php?name=Sections&req=viewarticle&artid=110&page=1


THE ROLE OF ETHANOL ABUSE
IN THE ETIOLOGY OF HEROIN-RELATED DEATHS
Ruttenber, A. J., Kalter, H.
D., and Santinga, P.
Journal of Forensic Sciences,
Vol 35, No. 4, July 1990, pp
891-900


p. 891
"Our data suggest that ethanol enhances the acute toxicity
of heroin, and that ethanol use indirectly influences fatal
overdose through its association with infrequent
(nonaddictive) heroin use and thus with reduced tolerance to
the acute toxic effects of heroin."


[Ruttenber, A. J. and Luke, J. L., "Heroin-Related Deaths:
New Epidemiologic Insights," Science, Vol 226, Oct 5, 1984,
pp 14-20] "found that blood ethanol concentrations in excess
of 1000 mg/L raised by a factor of 22 the odds of a heroin
user experiencing a fatal overdose."


"The concomitant use of heroin and ethanol is well
recognized and considered dangerous..."


"The phenomenon of combining ethanol and opiate use and the
resultant toxic effects were noted as early as 1881
[Hubbard, F. H., The Opium Habit and Alcoholism, Barnes, New
York, 1881, pp 3-14]."


Possibilities examined:
1. Ethanol and heroin act additively or
synergistically on the central nervous and
respiratory systems, producing cardiopulmonary
arrest that is more often fatal than that
produced by heroin alone.
2. Ethanol interferes with the metabolism of
heroin, prolonging toxic effects.
3. Ethanol consumption is commonly associated
with infrequent (nonaddictive) use of heroin,
[Greene, M. H., Luke, J. L., and Dupont, R.
L., "Opiate 'Overdose' Deaths in the District
of Columbia," Medical Annals of the District
of Columbia, Vol 43, #4, April 1974, pp 175-
181] which results in reduced tolerance to
acute toxicity of heroin.


Decedents with toxicological evidence of drugs other than
heroin/ethanol were excluded from the study.


p. 895
"We determined that HE [High Ethanol] decedents had
significantly lower blood morphine concentrations than LE
[Low Ethanol] decedents and identified a significant inverse
correlation between concentrations of ethanol and morphine
in the blood. These findings suggest that there is a dose-
response relationship between consumption of ethanol and the
acute toxicity of heroin. However, blood ethanol
concentrations explained only 11% of the variation in blood
morphine concentrations, indicating that additional factors
are probably involved in the etiology of fatal overdose by
users of heroin and ethanol."


"There is no evidence from our study that ethanol interferes
with the metabolism of heroin." (This is in response to possibility
3.)


p. 897
"Our data suggest that decedents who consumed large
quantities of ethanol before death also had used heroin
infrequently in the days before death."


"Data presented here and in other studies [Ruttenber, A. J.
and Luke, J. L., "Heroin-Related Deaths: New Epidemiologic
Insights," Science, Vol 226, Oct 5, 1984, pp 14-20; and
Kalter, H. D., Ruttenber, A. J., and Zack, M. M., "Temporal
clustering of Heroin Overdoses in Washington, DC," Journal
of Forensic Sciences, Vol. 34, No. 1, Jan. 1989, pp. 156-
163.] indicate that fatal heroin overdose can be influenced
by the toxic effects of other drugs and by other risk
factors and is not merely the consequence of injecting
unusually high doses of heroin. Our results suggest that
simply discouraging the practice of drinking and injecting
heroin may not be effective in preventing fatal overdose.
Combining chronic ethanol abuse with infrequent
(nonaddictive) heroin use should also be discouraged. Since
fatal overdoses are commonly associated with ethanol use,
public health measures directed towards those who use both
drugs may help reduce the incidence of these deaths."


"Address requests for reprints or additional information to
A. James Ruttenber, Ph.D., M.D.
Center for Environmental Health and Injury Control
Centers for Disease Control
Mail Stop F-28
Atlanta, GA 30333"


http://www.erowid.org/chemicals/opiates/opiates_info2.shtml


Research the Na-H mechanism. Sodium and hydrogen. Why is sodium going INTO the cells.


[ 25. May 2006, 02:48 PM: Message edited by: Marnie ]

---

Posts: 1672 | From AL/WV/OH | Registered: Jun 2006 | IP: Logged |
Contact Us | LymeNet home page | Privacy Statement

Powered by UBB.classic™ 6.7.3

---
The Lyme Disease Network is a non-profit organization funded by individual donations. If you would like to support the Network and the LymeNet system of Web services, please send your donations to:
The Lyme Disease Network of New Jersey
907 Pebble Creek Court, Pennington, NJ 08534 USA
http://www.lymenet.org/
---
Home | Flash Discussion | Support Groups | On-Line Library
Legal Resources | Medical Abstracts | Newsletter | Books
Pictures | Site Search | Links | Help/Questions
About LymeNet | Contact Us
---
© 1993-2020 The Lyme Disease Network of New Jersey, Inc.
All Rights Reserved.
Use of the LymeNet Site is subject to Terms and Conditions.
---