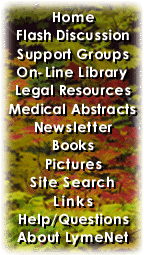 ---
LymeNet on Facebook
LymeNet on Twitter
---
---
The Lyme Disease Network receives a commission from Amazon.com for each purchase originating from this site.
When purchasing from Amazon.com, please
click here first.

Thank you.




Dedicated to the Bachmann Family


LymeNet needs your help:
LymeNet 2020 fund drive

The Lyme Disease Network is a non-profit organization funded by individual donations.

| | |
| --- | --- |
| | |
Author
Topic: Dr. H in Ashburn VA and/or Functional Medicine Treatment Approach?

wannabewell
Member
Member # 16042


posted

---

Currently in a severe relapse, I'm possibly too sick for a more stringent approach. Dr. H is following parts of each of the Top 10 Treatments, but not Burrascano Protocol.

Has anyone had a remission of symptoms through treatment with Dr. H and/or the functional medicine approach?

If so, how long did it take? Opinions about him and his treatment approach would be helpful.

Thanks for any information, thoughts, insights, positive results that will help me make the best treatment decision.

---

Posts: 23 | From limbo | Registered: Jun 2008 | IP: Logged |

cameronb
Member
Member # 12240


posted

---

what exactly is the functional medicine approach?

my mother worked with Dr. h in ashburne (another office in fredericksburg) but she sort of directed the treatment and he helped her get meds she needed, etc.

---

Posts: 52 | From Atlanta, Ga | Registered: Jun 2007 | IP: Logged |

wannabewell
Member
Member # 16042


posted

---

Hi! I found this definition on the Functional Medicine Website because they explain it better than I can.

I do find the field fascinating and am rebuilding my immune system and my body's ability to work normally again--at least this is the promise and my hope.

I am on a treatment protocol of antibiotic, but natural supplement ones and many other supplements. Western meds when necessary for coinfections.


Thanks for sharing about your MOM--is she in remission for LYME DISEASE? I do hope that she's feeling better and that you are, too!

What is Functional Medicine?

Functional medicine is personalized medicine that deals with primary prevention and underlying causes instead of symptoms for serious chronic disease. It is a science-based field of health care that is grounded in the following principles:

Biochemical individuality describes the importance of individual variations in metabolic function that derive from genetic and environmental differences among individuals.
Patient-centered medicine emphasizes "patient care" rather than "disease care," following Sir William Osler's admonition that "It is more important to know what patient has the disease than to know what disease the patient has."

Dynamic balance of internal and external factors.
Web-like interconnections of physiological factors - an abundance of research now supports the view that the human body functions as an orchestrated network of interconnected systems, rather than individual systems functioning autonomously and without effect on each other. For example, we now know that immunological dysfunctions can promote cardiovascular disease, that dietary imbalances can cause hormonal disturbances, and that environmental exposures can precipitate neurologic syndromes such as Parkinson's disease.
Health as a positive vitality - not merely the absence of disease.
Promotion of organ reserve as the means to enhance health span.

Functional medicine is anchored by an examination of the core clinical imbalances that underlie various disease conditions. Those imbalances arise as environmental inputs such as diet, nutrients (including air and water), exercise, and trauma are processed by one's body, mind, and spirit through a unique set of genetic predispositions, attitudes, and beliefs. The fundamental physiological processes include communication, both outside and inside the cell; bioenergetics, or the transformation of food into energy; replication, repair, and maintenance of structural integrity, from the cellular to the

whole body level; elimination of waste; protection and defense; and transport and circulation. The core clinical imbalances that arise from malfunctions within this complex system include:

Hormonal and neurotransmitter imbalances
Oxidation-reduction imbalances and mitochondropathy
Detoxification and biotransformational imbalances
Immune imbalances
Inflammatory imbalances
Digestive, absorptive, and microbiological imbalances
Structural imbalances from cellular membrane function to the musculoskeletal system
Imbalances such as these are the precursors to the signs and symptoms by which we detect and label (diagnose) organ system disease. Improving balance - in the patient's environmental inputs and in the body's fundamental physiological processes - is the precursor to restoring health and it involves much more than treating the symptoms. Functional medicine is dedicated to improving the management of complex, chronic disease by intervening at multiple levels to address these core clinical imbalances and to restore each patient's functionality and health. Functional medicine is not a unique and separate body of knowledge. It is grounded in scientific principles and information widely available in medicine today, combining research from various disciplines into highly detailed yet clinically relevant models of disease pathogenesis and effective clinical management.

Functional medicine emphasizes a definable and teachable process of integrating multiple knowledge bases within a pragmatic intellectual matrix that focuses on functionality at many levels, rather than a single treatment for a single diagnosis. Functional medicine uses the patient's story as a key tool for integrating diagnosis, signs and symptoms, and evidence of clinical imbalances into a comprehensive approach to improve both the patient's environmental inputs and his or her physiological function. It is a clinician's discipline, and it directly addresses the need to transform the practice of primary care.

---

Posts: 23 | From limbo | Registered: Jun 2008 | IP: Logged |

Keebler
Honored Contributor (25K+ posts)
Member # 12673


posted

---

-

I've gone the route of this functional medicine - "treating the underlying causes" - for years with many different naturopathic doctors who simply refused to come to terms with lyme.

This is partly as , I had no option to see a LLMD, meds really do me in and natural methods do help - but not enough.

This is what I've learned in the past 11 years:

YOU MUST KNOW SPIROCHETES. YOU MUST KNOW ALLL THE WORKINGS OF TICK-BORNE INFECTIONS - all the cycles, phases, etc.

You can address deficient body systems till the cows come home but progress is highly unlikely unless the particular infections are understood as completely as possible at this point in time.

This is because, most often with TBD patients, the TBD themselves are what throws off so many body systems/ functions.

Now, once the infection is understood, then moving on to support the body in various ways - or clear underlying dysfunctions - of course, all that is also vital as PART of a treatment plan (with liver support a huge consideration).


I wasted a full five years with an otherwise brilliant herbalist who also was an instructor at a naturopathic college.

I did not ask about what I was taking and generally asked, "so there's stuff in here to address the lyme, right?" Later I found out he had treated lyme like any other infection.

The failure was in discounting the uniqueness of lyme and the co-infections.

You must know your enemy to dismantle that enemy's army. These infections are NOTHING like doctors have been taught in either medical schools or naturopathic colleges.

The above article has some good points, and I cannot totally be complete in my thoughts here. Guess it comes down to it not being so simple.

Whatever kind of medicine - or combinations thereof - chosen, be bold when inquiring as to the doctor's knowledge and philosophy. If a complete knowledge and respect for lyme/TBD is not there, I'd advise looking elsewhere.

I am glad to say that now there is a LL ND who is the only LL doctor of any type in my state. An ILADS member, too. So, a few natural medicine people are stepping up to the plate just as a few MDs have done.

But I hope others don't make the same mistakes I made in thinking one can simply address underlying dysfunction (as comprehensive as that is) - and add in some basic antimicrobial measures - and skip their way to wellness.

This requires so much more specific attention.

Whatever treatment is chosen, it must be one that will address the unique workings of the underlying stealth infections and - at the same time - support and nourish all the body functions/systems of a patient.

Hopefully, safer and faster, more effective treatments are coming along. I've been following the posts on the Bionic 880 and light treatment. Very interesting and encouraging that this seems to understand lyme, etc. and work with the body, too.


-

[ 18. July 2008, 04:10 PM: Message edited by: Keebler ]

---

Posts: 48021 | From Tree House | Registered: Jul 2007 | IP: Logged |

lymednva
Frequent Contributor (1K+ posts)
Member # 9098


posted

---

I am active in area support groups, have lists of area LLMD's and have never heard of Dr. H in Ashburn, even though he's probably in my backyard. No wait, that's the deer walking through!

I know my LLMD, who is only about ten miles from Ashburn, at least my way, uses a combination of treatments. He follows ILADS guidelines, but is rapidly including things like balancing hormones, etc. that you have mentioned.

I think you really need someone who is knowledgeable and always learning more on their own, not through you, even though I have to respect his openness to new ideas.

While many doctors are clueless, some are open to guidance, I want someone treating me who is constantly keeping up to date on the latest research and is open to new ideas.

If you had told my LLMD five years ago he would be using some of the things he is now doing he would have told you you were nuts.

There is a reason he is well-respected among other doctors as well as by his patients. Is he perfect? No, but he is always learning about Lyme treatment and trying new approaches he has learned at all the conferences he attends.

He is definitely the one I want treating me at the moment. For others there are a wide variety of doctors in this area using a wide range of treatment protocols, from naturopathic to allopathic. Probably most are somewhere in between.

--------------------
Lymednva


---

Posts: 2407 | From over the river and through the woods | Registered: Apr 2006 | IP: Logged |

wannabewell
Member
Member # 16042


posted

---

Thank you all for your thoughtful, helpful perspectives. I appreciate your concerns and guidance.

I like the functional approach, but agree that someone with more LLMD experience might be a better choice. I found this doc before I found LYMENET(and learned about LLMD's and so much else from you all) because he specializes in thyroid issues.

I didn't know that I was relapsing after six months of apparently being OK. But then getting progressively worse while taking thyroid meds and Pau d'arco( for candida)--I probably was herxing with both candida and LYME!

Dr. H. helped to discover that the LYME was not only back, but had never gone away(cyst stage) due to the inefficacy of my previous two years of treatment.

Not sure why he's not on the list, a large proportion of his practice is LYME focused and he is up on the latest treatment protocols(the Top Ten and Burrascano)--uses aspects of each of the effective ones).

But, I'm also on supplements to rebuild my immune system and help me to restore normal functioning (probiotics, WOB-enzymes, beta-glucan, and other supplements to rebuild other systems.)

It does feel like I'm getting better-- after each bout of big time HERXing after an increase in meds. I am on three different ABX to address all three forms, and I am on meds and/or supple-

ments to address the damage done to my systems thus far (based on testing--extensive and expensive, of course). He is now testing for coinfections.

I am hesitant to switch doctors now since I do feel that I'm improving, bought three months worth of meds and have an appointment with an LLMD who's on the list who takes insurance(one of the remaining few)-- which is necessary as

this guy is my fifth doctor since prior to getting sick(the first two basically wrote me off as not having anything wrong with me because of cursory test results, one said it was all due to hypothyroid!) My appointment is late Fall and I'm on a waiting list.

What would an LLMD do differently than what I'm currently getting? Would they let me continue with the "functional" supplements, too? Am I really doing myself a disservice to stay the course till December since I'm improving? If I need to switch

to another doctor while awaiting the December appointment who should I see in the DC/MD/VA area that will give me a break on a new patient appointment--I have had recent testing done?

If anyone has any ideas on any of this, I'd be very grateful for the help. Thanks.

---

Posts: 23 | From limbo | Registered: Jun 2008 | IP: Logged |

seibertneurolyme
Frequent Contributor (5K+ posts)
Member # 6416


posted

---

Since you are on antibiotics and are already on a waiting list for an LLMD I would just continue with your current protocol.

Hubby was in a similar situation to Keebler. Was undiagnosed for about 2 years and then continued with an ACAM doc who specialized in Chronic Fatigue Syndrome for another year.

The things that generally help CFS patients aren't strong enough for Lyme and tickborne infections. Things like hydrogen peroxide IV's, Vitamin C IV's, blood ozone etc.

The difference between your doc and an LLMD is that an LLMD can probably guess based on your symptoms which coinfections you may have. For example -- hubby has tremors/myoclonus/"seizure-like" episodes. Over 20 neurologists did not have a clue. LLMD's have seen all these symptoms first hand in numerous patients and have a pretty good idea which infection causes which symptoms.

Unfortunately the tests for coinfections are just as inaccurate as the tests for Lyme. The only exception would be an actual bloodslide from Fry lab -- even that has gotten controversial though as there is some question as to the exact species Bartonella/Haemobartonella/Mycoplasma.

Most LLMD's will not object to you seeing other docs and taking supplements and herbs. Actually it works very well to have both an holistic doc and an LLMD. The holisitic doc can address hormones, parasites, nutrition etc and let the LLMD concentrate on infections.

Hubby finally found a good combination of docs -- his LLMD is also a nutritionist and the herbalist who is in the practice is also a nutritionist. Since his G.I. problems are just as severe as his neurological problems this has worked well for him.

Bea Seibert

---

Posts: 7306 | From Martinsville,VA,USA | Registered: Oct 2004 | IP: Logged |

wannabewell
Member
Member # 16042


posted

---

Bea, Thanks so much for the helpful advice and your opinion about my treatment course, too. i like the idea of possibly seeing both doctors to maximize treatment outcomes as your husband has done.

I had one question about the coinfection testing. Are you saying that it's so unreliable, that a good LLMD won't need to do it at all and diagnose based on symptoms?

Hoping things continue to improve for you both healthwise.

---

Posts: 23 | From limbo | Registered: Jun 2008 | IP: Logged |
Contact Us | LymeNet home page | Privacy Statement

Powered by UBB.classic™ 6.7.3

---
The Lyme Disease Network is a non-profit organization funded by individual donations. If you would like to support the Network and the LymeNet system of Web services, please send your donations to:
The Lyme Disease Network of New Jersey
907 Pebble Creek Court, Pennington, NJ 08534 USA
http://www.lymenet.org/
---
Home | Flash Discussion | Support Groups | On-Line Library
Legal Resources | Medical Abstracts | Newsletter | Books
Pictures | Site Search | Links | Help/Questions
About LymeNet | Contact Us
---
© 1993-2020 The Lyme Disease Network of New Jersey, Inc.
All Rights Reserved.
Use of the LymeNet Site is subject to Terms and Conditions.
---