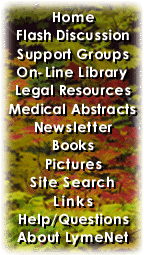 ---
LymeNet on Facebook
LymeNet on Twitter
---
---
The Lyme Disease Network receives a commission from Amazon.com for each purchase originating from this site.
When purchasing from Amazon.com, please
click here first.

Thank you.




Dedicated to the Bachmann Family


LymeNet needs your help:
LymeNet 2020 fund drive

The Lyme Disease Network is a non-profit organization funded by individual donations.

| | |
| --- | --- |
| | |
Author
Topic: MD considering changing career path

NewPath
Junior Member
Member # 16481


posted

---

I am a young physician. I grew up in an endemic for lyme disease. I was diagnosed with LD (postive ELISA/WB) just prior to medical school and also had a positive test for babesia. I saw a LLMD during medical school (after getting a cold shoulder from many of the "normal" docs). I got better but then during internship (first year of residency) became ill again. I was just too busy to see my old LLMD (plus I had just moved across the country and "lyme disease didn't exist where I was").

I took advantage of my power to write prescriptions and started myself on my old meds, then adjusted them over time to ones I thought were more effective. I have a prescription pad and good insurance so it has never been a problem. I'm slowly returning to a functional level again.

I recently have considered changing speciliaties and treating lyme patients full time. This is not even close to the specialty I previously decided on (I am currently in the OR all day) but given my personal battle with this disease and my first-hand understanding of the struggles we (as patients) have with conventional medicine, I think that this may be my calling. I'm not really sure why I'm posting this here other than to thank you for your support over the past several months.

I have not posted before, but have read tons of posts and my knowledge has risen to a level where I feel I would be comfortable treating LD patients exclusively. I can not imagine a more rewarding pursuit than attempting to heal the chronically ill who have be spurned from conventional medicine.

At the same time I am apprhentious given the potential litigation regarding treating lyme patients, so I am torn. In any event, I just wanted to thank everyone. I'll let you know what I decide. Even if I do decide to treat LD patients, it will take months (or even years) to establish the infrastructure required (office, nurses, equipment...etc), but I am definitely considering this.

---

Posts: 4 | From USA | Registered: Jul 2008 | IP: Logged |

lou
Frequent Contributor (5K+ posts)
Member # 81


posted

---

Boy, wish we clone you several thousand times. It is so refreshing to hear of someone thinking about entering the field.

The persecution of lyme docs is not evenly spread around the country, so some places are better than others, at least right now. Don't know where you are or whether you have any interest in relocating, but that might be a factor. If you are not already an ILADS member, maybe join and take advantage of others with experience in the field and learn what might be a good location to start such a practice. Or possibly join an already established practice. Lyme docs are always swamped with patients and have long waiting lists.

Happy to hear that you have a med protocol that helps you.

---

Posts: 8430 | From Not available | Registered: Oct 2000 | IP: Logged |

Hoosiers51
Frequent Contributor (1K+ posts)
Member # 15759


posted

---

I would speak personally with an LLMD and have him or her take you on as a protege. It would be better to learn from the best than try to start out on your own.

---

Posts: 4590 | From Midwest | Registered: Jun 2008 | IP: Logged |

steelbone
LymeNet Contributor
Member # 14014


posted

---

Nice post.

have you read any of the post about the bionic 880?

I personally think this could be a huge oppurtunity for whom ever decided to take the ball and run with it....Your phone would be ringing off the hook. I think you could literaly start this practice in your own house.

But lets not forget about the little people. Keep it a a resonable price

Best of luck in what ever u decide

--------------------
All The Best,
Paul
[email protected]

The harder you work the luckier you get!


---

Posts: 964 | From Nebraska Cornhuskers fan in Massachusetts | Registered: Dec 2007 | IP: Logged |

NewPath
Junior Member
Member # 16481


posted

---

I'm in the northeast. I would not be able to relocate until my fiance finished her residency. I would consider joining another practice - that actually might be ideal. Thanks for the suggestion to join ILADS. I'll do that and maybe through there put out some feelers to LLMDs in the area.

I think that this may be my calling. But, I know it would likely mean giving up a lot of money (since primary care doesn't pay that well). None-the-less, it is something I have been contemplating for a long time, and there are just some things more rewarding than a big paycheck.

---

Posts: 4 | From USA | Registered: Jul 2008 | IP: Logged |

njlymemom
LymeNet Contributor
Member # 15088


posted

---

I agree with Hoosier, you should find a mentor.

Ilads would be a good place to start.

So glad to hear that you are considering this.

I have met a few LLMDs. I was not surprised that

they all have certain qualities among them.

Moral, strong, smart and humble people.

If you do choose this as your path, you will

be honored to be among the best.

Good luck.

--------------------
This is NOT medical advice - and should NOT be used to replace your MD's advice. Info is only the opinion of those who publish the site.


The shortest way to do many things is to do only one thing at a time.

cb


---

Posts: 669 | From somewherebetweentherocks | Registered: Mar 2008 | IP: Logged |

sixgoofykids
Moderator
Member # 11141


posted

---

This is great news. It will be a rewarding career. We need more LLMD's in the midwest.

--------------------
sixgoofykids.blogspot.com


---

Posts: 13449 | From Ohio | Registered: Feb 2007 | IP: Logged |

Hoosiers51
Frequent Contributor (1K+ posts)
Member # 15759


posted

---

Under my LLMD's name, it says, "Internal and Critical Care Medicine"

I don't know really what that means in "doctor language", but maybe that could be a route you could go to avoid "primary care"? Or it may very well be the same thing.

---

Posts: 4590 | From Midwest | Registered: Jun 2008 | IP: Logged |

FuzzySlippers
LymeNet Contributor
Member # 13658


posted

---

NewPath,

What a delight to see this post. We need more physicians like you.

I hope that you do join ILADS. Perhaps, time permitting, you could even attend some of the Lyme conferences and maybe even accrue some CME credits along the way (if you happen to need any, that is). Talking with ILADS members can help you in addressing the very concerns you mention in your post.

Also, you can try contacting the Turn The Corner Foundation. They've just released a promotional video which reveals some of what they do. The first couple of minutes include clips from the new Under Our Skin Lyme documentary and then the remainder of the video clip goes into detail about how they help doctors who are interested in learning more about treating Lyme in their practices.

http://www.youtube.com/watch?v=XnRrdtusWdw

Glad to hear that you're seeing results in your treatment.

I sincerely hope that you do follow through with this.

Fuzzy

p.s. I've sent you a pm on the litigation concerns.

---

Posts: 503 | From Maryland | Registered: Oct 2007 | IP: Logged |

Keebler
Honored Contributor (25K+ posts)
Member # 12673


posted

---

-

Dear New Path,

Wow! Thanks for considering such an important move.

Hey, I have just so much energy so I'm jumping to an idea here.

In addition to joining another team, how about doing a training video and article for doctors in the O.R. to treat patients such as us who have severe hyperacusis, sometimes with seizures from the slightest sounds?

Are all those beeps and buzzes REALLY necessary ?

I'm may possibly be looking at surgery to repair some bone in an ear canal. This could possibly improve my quality of life a lot.

Still, lyme + co are players. But safely going into a surgical setting could be disaster unless everyone on staff is on the same page.

I can't keep typing, but just a thought. While most have learned to stay out of the ER because of bad experiences, sometimes we have to have a surgery..

Well, an ER manual would be great, too.

I know the medical field does not take kindly to lyme/TBD patients, but if you team with a neurotogist you might be able to get some hospitals to turn down the noise and turn off all the beeps.

Then, working from another angle, getting all the cleaning chemicals to be switched to some that won't send us reeling from the MCS effects.

I'd do an official "so glad to have you here" and more, but my brain is pulling me away from the computer for a while.

Really - it takes courage to think of this.

and - I wonder if the Bionic 880 might interest you ?

this could be marvelous.

======

http://flash.lymenet.org/ubb/ultimatebb.php?ubb=get_topic;f=1;t=069156;p=1

Topic: We have returned with the Bionic 880


--

---

Posts: 48021 | From Tree House | Registered: Jul 2007 | IP: Logged |

Hoosiers51
Frequent Contributor (1K+ posts)
Member # 15759


posted

---

Are physicians allowed to write themselves prescriptions like that? If not, you may want to start SEEING an LLMD as a patient so that you don't get in trouble.

I feel ya, but you won't be able to help many patients if you get in trouble before you even start seeing patients.

---

Posts: 4590 | From Midwest | Registered: Jun 2008 | IP: Logged |

sixgoofykids
Moderator
Member # 11141


posted

---

Hoosiers, I don't know, but his fiance could write them.

--------------------
sixgoofykids.blogspot.com


---

Posts: 13449 | From Ohio | Registered: Feb 2007 | IP: Logged |

NewPath
Junior Member
Member # 16481


posted

---

To the best of my knowledge there is nothing illegal with a physician self-treating. I really hadn't considered that too much to be honest, and now I may be a bit worried. I'm not prescribing myself any controlled substances. I actually self-tested myself through Fry-labs for tick-borne infections!

In response to the hyperacousis, that is one of my biggest problems, though it is only present in my right ear. It is just awful. The OR is a LOUD place. There is constant background noise.

---

Posts: 4 | From USA | Registered: Jul 2008 | IP: Logged |

djf2005
Frequent Contributor (1K+ posts)
Member # 11449


posted

---

all i can say is do it.

i myself plan on becoming a PA once this hell is over so i can help others with LD.

once affected by it, you cannot turn away.

cheers

derek

--------------------
"Experience is not what happens to you; it is what you do with what happens to you."

[email protected]


---

Posts: 2269 | From Lansdowne, Pa | Registered: Mar 2007 | IP: Logged |

SmurfyMom
LymeNet Contributor
Member # 13688


posted

---

My first thought when I read your post? PRAISE THE LORD!!

I am seriously moved to tears that you would even consider changing directions to treat Lyme (and Co.) exclusively. Thank you!

I know somewhat how big of a thing that is. I grew up with only ONE goal (outside of being a mom) for my life... becoming a pediatrician.

I never made it to college, let alone med school, in part due to Lyme symptoms!!! Though I didn't know it at the time.

I just kept thinking that the shaking hands wouldn't go over well at med school and beyond...

Of course shortly after that I started adding other things like panic attacks and anxiety if I had to deal with other humans. Yeah THAT wouldn't work as a doc, either, huh? LOL

Anyway... since discovering I have Lyme (and at least bart, babs, and erlichia too...)

I have found myself somewhat seiously considering the possibility of maybe actually being able to go back to school with the intent to specialize in Lyme and Co!

I've found myself wondering (often) if this is what I'm meant to do. IN fact, my mom and I were talking about this just a couple of nights ago.

I made a comment about how much hassle I could've saved the whole family (by having prescribing abilities) had I gone ahead to med school like I was supposed to.

Her reply was that maybe I wasn't supposed to THEN because I wouldn't have had the experience of the last 10yr of running up against brick walls when it comes to the medical field.

For me it would mean picking back up a lifelong dream, but also changing it slightly. That's why I say I 'get it' a little about how big of a deal it is for you to even be considering this new direction...

Originally I'd planned on narrowing the pediatric field to genetic conditions if I narrowed it at all. Certainly never once considered a TBD slant before!

Of course, I'm all of 4 (or is it 5) weeks into treatment, so it's not like I'm really in a place to make a big decision like that yet, but still... I'm starting to dream again...

Chris
who called herself "Dr. Megan" as a child and whose firstborn is not coincidentally named- Meagan!

---

Posts: 155 | From Texas | Registered: Oct 2007 | IP: Logged |

Tracy9
Frequent Contributor (1K+ posts)
Member # 7521


posted

---

My hero!!!!

Sigh.

Thank you SO much for being here and doing what you are doing. Please, please see the DVD Under Our Skin and read the book Cure Unknown. These are the two single most important educational items out there.

Just today my husband brought both to our PCP. We have also mailed copies of both to our children's pediatrician, and our former PCP.

WE NEED YOU. Please keep moving on this path; perhaps your fiancee can incorporate Lyme Literacy into her practice as well.

Some of the specialities that can solely focus on lyme include Infectious Disease, Rheumatology, and Neurology as well.

Do you have any interest in Peds? Maybe you could join up with Dr. Jones?

--------------------
NO PM; CONTACT: [email protected]

13 years Lyme & Co.; Small Fiber Neuropathy; Myasthenia Gravis, Adrenal Insufficiency. On chemo for 2 1/2 years as experimental treatment for MG.


---

Posts: 4480 | From Northeastern Connecticut | Registered: Jun 2005 | IP: Logged |

Peedie
LymeNet Contributor
Member # 15355


posted

---

NEWPATH

THIS feels like divine intervention!
I think this is your calling!
You will be a life saver to many people.
If you and your bride to be tire of the lousy weather in the No.West - move to sunny So.California. There is a huge demand for LLMDs.

I happen to know a LLMD doctor in So. CA who is looking for someone to come in and help her with her parient load. Long waiting list!

PS Our present govenor signed a bill protecting the doctors and allowing them to treat patients with the care they need.

Good Luck and God Bless You!
Peedie

---

Posts: 641 | From So. CA | Registered: May 2008 | IP: Logged |

KS
LymeNet Contributor
Member # 12549


posted

---

I can't imagine having a more fulfilling job...not only by being a doctor and helping people get their lives back (not to mention we patients will forever have endless gratitude for our LLMDs...probably the most respected doctors by their patients) but it is also an opportunity to be part of one of the biggest medical controversies in medical history.

The tides will change. You and other LLMDs will be some of the most sought after MDs in the world....my lyme doctor says there isn't a day that goes by that he regrets stepping into this world as it has been very rewarding.

Hope you decide to give one of the greatest gifts you can to thousands of lyme sufferers!

Kristin

How great to be a part of all of that...I can't wait to watch it happen!

---

Posts: 561 | From mass | Registered: Jul 2007 | IP: Logged |

bettyg
Unregistered



posted

---

WHOOPIE!!


welcome; so glad you found us and have been reading for awhile!!


YOU are a dream come true to those of us who are CHRONIC LYME patients!!! GO FOR IT!


Oct. 17-19, 2008 is the LYME DISEASE ASSN. AND ILADS, INTL LYME ASSOCIATED DISEASE SOCIETY, ANNUAL CONFERENCE IN SAN FRANCISCO, CALIF!
******************************************


see about coming; CALDA, CALIF LDA, has grants for LYME DRS., etc.


PMERVINE has posted in every board ALL the details of this so folks can start planning and saving for it!! found in activism is the easy way to find this!!


fyi, there are either 15 - 18 with NO FULL-TIME CHRONIC LYME LITERATE MDS THERE INCLUDING IOWA and many around us.


you've been many wonderful suggestions for you and FIANCE for her to apply her dr. skills hopefully to lyme also!!

BOY, DO WE NEED YOU BOTH to get into remission!
***********************************************


YOU made our days/nights here!!


also, if you haven't been to activism, look for TINCUP'S POST ABOUT FAT LADY SINGING .... CALLING THE 4 PHONE NOS. IN CONGRESS on our 2 STALLED lyme disease bills!!!
***************************


again, thanks for posting and RAISING OUR HOPES, SPIRITS that someone WHO HAS LYME wants to turn their life around and help OTHER lyme patients during the lifetime working career!


May God bless you/yours as he has us!


check out my newbie package reorganized and posted this week with table of contents....

---

IP: Logged |

groovy2
Frequent Contributor (1K+ posts)
Member # 6304


posted

---

My LLMD had lyme before becoming a LLMD-

You having Lyme will give you insite into
these illnesses that will help you alot
with all the wacky things that happen
to people with lyme -

You will have a Very fulfilling career -Jay-

---

Posts: 2999 | From Austin tx USA | Registered: Oct 2004 | IP: Logged |

ElaineC
LymeNet Contributor
Member # 9857


posted

---

What a great post! You will make a great LLMD and I wish you all the best with it!

You know you can do short training programmes with ILADS?? The last 2 times I saw my LLMD in Hyde Park, NY there were other physicians shadowing the consults for a few days. You should consider this.

---

Posts: 261 | From Herx-ville!! | Registered: Aug 2006 | IP: Logged |

swedish lyme sufferer
LymeNet Contributor
Member # 14579


posted

---

GREAT! Why don't you come and live and practise in Sweden?



We have 0 LLMDs here.

You would at once get 3000-5000 patients that are now being treated from Germany. And many more currently un diagnosed.

You are most welcome!




---

Posts: 347 | From sweden | Registered: Feb 2008 | IP: Logged |

oxygenbabe
Frequent Contributor (1K+ posts)
Member # 5831


posted

---

Do it! You'd be joining the fray at the exact time there is the beginning of a sea change (new research showing persistence in tissues of mice & rhesus monkeys; plans to do further research in that direction to see if the bug can be eliminated by combined abx therapy; Luft's research on the virulent "clone" strain; increasing recognition of coinfections). Therefore, if you do this you may find that in ten years, you are part of the wave of physicians successfully treating.

Therefore, I would suggest choosing a specialty that allows you to treat lyme as well as other things. For all you know, it may become more easily treatable if research proceeds in a good direction.

---

Posts: 2276 | From united states | Registered: Jun 2004 | IP: Logged |

NanaDubo
Frequent Contributor (1K+ posts)
Member # 14794


posted

---

Hey Newpath - that is great! I see a Naturpath (LLND) who does nothing but treat lyme now AND he has lyme. Certainly makes a person compassionate doesn't it? Seems so in his case and yours.

I've often thought after the go-rounds I've had with my PCP and my former naturopath who does not treat lyme, that the only way these docs will get a clue is if they or a loved one get this disease.

I would not wish this on them but it is seems to be true.

Good luck with your possible new career and oh, by the way - I live in the Northeast

---

Posts: 1129 | From Maine | Registered: Feb 2008 | IP: Logged |

tailz
Unregistered



posted

---

I would prefer you research the bioeffects of chronic exposure to EMF/RF. I am convinced that some chronic exposure (some frequency or collection of frequencies - cell phone towers? wi-fi? HAARP?) is what is causing my chronic Lyme, and also behind the disappearance of the honeybees and the dying bats in the northeast in recent years.

I hope you take me seriously and read the following before it's too late. Do your own research if you must, but this is critical to the survival of humans. And this isn't my Lyme talking either - I hope you believe that.

What is scary is I just realized you were in the northeast, and I need an LLMD - yet I STILL would prefer you go into EMR research instead.

Bioinitiative Report:

http://www.bioinitiative.org/report/index.htm

Neurological Effects of Radio Frequency Electromagnetic Radiation Relating to Wireless Communication Technology - Dr. Henry Lai

Blood-Brain Barrier, Cellular Morphology of the Brain, Neural Electrophysiology, Changes in Neurotransmitter Functions, Metabolic Changes in Neural Tissues, Cytogenetic Effects:

http://www.emrnetwork.org/research/laibrussels.pdf

Neurological Effects of Radiofrequency Electromagnetic Radiation - Dr. Henry Lai

http://www.emrnetwork.org/research/laivienna.pdf

Memory and Behavior - Dr. Henry Lai

http://www.emrnetwork.org/research/laiwho.pdf

I think you will find these interesting, too...

Dr. Robert O. Becker Book Excerpts:

Cross Currents by Robert O. Becker M.D. - page 72.

"In 1975, Professor Richard Blakemore, also of Woods Hole Marine Biological Laboratory, became intrigued by the strange behavior of some bacteria he was studying.

Blakemore noticed that the bacteria always clustered at the north side of their culture dish.

Even if he turned the dish so that they were at the south end and left it overnight, the next morning the bacteria were back at the north side.

While such ``magnetotrophic'' bacteria had been described before, no one had ever done what Blakemore did next: he looked at them under the electron microscope. What he found was astonishing.

Each bacterium contained a chain of tiny magnets! The magnets were actually crystals of the naturally magnetic mineral magnetite, the original lodestone of preliterate peoples.

Somehow, the bacteria absorbed the soluble components from the water and put them together in their bodies as the insoluble crystalline chain.

Later studies showed that this arrangement was of value to these bacteria, which lived in the mud on the bottom of shallow bays and marshes.

If they were moved by the tide or by storm waves, their magnetic chains were large enough (in comparison to their body size) to physically turn their bodies so that they pointed down at an angle corresponding to the direction of magnetic north.

All the bacteria had to do was swim in that direction, and sooner or later they would be back in the mud. This was an interesting mechanism, but it did not contain any sophisticated information transfer.

The bacteria did not ``know'' that north was the way to swim; they just did so. However, these observations opened up a much more interesting series of investigations."

The Body Electric by Robert O. Becker, M.D. - (pages 276-278)

Subliminal Stress

After Howard Friedman, Charlie Bachman, and I had found evidence that "abnormal natural" fields from solar magnetic storms were effecting the human mind as reflected in psychiatric hospital admissions, we decided the time had come for direct experiments with people.

We exposed volunteers to magnetic fields placed so the lines of force passed through the brain from ear to ear, cutting across the brainstem-frontal current.

The fields were 5 to 11 gauss, not much compared with the 3,000 gauss needed to put a salamander to sleep, but ten to twenty times earth's background and well above the level of most magnetic storms.

We measured their influence on a standard test of reaction time - having subjects press a button as fast as possible in response to a red light.

Steady fields produced no effect, but when we modulated the field with a slow pulse of a cycle every 5 seconds (one of the delta wave frequencies we'd observed in salamander brains during a change from one level of consciousness to another), people's reactions slowed down.

We found no changes in the EEG or the front-to-back voltage from fields up to 100 gauss, but these indicators reflect major alterations in awareness, so we didn't expect them to shift.

We were excited, eagerly planning experiments that would tell us more, when we came upon a frightening Russian report.

Yuri Kholodov had administered steady magnetic fields of 100 and 200 gauss to rabbits and found areas of cell death in their brains during autopsy. Although his fields were ten times as strong as ours, we stopped all human experiments immediately.

Friedman decided to duplicate Kholodov's experiment with a more detailed analysis of the brain tissue. He made the slides and sent them to an expert on rabbit brain diseases, but coded them so no one knew which were which until later.

The report showed that all the animals had been infected with a brain parasite that was peculiar to rabbits and common throughout the world.

However, in half the animals the protozoa had been under control by the immune system, whereas the other half they'd routed the defenders and destroyed parts of their brain.

The expert suggested that we must have done something to undermine resistance of the rabbits in the experimental group. The code confirmed that most of the brain damage had occurred in animals subjected to the magnetic fields.

Later, Friedman did biochemical tests on another series of rabbits and found that the fields were causing a generalized stress reactions marked by large amounts of cortisone in the bloodstream.

This is the response called forth by a prolonged stress, like a disease, that isn't an immediate threat to life, as opposed to the fight-or-flight response generated by adrenaline.

Soon thereafter, Friedman measured cortisone levels in monkeys exposed to a 200-gauss magnetic fields for four hours a day. They showed the stress response for six days, but it then subsided, suggesting adaptation to the field.

Such seeming tolerance of continued stress is illusory, however. In his pioneering lifework on stress, Dr. Hans Selye has clearly drawn the invariable pattern: Initially, the stress activates the hormonal and/or immune systems to a higher-than-normal level, enabling the animal to escape danger or combat disease.

If the stress continues, hormone levels and immune activity gradually decline to normal. If you stop your experiment at this point, you're apparently justified in saying, "The animal has adapted; the stress is doing it no harm." Nevertheless, if the stressful condition persists, hormone and immune levels decline further, well below normal.

In medical terms, stress decompensation has set in, and the animal is now more susceptible to other stressors, including malignant growth and infectious disease.

In the mid-1970's, two Russian groups found stress hormones released in rats exposed to microwaves, even if they were irradiated only briefly by minute amounts of energy.

Other Eastern European work found the same reaction to 50-hertz electric fields. Several Russian and Polish groups have since established that after prolonged exposure the activation of the stress system changes to a depression of it in the familiar pattern, indicating exhaustion of the adrenal cortex.

There has even been one report of hemorrhage and cell damage in the adrenal cortex from a month's exposure to a 50-hertz, 130-gauss magnetic field.

Soviet biophysicist N. A. Udintsev has systematically studied the effects of one ELF magnetic field (200 gauss at 50hz) on the endocrine system.

In addition to the "slow" stress response we've been discussing, he found activation of the "fast" fight-or-flight hormones centering on adrenaline from the adrenal medulla.

This response was triggered in rats by just one day in Udinstev's field, and hormone levels didn't return to normal for one or two weeks. Udinstev also documented an insulin insufficiency and rise in blood sugar from the same field.

One aspect of the syndrome was very puzzling. When undergoing these hormonal changes, an animal would normally be aware that its body was under attack, yet, as far as we could tell, the rabbits were not.

They showed no outward signs of fear, agitation, or illness. Most humans certainly wouldn't be able to detect a 100-gauss magnetic field, at least not consciously. Only several years after Friedman's work did anyone find out how this was happening.

In 1976 a group under J. J. Noval at the Naval Aerospace Medical Research Laboratory at Pensacola, Florida, found the slow stress response in rats from very weak electric fields, as low as five thousandths of a volt per centimeter.

They discovered that when such fields vibrated in the ELF range, they increased levels of the neurotransmitter acetylcholine in the brainstem, apparently in a way that activated a distress signal subliminally, without the animal's becoming aware of it.

The scariest part was that the fields Noval used were well within the background levels of a typical office, with its overhead lighting, typewriters, computers, and other equipment.

Workers in such an environment are exposed to electric fields between a hundredth and a tenth of a volt per centimeter and magnetic fields between a hundredth and a tenth of a gauss.

Cross Currents by Dr. Robert O. Becker (pages 194-197)

In the early 1980's, the U.S. Air Force School of Aerospace Medicine funded a very large, very expensive study at the University of Washington, under the direction of Dr. Arthur W. Guy.

In this study, rats were continuously exposed to high frequency microwaves of 2.45 gigahertz (with one gigahertz equaling one billion hertz) at approximately 0.5mW/cm2, twenty times lower than the "safe" thermal level.

The exposures lasted for as long as 25 months, and 155 different measures of health and behavior were collected.

This appeared to be a well-designed study that would finally answer the question of whether there were any potential hazards to human beings from chronic exposure to microwave radiation.

According to Guy, "The results revealed few differences between the exposed and control rats, and those differences for the most part were either not statistically significant or came and went, suggesting that they may be due to chance."

However, one striking observation was noted: "Primary malignant tumors developed in eighteen of the exposed animals but in only 5 of the controls."

Guy hastened to explain that the incidence of cancers even in the experimental group was actually lower than normally expected for the strain of rat used in the experiment.

He suggested that no hasty conclusions should be drawn, and that a "consensus among most investigators that the only strong evidence for the hazards of microwaves is found at high levels of exposure" was still valid.

The project was wide reported in the press and discussed in scientific meetings, and it was the subject of a major article in the September 1986 issue of Scientific American (from which the quotes have been drawn).

A significant aspect of the experiment was not reported either in that article or in the popular press - but at the scientific meeting at which the results of the study were first reported, it was revealed that all of the animals used, both experimental and control were gnotobiotic (a term meaning germ and virus free).

This circumstance alone was responsible for a major part of the $5 million cost of the project.

To produce gnotobiotic animals, the young must be delivered by cesarean section under the strictest possible sterile operating-room conditions (much more stringent than those in use in operating or delivery rooms for people).

Following delivery, the animals must be raised and then housed in totally sterile environments for the entire duration of the experiment.

This type of environment is akin to the decontamination rooms used to house the astronauts after they returned from the moon, or the "bubbles" within which children born without immune systems are housed.

The use of gnotobiotic animals seems to be not only totally unnecessary, but undesirable as well. Neither we nor the laboratory rat normally live in a sterile world, devoid of bacteria or viruses. On the contrary, we live surrounded by uncountable numbers of organisms.

We generally do not get sick unless we are injured and bacteria enter the body through the wound, or unless our immunity is inadequate and we get a communicable disease or infection. An experiment on germ- and virus-free animals has no relevance to the real world.

The point becomes even more apparent when two established facts are considered. First, present evidence shows that at least 20% of human cancers are caused by viral infection, and the percentage is considerably higher in animals.

Therefore, animals that are maintained in a germ- and virus-free state have an incidence of cancer that is much lower than expected. Second, it is well-established that exposure to any abnormal electromagnetic field produces a stress response.

If the exposure is prolonged, the stress-response system becomes exhausted, and the competency of the immune system declines to below normal. In such a state, animals and humans are more susceptible to cancer and infectious diseases.

One can only conclude that the experiment at Washington was deliberately designed to sharply reduce the incidence of cancer and infectious diseases in the exposed animals. There can be no other reason for the requirement that the animals be gnotobiotic.

Therefore, if we knew the facts in advance, and we wanted to set up a "scientific" project to expose animals to microwaves for a long time but were required to get negative results, we would have only one choice - to use germ- and virus-free test animals.

Being gnotobiotic, both the unexposed control animals and the exposed experimental animals would be protected against the usual dangers of infection and cancer.

In Guy's study, the fact that the experimental animals had a lower-than-normal incidence of cancer was totally expected.

What was unexpected and highly significant was that even with this protection, the cancer incidence in the animals exposed to microwaves was four times that in the control animals.

The well-designed experiment that should have "proved" that microwaves are safe fell into a trap, and the nature of the trap is revealed by the types of cancer that occurred in the experimental group.

These were mainly limited to cancers of the pituitary, thyroid, and adrenal glands; these cancers were accompanied by a significant number of pheochromocytomas, which are benign tumors of the adrenal glands. There were no significant cancers of any of the usual tissues.

The experiment was designed to prevent the results of stress, but the planners forgot that it would produce stress.

Because stress resistance is mediated chiefly through the three glands just mentioned, we must conclude that the microwave exposure produced an extremely high level of stress - so much so that the resultant prolonged hyperactivity of these glands led to their becoming cancerous.

Considering the extreme stress experienced by the exposed animals, if the animals had been normal (rather than gnotobiotic) the entire experimental group would have died of infection or cancer before the close of the experiment.

Some of the 155 biochemical determinations done by Guy in the course of the experiment confirm this interpretation.

Plasma cortisol is one of the chemical substances produced by the adrenal glands under conditions of stress, and it was one of the substances measured in the experiment.

At the start, the plasma cortisol was equal in both the control and experimental groups; in the early months of microwave exposure, however, cortisol in the experimental group was elevated above that in the control group, indicating that the experimental animals were reacting to stress.

By the latter phase of the experiment, the plasma cortisol of the exposed animals was depressed below that of the controls, indicating that the stress response systems of the experimental animals had become exhausted.

This result is exactly as expected for a condition of chronic stress.

These data, which are buried in a multivolume official Air Force report of the project, were first published in the July-August 1984 issue of Microwave News. The experiment was planned cleverly, but not cleverly enough.

It clearly indicated that chronic exposure to microwaves at levels 20 times below the established safe thermal level, produced profound stress and ultimately exhaustion of the stress-response system. Because the experiment involved gnotobiotic animals, this resulted only in an increase in cancers of the stress-response glands.

Had the experiment been performed under real world conditions, the result would have been catastrophic for the exposed group of animals.

---

IP: Logged |

Nebula2005
LymeNet Contributor
Member # 8244


posted

---

My Lyme doctor was first an internist and emergency room doctor, where, in fact, he still works.

He's well respected in the area medical community which could explain how he avoids persecution.

He's looking for an associate if you're at all inerested in moving to Florida!.

You certainly deserve a lot of credit for being able to continue your education and training while fighting TB diseases. Some days I'm proud of myself for staying off of the couch.



---

Posts: 353 | From Florida boonies | Registered: Nov 2005 | IP: Logged |

djf2005
Frequent Contributor (1K+ posts)
Member # 11449


posted

---

or you could research emfs.

--------------------
"Experience is not what happens to you; it is what you do with what happens to you."

[email protected]


---

Posts: 2269 | From Lansdowne, Pa | Registered: Mar 2007 | IP: Logged |

tickbattler
Unregistered



posted

---

NewPath-

I think you will not be disappointed if you dedicate your practice to Lyme. Don't worry about making enough $$; clearly you will not have a hard time finding patients. This is a huge epidemic that will eventually become recognized in the next several years. The tide is already starting to change.

If I didn't have 3 young children (all with Lyme by the way), I would be going to med school so I could become an LLMD! This nightmare has made me such an advocate.

I was an attorney before I stopped work to care for my children, but I can't think of anything more rewarding than treating Lyme patients, particularly at this time in history when the rest of the medical community is clueless about it!!!

You might consider a preceptorship, as I think it would be wise to train under one of the best. It will help your credentials when you get started.

I also like the idea of researching the Bionic 880, as it sounds very exciting and could change the way Lyme is treated, if it indeed works as it appears to.

You should try to convince your colleagues to do the same thing! We need more LLMD's.

Best of luck,

tickbattler

---

IP: Logged |

Angelica
Unregistered



posted

---

I would not worry about the money at all. I think some LLMDs do make a decent living.

---

IP: Logged |

tdtid
Frequent Contributor (1K+ posts)
Member # 10276


posted

---

What a heart warming post. You are definitely one in a million. Another thing you may consider is that I know that the LLMD's get together once a year for conferences.

If you attended one of those, you would meet so many other LLMD's that I'm sure would give you major encouragement as well and help you get on the right path.

It's interesting your post came up now since our youngest daughter (also diagnosed with lyme) will be going back for her Senior year of college but her summer job has been in an eye doctor's office which is unrelated, but she liked the feel of the medical world.

Her major right now is East Asian Studies and did a semester at Peking University in Beijing, China but this summer, she is thinking she may like to go to medical school now and actually take care of the children with lyme since they seem to have many fewer doctors and she has a soft spot for children.

She's obviously a LOT further out than you are since she didn't start even thinking this direction til this summer so who knows what will happen in her future.

But not that we would wish LYME on ANY doctor or med student, but it would help to open more doors if more doctors had first hand feelings of what this does to a person.

You are amazing and good luck in your decisions.

Cathy

--------------------
"To Dream The Impossible Dream" Man of La Mancha


---

Posts: 2638 | From New Hampshire | Registered: Oct 2006 | IP: Logged |

Hides1
LymeNet Contributor
Member # 6348


posted

---

Newpath- we need more docs like you desparately! Knowing first hand what it is like to have Lyme you would be a very knowledgable doc. I can't tell you how many docs are missing the boat on this disease and diagnosing other illnesses. You would be an asset to the medical community.

I suggest you can get grants to train under some big docs from ILADS. I know when I had been seeing Dr. B on Long Island before he retired he always had docs from around the nation in his office- learning and following his lead. I encourage you call some docs such as Dr. C in Cohranville PA- she is great and Also Dr. J in New Haven.

ALso think about all the young children that need help. Dr. J will be retiring soon since he is close to 80 and we need more pediatric and family care docs that know Lyme and the dreaded coinfections. In my family alone- both my husband and I have it, my 3 precious kids, my niece, my, mom, my brother, my uncle and my best friend from college. So please, I encourage you to take this seriously and consider it your calling! And try to get your collegues to do so also!

[ 26. July 2008, 01:11 PM: Message edited by: Hides1 ]

---

Posts: 238 | From Bethlehem, PA | Registered: Oct 2004 | IP: Logged |

adamm
Unregistered



posted

---

Maybe you could attend some of the ILADS' seminars...

wow...We need more like you!

---

IP: Logged |

Dawnee
Unregistered



posted

---

Well God bless you! I sure wish there were more of YOU in our medical world!
BTW... My ILADS LLMD is a Neurologist

---

IP: Logged |

CD57
Frequent Contributor (1K+ posts)
Member # 11749


posted

---

Hooray! Perhaps you could consider training with the only pediatric Lyme specialist, Dr CRJ, in CT? We REALLY need someone to take over that knowledge and help save thousands of kids! Could you do that?

---

Posts: 3528 | From US | Registered: Apr 2007 | IP: Logged |

Hides1
LymeNet Contributor
Member # 6348


posted

---

One more thing Newpath! How did they teach you about Lyme and the coinfections in medical school?

I'm just curious to know how these diseases are being presented to young doctors coming out of medical school.

We need these new doctors to recognize the disease and treat properly from square one. Can you go back to your medical school and ask to add a stronger curriculum regarding tick borne disease?

---

Posts: 238 | From Bethlehem, PA | Registered: Oct 2004 | IP: Logged |

Keebler
Honored Contributor (25K+ posts)
Member # 12673


posted

---

-


This book, by an ILADS member LLMD is one you want to be sure to read:


http://tinyurl.com/6lq3pb (through Amazon)


THE LYME DISEASE SOLUTION

- by Kenneth B. Singleton , MD; James A. Duke. Ph.D. (Foreword)


You can read more about it here and see customer reviews.


-

---

Posts: 48021 | From Tree House | Registered: Jul 2007 | IP: Logged |

Marnie
Frequent Contributor (5K+ posts)
Member # 773


posted

---

Being a former RN...I totally understand where you are coming from.

I only hope you will expand your knowledge base to CONSIDER the alternative approaches too because for very complicated reasons, they DO work.

I never in a million years thought I would "cross over" to alternative vs traditional medicine.

I PLEADED with my sister (the one with lyme) to get testing. I pleaded with her to try IV Rocephin. (She is now "autoimmune" after trying everything...and I mean everything for 3 years nonstop). Even the "autoimmune" drugs have not stopped the bone destruction, the crippling, the severe leg edema, hair loss, etc.

She was initially misdiagnosed and given steroids. This was, and is, disasterous.

After 8 years of nonstop research on this pathogen and with a LOT of help from persons on this board who provided clues, I began to understand the incredible complexity of this pathogen.

And what it does and can do to us.

This infection, IMO, is as bad as HIV. Not nearly as fast, but as serious.

I believe there are certain strains of Bb that are much more virulent.

I believe the enzyme in the blood of the Western Fence Lizard that is capable of destroying Bb is PDE1.

Sticking your neck out to help others is very honorable...very.

You will be risking a lot, but helping others is what life IS all about.

Please...keep a very open mind and I will ask you only to go to ONE website and think about WHY we are doing these trials (listed):

http://clinicaltrials.gov/search/open/intervention=radiotherapy

May God help you to make your decision and be by your side as you help others...whatever that decision is.

---

Posts: 9402 | From Sunshine State | Registered: Mar 2001 | IP: Logged |

oxygenbabe
Frequent Contributor (1K+ posts)
Member # 5831


posted

---

Marnie, can your sister try IVIG? It's really good for autoimmune/neurolyme. Honestly.

---

Posts: 2276 | From united states | Registered: Jun 2004 | IP: Logged |

Parisa
LymeNet Contributor
Member # 10526


posted

---

IVIG has helped swing the pendulum in the right direction for my husband's autoimmune Lyme.

---

Posts: 984 | From San Diego | Registered: Nov 2006 | IP: Logged |

James Marschner
LymeNet Contributor
Member # 13073


posted

---

Kinda funny you say that you're very lucky to be able to write your own scripts.

I'm sure virtually EVRYONE here would do just fine treating themselves.

Sadly, we probably all (I know I do.) could school "regular" MD's all day about Lyme disease!

Almost universally, I get into an argument with the Dr.--Recently I went to a new PCP. She couldn't understand why I wanted Valium, because Lyme disease does NOT CAUSE ANXIETY!

MOST DISTURBING:SHE COULDN"T UNDERSTAND WHY I WAS TAKING ALL THE ANTIBIOTICS! SHE INSISTED LYME DISEASE WAS CAUSED BY A VIRUS!!!!!!!!!!!!!!!!!!!!!!!!!!!!!!!!

I have a master's degree in biology and I am in awe over the ignorance of most MD's. Awful.

I think that says it all--And I had to pay this fool!

---

Posts: 269 | From Valencia, CA | Registered: Aug 2007 | IP: Logged |

CraigC
LymeNet Contributor
Member # 13732


posted

---

And I wouldn't worry about the money situation; since based on what I am paying the one I see, I'd say he does quite well. If he gets me back where I was before, he's worth every penny, but don't think for an instant there isn't big $$$ in this arena.

--------------------
Craig


---

Posts: 207 | From Tallahassee, Florida | Registered: Nov 2007 | IP: Logged |
Contact Us | LymeNet home page | Privacy Statement

Powered by UBB.classic™ 6.7.3

---
The Lyme Disease Network is a non-profit organization funded by individual donations. If you would like to support the Network and the LymeNet system of Web services, please send your donations to:
The Lyme Disease Network of New Jersey
907 Pebble Creek Court, Pennington, NJ 08534 USA
http://www.lymenet.org/
---
Home | Flash Discussion | Support Groups | On-Line Library
Legal Resources | Medical Abstracts | Newsletter | Books
Pictures | Site Search | Links | Help/Questions
About LymeNet | Contact Us
---
© 1993-2020 The Lyme Disease Network of New Jersey, Inc.
All Rights Reserved.
Use of the LymeNet Site is subject to Terms and Conditions.
---