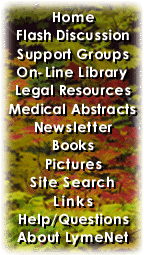 ---
LymeNet on Facebook
LymeNet on Twitter
---
---
The Lyme Disease Network receives a commission from Amazon.com for each purchase originating from this site.
When purchasing from Amazon.com, please
click here first.

Thank you.




Dedicated to the Bachmann Family


LymeNet needs your help:
LymeNet 2020 fund drive

The Lyme Disease Network is a non-profit organization funded by individual donations.

| | |
| --- | --- |
| | |
Author
Topic: I FEEL SO DISCOURAGED!

wiserforit
LymeNet Contributor
Member # 9732


posted

---

I am sorry, but I have to post a really winding post laced with sadness and frustration -- I HAVE TO VENT AND CRY RIGHT NOW.

Hate to whine, but I'm confused and muddled and frustrated with my two and a half years of treatment. Been sick harsh-time for three years; possibly had Lyme with Bart and Babs for 9 years.

Here is the clash of the Titans: CNS brain fog/memory problems/depression/unreality PLUS peri-menopause. I turn fifty in October... hormones are everywhere... dropping to the ground along with the marbles from my brain.

I've done: IV Rocephin 3 1/2 month
Zithromax 4 1/2 months PLUS
Plaquenil 1 1/2 months (depression)
Doxy - 22 days (blistered/swollen hands)
Amoxicillan 875mg x 6 plus Malarone one year
Liver enzymes spiked and stopped everything for 16 days
Minocycline one month (otoneurologist removed)
Biaxin - one month itching and depression
Doryx -- two weeks (blistered swollen hands)
Tried Nystatin with AMOX and depression was too deep.

Right now I'm starting once more on ramping up on Amox 875 x 3 plus 62.5 mg. Malarone -- my ears are ringing, depression is strong and brain confusion unreality are strong.

On Doryx, my knees swelled up and I can't straighten my Left leg no matter how I stretch. Feet and shins are pretty tender and I hobble about bent.

Went to Lyme pscho-pharm and will start Lamictal in one week to ease way towards abx's that depress me but that I need for Bart. (I can't take SSRIs.) He thinks that my Biaxin reaction might be more brain die-off depression than abx reaction. I think he's right. Certain abx depress me within days and keeep me that way for months and months until I can stand it.

LLMD is sending me to Dr. E in NJ for Bart advice because of fluoroquinolone issues and other abx problems.

I'm taking acidophilus, fish oils, flax oil, and Xango daily. my diet is less than perfect. I am bravely taking, like everyone, medications that I never thought I'd be able to take.

Yet, the mixtures aren't right yet and I feel the CNS stuff is getting pretty bad. I FEEL SO DISCOURAGED!!!! Want to cry all the time.

I think by September my LLMD may start some sort of IV, but we're hoping Dr. E will think of some possible Bart combo's that I can handle. I think that I can't couple Rifampin with Rocephin for Bart success...

I know this disease takes turns and phases, but this mental soup has gone on for months and is getting worse. I don't want to lose my ability to function mentally, but things are slipping into that unreality and forgetfulness no matter what I do... plus the tinnitus...never stops.

Has anyone had a mental herx that never let up and survived to find their mind again? I'm lost, but I'm not dead yet... just afraid that I can't think my way out of this hole in the ground.

Cryin' from tryin'and tryin',

wiserforit

---

Posts: 508 | From Banks of the Hudson | Registered: Jul 2006 | IP: Logged |

lymebytes
Frequent Contributor (1K+ posts)
Member # 11830


posted

---

quote:

---

Has anyone had a mental herx that never let up and survived to find their mind again? I'm lost, but I'm not dead yet... just afraid that I can't think my way out of this hole in the ground.

---

Yes. First in the beginning, when Lyme disseminated with 4 viruses like wildfire (from cortisone injections)from my head to my feet, I was in screaming agony and mentally broken and MD's didn't know what was wrong..they were certain I had anxiety - idiots! For many months I suffered beyond my imagination in pain (I still do sometimes) scalp to feet - everywhere daily before being diagnosed.

Even after being diagnosed correctly, starting abx, I thought my pain couldn't get any worse, I was catatonic on my couch in so much pain I couldn't cry, hoping I'd die.

Slowly, slowly 5 months in I noticed a tiny difference. I stayed the course.

Then my LLMD put me on Bicillin 6 months ago, which started a mental meltdown...so much pain, so much hopelessness, agony, crying pools of tears day and night...I had to stop. I went back to orals ...I got my mind back, I was thinking clearer, but it took a month of being off Bicillin and I noticed I had taken another small step.

My pain is up right now horribly and it is amazing you'd post this..because I was just sitting here ready to cry - I am so tired of this, so worn out...the good days are easily forgotten when the bad reappear.

When I am going through this I try to focus on a funny movie. Read a book, listen to music that helps me calm down.

My teen son has LD as does my husband. (so does my sister's family) But my son struggles w/horrible phsyc symptoms,I suffer with pain...it is unreal. But I believe there is no way to go but up from here.

This road is rough I have done it over 2 years as well...hang on...you aren't alone and this can be beat! Believe that.

--------------------
www.truthaboutlymedisease.com


---

Posts: 2003 | From endemic area | Registered: May 2007 | IP: Logged |

lymielauren28
Frequent Contributor (1K+ posts)
Member # 13742


posted

---

Hey wiser,

This stuff sucks! I'm sorry you're having such a tough time. Hang in there and I'll tell you what everyone tells me - you will get better!

Lauren

--------------------
"The only way out is through"


---

Posts: 1434 | From mississippi | Registered: Nov 2007 | IP: Logged |

bettyg
Unregistered



posted

---

tori,


i feel so bad for my wonderful online friend who with her 2 sons made me a wonderful BD surprise of men dancing ouf of construction paper!!


i've not been on majority of things you are taking so do not have any experience to share with you.


my heart goes out to you that this will be SHORT LIVED and you will much better from having gone this hell to get to where YOU WILL BE!!!


tell the boys their work is still hanging on my wooden door in my kitchen, and i get MANY COMPLIMENTS how colorful it is!! betty

---

IP: Logged |

AP
LymeNet Contributor
Member # 8430


posted

---

quote:

---

Originally posted by wiserforit:
Has anyone had a mental herx that never let up and survived to find their mind again? I'm lost, but I'm not dead yet... just afraid that I can't think my way out of this hole in the ground.

Cryin' from tryin'and tryin',



---

I'm going through a mental herx right now... I've been able to move on in the past. At the point where I am not sure if I want to even try this time.

There are so many discouraging things that happen in the Lyme world. I often find myself lost.

--------------------
Sometimes when I say "Oh, I'm fine" I want someone to look me in the eyes & say "tell the truth"

Myspace: http://tinyurl.com/5p64ed


---

Posts: 644 | From WA | Registered: Dec 2005 | IP: Logged |

dontlikeliver
Frequent Contributor (1K+ posts)
Member # 4749


posted

---

I have no answers, but only hugs for you

(((((((((wiserforit)))))))))

DLL

---

Posts: 2824 | From The Back of Beyond | Registered: Oct 2003 | IP: Logged |

scared08
LymeNet Contributor
Member # 14695


posted

---

Hi,

I'm sooooo very sorry!!! I've been there too many times! My son and husband also have it. My husband hasn't started tx yet as he was just dx a week ago. My son has VERY strong and scary psych. herx reactions. They're aweful!!!!

I am fixin' to start treatment again and I know that my depression, confussion, 'brain fog' and my tears will triple! I hate it too.

This is more of a question than advice!!!! I have read twice that some Dr.'s advise taking the natural form of lithium while on treatment to 'protect' the brain from this type of herx. Has anyone else ever heard of this????????? It would be SO nice if there was something that we could do to help with this. It's so miserable!!

Please feel free to PM me; I know how you feel! Maybe we can help each other!

Many prayers your way

---

Posts: 351 | From Georgia | Registered: Feb 2008 | IP: Logged |

wiserforit
LymeNet Contributor
Member # 9732


posted

---

Hi -- thank you all for replying

lymebytes -- I am so sorry that your pain quotient is way up. I find myself bargaining with God and saying, "well if you take this one worst symptom away, I will survive the other ones..." But it never really works that way.

Do you think the Bicillan you took was kicking spirochetes and worth the misery in some warped-lyme-suffering-way? I wonder because I want to see if psychopharmicologic help can get me through mental hell of abx I can't seem to tolerate due to depressive response. I send you and your son and husband healing hugs and wishes for strong spirit.

lauren and bettyg -- thank you for your sweet thoughts. bettyg, my therapist just suffered a stroke and the boys and I cut out paper dolls for her to hang too. I was thinking of you as we snipped the dancing figures into existance. Glad they're still dancing for you!

AP -- lost too? Do you think we've bumped into each other on the Lyme Plain and didn't know it? Mental herxes are bad; non-stop ones are unbearable. Kindness helps when you can find it or muster it. Thanks for writing.

dontlikeliver! I feel like I owe you a long PM! My marbles began dropping shortly after I saw you last. I'm hoping you are doing as well as (or even better) than when I saw you. By the way, your daughter is lovely!

scared -- what natural form of lithium have you heard about? I've just dropped off a script for Lamictal -- a mood stabilizer also used for anti-seizure properties -- evidently good for those who have difficulty handling SSRIs. I'll let you know how it goes. These strong psych herx/symptoms are tough to deal with when you are alone muchless when you are caring for a family. The intensity is beyond daunting -- I send you hugs and best wishes for strength.

Thanks again for your replies. Wish I had some sort of magical combo of abx and psychopharm to share, but I'm just addressing new directions now... fearfully but with no other choices but to go on to the next events...

Love to all,

wiserforit

---

Posts: 508 | From Banks of the Hudson | Registered: Jul 2006 | IP: Logged |

bettyg
Unregistered



posted

---

tori,

are you ok? your HOME email has been bouncing back to me.


if you'd like to be removed, just let me know my friend.


hope this finds you better; greet the boys for me!

---

IP: Logged |

yanivnaced
LymeNet Contributor
Member # 13212


posted

---

Have you considered the herbal route?
My wife's ND is in the tri-state area.
PM me if you'd like details.

---

Posts: 654 | From USA | Registered: Sep 2007 | IP: Logged |

luvs2ride
Frequent Contributor (1K+ posts)
Member # 8090


posted

---

wiserforit,

I am very sorry you are suffering so.

I know I talk endlessly about diet, but it is the foundation of our health. Would you skip a foundation if you were building a house? The house could not stand long if you did.

This is also true of our bodies.

When I was first sick, I went the way of alternative doctors. It served me well. Early on, I only took minocycline in low dose which is a rheumatoid therapy. I felt with my lyme that was a safer course than the immune suppressing drugs. At that time, I was suffering arthritis in every joint and was completely housebound. I also had severe mental confusion, migraines, stiff neck and hearing loss.

Homeopathy took care of all but the arthritis. Detox by IVs of glutathione and lipostabil and a serious diet change reduced my severe arthritis to a weak positive. We were stuck at that point.

One year ago, I moved on to a rheumatologist who is also LLMD member of ILADS. She combines the natural and the antibiotics.

She said what I had been doing the previous year would jumpstart her program as normally she has to build up her patients' bodies before they can handle the drugs needed to get them well.

I tell you, I am practically as good as I ever was. I wake up without joint pain. The mental stuff was completely cleared with homeopathy. The diet has been my lifesaver. The drugs I have used have been short time and so far I have not had any negative reactions. Currently I am on doxy (very low dose 100mg MWF), plaquenil, nizoral (for yeast) and I just finished a dose of Welchol for detoxing bacterial toxins.

Diet wize, I am beginning to be able to eat more stuff without consequence. Another sign I am completely healing.

But for 2 yrs, I was dedicated to eating only foods that would heal me. Testing identified which foods were bad for me and I avoided them like the plague. I was diligent about avoiding sugar and any pre-packaged, processed foods. By avoiding them, I avoided so many chemicals and dyes. I eat organic when practical and wash conventional vegetables and fruits real well. I peel conventional foods where possible.

I get so sad when I see people like yourself suffering so. I know that changing your diet will change your body so it can heal.

There are many natural medicines out there such as glutathione and homeopathy that heal just as well as the drugs and without the harmful side effects.

My current doctor uses both conventional and alternative. She starts with herbal IVs (as far as I know she does not use homeopathy).

MTE-9, a herbal IV, nearly knocked Babs out of my ballpark and it did so without any herxing whatsoever. It would have completed the job but I screwed up on how many sessions. She is 3 1/2 hrs from me and hard to get to on a weekly basis.
Through a mistake, I stopped the treatments before she meant for me to stop.

My babs level is borderline and I am going to talk to her about doing the MTE-9 again until babs is gone. As it is, I have no babs symptoms.

Point is, it works and saves me from Mepron. If it had not worked, Mepron would have been her next choice.

Even if you don't do any natural healing, eat right. Eat seriously right. Buy a juicer and drink fresh organic juice. If you can do one glass a day, you will be stunned at the visible health benefits. My skin tone improved so dramatically, people who knew me commented on it.

My prayers are with you Wiser, that you will find the right combination to heal. Please take the diet factor seriously. It heals you on a cellular level.

Luvs

--------------------
When the Power of Love overcomes the Love of Power, there will be Peace.


---

Posts: 3038 | From america | Registered: Oct 2005 | IP: Logged |

merrygirl
Frequent Contributor (1K+ posts)
Member # 12041


posted

---

Hi WIser-

I am so sorry you are suffering so much. I can relate with the mental herx. I have had several. I have seemed to recover each time. It hasnt been easy thats for sure.

I hear good things about Lamictal. I havent personally tried that one. I take Abilify for a mood stabilizer.

What about Rifampin and Zith as a combo? I just took this for 2 months. I tolerated it pretty well.

I sure hope things get better for you really soon!

best of luck,
Melissa

---

Posts: 3905 | From USA | Registered: May 2007 | IP: Logged |

Vermont_Lymie
Frequent Contributor (1K+ posts)
Member # 9780


posted

---

Wiser,

I do not have any answers either, but just want to send you my love and support

and lots of hugs.

Sorry to hear that you are having such a bumpy ride. It makes treatment for these awful diseases so difficult.

I started ceftin this summer and it knocked me FLAT, despite all the earlier progress I had made. (My brain and I feel better now, though still a bit fried, and I think the ceftin is helping.)

Hope you are doing better now that it is September. Keeping you in my thoughts.

---

Posts: 2557 | From home | Registered: Aug 2006 | IP: Logged |

HaplyCarlessdave
Frequent Contributor (1K+ posts)
Member # 413


posted

---

I'm sad to hear your troubles! Lyme is SO NASTY, especially with coinfections- there's no way one can describe it without at least a couple of pages of 'expletives'!

Keep talking with your docs, try things and see what works. Each person's case, and chemistry, is different. Read experiences and try things along the lines of what helped people who had cases similar to yours. I,for one believe that the herb artimesia anua and its extract, artimisinin, were the key to nailing the babs, though I took the atovaquone, too. ('malarone' is mostly atovaquone)

When you're subjecting your body to such combis of rude substances (antibiotics, afterall, are basically "biocides"), many imbalances can result. Many of these can be partially corrected via certain herbs, and occasionally through pharma chemicals. Many lyme docs know a lot about these things, especially those substances that can help alleviate conditions which commonly arise from lyme treatment. Others I found about here or elsewhere on the net-- in these cases you want a certain amount of agreement among different sources.

DaveS

---

Posts: 4567 | From ithaca, NY, usa | Registered: Nov 2000 | IP: Logged |
Contact Us | LymeNet home page | Privacy Statement

Powered by UBB.classic™ 6.7.3

---
The Lyme Disease Network is a non-profit organization funded by individual donations. If you would like to support the Network and the LymeNet system of Web services, please send your donations to:
The Lyme Disease Network of New Jersey
907 Pebble Creek Court, Pennington, NJ 08534 USA
http://www.lymenet.org/
---
Home | Flash Discussion | Support Groups | On-Line Library
Legal Resources | Medical Abstracts | Newsletter | Books
Pictures | Site Search | Links | Help/Questions
About LymeNet | Contact Us
---
© 1993-2020 The Lyme Disease Network of New Jersey, Inc.
All Rights Reserved.
Use of the LymeNet Site is subject to Terms and Conditions.
---