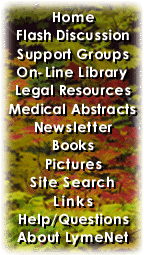 ---
LymeNet on Facebook
LymeNet on Twitter
---
---
The Lyme Disease Network receives a commission from Amazon.com for each purchase originating from this site.
When purchasing from Amazon.com, please
click here first.

Thank you.




Dedicated to the Bachmann Family


LymeNet needs your help:
LymeNet 2020 fund drive

The Lyme Disease Network is a non-profit organization funded by individual donations.

| | |
| --- | --- |
| | |
Author
Topic: How accurate is "energetic testing"?

sparkle7
Frequent Contributor (5K+ posts)
Member # 10397


posted

---

I'm big on new ideas & thinking outside of the box for treatment of Lyme Disease.

Most of the doctors I have seen have been inaccurate & really didn't have a clue about Lyme Disease even though I live in a very endemic area of the US.

Last night, I did what many people here call "energetic testing". I've been doing it for many years but I never used it for health diagnosis until recently. I mainly use a pendulum.

It responded that I do not have Lyme any more & that my symptoms are from mold! I asked some further questions about if I ever did have Lyme & it responded - yes.

I went through a hell of a herx after using the LightWorks & I really have been feeling better but I still have some residual symptoms like intestinal issues, back & shoulder pain, & some fatigue.

I also have been going through a great deal of stress & many changes in my personal life which I think will ultimately be very beneficial.

It's very possible my remaining issues could be mold related & just some healing to do from years of being ill. I had many official tests for Lyme & they have been negative - which is not a surprise. So, I don't really think that energetic testing is that far from what the mainstream has to offer.

In any case, what do you guys think of energetic testing? My findings have alot of interesting implications in regards to healing Lyme if all of this is accurate.

---

Posts: 7772 | From Northeast, again... | Registered: Oct 2006 | IP: Logged |

JesseSapp
Member
Member # 16630


posted

---

I am not familar with this. Can you briefly describe what it is?

---

Posts: 99 | From Bucks County, PA | Registered: Aug 2008 | IP: Logged |

bejoy
Frequent Contributor (1K+ posts)
Member # 11129


posted

---

In my experience, my body will answer with priorities.

If the majority of the symptoms I am asking about are from mold, then mold is what comes up.

I get a much more accurate reading when testing with a nosode (a homeopathic preparation of the energetic signature of the disease) in hand.

I think about it like this:

I might ask my daughter if she needs to do any homework right now. Her answer is no, because her priority is to eat a snack and call her friends, and maybe she doesn't have anything due tomorrow.

The top priorities for her system are food and social connection.

If I ask her, "what homework do you have due this week?" she might answer with a list of assignments in order of importance.

The body can be very literal. It sounds like whether or not you body is still harboring lyme, you have a yeast, mold, fungus issue that is top priority for treatment.

In my experience, energetic testing is remarkably accurate. My kinesiologist had me on several of Buhners herbs from muscle testing, before we thought to test for borrelia, which of course came up positive.

He recently tested me with Deseret Biologicals Borrelia nosodes. Initially my body said that I did not need it. However, when he tested each organ of the body with it, the left kidney still showed some sign of infection.

I did not have the skill to ask the right questions or come up with this information on my own.

As with any professional practice, I think a technique is only as accurate as the practitioner is skilled. The only way to get that skill is through practice.

I applaud you for listening to your body, and finding some really important answers!

You might want to try a candida homeopathic or DB's FNG to use in conjunction with your lightworks to clear out the problem.

In my experience, seconds, rather than minutes does the trick, and placement is crucial.

I hope someone will jump in here with an explanation of energetic testing, or a link to a previous post for new readers. There are several recent posts on this topic.

--------------------
bejoy!

"Do not go where the path may lead; go instead where there is no path and leave a trail." -Ralph Waldo Emerson


---

Posts: 1918 | From Alive and Well! | Registered: Feb 2007 | IP: Logged |

sparkle7
Frequent Contributor (5K+ posts)
Member # 10397


posted

---

Thanks Bejoy. I remember the salmon story you posted. The key is knowing which questions to ask.

I have a feeling that the mold issue has to do with the house I'm living in more so than yeast infection. Ever since 6goofykids brought up her matress problem, I've been thinking about it.

Jesse - do a search of this site. It's sort of complicated but energetic testing has to do with a kind of applied kineseology.

Some methods are more refined than others. It's a way of getting an indication of what going on in your body without formal medical tests.

---

Posts: 7772 | From Northeast, again... | Registered: Oct 2006 | IP: Logged |

Larkspur
LymeNet Contributor
Member # 5131


posted

---

I've seen a few different energy practioners and I have had some success using it as an adjunct for Lyme treatment,

but when I relied on energy testing solely to assess whether I still had lyme I feel it wasn't accurate at all.

In fact, I relapsed horribly and had to go back on antibiotics which I had been off for some time...

--------------------
"We must be willing to get rid of
the life we've planned, so as to have the life that is waiting for us" - e.m. forster


---

Posts: 921 | From PA | Registered: Jan 2004 | IP: Logged |

sparkle7
Frequent Contributor (5K+ posts)
Member # 10397


posted

---

I haven't taken abx since last November. I never felt better while on them. I took them for about 8 months in various combinations.

I was using the Cowden herbal protocol for a few months but I seemed to make the most progress using the LightWorks. I had a huge herx using the infrared light which I never had while on abx or herbs.

I kind of feel like this reaction was in keeping with what people have described from using the Bionic 880. I don't know what the future will bring but I thought this was interesting regarding my experience.

I am just as open to standard science & medicines as I am to alternative approaches. I'd like to use whatever produces the best results with the least amount of damage.

8 months of abx accomplished nothing as far as I could tell. If anything - I felt worse. I didn't feel it was the way to go to keep taking more & bigger doses if they weren't working to begin with.

I would take them again if there were some guarantee that they would work but we just don't know.

---

Posts: 7772 | From Northeast, again... | Registered: Oct 2006 | IP: Logged |

lymie_in_md
Frequent Contributor (1K+ posts)
Member # 14197


posted

---

Most of my problems were mercury, however mercury in combination with staph, candida, coinfection, mycoplasm, parasites, copper toxicity, pesticide accumulation, pcb accumulation, lead, mold, dust. It can be very confusing to know how start to detox. I think here is where a good practioner helps you most. Knowing through ART how to start unravelling the toxicities out of your body.

An example if you target mold, you may end up putting mercury in your brain. Or kill candida and mercury again is the problem. As far as toxins in the body, you have to target mercury first. So sparkle please ask that question first just to make me feel good as a friend if mercury is still an issue? If you have an old thermometer use it as the substance. If mercury and lead are out of the picture. Well ask if mold should be treated next, or staph, or candida. You should always ask your body what the next step is.

I believe energetic testing is great, but a practioner is required to know how to begin in the process of detoxification, it has to be done right (hopefully GiGi is looking, between my practioner and her helpful links i've come to this viewpoint).

I agree with Sparkle, I had so little lyme at my last evaluation it was no longer part of any of my health problems.

--------------------
Bob


---

Posts: 2148 | From Maryland | Registered: Dec 2007 | IP: Logged |

Angelica
Unregistered



posted

---

I want to believe in energy testing but I think sometimes if you are having someone else do it for you their personal thoughts or beliefs can get in the way at times.

One told me I was a good detoxer and another said I was not. A MD told me I wasn't. It can get a bit confusing for me. I do think getting really clear about what you want to know helps.

[ 14. September 2008, 02:25 AM: Message edited by: Angelica ]

---

IP: Logged |

GiGi
Frequent Contributor (5K+ posts)
Member # 259


posted

---

No energetic testing is correct if it is done by someone who has blocked energy flow. Many ill people are blocked and therefore the body is not able to tell the truth. The energy does not flow through the whole body -- there is a short somewhere in the energy flow.Any tester, if you test yourself or if someone tests you, both have to have an open system.

If you, the tester, is blocked because of a heavy metal blockage somewhere or borrelia causing a blockage, you can overcome that blockage by putting a heavy metal homeopathic in your pocket of either of these two, neutralizing yourself. If you have no clue what it is, you have to learn tapping to open yourself temporarily to become testable. If you are guessing that a virus is blocking you, you can test with a Vitamin A to see if it opens the system. If DMPS or DMSA opens the system, you know immediately you are dealing with a metal problem that is blocking you. It is a great way to find out the primary problem of the moment.

If an antibiotic does not open you, you know that your body's primary problem at this particular moment is not a bacterial infection. On and on.

If you are testing, you probably know the signal that tells you whether you are open or not. I won't go into it here.

This is an easy way to find the current problem. It does not tell you about tomorrow's problem, or the problem an hour from now, it deals only with the present condition.

I remember someone saying the other day their pendulum told something about a change to the good in two months. No energetic testing works that way. It strictly deals with the here and now. A medicine you test this morning may be totally unacceptable later in the day as other problems and changes in the body become dominant.

If you only test of drainage remedies, liver stuff, lemon juice, you can deduct from that that your body's primary concern right now is drainage, drainage, drainage. It is not happy with the present condition. Then you know you have got to go easy on killing items and tend to cleaning out the body before organs become totally overburdened and incapacitated. You can find a gallbladder problem long before you need to go to the ER.

If you test yourself in a blocked condition, you get the wrong answer. You cannot test meds or supplements that way. The body is simply not in a conditon where it can tell the truth.

One has to remember to remain with both feet on the ground, grounded, - no thick rubber soles, and must be able to remain in a totally neutral condition. I wish like heck certain things to show when I test my husband. That does not work. All thoughts are neutral - no wishful thinking - and very clear yes or no questions/comments. No ifs and buts.

When I first got ill in 1996, we tried the pendulum after doctors came up with their nutty diagnoses. Pendulum did not work, because in those days I was so severely blocked that it took Dr. K. a half hour to open my system up so he could ART me. ART had not been developed to the state it is today.

I now use the biotensor and hardly do ART - a very sensitive one with which I can test substances in the bathrooms, on the body, I can find a "nest" of whatever (metals, which one, bacteria types, etc.) I suspect on a certain body area. It gives me great information. I tuned into this method rather quickly and my ART practitioner can confirm my findings. It is great. I have not been able to do that with a pendulum, even though Mother Dr. K. gave me the set of all sets. It doesn't work for me. So do whatever works for you, but you can forget all if you cannot control your mind and wishes and wishful thinking ain't getting anyone well --- well, maybe sometime!

Do not fool yourself and think you have no heavy metal problem. There is no person with Lyme who does not have a heavy metal problem. It always comes down to that and people love to just overlook it because it seems so difficult. We have a severe case of Lyme or rather have had in my case, because we had an overloaded dysfunctional immune system that could not take over ---- it takes over in millions of people, because 80% of the American population is infected with Lyme. The majority do not get sick.
Or not sick yet. As the load increases, often the body starts breaking.

If you care to ignore heavy metals, do so, but I would venture a guess, total healing is not possible. And don't forget that the baby gets all the toxins Mom has, in utero and breastmilk. Nature arranged it this way. Mother has to survive - for reproduction purposes, I guess. So many of us are already in a different condition than we would have been had Mom been squeeky clean. My Mom had amalgam fillings and I got some more as I was growing up. All infections live in a weakened terrain - metals thoroughly mess with the terrain - and when you clean up the terrain vigorously, the bugs tend to want to leave.

It has become totally clear to me that getting rid of all Lyme and accompanying viral, bacterial, infection with the Bionic 880/Woitzel protocol, now finally pushes the body to let go of the heavy metals. My husband and I have been on a heavy metal detox for ten years, and now the metals are flowing - I can find them testing every day or every other day and have to take great precautions to avoid recirculation. It is constant and I believe more and more that we still do not have the best weapon for binding agents. Whatever is still used in this country is still a bit weak. I am now trying another product from Germany, to see what that will leave over. I have always said heavy metal detox is a long affair, and the way we live today and after having dug up literally every toxic metal from the earth, we just will have to find a way to live with them. The only solution the body seems to find under these present circumstances is to build more fungi and protect itself from the toxic metals, mercury, lead, etc. that would otherwise kill us. So unless we find a better way, we have to put up with what fungi brings us also.

It's a merry-go-round hard to get off.

So open up your system - learn to free the energy flow. Test to find what shows. Treat it. And slowly work on layer by layer. The Bionic 880 did the trick for most infections for my husband, and it takes the metals out of the intracellular spaces. Think of osmosis. The body always distributes unless you are quicker with the right therapies and binding agents.

Then you will eventually get off the carousel.
All neurotoxins feel pretty much the same.

Just rambling.


Take care.

---

Posts: 9834 | From Washington State | Registered: Oct 2000 | IP: Logged |

sparkle7
Frequent Contributor (5K+ posts)
Member # 10397


posted

---

Thanks GiGi. I appreciate your wisdom. We have been going through a stressful year so some of the process of getting well has been put on hold.

I have been searching out simple & inexpensive ways to try to progress towards wellness rather than doing something that will be toxic or prolong my illness.

We are moving from this location to a place far away so I have to focus on that. I never asked for mercury fillings. I think I have 4 left & had many tests for mercury toxicity. They were very low but I still don't want the stuff in my head.

It's interesting that you mention about the mother... my mother has many ailments that I never got. There are certain genetics but she really has alot of health issues that I just don't suffer from.

I was curious so I checked the EPA map for superfund sites & we have many within a few minutes from where I live. I also notice almost everyday that they are spraying chemtrails in the sky. I've read that these chemtrails contain barium & aluminum.

Many places are being flooded due to excessive rain & hurricanes. The mold issue is very bad. Vaccines are another source of really bad toxins.

So, there are many toxic things to be cautious of. I completed a course of what was called "sequential homeopathy" many years ago. It's supposed to clear alot of what I believe you mention as blockages.

As you say - things do & can change minute by minute... which is actually a very good thing!

I checked the area where I am now & there are no ART practicioners that I could find in a quick Google search. It may just have to wait until we move...

There are some people who use a device called the ASYRA. They said you can get a reading via a bit of hair. I may look into that when I can.

I think this is a very interesting topic & I'd like to continue to learn. I think it's difficult to be completely unbiased or to find someone who isn't effected by their own mental agenda or toxins.

I guess we try to do the best we can...

---

Posts: 7772 | From Northeast, again... | Registered: Oct 2006 | IP: Logged |

oxygenbabe
Frequent Contributor (1K+ posts)
Member # 5831


posted

---

Each to his own...I keep a journal and ask questions and "feel" my way into the answer with automatic writing. Occasionally I'm wrong but often right. When my own fears/needs intrude too strongly I can't get an answer.

I have found you have to be *very* precise about your questions. That is the issue. As bejoy found out when her kidney still needed the remedy but the rest of the body did not. I asked once what substance would kill lyme (borrelia) in all its forms? I got the instant answer carbolic acid (ie lye). HA HA HA!!!! Okay, then I amended the question, to what substance would kill lyme in all its forms and not be toxic to the human body? And I got the answer, not discovered yet.

At one point I was curious why my maternal grandmother got Parkinson's, and I got the answer she was exposed to coal tar dyes when growing up. She died over 20 years ago, so I don't know what her childhood history was, but I guess I figure the answer is probably right because it came seemingly out of nowhere. I googled out of curiosity and indeed coal tar dye exposure is linked to an increased risk of Parkinson's.

So there you have it. Sometimes I am too upset to journal like that. Pendulums don't work for me, I watch them swinging, and I get nervous, and I lose touch with my "self". Also I feel I influence the swinging by my wishes.

This type of "being in touch with the body" and other ways of knowing would have saved me from lyme if I'd listened to it. I basically had a premonition, asked about it ahead of time (and was misinformed by my "friend"), and was nervously trying to avoid it all day (not pet her dogs, not go near tall grasses). Really, I didn't want to go out and visit her that day and ignored it.

Last week I visited a friend in Sag Harbor who has 3 deer sleeping on a corner of her property. She has a gravel drive, a pristine new beautiful house, and a sweeping deck perched over the water. All that felt safe. She also has about 40 sand-steps she built down to the small private beach/water. There are some sparse tall grasses along the side. As the others went down the steps I hesitated at the top, having that familiar foreboding/unease. I listened to it. I didn't go down those steps to the beach.

I learned from her two days later that the deer, although they come from the woods and mainly sleep together (3 of them) on a very different part of the property, go down the sandsteps to the beach themselves!

On another note--Bob, I know mercury toxicity is the original problem for me. I have known this for a long, long time, in fact had my amalgams removed in my 20's. But the stuff is still in my body. I was reading again about options yesterday. I think given my sensitivity to mercury chelation (really bad), I cannot chelate with DMSA or DMPS because they redistribute, they're too harsh. Other substances had little effect on me (ALA, chlorella). I either need to restore my enzymatic pathways so I can let the metals go on my own, and/or do saunas. Just curious what you did.

---

Posts: 2276 | From united states | Registered: Jun 2004 | IP: Logged |

lymie_in_md
Frequent Contributor (1K+ posts)
Member # 14197


posted

---

O2, mercury has been my number one problem not just lyme.

As time moves on, GiGi shows her experience of this disease and how right she is about it. Mercury or toxins are the root cause of much of this disease. I've spent almost a year now detoxifying from it. In sooo many ways, and yes I've made my share of mistakes along the way. I haven't done any IVs for detoxification just orals. I don't think IV are necessary unless it is an extreme situation.

GiGi is right, mercury detoxification is a long term affair. My practioner recognized right off how toxic I was, I was recognized as the most mercury toxic patient he ever had plus I had significant amounts of lead. Most of the mercury was buried in the kidneys and pancreas when I was first assessed, all clogging up my normal bodily functions. And for every bit of mercury I had lyme and yeast. He had to determine a safe protocol, prior to all this I was using an infrared sauna for about 6 months to get sweat out the mercury. What a bad idea, I was swirling it around my system just making things worse. On a side note: the sauna I had a lifetime warranty for became so toxic itself it blew out 2 of the main ceramic plates. I got a replacement from the company.

He of course chose drainage and detox first and I was to drink lots of water. Nestmann's bucco for drainage and Extended Health's oral chelation. This is a great two part formula, first part move the metal while sleeping at night, rebuild essential metals during the day. http://www.extendedhealth.com/autism.html. I was taking binders at the same time, lots of chlorella, betonite clay, and zeolite. I wish I knew about activated charcoal and pectin.

I did this for about three months when I was first being treated. I finally tested for very low levels of mercury and he could start addressing other issues like lyme, yeast, mycoplasmas, and so on, as well as my dental issues.

By the way, growing up my father passed away and we were on Medicaid. We didn't see the best dentists. I had amalgams put in 8 of my teeth by the time I was 9. I had those all removed by the next dentist and added 4 more by the time I was 11 and he replaced 8 of the ones he had put in by the time I was 13. The next dentist removed all of those with replacements. That's 28 removed and 40 inserted by the times I was 18. I learned later these all had overhanging margins which meant I couldn't floss. Someone should have been sued for negligence. These led later on to periodontal surgery in all 4 quadrants of my mouth. All of those amalgams were replaced again one more time in my 20s and many of those were replaced by crowns.

To further get rid of the metals after the extended health, I decided to use the Jon Barron's ``metal magic'' heavy metal chelation (I was tested ok with ART for it). It had the biggest impact of all the chelation method's I've used. If your going to do this chelation load up on the binders. I think this is a very powerful method of chelation. After totally being worn out by chelation, I stopped actively chelating metals for a while. I tested to not have very many metals at this point no more amalgams.

I started reading about biofilm on lymenet and found detoxamin to be a powerful chelator. This is probably a good idea except, I should have been replacing other metals like zinc and copper. I've taken care of that now, but it would have been smarter to do it while I was using the product. After the detoxamin I was getting strange headaches in the afternoon. I had my practioner test me for mercury again. After thinking I was quite through with mercury, I found out the opposite to be true. I had quite a bit of mercury and lead in my brain, it appears the detoxamin pulling it from its hiding places (and yes I was using lots of binders). I'm again chelating it and the headaches are starting to disappear.

One advantage I seem to have is moving mercury out of the body quickly. I guess I'm fortunate.

My mistakes :

don't use infrared saunas to do mercury chelation
When using a chelator really supplement other trace metals, I thought I was with a multivitamin, wasn't enough

I know mercury is still going to be a challenge to remove. I hope GiGi is right about better binders such as glutathione.

--------------------
Bob


---

Posts: 2148 | From Maryland | Registered: Dec 2007 | IP: Logged |

oxygenbabe
Frequent Contributor (1K+ posts)
Member # 5831


posted

---

I'm not so different. When I was 11, they decided I needed braces (I didn't really--its just everyone in my town had them along with violin and piano lessons). But I had fragments of baby teeth in my jaw, which were fine, but not if you want to move teeth around. They had to put me out and do oral surgery on me to remove all those fragments and I remember being tired ALL SUMMER long after that, which to me means that they contaminated my jaw with some bacteria of some kind. Tired for months after? Sleeping 11 hours a night?

When they put braces on, I ended up a few years later with a ton of cavities. I had sixteen amalgam fillings by college. Some of those like you recall were replaced a few times.

As soon as those amalgam fillings went in my health changed.

I don't like infrared saunas, but regular saunas seem okay to me. I think Ron Hubbard's program has much to recommend it. I think I have to let the body release metals in the way it wants. Amy Yasko's program also does that by restoring your enzymatic/methylation pathways.

I don't know. It's very difficult because your body has stored this toxic metal where it can, and since then you acquire infections which have more toxins. It's a double edged sword as to how to get it out. I'll look up the things you mentioned. I'm not comfortable with zeolite as it has aluminum and other toxins and I'm not convinced it's necessarily safe. Pectin and charcoal seem quite safe to me, still, they would work on the gut, not on mercury redistributed in the brain or kidneys for instance.

Why they poisoned us like that? I'll NEVER understand.

---

Posts: 2276 | From united states | Registered: Jun 2004 | IP: Logged |

lymie_in_md
Frequent Contributor (1K+ posts)
Member # 14197


posted

---

o2, cilantro just as a herb used raw as a pesto is a powerful chelator. You could go slow and just take lots of binders because the mobilized mercury is going to find your digestive tract.

If you believe in your heart and soul the mercury is mobilized and is being picked up in your digestive tract it will be. Your subconscious will help make it so. The subconscious can do great things, exercising belief in what we are doing helps to make it happen.

I think it is better to think you can make things happen yourself then to depend on some omnipotent third part, like a doctor or practioner of any kind. I think we've learned there is nothing omnipotent about them. The ultimate responsibility for our individual health is in ourselves, everyone else is a guide along the road.

--------------------
Bob


---

Posts: 2148 | From Maryland | Registered: Dec 2007 | IP: Logged |

Angelica
Unregistered



posted

---

I had a very strong premonition too to not to go on an outing with a friend which I verbalized. I kept telling them I did not feel right about going but allowed them to talk me into going anyway.

After the outing I presented with a bulls eye rash that week and panic attacks and anxiety from hell for the first time in my life.

It was a giant lesson for me to try to always listen to my feelings.

I also had braces as a teen which left me with cavities and I still need to deal with all my fillings.

---

IP: Logged |

oxygenbabe
Frequent Contributor (1K+ posts)
Member # 5831


posted

---

Angelica, isn't a drag...to get clobbered like that and then be so sick for such a long time...couldn't fate have just given us a slap on the hand?

Bob, I guess I feel I need to activate systems in my body...to let my body get rid of the metals. I believe I'm genetically weak there...which is why my maternal grandmother had Parkinson's etc...IV glutathione, my body LOVES...I am afraid of any strong chelators, I am just too sensitive. So that is my instinct but I really DO have to deal with it, first and foremost. I don't see how I can get rid of the nasty bugs when my immune system and enzymatic systems are screwed up by mercury.

Sometiems I have considered getting a few tests, to just further confirm where my blocks are. We'll see. I have a lot on my plate and things go very very slowly. For instance, I really need to move. And that alone could take most of this year to sort out.

---

Posts: 2276 | From united states | Registered: Jun 2004 | IP: Logged |

sparkle7
Frequent Contributor (5K+ posts)
Member # 10397


posted

---

Wow. What an interesting thread! Thanks for the contributions.

I don't think I had as big a problem with dental work as some of you guys have had.

It seems that part of the issue with Lyme in not that it's totally Lyme bacteria that is causing our ill health. It's Lyme in combination with other problems like heavy metals, viruses, mycoplasmas, mold, yeasts, etc.

The mind is very powerful & should be recognized in regards to healing the body. I agree with your Bob. There are some scientists & doctors who have been studying the effects of the mind of healing & it's a very important aspect.

Then, we get into the the realm of medical intuition - which I don't think should be discounted. Using pendulums, ART, etc. do have a "psi" aspect & I think it's important to recognize this.

Science is not infallible. In my experience, intuition has played just as big a part in my healing process as science. I don't think it should be discounted.

I don't think mercury is an issue for everyone with Lyme. Of course, all heavy metals are toxic & should be avoided but I think it depends on each individual what the other factors are.

I have been messing around with pendulums for years but I never thought to use them for health diagnosis until recently. I read what many of you were doing with ART & kineseology & figured I could try it since I don't seem to have a practicioner near by (nor could I afford it right now).

I don't think it's 100% but neither is science. It is very important to know which questions to focus on & how to ask them. You also have to try to clear your mind of bias towards one answer or another.

I'm still not sure about whether you can ask questions that imply a future result. I guess this gets into the idea of psi activity & the paranormal. I have to study it further.

O2- my mother had lymphoma from (I believe) using black hair dye. I'm not sure if this is the same as coal tar dye but it may be similar. There was a class action law suit about black hair dye in the 80's, I think.

---

Posts: 7772 | From Northeast, again... | Registered: Oct 2006 | IP: Logged |

Angelica
Unregistered



posted

---

My mom went to the beauty shop and had her hair dyed brown there every week. I have no idea what kind of dye they were using in those days but she died very early of breast cancer.

Granted she had other triggers like a bad smoking habit, a bad reaction to birth control pills and a bad marriage but I have never dyed my hair and probably will never dye it. I plan to grow old gracefully and naturally if at all possible.

I read in a reflexology book years ago that if you rub the nails of one hand against the other hand it will keep you from going grey.

I think there is something to it because for my age I have very little grey hair and my sister is all grey. I don't even rub my nails against each other weekly but I do do it at least monthly.

---

IP: Logged |

bejoy
Frequent Contributor (1K+ posts)
Member # 11129


posted

---

Agreed, agreed, about the heavy metal issue. I had mercury amalgams in all my molars by the time I was 12.

I had the amalgams out at about 32, did some good detox and chelation, and then got better from lyme type symptoms for about five years until I had a year of massive sleep deprivation from my child's congenital issues.

Even my fabulous Applied Kinesiology practitioner has not been flawless. After my first Bartonella remedy, said I had no more lyme by testing me against that remedy.

I didn't believe him, and had him test more and different lyme remedies, and lyme fighting herbs, which came up as positively indicated.

Again last week, he said no more lyme according to testing with the DB Bb remedy and LYM remedy.

I had him test the entire body, as using the remedies in conjunction with LED. Bingo, lyme in the kidney that will respond if infused with near infrared 880 while using either remedy. Both contain borrelia nosodes in varying potencies.

Since working with me on this health issue, he now refers to the disease as Lyme rather than Lymes, and has had some success in treating MS with Lyme treatments.

I wonder if he has lyme.

--------------------
bejoy!

"Do not go where the path may lead; go instead where there is no path and leave a trail." -Ralph Waldo Emerson


---

Posts: 1918 | From Alive and Well! | Registered: Feb 2007 | IP: Logged |

sparkle7
Frequent Contributor (5K+ posts)
Member # 10397


posted

---

I think of Lyme as an ongoing health issue. I'm not sure that we ever get rid of it entirely.

I'd just rather use more natural or less toxic remedies since it seems like it's going to be a long term thing.

Even if we "test" as not having Lyme one day - it can come back at some point later if we go through stress or get some kind of flu or virus.

Yes - I have avoided hair dye. I used to use henna every so often but it's not a big thing for me right now. I don't mind the gray. I think the black is particularly toxic.

---

Posts: 7772 | From Northeast, again... | Registered: Oct 2006 | IP: Logged |

GiGi
Frequent Contributor (5K+ posts)
Member # 259


posted

---

quote:

---

Even if we "test" as not having Lyme one day - it can come back at some point later if we go through

---

With this kind of thinking, yes, with certainty.

Fear and negative thinking is the worst of all enemies.

For many, many, many, including me - Lyme is a thing of the past -- . Energetic testing was part of the treatment.

Energetic testing - if you can manage to learn it with a good tool and with a good book, or getting instructions from someone that does it well and teaches it, is the best gift you can give yourself.

All of us know some people, relatives or "friends" who after a short while and unimportant talk, be it only about the weather, suddenly make you feel unwell or uncomfortable. Some person that sucks up all your energy and exhausts you.

On the other side, we sometimes talk with people who make us feel happy and we leave them loaded with new energy!

A tensor or pendulum reacts in a similar way. Energy of substances, thoughts, people.

Many medical doctors and naturopaths working in the holistic field (in Germany, and probably other European countries) work with a tensor. The Italian Professor Pasquini called his first tensor "Aurameter" - he used it mainly for measuring the human aura. Later, the American Dr. Christopher Hills and in Germany Dr. Josef Oberbach, the discoverer and developer of the Biotensor, picked up on it and developed tensoring further. Today many medical doctors and naturopaths working in holistic field (in Germany, and probably other European countries) work with a tensor.

Some of the best Dr. K. practitioners in Germany use only the tensor. I met another very successful Bionic 880/Borrelia treatment doctor who uses the Biotensor exclusively.

Until today, probably the most famous scientist who dealt with the use of the pendulum is the Nobel Price Winner Dr. Alexis Carrel.

Test your allergens, aura, Bachflowers, foods, crystals, and your living quarters! I know Six would have moved out her mattress a lot earlier.

Take care.

---

Posts: 9834 | From Washington State | Registered: Oct 2000 | IP: Logged |

lymie_in_md
Frequent Contributor (1K+ posts)
Member # 14197


posted

---

GiGi you are so right about negative thinking. In actuality directed or positive thinking can do wonders for health. It is even more so in groups. I really believe the reason religions around the world meet in group prayer is the power of community healing. By healing the soul you are healing the body.

As you can see from discussions like these we are also bonded tighter as a group. I think that is a measure of healing, like good friends traversing a dangerous road together. The commaderie is a positive energy.

--------------------
Bob


---

Posts: 2148 | From Maryland | Registered: Dec 2007 | IP: Logged |

sparkle7
Frequent Contributor (5K+ posts)
Member # 10397


posted

---

I'm not being negative. I'm sure there are many people who have been exposed to Lyme who it doesn't affect as much.

I got herpes on my mouth when I was 16 & kissed a boy with herpes. It was terrible when I first got it. I had a bad flu & blisters all over my gums. I would get it every so often & it was unpleasant. I hardly ever get it now but it's still in my system, somewhere.

I'm not stressed about it but going through something like herpes remains in the body or consciousness. It's not going to go away if I put enough belief into it.

I feel the mind is very powerful & should be used for healing. There are many scientists doing work in this area & I'm open to it. If the reality of mind over matter were completely true, I would have been well 10 years ago.

No one chooses to be ill like this. I don't think it's a failure of mine that I wasn't about to focus my mind of getting better good enough...

There are physical toxins, bacteria, viruses that make us ill. We have to deal with that as well as the mental attitude that healing is possible. It may be possible to heal completely with the mind but it's never happened to me.

My partner & I have been going through very severe hardships over the last 10 years. I probably would have jumped off of the Brooklyn Bridge if I wasn't positive & hopeful that one day things would be better.

I don't think positive thinking alone is enough to cure Lyme & release heavy metals & other toxins we are exposed to.

---

Posts: 7772 | From Northeast, again... | Registered: Oct 2006 | IP: Logged |

lymie_in_md
Frequent Contributor (1K+ posts)
Member # 14197


posted

---

Sometimes it easy to get depressed with this disease. You have to struggle toward a positive outlook. I think a negative outlook only makes you more ill.

Is there mind over matter? What powers the muscle to go weak or strong with a substance? If we believe in kiniesology isn't there a form of mind & matter involved. The biotensor is that just an amplified and simplified version of mind interfacing with matter?

--------------------
Bob


---

Posts: 2148 | From Maryland | Registered: Dec 2007 | IP: Logged |

candlequeen
Member
Member # 17054


posted

---

I did hair for 13 years and was pregnant with my children and my kids are healthy and besides Lyme I have always been very healthy in fact until I got Lyme i was a volunteer firefighter. I don't feel there is anything to what some of you are saying about hair color. Plus I color my hair. I am 35 and all grey. I am too young for that. I got the grey hair from genetics. My father's side of the family not anything else.

---

Posts: 72 | From Southeastern PA | Registered: Aug 2008 | IP: Logged |

bejoy
Frequent Contributor (1K+ posts)
Member # 11129


posted

---

Sparkle, thanks for the discussion opportunity.

What timing. I just accidentally tested my daughter for lyme.

She has a very bad case of strep...again. She seems to get it every few months, and I usually follow with a case of my own. I brought home a strep nosode today and went to test her with it, but picked up the LYM bottle instead.

What a weird reading. I'm trying to get it to read like an accute issue but it won't, and it is coming up just mildly positive. Then I look at the bottle and see what I've done.

I get a mild reaction, and a reading of four drops under the tongue, or two drops with LED application.

Did I want to know this? I guess I finally did want to know.

I've had her blood tested with CFR, and that was neg. Just couldn't draw blood again. Her symptoms are so mild, I just couldn't give her a treatment that would be worse than the symptoms.

Her symptoms have been improving along with mine, as I continue homeopathic/nosode treatment. Her pain is reduced, ability to focus and retain information increased, and bedwetting stopped.

This is the child who got two lyme rings when I started the Bartonella series on myself.

It's time to see this through for all of us.

By the way, the reading for step said two drops under the tongue, or no drops and just hold the bottle with LED application. We'll see how that goes (along with a fat bottle of amoxy.)

She gets so sick from strep that I keep a full prescription in the cupboard so I can begin treatment within hours, even so, she was in a pretty bad way today.

I'll be impressed if we can avoid future rounds of this persistent bacteria. I'm next for this treatment, along with it's friends Klebsiella and the Staph sisters.

Candlequeen, I think some hairdyes contain mercury and other toxins, and some are not too bad. Some people never get a reaction, and some people seem to react to every chemical in their environment. I'm glad it has never seemed to cause you any problems! I hope you can get back to your firefighting again soon!

Thanks everybody, for the fun and informative discussion.

--------------------
bejoy!

"Do not go where the path may lead; go instead where there is no path and leave a trail." -Ralph Waldo Emerson


---

Posts: 1918 | From Alive and Well! | Registered: Feb 2007 | IP: Logged |

sparkle7
Frequent Contributor (5K+ posts)
Member # 10397


posted

---

There was a class action suit about the black hair dye back in the 80's or early 90's. It's specifically black hair dye. This was many years ago. My mother is 85. She also has psoraisis on her scalp, so it probably made things worse.

My mother was also very healthy until she got lymphoma when she was 50. You really have to be cautious about beauty products in general. They don't have the same regulations as food or drugs.

The just found lead in lipstick very recently... There are many toxins in women's beauty products. Best to be cautious - especially if you are sensitive.

Hope everything works out Bejoy. I am still getting readings that I shouldn't use the LightWorks again, yet. Mercury & Lyme are no & mold is yes...

I'm still trying to come up with good questions. I'm going through alot of stress & we are going to have to move cross country in about a month or so. Not what I wanted but we have to do it...

---

Posts: 7772 | From Northeast, again... | Registered: Oct 2006 | IP: Logged |
Contact Us | LymeNet home page | Privacy Statement

Powered by UBB.classic™ 6.7.3

---
The Lyme Disease Network is a non-profit organization funded by individual donations. If you would like to support the Network and the LymeNet system of Web services, please send your donations to:
The Lyme Disease Network of New Jersey
907 Pebble Creek Court, Pennington, NJ 08534 USA
http://www.lymenet.org/
---
Home | Flash Discussion | Support Groups | On-Line Library
Legal Resources | Medical Abstracts | Newsletter | Books
Pictures | Site Search | Links | Help/Questions
About LymeNet | Contact Us
---
© 1993-2020 The Lyme Disease Network of New Jersey, Inc.
All Rights Reserved.
Use of the LymeNet Site is subject to Terms and Conditions.
---