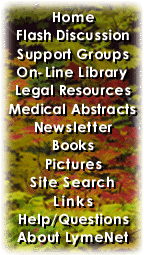 ---
LymeNet on Facebook
LymeNet on Twitter
---
---
The Lyme Disease Network receives a commission from Amazon.com for each purchase originating from this site.
When purchasing from Amazon.com, please
click here first.

Thank you.




Dedicated to the Bachmann Family


LymeNet needs your help:
LymeNet 2020 fund drive

The Lyme Disease Network is a non-profit organization funded by individual donations.

| | |
| --- | --- |
| | |
Author
Topic: Does anyone else get blister bump eruptions on fingers??

jam338
LymeNet Contributor
Member # 14002


posted

---

I am wondering if anyone else experiences blister/bump eruptions on their fingers. I have been getting them for months. They always happen in the same locations; inside of middle and index finger between the knuckle and the first finger joint.

I am guessing it is happening when my body is trying to detox and my elimination pathways are clogged so it results in skin eruptions. What I don't get is why it is always on very specific finger locations.

Does anyone else experience this strange symptom?

---

Posts: 495 | From SF Bay area, CA | Registered: Dec 2007 | IP: Logged |

Angelica
Unregistered



posted

---

Once in a blue moon I get tiny itchy bumps on the webs between my fingers or on a finger and I think mine are yeast or fungus.

---

IP: Logged |

jam338
LymeNet Contributor
Member # 14002


posted

---

hi Angelica, thanks for the reply. Mine is never in the web part. They are always between the knuckle and the tip of the finger, but lower than first joint; frequently right on the joint bend itself. It is so strange that it keeps happening in the exact same locations.

Common sense tells me that since there is a pattern to the eruption that it means something. It comes and goes so doctors seem clueless and disinterested in figuring out what it is.

---

Posts: 495 | From SF Bay area, CA | Registered: Dec 2007 | IP: Logged |

Angelica
Unregistered



posted

---

Do you follow a yeast free diet or eat fruit at all? Mine seem to happen when I start to add in too much fruit that is why I think mine is yeast or fungus.

---

IP: Logged |

jam338
LymeNet Contributor
Member # 14002


posted

---

Regarding diet and fruit, I am not on ABX. My LLMD ran tests for candida. I was negative on saliva testing, which he said meant I don't have systemic yeast problems. However, the Metametrix GI functional panel (stool) showed what he called digestive candida caused by malabsorption issues. My next appt is to further discuss yeast and parasite findings and treatment.

Just trying to sort out now where these blister/bump things fit into the schematics.

When I googled it I found a couple of postings on other websites where a couple of people were asking the exact same question regarding blister bumps occurring on the inside of the middle and index finger. At least one website inferred it might be related to herpes virus. My lab tests show that I have currently active EBV with high past titers, so maybe there is an association there(?)

One person who had it was wondering if it was related to Celiac Disease. That was one of the test panels my LLMD ran. While I have a malabsorption problem, I did didn't test sensitive to gluten.

---

Posts: 495 | From SF Bay area, CA | Registered: Dec 2007 | IP: Logged |

wantabe
LymeNet Contributor
Member # 14703


posted

---

I have Raynaud's and have the bump whenever my blood circulation is low/depleted. It is actually an area of tissue death for me. Have some right now...

Do you get cold hands? Do they turn blue and white?
Are the bumps painful?

If you want more information concerning Raynaud's let me know.

Good luck,
wantabe

--------------------
Lyme+ dx Dec.07
Currently: Levaquin,Cefdinir,Plaquinil,Fluconazole
Nystatin,B12 meth, nortriptyline
Ambien,Clonazepam,many supplements
Dairy, sugar, gluten free diet
infrared sauna and exercise


---

Posts: 235 | From Iowa | Registered: Feb 2008 | IP: Logged |

Angelica
Unregistered



posted

---

The tests for gluten intolerance are not very good. I am gluten intolerant and did not test positive for it.

You can easily have yeast issues even before being put on antibiotics. In my humble opinion candida and lyme issues go hand in hand.

---

IP: Logged |

jam338
LymeNet Contributor
Member # 14002


posted

---

hi Wantabe, my hands and feet are periodically freezing, in the middle of summer. It has been happening even more since my doctor started Valtrex for treating EBV, and he started me on a variety of treatments to kickstart lymphatic system to work more efficiently before starting to treat digestive yeast, parasites, lyme, and babesia duncani.

I have even had to wrap my feet in a heating pad with a blanket while simultaneously sweating profusely from my head where my hair will become so dampened I have towel dry my scalp! So strange.

I get these raging sweats (day and night)which I am assuming might be the babesia duncani or the Valtrex(?)

Interestingly since I started the ion foot detox bath the sweats seem like they may be slightly less severe. They don't seem like they are happening quite as often or lasting quite as long as they were.

I don't know anything about Raynauds so yes, if you think perhaps these blister/bump things may be associated with that, I would be very interested in any information you can provide, thanks.

---

Posts: 495 | From SF Bay area, CA | Registered: Dec 2007 | IP: Logged |

Melanie Reber
Frequent Contributor (5K+ posts)
Member # 3707


posted

---

YES! I use to think that mine were Bart-Blisters. Because when I finally treated for that one- they went away.

---

Posts: 7006 | From Colorado | Registered: Mar 2003 | IP: Logged |

jam338
LymeNet Contributor
Member # 14002


posted

---

hi Melanie, what are Bart Blisters?? Sorry, I am newly diagnosed (3 weeks). I still have training wheels while learning here.

My Igenex tests were for the following 6 tests:
1. WB Lyme (positive)
2. B.Microti(negative)
3. B. Henselae(negative)
4. Genomic, M Burg, Serum (negative)
5. Pasmid, M Burg, Serum (negative)
6. Babeisa Fish (RNA) (negative)

Are any of these related to the Bart thing you mentioned? If you don't mind, can you or anyone else explain what Bart is? I am wondering if that is a test I should have beyond the ones already done?? Thanks for any help.

---

Posts: 495 | From SF Bay area, CA | Registered: Dec 2007 | IP: Logged |

Angelica
Unregistered



posted

---

It looks like #3 was your bart test.

I have had 3 tests for bart. All of them are negative but I do have Bartonella. I think a bart test is always a good idea for anyone who has Lyme disease but it is also a clinical diagnosis.

People do not need of course to have all of these symptoms listed in order to have one of these diseases.


Bart and Babs symptoms check list

Bartonellosis

Common symptoms of bartonellosis include:

___Fatigue (often with agitation, unlike Lyme disease, which is more exhaustion)

___Low grade fevers, especially morning and/or late afternoon, often associated with feelings of "coming down with the flu or a virus"

___Sweats, often morning or late afternoon (sometimes at night) - often described as "thick" or "sticky" in nature

___Headaches, especially frontal (often confused with sinus) or on top of head

___Eye symptoms including episodes of blurred vision, red eyes, dry eyes

___Ringing in the ears (tinnitus) and sometimes hearing problems (decreased or even increased sensitivity - so-called hyperacusis)

___Sore throats (recurring)

___Swollen glands, especially neck and under arms

___Anxiety and worry attacks; others perceive as "very anxious"

___Episodes of confusion and disorientation that are usually transient (and very scary); often can be seizure-like in nature

___Poor sleep (especially difficulty falling asleep); poor sleep quality

___Joint pain and stiffness (often both Left and Right sides as opposed to Lyme which is often on one side only with pain and stiffness that changes locations)

___Muscle pains especially the calves; may be twitching and cramping also

___Foot pain, more in the morning involving the heels or soles of the feet (sometimes misdiagnosed as plantar fasciitis)

___Nerve irritation symptoms which can be described as burning, vibrating, numb, shooting, etc.

___Tremors and/or muscle twitching

___Heart palpitations and strange chest pains

___Episodes of breathlessness

___Strange rashes recurring on the body often, red stretch marks, and peculiar tender lumps and nodules along the sides of the legs or arms, spider veins

___Gastrointestinal symptoms, abdominal pain and acid reflux

___Shin bone pain and tenderness

Bartonella is a bacterium that causes illness, the most commonly known of which is a disease called "Cat Scratch Fever." Thousands of known cases of Bartonella occur in the U.S. each Year, with the vast majority of known cases due to bites from fleas that infest cats or infected dogs (may also occur directly from bites and scratches from infected dogs or cats). Bartonella can also be transmitted by ticks that transmit Lyme Disease. In fact, in a study published recently, deer ticks from New Jersey had a higher prevalence of Bartonella organisms than of Lyme organisms.

It is unclear whether the organism that we see transmitted along with Lyme disease is actually a Bartonella species (such as B. henselae or B. quintana) or is "Bartonella-Like Organism" (BLO) that is yet to be fully identified. While BLO has features similar to organisms in the Bartonella family, it also has features slimiar to the Mycoplasma and the Francisella (causes tularemia) families.

_________________


Babesiosis

As with other co-infections, there is a lot of overlap of symptoms between Lyme disease and Babesiosis. An accumulation of the following signs and symptoms probably warrant testing and/or treatment of Babesiosis:

___Chills

___Fatigue and often excessive sleepiness

___High fever at onset of illness

___Night sweats that are often drenching and profuse

___Severe muscle pains, especially the large muscles of the legs (quads, buttocks, etc.)

___Neurological symptoms often described as "dizzy, tipsy, and spaciness," similar to a sensation of "floating" or "walking off the top of a mountain onto a cloud"

___Depression

___Episodes of breathlessness, "air hunger", and/or cough

___Decreased appetite and/or nausea

___Spleen and/or liver enlargement

___Abnormal labs (low white blood count, low platelet counts, mild elevation of liver enzymes, and elevated sed rate)

___Headaches (migraine-like, persistent, and especially involving the back of the head and upper neck areas)

___Joint pain (more common with Lyme and Bartonella)

___anxiety/panic (more common with Bartonella)

___Lymph gland swelling (more common with Bartonella and Lyme)

---

IP: Logged |

jam338
LymeNet Contributor
Member # 14002


posted

---

Angelica, thank you so much for taking the time to post and help me better understand. From the symptom list I see aspects of both in my symptoms. Sounds like I really go over my symptoms in more detail at my next appt. I need to make a list of my symptoms in advance, and your post will help to keep me focused about. In reading your post, it triggered connections about symptoms I never associated with lyme related.

For exmaple, some of it has been misappropriated by other doctors as being hormone and my age (57), and I had just accepted that. In reviewing websites and some skim reading some of the lyme books I have ordered, obviously aspects of lyme causes hormone and thyroid imbalance symptoms.

Maybe I should photograph these odd finger blister bump things so I can show him at my next appt since they will be substantially improved, if not gone by then. They appear cyclically, and then disappear entirely for a couple of weeks or so. I need to start noting the pattern of occurrences on a calendar.

Thanks again for the help!

---

Posts: 495 | From SF Bay area, CA | Registered: Dec 2007 | IP: Logged |

lymemomtooo
Frequent Contributor (1K+ posts)
Member # 5396


posted

---

Jam, I have had this for over 50 years. They are always back in the same place. Mine are small and only a couple.

Another gal in school also had this and she also had small red spots on her arms.

I was exposed to chiggers while picking berries but no lice..Many tick bites..lmt

---

Posts: 2360 | From SE PA | Registered: Mar 2004 | IP: Logged |

UnexpectedIlls
LymeNet Contributor
Member # 15144


posted

---

YES I get these every once in a while... they just POP up and FREAK me out... they are almst like little water blisters but hard and itchy.

I did NOT know what they were , but when they pop up I get a little freaked! They are there and ten gone.. very strange

--------------------
"You'll be surprised to know how far you can go from the point you thought it was the end"


---

Posts: 946 | From Massachusetts | Registered: Apr 2008 | IP: Logged |

DakotasMom01
LymeNet Contributor
Member # 14141


posted

---

Another thought, may be an allergic reaction to something you have been using. Soaps or shampoos.

I used to get alot of those when buying different brands of dish detergent or hand lotions. They didn't bother anyone else in the family, just me.

Lyme can causes new allergies.It was on one of the symptom lists here. Everything is so full of chemicals today, its hard to figure out, what the culpret might be.

The derma dr I saw, said it might be eczema, because of the blisters and to be careful of what I use. I still get them once in a great while.

--------------------
Take Care,
DakotasMom01


---

Posts: 371 | From NJ | Registered: Dec 2007 | IP: Logged |

Dawnee
Unregistered



posted

---

Just amazing..because until a few days ago I basically thought I was just a freak of nature!

I have had this same thing on and off for at least the last 6 years. Always on the side of my pointer finger,..itchy, hard little blister looking bumps.
Strange that they never show up elsewhere

They come and go randomly but drive me insane!

Now my teenager has it too.

---

IP: Logged |

AliG
Frequent Contributor (1K+ posts)
Member # 9734


posted

---

My DD used to get little bumps that Ped said looked like spider or flea bites. They were purplish in color and itchy.

She would not have been around spiders or fleas when they showed up & would get maybe 3 of them on two different fingers.

She had the same type of bump at the center of her tick bite, when she was bitten.

The odd thing is that they showed up both times while she was on Clavamox or Bactrim for UTIs.

She only had IGG band 41 pos & IGM band 23 pos. from Quest, so first Ped Dxd insect bites and ended up faxing me the pages on Lyme from the Pediatric "Red Book".

2nd Ped (recommended by an LLMDs office) only got a band 41 pos on both IGG & IGM from MDL. PCR & ELISA were negative. After evaluation, she said she'd be more concerned with the UTIs as a problem.

The Peds really make me afraid that, if I would keep trying to pursue a Lyme Dx for her, I could end up with someone trying to say that I am harming her psychologically. That is the LAST thing I would EVER want to do to my "baby".

LL?ped told me to keep track of any future Sx. Do you know how hard that is to do when you can't even keep track of your own?

Some people can & do fight Lyme off, right? I've been praying that she's one of those who are able to. With a positive band 23 from Quest, they really can't convince me that she'd never contracted it.

I did think that the "bug bites" were Bart related. Now that I think of it, I didn't know, back then, that there are an awful lot of Bartonella strains that they can't test for.

I am planning to take this up with another doctor in October. Prior to age 8, it is pretty impossible to find an LL-Ped.

I think that, in all the calls I had made, there were some that only saw patients who were older than 8.

I WAS hoping to nail down all the co-infections I have and find the right Tx & Tx order to make her Tx swift, so she wouldn't have to experience the same frustrations and resulting depression that I have.

Sorry for the tangent. If the "blisters" look sort of like purplish bug bites, I'd suspect Bart.

--------------------
Note: I'm NOT a medical professional. The information I share is from my own personal research and experience. Please do not construe anything I share as medical advice, which should only be obtained from a licensed medical practitioner.


---

Posts: 4881 | From Middlesex County, NJ | Registered: Jul 2006 | IP: Logged |

wiserforit
LymeNet Contributor
Member # 9732


posted

---

I also get these finger bumps. When put on Doxy and Doryx, these bumps spread all over my hands and palms too! Mine was an allergic reaction....

Best to you,

wiserforit

---

Posts: 508 | From Banks of the Hudson | Registered: Jul 2006 | IP: Logged |

jam338
LymeNet Contributor
Member # 14002


posted

---

Very interesting about these finger blister/bumps that keep reocurring in some of us at the exact same locations! I am sure it has specific significance to something. I see my LLMD in 2 weeks and will ask him what he thinks.

For me, they never happen in any other location. Always the same spots on the inside middle and index finger. Mostly on the right hand, but I have occassionally had them on the left hand fingers, and rarely have had them on the thumb. And, I have periodically had them on my outside elbow (forgot that one!). I read on another site where a person mentioned that, and it jolted my memory about having had that wierd symptom.

For the last year or so all my breakouts have been on the fingers.

A dermatologist looked at them during a breakout period and admittedly didn't really know. It seems to me when they don't know they chalk everything up to some type of eczema or psorasis.

I am fairly convinced it is not allergic response to any thing as I am rarely exposed to anything since I am bedridden most of the time.

The pattern, like others on this thread have said, has been consistent lasting over several years. They don't really itch like a bite, allergic reaction, and don't feel like they are from an external exposure at all. They are slightly painful.It is more like a hard blister bump, and definitely feel more intuitively like they are from an internal source of some sort.

Reasonable deduction seems suggest to me it has something to do toxin elimination through the skin, but that is just an intuitive guess.

It seems to me that they usually last about 1-2 weeks, but I have never really calendared it from time of eruption until they are gone so I could be way off on that. Just going by memory here which is sometimes faulty. They will likely be gone by the time of my LLMD appt in 2 weeks.

One website inferrence (by a poster) was that it "might" be a precursor sign of risks for Shingles...dear God. I prefer to think it is related to toxins, but anything is possible.

Wondering if the others on thread who have experienced these oddities also have EBV or had chickenpox as a child?

---

Posts: 495 | From SF Bay area, CA | Registered: Dec 2007 | IP: Logged |

Vermont_Lymie
Frequent Contributor (1K+ posts)
Member # 9780


posted

---

Yes, I get these too! EXACTLY as you described it too!

I think it is due to one of the many tickborne diseases. They have gotten better for me since I started treatment, but they still crop up occassionally. I have not yet treated for bart fully, so perhaps they are bart-related.

---

Posts: 2557 | From home | Registered: Aug 2006 | IP: Logged |

jam338
LymeNet Contributor
Member # 14002


posted

---

AHA! I think I may discovered something about this! It is driving me nuts. I now have 4 fingers with blisters. The most I have had.

As I have previously posted I also have active EBV. After reading the below article I am now fairly convinced this is an associated pathogen in some way. Both are definitely herpes related viruses.

For those who also experience this strange phenomen, here is what I found on it tonight:

http://www.visualdxhealth.com/adult/herpeticWhitlow.htm

(The site even has pictures, but it looks like they found the most disgusting pictures they could find. Mine has never looked that nasty, thank God!)

The herpes simplex virus infection on the finger is known as Herpetic Whitlow. Grouped, fluid-filled or pus-filled, blisters are typical and usually itch and/or are painful.

Overview:
Herpetic whitlow--also called digital herpes simplex, finger herpes, or hand herpes--is a painful viral infection occurring on the fingers or around the fingernails. Herpetic whitlow is caused by infection with the herpes simplex virus (HSV).

Infections with the herpes simplex virus are very contagious and are easily spread by direct contact with infected skin lesions. HSV infection usually appears as small blisters or sores around the mouth, nose, genitals, and buttocks, though infections can develop almost anywhere on the skin. Furthermore, these tender sores may recur periodically in the same sites.

There are 2 types of HSV: Type 1 and Type 2. HSV Type 1 (HSV-1) infections usually occur around the mouth, lips, nose, or face, while HSV Type 2 (HSV-2) infections usually involve the genitals or buttocks. However, HSV-1 can sometimes cause infections in the genitals or buttocks, while HSV-2 can occasionally cause infections around the mouth, lips, nose, or face.

Both types of herpes simplex virus produce 2 kinds of infections: primary and recurrent. Because it is so contagious, the herpes simplex virus causes a primary infection in most people who are exposed to the virus. However, only about 20% of people who have a primary infection with the herpes simplex virus actually develop visible blisters or sores. Appearing 2-20 days after a person's first exposure to HSV, the sores of a primary infection last about 1-3 weeks. These sores heal completely, rarely leaving a scar. Nevertheless, the virus remains in the body, hibernating in nerve cells.

Certain triggers can cause the hibernating (latent) virus to wake up, become active, and travel back to the skin. These recurrent herpes simplex virus infections may develop frequently (every few weeks), or they may never develop. Recurrent infections tend to be milder than primary infections and generally occur in the same location as the primary infection.

People develop herpetic whitlow when they come into contact with areas already infected with HSV, either on their own bodies or on someone else's body. Usually, there is a break in the skin, especially a torn cuticle at the base of the fingernail, which allows the virus to enter the finger tissue and establish an infection. HSV-1 causes approximately 60% of herpetic whitlow infections, while HSV-2 causes the remaining 40%.

Who's At Risk:
Herpetic whitlow can affect people of all ages, of all races, and of both sexes. However, it is more common in children and in dental and medical workers. Children often contract herpetic whitlow as a result of thumb- or finger-sucking when they have a herpes infection of the lips or mouth. Dental and medical workers may contract herpetic whitlow by touching the contagious lesions of a patient with herpes simplex virus infection. In these groups of people--children and health care workers--herpetic whitlow is most commonly caused by HSV-1. In everyone else, herpetic whitlow is usually caused by infection with HSV-2.

Signs and Symptoms:
The most common locations for herpetic whitlow include:

-Thumb
-Index finger
-Other fingers

Approximately 2-20 days after initial exposure to the herpes simplex virus, the infected area develops burning, tingling, and pain. Over the next week or 2, the finger becomes red and swollen. Small (1-3 mm) fluid-filled blisters develop, often clustered together on a bright red base. The blisters usually rupture and scab over, leading to complete healing after an additional 2 weeks.

Other symptoms occasionally associated with the primary infection of herpetic whitlow include:

Fever
Red streaks radiating from the finger (lymphangitis)
Swollen lymph nodes in the elbow or underarm area
If a person contracts herpetic whitlow from himself or herself (autoinoculation), then he or she is likely to have a primary herpes simplex virus infection of the mouth area or of the genital area.

Repeat (recurrent) herpes simplex virus infections are often milder than the primary infection, though they look alike. A recurrent infection typically lasts 7-10 days. Recurrent herpetic whitlow is rare.

However, people with recurrent HSV infections may report that the skin lesions are preceded by sensations of burning, itching, or tingling (prodrome). About 24 hours after the prodrome symptoms begin, the actual lesions appear as one or more small blisters, which eventually open up and become scabbed over.

Triggers of recurrent HSV infections include:

-Fever or illness
-Sun exposure
-Hormonal changes, such as those due to menstruation or pregnancy
-Stress
-Trauma
-Surgery
-Self-Care Guidelines
-Acetaminophen or ibuprofen may help reduce fever and pain caused by the herpes simplex virus sores. Applying cool compresses or ice packs may also relieve some of the swelling and discomfort.

Because herpes simplex virus infections are very contagious, it is important to take the following steps to prevent spread (transmission) of the virus during the prodrome phase (burning, tingling, or itching) and active phase (presence of blisters or sores) of herpetic whitlow:

-Avoid sharing towels and other personal care items
-Cover the affected finger with a bandage
-Wear gloves if you are a health care provider
-Don't pop any blisters--it may make the condition worse
-Unfortunately, the virus can still be transmitted even when someone does not have active lesions. However, this is very unusual for patients with herpetic whitlow.

When to Seek Medical Care:
If you develop a tender, painful sore on the finger, see a physician, especially if it is not going away or if it seems to be getting worse. You should definitely seek medical attention if you have a finger sore as well as typical symptoms of oral or genital herpes.

Treatments Your Physician May Prescribe:
Most herpes simplex virus infections are easy for physicians to diagnose. On occasion, however, a swab from the infected skin may be sent to the laboratory for viral culture, which takes a few days to grow. Blood tests may also be performed.

Untreated HSV infections will go away on their own, but medications can reduce the symptoms and shorten the duration of outbreaks. There is no cure for herpes simplex virus infection.

Although herpetic whitlow symptoms will eventually go away on their own, your physician may prescribe antiviral medications in order to help relieve symptoms and to prevent spread of the infection to other people:

-Acyclovir pills
-Valacyclovir pills
-Famciclovir pills
-Topical acyclovir ointment

These medications are usually taken for 7-14 days.

More severe herpetic whitlow may require oral antibiotic pills if the area(s) are also infected with bacteria.

Although it is rare, recurrent herpetic whitlow can be treated with the same oral antiviral medications:

-Acyclovir pills
-Valacyclovir pills
-Famciclovir pills
-Topical acyclovir ointment

People who experience early signs (prodromes) before recurrent infections may benefit from episodic treatment, by starting to take medication after the onset of tingling and burning but before the appearance of blisters and sores.

Very rarely, individuals may have recurrent herpetic whitlow outbreaks that are frequent enough or severe enough to justify suppressive therapy, in which medications are taken every day in order to decrease the frequency and severity of attacks.

References:
Bolognia, Jean L., ed. Dermatology, pp.1237-1238. New York: Mosby, 2003.

Freedberg, Irwin M., ed. Fitzpatrick's Dermatology in General Medicine. 6th ed, pp.1317, 2063, 2068. New York: McGraw-Hill, 2003.

=================================================

---

Posts: 495 | From SF Bay area, CA | Registered: Dec 2007 | IP: Logged |
Contact Us | LymeNet home page | Privacy Statement

Powered by UBB.classic™ 6.7.3

---
The Lyme Disease Network is a non-profit organization funded by individual donations. If you would like to support the Network and the LymeNet system of Web services, please send your donations to:
The Lyme Disease Network of New Jersey
907 Pebble Creek Court, Pennington, NJ 08534 USA
http://www.lymenet.org/
---
Home | Flash Discussion | Support Groups | On-Line Library
Legal Resources | Medical Abstracts | Newsletter | Books
Pictures | Site Search | Links | Help/Questions
About LymeNet | Contact Us
---
© 1993-2020 The Lyme Disease Network of New Jersey, Inc.
All Rights Reserved.
Use of the LymeNet Site is subject to Terms and Conditions.
---