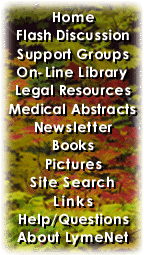 ---
LymeNet on Facebook
LymeNet on Twitter
---
---
The Lyme Disease Network receives a commission from Amazon.com for each purchase originating from this site.
When purchasing from Amazon.com, please
click here first.

Thank you.




Dedicated to the Bachmann Family


LymeNet needs your help:
LymeNet 2020 fund drive

The Lyme Disease Network is a non-profit organization funded by individual donations.

| | |
| --- | --- |
| | |
Author
Topic: Was all of this Lyme or was some of it EBV? UPDATE on treatment

Jellybelly
Frequent Contributor (1K+ posts)
Member # 7142


posted

---

About 3-4 months ago I was diagnosed with elevated Epstein Barr Virus, with an elevated antibodies of 2400+. My symptoms had been profound fatigue, to the point of not being able to stay awake no matter where I was and cognition, just shot. It didn't feel like the Lyme symptoms though.

Even though I have achieved a high degree of remission from Lyme, getting the brain fog to clear has been difficult, it has been real stubborn.

So back to the EBV, I was started on Valcyte about 3 months ago, which is the much stronger version of Valtrex, it is actually used in treating AIDS. To take it for 6 months.

Verdict is........I am impressed and thrilled. Felt pretty yucky the first week or so, with nausea and loss of appetite. Then a little bit, by little bit, my energy levels started increasing. Then at about the 2 month mark I realized that I was feeling pretty good.

Then, what I was really exceited about was the brain fog started lifting in a way, I can't explain. I don't know that I have had my wits about me like this in who knows how long. I can actually multi task!!! I have started cooking again, I mean more than just opening a box or can. I had a real hard time following recipies, but feel like I can do it now.

I still have bad days, and I am not up to an energy level I hope to achieve, but I am really happy at the progress I am making.

My doc was very exceited too. This is new protocol. My antibodies titer dropped down to 1400 too! I get tested every 2 months, titers and liver. I have about 3 months to go.

PS: It was thought that maybe this was causing my eye problems, dry eye, pain around the orbit, EBV is related to herpes, and a blister on my eyeball. It seems that it might be getting better. One eye feels a lot better, the other is still pretty bad, but does seem to be better. We are working on getting a Valtrex type eye ointment. Problem is, you can get it everywhere but here in the US.

I think this is another rock you may want to turn over. EBV and Lyme seem to enter in when one or the othter opens the door. Often present together. Which might come forst don't know. But it is worth a look in my opinion, and I had no clue it was a problem for me.

---

Posts: 1251 | From california | Registered: Apr 2005 | IP: Logged |

mandy614
LymeNet Contributor
Member # 16524


posted

---

That is so great the valcyte is working for you. I have heard that the side effects aren't worth the benefit. Many people don't see full resolution of chronic ebv.

This all started for me with a wicked case of mono. It took me a while to be diagnosed with lyme, I think I had lyme first and the ebv just destroyed my immune system. I was on acyclovir for a while, transfer factor, lysine, olive leaf...I know the ebv is a huge issue for me too.

Valcyte is very expensive, do you have insurance? I'm not sure even if I wanted to try it I could afford it.

I hope this is the answer for you!Good luck.

---

Posts: 348 | From maryland | Registered: Jul 2008 | IP: Logged |

timaca
Frequent Contributor (1K+ posts)
Member # 6911


posted

---

Good for you! I'm glad you are on valcyte and seeing improvements! You certainly had high antibody titers to EBV!

For further reading, you may want to refer yourself and your doctor to www.hhv-6foundation.org.

You cannot tell the difference by symptoms between a bacterial infection (lyme) and a viral infection (like EBV).

You may want to get tested for HHV-6 and Chlamydia Pneumonia as well. They can also be part of the problem (at least they are in me!)

Timaca

---

Posts: 2872 | From above 7,000 ft in a pine forest | Registered: Feb 2005 | IP: Logged |

Jellybelly
Frequent Contributor (1K+ posts)
Member # 7142


posted

---

Mandy, I do have insurance, and it s $35.00 with. It is worth looking around though, sometimes places like Walmart can get it to you for less.

I didn't realize that EBV is Mono until I got this diagnosis. Most have been exposed but it only affects teenagers for some reason like we think of Mono. Apparently though it can back and bit us all in the butt like the Mono we generally think of.

---

Posts: 1251 | From california | Registered: Apr 2005 | IP: Logged |

Marnie
Frequent Contributor (5K+ posts)
Member # 773


posted

---

EBV and HHV-6 (many of us are exposed to these viruses when young and they remain dormant) are linked to MS.

Apparently a part of a protein in these viruses *mimic* a part of the myelin basic protein.

With MS...IgG antibodies are made...too many.

Very cutting edge research looks to indicate a possibility of using valganciclovir...to destroy both EBV and HHV-6. (HHV-6A actually).

"Human herpesvirus-6

infects glial precursor cells, the

ancestors of myelin-producing oligodendrocytes,

leading to cell cycle arrest

: findings which suggest that

defective remyelination might play a role in MS."

Prior to this...EBV is/was *also* associated with MS.

IgG4 ANTIBODIES are good for lyme (!), bad for fighting viral triggered oligodendrocytes cell death.

The reason is IgG4 antibodies...

Characterization of a humanized IgG4 ***anti-HLA-DR monoclonal antibody***

Bb is locking onto HLA-DR when ATP containing actin is supposed control the "capping" of HLA-DR.

"Antibiotic-refractory Lyme arthritis is associated with HLA-DR molecules that bind a Borrelia burgdorferi peptide"

What do our IgG4 ANTIBODIES do?

``Anti-Inflammatory Activity of Human IgG4 Antibodies by Dynamic Fab Arm Exchange''

http://www.sciencemag.org/cgi/content/full/317/5844/1554

A LACK of IgG1 and IgG4 antibodies is related to toxic shock syndrome (PMID: 3815898)

Our own antibodies to Bb are defective...a "fab" portion.

Characterization of the physiological requirements for the bactericidal effects of a monoclonal antibody to OspB of Borrelia burgdorferi by confocal microscopy.


The bactericidal effect of Fab-CB2 is not dependent on the induction of spirochetal proteases but

is dependent on the presence of Ca2+ and Mg2+.

Supplementation of Ca2(+)- and Mg2(+)-free medium with these cations restored the bactericidal effects of Fab-CB2.

The mechanism by which a Fab fragment of an antibody destroys a bacterium directly may represent a novel form of antibody-organism interaction.

PMID: 9125579

I posted the above a LONG time ago.

Under a doctor's supervision...*IV* Mg sulfate...500mg per dose each day for 6 days, minimum = 3 grams, should help a LOT.

If someone is *VERY* Mg deficient, he/she will NOT have diarrhea associated with this.

Why 3 grams? Do the math...see how much Mg was lost (likely the amt. stored in muscle cells) at the outset of lyme:

Lyme disease and magnesium deficiency

V. CRISTEA - Department of Immunopathology, Medical Clinic III, "Iuliu Hatieganu"
University of Medicine and Pharmacy, MONICA CRIAN - Department of Immunology,
"Ion Chiricu" Oncological Institute, Cluj-Napoca, Romania

V. CRIAN - ITEM-Paneuro Group. [email protected]@if..c;!ntci,rQ

During the period April 2001 - January 2003, we had under observation two cases, in
which the presence of both IgM and IgG antibodies to Borrelia burgdorferi was
serologically confirmed at high titers.

In both cases, clinical manifestations were
similar: shivering, fever, headache, articular and right hypochondrium pain, and
objectively - tachycardia and erythema migrans - these elements being important for
the formulation of Lyme disease suspicion.

Humoral tests showed: significantly
increased ESR, leukocytosis with PMN predominance, intensely positive PCR (for B.
Burgdorferi DNA)

and significant magnesium deficiency (1.20 mEq/L, 1.33 mEq/L,
respectively).

A large spectrum of antibiotics with both oral and parenteral
administration has been so far used in the treatment of Lyme borreliosis.

Among the most frequently used are tetracyclines, betalactamides and cephalosporins.

The decision to initiate antibiotic therapy can be difficu1t because in the majority of the
cases acute infection is self-limited.

Asymptomatic patients, in whom laboratory
examinations sustain the diagnosis of Lyme disease, should be treated in order to
prevent infection dissemination.


Since in the first case antibiotic therapy alone did not lead to the expected results, magnesium derivatives were also associated.

In both cases, following combined therapy, symptomatology significantly improved at 14
days, and laboratory examinations were restored to normal values after 6-8 weeks -
disappearance of IgM to B. Burgdorferi and significantly increased magnesemia
(1.74 mEq/L, 1.72 mEq/L, respectively)

We believe that in certain diseases, Mg
deficiency can cause a decrease in immune response.

The appearance of recurrences, which are frequently reported in the literature, in spite of adequate antibiotic therapy, could represent an argument for this.

This is why the use of Mg derivatrves in therapy can represent an immunostimulating factor. The peculiarities of the cases are the following:

1. Patients had in addition to fever, articular pain and erythema migrans, Mg
deficiency

2. The supplementation of therapy with Mg derivatives had an immediate beneficial
effect that was maintained in time.

As a conclusion at this stage, we consider that in the acute phase of Lyme borreliosis
there is a significant Mg consumption and the introduction in therapy of such
preparations is recommended and beneficial."

The above abstract is NOT available on Pubmed...only the title is available.

" IgG4 subclass was secreted by three EBV transformed cell lines, all of which produced IgG4 anticolon antibodies"

IgG4 antibodies are needed! And/OR Mg sulfate.

[ 04. October 2008, 04:05 PM: Message edited by: Marnie ]

---

Posts: 9402 | From Sunshine State | Registered: Mar 2001 | IP: Logged |

Marnie
Frequent Contributor (5K+ posts)
Member # 773


posted

---

Simplifying...

EBV looks to trigger IgG4 antibodies.

IgG4 is an anti-HLA-DR antibody.

A protein on Bb's cell walls locks onto HLA-DR on fibroblasts and on B cells. We KNOW this.

So...IgG4 antibody prevents the binding.

But does it cure? IgG4 antibodies have been found in the joint fluid (synovial) of RA patients.

Go to the following for a short, but very interesting discussion re: IgG4:

http://www.genmab.com/ScienceAndResearch/UniBodyTechnology.aspx

See my post today re: the Chinese herb...

---

Posts: 9402 | From Sunshine State | Registered: Mar 2001 | IP: Logged |

oxygenbabe
Frequent Contributor (1K+ posts)
Member # 5831


posted

---

So Marnie how did that relate to fos signalling?
THANKS

---

Posts: 2276 | From united states | Registered: Jun 2004 | IP: Logged |

Marnie
Frequent Contributor (5K+ posts)
Member # 773


posted

---

Here's a catch...fab (= fragments of antibodies) need Mg present to adhere...to *bind*.

Gotta increase ATP to drive Mg back into the cell.

See my "fab" post and read the link I provided.

Then get a far infrared 880nm machine and prior to using...

Soak in an Epsom Salt bath for at least 20 minutes. (Oh...how I wish Mg sulfate IVs were available for all.)

Increase ATP, drive Mg back into the cells, and THEN our own antibody specific to destroying Bb can THEN *bind to Bb's proteins* to destroy it.

IgG4 looks to be merely blocking one antigen.

We still need Mg present in order for the other antigen to antigen binding to happen.

Follow?

Oxygenbabe...give me a sec. re: gene transcription...

When cAMP levels inside the cells increase or decrease, responsive elements bind to (CREB) PROTEINS to signal certain genes.

Very little ATP is being made in the cells in which Bb infects because those cells and Bb are relying on glucose, not oxygen to -> ATP.

If we increase ATP (via far infrared), are we not lowering cAMP levels (as ADP (2)-> ATP(3) = need for cAMP (1))

and sorta "simulating" oxidative phosphorylation?

Which theoretically might turn off the genes which are currently signalling the metalloproteinases (c-fos/c-jun).

???

[ 04. October 2008, 06:49 PM: Message edited by: Marnie ]

---

Posts: 9402 | From Sunshine State | Registered: Mar 2001 | IP: Logged |

oxygenbabe
Frequent Contributor (1K+ posts)
Member # 5831


posted

---

Still cant follow your line of thinking .

I used to get magnesium sulfate in my IV--3 cc's. I dno't think I was any healthier then, in fact I tolerate magnesium chloride better and now get only 1 cc.

I do need magnesium badly tho.

I'll get back to researching this this week and try to understand your posts. I'm thinking there must be a way to interrupt Bb's pathway (if it allows). Lots of things can downregulate an organism's pathway I'm sure. It would be similar to what delta tocotrienol does to cholesterol. Through its farnesyl tale, it inhibits cholesterol production.

---

Posts: 2276 | From united states | Registered: Jun 2004 | IP: Logged |

Marnie
Frequent Contributor (5K+ posts)
Member # 773


posted

---

Bb takes MANY MANY pathways...the cholesterol pathway is just one.

Research Kegg pathways - click on metabolic, etc. In the search window, type in: Borrelia Burgdorferi.

In the Kegg database you can also find all of Bb's genes.

This is an enormously complex pathogen!

The biggest problem is, IMO, Bb's PKCD inhibitor. Rotterlin is a man-made PKCD inhbitor so if you ever find anything about that drug...think of Bb doing the same.

The PKCD inhbitor prevents phosphate group transfer to specifically serine/theonine. This also prevents the cell from dying because IF PKCD is ABLE TO get into the mitochondria (it is not-membrane problem), then that would trigger cell death via Cytochrome C release(death of the cells that Bb is camped out in -> ROS).

Look closely at the ingredients in Cho-Wa tea (expensive)- look to see HOW they work and also consume CHERRY juice (the real stuff 'natch). (Can do so at a different time of the day.)

I suspect if Mg sulfate does destroy Bb, the "toxins" released = acidosis -> need to increase our pH, so the body will find a mineral to do this...our most abundant one...calcium - from the bones.

I think Bb cannot tolerate SO4. A lot of other pathogens are destroyed via SO4 too.

Symptoms of rebound hypercalcemia (which would be temporary):

Loss of appetite
Weight loss
Nausea
Vomiting
Thirst
Fatigue
Muscle weakness
Restlessness
Confusion

---

Posts: 9402 | From Sunshine State | Registered: Mar 2001 | IP: Logged |
Contact Us | LymeNet home page | Privacy Statement

Powered by UBB.classic™ 6.7.3

---
The Lyme Disease Network is a non-profit organization funded by individual donations. If you would like to support the Network and the LymeNet system of Web services, please send your donations to:
The Lyme Disease Network of New Jersey
907 Pebble Creek Court, Pennington, NJ 08534 USA
http://www.lymenet.org/
---
Home | Flash Discussion | Support Groups | On-Line Library
Legal Resources | Medical Abstracts | Newsletter | Books
Pictures | Site Search | Links | Help/Questions
About LymeNet | Contact Us
---
© 1993-2020 The Lyme Disease Network of New Jersey, Inc.
All Rights Reserved.
Use of the LymeNet Site is subject to Terms and Conditions.
---