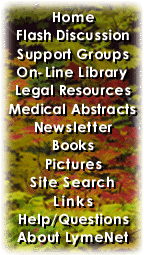 ---
LymeNet on Facebook
LymeNet on Twitter
---
---
The Lyme Disease Network receives a commission from Amazon.com for each purchase originating from this site.
When purchasing from Amazon.com, please
click here first.

Thank you.




Dedicated to the Bachmann Family


LymeNet needs your help:
LymeNet 2020 fund drive

The Lyme Disease Network is a non-profit organization funded by individual donations.

| | |
| --- | --- |
| | |
Author
Topic: treating a child- need support.

LaurenTurner
LymeNet Contributor
Member # 12320


posted

---

I know there is another board for parents with childen who have lyme, but it's rather slow.. so I thought I would post here.

I'm feeling pretty horrible today- emotionally. A little recap: My 3 year old son was tested last September for Lyme. I didn't start showing symptoms til he was 18 mths so I didn't think he could of contracted lyme from me, but I just wanted to know.

My local dr's office (who is somewhat lyme literate) called and said it was negative. I left it at that.

As the months passed I started being curious to see the results for myself. So in June of this year I went and got them. My heart dropped when I saw the results. There were some positive bands in some IND bands.

My son was showing no real symptoms so we just decided to wait and see. I thought maybe he had gotten my antibodies or there was some other explanation for the positive bands. I guess I was in denial.

My son has a speech delay which I attributed to his ears having fluid in them -at the time I didn't think this had anything to do with Lyme.

Other than that he sleeps fine, eats fine, doesn't complain of pain, and has bounds and bounds of energy (if only I could harness his energy I would be doing good. LOL)

Well I had an appt. with my doctor yesterday. I had mentioned my son to him before and at the time he thought the wait and see stance was okay. I asked him again yesterday and he had a different opinion. He had gone to a conference about children with Lyme.

He feels like I need to start treatment now. He said that if my son has had this while whole life he might not be able to tell about aches and pain- because it feels normal to him. That really hit me.

I called the llmd in Missouri. I left a message. I'm hoping we can get him in soon.

I feel so guilty for not doing this sooner. My heart hurts. I just hate to even think of my baby having to go through this.

What is the success rate of kids? Can he get all the way better? He really doesn't have many symptoms besides a speech delay.

Other little things I've noticed are..

1) eyes watering (I remember this happening to me a lot before I was diagnosed).

2) When he was 2 he knew how to count from 1-10, but now he needs help.

My doctor gave me a book to read. It said children with Lyme will sometimes repeat questions instead of answering them. It's like they can't distinguish if it's a question or not. Sometimes my son does this.

I just need some reassurance. Will my son be okay? I guess nobody can tell me that.

I can't seem to get past this guilt of not treating him sooner. What if I caused damage to him?

I just keep thinking if we had treated him when we first found out he might be through with treatment and this would all be behind us.

With a kid how do you know when to stop treatment? He doesn't seem to be "sick" right now so how will I know when it's gone? Can it be gone? I've read that children usually do remarkably better than adults with treatment. I hope my son does well.

Well I just needed to get that out. I'm feeling a little overwhelmed.

---

Posts: 248 | From Tejas | Registered: Jun 2007 | IP: Logged |

jkmom
LymeNet Contributor
Member # 14004


posted

---

The doc in MO told us that he would rather be treating my daughter than one of us. He said kids usually do better than adults with Lyme treatment.

I think you are doing good to recognize his mild symptoms might be Lyme related and considering treatment now. I would think he would have the best chance at overcoming these problems with early treatment.

---

Posts: 984 | From US | Registered: Dec 2007 | IP: Logged |

Geneal
Frequent Contributor (5K+ posts)
Member # 10375


posted

---

Children do very well with treatment.

Please stop beating yourself up.

Everyday new info comes out that changes regarding treatment.

If that suggestion was given to you months ago,

I am sure you would have treated.

It is so hard to be ill and then think about someone else.

My daughter had complaints of joint pain, tremulousness, fatigue, etc.

I thought (wrongly) she was emulating me.

I was so very ill.

Did I feel bad that I didn't notice?

You bet.

However, if I didn't have Lyme I would never, ever have thought to test my children.

Then I channeled my energy into

Going after the bug invading my children's bodies.

The bug they probably got from me.

I know that children have fantastic results with treatment.

Behavioral herxes aren't for the faint of heart, but we're here for you.

Hang in there Mom.

You are doing a great job.

Hugs,

Geneal

---

Posts: 6250 | From Louisiana | Registered: Oct 2006 | IP: Logged |

luluMN
LymeNet Contributor
Member # 12703


posted

---

Geneal is so right! You can't beat yourself up about it. I say this, but I am doing the exact same thing right now..

My story is similar, in that during the time I was terribly sick, I thought there's no way my kids have it too, that would be just too much to deal with...I was in denial though.

I have been keeping a journal on all of us (which we all test positive on paper my the way)
and after 6+ months noticed both kids are having the ecact same set of symptoms the same time each month...classic Lyme of course.

My son has already been in treatment,for speech issues, headaches, and tired. But my daughter will begin soon after her LLMD appt in Dec. I wish it was sooner....

My son has had speech issues for a long time...and he's 9 now and it just keeps getting worse it seems, but I am hopeful that abx will help..

Please know you are doing the right thing by getting him treatment. I have also heard that kids do well if treated early, that's what I am hoping for too! Don't be like me lately, and mourn their future before it gets here, live and enjoy today!!!
You are a great Mom for being so insightful now...keep it up!

Laura

---

Posts: 232 | From MN | Registered: Jul 2007 | IP: Logged |

Geneal
Frequent Contributor (5K+ posts)
Member # 10375


posted

---

Lauren,

Your mailbox is full.

I will try to answer your question here if you don't mind.

My children had horriffic behavioral herxes at first.

Screaming, yelling, hitting out of no where.

It is hard as at times their Lyme rages (herxes) would tend to set mine off.

I would have to make myself leave the room/area.

Take 5-10 minutes to calm down before trying to calm them down.

It takes a lot of patience (I didn't always have),

And a lot of prayers (I always pray) to work through the first few rounds.

I must admit I didn't always do a good job.

I got better at it though.

Still have to be careful that their issues don't ignite mine.

On good days it is easy.

On bad days....my knees get worn out from praying.

It is a time when you may need the most support.

Just wanted you to know that I will be here for you and your baby if you need me.

Hugs to the whole family,



Geneal

---

Posts: 6250 | From Louisiana | Registered: Oct 2006 | IP: Logged |

Draba
Member
Member # 14589


posted

---

I'm so sorry to hear about your poor baby

I have also heard that kids heal faster than adults. People always tell me that (I'm 17, so it kind of applies).

You are so lucky to have caught it.

We're all here for you, sending hugs and prayers to both you and your child.

Hugs,

Draba

--------------------
Really tired of being sick. Wanting to go to college and have a life. Really happy that I have a puppy.


---

Posts: 66 | From My room | Registered: Feb 2008 | IP: Logged |

jentytib
LymeNet Contributor
Member # 14375


posted

---

Gosh you sound so much like me.

My youngest son has speech delays.

After I was pos I had both kids tested.

The first test was neg but my dr treated them for 30 days.

we waited a few months and I found out last Friday BOTH kids are IGM pos.

We are treating them both again for another month.

Bot HOW do we know when to stop treating? Kids don't know what is "normal". I read someplace that since they don't know what is "normal" they can't lie when it comes to pain when they complain. If they complain, it is real.

Does your child have apraxia of speech?

--------------------
http://alwaystrustyourgut.blogspot.com


---

Posts: 182 | From United States | Registered: Jan 2008 | IP: Logged |

kgarrett
Member
Member # 17420


posted

---

Wow - I had better get my son tested for lyme. I don't know how long I have had it but, I suspect I had it when I was pregnant. He had a severe speech delay. Mostly comprehension problems. He couldn't answer a question "yes" until he was 2.5 years old. He also had some quirks in his speech patterns. He doesn't seem to be in pain but, now I don't know if he could be. He still has a bit of a problem in his speech. He will sometimes just stare at you when you talk to him or ask a question.
One thing that made a dramatic difference in his speech was giving him nordic naturals oils for kids. Within 2 weeks of giving it to him his speech improved dramatically. It doesn't seem to make as much of a difference now as it did before but I can normally still tell if he is on it.

---

Posts: 43 | From md | Registered: Sep 2008 | IP: Logged |

LaurenTurner
LymeNet Contributor
Member # 12320


posted

---

I'm sorry to hear so many others are going through this with their children.

This really is hard. Much harder than dealing with my own health. I feel like I've been kicked in the stomach when I think of my son having this.

I made an appointment with Dr. C. It isn't til December 16th. I hate having to wait so long. It's causing me a lot of anxiety.

I keep thinking if I had only done this earlier. It's been over a year since we had him tested. Why didn't I look at the results sooner? When I did finally look at the results why did I decide to just wait and see?

I just can't get past the guilt...

---

Posts: 248 | From Tejas | Registered: Jun 2007 | IP: Logged |

LaurenTurner
LymeNet Contributor
Member # 12320


posted

---

jentytib,

No my son has never been diagnosed with apraxia. Just a significant speech delay. We have him in therapy right now.

I'm so sorry your kids tested postive. Good luck with their treatment. Do you have an llmd for them?

Message me if you ever want to talk. Maybe we can go through this together.

~Lauren

---

Posts: 248 | From Tejas | Registered: Jun 2007 | IP: Logged |

Geneal
Frequent Contributor (5K+ posts)
Member # 10375


posted

---

Developmental araxia of speech is not an easy diagnosis to make.

I know.

Speech errors change and are not consistent.

So one day it could be a t for a d substitution as it tog for dog.

Next day it could be a k for d like kog for dog.

Brain sends the messages to speech muscles to make a certain sound,

Then somewhere between the initialization process and follow through

Of the muscles the message gets lost or changed.

Hang in there. Maturity can help a lot with this.

Speech therapy also.

For children with receptive language problems (understanding what is said),

I would first make sure that the hearing is fine.

Have an audiologist do a complete work up.

Not just a hearing screening.

Recurrent middle ear infections can and do contribute and sometimes

Cause this problem along with speech production errors.

I am a Speech Therapist.

While I cannot remember what to get at the grocery store,

My memory for practicing is pretty much intact (hence 17+ years of practicing).

I would be happy to help anyone or give advice if you need it.

Hugs,

Geneal

---

Posts: 6250 | From Louisiana | Registered: Oct 2006 | IP: Logged |

Ocean
Frequent Contributor (1K+ posts)
Member # 3496


posted

---

Lauren,
Please don't beat yourself up! You didn't look at the test results because your doctor said they were negative. Anyone would have done this, as we trust doctors to know what they are doing.

I have not had my kids tested yet as I just got my positive Igenex last week, but I can't believe I didn't know I had Lyme for years before I ever became pregnant. I think, "if I had just known and gotten treated, I wouldn't have had to go through this nightmare and possibly my kids too!"

But it won't change anything except to make me feel depressed. My 5 year old has complained about her knee hurting, she's always been subject to temper tantrums, my mom and MIL have never seen a child act like she does at times. But then when she's not like this, she's a total sweetheart.

My 7 year old had a little trouble breathing at birth, it was a normal vag, unmedicated birth, he needed a little bit of blow by oxygen. He started complaining of his heart hurting last year. I listened to him with my stethoscope and he sounded fine. His pedi said he was fine. His stools are sometimes grey colored and he complains of his stomach hurting too. He's smart, but sometimes it seems like he takes longer to 'process' things, he's never been a super active kid. My sister is a teacher and says that all of her boys are so hyper. I worry that he has fatigue, but doesn't know how to say it.

When he was 2 years old, it was a struggle to put him to bed, and sometimes he would get up in the middle of the night. Once I heard something in the kitchen at 4 am and he was in there toddling around at 2.5 years old. Almost like he had insomnia. I first tested positive with electrodermal testing that said I had Lyme and Babesia, blood test, positive for Lyme Igm and neg for Co. I think I probably have Babs, and he does too.

Our 2 year old is a very easy kid, always has been. I was asymtomatic before her pregnancy, during and after, I wonder if it is in cyst form, if it will not infect the baby?


It kills all of us parents to think that our babies have this thing that has destroyed our lives. It does me. I hate wondering if they have been sick their whole short lives.

You are a good mom. You are doing everything that you can for your child and that is admirable. Beating yourself up will not help your son, but only weaken your body to let the Lyme win. Think positively for you and your family and keep us updated on his/your progress.

Take care,
Ocean

--------------------
http://www.healingfromlymedisease.blogspot.com/

Sick since 1996...Diagnosed 10/2008

IgM:23-25 IND, 31+++, 39 IND, 41 +++
IgG: 31 IND, 41++, 58+


---

Posts: 1619 | From Ohio | Registered: Jan 2003 | IP: Logged |

MaryL
Member
Member # 11997


posted

---

Lauren - I wish I had better news for you. I too had Lyme & so recognized the odd symptoms in my son when he was 8 - he had been having many symptoms since he was 7, but I didn't know about Lyme then.

If I hadn't been treated for Lyme I would never know to have him tested.

That being said, my son is 12 now & is on IV antibiotics - now Rocephin. He's been on various IV antibiotics for a year and a half.

You say you don't have an appt. with the MO dr. until Dec. 16th. We also used him for treatment until he "fired" us in August. We now see a LLMD in Wisconsin who has put our son on Biaxin & IV Rocephin. We are seeing progress with the combination. We were able to get in to see him much sooner.

I hope treatment for your son progresses much better than was our experience. Watch for relapses after oral antibiotics - they can be worse than the initial illness.

---

Posts: 81 | From Iowa | Registered: May 2007 | IP: Logged |
Contact Us | LymeNet home page | Privacy Statement

Powered by UBB.classic™ 6.7.3

---
The Lyme Disease Network is a non-profit organization funded by individual donations. If you would like to support the Network and the LymeNet system of Web services, please send your donations to:
The Lyme Disease Network of New Jersey
907 Pebble Creek Court, Pennington, NJ 08534 USA
http://www.lymenet.org/
---
Home | Flash Discussion | Support Groups | On-Line Library
Legal Resources | Medical Abstracts | Newsletter | Books
Pictures | Site Search | Links | Help/Questions
About LymeNet | Contact Us
---
© 1993-2020 The Lyme Disease Network of New Jersey, Inc.
All Rights Reserved.
Use of the LymeNet Site is subject to Terms and Conditions.
---