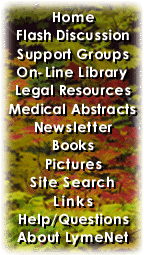 ---
LymeNet on Facebook
LymeNet on Twitter
---
---
The Lyme Disease Network receives a commission from Amazon.com for each purchase originating from this site.
When purchasing from Amazon.com, please
click here first.

Thank you.




Dedicated to the Bachmann Family


LymeNet needs your help:
LymeNet 2020 fund drive

The Lyme Disease Network is a non-profit organization funded by individual donations.

| | |
| --- | --- |
| | |
Author
Topic: Trying to decide about IVs. Input needed please.

motownlyme
LymeNet Contributor
Member # 11485


posted

---

I haven't posted in a long time. I've just been surviving. Work. Collapse. Get ready for work. Work to pay Dr. bills. Struggle to Dr. apts. Unable to do more.

I've been on oral abx now for about at least 18 months and am still really sick. I was treating with an LLMD in PA who turned out to be a duck in LLMD clothing. Yes, he took insurance, but I lost a year of treatment due to his incompetence.

It took months to get in to see Dr. J in SC. I've seen him a few times now and he wants to start IVs.

I'm terrified. On the one hand, at one time I desperately want to do IVs, on the other, I've seen so many post here that IVs didn't help and they had terrible side effects.

The minimum cost will be $20,000+ - and that doesn't cover his office visits, the cost of traveling to his office, hotels, and supplements.

Of course BC is my insurance company. They are notorious for not covering IVs. This could quite literally bankrupt us. I know many here are in the same boat.

My husband was at one time very supportive. He is now beyond tired of dealing with me being sick. Tired of everything revolving around lyme. He's just tired. Like me - physically, emotionally, mentally,and financially tired. He was my only real source of desperately needed emotional support.

His response to the Dr.s office calling today with the financial reality of starting IVs was, "Well I guess we can't get that TV we've been saving for for two years now."

My response was that I'm scared it won't work and I'll be left worse than before and I won't be able to repay the money.

The only way I know to do it is to put it on several credit cards. I have low interest rates now, but with the current economy, credit card companies are raising interest rates to 27% across the board even if you do pay on time.

I do not have a positive lyme test. I've been diagnosed clinically. Has anyone here treated with Dr.J in SC? Has anyone gotten their life back treating with him?

I don't know if I should do the IVs or not. I need some help and opinions from those out there who've been where I am right now. Please.

---

Posts: 237 | From WV | Registered: Mar 2007 | IP: Logged |

hopeandhealth
LymeNet Contributor
Member # 17605


posted

---

I looked into seeing him. My husband and I both got the vibe that it was going to be very costly with him. If we had a ton of money, I would go to him...but we definitely do not.

I can totally sympathize with you on the husband front. At first, mine seemed to be interested, cared about what was going on, and believed in the idea of chronic Lyme and how long it takes to get better.

As time went on, he became more and more impatient with it all. It has been a very sore spot with us to say the least.

He has excellent credit and could take out more loans but wouldn't. He has a job that requires a top secret clearance and if you pay late on your bills or creditors start calling, you lose your clearance and your job.

I know the philosophy here is lose everything, as long as you get better. But to a man, to lose everything you've worked hard for, over a treatment that might or might not work, is just too risky...and I will say that I agree with him on that.

Just because I am sick, I couldn't force my kids to live in a box under a bridge or eat beans and rice every night. I couldn't ask my husband to lose everything. I've heard people say before you go under, go and take out as much credit as you can...then file bankruptcy. That is A LOT to ask, ESPECIALLY when it's not a SURE FIRE way to get better.

I told my husband before, if I knew there was a treatment that was definitely going to work - I would force myself to get a job and start saving for it, I would sell my car, I would do anything. I have a hard time taking risks like that...especially when I have 2 young children and a husband who would lose everything because of me. Lyme might kill me but knowing that I dragged my family down a road of poverty would also kill me too.

I do wish my husband would be more supportive, but to him, we've already spent close to $4000 on this and I've got almost no where. That's a lot of money in a half of a year to not get hardly anywhere.

On the i.v. front, if I could go back on it, I would! My insurance only covered 28 days of it. I actually had herxes on it and felt like maybe I was getting somewhere. I honestly think to be "cured" or whatever you call it, it would have taken me a year to get better and that was on i.v.'s.

It is far too expensive and I can't afford doing it out of my pocket.

You said that it would cost $20,000 out of pocket, not including Dr. visits, etc. Is that amount quoting a certain amount of time? $20,000 for how much? I'm curious as to what the $20,000 includes, can you please fill me in on that? I'm only curious because we looked at this guy and he's been in my head for a while.

I think the i.v.s will be a great thing, I don't think it will leave you worse than when you started. Like I said at the beginning of my reply, I can totally relate to husbands not being all of the way "in" when it comes to treating Lyme. Also though, a t.v. is NOT more important than you getting treatment, and I would probably get p.o.ed at my husband for comparing a t.v. to my health. However, I don't blame him for not wanting to lose everything on a treatment that doesn't seem to work on everybody. It seems like more people stay sick than get better. That's my opinion.

Good luck.

--------------------
~*~Lyme POW~*~

I will escape.


---

Posts: 100 | From n/a | Registered: Oct 2008 | IP: Logged |

lmz1100
Member
Member # 15487


posted

---

I am sort of in the same boat as you, though it sounds as if my symptoms are not quite as bad as yours, yet. Different LLMD, but mine wants to start me in IV Rocephin and I am very anxious about it - especially after reading so much online and here on these boards that the IV meds don't work. I have BCBS insurance and they have approved all my IV meds at 100%? I wonder if I should not ask for a higher dose of Doxy as that seemed to help enormously.

Sorry I am not of any help - I just wanted you to know you're not alone in your thinking. I posted a very similar question today about starting IV abx. I just don't know what to do.

---

Posts: 30 | From Tampa | Registered: May 2008 | IP: Logged |

Hoosiers51
Frequent Contributor (1K+ posts)
Member # 15759


posted

---

What drugs have you tried so far, and what IV drug are they going to want you to take?

I think the most important thing is finding the right antibiotic to make you feel better....sometimes it's in an IV bag and sometimes it's not.

I am under the impression that IV isn't always all it's cracked up to be. I think it's more important that you treat with the right antibiotic (or anti-parasitic if babesia is at all a possibility) based on your symptoms, but I have babesia.

I tried IVs and they didn't help me at all. I hadn't treated my babesia or my bartonella at that point because i didn't know they were there.

What have you taken so far? If you aren't responding to antibiotics, you might want to look more into treating coinfections you have not addressed before you hop on IVs. Sometimes the coinfections you may have aren't obvious by symptoms. For example, i didn't have too many of the classic babesia symptoms.

---

Posts: 4590 | From Midwest | Registered: Jun 2008 | IP: Logged |

motownlyme
LymeNet Contributor
Member # 11485


posted

---

hopeandhealth - Dr. J charges $800 - $1200 a week for "basic" IVs. I don't yet know what "basic" means; plus the cost of his office visit, ($350 for existing patients I think).

If I understand correctly, and I'm not sure I do, he usually does IV's for 20-24 weeks and then follows with orals.

I have lots of questions to ask but can't seem to get me head together to make a list so I can call the nurse and ask.

lmz1100 -I'm really suprised to hear that Blue Cross Blue Shield has approved you. Were you clinically diagnosed? Maybe we can be IV buddies if we decide to go forward and start at the same time.

hoosiers51 - I was on doxycline for a little while (but I was specifically told by the "LLMD" to take it with milk so I don't know how effective it was)Biaxin, Clarythrimycin, Bactrim, E-mycin, Malarone,Keflex,Valtrex, and I can't remember how many more off the top of my head.

I made huge progress in a three week period on Bactrim and E-mycin. Then I was unable to get a renewal on my Rx and I lost all that I had gained plus more and haven't been able to get it back - even on the same combo.

Dr. J tried me on 10 days on 10 days off abx. I can only make it three days off abx before I get so bad I can't function. I did two cycles of abx with three days off, fours days on abx and I haven't been able to go to work I've been so bad. That's really bad because I always go to work.

I've been developing more and more disturbing symptoms and I think that is what prompted the IVs coming into play. I don't even know what IV abx he wants to start with. Today was all about the money.

I agree with you when you say it comes down to the right abx. If I could duplicate that three weeks with the bactrim and e-mycin I think I would be almost 100% in a few months. I don't know why it worked then but won't work now.

Everything I have has been diagnosed clinically. I don't know if I have lyme, but I'd bet $20,000 that I have bartonella.

Thanks for the responses. Please if you've treated with Dr. J -let me know your experience.

Like too many of us here, I've really been burned by Dr.s. Before I go down this road I'd like to hear from others.

Thanks

---

Posts: 237 | From WV | Registered: Mar 2007 | IP: Logged |

sutherngrl
Frequent Contributor (1K+ posts)
Member # 16270


posted

---

The only people I know that are actually cured from LD, were cured through oral treatment only.

---

Posts: 4035 | From Mississippi | Registered: Jul 2008 | IP: Logged |

Fordace
LymeNet Contributor
Member # 14874


posted

---

The IV did work for me, but not permanently. I did 12 weeks Rocephin starting in November and after the 2nd week felt pretty damn good. I had nervous system Lyme very bad though, not all of you have that, so I guess I cannot say if it will work for you or not. All I know is, I got through the summer pretty good. Doing Mepron and Zithro currently. The IV didn't cure me, but it helped me a hell of alot in my worst state........Rich

---

Posts: 208 | From Hudson Valley, New York | Registered: Mar 2008 | IP: Logged |

AP
LymeNet Contributor
Member # 8430


posted

---

Dr. J was once my LLMD (back when he took insurance, and when I lived on that coast). During my first visit, he told me that I personally would probably never be back to 100%.

At 24, that news was debilitating. Dr. J and I agreed that with my history, IV meds were the best road to go down. My first 3 months on IV therapy, I had problem after problem... The PICC lines were a constant issue. I stopped treatment after a psych problem that needed to be addressed.

While all the psych problems were being worked out, the ruling against Dr. J was made, and he stopped accepting insurance. I continued to see him, with a small amount of digression on oral meds and we decided to do IV therapy once more. Since he was in NC and I was in VA, we arranged for home health to take care of the line and supply the meds. This offset the cost greatly. I visited Dr. J periodically to check in and have meds tweaked.

Because of the ruling against him, I had to find another LLMD to take over the IV therapy that Dr. J had began. I was able to get in with Dr. B in VA, who accepts insurance and was much more cost-efficient than Dr. J (especially when it came to gas, with Dr. B only 30 mins away).

Both doctors worked in tandem to care for me.

I have seen improvements on IV therapy.

IVs are not an easy thing to deal with. I constantly had problems with PICC lines getting clotted, though I was constantly pushing heparin. After my 5th line in 6 months was accidentally cut by my home health nurse, I decided that having a chest port would be a better option.

I thought that I was very well informed when I made the decision, but had no idea that there could be so many complications.

Just over a year after the port was installed, I began to have intense pains in my heart. An operation was done to remove a fibrin sheath, and the doctor found that the line extended 4cm into the right atrium of my heart. Two days after they cut into my groin to remove the fibrin sheath, the doctors cut my chest open once more to replace the port.

I've had my current port since June 30th. On October 3rd, doctors cut my chest back open to stitch the port back down. It was attempting to flip over, and constantly rubbing against the scar tissue, which caused a great deal of inflammation and pain.

The night of the surgery, my incision broke open. There is no lab proof that the site or the port was infected, but there was a good deal of puss, nausea, and fevers for 3 weeks.

Last week, doctors in the ER attempted to draw blood for cultures out of the port. When they could not get blood, I was sent back to my surgeon, and once again had a fibrin sheath removed.

If you weren't counting... I had 5 PICC lines in 6 months, and have had 5 surgeries regarding my chest port since March of 2007.

It would seem to the outside eye that I don't take care of my lines, but I am a complete germaphobe, and my current nurse is way more than competent. My body often rejects peripheral IVs within 6 hours of their placement, and has proven to not stop at anything to do the same to PICCs and Ports. I just begun coumadin therapy to try and maintain the current port.

I have little to no improvement on oral meds, and veiw IV therapy as the only road to a healthy life for me. I no longer see the doctors back east, and leaving their practices was very difficult because of the help they gave me.

Deciding to continue on IV therapy is a constant struggle for me. I am currently trying to figure out whether or not medicine has done all it can, and if I shouldn't just take out the IV and try to live as normal and happy a life as I can.

It's a struggle to be this sick and this young, when I led such a healthy life before the tick bite. I often have problems that people my age don't have to worry about, and obviously envy my friends for the lives they are allowed to live. In the 4 years I've been sick, the biggest lesson I've learned is to follow your own heart. If you listen close enough, you know what's best for you. Remember, you're the only one in the world that knows exactly what's going on with you.

Good luck!!!!

--------------------
Sometimes when I say "Oh, I'm fine" I want someone to look me in the eyes & say "tell the truth"

Myspace: http://tinyurl.com/5p64ed


---

Posts: 644 | From WA | Registered: Dec 2005 | IP: Logged |

Parisa
LymeNet Contributor
Member # 10526


posted

---

I would sell everything to get my husband better. How can you value material objects when someone is in so much pain? No there is no guarantee that IV treatment will work but I do know that I can't watch someone I love wither away.

My husband is into month 5 of IV antibiotics and has made great progress after barely any progress on orals.

---

Posts: 984 | From San Diego | Registered: Nov 2006 | IP: Logged |

lmz1100
Member
Member # 15487


posted

---

motownlyme - I believe BCBS approved me because we have a plan through my husbands work that costs us big bucks monthly and we also have an annual deductible that has been met. Once we hit that deductible, we are covered at 100%. Its a PPO plan. I have read more about IV's and really don't think its the way I want to go. I am feeling so much better right now, I don't want to mess with success. I am being a major wimp and having my husband call the LLMD office today to discuss the option of me taking orals before trying IV. Even someone here on your thread said that they've seen more cures comes from orals. I just don't know! Good luck and keep us posted.

---

Posts: 30 | From Tampa | Registered: May 2008 | IP: Logged |

SL10
Member
Member # 12953


posted

---

Just keep in mind that there are ways to cut down on the cost of IV treatment. I know that Dr. J is regarded as one of the best...but my husband has been on IV for 4 months now, we do infusion at home and pay about $1k/mth for 2g/2xday of Rocephin $100/week for supplies and reconstitution and $150/month for dr. visits.

Walmart has pretty good prices on the drug, and the pharmacies are all competing with eachother for business so there are many $$rebates, and often your county or city will sponsor free discount drug program as well.

If you believe that IV is the way to go, but are looking for a less expensive way - PM me and I can give you contact info for a doc in northern VA.

---

Posts: 39 | From wdc | Registered: Aug 2007 | IP: Logged |

lymeinhell
Frequent Contributor (1K+ posts)
Member # 4622


posted

---

quote:

---

I can only make it three days off abx before I get so bad I can't function.

---

Screams Coinfection

Your list of orals does not look sufficient to hit coinfections - especially Bartonella. Funny that I thought that without seeing your later post about it.

Rifampin is an oral lots here have success with (myself included. Off abx and healthy almost 4 yrs now).

So before you flush your financial life down the drain, you might want to think about a reasonable alternative. Such as a less expensive LLMD who perhaps would be willing to walk down the coinfection aisle with you.

BTW - $350 for an office visit for existing patients is outrageous, unles you're camping out for the day.

PSS. Give your husband a good swift kick in the a___ and remind him of his wedding vows. Sounds like he needs one right about now (don't we all?)

--------------------
Julie
_ _ ___ _ _
lymeinhell

Blessed are those who expect nothing, for they shall not be disappointed.


---

Posts: 2257 | From a better place than I was 11 yrs ago | Registered: Sep 2003 | IP: Logged |

astriapage
LymeNet Contributor
Member # 17120


posted

---

I just want to add to all of this that I was on:

6 weeks of Levaquin, Caspofungin, and Vancomyacin and they did not work.

I ended up having open heart surgery.

At the time they thought I had endocarditis but it was not that.

Ducks are coming around to the idea of Lyme.

After open heart on 3 weeks of IV Rosephin-also did not help.

The thing that has helped the most is the oral Doxy?

---

Posts: 303 | From Jekyll Island, GA | Registered: Sep 2008 | IP: Logged |

Parisa
LymeNet Contributor
Member # 10526


posted

---

Astria,

Is it possible you have one of the coinfections that responds more to Doxy? It seems to me that Ehrlichiosis can also cause heart problems.

---

Posts: 984 | From San Diego | Registered: Nov 2006 | IP: Logged |

4Seasons
LymeNet Contributor
Member # 14601


posted

---

I just wanted to comment on the IV line if you decide to go that route. We have had the best luck with a groshang catheter in the chest.

It is easy to use and care for. The port in the arm was a disaster. I didn't know enough to research this beforehand.

I wonder if people on orals get better because they are not so sick to begin with?

We have not had improvement with my daughter's IV treatment yet, but her stomach could not tolerate the orals she needed. She is very sick.
I think that the IV is her best chance.

I am not so sick and am doing ok on orals.

Have you shown your husband "under our skin"? Find other people who will support you. You need it.

Good luck.

--------------------
"Life isn't about waiting for the storm to pass, it's about learning to dance in the rain."
Anonymous


---

Posts: 450 | From California | Registered: Feb 2008 | IP: Logged |

motownlyme
LymeNet Contributor
Member # 11485


posted

---

Thanks for all of your comments and tips. I'm going to pm those of you who offered for more info.

I think I'm really going to try to see if the Dr will agree to seriously try to hit bartonella with orals and give it a real try before I go to IVs.

I'm not sure how much longer I can go before it ruins my stomach, but I've got to try.

Thanks,

Prayers and Health to Us All

---

Posts: 237 | From WV | Registered: Mar 2007 | IP: Logged |

Vermont_Lymie
Frequent Contributor (1K+ posts)
Member # 9780


posted

---

Have you and your doctor considered bicillin IM injections?

They are literally a pain in the butt. However, they are perhaps easier to deal with than IV, and they are also very effective for many.

I had very late-stage bad lyme, and months of bicillin shots completely erased my physical symptoms. High-dose oral ceftin has done a better job on my neuro symptoms, but bicillin worked great for everything else. Take care.

---

Posts: 2557 | From home | Registered: Aug 2006 | IP: Logged |

ladycakes
LymeNet Contributor
Member # 12619


posted

---

Just to throw my two cents in, doing the IV treatment was the best thing I ever did. I got significantly better on it, when oral abx weren't doing a whole lot for me. I'm lucky though, and our insurance covered everything, so it wasn't as difficult a choice for me as it is for others.

---

Posts: 306 | From Brownsville, PA | Registered: Jul 2007 | IP: Logged |
Contact Us | LymeNet home page | Privacy Statement

Powered by UBB.classic™ 6.7.3

---
The Lyme Disease Network is a non-profit organization funded by individual donations. If you would like to support the Network and the LymeNet system of Web services, please send your donations to:
The Lyme Disease Network of New Jersey
907 Pebble Creek Court, Pennington, NJ 08534 USA
http://www.lymenet.org/
---
Home | Flash Discussion | Support Groups | On-Line Library
Legal Resources | Medical Abstracts | Newsletter | Books
Pictures | Site Search | Links | Help/Questions
About LymeNet | Contact Us
---
© 1993-2020 The Lyme Disease Network of New Jersey, Inc.
All Rights Reserved.
Use of the LymeNet Site is subject to Terms and Conditions.
---