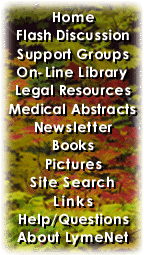 ---
LymeNet on Facebook
LymeNet on Twitter
---
---
The Lyme Disease Network receives a commission from Amazon.com for each purchase originating from this site.
When purchasing from Amazon.com, please
click here first.

Thank you.




Dedicated to the Bachmann Family


LymeNet needs your help:
LymeNet 2020 fund drive

The Lyme Disease Network is a non-profit organization funded by individual donations.

| | |
| --- | --- |
| | |
Author
Topic: my colonoscopy; 3 polyps removed! 1 precancerous again!

bettyg
Unregistered



posted

---

thank you to those of you who knew i was having my 3rd colonoscopy today; 2 flexible sigmoids were the beginning of my journey many years ago.


mom died july 22, 1990, from colon cancer advanced to liver; so i have these done religiously and on time. this year i was tracking my feet for several months ... not sure why.


i tried to have a hand iv done; but it was so painful and they weren't getting it going well, so it was put between wrist and elbow arrow since i'm a HARD STICK; no veins prominent.


boy, they had improved things since 5 yrs. ago on prep. yesterday was NO-TASTE powder added to water or propel water. i enjoyed berry and tried lemon; both for 1st times. that went well ... yes, GOING was the key word of the day after 5 pm.


this mornings 6 am CITRATE drink was as bad as what i remember but it wasn't a whole milk jug gallon like 5 yrs. ago.


hubby drove me down and then came home to relax due to his excessive tremors and not wanting folks to watch him.

went in at noon; 1 pm they had paperwork done, and 2 women were each sticking me as i sat in their ROCKER recliner....DON'T ROCK! or iv needle will hurt worse! other was taking blood sugar ... 218 ~~

when i left home BS was 112; stress made it go up that much.

i had ALL lights off or as much as possible and asking in OR room too. they could do a little. I WORE MY FLOPPY HAT IN THERE AS I WALKED THERE.


you'll have to remove that soon or the drs. will have a fit!! i explained i had chronic lyme for 39 years and what it had done to me on lights/glare/reflection; noises/sounds; and chemical smells!

1 rn knew quite a bit; others called it LYMES so i corrected every person i talked to!!


i educated everyone i could as they asked questions including anesth.... he asked if i got this in IOWA; and yes, it was tick off my folks' live xmas tree that got me 39 yrs. ago.

i think gi dr. walked in there and we got down to business. 1st time having him as dr.; he was trained in lyme disease and was going to be infectious dr. so we've had many interesting short visits while he presents things at hospital educational programs.


they were done by 2 or that's when i woke up....so droggy but didn't take long to get with the program.


dr. came in saying he'd found 3 and removed.
1 was at beginning of colon and other 2 were right by each other in the middle, but belly button area. he'd sent them off for biopsies and paperwork would take 1 wk. to get back; he's follow up by letter with result and if we needed to follow up.


someone said they were glad anesthiologist was in there. i told him earlier i have breathing problems from lyme and it was mainly in sinus area. never got to talk to him afterwards, so don't know if something happened or not.


i'll get copy of TODAY'S MEDICAL DICTATION from hospital and/or clinic since dr. works there.


i finally got discharged after 330 pm; 3.5 hrs. there.

got home and came to read inbox mail and answer some pms, and greet newbies/llmds...

then i went to sleep and slept for 3 hrs; MOST NEEDED QUALITY SLEEP for me. NO SLEEP LAST NIGHT AT ALL DUE TO all peeing/pooping.


when i was starting to get dressed today, i felt urge so ran to bathroom and made it. felt empty so went back to start dressing.


uffda; again it hit, and i knew i'd not make it! worst smell i'd ever had in my life and ungodly color!


rn said it happens to everyone after colonoscopy; thank goodness i wasn't alone.


no aspirin or ibuprofen for next 10 days until i get results back.

i slept most of evening away so hubby had almost day to himself.

[ 21. November 2008, 05:30 PM: Message edited by: bettyg ]

---

IP: Logged |

Melodymaker
LymeNet Contributor
Member # 16434


posted

---

Betty, so sorry to hear about your Mom.

Sorry too that you had such a hard time with the IVs.

I'm very proud of you for keeping ahead of this, and I'm glad you found a good doctor who understands what's going on with you.

For everyone who has a colonoscopy I will share the advice from a wonderful RN.

Before you start the prep, use vaseline all over and inside the anal area. It protects your skin from the acidy burning of the liquid coming out.

Bless that RN, making live a little easier one person at a time!

Betty, keeping you and your hubby in Prayer for health and happiness!!

--------------------
Wishing You Showers Of Blessings!
Lyme since Fall 1983 = Diagnosed Summer 2008
IV Rocephin 7 weeks Stopped due to drug fever
Now doxycycline
"For I know the plans I have for you...plans to give you hope and a future." Jeremiah 29:11


---

Posts: 421 | From Sunny South | Registered: Jul 2008 | IP: Logged |

timaca
Frequent Contributor (1K+ posts)
Member # 6911


posted

---

Hi BettyG

Don't know if you've ever been tested for enterovirus, but you might consider having tests done on the tissue that was removed from your colon.

Here's some talks online that you could watch:

http://www.scivee.tv/node/7965/video

Watch Nora Chapman's talk and Dr. Chia's talk. Then I'd probably contact one of them about testing your tissue. (Not sure the local lab can do it correctly).

Best, Timaca

---

Posts: 2872 | From above 7,000 ft in a pine forest | Registered: Feb 2005 | IP: Logged |

bettyg
Unregistered



posted

---

melodymaker,

thanks for your comments and i wish i would have known that TIP PRIOR to having experienced what i did. anus was so sore/small amount of blood present!


carla, my sympathies to you on the loss and presence of this in your family too! then to type up the reports about them....uffda. thanks for all your loving comments!


timaca,

thank you for your informative info too. 3 yrs. ago 1 of my tests showed HHV-6 plus simplex virus, etc. NEVER BEEN TREATED FOR THAT...


i'll listen to some and then try to contact dr; will have to be monday since they don't work sats.

---

IP: Logged |

feelfit
Frequent Contributor (1K+ posts)
Member # 12770


posted

---

Hey Betty!

Glad to hear that you faired ok. I had 3 polyps removed too. They were benign, yours will be too.

good that you keep on top of this. Me too.

I'm sure that you are momentarily feeling much lighter

xo,
feelfit

---

Posts: 3975 | From usa | Registered: Aug 2007 | IP: Logged |

Lymetoo
Moderator
Member # 743


posted

---

I'm just glad your heart was OK!!

Hope all is well next week.

My father had colon cancer at age 39, but lived to be 77! Died of Parkinson's [Lyme].

HOpe you're feeling great tomorrow!!

--------------------
--Lymetutu--
Opinions, not medical advice!


---

Posts: 94879 | From Texas | Registered: Feb 2001 | IP: Logged |

bettyg
Unregistered



posted

---

feelfit,

yes, the weight of the world is off my shoulders; amazing i was 5 lbs. LESS yesterday than after back to eating and my colon filling up!

glad yours were not cancerous too!


tutu,

thank you; yes, i was glad my heart wasn't affected like yours! your situation really disturbed me on what was coming up ... too close to home with so many similar problems.

wow, 39 for your dad! uffda and lived 40+ years longer....


to each of you for your kindnesses shown and all above!


i forgot to say ... i slept from 7 am to almost 5 pm today!!! to make up for lost sleep day earlier; felt good

[ 15. November 2008, 01:09 AM: Message edited by: bettyg ]

---

IP: Logged |

bettyg
Unregistered



posted

---

timaca,

went back to 15-20 complete body lab testings done in 2006, and found this info!!


ENTEROLAB, DALLAS, TEXAS
**************************
Results:
gluten sensitivity stool & gene panel complete 12 HIGH - FECAL ANTIGLIADIN IGA;
interpretation of fecal IGA:
Intestinal IGA antibody was elevated, indicating that you have ACTIVE DIETARY GLUTEN SENSITIVITY.

For optimal health, resolution of symptoms and prevention of small intestinal damage and malnutrition, osteoporosis, and damage to other tissues :

Like nerves, brain, joints, muscles, thyroid, pancreas, other glands, skin, liver, spleen, among other;

It is recommended that you follow a strict and PERMANENT GLUTEN FREE DIET. It's genetic; your relatives should screen too.

NO evidence of a gluten-inducted autoimmune reaction.

NO malabsorbed dietary fat in stool indicating that digestion and absorption of nutrients is currently normal.

INTREPATION OF FECAL ANTI-CASEIN, COWS MILK,

IGA antibody: This was 7; BELOW normal.

Under 10 indicate there currently is MINIMAL OR NO REACTION to that food and hence, NO direct evidence of food sensitivity to that specific food.

1-500 people can NOT make IGA at all, and rarely, some people can still have clinically significant reactions to a food antigen despite the LACK of a significant antibody reaction because the reactions primarily involve T cells.

If you have an immune syndrome or symptoms associated with food sensitivity, it is recommended that you try a STRICT REMOVAL OF SUSPECT FOODS from your diet for up to 12 MONTHS despite a negative test.

INTERPRETATION OF HLA-DQ TESTING

HL gene analysis reveals that you have ONE of main genes that PREDISPOSES to gluten sensitivity and celiac sprue, HLA-DQ2.

Each of your offspring has 50% chance of receiving this gene from you, ant least one of your parents passed it to you. NOTE: I'm sure this was Dad, but he didn't know he had it either! Betty

You also have a NON-CELIAC gene predisposing to GLUTEN SENSIVITY, DQ1.

Having one celiac gene and one gluten sensitive gene, means that each of your parents, and ALL of your children if you have them, will possess at least one copy of a gluten sensitive gene.

Having two copies also means there is an even stronger predisposition to gluten sensitivity that one gene and the resultant immunologic gluten sensitivity or celiac disease may be more severe.

For more info about results interpretation, please see:
http://www.enterolab.com/What_Happens


so timaca, looks like this was done 2.5 years ago! doesn't it to you? i'll send you a pm so you see this new info i just found or took time to find!

---

IP: Logged |

timaca
Frequent Contributor (1K+ posts)
Member # 6911


posted

---

BettyG~

The tests that were run at Enterolab were not for enterovirus. It looks like they were running tests for gluten sensitivity.

If gluten is an issue for you, or if you want to see if it is, you can run a serum celiac panel (blood test). That will determine if you need to avoid gluten. If you do, also check your B12 level to make sure it is within the reference range (preferably over 400).

Enterovirus is an entirely different problem.
Here's a link to an article:
http://www.cfids-cab.org/MESA/Chia.pdf

If you have not been tested for enterovirus, you can ask your doctor to run some blood tests (coxsackie B and echovirus are the enteroviruses that are usually run) Since you recently had some GI tissue removed from you, that tissue can be checked for enterovirus via IHC testing. (Immunohistochemistry) It takes a special lab to do this. You could check with a lab at a local university medical center to see if they run this test.

This might be important for you to do especially if you have GI symptoms. (Celiac panel is a good idea too if you have GI symptoms)

Best, Timaca

---

Posts: 2872 | From above 7,000 ft in a pine forest | Registered: Feb 2005 | IP: Logged |

bettyg
Unregistered



posted

---

timaca,

thank you for additional info and explaining it was 2 different subjects we are talking about.


started watching and reading what you recommended earlier today, and still more to do.


need to decide for sure on having testing done and find out WHICH LAB could do this before my polyp specimans have been thrown away.

neuro mind not working; super turtle speed!! uffda.

thanks for educating us all on this area...enterovirus!

---

IP: Logged |

timaca
Frequent Contributor (1K+ posts)
Member # 6911


posted

---

bettyg~

You can ask for the tissue to be saved in paraffin block. This is what is customarily done with tissue that is not stained and looked at for other reasons. Tissue is normally stored for years. (I've had tissue tested that is 8 years old!)

I'm out of town for several days. Enjoy learning about enterovirus.

Best, Timaca

---

Posts: 2872 | From above 7,000 ft in a pine forest | Registered: Feb 2005 | IP: Logged |

bebfire
Member
Member # 18096


posted

---

Betty,
You are the BOMB! I just love how you are so open and share your life with us!

I am so grateful that everything came out ok. I had my first colonosopy in May of 2008. I was so worried.....it was a breeze and all was well.

Lot's of folks avoid this proceedure but colon cancer, as you know, is terrible. My dearest friend is dealing with it and it matastacized (sp?) into her lungs. She's very very ill.

God bless you BettyG!
Bebfire

--------------------
The Lord is my strength and my song

CDC/Igenex- Positive
IGG 31+/- 34+/- 41++
IGM 23-25+++ 31+ 34+/- 39+/- 41+


---

Posts: 50 | From San Diego | Registered: Nov 2008 | IP: Logged |

bettyg
Unregistered



posted

---

fire....thank you!


timaca,

i took a copy of the last 2 notes above from you into gi drs. office today and left them; i waited all afternoon for them to return my call.


wanted them to check to make sure TISSUE WAS STILL THERE AND NOT THROWN AWAY so testing could be done.

maybe tomorrow i might here something from gi dr.


afterwards i walked to hospital's medical files area and requested a copy of my 11-13 colonoscopy getting that and pathology report.


in transverse colon, a 13 mm sessile polyp removed.


3-4 mm alsoin transverse colon removed by cold biopsy


rectum, 3-4 mm polyp removed by cold biopsy.


left sided diverticular changes were appreciated; what does this mean???
************************************


total withdrawal time of greater than 15 minutes was taken because of the amount of SPASMS that the patient's colon had on withdrawl.


pathology report shows:

DIAGNOSIS:

colon, transverse, colon biopsy:

TUBULAR ADENOMA----looked this up...BENIGN!
****************


COLON, rectym, biopsy ... HYPERPLASTIC POLYP....BENIGN also! yippee


gi dr. is to send me a letter of results.


thanks for ALL ADVISE/SUGGESTIONS on further testing!

---

IP: Logged |

bettyg
Unregistered



posted

---

timaca,

i left your 2 above informative notes at gi office yesterday at noon; no one called me back.


early am, when i was sleeping GOOD; rn called back, "DR. DOESN'T THINK YOU NEED THIS TESTING."

i asked why...he said it wasn't necessary.

i asked if she called pathology to see if tissue was still around. NO, it's in different dept. and YOU WILL HAVE TO CALL.


so i called pathology and talked to nice woman explaining i wanted to know if they still had tissue on me. she checked with someone and then came back saying DRS. OFFICE needs to call for this info.


i told her i'd done that, and rn referred me to you; "i'm getting the RUNAROUND."


i'll call drs. office back. i asked if she would call me; yes; and THEY WILL TOO!

---

IP: Logged |

wiserforit
LymeNet Contributor
Member # 9732


posted

---

bettyg -

Hey there! I just saw your post and, guess what?!

I had an endoscopy and colonoscopy yesterday!

Had I known you just enjoyed the lovely prep cocktail, I would have invited you over to share mine!

Gaaaack! That PhosphoSoda is definitely up there on the Top Ten Worst Hospital Drinks list!

After the first dose and by morning, I felt tingly and weak. Then you have to drink another one! YUCK!

Happy to say that it's over and I won't need another one for five years.

Now, husband is next for his very first one...

Glad you are okay. And, if we do have cocktails together, let it be a Mangosteen Dacquiri!

Hugs,

wiserforit

---

Posts: 508 | From Banks of the Hudson | Registered: Jul 2006 | IP: Logged |

bettyg
Unregistered



posted

---

hi toni!

i agree ... the drink you mentioned that i can't remember already!!

1st day drinks went well w/tasty flavored water.

morning prep of colonoscopy was the pits; vomited half of that back up.


best wishes on your results; still waiting for my letter to come.

---

IP: Logged |

sparkle7
Frequent Contributor (5K+ posts)
Member # 10397


posted

---

Good for you bettyg! I'm glad it turned out OK. You are a brave soul.

---

Posts: 7772 | From Northeast, again... | Registered: Oct 2006 | IP: Logged |

Lymetoo
Moderator
Member # 743


posted

---

I would stear clear of phosphosoda. This was the first time I had that particular prep and my GI dr said it was likely the reason I went into Afib.

It caused a drop in potassium [from the high salt of the prep] .. so I won't be doing that one next time.

Now granted, I already had heart issues, but never had Afib before that I KNOW OF.

--------------------
--Lymetutu--
Opinions, not medical advice!


---

Posts: 94879 | From Texas | Registered: Feb 2001 | IP: Logged |

bettyg
Unregistered



posted

---

sparkle, it's the BUTTS UP need procedure! you do what you got to do.


this is the 3rd day of diarrhea running out of me; 1st day too it was awful vomiting. must have caught a flu bug after eating out with friends.


tutu,

my gi dr. had me get MIRALAX 8.3 OZ. and you combine it with provel drinks of cherry or lemon. GREAT TASTE; nothing like morning of colonoscopy!!


i added it PER BOTTLE, and kept bottles cold in frig until needed.

---

IP: Logged |

bettyg
Unregistered



posted

---

i received my OFFICIAL letter today of 3 biopsy results:


1 PRECANCEROUS polyp; completely removed; and news is GOOD!

repeat colonoscopy in 3 yrs. vs. 5 yrs. i'd been doing....

if you have any new symptoms such as changes in your bowel habit or BLOOD IN THE STOOL, contact your pcp....

************************

timaca/others,

you can NOT believe what i've been thru trying to find out if they still have any of my 3 tissue left from colonoscopy!!


PATHOLOGY told me other day that drs. office would have to call them; i received NO call back from dr. or path yesterday.


yesterday, path secretary called saying gi dr. needed to ORDER this from path. they would not do anything until they hear differently.


THIS IS TO FIND OUT IF THE TISSUE EXISTS OR NOT!! hog wash!


So i called gi's no. again; later his nurse called back. HE REFUSES TO ORDER; THIS TEST ISN'T NECESSARY. if you wish to pursue, contact your pcp.


so i called pcp's rn and left request and history on this all; he'll be back mon. from vac. and she will talk to him.


i called path back to give them latest. she said she's on vac. all next wk. for t'giving.


i asked her to make a note of all that has transpired this week so others know what this is about.


i asked her if she knew of a specialty lab that did ENTEROVIRUS testing; no; and she had worked there 20 years!

obstacles after obstacles !! uffda


i'll start a new post to see if others have had problems getting a dr. to order enterovirus testing and especially when they already have had tissue removed recently!

---

IP: Logged |

bettyg
Unregistered



posted

---

for those knowing how to read reports....

i posted actual path report higher. i didn't know terms so looked them up in NIH's medlineplus dictionary.


which one was PRECANCEROUS polyp according to top path report? thanks!

---

IP: Logged |

bettyg
Unregistered



posted

---

---

IP: Logged |
Contact Us | LymeNet home page | Privacy Statement

Powered by UBB.classic™ 6.7.3

---
The Lyme Disease Network is a non-profit organization funded by individual donations. If you would like to support the Network and the LymeNet system of Web services, please send your donations to:
The Lyme Disease Network of New Jersey
907 Pebble Creek Court, Pennington, NJ 08534 USA
http://www.lymenet.org/
---
Home | Flash Discussion | Support Groups | On-Line Library
Legal Resources | Medical Abstracts | Newsletter | Books
Pictures | Site Search | Links | Help/Questions
About LymeNet | Contact Us
---
© 1993-2020 The Lyme Disease Network of New Jersey, Inc.
All Rights Reserved.
Use of the LymeNet Site is subject to Terms and Conditions.
---