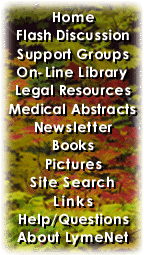 ---
LymeNet on Facebook
LymeNet on Twitter
---
---
The Lyme Disease Network receives a commission from Amazon.com for each purchase originating from this site.
When purchasing from Amazon.com, please
click here first.

Thank you.




Dedicated to the Bachmann Family


LymeNet needs your help:
LymeNet 2020 fund drive

The Lyme Disease Network is a non-profit organization funded by individual donations.

| | |
| --- | --- |
| | |
Author
Topic: Taking A Break From Lymenet

oxygenbabe
Frequent Contributor (1K+ posts)
Member # 5831


posted

---

From time to time I take a break from lymenet. I'm going to do so now. I disliked BlueAngel's nasty Thanksgiving day post, mocking people who are trying their best to get well and seem to feel they were helped by a therapy that is considered legitimate in Germany. Her mockery was extremely nasty and not funny.

I should add that BlueAngel boasts she got well after two years of antibiotics. If this is true, more power to her, but every single person who went to Germany was well intentioned, had the money, felt better after going, and moreover, was *NOT* well after antibiotics. Either they relapsed when they went off antibiotics, or the antibiotics had partially helped or not at all. They were good people and they were not doing a risky harmful therapy and they were looking outside the box and yet BlueAngel came on a day when we give thanks for all we have, and mocked all of us in an extremely snide and cutting way, apparently from a place of relatively easy health (two years to recover from chronic lyme is considered pretty lucky). For the less lucky, let them continue to suffer and not look for other answers, or else be mocked and scoffed at.

Secondly, the folks on the salt/c thread, a few of them, seem to scoff that Angelica's LLMD (who is famous) mentioned that someone died from the protocol and it's dangerous, or that I tried to explain some of the risks and harm, sometimes long lasting, done by the "protocol" of high doses of salt/c (The C is really not a big deal, it's the salt). This scoffing, to me almost sociopathic attitude, is just too much for me right now. I can't believe they wouldn't pause for a moment of chagrin or grief that some person suffering with lyme somewhere was so desperate they tried the salt/c protocol, not understanding its risks, and DIED. I can't believe they would mock my bad experience with the protocol and suggest that I just blame every protocol (everything else I've tried has either helped me, or else, not worked at all. Salt/c was the only thing that harmed me.)

If any moderators are reading this, I did not personally request it of you, but I would ask you to consider banning the topic of salt/c from this board as canlyme has done. Really, it is over the line as a protocol. People can really hurt themselves, and no, it is not recommended by LLMD's, and this board generally can be commended for helping thousands of people, and for allowing both mainstream and alternative therapies to be discussed *WITHIN REASON*. Salt/c is really dangerous. Let them go over to an unmoderated yahoo group and discuss it.

I've taken a break before, it's the best idea when I feel that the board has gotten too nasty and crazy.

I'll be back in a month or two.

[ 29. November 2008, 09:52 AM: Message edited by: oxygenbabe ]

---

Posts: 2276 | From united states | Registered: Jun 2004 | IP: Logged |

steelbone
LymeNet Contributor
Member # 14014


posted

---

Totally understand. A little break I think is a good thing.

I have taken a few small breaks myself

Be well

See you in a month or so!!!!!!!

--------------------
All The Best,
Paul
[email protected]

The harder you work the luckier you get!


---

Posts: 964 | From Nebraska Cornhuskers fan in Massachusetts | Registered: Dec 2007 | IP: Logged |

Rianna
Frequent Contributor (1K+ posts)
Member # 11038


posted

---

I am also taking a break from here.

I just dont know what happened...... I put a post up that was stated by many to be rational, and a good debate.

I then went off in to hopital as I had my PICC line spring a leak and had to have another fitted and I came back to find personal PM attacks on myself which really really hurt me as I honestly dont know what I did wrong.

Many people here will know that I have never ever done anything but support people on this board and in my times of need so many have supported me and I see so many as very dear friends, But for some very strange reason just because i supported the use of Long term antibiotics and detox etc but not the Bionic 880 I was absolutly hounded.

I would like to thank everyone for the support but again I just can not believe the cruelty that some want to inflict on and have inflicted on myself and others, as I really really thought we were all here with the same cause - 'To help and support each other'.

So for now I too will have to leave the board as it's caused me so much pain and tears in the last week - again I am still totally shattered as to why people want to hurt each other this much.

Rianna

[ 30. November 2008, 12:03 PM: Message edited by: Rianna ]

---

Posts: 1172 | From UK | Registered: Jan 2007 | IP: Logged |

astriapage
LymeNet Contributor
Member # 17120


posted

---

I agree totally with you.

I have gone to other Lyme support websites that are alot more positive.

This one reminds you of high school-with the cliques and I am too old for that.

I tried to PM one of the well known members here to compliment me and I was on her ignore list.

That was the biggest insult!

---

Posts: 303 | From Jekyll Island, GA | Registered: Sep 2008 | IP: Logged |

seekhelp
Frequent Contributor (5K+ posts)
Member # 15067


posted

---

I am sorry for all you've had to ensure. No one should be brought to tears because of their posting on the board.

Regarding other Lyme forums, I am curious if you see members seem to be recovering faster there than Lymenet? I don't mean the members from Lymenet who migrate on both.

---

Posts: 7545 | From The 5th Dimension - The Twilight Zone | Registered: Mar 2008 | IP: Logged |

Just Julie
Frequent Contributor (1K+ posts)
Member # 1119


posted

---

Rianna, I'm a long time poster here. I don't know if you'll read this, as you've posted that you're taking a break . . . but just know this: Lymenet, while it's got it's up's and down's, is the place to come to for support.

I say this because I too, have been attacked (not often, but well more than once is enough!) for not going with the flow . . . or, I get a real bug up my butt reading something that insults innocent people, and I just let my fingers do the talking. That alone is what has gotten me attacked most recently.

I was in your position (supporting long term abx, not the bionic thing) and let myself get worked up over someone attacking a person questioning the bionic, and let myself just rip one on the person who did the attacking of another, and I got it, but good.

It's very uncomfortable. Especially if you're 20 plus years past high school, where this sort of clique-y thing is the norm.

I sympathize with all those who are taking a break. I too do that, I just don't announce that I"m leaving, I just quietly go into "read only" mode. My number of posts here in the 8 years I've been aware of this website (I discovered it in 2000, and took a year before I first registered to post) demonstrates my distaste with posting all that I'd like to, because I know that lively debate can get heated, and people get hurt. I chose to not say all that I want to, walk away, and come back after a time.

I"m surprised I've never been banned. One of the moderators really ****es me off sometimes, and I've not let my true feelings out in a post or email to her, maybe that's what's kept me from being booted off here!

In any case, all those who "leave" for a spell, usually come back here and people don't even bring it up again (why or how long they left for).

Enjoy your time away!
Julie

--------------------
Julie


---

Posts: 1027 | From Northern CA | Registered: May 2001 | IP: Logged |

MartinJS
Unregistered



posted

---

I hear y'all. For me the clincher were the recent horrible and abusive threads posted by "Skylord" in response to whatever was being said.

His posts were filled with four-letter words, rage and disgusting photos. I do hope that decency on this board exists and that action is being taken by the moderators to address this (ie: permanent ban despite the threats of being able to find a new IP address), etc.

One thing is disagreeing but on a public forum to use that kind of language and disgusting behaviour is no excuse. That person needs mental help badly, very scary.

Oxygenbabe, I like Just Julie's "read only" mode, it does allow one to access info without getting involved with high school cliques.

I also agree with those above that people do get attacked by a few "fervent" people who perceive questioning anything (such as the Bionic 880, Salt/Vit C protocol) as a threat. Amazing, a real head-shaker for the rest of us. Wish you well Oxygenbabe and know you are being supported in your views.

---

IP: Logged |

djf2005
Frequent Contributor (1K+ posts)
Member # 11449


posted

---

i hope you all come back.

i agree that the posting as of late has become ridiculous.

rianna, hang in there, PM sometime if you can

derek

--------------------
"Experience is not what happens to you; it is what you do with what happens to you."

[email protected]


---

Posts: 2269 | From Lansdowne, Pa | Registered: Mar 2007 | IP: Logged |

joalo
Frequent Contributor (1K+ posts)
Member # 12752


posted

---

I hope you come back! You will be missed!

--------------------
Sick since January 1985. Misdiagnosed for 20 years. Tested CDC positive October 2005. Treating since April 2006.


---

Posts: 3228 | From Somewhere west of the Mississippi | Registered: Aug 2007 | IP: Logged |

Rianna
Frequent Contributor (1K+ posts)
Member # 11038


posted

---

quote:

---

Originally posted by djf2005:
i hope you all come back.

i agree that the posting as of late has become ridiculous.

rianna, hang in there, PM sometime if you can

derek

---

Thanks Derek - I joined a new site and they are so so supportive and optamistic http://www.mdjunction.com/lyme-disease

---

Posts: 1172 | From UK | Registered: Jan 2007 | IP: Logged |

TerryK
Frequent Contributor (5K+ posts)
Member # 8552


posted

---

It's good to take a break when needed.

It's also important to understand that in a community this large there will be people who are narrow minded, obnoxious, mentally ill etc. etc., just like in the general population only perhaps a few more due to our illness.

If at all possible, try not to take any of it personally although I know that can be hard. De-personalize attacks and ignore them as much as possible, otherwise we play into their hands and our ability to help ourselves and each other is diminished.

I look forward to seeing your valuable contributions on this board again soon.

Terry

---

Posts: 6282 | From Oregon | Registered: Jan 2006 | IP: Logged |

Angelica
Unregistered



posted

---

Oxygenbabe I hope you don't stay away for too long. I can certainly understand you wanting to take a break.

I enjoy your presence on the board and many of your comments add much needed light, humor, wisdom, balance and insight not to mention experience and information to this forum.

I noticed one of the people posting ill-mannered comments in the Salt and C thread is rather new to this board and probably has no idea how well respected you are here. If they did they would realize you are very open to alternative treatments as long as they are safe and have some sort of positive track record.

Some people do not value the wisdom of someone else who has had the misfortune of coping with harmful health issues from a dangerous protocol. You were only trying to help Deb yet she unfortunately does not appreciate or except that fact.

Maybe in time that poster will understand who you really are and they will become grateful for your wisdom, years of experience and your point of view.

I was discussing the Salt and C protocol issues with the moderator at canlyme.com recently and unfortunately I do think it is time to ban posting about that protocol here before anyone else is harmed by it.

This is your forum as well and you are a much needed and appreciated voice here.

Come back soon.

---

IP: Logged |

Tincup
Honored Contributor (10K+ posts)
Member # 5829


posted

---

Having a board like this is like having a room full of people from all walks of life shoved in one tiny space ... who are all trying to communicate, share, protect others from harm and generally live together like one "happy" family.

As my momma use to say... fish and company stink after three days.



If the crowded quarters filled with sick patients doesn't paint an eek picture for you... just consider the way we all feel at any given time...

Many of us feel like death warmed over...

Or like we were rode hard and put away wet.

Even when not provoked, we still have times when we want to blow our gaskets at something... anything... and other people are usually the target... simply because they are available.

To add to that ...

We have the nutzo tornadoes, who have been booted off the board for not being able to be decent humans or for not following simple rules, coming here (sneaking) and trying purposely to disrupt our happy family.

If they can't get in.. they delight in dragging us all into the deep dark dungeon where they live... and start or continue to beat us till we are bloody... while spitting on all we find decent.

After a few minutes, few days or even weeks of that insanity... when asked how we are doing... it reminds me of the question that was asked so many years ago.

OTHER THAN THAT MRS. LINCOLN, HOW WAS THE PLAY?



Breaks are often needed. I should take more than I do... I am sure it would please many and would certainly get the hateful people out of my face and calm me down.

So do take a break.. go to another place- just like we'd all do if we were physically living together in that one room and had enough.... and know that you will be missed.



--------------------
www.TreatTheBite.com
www.DrJonesKids.org
www.MarylandLyme.org
www.LymeDoc.org


---

Posts: 20352 | From The Moon | Registered: Jun 2004 | IP: Logged |

Hoosiers51
Frequent Contributor (1K+ posts)
Member # 15759


posted

---

I have the utmost respect towards those voicing their views against salt/C. Some of those posters I regard as a breath of fresh air, because they counter-balance those like myself who tend to gravitate towards the more traditional therapies like antibiotics. So I hope you guys don't leave and continue to voice your opinions.

I have received good advice from many of you and would be sad to see you go.

I think the warnings against salt/C are justified and I think everyone considering the protocol should hear the horror stories so that they can make the most informed decision.

But, I hope the salt/C thread does NOT get deleted. I think it would be sad if we discriminate against any possible therapy lymies are considering.

Lymenet should be a place we can go to read about ALL the available therapies, even the controversial or dangerous ones. If they are dangerous, I hope those who have had bad experiences will share their story.

But it is my personal view that the moderators should not discriminate against certain therapies. Anyone registered on this site can post their "two cents," and thus warn others if a treatment is dangerous.

If we start to discriminate against certain therapies on lymenet, and ban threads about them, patients will be forced to visit biased sites to get info about those therapies.


RIANNA,

I understand if you need to take a break. You need to look out for yourself first off. If anything is causing you stress, you need to do what is best for you.

But, I just want you to know I very much look forward to your posts, because I am considering trying clindamycin and quinine for my babesia.


To sum up,
Every member here contributes something to this board. Sometimes two people will be arguing on a board, and I agree with both of them, which is great! Any therapy on here is subject to scrutiny by the other members, and that dissent gives us the best info to make the best decision.

Kind of like a presidential debate.....you learn the most when two viewpoints can butt heads.

Let's just keep it classy, please!

I think the biggest problem is that sometimes when someone disagrees with something on a thread, they single out the poster of that viewpoint. They argue against the person, not the therapy.

When we disagree, let's not name names. It's not Mary vs. Sally, it's Treatment A vs. Treatment B. Let's keep it that way please, and try not to let things get nasty.

Then hopefully no one will leave! Because I don't want to see ANYONE leave this board!

Thanks.

Hoosiers51

---

Posts: 4590 | From Midwest | Registered: Jun 2008 | IP: Logged |

lymielauren28
Frequent Contributor (1K+ posts)
Member # 13742


posted

---

Tincup said it perfectly. We will miss you and Rianna too, but sometimes we all need a break...

Lauren

--------------------
"The only way out is through"


---

Posts: 1434 | From mississippi | Registered: Nov 2007 | IP: Logged |

sparkle7
Frequent Contributor (5K+ posts)
Member # 10397


posted

---

Lyme is a difficult disease. Some people here are in pain, anxious, gone through failed treatments, have been disrespected by doctors, friends, & family, & faced with an illness that isn't widely recognized or easy to treat.

There's alot of frustration here... & people lash out at things they see as being a threat.

It's unfortunate but it's just human nature. We all have different philosophies about illness & how to get well.

I appreciate that we have an open forum to post info but it can get a bit "hairy" at times.

Sometimes, you have to take some people with a grain of salt... (as my mother used to say).

I think the good outweighs the bad here. I hope people will try to be more considerate towards people with differing opinions about treatments.

As far as I know, cures are not easy to come by. We just have to experiment to find what is good for us as individuals. People die from pharmaceuticals, as well as, alternative treatments.

No one said this was going to be easy. I think it's good to have a multiplicity of opinions so we can decide for ourselves how to proceed.

It would be nice if people could be alittle more respectful. If you post here, you do have to expect that you will come across people who do not agree with whatever it is you may be posting.

Take a break from time to time & come back with something new or interesting to share...

---

Posts: 7772 | From Northeast, again... | Registered: Oct 2006 | IP: Logged |

CD57
Frequent Contributor (1K+ posts)
Member # 11749


posted

---

I agree with the wisdom of taking a break. I may try it too for awhile.

All of you, please come back, as your valuable contributions will be missed.

---

Posts: 3528 | From US | Registered: Apr 2007 | IP: Logged |

bettyg
Unregistered



posted

---

oxygen, sorry to read of your needing a much needed break.


i didn't plan this, but i will be too....see below.

i'll come to the library daily for 1 hr. when i can. i need the break also since the board has turned so NASTY.


whoever is going to mdjunction; you will like it 2 of moderators were former members here; tell them betty sent you ok!!!

got 11 minutes left; will try to read a little more.


TO ALL!

PLEASE remove me from your mailings unless it is about LYME DISEASE.

my monitor went last night! just came from best buy where it's under 1 yr. guarantee but 2-3 WEEKS until i get it back due to holidays!!!


i haven't gotten my xmas letter typed yet either! uffda big time! so you won't be hearing from me.


i will NOT be forwarding things unless it is LYME related!


if you see someone trying to get me on lymenet, please tell them i'm unavailable for now and DISABLING PRIVATE MESSAGES FROM THERE TOO!


later all; left to get few things answered! love, bettyg

---

IP: Logged |

Kingneptune11
Member
Member # 17751


posted

---

Hey Folks,

Hope everyone had a good T-giving......It seems that people are very "emotional" over the holidays.....myself included......Its so difficult to handle our illness and then when the holidays hit, it reminds us so much of our problems and what we miss from our healthy days.....I noticed a "trend" as Thanksgiving was approaching......on this board.....People are upset, but I dont think anyone should take it personal.....Life is hard, especially with health problems like ours......

That being said.....its always good to take a break.....get some fresh air, get away from the computer and spend some more time around people....or in nature......Sometimes we can put our heart and soul into certain websites and I dont think its healthy......Everything in MODERATION......remember, "peace of mind is found on the middle path".......not in the extremes....

I am in the same camp of Hoosiers and Tincup.....Lets not get into debates with certain people.....Lets discuss/debate the issues, not getting personal.....You are always going to have people over react and say really dumb things....I have acted like an *** at times, so I apologize if I have hurt anyones feelings......Sometimes we act out and dont realize what we are doing until the next day or later......None of us are perfect or have all the answers......

I am a chiropractor, but I also have a strong background in Psychology.....my second love.....Sometimes I think the question is not "why did that person hurt my feelings"....but instead, "why do I let that person affect me like that".......I try to ask myself that when I get upset......Am I upset because of what that person said, or is there a deeper problem that lies within me???? Should I "react" to every person that upsets me, or should I try to understand why that person is acting out......just a thought.....I am not a biblical person, more into spirituality than religion......but one of my favorite sayings is....."First seek to understand, then to be understood".......I think that is from the bible.....

The bottom line is this......whether we are talking about energy medicine, vitamins, antibiotics or Vit C/salt therapy......some people get better, some dont......Just because you know someone who got really sick or maybe worse from something, does not mean it will do this to everyone who tries it.......Antibiotics have killed people, so have hundreds of other medications......but each case is unique and without reading someone's case history, it would be hard to tell what really happened......

I come from the "group of thought" that we should keep an open mind to all therapies, until it doesnt work for us.....but dont condemn it just because it didnt work for you or your friend.....I know alot of people who have improved GREATLY from Vit C/Seasalt.....I dont know if its going to work for me, but I am going to try it......I appreciate people expressing concern, that shows compassion.....But we should not get upset if someone doesnt agree with us.....Everyone has a right to put what they want into their own body.....Some people choose supplements others choose antibiotics......We all have to find our own path......

I hope that my comments have not upset anyone....they are just my thoughts......I wish everyone on here the best in health.....

And just to add one more thing....People that mock other people, for whatever reason.....only shows a lack of self esteem......We should actually feel sorry for those people and just not respond to their short-comings.......People often act out when they are scared......

---

Posts: 27 | From Illinois | Registered: Oct 2008 | IP: Logged |

Annxyz
LymeNet Contributor
Member # 9097


posted

---

OXYGEN,

Blueangel's post is no reflection on you . It is a reflection of a person who carelessly flings inflammatory remarks .

Most of the people here are receptive to alternative modes of treatment . They are happy to see anyone get better , as we are all living in a prison to some extent .

Some of the ideas shared here I have had a hard time finding feasible , yet I am glad people share about what is helping them. As long as
we are respectful of one another , we can disagree or politeley state our resevations .

I found Blueangel's post very insensitive and
insulting . Though I also have some questions about the longterm effectiveness of bionic 880 ,
I am so grateful to read ANY feedback from people here . And I do believe it may well help those who have the resources to experiment . I hope so!

Please do not take this personally , or leave your friends here . We should be here to listen to one another , brainstorm, and to lift one another up . This site has been invaluable to me .

I do not have a lot of faith in ABX for chronic lyme, so I appreciate the alternative ideas
immensely .

It is rare that a member stoops to directly put down another . However , this is the real world and not everyone can be tactful or considerate . Tact is the art of making a point without making an enemy . We can learn even from bad examples.

Take heart !

--------------------
ANNXYZ


---

Posts: 744 | From Mineola | Registered: Apr 2006 | IP: Logged |

clairenotes
Frequent Contributor (1K+ posts)
Member # 10392


posted

---

Rianna -- I hope that you re-consider staying with LN. All viewpoints should be respected here. I hope that my comments were not hurtful.

Claire

---

Posts: 1111 | From Colorado | Registered: Oct 2006 | IP: Logged |

DebAz
Unregistered



posted

---

Hello.. If this helps.. This is Deb who started the Salt C protocol post. I went into it not knowing too much and that is why i posted it. If anyone thinks (as i read above) that i was not appropriate in my responses.. I want to clarify. I totally appreciate and value Both Sides of the spectrum and all experiences!! That is why i am here. And then though I would hope I would get respect on any choice I make. That is how it should work. I never meant for any debate to occur and if you read the post I stayed nuetral and asked that you all stop the jabber and back and forth personal aspects. But that I want to learn for EVERYONE>>
SO do not go and please know I have heard and listened to YOU.. Whether I try it or not is not the point. I have made MANY changes to my ideas and to getting my doctor to advice and on board etc. that I would NOT have done except for YOU guys who wrote your posts.
THINK about it.
I want you to know. I appreciate ALL OF YOU>> !
I see i was named personally as a negative contributor to this problem and I would appreciate it to know what I can do different after reading all i wrote in my post.
I do not see what I did wrong and I am being honest here.
I am not taking it personal but just hoping this helps the healthy debates to continue.
Those are the ones we and I have learned from the most.
There was noone being nasty or swearing or being personally mean to on the post that I saw. But there was questioning of eachother and why certain things were said or asking for back up information or more substantiation if possible. It did see people starting to take it personally and I think that it was not personal.
Well anyway. I felt I should say something and I hope that it will help the ones who are leaving to know that everyone who is here adds to the balance and the way we all learn.
Take care

---

IP: Logged |
Contact Us | LymeNet home page | Privacy Statement

Powered by UBB.classic™ 6.7.3

---
The Lyme Disease Network is a non-profit organization funded by individual donations. If you would like to support the Network and the LymeNet system of Web services, please send your donations to:
The Lyme Disease Network of New Jersey
907 Pebble Creek Court, Pennington, NJ 08534 USA
http://www.lymenet.org/
---
Home | Flash Discussion | Support Groups | On-Line Library
Legal Resources | Medical Abstracts | Newsletter | Books
Pictures | Site Search | Links | Help/Questions
About LymeNet | Contact Us
---
© 1993-2020 The Lyme Disease Network of New Jersey, Inc.
All Rights Reserved.
Use of the LymeNet Site is subject to Terms and Conditions.
---