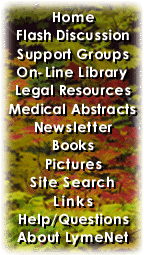 ---
LymeNet on Facebook
LymeNet on Twitter
---
---
The Lyme Disease Network receives a commission from Amazon.com for each purchase originating from this site.
When purchasing from Amazon.com, please
click here first.

Thank you.




Dedicated to the Bachmann Family


LymeNet needs your help:
LymeNet 2020 fund drive

The Lyme Disease Network is a non-profit organization funded by individual donations.

| | |
| --- | --- |
| | |
Author
Topic: Under Our Skin Question

seekhelp
Frequent Contributor (5K+ posts)
Member # 15067


posted

---

I sat down and watched the video today. I thought it was good, but it also lacked stuff too. It didn't do what I hoped it would.

I was hoping it would talk more about the pitfalls of testing, difficulty of treating, and other stuff for non-believers to grasp better.

I don't think focusing on specific doctor (example: Dr. Jones) gets the point across about this epidemic. Many minutes were spent on him and showing his loyal following. It leaves the common viewer with the question why? What does this man know other docs don't? Is it just his willingness to pull out the script pad? Now, if they would've gone over his education/background more, scientific studies, it'd be totally different. It came across as a crusade.

It spent a lot of time discussing controversy, but for some reason I thought the IDSA presenters looked more credible to the general viewer.

I intended on passing it along to relatives and co-workers to help them understand better, but I'm not sure if this is a good idea. The video had scenes where it made Lyme supporters look like fanatics chanting.

Cold hard facts, references, etc. have more weight IMO. Yes, nine IDSA members who wrote the last set of Lyme treatment guidelines may have been connected to pharmceutical companies or other interests, but how unlikely is it that LLMDs aren't also tied the same way (i.e., IGenix, supplement companies, etc.). The fact is smart people have connections...that's business.

I don't agree with the IDSA by any means, but the writers didn't do enough to prove in simple terms what happens when you stop treatment (Bb replication, growth cycles, morphing abilities, etc.). A general viewer needs to know WHY 1 month of Abx is useless.

The first comments my wife made while watching 5 minutes was how people didn't look too sick, Mandy was dressed so nice and swimming, the U2 girl was walking all around w/o tiring, I don't have Lyme because I'm not like the park ranger because I know how to get home, etc. That's why I turned it off and watched it myself. You can imagine how someone who lost a part of their life feels when it hits home on TV. For some reason, she thought the people on my Internet forum created this video...yeah OK. lol.

For some reason, she thought I was trying to tell her I'm sicker than people in the video. I never said that at all! I can tell you I couldn't do what the U2 girl was able to do pre-treatment IF that's a true account. I'd collpase.

Maybe the theatre release will be more comprehensive?

---

Posts: 7545 | From The 5th Dimension - The Twilight Zone | Registered: Mar 2008 | IP: Logged |

lymednva
Frequent Contributor (1K+ posts)
Member # 9098


posted

---

A good companion to Under Our Skin is the book Cure Unknown by Pamela Weintraub. There is a post in General about it this week, and I believe you can download excerpts of it.

Everyone I know who has read it thought it was excellent. She is a science writer whose family has been through the Lyme experience and she tells all sides of the story.

--------------------
Lymednva


---

Posts: 2407 | From over the river and through the woods | Registered: Apr 2006 | IP: Logged |

kam
Honored Contributor (10K+ posts)
Member # 3410


posted

---

Hopefully, this one will do well and they will have enough money to talk about treatment, testing, etc.

It is the first to speak for us.

---

Posts: 15927 | From Became too sick to work or do household chores in 2001. | Registered: Dec 2002 | IP: Logged |

seekhelp
Frequent Contributor (5K+ posts)
Member # 15067


posted

---

Yes, I read Cure Unknown. It is much more detailed. It serves that purpose very well. I first was most interested in The Lyme Disease Solution and other books that give patient self-help advice, but I'm a different audience than those Under Our Skin and Cure Unknown are targeting. The first audience should be the entire world population.

---

Posts: 7545 | From The 5th Dimension - The Twilight Zone | Registered: Mar 2008 | IP: Logged |

lpkayak
Honored Contributor (10K+ posts)
Member # 5230


posted

---

i know what you mean. for an educated lymie it might be a llittle of a letdown.

but i think it is a perfect way to hit the masses. it hooks them right in-gives enough facts but not too many. i often see a glazed look comd over new people or non lymies whe you get into too much stuff..and then you lose them.

i think it is perfect for what it is trying to do.

i was really impressed with the chronicle show too...more facts...a hint of all the c--- with the idsa from credible people.

but the point is-most of us know what is going on or we know where to find out and get good info...it's in the general population that these show should make a difference

--------------------
Lyme? Its complicated. Educate yourself.


---

Posts: 13712 | From new england | Registered: Feb 2004 | IP: Logged |

blinkie
Frequent Contributor (1K+ posts)
Member # 14470


posted

---

I appreciate your opinion but I have to disagree. The truth of lyme disease is that many people don't look sick.

I felt that I could see the misery and difficulties of each of the patients that were highlighted. In the end, the U2 girl did have to quit(if I remember correctly). She was clearly "walking dead".

I thought the testing and treatment issues were clearly addressed as well.
On the other hand, I was disappointed in the book.

---

Posts: 1104 | From N.California | Registered: Jan 2008 | IP: Logged |

Lymeorsomething
Frequent Contributor (1K+ posts)
Member # 16359


posted

---

The movie is well-done, and I agree that it will target the masses and promote lyme awareness. I will say though that the first case in the movie--the FL girl--was a little too dramatic. I know the girl was very sick but for some reason it had a fake feeling to it...not sure why. The other examples were very effective, especially the ranger from CO.

--------------------
"Whatever can go wrong will go wrong."


---

Posts: 2062 | From CT | Registered: Jul 2008 | IP: Logged |

feelfit
Frequent Contributor (1K+ posts)
Member # 12770


posted

---

I thought that both were good.

Under our Skin is excellent in getting information out to the uninformed general public. Everyone with whom I have shared this documentary with has been educated. EVERYONE has said that they never realized that Lyme was such a horrible disease. I am grateful for it's existance.

CURE UNKNOWN, also excellent unbiased reporting even though the author is afflicted with Lyme. From a scientific standpoint, spot-on.

As for the U-2 girl, I gotta tell ya that I think that most people perceive me as they do her. I am always told "you look so good". Your body is in excellent shape etc..

Sometimes I feel like an imposter and find myself feeling that I have to convince people, doctors included, that I am really sick.

It sucks.

Feelfit

---

Posts: 3975 | From usa | Registered: Aug 2007 | IP: Logged |

Lymeorsomething
Frequent Contributor (1K+ posts)
Member # 16359


posted

---

Yeah, I get the "you-look-good" thing all the time. Drives ya nuts after a while.

--------------------
"Whatever can go wrong will go wrong."


---

Posts: 2062 | From CT | Registered: Jul 2008 | IP: Logged |

radfaraf
LymeNet Contributor
Member # 11909


posted

---

Sometimes when I'm feeling my worst I look in the mirror and think I look the best.

The swelling ends up coloring my face is a really nice way and I look great then!

Of course I don't feel that way at the time.

---

Posts: 526 | From NJ | Registered: May 2007 | IP: Logged |

tickssuck
LymeNet Contributor
Member # 15388


posted

---

Same, same, "but you look fine." "You don't look sick; you look great." If they could reside in my body, for even one minute, to feel how screwed up my nervous system is, then they'd get it; it's horrible. Sometimes I wonder if having some sort of gaping, open wound might get others to believe I really am a mess; I'm really not lying or making it up. What I would give for better health... TS

---

Posts: 566 | From West Coast | Registered: May 2008 | IP: Logged |

jam338
LymeNet Contributor
Member # 14002


posted

---

Seekhelp, I understand your concerns. I bought the DVD and cried when I watched it the first time, alone.

I think the film is excellent and applaud the production to get the awareness out. I encourage everyone to watch it.

However, my family did have similar comments as to Seekhelps. Some examples were:

-the U2 girl going up and down many long steps and managing luggage. My husband looked me and said why would they need to show that and risk creating further confusion with the public?

-the FLA girl (Mandy) was wearing very long dangly pierced earrings in the film...even while while seemingly being filmed during treatment where she was having seizure like attacks. One family member was completely distracted from the real content questioning the incongruity of why anyone would be wearing very long dangly earrings while being so sick. Just goes to go show that audiences do notice the tiniest of detail and can easily get visually distracted from the core message of a scene.

Some commented that was befuddling that the FLA girl laughed at what seemed to be perculiarly inappropriate times. Of course some people cope with reactive stress with laughter.

Please understand I am just sharing the comments of my own family so that Seekhelp doesn't feel so alone about his family's reaction.

Experiencing my family get distracted from the core message was painful for me:( So I understand why Seekhelp just turned it off and watched it later alone.

I have tried to nurture myself about it by realizing that it is only human nature for us to notice what might seem odd about things. As humans we have observational skills for problem solving so we notice what seems odd or out of place with things. My family is very detailed oriented and perhaps noticed things that others wouldn't.

Please understand that we are very thankful for the film and recommend it. It is extremely well done. It is very obvious why it has won several awards. I just wanted to post that I understand the points that were made about the U2 and FLA girls as my family noticed and commented on things as well.

Thanks to those who posted about this as it has helped me better understand and cope about my own family's reactions.

---

Posts: 495 | From SF Bay area, CA | Registered: Dec 2007 | IP: Logged |

Lymeorsomething
Frequent Contributor (1K+ posts)
Member # 16359


posted

---

jam, good points. It's a good film for sure but not a perfect film by any stretch.

I can understand them showing the U2 girl with the luggage. These are motivated people after all who have been beset by a debilitating illness. They have the will but not the health. I can relate to that.

I've been working full-time still and many days I feel like a zombie. To me, the alternative is worse. I feel that if I quit I will lose any sense of normalcy I have left.

I will say that I think they could have cut the FL girl segments and had a much stronger movie.

--------------------
"Whatever can go wrong will go wrong."


---

Posts: 2062 | From CT | Registered: Jul 2008 | IP: Logged |

scared08
LymeNet Contributor
Member # 14695


posted

---

Seekhelp,

I HAVE TO SAY THAT I AGREE WITH YOU!!! I guess maybe I am the minority.

First I want to tell you how sorry I am that you heard the comments you did while watching it; I know that hurt!!!

I also cried through much of the movie until the IDSA head guy that took over finishing the guidelines, Al W******. Then I got soooo angry it wasn't even funny!!!

I DO WANT TO SAY THOUGH THAT I'M THANKFUL THAT SOMEONE HAS DONE A FILM ABOUT LYME AND IT IS RAISING EYEBROWS.......IT'S A START!! I AM GRATEFUL TO ANDY AND ALL WHO MADE THIS FILM POSSIBLE. ALSO, VERY GRATEFUL TO THE DR.'S THAT PARTICAPATED AND THE INTEREST THAT DR. OZ HAS!!!!

But I too wish that they had included the proof, scientific evidence about congenital Lyme, sexual transmission------including the slides on record of how the spirochete transforms itself into the cyst form and therefore will not be detected in any blood work, patient may go into 'remission' during this stage and many antibiotics won't even touch it!!!

It was barely touched on by the Scientist, bless his heart, but never went into detail as to what that means to the lyme patient!!!!

There is so much documented proof, scientific data, published findings and studies in the monthly medical journals!! I was disappointed that although the other Dr. stated that what Al said was "bogus", the studies to proove it were not included.

I too wish that Mandy had been or maybe chose to be filmed in a more realistic manner. It that's what she really looked like going through treatment and being so sick, God bless her. I look like I'm on my death bed!!!

The 'U2' girl---yeah, that was me about 12 years ago!!! I had been infected for 6 years and bedridden for 3 or 4 months, but got a little better. I, as many when possible, learned to 'hide' my pain and other sx very well.

I refused to give in to this disease and continued to work for a very long time while single and taking care of 3 children.

Then the day came when IT WAS NO LONGER A CHOICE!!!! If anyone can----yes, push through it and live life to the fullest that you can!!! For some it is not a matter of will power, not giving on, or "deciding to get out of bed and do something instead of rotting away in bed". I think that's what she said in the beginning. Unfortunitly the day comes where it is no longer a choice anymore for many! I wish that was included in the movie, or focused on more.

I know that for years it was an issue for me that on the outside 'I looked fine', but on the inside felt awful. Convincing Dr.'s and even friends sometimes how bad you really feel is a challenge. So I'm glad they touched on that.

But I too really wished they had showed more of the very ill who look very ill. Had shown what can happen to someone, anyone who was not properly treated, inaccurate testing, running out of money and Ins. comp. not paying much in part due to the so called IDAS Guide Lines, and the ignorance/lack of knowledge from so many Dr.'s.

I sobbed and sobbed as I watched the young boy being helped in his wheel chair!!!

I wish though that they had filmed more people that are house bound, can't drive anymore, unable to cook or clean. That's the UGLY REALITY POSSIBLE WITH THIS DISEASE! That is me!!!!! And many others.

Forgive me as I guess I have more anger than I realized right now and now I'm balling like a baby----I'm sorry!

I do appreaciate the movie a great deal and am thankful for the attention it is getting. I with the that one book by Pam??-can't remember now, would be made into a movie.

I would love to read her book but there is no way I can.

---

Posts: 351 | From Georgia | Registered: Feb 2008 | IP: Logged |

seekhelp
Frequent Contributor (5K+ posts)
Member # 15067


posted

---

Great comments everyone. Please don't think I'm trying to belittle the work done or the message they are conveying. I feel it's very important and I respect them for their work.

I'm just saying except for the scene where they show the deaths from Lyme, the movie itself had many inconsistencies, surely didn't reflect how seriously ill one can become and the detriment to their lives. People just easily said "$100k in treatment, $200k in treatmnt, etc."

My wife just shook her head because the average person can't afford that no matter what.

Most in the film didn't really look sick even at their worst (at least it was shown that way visually).

How do you convince an unknowing public the disease is serious without portraying terrible scenarios, providing proof why the tests are useless, and giving people good understandable examples of the life cycle of this disease.

I thought in a way the video reflected a political overtone, but the opposite of the IDSA view. That's not any better. PROOF is what convinces the general public. The transparent is not understandable and never will be.

The video really promoted these affluent LLMDs too much and didn't get to the heart of what an epidemic the nation may be facing. The average person may view it as some wild doctors on a mission to overtreat all losing their licenses. I admit it's a hard story to tell objectively.

Most people just don't buy into the Lyme being ALS, Parkinsons, MS, etc. My wife thought that was utterly insane. It'll be difficult to convince the lay person of that too, including me.

For some off reason, my wife seemed to like the park ranger the best as a character. She seemed to think he was the sickest. I feel exactly the opposite. I saw no evidence beyond his own words of suffering. He obviously did terribly as he mentioned he's not sure if he would have went on w/o his family. However, you see this guy driving, walking, looking fine, etc. the WHOLE movie..hmmm.

---

Posts: 7545 | From The 5th Dimension - The Twilight Zone | Registered: Mar 2008 | IP: Logged |

mr al
LymeNet Contributor
Member # 18191


posted

---

I agree with the original post. Like everyone else i'm very appreciative of the film, but to me it turned out to be some for lyme patients to show people and say see.. i really am sick. But i don't know how much info it conveyed about lyme.


My problem was this.(and my prob with Lyme in general) is there was a scene where a lady says my baby died of lyme. Then they show the IDSA doc saying no baby has died of lyme... then they cut to the next scene.

WELL WHICH WAS IT?????? you have to doc there, you have the patient there! I wanted to see Michael Moore style bomb the guy with a question about that baby and make him answer. lol..

It was just like lyme. To much he said she said with nobody getting anyone to say why they think that. My mom watched it and anytime i'd say see this can happen etc.. she'd say, "well the doctor said that's not true" . And I'd be stuck saying, "uhh yeah i guess there's nothign to back up any statements made."

anyways.. good movie, but i think it turned into a support group on tape for lymies.

---

Posts: 105 | From east | Registered: Nov 2008 | IP: Logged |

seekhelp
Frequent Contributor (5K+ posts)
Member # 15067


posted

---

I was going to send it to my HR Manager and owner at my company to educate them more about Lyme and what I may possibly have. I am refraining from doing that because the film just didn't provide compelling evidence to show the current rules, docs, are utterly incorrect. It was hypothesis.

I don't want to make myself look like more of a fool than I do. Watching protest chants on behalf of Dr. J bears no relevance to the issue at hand. The sole focus should be to showcase suffering of victims, proven misconcenptions about the disease, etc. A brief part of it should be on the political nature of the physician's treating this stuff.

Also note, NO mention was made of possibly bioweapon status which is brought up LN constantly. I assume they just didn't want to go there in fear of getting bombarded by the powers that be. I'm not saying I have a strong opinion on this and did much research, but.....

Then the las part where the pathologist talks about biofilms is very out of place. No techinical information is presented prior that outlines the sophistication of this bacterial disease and then the common viewer is expected to grasp biofilms and this major breakthrough? Huh?

The mentioning of the IDSA members and affiliations is not that key if they don't show the magnitude of this. No mention of how much revenue is accpeted. No mention of their credentials. Like I said before, it's exactly the same for prominent LLMDs and the argument can be easily reversed. Yeah, they can lose their practice and it's a HUGE risk, but at $900 per hour charged, don't think there's not some reward too for these high-profile LLMDs.

Bottom line....FACTS, FACTS, FACTS

---

Posts: 7545 | From The 5th Dimension - The Twilight Zone | Registered: Mar 2008 | IP: Logged |

Lymeorsomething
Frequent Contributor (1K+ posts)
Member # 16359


posted

---

Yeah, we would be really better served by more of a classic documentary. I'd steer clear of military conspiracies--true or untrue--as this would only work to make the lyme community look paranoid and delusional.

--------------------
"Whatever can go wrong will go wrong."


---

Posts: 2062 | From CT | Registered: Jul 2008 | IP: Logged |

Tracy9
Frequent Contributor (1K+ posts)
Member # 7521


posted

---

I have to say I disagree, and think the documentary is excellent. I was left with the feeling however that I desparately wanted more, yet realized only so much can be covered in one film.

I really hope they make a follow up film. I'd love to know if that is in the works.

Seekhelp, what I really wanted to say here is that I am really sorry your wife doesn't understand. You don't deserve that at all. It is hard beyond words to live in these infected bodies, but to do it without the support and love of your partner is unimaginable to me.

I wish it were different for you. It sounds to me like she just wants to blame you, and doesn't want to understand how ill you really are. That's a real shame, and so unfair to you.

--------------------
NO PM; CONTACT: [email protected]

13 years Lyme & Co.; Small Fiber Neuropathy; Myasthenia Gravis, Adrenal Insufficiency. On chemo for 2 1/2 years as experimental treatment for MG.


---

Posts: 4480 | From Northeastern Connecticut | Registered: Jun 2005 | IP: Logged |

tickssuck
LymeNet Contributor
Member # 15388


posted

---

Hi,

Seekhelp, I do agree with many of your points. I also am so thankful for the film, it is an excellent start to getting the word out. I am doing a public screening of UOS next month in my town with a couple of other Lymies. I love that we have some tool to use to try to educate, maybe not perfect, but great.

One comment I got from a naturopath friend after she borrowed it and watched it. She thought McDonald looked much less credible sitting in the basement of his house doing his experiments and studying. She said the IDSA docs came across much more professional, both in context (the environment around them) and just overall. Again, like another poster, this was just a comment made to me.

I think this illness has such a degree of various manifestations, that even though we have it, it can be hard to even relate to another Lyme patient if they have way different symptoms.

I can only say, I look "normal." I have, more than once, felt like the park ranger, that if it wasn't for my husband and 3 kids, at my lowest point, that death sounded like a relief. I can walk, get out of the house, as I said "look fine." But...the malfunction of my nervous system has, at times, been so horrible, uncomfortable and exhausting, that I wonder how long I can go on. So...it seems we all have such different experiences with this disease. While being bed bound, house bound, etc...I am so grateful that I'm not (at this point) and so disturbed that others are, yet I'm not sure my suffering or that of others is necessarily any less. Just a thought...it's one weird bugger. Wishing all of us better health for 2009! TS

---

Posts: 566 | From West Coast | Registered: May 2008 | IP: Logged |

blinkie
Frequent Contributor (1K+ posts)
Member # 14470


posted

---

The film did a good job of showing the varying degree of illness. Remember that most people with lyme are NOT on their death beds. they are still walking around, trying to function, trying to keep jobs and raise children. Not everyone is wheelchair bound. I think that had more of an impact.

Reason being...people unfamiliar with lyme need to know that the person that works in the office next to them might "look" well, but they "could" end up as sick as Mandy from this illness. Anything less would be an injustice to many, many lyme patients.

The U2 girl was a great example of how this disease robs you of your life. People need to see that. She tried to live a normal life, hold a job and in the end, she couldn't. that is the reality of lyme. I think showing only those bedbound and near death would have been disgraceful.

The park ranger, you must remember, was well at the time of filming. I thought he was a good spokesperson for the illness and length of time it took to get well.

I think the producers of the film threw in some of the differing opinions for two reasons. 1: to show the basis of the "lyme wars" so that people can see the problems with understanding this disease. You can't tell the story of lyme and leave this out. 2. I think they wanted to be objective, otherwise the public is going to say it was just a biased film.

There was actual footage of Mandy in the hospital at the time she was the sickest. How can you possibly say that any part of that was staged.

Everyone I showed the film to was shocked, to say the least. They had no idea of the world of lyme and were better for it.

Personally, I am offended by some of the points raised on this thread. I think many people here need to open their minds and get rid of their shallow view points.

---

Posts: 1104 | From N.California | Registered: Jan 2008 | IP: Logged |

Lymeorsomething
Frequent Contributor (1K+ posts)
Member # 16359


posted

---

Well, people routinely get offended here when they see a point of view other than their own. However, seek and others have made valid points and it adds rather than detracts from the overall discussion.

If you want 24/7 of your own unadulterated POV then create your own forum. That's the beauty of free speech.

--------------------
"Whatever can go wrong will go wrong."


---

Posts: 2062 | From CT | Registered: Jul 2008 | IP: Logged |

Julie F.
Member
Member # 15956


posted

---

You bring up some valid points. But that being said, I think it does exactly what a good documentary should do: provoke thought and discussion.

As others have written, I think it is a solid general introduction to Lyme disease and the surrounding controversy. I don't think you're going to get the depth of Cure Unknown onscreen, mainly due to the limits of the medium.

What I really liked about it is that it let the patients have their say. So some Lyme supporters came across as fanatical. So what? Maybe they are, and maybe they have reason to be. Dr. Jones could be a crusader, maybe he's a savior. IDSA doctors could be credible, or they could be out-of-touch, ivory tower idiots. Lyme disease is messy, and there are so many contradictions, but this movie lets you make up your own mind.

I think it was a powerful experience to be able to see certain things with my own eyes, things that were less ``real'' when I just read about them.

For example, when you see the park ranger dump out the box of medications he has taken, you understand instantly what that delay in treatment meant for him. Or when you see the children who were not diagnosed and became disabled, and how they changed from ordinary kids to shadows of their former selves. Of course, you can read about these kinds of stories, but it's just not the same as seeing it.

I think in our world today there are so many distractions -- it is easy to avoid things that make us uncomfortable. This film forces viewers to look at people and think about things that we might not want to, otherwise. My hope is that anyone who watches this film will be lulled out of their mental complacency.

So, perfect or not, the DVD is still going out to my family and friends.

---

Posts: 67 | From SF Bay Area | Registered: Jun 2008 | IP: Logged |

bettyg
Unregistered



posted

---

i think for the 1st lyme documentary DONE, it was great what they did get in there in 1 hr. 44 min. film!


you can't have everything; it's impossible and the length of the film would have been longer. i could barely sit the amount of time it was at now!

1st time i saw it was on my 19" monitor; 2nd time was at public library with huge wall screen. their chairs had NO PADDING, and i was in pain full-time.

---

IP: Logged |

Lymeorsomething
Frequent Contributor (1K+ posts)
Member # 16359


posted

---

I don't think that anyone is saying that it's not a good film. It is. I even own a copy which I will give to my local library. However, there are issues with the film and people have pointed them out.

Just because the film is about lyme doesn't mean we give it the free pass. Books, movies, etc. are always reviewed. They are released. They are reviewed. Ultimately, conclusions about their overall value and short-comings are established. And these opinions may vary greatly and add color to the discussion but they are not intended to assault individual perspectives.

--------------------
"Whatever can go wrong will go wrong."


---

Posts: 2062 | From CT | Registered: Jul 2008 | IP: Logged |

Jellybelly
Frequent Contributor (1K+ posts)
Member # 7142


posted

---

I kind of agree with the orginal post. But first let me say that I think it was amazingly well done. I am so grateful for it. I have also watched it so many times I have lost count. I have shown it to so many people, I have lost count, that is how I have seen it so many times. All of them thougt it was really good and they learned a lot.

These were the observations I made of them, which leads to my comments. I think they were always a bit confused when the film switched back and forth between opposing side doctors. I always had to tell them when one of the bad doctors was speaking.

I think a little to much time was spent on Dr. Jones. What is being done to him is terrible, but it could have been condensed for time sake.

Speaking of time, I feel it was to long. 1 hr 40 mins is a very long time to get the general public to sit. Sadly I saw a lot of yawns, not that they did not appreciate the information, it is just that in a few places it seemed to drag on and on.

I think the way we were portrayed was dead on. I could so see myself in so many of those people. Their faces as they were trying to lead a normal life, like during the wedding.

Someone mentioned above earrings. Well, I don't wear earrings, but I do and did even at my sickest always do my best to look normal. I got dressed up every day, put makeup on everyday, so that I did not look like I felt. I do not want pity.....I just want to feel good. So the people trying to look normal was very accuarte in my case.

But, all in all, I thought it was great. I did post my comment on the "UOS" blog about the length. I am really exceited that it is coming out in theaters, that in itself speaks volumes.

I would not for a second think you should not give it to others to see. I did not get even one negative comment from anyone. Everyone was always greatful for seeing the information, most had no idea of what we really go through.

That is JMHO.

---

Posts: 1251 | From california | Registered: Apr 2005 | IP: Logged |

aiden424
LymeNet Contributor
Member # 7633


posted

---

I liked it but I think everyone in it got better. Well I've been treating for over three years and only have seen slight improvements. It was kind of frustrating.

Kathy

--------------------
You never know how strong you are until being strong is the only choice you have.


---

Posts: 804 | From South Dakota | Registered: Jul 2005 | IP: Logged |

Barby
LymeNet Contributor
Member # 18348


posted

---

quote:

---

Originally posted by Lymeorsomething:

I've been working full-time still and many days I feel like a zombie. To me, the alternative is worse. I feel that if I quit I will lose any sense of normalcy I have left.

---

I feel the same way. I really don't know what I would do if I lost the ability to work. Plus, bills have to be paid.

--------------------
I am so sick and tired of being sick and tired!!!

Lyme Friends
http://www.lymefriends.com/profile/barbyfirefly

My Lyme Story Videos
http://www.youtube.com/user/barbyfirefly


---

Posts: 160 | From Houston, TX | Registered: Dec 2008 | IP: Logged |

MariaA
Frequent Contributor (1K+ posts)
Member # 9128


posted

---

I think the change in Mandy's condition from beginning to middle to end of the film was really obvious and horrific, and had a strong impact on my friend who watched the movie with me.

I didn't feel like the treatment/chronic lyme controversy really got explained very well- the film did a great job of showing what patients go thorough, though. It was a good people story, which I hope makes it easier for some people's families to understand what you all go through.

For showing a video about the controversy itself, I like the 20-minute Chronicle 'Ticked' report someone just mentioned:

http://www.kettmann.com/Lyme/

--------------------
Symptom Free!!! Thank you all!!!!

Find me at Lymefriends, I post under the same name.
diet: http://lymefriends.ning.com/group/healthylowcarbrecipes
Homemade Probiotics thread
Herbal Links Thread


---

Posts: 2552 | From San Francisco | Registered: Apr 2006 | IP: Logged |
Contact Us | LymeNet home page | Privacy Statement

Powered by UBB.classic™ 6.7.3

---
The Lyme Disease Network is a non-profit organization funded by individual donations. If you would like to support the Network and the LymeNet system of Web services, please send your donations to:
The Lyme Disease Network of New Jersey
907 Pebble Creek Court, Pennington, NJ 08534 USA
http://www.lymenet.org/
---
Home | Flash Discussion | Support Groups | On-Line Library
Legal Resources | Medical Abstracts | Newsletter | Books
Pictures | Site Search | Links | Help/Questions
About LymeNet | Contact Us
---
© 1993-2020 The Lyme Disease Network of New Jersey, Inc.
All Rights Reserved.
Use of the LymeNet Site is subject to Terms and Conditions.
---