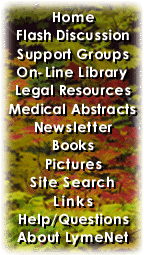 ---
LymeNet on Facebook
LymeNet on Twitter
---
---
The Lyme Disease Network receives a commission from Amazon.com for each purchase originating from this site.
When purchasing from Amazon.com, please
click here first.

Thank you.




Dedicated to the Bachmann Family


LymeNet needs your help:
LymeNet 2020 fund drive

The Lyme Disease Network is a non-profit organization funded by individual donations.

| | |
| --- | --- |
| | |
Author
Topic: What do those who can't take ABX do?

lymemommy
LymeNet Contributor
Member # 12495


posted

---

Hi everyone!

I'm hoping that those of you out there who cannot or who have chosen not to take abx, can give me some guidance.

First, some basic info. I have tested neg for Lyme several times, even through Igenex, but positive for bart h., bart q, and mycoplasma. EBV is high (pushing 3000 as of last year) cd57 is at 27, glucose at 61. Vit D is normal.

Our LLMD feels that it is lyme, regardless of testing. I started on Rifampin at the beginning of summer, lasted 2 weeks, felt great, until (sorry for the gross factor here) my bm's turned into orange fire water.

Then my gal bladder went bad, had to have that out, lost over 40 lbs due to not be able to eat any form of fat whatsoever for 6 weeks or so.

Once I had resumed a somewhat normal diet, I tried rifampin again, only lasted 5 days before I had the same issues.

Now the doc says 'no abx for you! ' (concerned about c dif) So I am now taking cats claw and bromelain, but to be honest, it doesn't seem to be doing anything.

Still tired all the time, still get the random joint pains, headaches, ringing in the ears, ect ect.

So I'm wondering what my options are.

Thanks for taking time to guide!
kp

---

Posts: 394 | From tinton falls nj | Registered: Jul 2007 | IP: Logged |

Annxyz
LymeNet Contributor
Member # 9097


posted

---

There are loads of people who take abx for years and relapse . That seems to be the recurring theme of posts here . I have had three years of ABX and only am marginally improved , and can not do them forever .

I am extremely impressed with the number of people who make BIG progress with rife. If you do a search here " rife GB4000 " or "rife Doug coil " you will find encouragement . I am going to try it next , after reading MANY posts .

You may also try herbs and especially artimisinin and andrographis , oil of oregano ,
and teasel .

The sad thing about this disease is how poorly
antibiotics fare in treating it . Sometimes I read the relapse stories and wonder if they might as well have taken baby aspirin .

There are many things you can try ; just begin researching .

--------------------
ANNXYZ


---

Posts: 744 | From Mineola | Registered: Apr 2006 | IP: Logged |

treepatrol
Honored Contributor (10K+ posts)
Member # 4117


posted

---

Do the Iv route

--------------------
Do unto others as you would have them do unto you.
Remember Iam not a Doctor Just someone struggling like you with Tick Borne Diseases.

Newbie Links


---

Posts: 10564 | From PA Where the Creeks are Red | Registered: Jun 2003 | IP: Logged |

ladycakes
LymeNet Contributor
Member # 12619


posted

---

IV helped with my stomach issues as well. And by helped, I mean I didn't have any.

I didn't have quite as severe of issues as you, but it did get to a point where everything I ate just went right through me. While on the IV I kept taking my probiotics, and I could eat again.

It also made the most difference out of any treatment I've done.

---

Posts: 306 | From Brownsville, PA | Registered: Jul 2007 | IP: Logged |

ByronSBell 2007
Unregistered



posted

---

Look into Mesosilver

---

IP: Logged |

Keebler
Honored Contributor (25K+ posts)
Member # 12673


posted

---

-

In addition to good comments above (and, yes, IV Rx can be an option - and cat's claw and silver can be very helpful):


I know you've read a lot - but as this tread may be read by someone just starting out, it may be helpful to include some of the ``regular'' links first - for background.

Also - a general note for future readers that excellent self-care is the only way to go whichever treatment is chosen. Nothing will work if the self-care is not tip-top.


While few get well without attention to nutrition and supporting the liver and adrenals with specific supplements, anyone considering complementary approaches should be sure to have first read the abx protocol for a better grasp of the task at hand.

Excellent diagnostics by a seasoned LLMD would be of great benefit. From there, various avenues can be explored.

Basic, supportive herbs to "get the body stronger" are NEVER enough to get over lyme or coinfections. Very specific attention must be paid to the nature, life-span and forms of each tick-borne disease (TBD).

Each infection is treated differently and it is no minor undertaking. It is best to seek guidance with skilled professionals who are truly lyme and TBD literate. They will know, specifically, how to proceed. There are a few naturopathic physicians (N.D.) are also LL and ILADS members. Be sure to ask just how much someone knows before you put your future in their hands.


The books by Zhang and by Buhner are excellent in that they both understand the difference between support supplements and agents that will directly affect infection. Each offers research to back this up and each will incorporate abx when needed - just as many LLMDs incorporate some of the supplements found in these books.


I strongly suggest following a specific protocol. Trying to just add this or that can go on forever but, with the right plan, you have a better chance for success.

I've been on Zhang's for a few months at a time, a couple of different times and always did great. Finances were the only reason I stopped. And, if the garlic smell is a deterrent, feed others garlic or try the alternate plan Dr. Z outlines to rotate.


I've been adjusting up on Buhner's for a while now and find that, too, to be excellent. This one is more affordable by far, but much more complex to gather the supplies needed from different sources - if one's cognitive energy is low.


For either one - in my experience - seizures simply don't happen while I follow the protocol. With all the other options, my opinion is that Dr. Z and Dr. B clearly top the list. I hope you'll be able to study the literature of both.

I am less sleepy with Dr. Z's - but tinnitus is better with the Buhner protocol (as andrographis is very calming - all day long). I noticed better effects regarding brain function and sensory overload with Dr. Z's.


Good luck.


================

Treatment - background for reference:

www.ilads.org

ILADS

The International Lyme and Associated Diseases Society (ILADS) provides a forum for health science professionals to share their wealth of knowledge regarding the management of Lyme and associated diseases.


- 2/3 down the page, you can download Guidelines for the management of Lyme disease

and

www.ilads.org/burrascano_0905.html

Dr. Burrascano's Treatment Guidelines (Rx)


---

www.lymepa.org/Nutritional_Supplements.pdf


Nutritional Supplements in Disseminated Lyme Disease

J.J. Burrascano, Jr., MD (2008)


==========================


www.canlyme.com/tom.html

The Complexities of Lyme Disease

A Microbiology Tutorial - by Thomas M. Grier M.Sc.


=====================================


These authors suggest licorice can help block the lyme toxin:


www.townsendletter.com/FebMar2006/lyme0206.htm


From the Townsend Letter for Doctors & Patients

February/March 2006


BIOCHEMISTRY OF LYME DISEASE: BORRELIA BURGDORFERI SPIROCHETE / CYST


by Prof. Robert W. Bradford and Henry W. Allen

EXCERPT:

A discovery of great importance relating to a toxin produced by the causative agent of Lyme disease, Borrelia burgdorferi, has been linked to a similar toxin produced by the organism Clostridium botulinum.

- Full article and great photos at link above.

NOTE OF CAUTION: While this is an excellent article regarding the information about the spirochete/cyst, there is one serious caution with one of the treatments suggested: Bismuth.

Bismuth, in various forms or methods of use, can (and has been) fatal. So, cross that off your list. If you download the article, please copy and paste this note to top your page.


Reading - and learning - about the nature of this infection is invaluable. The authors offer much in that regard, I'd just wish they'd adequately cautioned bismuth.


=================================


Biofilms of Borrelia burgdorferi and Clinical Implications for Chronic Borreliosis - Alan B. MacDonald, MD

May 17, 2008
University of New Haven
Lyme Disease Symposium
New Haven, Conn.

74 pages, pdf:

www.molecularalzheimer.org/files/Biofilm_New_Haven_ppt_Read-Only_.pdf


=============================
=============================


This book, by an ILADS member LLMD, holds great information about treatments options and support measures (a lot of information on supplements but still revolving around Rx):


http://tinyurl.com/6lq3pb (through Amazon)

THE LYME DISEASE SOLUTION (2008)

- by Kenneth B. Singleton , MD; James A. Duke. Ph.D. (Foreword)

You can read more about it here and see customer reviews.

Web site: www.lymedoctor.com


===================


http://tinyurl.com/5vnsjg


Healing Lyme: Natural Healing And Prevention of Lyme Borreliosis And Its Coinfections - by Stephen Harrod Buhner


web site options: www.gaianstudies.org/lyme-updates.htm


================

http://tinyurl.com/5drx94


Lyme Disease and Modern Chinese Medicine - by Dr. QingCai Zhang, MD & Yale Zhang


web site: try www.sinomedresearch.org and use "clinic" and then "clinic" for the passwords or call Hepapro through www.hepapro.com


=================


www.lymeinfo.net/alt.html


LYME DISEASE ALTERNATIVE THERAPIES


-

[ 25. December 2008, 04:18 PM: Message edited by: Keebler ]

---

Posts: 48021 | From Tree House | Registered: Jul 2007 | IP: Logged |

Keebler
Honored Contributor (25K+ posts)
Member # 12673


posted

---

-


ITM - INSTITUTE OF TRADITIONAL MEDICINE

www.itmonline.org - home

You can search for "Lyme" here - a wonderful article with historical reference to many anti-spirochetal herbs will appear. Unfortunately, the author relied on the IDSA / CDC for some of the details about the current situation. Still, the writing about the herbs is solid.

This is clearly one of the best research sites, respected around the world.


ITM's Article Directory : www.itmonline.org/articles.htm


A few ITM links regarding SAFETY and INTERACTIONS:

www.itmonline.org/safety.htm - over 35 separate articles.

www.itmonline.org/arts/herbdrug.htm - 2000

www.itmonline.org/arts/herbdrug2.htm - 2003


==============================


http://oneearthherbs.squarespace.com


THE ONE EARTH HERBAL SOURCE BOOK (Tillotson, et.al.)


This is NOT a book about lyme (aside from a mention on sarsaparilla's page). However, it is a wonderful resource. Generously, much of the book is on line but you can also get it from the link or from Amazon.


This explains a lot about how the liver works. The nervous system is also detailed. Special diets are outlined.


The different forms of herbs (tincture, raw, extract, etc.) are explained. Many of the support herbs used with lyme are detailed (i.e. Gotu Kola, Sarsaparilla, etc.)


======================


To search medical abstracts for some of what appears in the the books linked in post above:


www.ncbi.nlm.nih.gov/sites/entrez

PubMed Search:

Allicin - 288 abstracts

Coptis 264 abstracts

Sarsaparilla - 132 abstracts

Andrographis - 220 abstracts


----------


Note: no one item is enough alone. Just as with allopathic, all of the literature in the post above emphasizes the importance of very specific combination therapy such as with formulas, rather than single herbs.


-

[ 25. December 2008, 04:02 PM: Message edited by: Keebler ]

---

Posts: 48021 | From Tree House | Registered: Jul 2007 | IP: Logged |

Keebler
Honored Contributor (25K+ posts)
Member # 12673


posted

---

-


SPIRO Extract

www.rain-tree.com/spiro-extract.htm


A synergistic formula of 6 rainforest botanicals which are traditionally used in South America for syphilis (a type of spirochete bacteria) and other bacterial conditions.* This product was featured in an article by the Health Sciences Institute (see page 4).


Be sure to see the dozens of Third-Party Published Research* - links to research articles at the bottom of the page.

--

You might also search Pau d'Arco at the Rain-Tree site. It is a wonderful antifungal.


-

---

Posts: 48021 | From Tree House | Registered: Jul 2007 | IP: Logged |

Keebler
Honored Contributor (25K+ posts)
Member # 12673


posted

---

-

Reading back over your post to see if all questions were addressed, I totally missed the main one reason your doctor wants to stop abx.

C. diff.

(Do a search here for TIMACA - she has posted about that as she went through an grueling ordeal with it).


So, are you taking Florastor?


This is often preventable, even with on abx.

================

www.florastor.com

From their site: The Number One Probiotic Worldwide Florastor decreases abdominal discomfort, reduces stool urgency, and restores normal bowel movements.

Florastor contains Saccharomyces boulardii - a type of probiotic.
Only Saccharomyces boulardii and, to a lesser degree, L. casei rhamnosus (GG) have been shown to protect against C. difficile.

- more info. at link above, including:

www.florastor.com/article.asp?id=1140

FREQUENTLY ASKED QUESTIONS

- Yes, it is gluten-free.

Excerpt: Florastor should not be taken with oral systemic antifungal medications such as, Fluconazole, Nystatin, Ketoconazole, or Itraconazole.

Natural antifungal or carminative like therapies such as, Garlic, Grape Seed extract, Oregon Grape, or Berberine, do not seem to disturb or affect the action of the Saccharomyces boulardii lyo in Florastor. . . . cont'd at link.

=======================================


From my looking around: Florastor is just one product. Saccharomyces boulardii is also in some other formulas such as Garden of Life Primal Defense ULTRA. Check labels, though, in case formulas change over time.


Florastor is not cheap. Saccharomyces boulardii products, to my knowledge, are not covered by insurance. That is a shame. Correct that and lives will be saved. (However, Nutritional Yeast also contains some good agents that can help prevent c. diff. - go to Wikipedia for details).


Also, be advised that while Saccharomyces boulardii can be a wonderful help for most people, for some patients with immune system challenges, special precautions may be needed. Consult with a knowledgeable doctor first.


From what I recall from reading, one would NOT want to break open the capsule to put into water as breathing in fine particles can pose a risk of inhalation.


------------------------------------------------

www.ncbi.nlm.nih.gov/sites/entrez

PubMed Search:

Clostridium difficile, Saccharomyces boulardii - 74 abstracts

Clostridium difficile, extract - 24 abstracts


One of those:

"Effect of tea phenolics and their aromatic fecal bacterial metabolites on intestinal microbiota."


Excerpt: Growth of certain pathogenic bacteria such as Clostridium perfringens, Clostridium difficile and Bacteroides spp. was significantly repressed by tea phenolics and their derivatives . . .


---

---

Posts: 48021 | From Tree House | Registered: Jul 2007 | IP: Logged |

lymemommy
LymeNet Contributor
Member # 12495


posted

---

Thank you everyone for getting back to me with so much info, I now have plenty of reading to keep me busy over the holidays!

Speaking of holidays, I hope that all who celebrate at this time of year are enjoying, and for those who are having a tough time, I hope that next year will be better.

Yes, Keebler, I've done lots of research over the past year, as both my husband and my child are coping with this illness as well.

Fortunately, they haven't had the problems that I have had with Tx.

My son, who describes himself as being at 95% now, feels that he was at about 10% a year ago. (you responded to my question about his seizures some time ago, they have improved ie: less frequent, not as strong, since then.)

Thank you for sharing all of your research with me, and being so very helpful, yet again.

Take care all,
kp

---

Posts: 394 | From tinton falls nj | Registered: Jul 2007 | IP: Logged |
Contact Us | LymeNet home page | Privacy Statement

Powered by UBB.classic™ 6.7.3

---
The Lyme Disease Network is a non-profit organization funded by individual donations. If you would like to support the Network and the LymeNet system of Web services, please send your donations to:
The Lyme Disease Network of New Jersey
907 Pebble Creek Court, Pennington, NJ 08534 USA
http://www.lymenet.org/
---
Home | Flash Discussion | Support Groups | On-Line Library
Legal Resources | Medical Abstracts | Newsletter | Books
Pictures | Site Search | Links | Help/Questions
About LymeNet | Contact Us
---
© 1993-2020 The Lyme Disease Network of New Jersey, Inc.
All Rights Reserved.
Use of the LymeNet Site is subject to Terms and Conditions.
---