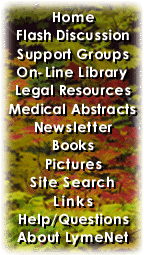 ---
LymeNet on Facebook
LymeNet on Twitter
---
---
The Lyme Disease Network receives a commission from Amazon.com for each purchase originating from this site.
When purchasing from Amazon.com, please
click here first.

Thank you.




Dedicated to the Bachmann Family


LymeNet needs your help:
LymeNet 2020 fund drive

The Lyme Disease Network is a non-profit organization funded by individual donations.

| | |
| --- | --- |
| | |
Author
Topic: President Bush has Lyme disease

w0tm
LymeNet Contributor
Member # 13104


posted

---

Now that he is almost out of office, the story can be told. Personally, I don't believe it affected his ability to make major, really difficult decisions. BUT, if he served a third term, problems would have arisen as his advancing Lyme WOULD have affected his judgment.

But THANK HEAVENS last year when president Bush's doctor added a brief note to his always exceptional annual physical that president Bush "had tested positive for Lyme, was treated following accepted CDC/FDA guidelines and quickly recovered" that the media did no research taking the doctor's press release at face value. There were a few extra minor questions establishing President Bush had carried the virus for at least a few years. Watching him the last few years at least I "saw" signs of the slow response that all of us with Lyme know comes out of the blue sometimes then leaves just as fast. Occasionally he'd reach for a common word but it just wouldn't come. I could see the terror (not the right word but all I can think of) in his eyes as he just "lost it" for a brief moment then "covered his mind lapse by using a different word.

He is such an health addict I would guess he has never read about Lyme beyond what his doctor said (above). He had it, he took some pills and he quickly recovered. President Bush is my age. After going to Hel* and back I ALMOST have my Lyme infection and co-infections and other associated illnesses (i.e. Wilson's Syndrome) fully suppressed! I have my life back! I've gone from bed-ridden in extreme pain to 99 healthy. I fear president Bush will face what I went through beginning in a few years. No one in the media KNEW or found out Lyme after (about) 30 days cannot be cured - only suppressed. And don't fight it you gradually lose your health until the day you fall off the proverbial cliff. The media would have torn him apart. His answers were slow and he stumbled on words. But he did that before he had Lyme so no one ascribed it to Lyme. The media may have noticed an increase in his stumbles and problems with coming up with the right word but they did NOT say he was "too old" or Alzheimer's (both used to tear down Reagan when, at the time, I personally don't believe age or his beginning Alzheimer's had ANY effect on his performance until years after being out of office.

Senator Schumer of New Jersey promptly announced he too had Lyme, had taken 30 days of antibiotics and had fully recovered. Just one more bit of PR for one of the more camera chasing congress people.

Then came the governor of Pennsylvania. All the same month (May of 2007). It almost became a status symbol! I pictured those in government or entertainment all being tested for Lyme to see if they could also hold a press conference to announce their BIG medical news (and get their face on TV and name in the newspaper). Far better than one of the non-PC illnesses (like AIDS unless you've already declared yourself as gay years ago).

THESE high officials and other "elites" who listen to top-flight by the book CDC/AMA doctors ONLY are headed for TROUBLE! WE all know that. How sad! Yes, we should be able to feel pain for those who are of the "high and mighty" or "rich and famous". They are human beings too. Do we wish them harm for being a famous politician/actor/singer/etc.? I hope not!!

Since they all receive ONLY (top-flight) traditional medical care, they are in big trouble. Ten years from now when one of them is lying in bed slowly fading away, they will stick with their "world renown" doctor to the end.

If you're religious, all we can do is pray for them and hope they each stumble across REAL virus treatment. I know I will pray for all of them. This is one of the few times in life when being rich and famous is a curse.

---

Posts: 133 | From Shawnee, KS | Registered: Sep 2007 | IP: Logged |

lymebytes
Frequent Contributor (1K+ posts)
Member # 11830


posted

---

President Bush was treated by an LLMD..even though they may have said per CDC guidelines. I am sure he was put on IV as one of his aides said he was "bitten by ticks often".

In the last few weeks it was reported he had shoulder pain (symptom? ) and was given cortisone shots (scream! ) either he is really cured or even his doctor's don't know that devastating effects of corticosteroids with Lyme and that they can cause a cascade of LD symptoms.

Youtube has a 10 year comparison - yes he has slowed down in speech, etc. Here is the link:
http://www.youtube.com/watch?v=NvVilAlCBYc

Wonderful you have gotten well, did you treat w/oral or Iv abx, how long were you in treatment and how long were you sick?

Just a quick fix-it to your post, Lyme Disease is not a virus but a virulent spirochete bacteria.

Best of health.

--------------------
www.truthaboutlymedisease.com


---

Posts: 2003 | From endemic area | Registered: May 2007 | IP: Logged |

bettyg
Unregistered



posted

---

wotm, i/other neuros would love to read your post on this subject; but we can't reach your long solid block paragraphs.

please break up into short ones so we can enjoy your comments and add our own ok! thanks


When you post or reply, please break up your solid, continuous block text welcome to the board! many of us have neuro lyme where we can NOT read long solid block text and be able to comprehend and read it as is.


please edit your post by CLICKING PAPER/PENCIL ICON to right of your name. that opens up BOTH subject line and body text.


now please break up your WORDY SENTENCES into one sentence paragraphs. Then hit ENTER KEY ``THREE`` after each paragraph; we need that space for comprehension.


if you are NOT a wordy person, you can do 2 or 3 total ok. do this for your entire post.

---

IP: Logged |

Peedie
LymeNet Contributor
Member # 15355


posted

---

w0tm

What makes you think President Bush is still experiencing symptoms of Lyme Disease?

Was there a press release or news article to support this speculation?

If so...please add the link to the article(s)

Thanks
-p

---

Posts: 641 | From So. CA | Registered: May 2008 | IP: Logged |

w0tm
LymeNet Contributor
Member # 13104


posted

---

Bettyg

With all due respect:

I hsve difficulty reading your one sentence paragraphs.

I have always been polite in my responses to you and will, of course, continue to do so if you wish to continue to tell me and others to write according to your wishes.

I write according to standards taught in college English classes.

My writing matches virtually every book published.

What I write would be three times the length if written to meet your wishes and would be difficult for most other people to read.

Most people would skip my longer posts rather than bother reading one sentence paragraphs.

I wish there was a compromise but I can't think of one.

If you have a suggestion other than I just do as you say, I am certainly open to it.

One hundred other readers might skip my VERY long posts made three times longer writing in stacatto single sentence paragraphs.

I would rather lose one reader to gain one hundred readers who would probably otherwise skip my post written as you recommend.

This answer is polite but direct.

I hope you accept it in that manner.

As you can see, it is written per your wishes as I am writing only to you.

I sympathize with your difficulty in concentrating.

I had the same problem at the worst point of my Lyme infection.

I am in the computer business.

Have you considered a computer word reader?

The prices have REALLY dropped and they work quite well.

They are normally used by the blind but I think it would be of great help to you in reading all text here and on other Web sites.

The entire Internet cannot change to single sentence paragraphs.

A word reader would probably open up a whole new world to you (the rest of the Internet where long essays exist on Lyme and other subjects.

Essays where one paragraph sometimes occupies an entire page.

You might discover additional help in your battle with Lyme.

I know I needed to read thousands of pages of essays and books to regain my health.

Best regards,

Gary in Kansas

---

Posts: 133 | From Shawnee, KS | Registered: Sep 2007 | IP: Logged |

bettyg
Unregistered



posted

---

hi gary,

i just got on. we have a misunderstanding and i hope to clear that up ok.

i noticed on some of your long posts that one sentence meant 4-6 lines of text; that is what i meant by 1 sentence paragraphs.


NOT the really short ones that 3-5 could be a paragraph of 6-8 lines max. does that make more sense to you? when i'm in my lyme fog, it's hard to find words to convey what i'm trying to say ok.

yes, wouldn't it be marvelous to just have a win-win situation for us all no matter if you've had lyme for 1 week up to 50 years?

thank you for your feedback in both.

yes, i volunteer hours her daily/wee am hours.

---

IP: Logged |

w0tm
LymeNet Contributor
Member # 13104


posted

---

Peedie and Lymebytes,

Peedie - I think Lymebytes post partially answers your question. The point I was making is ``Thank Heavens'' the media did NOT pick up on this when his doctor added ``President Bush had Lyme, was treated and is completely cured'' as a side note almost hoping no one would see it. We all know Lyme after 30 days cannot be cured, it can only be suppressed. Just like AIDS. Mine is almost fully suppressed now after five years of Hel*!.

The country did NOT need President Bush's last year in office with the media tearing him apart by analyzing and probably criticizing his every decision, speech, action, word - you name it as ``Alzheimer Lyme'' (or whatever name the media would decide to tag it with). They would crucify him!

Politics does NOT belong on this site but I voted for President Bush even though he was not my choice in the primaries. Once elected, he was MY president. Many thought, talked and acted otherwise and still do. It would have taken just one major ``investigative'' reporter learning that Lyme was probably still very much alive and active in his body and would be for the rest of his life to ruin his presidency. I made an educated guess a ``White House doctor'' would be tresting him ``by the book''.

NOT GOOD if you want to get better having Lyme! We all know that. Only at my lowest point with Lyme was my ability to make important decisions impaired. They took longer to make and I spoke slower. but the decisions and responses WERE the right ones. But I would lose focus and forget words.

Everyone with Lyme ``progresses'' at a different rate. President Bush appears to be getting worse at a slow rate. Good! He will leave office not having had Lyme impair his performance in office (whether people agreed with various decisions or not - and I personally did NOT agree with many of his decisions). But I knew he made them with a clear mind.

BUT, having Lyme, I began to recognize signs of Lyme in his speeches and actions several years ago. I just thought it a coincidence and it was his way of being affected by the tremendous pressure of his job. I can't imagine the responsibility of the world on my shoulders for eight minutes much less eight years! He will make it with just 19 days to go.

But he probably would not have if just one story ``caught traction'' saying ``President Bush has Lyme and, thus, is suffering from the equivalent of Alzheimer's''. The media would have gone wild. His millions of detractors would have gone berserk. He might NOT have made it through that final year just as Bill Clinton had ``Monica'' occupy most of his time for two years (was it one or two years?).

How do you prove you DO have Lyme but it is not yet affecting your decisions? Every word stumble (and he made many) would have made headlines all over the world. Headlines reading ``Most `Powerful' Man in the World - The Lights are on but No One is Home! Magnify that by thousands of newspapers and radio and TV stations.

Have you noticed his speeches have been extra well scripted and Q&A sessions with the press RARE of late? The disgruntled press (and all media) probably wrote off his new inaccessibility to being a second-term president and that he would not have to run for office again.

Not so. I'm sure he senses he is ``aging'' faster than he should. That was true with me. But it was Lyme and my other ailments. See my other recent posts for info on them.

Others told me ``some people age quicker than others''. I accepted that for a few years until I had gone from feeling and acting 35 (real age 50 - I ate right and kept in shape) to feeling and acting 85 all in just a few years. Within months I went from hiking to sometimes taking an hour to just get out of bed! I hope and pray a real LLMD has gotten through to him or to his personal physician to convince him ``you still have Lyme - it cannot be cured. Mr. President, You were diagnosed by symptoms indicating you had been bitten at least two years before the first diagnosis; probably longer than two years ago. You will have to go through alternative medical care YOUR CDC disapproves of and is actually antagonistic to and doing everything they can to stop it by ruining careers of doctors and leaving thousands of suffering Lyme patients with no one to turn to for (real) help!''

I carefully watched ``the news'' since the announcement in May of 2007 just in case some reporter became infected with Lyme then learned you cannot be cured after 30 days. He/she would put two and two together and write a ``what if'' article about President Bush and Lyme. Even though Senator Schumer of New Jersey and Governor Rendell of Pennsylvania also announced they too had contracted Lyme AND they too had been treated and CURED within months of President Bush's doctor's announcement, the media would have ignored them.

The media would have savaged President Bush. To me, he definitely stumbles more with word, has ``Lyme moments'' when for a split second you just go blank, can't remember a very common word he spoke a few sentences before - he STILL has Lyme. BUT that is just my personal observation. You are correct. I do not have any media news, doctor's report, etc. to back it up. I say, THANK HEAVENS!! He has covered up his still minor Lyme symptoms doing it better than I ever did. He is an intelligent man and he used to have a very quick wit. No more. You haven't noticed? He seems more somber and more ``measured'' in everything he says and does.

Could it be the ``weight'' of the office? No. Compare his ``look'' and demeanor today to that of 9/11. To me it is the "look" of Lyme. Let's pray he breaks out of conventional by the book government issued medicine and finds a good, but ``pushes the envelope'', LLMD and the same for Senator Schumer and Governor Rendell.

Senator Schumer will probably run and be reelected again and again until his final day on this earth. He is not that old so there is a high probability he will be disabled by Lyme well before that day. BTW - a CDC Lyme research bill that had been sitting untouched in the House for three years moved through two committees in one day(!) after Senator Schumer discovered he had Lyme disease then learned more is (for sure) known about rare one in a million diseases then is known about Lyme.

I heard the bill and funding ($100 million dollars) passed and the CDC has the money. I also heard they plan to use it to ``educate'' the public that Lyme ``is rare and easily cured with 30 days of an antibiotic''. Money to FIGHT the few really good LLMD's we have left. When I heard that I wanted to scream! In fact I think I did! AAAARRRRRGGGGGHHHHH!!!!!

Senator Schumer will have to reach the point where he uses a ``cheat sheet'' to remember his state, his name and what year it is. Even then he may be diagnosed with Alzheimer's. All I can say is - ``the battle continues''.

Lymebytes: I was going downhill with Lyme for years but NOT diagnosed. Then I had three steroid shots into my spine to try to correct a bone spur cutting into a major nerve to my left arm (the shots made it worse but surgery fixed the problem three months later. I now have a partially titanium spine and a permanent stiff neck but NO MORE EXTREME UPPER BACK PAIN plus I can feel my left arm again!

As has now been recently learned, steroid shots cause Lyme or any immune system ailment to just EXPLODE in the body. I went from some fatigue to almost complete disability in just a few months. I only learned what steroid shots can do to weak immune systems a few months ago. The same with flu shots. They contain a minute amount of mercury that weakens the immune system and, just like steroids, NEVER leaves the body!

That was two years ago. I had three months of IV antibiotics and 18 months of oral antibiotics. I'm just now tapering off of Mepron (at $1,280 per month after insurance - wow!). My LLMD says my Lyme is 99% gone as is babesia. I still have some Bartonella but the symptoms are not major. She thinks another few months and I'll be ``fully suppressed''. NOT cured. I can't repeat it too many times as so many people believe there is a cure for Lyme. Lyme is like AIDS - it can only be suppressed. I'll be watching for relapses the rest of my life. But I now know all of the precautions so I should be OK. My immune system is permanently weak. So that means ``wash your hands A LOT, keep your hands away from your nose and face, avoid crowds (like airline flights!) in flu season and so on.

I have the vents in my house cleaned every year. I have three humidifiers and four air filters and three ionizers and ozone generators. My house has NO smell to it. Everyone in my family is healthier because of what I have done. That's great! Everyone tests their body pH with pH test Stix. When they notice their pH dropping they know a cold is on the way. They O.D. on O.J. and get extra rest. They either avoid the cold totally or make it a minor one. Even extra healthy people should check their body pH, body temperature, blood pressure and pulse. Early detection can avoid weeks of illness later on. I took about 100 pills three times a day. I'm down to about 20 now.

Rather than use up more space here and waste the time of others, why don't you message me (or e-mail at [email protected])? Tell me where you are now in your illness, what you've done and, basically, everything you can think of. I will be happy to provide you a detailed comparison of my conditions, symptoms and treatments.

Yes, you are right. But even LLMD's use the word ``virus''. Like that ace -whatever word for aspirin. I can never remember it. But I can remember ``aspirin''. I'll look forward to hearing from you. Many people on Lymenet helped me and I'm more than happy to help anyone who asks for my help.

Take care,
Gary from Kansas

---

Posts: 133 | From Shawnee, KS | Registered: Sep 2007 | IP: Logged |

w0tm
LymeNet Contributor
Member # 13104


posted

---

Bettyg

Thanks for your understanding. I write the way I write articles and books.

Among my occupations is a professional technical writer. I mostly make very technical electronics subjects simpler to read and understand for the "average" engineer or technician.

Not "rocket science stuff but close to it. My background as an "egghead techie nerd" research engineer I believe guided me to beat all that was wrong with me.

Many doctors avoided me as they could NOT snow me with their medical big words. I'd respond with BIGGER words and questions that would stump the best doctors at Mayo!

If you've ever received a speeding ticket blame it on me. I hold the primary patent that allows radar "instant lock-on". Sorry!

I know my "technical side" shows through in my writing.

Very detailed and I leave nothing to be guessed at by the reader.

You're a good person. I'm glad we're still friends!

Take care,
Gary

---

Posts: 133 | From Shawnee, KS | Registered: Sep 2007 | IP: Logged |

AnneRoto
Member
Member # 13363


posted

---

At last someone has responded to BettyG and her requests. My "lyme fog" is not all that bad but I could not follow all the requests (demands) that you had about how to post.

I think lymenet is one of the best to get info from and when one is told how to write their topic it does put somewhat of downer on the person who is seeking help.

I can read and understand what people are posting. What I cannot comprehend are all the directions that BettyG requests. Sorry, Betty but that is how I feel.

---

Posts: 63 | From RI | Registered: Sep 2007 | IP: Logged |

w0tm
LymeNet Contributor
Member # 13104


posted

---

I just reread you post. Cortisone in his shoulder. Yikes! He definitely has NO CLUE. I wonder if George Washington's ``presidential doctor'' bled him to get the ``bad blood'' out? Someone needs to get the word to him and soon. I know the point I went off the cliff was when my shoulders began to ache.

Within a week I went from running to needing a cane to walk. In 19 days he will no longer be serving our country in the most important job in the world. BUT he is still a human being NEEDING HELP! He is a fellow traveler with everyone else on Lymenet.org. May a miracle happen and he learn, at least for Lyme, he is receiving treatment that is doing him great damage!

My LLMD told me Lyme is the fastest growing epidemic in the world today. I'm near Kansas City. A few months ago the CDC did a ``harvest'' of deer ticks in a forested area in a rural area but still close to the city. Ten years ago (they do this every ten years) only two out of ten thousand ticks dissected were infected with Lyme.

This time all but ``a few'' were carrying Lyme AND both Bartonella and babesia! A deer was shot and it had 139 Lyme infected ticks from the neck up! I heard (a rumor) insurance companies through an unnamed Lyme informational organization (who we all know who that is) sued the CDC to NOT release this information ``pending further study''.

I only learned this as a close friend just retired from a high up position in the FDA who worked with the CDC on this. He is mad as Hel* knowing my situation and knowing others (three in his office he just retired from) who have all been diagnosed with Lyme. Two people on my block were bitten this summer.

One didn't say a thing until one day she could not get out of bed. She is 22 and was a senior at a local college on a sports scholarship. She is trying to finish her degree from home but it will take an extra year. Her degree is in physical education!

When her mother called me I managed to get her into see my LLMD within days even though she is booked out six months. She is now able to use a wheel chair but my LLMD said the young and very healthy are usually hit the hardest. She told me confidentially her chances of ever walking again are 50/50. She is doing daily IV and everything else but she has a long, hard road ahead of her.

The other neighbor (my age - 61) called me the day after she was bitten. She wanted to blow it off but her husband would not let her. We talked at length. I finally got her to see her internist. I told her ``do not leave his office without a prescription for 30 days of doxycycline!!'' She called me from his office. He had given her ONE pill! He said if it shows symptoms in 60 days to come back.

I told her to tell his nurse she was NOT leaving without the 30-day prescription. It took a LOT of yelling at her but I was successful. She waited until they wanted to lock the door and go home. She would not leave! He finally gave her 20 days muttering something about ``you are a mental case - here is the prescription and never come back!''

I told her a closed mind doctor is one no one should have! I managed to get her some extra doxycycline so she had the 30 days. Sure as the rain in Spain, symptoms came on big time within days. Hard to walk, total fatigue, etc. She spent three hours on the floor not being able to get to the telephone. Soon, the doxycycline kicked in and, six months later, she tests NEGATIVE for Lyme both CD-57 and Western Blot. She believes I saved her life. I just pushed her.

People pushed me when I needed it. So I was just repaying others who had helped me. But now I visit the 22 year-old wonderful young lady three doors down knowing her dreams of being a P.E. teacher are now impossible. But I don't tell her that of course. She sees how much I've improved so it gives her hope. We pray together every day.

---

Posts: 133 | From Shawnee, KS | Registered: Sep 2007 | IP: Logged |

steelbone
LymeNet Contributor
Member # 14014


posted

---

he probably got cured just like magic johnson did of HIV...*******s

--------------------
All The Best,
Paul
[email protected]

The harder you work the luckier you get!


---

Posts: 964 | From Nebraska Cornhuskers fan in Massachusetts | Registered: Dec 2007 | IP: Logged |

djf2005
Frequent Contributor (1K+ posts)
Member # 11449


posted

---

he has been for years and still is being treated by a dr in NY that i saw/see.

it will never become public info unless the medical records are exposed.

good luck in doing so.

cheers

derek

--------------------
"Experience is not what happens to you; it is what you do with what happens to you."

[email protected]


---

Posts: 2269 | From Lansdowne, Pa | Registered: Mar 2007 | IP: Logged |

tickled1
Frequent Contributor (1K+ posts)
Member # 14257


posted

---

Derek,

I have "heard" you say that before. How do you know that he is still being treated for Lyme by this NY LLMD?

---

Posts: 2541 | From Northeast | Registered: Jan 2008 | IP: Logged |

bettyg
Unregistered



posted

---

quote:

---

Originally posted by AnneRoto:

At last someone has responded to BettyG and her requests. My "lyme fog" is not all that bad but I could not follow all the requests (demands) that you had about how to post.

I think lymenet is one of the best to get info from and when one is told how to write their topic it does put somewhat of downer on the person who is seeking help.

I can read and understand what people are posting. What I cannot comprehend are all the directions that BettyG requests. Sorry, Betty but that is how I feel.

---

anne, my requests are suggestions and NOT demands as you state above with my explaining WHY i have asked this of all members.


i'm glad you are blessed to not have any cognitive losses as i/countless others here have.

i've had chronic lyme 39 years, and this christmas began my 40th year. i'd love to have to NOT have these serious lyme side effects, but i wasn't given a choice in this.


i was misdiagnosed for 35 years by 40-50 drs. never did anyone mention lyme to me nor had i even given thought to such a thing.


i see you teach, do you try to help a student who has some major adversities like me And explain to other students what you are doing to help this student OR just hang them out to be on their own fighting battles?


anne, if you could help others by knowing ahead of time what we encounter here, would you help us so we could HELP YOU on your questions??

i want to be able to HELP as many folks as possible and i know the folks here well are also long-timers who go out of their way to help newbies and those needing answers as we go thru this long lyme journey. that's why i request/suggest my guidelines to you all.


i'd have time galore on my hands if i just scrolled on by, sob, so many posts like this one was, and many other regulars state the same thing. my hubby would love extra hours weekly

---

IP: Logged |

gwb
Frequent Contributor (1K+ posts)
Member # 7273


posted

---

bettyg, I for one appreciate your suggestions to write short

paragraphs.

I could not read wOtm's post because it feels like my mind is

"bending" when I attempt to read a post like that. It discourages

me because I want to read what people say here but when it's a

long post like that and not broken into shorter paragraphs or

double spaced I find it too difficult to read. I think people who

complain or resent you for your suggestions are revealing their

own character flaws. It comes down to one word--PRIDE. Keep

doing what you are doing and don't let a few complainers

discourage you from doing the great work you do here. I greatly

appreciate the time and effort you put into this forum and have

been helped and blessed by it. God bless!

---

Posts: 1349 | From OK | Registered: May 2005 | IP: Logged |

karatelady
LymeNet Contributor
Member # 7854


posted

---

My 2 cents.

I don't need one line sentences but I couldn't read the long paragraphs either.

So I found myself skipping a lot of what was written.

Sandy

---

Posts: 686 | From Northeast Georgia | Registered: Sep 2005 | IP: Logged |

david1097
Frequent Contributor (1K+ posts)
Member # 3662


posted

---

Gary,

Can you find out where the court action against the cdc is taking place so that someone can locate the court documents.

---

Posts: 1184 | From north america | Registered: Feb 2003 | IP: Logged |

oxygenbabe
Frequent Contributor (1K+ posts)
Member # 5831


posted

---

I didn't find it hard to read but some folks do and it doesn't hurt to break it up for their sake.

What I find surprising it the original poster's assumptions.

Some people DO get over lyme with short term treatment. I know them personally and my former boss is fit as a fiddle and had a bout of lyme 15 years ago for which he took 10 days of doxy and is fine. Yeah sure, you can tell me someday he'll get alzheimer's or something else but I think that's stretching it. He's fine. So is a friend of mine who got the bullseye with no other symptoms, took his 2 weeks of doxy and seems just fine.

Not everybody gets very sick. According to recent info that may be partially due to which strain you get as some don't progress or go into the CNS and aren't that virulent while a few are very virulent.

It may also depend on coinfections, previous tickbite history, AND most of all, genetics.

So you are making assumptions about him. People who are physically active as he has been all his life, chopping wood etc, DO injure their shoulders and DO get cortisone. Maybe it's lyme related and maybe it's not. Now if Derek is right and he's chronic and is still being treated, then that's info that should be out to the public, but that's different than all the assumptions you are making without any firsthand evidence.

---

Posts: 2276 | From united states | Registered: Jun 2004 | IP: Logged |

bettyg
Unregistered



posted

---

gwb and oxygen,

thanks for your support on breaking things up!

---

IP: Logged |

ForestNymph
LymeNet Contributor
Member # 15109


posted

---

Before BettyG suggested to break up paragraphs I did not know why I was having trouble reading.

It has made things so much easier. No one expects anyone to do what they don't want to. It is just a suggestion so more people can respond to those in need.



--------------------
Infected in March '06

Lyme Disease, Bartonella, Babesia

Diagnosed June '07

Remission Since September 2011.

My Story:
http://lymelabyrinth.blogspot.com

www.myspace.com/psyche_entranced


---

Posts: 119 | From Florida | Registered: Apr 2008 | IP: Logged |

djf2005
Frequent Contributor (1K+ posts)
Member # 11449


posted

---

you "heard" this before

i know this because my dr told me, another dr told me, and its simply true.

short of breaking into the drs office which i do not think smart and seizing the medical records (which i doubt are there anyway) there would be no way to expose the treatment.

there is much at stake.

proof that bush has been and continues to be treated for chronic neuro lyme would be devastating to the cdc, etc and would serve to propel our purpose beyond what any tool has done before.

believe me, once i discovered this info, i thought long and hard about what could be done.

i am short on ideas.

if anyone has any, im all ears.

actually, i would expect a llmd who is truly working for the cause to expose the info, but thats breaking the law and what dr would give up their license to do such a thing. i cant think of any.

even dr B wasnt willing to lose his license. he stopped seeing patients when the heat came.

cheers

derek

[ 03. January 2009, 09:09 AM: Message edited by: djf2005 ]

--------------------
"Experience is not what happens to you; it is what you do with what happens to you."

[email protected]


---

Posts: 2269 | From Lansdowne, Pa | Registered: Mar 2007 | IP: Logged |

oxygenbabe
Frequent Contributor (1K+ posts)
Member # 5831


posted

---

Derek, I've been thinking and thinking about this.

Unfortunately, presidents volunteer medical info it is not legally required.

Maybe when he is no longer president someone will speak up. Someone could for instance quit their job in a doctor's office and talk about it.

I wish I could do something but there is no FOIA for such things.

---

Posts: 2276 | From united states | Registered: Jun 2004 | IP: Logged |

nomoremuscles
LymeNet Contributor
Member # 9560


posted

---

Derek,

Assuming this is true, the doctor had no business telling you, and if he did it was likely in confidence.

---

Posts: 843 | From Eastern USA | Registered: Jul 2006 | IP: Logged |
Contact Us | LymeNet home page | Privacy Statement

Powered by UBB.classic™ 6.7.3

---
The Lyme Disease Network is a non-profit organization funded by individual donations. If you would like to support the Network and the LymeNet system of Web services, please send your donations to:
The Lyme Disease Network of New Jersey
907 Pebble Creek Court, Pennington, NJ 08534 USA
http://www.lymenet.org/
---
Home | Flash Discussion | Support Groups | On-Line Library
Legal Resources | Medical Abstracts | Newsletter | Books
Pictures | Site Search | Links | Help/Questions
About LymeNet | Contact Us
---
© 1993-2020 The Lyme Disease Network of New Jersey, Inc.
All Rights Reserved.
Use of the LymeNet Site is subject to Terms and Conditions.
---