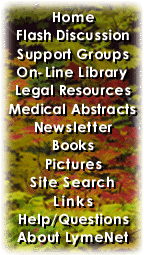 ---
LymeNet on Facebook
LymeNet on Twitter
---
---
The Lyme Disease Network receives a commission from Amazon.com for each purchase originating from this site.
When purchasing from Amazon.com, please
click here first.

Thank you.




Dedicated to the Bachmann Family


LymeNet needs your help:
LymeNet 2020 fund drive

The Lyme Disease Network is a non-profit organization funded by individual donations.

| | |
| --- | --- |
| | |
Author
Topic: LymeMD - Vitamins and Supplements Ideas

seekhelp
Frequent Contributor (5K+ posts)
Member # 15067


posted

---

A most interesting read. Those on LN Europe have already debated on it for ages, but.....They are a bit more research oriented than myself. Nevertheless, an interesting read.

The more I read on LNE and LymeMD's blog, it gets me thinking....I'll just leave it at that.

http://lymemd.blogspot.com/2009/01/vitamins-and-supplements.html

What does everyone think this doc's real agenda may be? He certainly can't have time to write every thought for the public? That'a absolutely unheard of in the medical profession. Do you believe he does it as a tool to facilitate learning more both for himself and readers? Perhaps self-promotion of his practice? Other reasons?

I'm not bashing. I'm just astounded at the material this guy writes. He's obviously dis-associating himself with ILADS and top LLMDs by the criticism made. I wonder how many patients he has seen over his career with Lyme/co-infs.

---

Posts: 7545 | From The 5th Dimension - The Twilight Zone | Registered: Mar 2008 | IP: Logged |

feelfit
Frequent Contributor (1K+ posts)
Member # 12770


posted

---

I love reading this Doctors blog. I think that he is very verbose and not afraid of stepping on any toes.

He obviously marches to the beat of his own drummer.

Agenda, IDK, maybe he and Clongen are on to something big and he feels secure enough to stick his neck out because of this.

Maybe he and the Clongen DocK will have discovered something incredibly helpful for all of us suffering.....


This is my hope. HE and Dr. K can name a species and develope a treatment....this is what I pray that his agenda is, if he indeed has one.

Feelfit

---

Posts: 3975 | From usa | Registered: Aug 2007 | IP: Logged |

seibertneurolyme
Frequent Contributor (5K+ posts)
Member # 6416


posted

---

Seek,

It is my understanding that this doc has only been treating tickborne diseases for 18 months to 2 years max -- based on his blog.

Since he does not see tickborne disease patients exclusively my guess would be 1000 patients max -- may actually be much lower.

Most LLMD's have 800 -- 1000 active patients.

It is an interesting blog, although there is much I don't personally agree with regarding his treatment protocols. But at least someone seeing him would know upfront where he stands on various issues.

I think LymeMD started his blog in protest because he is being targeted by the IDSA folks -- he is currently under investigation for prescribing too many antibiotics etc etc.....

But I do think the blog has developed into an educational forum for both him and his patients and readers.

As for Clongen, I think the lab will eventually finish the DNA sequencing. However, both Dr K and LymeMD have said they do not know how to treat this new pathogen.

Bea Seibert

---

Posts: 7306 | From Martinsville,VA,USA | Registered: Oct 2004 | IP: Logged |

feelfit
Frequent Contributor (1K+ posts)
Member # 12770


posted

---

bummmer Bea, my dream up in smoke. LOL

---

Posts: 3975 | From usa | Registered: Aug 2007 | IP: Logged |

oxygenbabe
Frequent Contributor (1K+ posts)
Member # 5831


posted

---

He said he had his first lyme patient eleven years ago, didn't he? That's my memory which could be wrong. The guy came to him desperate for abx as he could only maintain health on them, and LymeMD listened. But perhaps he has only actively been treating for 2 years, if so, he's learned a lot in that time.

I suspect he started the blog after being investigated, he wrote a post and then removed it. My memory of this post (and again, could be inaccurate, as I read it a while ago) was that he seemed to have been reported by another doctor(s) but I don't believe for prescribing abx, at least he didn't say that, I seem to recollect it was for inappropriately prescribing supplements. In any case. I'm saying this from memory as he made two long posts one day about this, and then deleted them later. Anyway that was what I gathered--and these investigations go very slow. They can take years. They tend to ask for files, then more files, then more files, then more files, and eventually figure out some way to slap your hand and put you on probation of some sort, I gather. So maybe he figured what the heck, he'd go public. Maybe he figures his best defense is a good offense. Go right out there into public and write up case after case.

Obviously he has high self-regard, as most doctors do no matter who they are or what they specialize in, and he probably is using it to promote himself, what the heck.

I disagree with a some of what he says, mainly the absolute disavowal of CAM practices,n and his sometimes overly aggressive approach (he cites patients who took less than he said and got well, so...he COULD try less, and maybe there would be less violent herxheimers and an equal response rate; I hate the view that the body is a perfect vessel in which you can endlessly dump toxic drugs with no payback) *but* I doubt he would forswear a patient who said, I'm going to you for abx and I'm seeing a CAM doc for the other stuff.

Look, he's waded into the deep end and his posts are often very interesting esp. the cases. I like him. As for not knowing how to treat the "mystery bug" first we need to find out how pathogenic it is, and second, knowledge is power. Know what it is and you can study it.

---

Posts: 2276 | From united states | Registered: Jun 2004 | IP: Logged |

joysie
LymeNet Contributor
Member # 11063


posted

---

Keebler & Co.

I recently switched to this practise and will be moving my daughter here as well.I have seen a very highly respected LLMD for 1.5 years, my daughter a pretty well respected one for 6 months. By the way, his name can found-he tells you how on the website: Call ILADS and ask for lmemd contact info.I got it from a lymenetter and later realized it had been staring at me the whole time.

We are moving because we have both hit sticking points in our treatment. Her LLMD seems disinterested and mine wants me to wean off antibiotics despite continuing neuro symptoms that interfere with my life. I do not feel that this is residual damage as he does. He has been lovely and helpful to me, but to a point.

So I saw lymemd and this is what I can tell you.
He is angry about the IDSA but he is also angry about how a range of his colleagues treat lyme
patients, including some but by no means all LLMDs. (His primary concern re ILADS was conflicts of interest in the entrepreneurial activities of some LLMDs .I've been exposed to that over and over. I resent it.)

He is in a tussle with one of the most incredible
BEASTS of an IDSA member I have ever seen.

He is also concerned about credibility, patient finances,and positive outcomes.He is wildly passionate about all things lyme.He is excited about his work with Dr. K at Clongen, but I don't think they're saying there's a cure right around the corner.

He pointed out what I agree are pretty blatant gaps in my treatment. He is in complete disagreement with my former LLMD about what ails me most right now. He did a pretty comprehensive neuro exam and I don't know which of us was more horrified.

In summary, he is a bit of a rebel, I guess, but weren't our first LLMDs and those who came after?
He aligns himself most closely with ILADS. So what if he is not in support of supplements or vitamins except as identified areas of nutritional deficit? We will all admit there's not much hard science behind much of this. If you prefer or are more helped by a more CAM-oriented
doctor, he's not for you. But let's all admit there are not enough lyme literate folks to go around.

This is a bright man who seems a bit obsessive about lyme. I have had a significant reduction in my symptoms already. Will that last? Is he experienced enough? I do not know.But holy cow, if he can help us, I am $5 out of pocket as opposed to $150-$245 per visit, for two of us.

But I see him as a very positive addition to the lyme medical community.
Stay warm
Kris

---

Posts: 520 | From Maryland | Registered: Jan 2007 | IP: Logged |

seekhelp
Frequent Contributor (5K+ posts)
Member # 15067


posted

---

Thanks for the feedback. I admit I'm jealous because I'd love to see him for an opinion. i respect his outlook on things.

---

Posts: 7545 | From The 5th Dimension - The Twilight Zone | Registered: Mar 2008 | IP: Logged |

JKMMC09
LymeNet Contributor
Member # 15795


posted

---

I think LymeMD is doing a great service to the Lyme community, sharing his knowledge for FREE with all of us on a daily basis. I especially like reading about the case reports. Obviously, he cannot have his name on the blog- that may be considered giving out unsolicited medical advise to the thousands who read his blog. I know who he is and would be proud to call him my LLMD. He sounds right on target with my own LLMDs beliefs about Lyme- and my LLMD has been practicing close to 30 years!

---

Posts: 371 | From CT | Registered: Jun 2008 | IP: Logged |

mr al
LymeNet Contributor
Member # 18191


posted

---

I don't know the guy and have never been to him but thank god for him. I think it's crazy people would think anything bad of that site.

It's someone with a knowledge of medicine speaking to us about lyme. Disagree or not i think it's better than john doe giving out flawed advice with no training which is pretty much what every lyme site is. (and i don't mean sharing experiences, that's fine. I mean people that think they know about the basics of medicine which most of don't, no matter how much we read)

p.s.s.s.s.s.....I read what i wrote and it may sound harsh but it's not meant to be lol.

---

Posts: 105 | From east | Registered: Nov 2008 | IP: Logged |

Cass A
Frequent Contributor (1K+ posts)
Member # 11134


posted

---

Thanks so very much for posting a link to this blog!

I have read many of his reports and plan to read more of them

I really appreciate the "inside the mind" look from the other side of the stethescope perspecitve!

You know, I'm pretty sure this MD clears up his own thinking by writing this blog and getting comments back. I know when I'm looking into something, writing it up so that it would communicate to another person who doesn't know what I do really helps me to clarify what I'm doing.

I'm very pleased that he's sharing this process of observation, action, observation of the result, investigation, action, observation of the result, etc., with anyone who cares to read it.

Anyway, thanks again for the link!

Best,

Cass A

---

Posts: 1243 | From Thousand Oaks, CA | Registered: Feb 2007 | IP: Logged |

lymie68
Member
Member # 18442


posted

---

Pardon me for being blunt, but that doc is nuts! I've heard a lot of docs say that multivitamins are no good. I one respect they are right because their are multivitamins (some well known) that don't work. But they are doing a great disservice when they say none are any good. Quality multivitamins do worK

Or maybe I'm crazy Before reading that article, I would have sworn they work for me.

Maybe I'm supersubject to the placebo affect. I seem to have things under control without abx. If that's placebo, so be it.



---

Posts: 51 | From Reno, NV | Registered: Dec 2008 | IP: Logged |

SoSublyme
LymeNet Contributor
Member # 15185


posted

---

I have several friends and neighbors that see LymeMD and think he is great. I'm already seeing someone else or I would be there too.

I'm not completely sure what I think of his view of supplements yet...I have always thought that having to process high doses of antibiotics PLUS a million supps would be kind of hard on the kidneys and liver. So I do see his point.

---

Posts: 345 | From East Coast | Registered: Apr 2008 | IP: Logged |

Staris
Member
Member # 17648


posted

---

I am a patient as well. I can only echo what previous patients have said. He is knowledgable, aggressive and empathetic. He can come across a bit engrossed in his work but don't you want that from your doctor who is working in a field that has so many questions and so few answers?

He seems to be driven partly by personal experience, partly by patient need, partly by the challenge of the disease and partly by the me against the world paradigm that a formal med complaint has been lodged against him. As he mentions I believe in his post - he does the blog against the advice of his lawyer.

I personally think he does the blog to disemmeniate information and open discussion as well as a F You to the med board to show that he is practicing reasonable medicine, helping those in need, and getting positive results. He takes insurance - one reason many patients see him. He is not afraid to fight for you with insurance, other doctors, etc.

He certainly isn't for everybody but patients know what they are getting with him. If you don't beleive in his approach - then don't see him or read his blog. He seems to be fine with criticsim and often remarks he is not offended by those whose comments differ from his philosophies.


I think his hestiation with CAM is that its just not proven. He is obviously into the science of the disease. Only a few supplements for any condition (let alone Lyme) have been proven in actual clincial trials/blind studies to be effective. If people have positive individual responses - thats great - keep it up. But there is not widespread acceptance of many CAM treatment currently.

My personal concern is that many LLMDs recommend certain supplements through certain manufacurers and while they can posit purity or efficacy - there can also be stuff behind the scenes we don't know of. I have been to previous LLMDs who suggest certain companies that you need to contact through their office or buy directly from them. Sure they should make some money but this stuff is all in the grey - no FDA studies for efficacy, generally no independenet lab analysis or certifications (only USP and NSF actually test and approve independently. Consumer labs tests for quantity but not total composition and contaminents. Many aren't for lyme supps.), and its often VERY expensive.

I am not attacking any indivdual doctors - but as many comment on this board - buyer beware in uncharted territory. It can add up quickly. It wouldn't surprise me if there are some kick-back type arrangements floating out there. But I am all for giving supps a try - if it works - great if not, don't be afraid to stop after giving it a good shot.

Overall, I think he is an excellent doctor and would recommend him if someone is looking for aggressive allopathic treatment.

---

Posts: 30 | From DC | Registered: Oct 2008 | IP: Logged |

seibertneurolyme
Frequent Contributor (5K+ posts)
Member # 6416


posted

---

lymestop,

Can't tell from your post -- have you been tested by Clongen? Do you have one of the 2 mystery bugs they are trying to identify?

As for testing these new pathogens for antibiotic sensitivity -- Dr K says that he has not been able to culture the bugs yet the last time I talked to him -- have to be able to culture the pathogens before you can do antibiotic sensitivity testing.

I know I am not holding my breath -- hubby has been ill for almost 8 years and has been on 25 different antibiotics and antiparasitics to date. Personally we have decided to concentrate on herbal treatment for the next 3 months -- don't have much faith in antibiotics working on his mystery bug that Clongen found on his bloodslides.

I have some ideas on antibiotics that may be bacteriostatic but not bactericidal for the mystery bug. Hubby has had much worse herxes with herbs and alternative treatments than antibiotics over the years so for now that is what I will be focusing on.

It will be an interesting experiment anyway.

Bea Seibert

---

Posts: 7306 | From Martinsville,VA,USA | Registered: Oct 2004 | IP: Logged |

ldfighter
LymeNet Contributor
Member # 9405


posted

---

CAM proponents usually say we need to share experiences on places like this board to find out what works because the research hasn't been done, or the methods don't exist to study them appropriately, etc.

So this LLMD's experience as a practitioner is that most supplements haven't done much for the majority of his patients. He says clearly that this is his "experience" and "belief", not a firm recommendation. Doesn't he have every right to state that?? I find his post interesting and helpful, not "nuts."

His tone is not authoritative or dismissive at all imo. It's reasonable & leaves room for disagreement.

Why should all LLMDs have to think a certain way about these things? Isn't it great to have doctors at various points on the allopathic/holistic spectrum beginning to understand and treat chronic Lyme? So that we have more choices?

Thanks to his patients for elaborating in the posts above.

---

Posts: 621 | From US | Registered: Jun 2006 | IP: Logged |

SoSublyme
LymeNet Contributor
Member # 15185


posted

---

Idfighter,

I completely agree. I think it's immensely helpful to have a range of opinions/discussions and I love it that this doc is not afraid to speak his mind

---

Posts: 345 | From East Coast | Registered: Apr 2008 | IP: Logged |

seekhelp
Frequent Contributor (5K+ posts)
Member # 15067


posted

---

How long does it take to see him as a new patient? Just curious.

---

Posts: 7545 | From The 5th Dimension - The Twilight Zone | Registered: Mar 2008 | IP: Logged |

nomoremuscles
LymeNet Contributor
Member # 9560


posted

---

I think this blog is wonderful. Although I disagree with many of his pronouncements, just the fact that a LLMD is willing to go out there and tell it like it is from his perspective is great. I can't understand why any Lymie would not think so.

I will go a step farther, and suggest that any time any Lymie visits a site that other MD's might read, or posts a comment on a story that is reported by the media, they should mention this doctor, not by name of course, and leave a link.

This man's voice is reasoned and thoughtful, and demonstrates the complexities of this disease, and one by one deals with all the specifics that get thrown at us. The more his voice is heard the better it is for us.

---

Posts: 844 | From Eastern USA | Registered: Jul 2006 | IP: Logged |

Staris
Member
Member # 17648


posted

---

Good idea nomoremuscles.

Seekhelp - I can't say for certain but I think no more than a month or two - maybe shorter esp. with cancellations, etc.

---

Posts: 30 | From DC | Registered: Oct 2008 | IP: Logged |

luvs2ride
Frequent Contributor (1K+ posts)
Member # 8090


posted

---

He sounds like a great doctor in that he cares enough to treat lyme aggressively and to speak out publicly.

However, if I had gone to him initially, I would most likely be in a wheelchair now or even possibly dead.

You see, toxins from years of antibiotics (all my life) for one simple bacterial infection after another had left me with a damaged gut and highly toxic body.

I didn't know my gut was damaged when lyme arthritis struck in 2005. Two doctors diagnosed lyme and one began treating me homeopathically. My migraines and mental confusion cleared up within 30 days. My hearing improved, but my joints, all of them. flared horribly. I could barely move about. The second llmd was ILADS and he started me on flagyl and ketek. I got significantly worse.

The second LLMD suspected Rheum. Arthritis and a test came back with a very high R.F. Off to the rheumatologist who confirmed R.A.

He, of course, wanted to put me on methotrexate which is an immune suppressant. I found information about an infectious cause to RA including lyme and I asked for low dose minocycline.

He was extremely angry about it but did prescribe the mino. He refused my request to test me for mycoplasmas and strep which are two other suspected causes of RA.

I was on my own and sick enough to die. I was in seriously bad shape.

By the absolute will of God, I was led to a CAM doctor. Make no mistake folks, these are MEDICAL DOCTORS who have expanded their knowledge to include knowledge of how to heal the whole body, not just blast bugs. Like all areas of medicine, I am sure there are good and bad CAM doctors. I have been extremely fortunate to work with two very good ones.

This CAM doctor saw immediately that I was very toxic and too sick to handle any harsh medicine, neither antibiotics nor homeopathy which is a powerful medicine in itself.

The homeopathy had been very effective in killing the bugs but all the toxic die off was not leaving my body, hence the swollen joints. The flagyl and ketek caused an allergic reaction because I simply could not handle anymore toxins.

Thankfully, I refused the incredibly toxic methotrexate. No doubt that might have been the catalyst into permenant damage.

So, this CAM doctor began to slowly detoxify me and to build up my body with SUPPLEMENTS.

SoSublyme said:


quote:

---

I'm not completely sure what I think of his view of supplements yet...I have always thought that having to process high doses of antibiotics PLUS a million supps would be kind of hard on the kidneys and liver. So I do see his point.


---

SoSub, please take the time to read the following article about Plants v Medicine. It is long so I am pasting it in a separate post in this thread. It does a good job explaining plant medicine and how it is absolutely necessary to our body and our health.

Everyone on allopathic medicine needs to take at least two things. Probiotics (foods like plain yogurt-no sugar and kefir are good food sources) and liver support that includes the herb milk thistle.

Just the opposite of what you think, SoSublyme; these two supplements will protect your gut and your liver from the damage of allopathic medicine. All allopathic medicine has damaging side effects.

Vit C in high doses has had a positive effect on my blood pressure. I ran out of it for about a month and didn't bother to refill it. My blood pressure shot up to 139/92. 30 days later it was still 139/92. I searched the internet for natural ways to bring down bp and found Vit C.

I started back on the C and 3 weeks later my blood pressure was 118/70. So a clear effect.

Vit D3. I supplemented 1000 IU for a year after testing low. I didn't notice any particular benefit, but admittedly, I only took it on days I didn't get out in the sun. Then came all the studies showing the benefits of Vit D3 and I read that people with RA should take 5000 - 10,000 IU daily.

I discussed with my doctor and she agreed. I upped to 5000 IU and three fingers that had deformed with Herboden's Nodules shrank significantly. One is completely gone and two a so small now they aren't noticeable and I have no pain or disability in them.

In fact, working with the CAM doctor the first year after being diagnosed RA, brought me down from a severe RA to a weak positive. The rheumatologist was stunned and volunteerily acknowledged that all I was doing must be working as I was nearly dormant.

I currently work with an ILADS LLMD who is also a rheumatologist and practices CAM medicine as well as allopathic medicine. I am 100% functional and to put it into her words, "I am very doable". She expects full remission for me.

BTW, she ran the bloodtests I couldn't get from the first rheumy and I tested positive for Babs duncani, mycoplasma pneumoniae, chlamydia pneumoniae, h. pylori, EBV, QFever, tapeworms.

By the time I began with her, I was already doing very well. She started me on antibiotics for the H. Pylori. We knocked it out well enough. Then she started after the Babesia but after 7 mths, inflammation was showing up in all my joints. She called my RA "explosive" and said she had only witnessed 2 or 3 cases like me in 15 yrs of practice.

I said "I don't think I detox very well" and she agreed. We ran the DetoxiGenome test and out of 6 genes everyone needs to detoxify, I only have 5 and 3 of the 5 are damaged.

So, you see, aggressive antibiotic therapy alone would most definitely have put me in a wheelchair and may very possibly have killed me. Not lyme, but drugs would have done me in.

CAM doctors saved my life and gave me back my life. I ride horses. They are my passion. RA would have taken that from me, but thanks to GOD, I am beating RA and Lyme.

Luvs

--------------------
When the Power of Love overcomes the Love of Power, there will be Peace.


---

Posts: 3038 | From america | Registered: Oct 2005 | IP: Logged |

luvs2ride
Frequent Contributor (1K+ posts)
Member # 8090


posted

---

Plants vs. Prescriptions

Restored organ function with just plants / herbs?

Some people seem to have the impression that since herbs aren't regulated like drugs and don't require a prescription like drugs, they can't make much of a difference. That's a misconception.

Actually, the regulation of drugs began (in the early 1900's) in large part because of a problem with the safety and efficacy of man-made drugs, not herbs. Man-made drugs that lacked efficacy and often contained addictive or harmful substances started showing up in the market.

Drug regulation (like FDA-approval and the requirement of a doctor's prescription) was instituted to protect the public from ineffective and potentially dangerous patented (commercially valuable) man-made drugs.

Drug regulation was never meant to show that herbs don't work and that drugs do, but to see that drugs are safe enough and worthwhile enough to go on and stay on the market. It was already known that herbs are safe enough and worthwhile enough to be on the market.

That's why food substances (such as herbs) that are already present in the food supply are not regulated like drugs are. The FDA does require proper labeling on herbs, however, as it does on all foods.

Why would companies be so anxious to introduce man-made drugs? One big reason is that they are patentable because they are not already found in nature. A patent gives a company exclusive rights to market a drug, and a chance to make a lot of money. However, tampering with nature can be very risky. In fact, many big laws in drug regulation were signed into law only after large-scale drug disasters.

For example, the 1938 Food, Drug, and Cosmetic Act was propelled through Congress and into law after a public outcry when a Tennessee drug company put out a new pediatric antibiotic elixir (which contained a solvent similar to antifreeze) that resulted in the death of over 100 people, many of them children.

Yes, herbs can have medicinal effects on the body. Herbs have been used for centuries, and were the medicines doctors and pharmacists used before patented drugs came along. Many prescription drugs on the market today still have as their primary ingredient compounds extracted from plants.

Interestingly, doctors in other countries that are experienced with herbs shake their heads at the American mentality. They laugh that Americans will take an herb that has very beneficial properties and that is nontoxic and then try to isolate the "active ingredient", as if there is only one.

The other compounds in the plants that are discarded are apparently very beneficial because the isolated ingredient often has less restorative effects and causes much greater side effects than the herb itself.

Why would Americans do that? One reason is that a single, isolated ingredient can be patented as it is or with a slight modification; whereas, a whole plant cannot be.

Whole plants
* can be more beneficial
* can have fewer side effects
* are not as profitable

Isolated ingredients
* can be less restorative
* have greater side effects
* are more profitable (because of patenting and advertising)

Another issue is that isolated ingredients might be very effective at treating a specific symptom but may not be enough by themselves to correct an underlying problem. This actually makes them even more profitable.

When patients have symptoms, they want them to go away. Many times the symptoms are so bad that even if they don't go away forever, just having them go away for a few hours would be a wonderful relief. Paradoxically, patients can sometimes be more grateful to have their symptoms eased for a time, rather than cured completely.

When their symptoms go away with a drug and then come back when the treatment is stopped, it can confirm in the patients' minds that there really is something wrong and that the only thing that stands between them and awful symptoms is the drug. Patients can become very grateful to the doctors and for the drug even though, or maybe even because they are dependent on them (often for life).

On the other hand, when patients' symptoms get better with natural medicines and remain improved after the treatment is stopped, patients can sometimes conclude, "Well, maybe I didn't really have a problem," or, "I guess my body finally overcame it."

And outside observers such as family members and doctors might conclude, "Well, you must have not really had a problem." Or, "You must have gotten better by yourself or because of a placebo reaction," even though they had been sick for years and didn't have a placebo reaction with all the other treatments they had tried.

Interestingly, it's gotten to the point that many doctors and patients don't consider it real illness or real medicine unless it's "treating the symptoms for life". But how much more real is treatment that actually corrects illness and restores health to normal so that the symptoms actually stay gone?

By focusing on single molecules and treating symptoms for life, modern medicine can often sound very detailed about "what's wrong" (diagnosis) and tests, yet be very weak on treatment, or actually correcting the problems.

On the other hand by focusing on whole plants (and other natural substances) that can restore health, restorative medicine is very big on treatment but it's often difficult to say how all the ingredients in a plant worked together in the body to actually correct whatever may have been wrong.

Taken from website: http://www.wilsonsthyroidsyndrome.com/WithWTSmedicines.htm

--------------------
When the Power of Love overcomes the Love of Power, there will be Peace.


---

Posts: 3038 | From america | Registered: Oct 2005 | IP: Logged |

joysie
LymeNet Contributor
Member # 11063


posted

---

I think there are a couple great things about this thread. One is that there has been no perceptible brawl, as we sometimes have here...

Next, it is a good illustration of some of the fundamental challenges of these disease: The science is not there yet, and we know different things help different people but we don't know who, what and why.

I have spent a great deal of money on supplements-"good" brands-and only one has made a difference FOR ME. They have been a lifeline for others.

May we each get what we need! I think that's all any of us really wish for.
Kris

---

Posts: 520 | From Maryland | Registered: Jan 2007 | IP: Logged |

SoSublyme
LymeNet Contributor
Member # 15185


posted

---

Hi Luvs,

Thanks for the info...I am always interested in other opinions. That is great to hear that you found the right doc for you and had such a great response from alternative treatment.

I do take probiotics and other supps like florastor, garlic, oil of oregano, vit C, D3, glutathione and many more and definitely will continue to take my current ones.

My first llmd had me on many, many more than the ones I listed....I had never heard of them and really wasn't quite sure what they were for.

He did start me on Samento (before antibiotics) and for some weird reason I really liked it. ( I felt like it was really "doing something"...not sure exactly what). But I would like to try it again sometime.

My current llmd is great and I trust all her supp recommendatons. She is also a homeopath, so she is open to lots of stuff. Right now we are pretty much doing Dr. B.'s med protocols.

I even have Mangosteen juice in my fridge right now...have no expectations, but thought it couldn't hurt!

But over time I did stop taking the huge number of supps my first llmd had me on. And I think LymeMd does have a good point. And personally, since starting lyme treatment I am always concerned with the impact of the treatment on my body (but see it as a necessary evil).

And I will remain concerned about how my kidney and liver are doing processing this stuff. Yes, we can take certain supps to protect our livers from antibiotics, but I don't have any supplement to protect me from all the supplements! (They get processed just like other drugs do.) I have weekly labs because of the meds I'm on, so I do know my organs are holding up so far!

But, don't worry, I'm not ready to give up all supplements and I think I will stay on at least probiotics for life.

[ 19. January 2009, 03:40 PM: Message edited by: SoSublyme ]

---

Posts: 345 | From East Coast | Registered: Apr 2008 | IP: Logged |

seibertneurolyme
Frequent Contributor (5K+ posts)
Member # 6416


posted

---

lymestop,

I think you are fairly new to this site. I am actually one of those people who generally says go slow and take breaks from antibiotics etc.

However, hubby seems to be one of those unique people who for the first 7 years of illness (5 years in treatment) herxed with almost every single dose of antibiotics. His first antibiotic was IV Rocephin and I had to stop almost every single IV 1 or 2 times to give him IV Ativan for seizure-like episodes. At that time none of the half dozen seizure meds we tried did anything because "technically he does not have seizures".

We initially tried treating one infection at a time with a single antibiotic and just last year switched to a new LLMD who took a different approach. It took us 8 months to work up to dose on 5 different antibiotics. After 1 month everything crashed and we seem to be in a worse mess than when we started. Hubby is on more symptom control meds than ever -- oral Ativan, IV Phenergan, Lyrica, Benicar for the vasodilating effect and Cortef (hydrocortisone).

We have dropped back to 2 antibiotics and seen little improvement in 3 months. That is why I said we are going the herbal route next. Right now we don't have the money to try another unproven IV antibiotic (have also done IV Primaxin 2 times over the years).

It is hard to explain about the herxes. With antibiotics hubby has increased tremors, seizure-like episodes, myoclonus, muscle rigors or dystonia and nausea and dry heaves. In the past it was almost like clockwork -- whatever the drug he would have a reaction when the dose was at peak level or based on the half-life of the med -- I didn't always look up that info until after he had started on whatever new med. But the patterns were very very predictable.

During the last year we worked with an herbalist as well as an LLMD and he was able to tolerate the meds much much better by using herbs for detox.

But in hubby's case -- basically ever since he started trying to treat Bart or BLO or mycoplasma or the mystery bug he has had much much more severe herx reactions -- several ER visits and hospitalizations. But with the antibiotics he seems to build up a tolerance quickly to each new med and then they stop helping. The herbs seem to just keep working.

His herx symptoms are pretty much his "normal" symptoms -- the difference with herbs and antibiotics is that with the antibiotics herx reactions follow a time pattern based on med dosing and with the herbs it is a more random symptom presentation. And his syptoms seem to be becoming less severe with the herbs.

He woke me up at 5:30 a.m. this morning with tremors and dry heaves. I gave him the IV Phenergan and we both went back to sleep. It didn't take me hours to figure out what else to do to get his symptoms under control. Even more amazing -- it had been almost 84 hours since he had had any Phenergan. He usually needs it every 18 - 24 hours. A definte improvement over the old days -- he used to have breakthrough episodes 2 or 3 times every day for years.

My point is that I feel that the right herbs in the right doses can be just as powerful and beneficial as antibiotics. I was trying to say that herbs can be strong medicine and can cause strong herxes the same as with antibiotics.

However, I feel that herbs are more broad spectrum -- will treat a wider range of pathogens and that the germs will develop less resistance to herbs if the dosing is high enough to kill something.

As to what causes a herx -- I have researched that pretty thoroughly. With gram negative bacteria such as Bart killing the pathogen releases a LPS (lipopolysaccharide) from the cell wall that stimulates an inflammatory cascade. In simple terms these endotoxins are the cause of the herx. Things like chinese rhubarb can help negate this reaction to endotoxins. Also lactoferrin.

It doesn't matter if you use a herb or an antibiotic -- if you kill a gram negative bacteria then there are going to be toxins produced in the process. Plus your body has to detox the med or herb as well.

The big problem is that with bacteria such as Bart the pathogens can develop antibiotic resistance and that is why often multiple drugs are used in combination. Unfortunately if you do not know which pathogen you have then there is no way to know which combo the germ will be susceptible to.

I'll get off my soapbox now. I think the January blues are getting to me.

None of this is medical advice, just my opinion based on hubby's experiences.

Bea Seibert

---

Posts: 7306 | From Martinsville,VA,USA | Registered: Oct 2004 | IP: Logged |

Blackstone
LymeNet Contributor
Member # 9453


posted

---

If someone would be so kind as to PM me this doctor's name and contact information, I'd appreciate it. In addition, could any of his current patients let us know how he deals with co infections, yeast, and viruses?

That said, I've always liked this guy's blog. I'm glad he's able to share his experiences with what works for his practice and his patients. We need an open dialog and nomatter your stance on supplements I believe we have to admit - saying this means he has one less conflict of interest.

---

Posts: 685 | From East coast, USA | Registered: Jun 2006 | IP: Logged |

MY3BOYS
LymeNet Contributor
Member # 17830


posted

---

i have found this very thought prevoking. personally i LOVE reading lymemd's blog..was one of the first things i found in my attempts at my own research once dx.

there are not good medicine driven links/info available on lyme..i was amazed at this
lymenet was also link i found very helpful. i found both these sites as reference points and as way to try to educate myself

lymemd uses the medical only approach, as a nurse i can respect and understand that

gotta say, when stared reading up on this site i got a little uneasy..as a newbie and you are trying to learn and there is all this talk of rife machines, doc who put electrode to you and tell you all that ails you--dont quite get that yet..but i am very allopathic trained myself

i am open to western med approaches but still do not understand the need for any doc for any reason or illness if some electrode read-out can cure all...no offense just my thinkin

i hope his blog continues, and do find lymnet info very good...grateful that was lead to LLMD through this site and the big hearts of those who suffer in the same boat

hopefully his practice will be able to produce "solid" case examples of tx for chronic lyme to aide all of us in the future.

and for any wondering yes, i am following my LLMD tx of abt. as well as Dr B's supp list..am willing to give it a go...just not so sure about CAM stuff..but wont knock it all together as have not tried it...i do however believe god gave us ways to heal ourselves and plants/herbs were created for this..just leary of what are you really getting??
too bad not more indian shaman around..

--------------------
i am not a Dr. any info is only for education, suggestion or to think/research. please do not mis-intuprest as diagnostic or prescriptive, only trying to help. **

dx in 08:lyme, rmsf, bart, babs, and m.pneumonia.


---

Posts: 422 | From TX | Registered: Oct 2008 | IP: Logged |
Contact Us | LymeNet home page | Privacy Statement

Powered by UBB.classic™ 6.7.3

---
The Lyme Disease Network is a non-profit organization funded by individual donations. If you would like to support the Network and the LymeNet system of Web services, please send your donations to:
The Lyme Disease Network of New Jersey
907 Pebble Creek Court, Pennington, NJ 08534 USA
http://www.lymenet.org/
---
Home | Flash Discussion | Support Groups | On-Line Library
Legal Resources | Medical Abstracts | Newsletter | Books
Pictures | Site Search | Links | Help/Questions
About LymeNet | Contact Us
---
© 1993-2020 The Lyme Disease Network of New Jersey, Inc.
All Rights Reserved.
Use of the LymeNet Site is subject to Terms and Conditions.
---