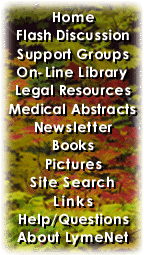 ---
LymeNet on Facebook
LymeNet on Twitter
---
---
The Lyme Disease Network receives a commission from Amazon.com for each purchase originating from this site.
When purchasing from Amazon.com, please
click here first.

Thank you.




Dedicated to the Bachmann Family


LymeNet needs your help:
LymeNet 2020 fund drive

The Lyme Disease Network is a non-profit organization funded by individual donations.

| | |
| --- | --- |
| | |
Author
Topic: Is voice horseness lyme related?

Wimenin
LymeNet Contributor
Member # 15294


posted

---

This is actually a question about my sister, not myself...

My sister has all the classic symptoms of lyme, and I mean everything, plus, some bad bells palsey like facial contortions, severe joint problems, distorted vision (needs prisms to see), etc... plus...everytime she has a new medical test, which is every other week, they always come back negative... Theres little doubt that her immune system is compromised as shes constantly sick.

Her HMO drs think its a combination of lupus, fibromyalgia, depression, arthritis, hypoglycemic, diabetes, ...and the usual host of other immune disorders.

I think shes got lyme based on the fact that already in our family both parents have had bullseye rashes, and my two sisters and myself have tested positive for it.

My sister refuses to get tested for lyme.

Anyway, now in the past 2-3 weeks shes developed horseness in her voice, and a bad chest pain. Shes been seeing a ton of pulmonary, ENT experts, and so far...nothing. She keeps thinking its viral or thats shes fighting something, but she won't consider lyme.

Is horseness a symptom of lyme? Thats one of the few symptoms I never had with mine.

My fear is that it is lyme and its getting worse and starting to affect her heart, lungs, breathing..

Your thoughts about horseness?

thanks!!

---

Posts: 514 | From . | Registered: Apr 2008 | IP: Logged |

SuZ-Q
LymeNet Contributor
Member # 5903


posted

---

Hoarseness can be a symptom. My daughter has had it for the duration(10 years) of her Lyme infection. There is a definite correlation in her general well being and the severity of the hoarseness.

I think the chest pain may be of more concern though. Keep trying to get her to an LLMD and good luck.

---

Posts: 260 | From Virginia | Registered: Jul 2004 | IP: Logged |

sixgoofykids
Moderator
Member # 11141


posted

---

I have gotten hoarseness from it. I think I read that specifically hoarseness can be bart related?

--------------------
sixgoofykids.blogspot.com


---

Posts: 13449 | From Ohio | Registered: Feb 2007 | IP: Logged |

map1131
Frequent Contributor (5K+ posts)
Member # 2022


posted

---

Yes, I had it for about 5 yrs off and on after becoming ill.

Pam

--------------------
"Never, never, never, never, never give up" Winston Churchill


---

Posts: 6422 | From Louisville, Ky | Registered: Jan 2002 | IP: Logged |

Jill E.
Frequent Contributor (1K+ posts)
Member # 9121


posted

---

Yes, I've had it for about five years. According to an article in the Lyme Times, I believe hoarseness was one of the symptoms related to vagus nerve problems in Lyme Disease.

Jill

--------------------
If laughter is the best medicine, why hasn't stand-up comedy cured me?


---

Posts: 1773 | From San Diego | Registered: Apr 2006 | IP: Logged |

lymeladyinNY
Frequent Contributor (1K+ posts)
Member # 10235


posted

---

Yep, I've had hoarseness off and on for about four years now.

Sometimes my voice goes down to a whisper. Sometimes I open my mouth and nothing comes out at all. I've even had "accent voice" - which is a supposedly rare condition in which a person sounds like they have a foreign accent.

Lyme can do some pretty bizarre stuff.

- Lymelady

--------------------
I want to be free


---

Posts: 1170 | From Endicott, NY | Registered: Sep 2006 | IP: Logged |

blaze
Unregistered



posted

---

I developed a vocal chord polyp. Rather than figure out what kind of infection was causing the hoarseness, they wanted to send me to a speech therapist - let's just say no more karaoke for me.

---

IP: Logged |

psano2
LymeNet Contributor
Member # 11711


posted

---

I think it could also be caused by Babesia. Mine has gotten better w/Babesia treatment.

---

Posts: 975 | From California | Registered: Apr 2007 | IP: Logged |

bettyg
Unregistered



posted

---

yes, in my personal opinion; for me since 74 when i became a secretary and answered phones all day long; and still have hoarseness.

---

IP: Logged |

GiGi
Frequent Contributor (5K+ posts)
Member # 259


posted

---

Look into allergies. All these are allergie based
(list of symptoms treated by Allergie Immun) Sorry this is both in German and English.

A A

Angstzustände Anxiety
Arthrose Osteoarthritis
Asthma
Augen, geschwollene Eyes, swollen
Ausschlag Rash
B B

Bandwurm Tapeworm
Bauchschmerzen Abdominal pain
Bronchitis, chronische Bronchitis, chronic
Bulemie
C C

chronische Autoimmunschwäche Autoimmune chronic weakness Die Zeichen einer Allergie können sich in fast allen Geweben und Organen entwickeln. The signs of allergy can be located in nearly all tissues and organs develop. Die typischen Allergie-Symptome treten an folgenden Organen auf: The typical allergy symptoms of the following bodies:

Haut Skin
(zB Rötungen, Juckreiz, Schuppung oder Quaddeln) (such as redness, itching, wheals or desquamation)

Auge Eye
(zB erhöhter Tränenfluss, Rötung, Fremdkörpergefühl, Lichtempfindlichkeit, Augendruck, Lidschwellung, Bindehautentzündung) (eg, increased lacrimation, redness, foreign body sensation, light sensitivity, eye pressure, swollen eyelids, conjunctivitis)

Nase Nose
(zB Nase verstopft oder läuft ständig, Jucken, Niesen, Schleimhautschwellung) (eg running nose or blocked permanently, itching, sneezing, mucosal swelling)

Hals-Rachen Neck-throat
(zB Schwellungen, Entzündungen, Heiserkeit, Kratzen) (such as swelling, inflammation, hoarseness, scratching)

Lunge Lung
(zB Atemnot, Hustenreiz) (such as shortness of breath, coughing stimulus)

Verdauungstrakt Digestive tract
(zB Entzündung und/oder Schwellung der Schleimhäute, Übelkeit, Bauchschmerzen, Blähungen, Erbrechen, Durchfall) (eg inflammation and / or swelling of the mucous membranes, nausea, abdominal pain, flatulence, vomiting, diarrhea)

Sonstige Other
(zB Herzrasen, Schwindel, Blutdruckabfall, Hautblässe) (eg, palpitations, dizziness, hypotension, skin)


D D

Darmstörung Intestinal disorder
Dauerschmerzen Continuous pain
Diabetes
Dauermüdigkeit Duration fatigue
E E

Energielosigkeit Energy
Energiemangel Energy shortages
F F

Fließschnupfen Cold flow
Füße, geschwollene Feet, swollen
Gedächtnis, schlechtes Memory, poor
G G

Gelenkschmerzen/Rheuma Joint pain / Arthritis
Gesichtsschmerzen Facial pain
Gewichtsverlust Weight Loss
Gereiztheit Irritability
H H

Haarausfall Hair loss
Hände, feuchte Hands, wet
Hände, rissige Hands, cracked
Handgelenksentzündung Wrist inflammation
Hashimoto
Hautausschlag Rash
Hautjucken Itchy skin
Heuschnupfen Hay fever
I I

Inkontinenz Incontinence
Innere Unruhe bei Kindern (siehe: [Schulprobleme.info] einschl. Fallbeispiele) Internal unrest in children (see: [Schulprobleme.info] including case studies)
K Cologne

Kniegelenksentzündung Knee inflammation
Knochenschmerzen Bone pain
Konzentrationsschwäche bei Kindern (siehe: [Schulprobleme.info] ) Concentration in children (see: [Schulprobleme.info])
Kopfschmerzen Headaches
Krankheitsgefühl Malaise
Kribbeln in den Händen Tingling in the hands
L L

Lähmung, spastische Palsy, spastic
Lymphknotenschwellung Swelling of the lymph nodes
Lernschwäche (siehe auch: [Schulprobleme.info] ) Learning (see also: [Schulprobleme.info])
M Munich

Magenkrämpfe Stomach cramps
MCS
Menstruationsbeschwerden Menstrual discomfort
Migräne Migraine
Milchunverträglichkeit Milk intolerance
Milchzucker LACTOSE
MS
Muskelkrämpfe Muscle cramps
N Nuremberg

Nase, chronisch verstopft Nose, the chronically congested
Nasenbluten Nosebleeds
Nebenhöhlenentzündung, chronisch Sinusitis, chronic
Nervenschmerzen Nerve pain
Neurodermitis Neurodermatitis
Niesattacken Sneezing
O O

offene Stellen vacancies
Osteoporose Osteoporosis
P P

Polyneuropathie Polyneuropathy
R Ratisbon

Regelschmerzen Period pain
Rückenschmerzen Back pain
S S

Schulprobleme (siehe unter: [Schulprobleme.info] einschl. Fallbeispiele) School problems (see: [Schulprobleme.info] including case studies)
Schlafstörungen Sleep disorders
Schleimhautentzündung Mucosal inflammation
Schuppen Shed
Schuppenflechte Psoriasis
Schwäche Weakness
Schwindel Dizziness
Sehschwäche Sightedness
Stoffwechselstörung Metabolic
T T

Ticks
Tinitus
Ü Ü

Übergewicht Overweight
W W

Wassereinlagerung Water storage
Wetterfühligkeit
Wundheilung, schlechte Wound healing, poor

---

Posts: 9834 | From Washington State | Registered: Oct 2000 | IP: Logged |

scared08
LymeNet Contributor
Member # 14695


posted

---

First, I am so sorry for your sister and for you!!!! That must be soooo hard!

I don't know of anyone agrees with this or not but-----I had maybe 5-6 neg. tests while extremely ill!! Not for this reason, although now I have heard of other Dr.'s doing this---the Dr. the finally dx. me--God bless him---had put me on Tetracyline for one month just to see what happened. At the time, he know nothing about Lyme and I only knew the basics.

Well 4 days later I ended up in the ER with a BP of 80/50 before it continued to drop. O2--88%, etc.... However nobody had ever heard of a herx!!!

After about 2 WKS. AFTER FINISHING THE 1MTH. ABX., he dicided to test me anyway. Very strong posatives!!!!!

He and other LLMD's had said the my immue sys. was too suppressed to pick it up and it was too deep in my tissue. By being on the abx for that month, it caused the bacterica to come out of tissue back into the blood stream = pos. test.

Please mention this to her!!! and, YES to answer your question!!!!! I always get side tracked. Anyway I have been hoarse off and on for years.

Please share the trial of abx. with your sister.

---

Posts: 351 | From Georgia | Registered: Feb 2008 | IP: Logged |

Wimenin
LymeNet Contributor
Member # 15294


posted

---

Thanks for all the answers to my questions...

It sure sounds like lyme, but the hardest part has been trying to convince her to see a LLMD vs the standard hmo dr. Shes been the sickest of the siblings and when I was diagnosed with lyme, I immedidately thought of her and told her about lyme. But for whatever reason, she refuses to look that direction, possibly out of fear that yes, it is lyme.

Theres a strong history that has developed of lyme in the family as was evident by myself and my 2 other sisters being confirm tested for lyme. Plus, as I said, both parents admitted to having the bullseye rash (my Dad twice), over the past couple of decades.

But they never had the symptoms, (at least not that they remember), and never had it tested. So they're skeptical about the whole family having been exposed to it.

I still think it was all from our family land we used to visit as kids and went camping, hunting in the deep woods, etc. That particular county is highly epedemic for lyme (didnt know it at the time), so it all makes sense that we may have been exposed as kids, but its lay dormant till our immune systems were weak in our adult lives.

Anyway... the next time I speak with my parents or the sister in question, I will again mention lyme and that yes, voice horseness and those chest/lung pains can be lyme related... but I already know Ill get "the look" (you know...the look of all the naysayers who think you're crazy and pushing your disease on them and trying to find every ache and pain as being lyme...).

After that, theres nothing else I can do.

You can lead a horse to water, but you can't make him drink... right?

---

Posts: 514 | From . | Registered: Apr 2008 | IP: Logged |
Contact Us | LymeNet home page | Privacy Statement

Powered by UBB.classic™ 6.7.3

---
The Lyme Disease Network is a non-profit organization funded by individual donations. If you would like to support the Network and the LymeNet system of Web services, please send your donations to:
The Lyme Disease Network of New Jersey
907 Pebble Creek Court, Pennington, NJ 08534 USA
http://www.lymenet.org/
---
Home | Flash Discussion | Support Groups | On-Line Library
Legal Resources | Medical Abstracts | Newsletter | Books
Pictures | Site Search | Links | Help/Questions
About LymeNet | Contact Us
---
© 1993-2020 The Lyme Disease Network of New Jersey, Inc.
All Rights Reserved.
Use of the LymeNet Site is subject to Terms and Conditions.
---