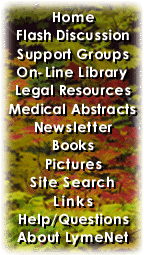 ---
LymeNet on Facebook
LymeNet on Twitter
---
---
The Lyme Disease Network receives a commission from Amazon.com for each purchase originating from this site.
When purchasing from Amazon.com, please
click here first.

Thank you.




Dedicated to the Bachmann Family


LymeNet needs your help:
LymeNet 2020 fund drive

The Lyme Disease Network is a non-profit organization funded by individual donations.

| | |
| --- | --- |
| | |
Author
Topic: Short Temp Disability criteria set by CDC

HEATHERKISS
Frequent Contributor (1K+ posts)
Member # 6789


posted

---

Hi people! Guess who?

Well this is my relapse! I already have short term disability w/ the state of nj.

Now I have to fight for my supplimental ins to kick in. I have my first denial letter.

I'm stuck. Insurance letter states that, "The medical documentation provided fails to substantiate a diagnosis of Lyme Disease consistent with the criteria set by the CDC.

the next line in the letter is asking why I dont have current labs.

In the newbie links I saw the blurb about debunking the testing criteria set by cdc but there is no references........

Help Help Help me! I cant think and I'm making myself sicker!!!! Ugg!

Did ya miss me?
Heather

--------------------
HEATHER




---

Posts: 1974 | From ABERDEEN, NJ 07747 | Registered: Jan 2005 | IP: Logged |

Tincup
Honored Contributor (10K+ posts)
Member # 5829


posted

---

Ho silly one... nice to see you!!!

BettyG and others will be by later to help. Sure as the sun comes up. They are good at that.

May I suggest in the meantime...

Have in you letter that the CDC does NOT set criteria for diagnosing or treating Lyme. The IDSA does... and the CDC does NOT endorse the guidelines.

And... the IDSA guidelines... well they are "under review" and NOT to be trusted by patients. Tell them..

Any society investigated and found guilty of CONFLICTS of INTEREST.... and who have to have a BABY SITTER to prevent more corruption while there is a review going on that was ordered by the Attorney general...

Well, tell that insurance company you aren't going to jump in that hole. You aren't THAT stupid.

Tell them if they had cancer would they be expected to follow some off the wall guidelines by a handful of people who were investigated and found guilty of putting profit over patients and who are having to be guarded so they don't do it again?

Here is my email address. Not tonight.. but email me and remind me what you want.. and I will send you prepared documents to sign and send in. They seem to work.

GOOD to seeeeeeeeee you!



[email protected]

--------------------
www.TreatTheBite.com
www.DrJonesKids.org
www.MarylandLyme.org
www.LymeDoc.org


---

Posts: 20325 | From The Moon | Registered: Jun 2004 | IP: Logged |

HEATHERKISS
Frequent Contributor (1K+ posts)
Member # 6789


posted

---

OH DEAR!

Tin you are on fire!

thank you,
H

write ya tommorrow

--------------------
HEATHER




---

Posts: 1974 | From ABERDEEN, NJ 07747 | Registered: Jan 2005 | IP: Logged |

bettyg
Unregistered



posted

---

if you are looking at what i have in there, can you copy the area here so i can read it too??


LDA Map of Lyme Disease Case Numbers

http://lymediseaseassociation.org/Maps/usa_total.gif


The small print at the bottom says:

"Note CDC says Lyme disease is under reported and that only about 10% of cases that meet CDC surveillance criteria are actually reported to CDC.

(For example, Oklahoma 362 reported cases = 3,620 probable cases meeting CDC criteria.)"


1996 ``CDC `` Case Definition of Lyme Disease, (Borrelia burgdorferi)
http://www.cdc.gov/epo/dphsi/casedef/lyme_disease_current.htm


is this what you are looking for?

---

IP: Logged |

HEATHERKISS
Frequent Contributor (1K+ posts)
Member # 6789


posted

---

Thanks Betty G,

I can not use the map because it is just showing under reporting. That is not my issue.

The 1996 link doesnt work but I got updated info off of the CDC website.

I need information with references on the non validity of lyme testing.

Thank you

---

Posts: 1974 | From ABERDEEN, NJ 07747 | Registered: Jan 2005 | IP: Logged |

HEATHERKISS
Frequent Contributor (1K+ posts)
Member # 6789


posted

---

I'd like to thank Bettyg!

Thank you so much for the wonderful newbie list. You are a lifesaver. Your helpfulness is much appreciated!!!!!!!!!!!!!!!

I found the 1996 cdc letter on your links of course.

Thank you thank you thank you.

---

Posts: 1974 | From ABERDEEN, NJ 07747 | Registered: Jan 2005 | IP: Logged |

bettyg
Unregistered



posted

---

heather, glad you found what was needed!

do you have direct link for the 96 site i showed that has been updated so i can update my info on my newbie's list?

thanks!


tincup, thanks for the really nice compliment! HOT STUFF!! i'll have to remember that since my body is ICE COLD .... feet and hands! uffda.

---

IP: Logged |

HEATHERKISS
Frequent Contributor (1K+ posts)
Member # 6789


posted

---

January 31, 2009

The xxxxxxxxxxxxxxxxxxx Company
Attn: xxxxxxxxxxxxx
Disability Claims
P. O. Box xxxxxxx
city, state zip

RE: Short Term Disability Benefits Request for Review
Xxx corp Claim # 1111111111

Dear Ms or Sir,


Thank you for the very clear explanation of denial letter. I request you please review my case. I was surprised that xxxxxxx denied my Disability Claim because I am receiving benefits from the state of xxxxxx and thought that this was supplemental insurance.

I am going to explain why I am unable to sit, answer phone calls involving billing, sales and service, constantly learn new data, do my own payroll four times daily and data entry on every call. The xxxxxxxx Executive job is at a desk but for me did not feel sedentary.

I have been going to Dr. S since late spring or early summer of 2005 about the time I filled out the Lyme questionnaire. Under Dr S care I have been slowly getting better and better with treatment with small relapses in between. I've had other full time jobs and have even gone to school full time and got straight ``A''s.

To my dismay at this time I'm having a full relapse. I am afraid to drive because of the dizzy spells. I can not sit for long periods because of the excruciating pain in my legs, knees, hips, lower back, left shoulder, left arm, hands, jaw, teeth, ears, eyes and head. My hands feel numb and uncomfortable. I have insomnia. I have cognitive problems. The list goes on. I'll break it down for you as per your list from Dr. S.

I. MYALGIA
Examples:
1. My muscles feel like I have the flu. My upper left arm is the worst. Grasping with my hands hurts and is sometimes difficult. I drop things at least twice a day.
2. My skin hurts and is tender to the touch where my muscles hurt.
3. It is difficult to even keep up with houseplant watering or any type of housework.
4. There are times I'm too achy to do anything.
5. I do not have stamina to go anywhere. I missed out on Christmas at my Aunts house and had my immediate family come to my house.
6. I'm week and really clumsy.

THESE ARE JUST A FEW EXAMPLES I'M SURE THERE IS AT LEAST 100 EXAMPLES.


II. CHRONIC FATIGUE
Abnormal debilitating incapacitating exhaustion
Examples:
1. After taking a shower I have to lay down
2. I wake up tired like I have not slept in days
3. After making the bed I lay back down on it.
4. I'm week and have no energy.
5. Light exercise makes me sick for two days


III. MOOD SWINGS
Examples:
1. I'm sad and am pondering if I should go on antidepressants. But why wouldn't I be depressed? It seems normal for someone in my position. I thought I was almost done with Lyme and now I'm sick again!!!!!!
2. I'm paranoid again. Always worrying about things that are not happening. Freaking out about everything.
3. I have a strange nervousness for no reason. I get hives.
4. Headaches make it difficult to feel happy because I'm in pain.


IV. ARTHRALGIAS
Examples:
1. My bones in my fingers hurt especially the knuckles in my left hand. This makes it painful to type all day.
2. My jaw and teeth hurt. I have no cavities at this time.
3. My forehead and eye sockets hurt, which makes it hard to stare at a computer.
4. My knees hurt and crack a lot.
5. The bones in my hips ache which makes it difficult to sit for long periods.
6. My neck hurts which make it difficult to drive and hold my head up or sit up straight all day.


Symptoms not listed in your letter:
V. Gastrointestinal Disorders
Examples:
1. I've become sensitive to everything I eat. I get hives everyday.
2. I suffer from bouts of nausea especially when I'm tired and in pain.
3. I have diarrhea on average twice a week.


VI. Incapacitating Headaches
Almost everyday for the past three months I've been taking Advil for headaches in my forehead and temples. The headaches are extremely painful, incapacitating and debilitating.


VII. Sleep Disorder
Examples:
1. I can't sleep without prescription Lxxxx.
2. My sleep is interrupted at least once a night.
3. I do not wake up refreshed. I'm still exhausted even if I've slept 8 or more hours.
4. Sometimes after sleeping at least 8 hours I'll get up and take a shower and after the shower I need to sleep again not just lay down. That happens about once a month.


VIII. Fevers
Examples:
1. I feel like I have a fever and get flushed and flu like.
2. Most of the time I have a low-grade fever.
3. I have night sweats, which is a Babesia symptom.


IX. Post-Exertional Malaise
Examples:
1. I become exhausted if I stand, walk or sit for long periods.
2. I have no endurance. If I go up a flight of stairs I'm breathing heavy and flushed.
3. If I try to exercise lightly I become sick for the next two days.
4. It is increasingly difficult to engage in activities outside my home. I haven't been able to visit my relatives in PA or South Jersey in over four months. Too tired to make the trip.
5. I want to go out because I'm lonely but if I go out longer than an hour I end up sick for a day with extra pain and fatigue.

X. Dizziness and Motion Sickness
Examples:
1. Sometimes I feel as though the room is spinning and the lights have gone out.
2. 95% of the time my husband drives me anywhere I complain that he moves the steering wheel back and forth causing me to be sea sick. In reality my motion sickness is making it impossible to be a passenger.


XI. Cognitive Impairment
Example:
1. I forget names of people that I've know for years. Memory Impairment
2. I forget how to get to places I have driven to for years.
3. Multi tasking is impossible at this point. At xxxx I was having great difficulty closing out an account while taking the new call.
4. My organizational skills are severely impaired.
5. I forget basic words like doorknob.
6. I can rewatch the same movie over and over again because I only remember that I liked it or disliked it not what happened. I just have to let a couple months go by and I don't remember.
7. People come up to me and say remember that party or when you told that joke or something in the past. I usually don't remember.
8. I feel as though I have Alzheimer's
9. I become disoriented easily
10. I'm not a smart as I used to be
11. I can't concentrate I don't hear what people say to me. It's as if I only get half of what the other person is saying.


I am on temporary disability because I'm sick. I have nothing to gain by not working. I want to go back to work as soon as possible. My treatment plan is as follows.
In addition to Dr. S, I am going to go back to Dr. R the Neurologist in city, state because he originally diagnosed me and was going to put me on I.V. antibiotics. My first appointment with him is Febuary 9th at 1:30.
If my husbands insurance does not pay for my I.V. I want to go on the next best thing, Bicillin IM shots, which I would have my Primary Physician Dr. Sss of city, state to administer.
These plans that I have are subject to whatever Dr. S wants me to do in regards to treatment.

Now to address a few things in your letter.....
1. ``The medical documentation provided fails to substantiate a diagnosis of Lyme disease consistent with the criteria set by the Center for Disease Control.''
I found this on the current 1/31/09 CDC website under the heading Lyme Disease Diagnosis. Lyme disease is diagnosed based on symptoms, objective physical findings and a history of possible exposure to infected ticks. Validated laboratory tests can be very helpful but are not generally recommended. Also the CDC says if you believe you may have Lyme disease, it is important that you consult your health care provider for proper diagnosis.
I went to three Medical Doctors and got my diagnosis. I chose Dr. S to treat me. According to the CDC and one of the top Lyme specialists in the USA Doctor B Jr. Medical Doctors diagnosing me with Lyme substantiates my diagnosis. See below for what Doctor B one of the United States' leading authorities on treating tick-borne diseases, particularly Lyme disease says about diagnosing Lyme. Taken from:
DIAGNOSTIC HINTS AND TREATMENT GUIDELINES FOR LYME AND OTHER TICK BORNE ILLNESSES
Sixteenth Edition Copyright October, 2008
B JR., M.D.
Board Member, International Lyme and Associated Diseases Society

DIAGNOSTIC HINTS
Lyme Borreliosis (LB) is diagnosed clinically, as no currently available test, no matter the source or type, is definitive in ruling in or ruling out infection with these pathogens, or whether these infections are responsible for the patient's symptoms. The entire clinical picture must be taken into account, including a search for concurrent conditions and alternate diagnoses, and other reasons for some of the presenting complaints. Often, much of the diagnostic process in late, disseminated Lyme involves ruling out other illnesses and defining the extent of damage that might require separate evaluation and treatment. Consideration should be given to tick exposure, rashes (even atypical ones), evolution of typical symptoms in a previously asymptomatic individual, and results of tests for tick-borne pathogens. Another very important factor is response to treatment- presence or absence of Jarisch Herxheimer-like reactions, the classic four-week cycle of waxing and waning of symptoms, and improvement with therapy.
Furthermore....You may not be aware that in 2002, Public Law 107-116 was signed into law by President Bush (see below). The language of this law specifically states that Lyme Disease is a clinical diagnosis and the CDC surveillance criteria cannot be misused by insurance companies. It also states that the current state of laboratory testing for Lyme disease is very poor; and that 36% of people with confirmed Lyme disease did not test positive on the most sophisticated tests. Clearly your denial of benefits based on your requirement of what you consider a CDC positive lab test goes against this law. This law, signed by President Bush, reinforces that the CDC's Lyme disease (LD) Case Surveillance Definition is not valid as a standard of care for the diagnosis and treatment of Lyme disease. It also reinforces that medical protocols that use the CDC LD Case Definition to base diagnostic and/or treatment standards misuse this protocol and are invalid. This means the Federal Government believes decisions regarding Lyme disease diagnosis, treatment and insurance reimbursement for Lyme disease care cannot be based on the CDC's Lyme disease surveillance case definition. A copy of the wording follows below.

Public Law 107-116 Signed by President Bush 1/10/02 Departments of Labor, Health, and Human Services, and Education, and Related Agencies Appropriations Act 2002 This is the wording that was passed by the Senate (11/06/01, 12/20/2001) and House (10/11/01, 12/19/01) and included as part of the final bill was signed into Public Law by President George Bush on January 10, 2002. Centers for Disease Control and Prevention Lyme Disease
The Committee is deeply concerned about the safety of the Lyme disease vaccine (LymeRix). Over 1,000 adverse event reports were filed with the Food and Drug Administration from December 1998 to October 2000. The Committee encourages CDC to work closely with the FDA to ensure that all adverse event reports are thoroughly and expeditiously investigated to ensure public safety as the vaccine is being distributed. Investigators should pay particular attention to patients' reports of arthritis when evaluating these reports.
The Committee recognizes that the current state of laboratory testing for Lyme disease is very poor. The situation has led many people to be misdiagnosed and delayed proper treatment. The vaccine clinical trial has documented that more that one third (36 percent) of the people with Lyme disease did not test positive on the most sophisticated tests available. The ramifications of this deficit in terms of unnecessary pain, suffering and cost is staggering. The Committee directs CDC to work closely with the Food and Drug Administration to develop an unequivocal test for Lyme disease. The Committee is distressed in hearing of the widespread misuse of the current Lyme disease surveillance case definition. While the CDC does state that `this surveillance case definition was developed for national reporting of Lyme disease: it is NOT appropriate for clinical diagnosis,' the definition is reportedly misused as a standard of care for healthcare reimbursement, product (test) development, medical licensing hearings, and
other legal cases. The CDC is encouraged to aggressively pursue and correct the misuse of this definition. This includes issuing an alert to the public and physicians, as well as actively issuing letters to places misusing this definition.
The Committee recommends that the CDC strongly support the re-examination and broadening of the Lyme disease surveillance case definition by the Council of State and Territorial Epidemiologists. Voluntary and patient groups should have input into this process. Currently there is just one definition (`confirmed case') of seven possible categories. By developing other categories while leaving the current category intact, the true number of cases being diagnosed and treated will be more accurately counted, lending to improved public health planning for finding solutions to the infection. The CDC is encouraged to include a broad range of scientific viewpoints in the process of planning and executing their efforts. This means including community-based clinicians with extensive experience in treating these patients, voluntary agencies who have advocacy in their mission, and patient advocates in planning committees, meetings, and outreach efforts. National Institutes of Health - Office of the Director Lyme disease
The Committee recommends that the NIH improve its communication across Institutes in order to better coordinate Lyme disease research and outreach to public and private scientists with the goal of stimulating research interest in this field. The Committee encourages the Office of the Director to involve NIAID, NHLBI, NINDS, NEI, NIMH, and NCCAM in promising areas of research. The Committee urges NIH officials to identify appropriate NIH advisory committees for Lyme disease representation and ensure the appointment of qualified persons. The NIH is encouraged to include a broad range of scientific viewpoints in the process of planning and executing these efforts, including community-based clinicians with extensive experience in treating these patients, voluntary agencies who have advocacy in their mission, and patient advocates. Social Security Administration The Committee understands that some patients with Lyme disease and other tick-borne disorders have encountered some difficulty when applying for assistance through SSA offices, due to SSA employees' unfamiliarity with these illnesses. SSA is encouraged to work on developing educational materials for SSA employees to facilitate a better understanding of the potential debilitating effects of these disorders. The Committee suggests that SSA collaborate with clinicians who have expertise on the multi-system chronic effects of Lyme, as well as patient and voluntary communities, to accomplish this goal.''
And even Furthermore because the CDC does NOT set criteria for diagnosing or treating Lyme it was under my impression the IDSA does....

And... the IDSA guidelines... well they are "under review" and NOT to be trusted.

Any society investigated and found guilty of CONFLICTS of INTEREST.... and who have to have a BABY SITTER to prevent more corruption while there is a review going on that was ordered by the Attorney general...
Connecticut Attorney General's Office
Press Release
Attorney General's Investigation Reveals Flawed Lyme Disease Guideline Process, IDSA Agrees To Reassess Guidelines, Install Independent Arbiter
May 1, 2008
Attorney General Richard Blumenthal today announced that his antitrust investigation has uncovered serious flaws in the Infectious Diseases Society of America's (IDSA) process for writing its 2006 Lyme disease guidelines and the IDSA has agreed to reassess them with the assistance of an outside arbiter.
The IDSA guidelines have sweeping and significant impacts on Lyme disease medical care. They are commonly applied by insurance companies in restricting coverage for long-term antibiotic treatment or other medical care and also strongly influence physician treatment decisions.
Insurance companies have denied coverage for long-term antibiotic treatment relying on these guidelines as justification. The guidelines are also widely cited for conclusions that chronic Lyme disease is nonexistent.
"This agreement vindicates my investigation -- finding undisclosed financial interests and forcing a reassessment of IDSA guidelines," Blumenthal said. "My office uncovered undisclosed financial interests held by several of the most powerful IDSA panelists. The IDSA's guideline panel improperly ignored or minimized consideration of alternative medical opinion and evidence regarding chronic Lyme disease, potentially raising serious questions about whether the recommendations reflected all relevant science.
"The IDSA's Lyme guideline process lacked important procedural safeguards requiring complete reevaluation of the 2006 Lyme disease guidelines -- in effect a comprehensive reassessment through a new panel. The new panel will accept and analyze all evidence, including divergent opinion. An independent neutral ombudsman -- expert in medical ethics and conflicts of interest, selected by both the IDSA and my office -- will assess the new panel for conflicts of interests and ensure its integrity."
Blumenthal's findings include the following:
· The IDSA failed to conduct a conflicts of interest review for any of the panelists prior to their appointment to the 2006 Lyme disease guideline panel;
· Subsequent disclosures demonstrate that several of the 2006 Lyme disease panelists had conflicts of interest;
· The IDSA failed to follow its own procedures for appointing the 2006 panel chairman and members, enabling the chairman, who held a bias regarding the existence of chronic Lyme, to handpick a likeminded panel without scrutiny by or formal approval of the IDSA's oversight committee;
· The IDSA's 2000 and 2006 Lyme disease panels refused to accept or meaningfully consider information regarding the existence of chronic Lyme disease, once removing a panelist from the 2000 panel who dissented from the group's position on chronic Lyme disease to achieve "consensus";
· The IDSA blocked appointment of scientists and physicians with divergent views on chronic Lyme who sought to serve on the 2006 guidelines panel by informing them that the panel was fully staffed, even though it was later expanded;
· The IDSA portrayed another medical association's Lyme disease guidelines as corroborating its own when it knew that the two panels shared several authors, including the chairmen of both groups, and were working on guidelines at the same time. In allowing its panelists to serve on both groups at the same time, IDSA violated its own conflicts of interest policy.
IDSA has reached an agreement with Blumenthal's office calling for creation of a review panel to thoroughly scrutinize the 2006 Lyme disease guidelines and update or revise them if necessary. The panel -- comprised of individuals without conflicts of interest -- will comprehensively review medical and scientific evidence and hold a scientific hearing to provide a forum for additional evidence. It will then determine whether each recommendation in the 2006 Lyme disease guidelines is justified by the evidence or needs revision or updating.
Blumenthal added, "The IDSA's 2006 Lyme disease guideline panel undercut its credibility by allowing individuals with financial interests -- in drug companies, Lyme disease diagnostic tests, patents and consulting arrangements with insurance companies -- to exclude divergent medical evidence and opinion. In today's healthcare system, clinical practice guidelines have tremendous influence on the marketing of medical services and products, insurance reimbursements and treatment decisions. As a result, medical societies that publish such guidelines have a legal and moral duty to use exacting safeguards and scientific standards.
"Our investigation was always about the IDSA's guidelines process -- not the science. IDSA should be recognized for its cooperation and agreement to address the serious concerns raised by my office. Our agreement with IDSA ensures that a new, conflicts-free panel will collect and review all pertinent information, reassess each recommendation and make necessary changes.
"This Action Plan -- incorporating a conflicts screen by an independent neutral expert and a public hearing to receive additional evidence -- can serve as a model for all medical organizations and societies that publish medical guidelines. This review should strengthen the public's confidence in such critical standards."

THE GUIDELINE REVIEW PROCESS
Under its agreement with the Attorney General's Office, the IDSA will create a review panel of eight to 12 members, none of whom served on the 2006 IDSA guideline panel. The IDSA must conduct an open application process and consider all applicants.
The agreement calls for the ombudsman selected by Blumenthal's office and the IDSA to ensure that the review panel and its chairperson are free of conflicts of interest.
Blumenthal and IDSA agreed to appoint Dr. Howard A. Brody as the ombudsman. Dr. Brody is a recognized expert and author on medical ethics and conflicts of interest and the director of the Institute for Medical Humanities at the University of Texas Medical Branch. Brody authored the book, "Hooked: Ethics, the Medical Profession and the Pharmaceutical Industry."
To assure that the review panel obtains divergent information, the panel will conduct an open scientific hearing at which it will hear scientific and medical presentations from interested parties. The agreement requires the hearing to be broadcast live to the public on the Internet via the IDSA's website. The Attorney General's Office, Dr. Brody and the review panel will together finalize the list of presenters at the hearing.
Once it has collected information from its review and open hearing, the panel will assess the information and determine whether the data and evidence supports each of the recommendations in the 2006 Lyme disease guidelines.
The panel will then vote on each recommendation in the IDSA's 2006 Lyme disease guidelines on whether it is supported by the scientific evidence. At least 75 percent of panel members must vote to sustain each recommendation or it will be revised.
Once the panel has acted on each recommendation, it will have three options: make no changes, modify the guidelines in part or replace them entirely.
The panel's final report will be published on the IDSA's website.

ADDITIONAL FINDINGS OF BLUMENTHAL'S INVESTIGATION
IDSA convened panels in 2000 and 2006 to research and publish guidelines for the diagnosis and treatment of Lyme disease. Blumenthal's office found that the IDSA disregarded a 2000 panel member who argued that chronic and persistent Lyme disease exists. The 2000 panel pressured the panelist to conform to the group consensus and removed him as an author when he refused.
IDSA sought to portray a second set of Lyme disease guidelines issued by the American Academy of Neurology (AAN) as independently corroborating its findings. In fact, IDSA knew that the two panels shared key members, including the respective panel chairmen and were working on both sets of guidelines a the same time -- a violation of IDSA's conflicts of interest policy.
The resulting IDSA and AAN guidelines not only reached the same conclusions regarding the non-existence of chronic Lyme disease, their reasoning at times used strikingly similar language. Both entities, for example, dubbed symptoms persisting after treatment "Post-Lyme Syndrome" and defined it the same way.
When IDSA learned of the improper links between its panel and the AAN's panel, instead of enforcing its conflict of interest policy, it aggressively sought the AAN's endorsement to "strengthen" its guidelines' impact. The AAN panel -- particularly members who also served on the IDSA panel -- worked equally hard to win AAN's backing of IDSA's conclusions.
The two entities sought to portray each other's guidelines as separate and independent when the facts call into question that contention.
The IDSA subsequently cited AAN's supposed independent corroboration of its findings as part of its attempts to defeat federal legislation to create a Lyme disease advisory committee and state legislation supporting antibiotic therapy for chronic Lyme disease.
In a step that the British Medical Journal deemed "unusual," the IDSA included in its Lyme guidelines a statement calling them "voluntary" with "the ultimate determination of their application to be made by the physician in light of each patient's individual circumstances." In fact, United Healthcare, Health Net, Blue Cross of California, Kaiser Foundation Health Plan and other insurers have used the guidelines as justification to deny reimbursement for long-term antibiotic treatment.


2. Also your unnamed Nurse and Doctor who reviewed my case noted my conflicting results 2 months apart in 2005. This brings up a good point about the validity of Lyme testing in general. President Bush also covered this in the new law.
According to Dr. F, M.D., M.P.H., a psychiatrist and Lyme expert at Columbia University and the New York State Psychiatric Institute. ``Another problem adding to the Lyme disease controversy is the lack of definitive tests that can identify an active infection. "There's no perfect test for detecting an active infection, so lots of educated guessing is going on." Taken from the article UNDERSTANDING THE PUZZLE OF CHRONIC LYME found on www.cumc.columbia.edu/news/in-vivo/vol3_Iss09_aug_04/index.html
3. In addition your Doctor and Nurse reported that the current symptoms, without current lab or examination abnormalities for someone previously treated for Lyme or Babesioses does not support Lyme or Babesiosis as the cause of current symptoms. Below is also from the Columbia University website listed above. You will find that my symptoms that I listed in the beginning of this letter are valid and supported.
Late Disseminated Lyme Disease. If not caught early, the infection may then spread to many other parts of the body. This can occur over a period of days, affecting the central nervous system (brain), the peripheral nervous system (nerves), the cardiovascular system (causing pericarditis and/or 2nd or 3rd degree heart block and possible death if not treated immediately), the liver (causing mild hepatitis), the eyes (causing conjunctivitis). and the muscles and joints (causing migrating swelling, tenderness, and/or pain). The typical constellation of symptoms associated with disseminated Lyme disease may include severe fatigue with a need for naps during the day, low grade fevers, muscle and joint pains, sleep disturbance, irritability, headaches, light or sound sensitivity, sharp stabbing or shooting pains, and/or numbness and tingling.
When Lyme disease first affects the nervous system, one may see symptoms of meningitis, encephalitis, or cranial neuritis.
a. Meningitis is characterized by headaches that fluctuate in intensity from mild to severe with or without associated nausea, vomiting, light sensitivity, neck stiffness, or pain on eye motion. If a spinal tap is done at this time, the spinal fluid (CSF) will usually show elevated white blood cells and elevated protein.
b. Encephalitis is commonly accompanied sleepiness, mood swings and irritiability, atypical spontaneous tearfulness or personality change, cognitive problems (typically with word finding problems, memory loss, slowed mental speed), balance problems, and sensory hyperarousal (e.g., vision, hearing). An EEG at this stage may show mild slowing. A brain MRI may be normal or show white matter hyperintensities suggestive of inflammation.
c. Cranial neuritis. CN VII Palsy (facial nerve weakness) is a form of cranial neuritis that is thought by many physicians to be common, however studies suggest that it may be seen in as few as 10% of patients with neurologic Lyme disease. However, in a patient from a Lyme endemic area or in an individual who has previously visited a Lyme endemic area, a presentation of a facial nerve palsy should lead the physician to test for Lyme disease. If the CN VII palsy affects both sides of the face, then Lyme disease should be even more strongly considered as very few diseases cause a bilateral facial nerve palsy. Typically, a cranial neuritis occurs within days to weeks of the initial infection by a tick. If patients experience abnormalities in facial sensation, the cause may be inflammation of the trigeminal cranial nerve (CN V). If central vision appears cloudy or if there is pain on eye movements, these could be signs of an optic neuritis. Pseudotumor cerebri is an intracranial increase in pressure that is not due to a tumor but because of the increase in pressure, there may be pressure on the optic nerve. This pressure could cause visual loss; in rare cases of Lyme optic neuritis from Lyme-induced pseudotumor cerebri, blindness may occur if not detected and treated early. If CN III, IV, or VI are affected, the patient may present with double vision. With involvement of CN VIII, patients may experience ringing in the ears (tinnitus), loss of hearing, vertigo, or ataxia.
d. Radiculoneuritis. When the infection in Lyme disease affects the nerve roots, it is called radiculoneuropathy. Typical symptoms include radicular pain and symmetric or asymmetric sensory abnormalities, such as numbness or tingling. The radicular pain may be experienced as sharp stabbing or burning or shooting pains that radiate down a dermatomal distribution, such as into the limbs or across the trunk. There may also be elements of motor weakness. Differential diagnosis should exclude other causes of distal paresthesias, such as diabetic and toxic-metabolic neuropathies, or other causes of radicular pain, such as structural compression.
Late Neurologic Lyme Disease
a. Encephalopathy. Patients may develop cognitive problems from Lyme disease either early or many months or years after the initial infection. The cognitive problems most commonly include problems with short-term memory, problems with verbal fluency such as in name or word retrieval, and problems with slower speed of thinking. Patients typically report that they have ``Brain Fog''. On a practical level, adults may have difficultly in following the normal speed of conversations, children may find it difficult to write down the homework assignments quickly enough or even forget whether or not they did the homework the night before. Because of the slower processing speed, normal tasks take on a greater burden and the individual may feel mentally slow. In untreated neurologic Lyme disease, the encephalopathy can be moderate to severe, while in later stage treated Lyme disease the encephalopathy is often more subtle - mild to moderate in magnitude. Rarely the encephalopathy may manifest as dementia.
b. Encephalomyelitis. This is more common in Europe than in the United States, perhaps because there are other genospecies of Borrelia burgdorferi in Europe, including Borrelia garinii which is more neurotropic. Encephalomyelitis may be characterized by encephalitis with confusion and/or severe psychiatric disorders, chorea, cerebellar ataxia, and/or seizures. Patients may have a constellation of symptoms and signs (such as white matter hyperintensities) that appear quite similar to the manifestations of multiple sclerosis. In MS, typically there are oligoclonal bands in the CSF while in Lyme disease these would be less common.
c. Neuropsychiatric Lyme Disease. Neuropsychiatric symptoms can emerge either early or late in the disseminated phase of infection. These symptoms commonly appear as cognitive symptoms (as in the encephalopathy above) and as irritability, easy tearfulness, anxiety, and depression. Rarely, patients with undetected Lyme disease may present with obsessive compulsive disorder, paranoia, auditory/visual hallucinations, or full blown mania. Sleep disturbances are also common in Lyme disease, with patients more often reporting a need for many hours of sleep, including daytime naps. Sensory hyperarousal occurs in about 50% of patients with later stage neurologic Lyme disease, most often affecting hearing and/or vision. These patients may resort to wearing earplugs, sound protectors, and/or sunglasses indoors. Normal sensory stimulation may over-stimulate, causing confusion and triggering a limbic alarm as if one had been assaulted. While psychiatric problems can arise during the course of Lyme disease (or many other central nervous system infections), it is critical to remember that most psychiatric disorders have nothing to do with Lyme disease. It is also important to note that when patients with Lyme disease experience a psychiatric disorder, treatment for the psychiatric disorder should not be delayed; psychiatric consultation should be obtained so that an adjunctive treatment plan with the internist can be initiated.


Thank you I have covered all of your concerns and am expecting a check ASAP as I need the money for medicine, testing, Dr. visits and such.


Sincerely,

Heather xxxxxxxxxxxx


Cc: Dr. S, Dr. R, Dr. Sss, New Jersey State Attorney General, New Jersey State Insurance Commissioner and xxxxxxxx Human Resources first last

--------------------
HEATHER




---

Posts: 1974 | From ABERDEEN, NJ 07747 | Registered: Jan 2005 | IP: Logged |

cantgiveupyet
Frequent Contributor (1K+ posts)
Member # 8165


posted

---

Hey Heather,
sorry you are back. Good luck and yes let us know how it goes.

--------------------
"Say it straight simple and with a smile."

"Thus the task is, not so much to see what no one has seen yet,
But to think what nobody has thought yet, About what everybody sees."

-Schopenhauer

pos babs, bart, igenex WB igm/igg


---

Posts: 3156 | From Lyme limbo | Registered: Oct 2005 | IP: Logged |

Geneal
Frequent Contributor (5K+ posts)
Member # 10375


posted

---

Most people get denied disability the first couple of go arounds.

That is kind of standard.

I've had stroke patients (age 36) who could not walk/talk

Denied the first two or three times.

For these patients, formal testing (i.e. cognitive, language, etc.)

Along with a lette from an attorney (they usually go by a percentage fee)

Usually results in approval.

It is usually retroactive from the first claim denial.

I wondered where you had gotten to.

I'm sorry you are having a relapse.

Still nice to know you are out there and still kicking.

Keep us posted.

Hoping you get to feel better real soon.

Hugs,

Geneal

---

Posts: 6250 | From Louisiana | Registered: Oct 2006 | IP: Logged |
Contact Us | LymeNet home page | Privacy Statement

Powered by UBB.classic™ 6.7.3

---
The Lyme Disease Network is a non-profit organization funded by individual donations. If you would like to support the Network and the LymeNet system of Web services, please send your donations to:
The Lyme Disease Network of New Jersey
907 Pebble Creek Court, Pennington, NJ 08534 USA
http://www.lymenet.org/
---
Home | Flash Discussion | Support Groups | On-Line Library
Legal Resources | Medical Abstracts | Newsletter | Books
Pictures | Site Search | Links | Help/Questions
About LymeNet | Contact Us
---
© 1993-2020 The Lyme Disease Network of New Jersey, Inc.
All Rights Reserved.
Use of the LymeNet Site is subject to Terms and Conditions.
---