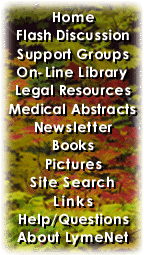 ---
LymeNet on Facebook
LymeNet on Twitter
---
---
The Lyme Disease Network receives a commission from Amazon.com for each purchase originating from this site.
When purchasing from Amazon.com, please
click here first.

Thank you.




Dedicated to the Bachmann Family


LymeNet needs your help:
LymeNet 2020 fund drive

The Lyme Disease Network is a non-profit organization funded by individual donations.

| | |
| --- | --- |
| | |
Author
Topic: Old Drug maybe help lymies with autoimmune?

oxygenbabe
Frequent Contributor (1K+ posts)
Member # 5831


posted

---

Teaching an old drug new tricks
Leprosy medicine holds promise as therapy for autoimmune diseases

A century-old drug that failed in its original intent to treat tuberculosis but has worked well as an antileprosy medicine now holds new promise as a potential therapy for multiple sclerosis and other autoimmune diseases.

"We never expected that an old antibiotic would hit this target that has been implicated in multiple sclerosis, psoriasis and type 1 diabetes," says Johns Hopkins pharmacologist Jun O. Liu "People have been working for years and spending tens of millions of dollars on developing a drug to inhibit a specific molecular target involved in these diseases, and here, we have a safe, known drug that hits that target," known as the Kv1.3 potassium channel.

The finding about clofazimine, a synthetic compound made in the 1890s, is reported in Public Library of Science (PLoS One) by Johns Hopkins researchers, who uncovered the drug's latest potential during an ongoing and exhaustive screening of FDA-approved drugs designed to identify new uses for them. The Hopkins team was specifically hunting for immune system control agents within the Johns Hopkins Drug Library, a collection assembled over the past seven years by Liu and colleagues of more than 3,000 drugs in pharmacies or being tested in phase II clinical trials.

The Johns Hopkins scientists say they were surprised to discover that clofazimine interferes with a molecular pathway important in orchestrating the human body's immune response.

"Until now, clofazimine's presumed target was not human cells, but bacteria," says Liu, professor of pharmacology and molecular science, Johns Hopkins University School of Medicine. "But we discovered the drug has a tremendous effect on human immune cells that are heavily involved in both the initiation and execution of an effective immune response."

More specifically, Liu's team sought drugs that stop the molecular signaling pathway that leads from the surface of an immune system cell to the cell's interior, where the signal turns on genes important in activating the immune response, Liu says. In autoimmune diseases, a person's own white blood cells, meant to fight infection or disease, are misguided to target and attack the body's own cells, damaging or destroying them.

To search for such compounds, the team first engineered cells to mimic an immune cell's natural signaling pathway, a complex and circuitous route from the cell surface to the genetic switch inside. They then subjected these specialized cells to the Drug Library, one at a time, and identified more than 200 hits -- drugs that inhibited the signaling system significantly, by more than 50 percent.

When they compared the potency of the 200 with each other, "clofazimine was the hit with the highest inhibitory activity," Liu says.

Next, by systematically studying the multistep signaling process, the researchers pinpointed clofazimine's molecular target, a protein "pore" called ion channel Kv1.3, which plays an essential role in the complicated signaling process.

One of the key steps involved in turning on the immune response is the prolonged accumulation of calcium inside of immune cells, Liu explains. When the researchers stimulated an immune cell, setting the signaling event in motion, they noticed that lots of calcium flushed into the cell and lingered there. However, when they pretreated the immune cells with clofazimine, the calcium rush was much less and it didn't hang around as long.

"This let us conclude that clofazimine was blocking the calcium influx into the immune cells," Liu says. "Without enough calcium getting inside a cell, the signaling pathway that turns on the immune response was short-circuited." The Johns Hopkins group also showed that clofazimine tamps down the presence of free calcium in immune cells by disrupting a potassium channel. The combined effect is to shut down a signaling pathway involved in autoimmune disease.

---

Posts: 2276 | From united states | Registered: Jun 2004 | IP: Logged |

Sojourner
LymeNet Contributor
Member # 9424


posted

---

Interesting. I'm disgusted and outraged once again (not at you O-babe) thanks for posting it.

Funny how researchers always have success in treating MS with antibiotics, but they always sight the immunosuppressive effects rather than the antibacterial effects as the reason for the efficacy.

And I love how in MANY MANY more publications MS is now stated to be an autoimmune disease......Not likely to be, thought to be, suspected to be, but IS AUTOIMMUNE. Since when did we collectively decide that MS is absolutely autoimmune?

Furthermore, why do these marginally immunosuppressive or anti-inflammatory drugs like doxycycline, minocycline etc. seem to work to limit relapses and slow progression, and yet the mother of all anti-inflammatory, immunosuppressive drugs, IV steroids, do nothing to slow progression, limit lesions or relapses?

I'll answer my own question..because the research community (read "big pharma" ) has a lot at stake $$$$ with regard to MS being autoimmune.

If I read one more article about how abx work in MS, but the benefit is due to anti-inflam/immunosuppressive I think I'll scream.

Geez, maybe next these researchers can pair this new/old abx wtih an approved disease modifying drug like Avonex/Rebif/Copaxone and make them work better---- Gotta keep the revenue stream alive.

---

Posts: 554 | From Naples, Italy | Registered: Jun 2006 | IP: Logged |

oxygenbabe
Frequent Contributor (1K+ posts)
Member # 5831


posted

---

Well, actually, though I basically agree with you, they do explain the mechanism here that specifically limits the autoimmune response.

And I'm thinking, to use an antibiotic that also limits an autoimmune response may help the subset of lymies with autoimmune issues from lyme.

---

Posts: 2276 | From united states | Registered: Jun 2004 | IP: Logged |

njgirl14
LymeNet Contributor
Member # 14174


posted

---

do you have the link? where was this published and when? I would like to show this to my llmd.

i totally agree with you sojourner. as someone who has been dx with ms, it is frustrating to see how any mention of bacterial causes is steered away from. guess no money in that avenue regardless if it does merit consideration and investigation.

---

Posts: 262 | From nj | Registered: Dec 2007 | IP: Logged |

oxygenbabe
Frequent Contributor (1K+ posts)
Member # 5831


posted

---

Honestly, you folks are wrong about the study, these folks are NOT idiots. It's not just an antimicrobial:). It's cool that they did this research.

In addition to Jun O. Liu, authors of this paper are Yunzhao R. Ren, Fan Pan, Curtis R. Chong, Jing Xu, Yongjun Dang, and Jin Zhang, all of Johns Hopkins; Reinhold Penner, Suhel Parvez, and Andrea Fleig, all of the University of Hawaii; and Hongsi Jiang of Northwestern University.

On the Web:
http://www.hopkinsmedicine.org/pharmacology/research/liu.html
http://www.plosone.org/home.action

Videos of clofazimine's effect on immune cells are available at: http://www.hopkinsmedicine.org/Press_releases/2009/1_30_09.htm

---

Posts: 2276 | From united states | Registered: Jun 2004 | IP: Logged |

Sojourner
LymeNet Contributor
Member # 9424


posted

---

Oxygen, I think you see high emotions because people diagnosed with MS are in such a tough spot....No good treatments and most neuros will not even entertain that their MS might be bacterial and treatable. It's frustrating!!

Here is the rub, however, and the reason the study makes me mad:

If research into MS and its treatment always begins with the premise that MS is a disfunction of the immune system what happens if that premise is incorrect? YEARS are wasted, Resources ($) are wasted, people waste away.

I'm sure these researchers are very bright, but they might be victims of tunnel vision too....which is anything but productive.

Show me ONE strictly immunosuppressant drug that has been successful in significantly slowing or stopping the progression of MS, and I'll start to buy the BULL these researchers keep dishing out. Until then, they need to start looking somewhere else.

I certainly did not wish to anger you and am glad you posted this article.

I have a husband and sister who are both MS diagnosed and have seen great improvement since treating lyme, so my perspective is somewhat skewed to one side too.

---

Posts: 554 | From Naples, Italy | Registered: Jun 2006 | IP: Logged |

oxygenbabe
Frequent Contributor (1K+ posts)
Member # 5831


posted

---

Hey I agree--autoimmune is triggered by something, either a pathogen or toxic exposure.

I'm just saying--some lymies don't only have the infection, they have the genetics that cause autoimmune issues, so these types of abx (minocycline is also helpful, anti inflammatory) may be the best choice in such cases.

Anyway--it was just FYI.

---

Posts: 2276 | From united states | Registered: Jun 2004 | IP: Logged |

Keebler
Honored Contributor (25K+ posts)
Member # 12673


posted

---

-

Interesting.


I wondered about this abx and took a little walk on my computer. It's not an easy drug to tolerate but, no doubt, the article still raises some interesting points.


Looking at some of the research led me to find that there are some current cases of leprosy. A bit off the subject, but interesting and I know enough now to stay away from armadillos.


According to one abstract, it seems that doctors don't know much about that infection, either.

--


http://en.wikipedia.org/wiki/Clofazimine

Clofazimine


==


http://www.ncbi.nlm.nih.gov/sites/entrez

PubMed Search:

Clofazimine - 1107 abstracts


One of those:


http://tinyurl.com/dmd9pz

South Med J. 2008 Jun;101(6):635-8.


Three indigenous cases of leprosy in the Mississippi delta.
Abide JM, Webb RM, Jones HL, Young L.

Department of Medicine, Division of Infectious Disease , University of Mississippi Medical Center, USA.


Three native-born patients from the Mississippi Delta presented with leprosy over a 13-month period. None had a history of foreign travel, contact with each other, or known leprosy patients.

Two patients' lesions lacked anesthesia, and all had a history of armadillo exposure. These cases add to the association of armadillo exposure and the subsequent development of leprosy.


=====


Hosp Med. 2001 Aug;62(8):471-6.


Update on leprosy.

Marlowe SN, Lockwood DN.

Department of Infectious and Tropical Diseases, London School of Hygiene and Tropical Medicine, London WC1E 7HT.


Leprosy, a result of infection by Mycobacterium leprae, is a leading cause of peripheral neuropathy.

The World Health Organization aimed to eliminate leprosy as a public health problem by 2000, but this has not been attained.

Patients with leprosy continue to present in the UK.

The diagnosis of leprosy is frequently not considered, with resultant pathological and psychological problems for patients.


-

---

Posts: 48021 | From Tree House | Registered: Jul 2007 | IP: Logged |

btmb03
Unregistered



posted

---

Fascinating article, thanks for osting it Oxygenbabe, I agree, possibly long after the infection is gone our immune systems may remain in the "on" position..."autoimmunity"?

Phase ll means we'd have to wait forever to see the results published...articles like these give me hope, not frustration.

---

IP: Logged |

stymielymie
Frequent Contributor (1K+ posts)
Member # 10044


posted

---

how about ms and many diseases causes by underlying
viri or prions, or maybe an undiscovered particle
similar to prions.
how about a genetic defect of a certain gene.
maybe cancer is a genetic defect brought on by environmental aspects.

docdave

---

Posts: 1820 | From Boone and Southport, NC | Registered: Sep 2006 | IP: Logged |

luvs2ride
Frequent Contributor (1K+ posts)
Member # 8090


posted

---

ABSOLUTELY NO WAY Hosea does an infection come and go leaving the immune response on "go"!!!!!!!!

I suffer lyme induced rheumatoid arthritis and I felt just like Sojourner when I read this. MAD!!!!

Not that I don't appreciate Oxy bringing the information to our attention. Heck, we will use any means to get the treatment we need. BUT there is NO SUCH THING AS AN IMMUNE SYSTEM STUCK ON GO!!!!!!!!!!!!!!!!!!!!!!!!!!!!!!!!!!!!!!

To say that is as insulting to me and other A.I. sufferers as saying you do not have active lyme disease, just a post lyme syndrome. To take this position means the doctor doesn't have to do anything because there is nothing to be done about it. Just your bad luck. Too bad. Take this dangerous immune suppressing drug and hope you live longer than most.

Yeah, yeah! Blah blah blah!

When I was first diagnosed RA, I was told by the oh-so-encouraging rheumatologist "We don't know what causes it and we don't know how to cure it, but we can slow it down."

Yet, 30 days later at my return visit and after I had researched and found many years of successful treatement of RA with a low dose tetracycline drug based on research that found mycoplasma, lyme and strep in the synovial fluid of R.A. sufferers; my doctor (who had already admitted he didn't know anything) proceeds to tell me (without the benefit of any testing) that my lyme is gone (even though I had a CDC positive bloodtest from 5 mths earlier) and there is no way to test for mycoplasmas (liar) and if I had strep I would be sick.

Oh, he doesn't know what causes it but he is convinced of what doesn't cause it. He refused my request for bloodtests. It was another year before another rheumatologist ran the tests and many more finding that I have babesia, Mycoplasmas, Chlamydia, EBV, H.P., the list goes on.

The minocycline treatment has a 70% success rate, but amazingly, just like clofazomine, they also say it is not the antibiotic properties but rather the immuno-suppressive properties that work. Uh-Huh!!!!

Lyme isn't the only disease that gets mis-treated.

I opted out of the dangerous drugs. I took minocycline and worked with CAM doctors to identify other issues like heavy metal toxicity. I am 100% 3 yrs later and living a normal, active life.

I'm glad I didn't listen to the first rheumatologist.

--------------------
When the Power of Love overcomes the Love of Power, there will be Peace.


---

Posts: 3038 | From america | Registered: Oct 2005 | IP: Logged |

cleo
LymeNet Contributor
Member # 6646


posted

---

Funny these people are having success treating cpn with a calcium channel blocker. They are treating an infection not an immune reaction. They have all gone down the wrong path for too long. It is time they took another road. It make no sense that out bodies are attacking themselves.


http://www.wipo.int/pctdb/en/wo.jsp?wo=2005007082

---

Posts: 433 | From new york | Registered: Dec 2004 | IP: Logged |

northstar
Frequent Contributor (1K+ posts)
Member # 7911


posted

---

from Eurekalert.org:



quote:

---

Public release date: 5-Feb-2009
[ Print Article | E-mail Article | Close Window ]

Contact: Quinn Phillips
[email protected]
780-492-0436
University of Alberta
Hepatitis C is killing liver cells

It has long been thought that liver disease in hepatitis C patients is caused by the patient's immune system attacking the infected liver, ultimately killing the cells.

University of Alberta researchers have discovered something different though.

Michael Joyce and his team transplanted human liver cells into mice, which lack an adaptive immune system.

The researchers then infected the liver cells with the hepatitis C virus.

The researchers found that the virus itself damages liver cells and leads to liver cell death. They also found hepatitis C causes inflammation, which is the second step in liver disease.

Joyce's finding sheds new light on the virus and gives researchers more targets for therapy.

###

His study is published in the February edition of PLoS Pathogens.



---

another autoimmune theory shot down....
North.

---

Posts: 1331 | From hither and yonder | Registered: Sep 2005 | IP: Logged |

cleo
LymeNet Contributor
Member # 6646


posted

---

Another thought comes to mind about calcium blockers. The marshall protocol limits vit. d. Vitamin d regulates calcium levels. It seems to me that he is regulating calcium by limiting vit. d. Wouldn't it be the same as using a calcium channel blocker combined with antibiotics. Not that I am on or will be the mp just putting thoughts out here.

---

Posts: 433 | From new york | Registered: Dec 2004 | IP: Logged |
Contact Us | LymeNet home page | Privacy Statement

Powered by UBB.classic™ 6.7.3

---
The Lyme Disease Network is a non-profit organization funded by individual donations. If you would like to support the Network and the LymeNet system of Web services, please send your donations to:
The Lyme Disease Network of New Jersey
907 Pebble Creek Court, Pennington, NJ 08534 USA
http://www.lymenet.org/
---
Home | Flash Discussion | Support Groups | On-Line Library
Legal Resources | Medical Abstracts | Newsletter | Books
Pictures | Site Search | Links | Help/Questions
About LymeNet | Contact Us
---
© 1993-2020 The Lyme Disease Network of New Jersey, Inc.
All Rights Reserved.
Use of the LymeNet Site is subject to Terms and Conditions.
---