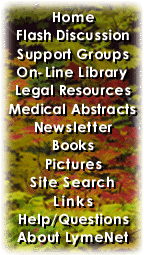 ---
LymeNet on Facebook
LymeNet on Twitter
---
---
The Lyme Disease Network receives a commission from Amazon.com for each purchase originating from this site.
When purchasing from Amazon.com, please
click here first.

Thank you.




Dedicated to the Bachmann Family


LymeNet needs your help:
LymeNet 2020 fund drive

The Lyme Disease Network is a non-profit organization funded by individual donations.

| | |
| --- | --- |
| | |
Author
Topic: Cuba Makes Medical History Using Homeopathic NOSODES

Truthfinder
Frequent Contributor (1K+ posts)
Member # 8512


posted

---

I accidentally ran across this article 2 days ago, and then found a bit of additional information on it later. I was stunned...... and thrilled! Apparently, Isaac Golden (who I am familiar with) has commented about it (see below) so I assume it must be true...... I've not seen this information pop up anywhere yet so thought I'd post it.

The only reason I saw this article in the first place was researching cat and dog vaccinations - I'm radically revising my vaccine plan for my pets. Leptospirosis is becoming a new `fear' for dog owners, and the Lepto vaccination is fast becoming `routine' for dogs here (sometimes without even consulting the owner)! Crazy.

P.S. I just found out that someone from Cuba will be commenting on this in a future issue of the online homeopathic journal I subscribe to, so it's for real.

I don't know about you folks but I'm feeling squeezed and manipulated by Big Pharma, Big Medicine, Big Science, Big Business, Big Government (including the CDC and FDA, etc.)......Maybe that's the only way things will change in this county...... we all become so poor - and our government admits to being bankrupt - that we are forced into `unorthodox' medical treatments and prevention. We have to lose everything in order to gain anything? How asinine is that.

(my emphasis added in article below)
*******

http://tinyurl.com/8rx9aq

Cuba Makes Medical History With NOSODES
Posted on January 1, 2009 by homeopathyresource

A remarkable successful use of homeopathic prophylaxis was reported from a Cuban conference. Of course, the exact numbers and results are still to be published. Cuba has its own vaccine production and instead of using a conventional medical vaccine, homeopathic remedies were distributed to prevent the usual Leptospirosis outbreak after tropical flooding. The results were phenomenally excellent!

The CDC describes Leptospirosis as:
``Leptospirosis is a bacterial disease that affects humans and animals. It is caused by bacteria of the genus Leptospira. In humans it causes a wide range of symptoms, and some infected persons may have no symptoms at all. Symptoms of leptospirosis include high fever, severe headache, chills, muscle aches, and vomiting, and may include jaundice (yellow skin and eyes), red eyes, abdominal pain, diarrhea, or a rash. If the disease is not treated, the patient could develop kidney damage, meningitis (inflammation of the membrane around the brain and spinal cord), liver failure, and respiratory distress.''

Here is a report from an attendee of a recent conference in Cuba:

A historical and inspiring event took place 10-12 December 2008 in Havana Cuba that I had the honour to attend. There, the Carlos J Finlay Institute under the guidance of its director-general, Dra. Conception Campa Huergo and Dr. Gustavo Bravo and others hosted NOSODES 2008, an International Meeting on Homeoprophilaxis, Homeopathic Immunization and Nosodes against Epidemics.

Homeopaths from Cuba, S America, Canada, Australia, UK, and Kenya (yours truly) made presentations on the wide varieties of successful disease prevention using homeopathy and more specifically, nosodes.

Each presentation was more amazing than the previous. All were very remarkable and notable in the field of research and science. Some of the topics included Childhood Disease Prevention, Homeopathic prophylaxis as an aspect of gov'tal programs, Nosodes Genus Epidemicus and Complexes, Homeoprophylaxis on Agronomy, Homeoprophylaxis on Veternary, Homeoprophylaxis in TB, Homeoprophylaxis in Chagas disease, Homeoprophylaxis in hepatitis, Homeoprophylaxis in Malaria (yours truly, again) and the list of presentations goes on.

(I am sorry for my lack of variety of adjectives for this email - ``remarkable'', ``awesome'' and ``amazing'' will be repeated often because I have no other way to express my opinion of this conference)

THE PREVENTION OF EPIDEMIC LEPTOSPIROSIS IN CUBA

But none of these remarkable speakers, each presenting their amazing work in disease prevention and use of nosodes, could hold a candle to the historical accomplishment of the Cubans in their presentation of controlling the local endemic-epidemic disease of Leptospirosis.

Now, the Finlay Institute is primarily the Cuban research institute that produces allopathic vaccinations for their country. Since Cuba is outcasted by the USA government, they have come to depend on themselves for the making of medicines, health care programs, etc. And since the Cuba is not under the yoke of the international pharmaceutical juggernaut, they are not held back from adopting homeopathy and other alternative medicines wholeheartedly into their national health programmes. The Finlay director-general herself is very pro-homeopathy (not to mention, besides, a macrobiotic vegetarian).

To put it simply, what they presented is this:

Cuba goes through a yearly cycle of Leptospirosis epidemic, especially after the hurricanes flood the countryside and water pollution reaches its height. (Leptospirosis: infectious disease caused by the spirochaete Leptospira transmitted to humans from rats, giving jaundice and kidney damage. Can cause death)

Annually the population is exposed to the disease, most especially after hurricanes.

Until Aug 2007, the Finlay Institute (a part of the Ministry of Public Health, Cuba) has been distributing its own allopathic Lepto vaccination. August is the height of the hurricane season. Annually, many are left homeless, flooded out and under the stress of disaster situation. There is a sharp rise in the lepto epidemic.

The usual expectancy of infection even with allopathic vaccination would have been around a few thousands, with some deaths included.

Part of the reason for this is that the high cost of vaccination prevents putting but the most at-risk populations (ie children, pregnant women, elderly) on vaccination. The cost of such limited vaccination is about US $3,000,000.

But in Aug 2007, Finlay put approximately [2,500,000] people (yes! 5 million doses!) in 2 provinces on homoepathic nosode prophylaxis at the cost of about only US $200,000.

That figure represents the entire population of the 2 provinces. The prophylaxis consisted of 2 single doses about 2 weeks apart. Included in the dose was the Lepto nosode + some Bach flower remedies to address the mental distress of the disaster situation.

How very amazing it was to watch this presentation being made. Up to the point, the presenters were showing us graph after graph of the usual rise of the epidemic, year after year, even with the use of allopathic vaccination. Each year the graphs would edge higher and higher towards the year-end, reaching up to the thousands of infected.

But this time, within 2 weeks after Aug 2007, the rising lines literally dropped off the chart to ZERO - Ten infections only! Yes. Near-zero infections, zero deaths from leptospirosis after Aug 2007. And in 2008, no deaths, infections less than 10 a month.

HISTORY MADE for Homeopathy

This mass treatment of 2.5 million people with homeopathy, I don't believe, has been done anywhere else in the world, not even in India, where homeopathy enjoys the shelter of the government.

And the awesome results of going from hundreds of infected to near-zero in the period of a few weeks, also is historical. My jaw dropped as I watched the graphs demonstrate their success.

The Cuban team readily admits that they have not invented anything new as far as homeopathic philosophy or application. They have simply followed what we homeopaths know to work. And since they have no pharmaceutical multi-nationals to stop them, they were able to do it on a massive scale unknown in the history of homeopathy.

What is remarkable is their application to such a large population, and its dramatic success, with full scientific verification. The results are incontrovertible and undeniable even by the most rabid of anti-homeopaths.

=======
As a word or two about Dra Heurgo, Dr. Bravo and the rest of the Cuban team. Truly remarkable people. ``Concita'' as Dra Heurgo is lovingly known by the people of Cuba, is well known and loved as a woman who has done remarkable work to improve the health of the population. I found her to be a remarkable person - untiring, passionate about her work and compassionate in her motivation to serve her fellow human beings.

I should like to nominate her for the Nobel Prize.

[This post was edited to show and correct that there were 5 million doses and 2.5 million people]

*******************

and
http://www.irishhomeopaths.com/homeopathy-cuba

Dr. Isaac Golden, who attended the conference, adds:

"As a point of correction, 5,000,000 doses were administered, but covered 2,500,000 people (there being 2 doses per person). However this is still a dramatic and wonderful result. I am hoping to run a very rigorous trial in 2009 with Conchita and Gustavo, involving also epidemiologists in Australia, and see if we can get some watertight data.

"All participants (myself included) were heartened to see practical homoeopathy in action - and it is something which opponents of homoeopathic immunization both from within and without our profession should take note of. These people actually do things - not just theorise - for the benefit of all

regards

Isaac
Dr Isaac Golden"

Another similar article on a British homeopathy site:
Cuba prevents annual epidemic among 5m people using homeopathy:
http://tinyurl.com/b8n84u

[ 03-19-2009, 08:47 AM: Message edited by: Truthfinder ]

--------------------
Tracy
.... Prayers for the Lyme Community - every day at 6 p.m. Pacific Time and 9 p.m. Eastern Time – just take a few moments to say a prayer wherever you are….


---

Posts: 2966 | From Colorado | Registered: Dec 2005 | IP: Logged |

eric555
LymeNet Contributor
Member # 18343


posted

---

tracy,

i do very much agree that our government needs to step up to all this infectious virus and disease problems which we now face...

millions are infected and millions more are misdiagnosed.

and its only getting worse and worse...

i totally blame them and noone else.

---

Posts: 570 | From philadelphia, pa | Registered: Dec 2008 | IP: Logged |

Truthfinder
Frequent Contributor (1K+ posts)
Member # 8512


posted

---

Hi, Eric - thanks for your response. What you say is so true. We - as a nation - should be doing all we can to OPEN the doors of unconventional medicine, not close them. We are stifling creativity and entrepreneurism in order to protect just ONE system of medicine that simply can't handle what's out there and few people can really afford anyway. We desperately need complementary and competitive treatments - it keeps costs down and motivation high.

I'm sure many people wonder what in the world this thread has to do with Lyme Disease anyway!

There is already a homeopathic `prevention' - or prophylaxis - protocol for Lyme and other TBIs. I've posted about it here before, and I'll bump up the thread again since spring is coming..... here's the link in case I forget:

Homeopathic prevention of Lyme & other TBIs:
http://flash.lymenet.org/scripts/ultimatebb.cgi?ubb=get_topic;f=1;t=066773

I realized that Leptospirosis is much different than Lyme Disease, but like Lyme, it is a zoonotic disease (diseases that infect both people and animals) and the incidence is increasing in this country, just like in Cuba.

So, hypothetically, what might happen this spring if a couple of counties in Connecticut or Pennsylvania decided to administer the `Lyme prevention protocol' to all its residents who wish to volunteer? (For Lyme, it likely would have to be given more than once a season, but you get the point......) How might this affect the incidence of Lyme and other TBIs for this year?

If something similar to this is never tried, we will never know. And I think we'd better start figuring out cost-effective ways to prevent Lyme & Co. since we haven't figured out effective, affordable, gentle ways to treat it.

--------------------
Tracy
.... Prayers for the Lyme Community - every day at 6 p.m. Pacific Time and 9 p.m. Eastern Time – just take a few moments to say a prayer wherever you are….


---

Posts: 2966 | From Colorado | Registered: Dec 2005 | IP: Logged |

Blackstone
LymeNet Contributor
Member # 9453


posted

---

To play devil's advocate as I often do..

Is there another source covering this that isn't directly related to homeopathy? Is there independent data somewhere? I want to see numbers that just don't come from a homeopathic consortium or meeeting.

Also, this is in theory a preventative. The problem with that is that you can't really tell who /could/ have been infected. I assume that there is a variation in how many are infected per epidemic? Isn't it possible that this one may not have been, "as bad" as others? Or maybe not an epidemic at all. After all, If I give everyone a flu vaccine in October and decree by November that I have a 99% prevention rate, it makes a great sound byte, but doesn't make it true. Perhaps the real flu epidemic won't hit until March!

What I'd really like to see, is the same thing implemented as a cure. That is to say

1. X people are diagnosed as infected.
2. 1/2 X people are treated with conventional treatment, and have Y% success rate.
3. 1/2 X are treated with homeopathic treatment, and have Z% success rate where Z > Y.

This would provide much more proof in my mind.

Not saying this couldn't be a great thing, but this seems like a lot of back patting without a lot of substance as it is currently portrayed

---

Posts: 684 | From East coast, USA | Registered: Jun 2006 | IP: Logged |

Truthfinder
Frequent Contributor (1K+ posts)
Member # 8512


posted

---

I'd like to find some corroborating data from an outside source, too, Blackstone.

The day I posted this, I Googled some key words from this several different ways and couldn't come up with anything. There's a bit more now.... here's an article from the Finlay website - ``the Finlay Institute is primarily the Cuban research institute that produces allopathic vaccinations for their country'' - but my computer won't load the document. Here's the link - you might see what's there:
http://www.finlay.sld.cu/nosodes/en/nosodesIngles.htm

There's an article from 10-16-08 (before the Nosodes 2008 conference) in an online Cuban Daily News site, but it's poorly written, very brief, and doesn't talk about results:
http://www.cubaheadlines.com/2008/10/16/13917/cuban_province_vaccinates_against_leptospirosis.html

But let's face it: There will be no coverage or acknowledgement of this event by anyone in the scientific community that values his or her reputation. They will be crucified and they know it.

Know anybody at Gitmo we can call?

I do think that Isaac Golden (Australia, I believe) will do his best to sort this out. He has studied homeopathic prevention for 15 years or so, and has assembled considerable data on the subject. Unfortunately, he's part of the homeopathic community so his work will likely go unnoticed in mainstream circles.

As to the treatment `trial' you suggested, that could happen. It depends on whether the Lepto nosode, or perhaps a different homeopathic remedy, turns out to be the `genus epidemicus' - a remedy which is found to be curative in the majority of cases of the same disease.

I read that Lyme Disease is now found in the Cuban population, so perhaps something innovative on the prevention or treatment fronts will be tried down there, homeopathic or otherwise.....
http://www.thefreelibrary.com/Do%2Bantiborrelial%2Bantibodies%2Bsuggest%2BLyme%2Bdisease%2Bin%2BCuba%253F-a0122552762

Lyme is different, though - no `genus epidemicus' has been found for Lyme (yet).
Remedies for treatment of Lyme must be chosen on a case-by-case basis, which I think you might already know (if I remember some of your history correctly).

One other thing I'd like to make clear is that nosodes are not the only means of homeoprophylaxis; i.e., during a Scarlet Fever epidemic in Hahnemann's time, homeopathic Belladonna was found to be the `genus epidemicus' in that situation. And while HP (homeoprophylaxis) does not always prevent the disease in all individuals, those who do fall ill have a much milder version of the disease.

Remember all the Smallpox scares after the 9/11 attacks? Variolinum - the Smallpox nosode - is already a proven preventative and is also used as treatment for those who contract the disease. I could list numerous examples like this.

I understand your skepticism, Blackstone, and I want more verification of this as much as you do. I would doubt this information much more if I hadn't read similar accounts going back over 100 years, in this country and all over the globe.

If anybody out there has any ideas on how this information can be further verified, please feel free to speak up!

News in this genre is very hard to verify; verification lends credibility and that makes trouble for those with a vested interest in keeping certain truths secret. I wish it were not so.

--------------------
Tracy
.... Prayers for the Lyme Community - every day at 6 p.m. Pacific Time and 9 p.m. Eastern Time – just take a few moments to say a prayer wherever you are….


---

Posts: 2966 | From Colorado | Registered: Dec 2005 | IP: Logged |

luvs2ride
Frequent Contributor (1K+ posts)
Member # 8090


posted

---

Tracy

It is good to see you back at lymenet. I hope you are doing well.

Thank you for bringing this information. I am a fan of homeopathy. It did so much good for me in the initial phase of my illness and the things it resolved like migraines, mental confusion, shortterm memory loss have never returned.

That was 3 yrs ago.

Thanks again.

--------------------
When the Power of Love overcomes the Love of Power, there will be Peace.


---

Posts: 3038 | From america | Registered: Oct 2005 | IP: Logged |

clairenotes
Frequent Contributor (1K+ posts)
Member # 10392


posted

---

With so many new diseases on the rise, and the ease of which they are passed on, we will need all the help we can get... should keep doctors, hospitals, rehab specialists, chiropractors, homeopaths, naturopaths, pharmaceutical and supplement companies quite busy, not for years, but for decades.

Welcome back, Tracy.

Claire

---

Posts: 1111 | From Colorado | Registered: Oct 2006 | IP: Logged |

sparkle7
Frequent Contributor (5K+ posts)
Member # 10397


posted

---

I have some radical theories about this topic. I'm not even going to begin with them since this thread is more about finding proof for the viability of homeopathic vaccines...

Anyway, thanks so much for posting this. I hope you will continue posting info!

You may want to take a look at this for reference:
Swine Flu Expose
by Eleanora I. McBean, Ph.D., N.D.
http://www.whale.to/vaccine/sf.html

It's not directly about homeopathy but it is informative.

---

Posts: 7772 | From Northeast, again... | Registered: Oct 2006 | IP: Logged |

Truthfinder
Frequent Contributor (1K+ posts)
Member # 8512


posted

---

Yikes! I completely lost track of this thread! I didn't get any e-mail alerts that there were responses..... am I doing something wrong?

Hi Claire and Luvs - it's good to be back! I've learned so much from both of you in the past! And thanks very much for your comments.... I was hoping that some people like you two would notice this thread..... just for the awareness of what is happening in other parts of the world where different systems of medicine are given a fair trial.

Thanks for the interesting link, Sparkle - and the encouragement. I'm very much impressed by your ability to do your own research, find your own answers.....

Yes, this whole `vaccine' thing really has me spooked. We have only to look at the disaster of the Lymerix vaccine to realize the potential dangers out there.

If I ever get time, I'd like to post information for pet owners - I've found that most common vaccines for dogs give full protection for at least 3 years - some up to 7 years - that's the minimum duration of immunity!

(The canine Lyme vaccine is an exception - not that I have any faith in the vaccine, mind you - it only lasts a year.) (I need to find some better information on cat vaccines). So, why in the world are we vaccinating for some of this stuff every year? Fortunately, the veterinary community is waking up a bit about this, but it's slow progress.

As an aside, I posted this article over on one of the Homeopathic forums about the same time I posted it here, and it was news to most of them, too.

I still have this dream that someday there will be a `proving' of homeopathic Western Fence Lizard Blood. It's risky, though..... the only known property of the blood is its ability to cure Lyme in ticks; we have no idea what symptoms it might cause when given to healthy humans. If not for that pesky `unknown', I'd try to get a few drops of WFL blood from Profession Lane and try a remedy of it on myself.......

I'll bump up the `Lyme prevention' thread, too, since I heard that Spring is coming, at least in some places.....

--------------------
Tracy
.... Prayers for the Lyme Community - every day at 6 p.m. Pacific Time and 9 p.m. Eastern Time – just take a few moments to say a prayer wherever you are….


---

Posts: 2966 | From Colorado | Registered: Dec 2005 | IP: Logged |

Truthfinder
Frequent Contributor (1K+ posts)
Member # 8512


posted

---

Wow, Claire! No, I had not seen these! Oh, this is very intriguing, indeed..... thanks so much for posting links to these threads.... (and your daughter's dream was certainly interesting, too.)

So, what we have here is.... Lizard Light! Or maybe Lizard-Lite would be a better name since we could borrow a little blood from a few lizards.....

And BTW, no lizards need to be killed for a homeopathic remedy. A single drop of blood from a dozen lizards would make oodles of remedy, even in a fairly low potency.....

You know, it occurs to me that since Prof. Lane tried both oral administration and injection of WFL blood in humans, I wonder if he kept records of the REACTIONS to the treatment by the volunteers. If there were reactions and he did keep records of them, it would be a `starting place' for what to expect from a homeopathic remedy made from the blood.

I'm reminded here of Oscillococcinum - the popular Boiron OTC homeopathic remedy for the flu. The remedy is made from some of the organs of a certain type of duck. I believe Boiron obtained certain proprietary rights to making and selling this remedy (I don't think it is an actual patent).

Okay, a little dreaming here, but if this homeopathic WFL blood actually worked - even for prevention in humans and animals if not as an actual treatment for Lyme - Prof. Lane (or probably the University) could make a lot of money from marketing it, which could fund lots of further research in this area ...... gosh, could something like this really happen?

I'm afraid that if I wrote to Professor Lane and proposed this idea he would think I was off my rocker.....


--------------------
Tracy
.... Prayers for the Lyme Community - every day at 6 p.m. Pacific Time and 9 p.m. Eastern Time – just take a few moments to say a prayer wherever you are….


---

Posts: 2966 | From Colorado | Registered: Dec 2005 | IP: Logged |

clairenotes
Frequent Contributor (1K+ posts)
Member # 10392


posted

---

Oh gosh... another one of those annoying PETA members?

I am teasing... thank goodness we don't have to kill anything in the process!

Tracy, you are going to have to carry the torch on these breakthrough homeopathics (and lizard-lite has a kind of catchy ring to it). I am planning to take a 'sabbatical' of sorts as well. Will explain in an e-mail sometime soon.

There are many people whom should receive much recognition for lizards, lights, and homeopathic research.

Best of wishes,

Claire

---

Posts: 1111 | From Colorado | Registered: Oct 2006 | IP: Logged |

Truthfinder
Frequent Contributor (1K+ posts)
Member # 8512


posted

---

(Drat. I lost track of this thread again.....)

Ha, ha - yes Claire, I knew you were teasing (and no, I'm not a PETA person).

A sabbatical? Oh, no, Claire! Your input here at LymeNet is so invaluable! But I also understand the need and desire to focus on real life outside the cyber world, too.

Actually, I may pursue this homeopathic lizard thing..... I did find that I still have Professor Lane's e-mail address..... and I've looked into some `provings' of remedies, who did them, who made the remedies, etc. Details are very scarce, and the results of provings are not readily available and I'm not really sure why.

Also unfortunate is the very recent death of the founder and primary pharmacist at the most promising homeopathic lab in the U.S. for preparing a remedy from lizard blood. I'm not sure how that will affect the lab, generally, and my `brainchild' more specifically.

Anyway, thank you SO much for bringing this lizard/frequency idea to the forefront. At the very least, it's a most compelling bit of information that probably qualifies as a piece of this puzzle we call Lyme.

All my best to you, Claire

--------------------
Tracy
.... Prayers for the Lyme Community - every day at 6 p.m. Pacific Time and 9 p.m. Eastern Time – just take a few moments to say a prayer wherever you are….


---

Posts: 2966 | From Colorado | Registered: Dec 2005 | IP: Logged |
Contact Us | LymeNet home page | Privacy Statement

Powered by UBB.classic™ 6.7.3

---
The Lyme Disease Network is a non-profit organization funded by individual donations. If you would like to support the Network and the LymeNet system of Web services, please send your donations to:
The Lyme Disease Network of New Jersey
907 Pebble Creek Court, Pennington, NJ 08534 USA
http://www.lymenet.org/
---
Home | Flash Discussion | Support Groups | On-Line Library
Legal Resources | Medical Abstracts | Newsletter | Books
Pictures | Site Search | Links | Help/Questions
About LymeNet | Contact Us
---
© 1993-2020 The Lyme Disease Network of New Jersey, Inc.
All Rights Reserved.
Use of the LymeNet Site is subject to Terms and Conditions.
---