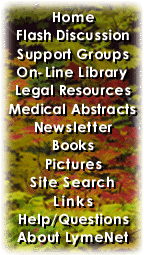 ---
LymeNet on Facebook
LymeNet on Twitter
---
---
The Lyme Disease Network receives a commission from Amazon.com for each purchase originating from this site.
When purchasing from Amazon.com, please
click here first.

Thank you.




Dedicated to the Bachmann Family


LymeNet needs your help:
LymeNet 2020 fund drive

The Lyme Disease Network is a non-profit organization funded by individual donations.

| | |
| --- | --- |
| | |
Author
Topic: Who Is paralyzed by this Disease.....Not literally, but mentally?

feelfit
Frequent Contributor (1K+ posts)
Member # 12770


posted

---

I tried to go for a walk today after not having done much activity in the past year. I am a former competitive athlete, runner, fitness etc....

But I went 4 blocks and 4 blocks back at a normal stroll and was very lightheaded. Now I am afraid to try again.

I think that a lot of my life is compromised by "what if's".....What if I pass out in the store? What if I pass out at church? What if I choke on my food. What if I have a heart attack.

OMG, I am getting deeper and deeper into this mind set. I thought that I was invincible before this hell. Now I am fearful of everything.

I take my BP at least 2 times per day, I always have two fingers on my neck counting my pulse, taking my temperature. Heating my 24/7 tube sock turban.

I am a WRECK!!! I wake up with symptoms, live my day with symptoms, go to bed with symptoms, wake in the night with symptoms......this disease is a hound, a vulture, picking at my core until I no longer recognize myself.

I don't know what to do with the fear any more. I listen to soothing music, meditate, try to engage in life, but the symptoms are too much to ignore.

Help! Are you paralyzed too?

Feelfit

---

Posts: 3975 | From usa | Registered: Aug 2007 | IP: Logged |

adamm
Unregistered



posted

---

Getting closer everyday, and it's not looking like it's going to be treatable for me.

---

IP: Logged |

sutherngrl
Frequent Contributor (1K+ posts)
Member # 16270


posted

---

I totally relate. I have found myself in this same situation. I was so sociable and spontaneous; a world traveller and a very active person before this.

Now it takes all I can muster to get myself out of the house. I have to work up to it on a daily basis.

But, I don't stop trying. I think that is the key. No matter what, don't stop trying. Sooner or later things have to change.

I don't want this illness to be the winner and to take my life from me. It has taken a few years but there are many years to come. I just have to never ever give up.

---

Posts: 4035 | From Mississippi | Registered: Jul 2008 | IP: Logged |

Ocean
Frequent Contributor (1K+ posts)
Member # 3496


posted

---

Hey Feel,
Although I'm better than I was last fall, I can definitely understand. At times when my heart feels fast, I check it. When ever I have one of my heart episodes, I lay in bed for an hour with my stethoscope glued to my chest wondering if I will suddenly go into V-tach and die.

I used to not be able to take a shower by myself (from 2003-2005). Often times I would feel lightheaded and then get a panic attack, so my poor husband had to stand in the bathroom while I quickly showered.

Last fall I caught my kids 'playing' house. I heard my daughter say to my son (they are 5 and 7), "You'll call 911 if I pass out, right?"

That was it! I felt awful, I would say that to my extremely laid back don't worry about anything husband when I felt 'weird'. Just wanting to make sure he wouldn' take his good ole time trying to decide if I was dying, I wanted him to call 911 immediately.

I'm so thankful that I know I don't just have 'anxiety' though anymore. none of the books, or tapes were helping, course when I went raw and everything went away I started figuring 'it' HAD to have a physical cause then!

My dad always says. "Just don't worry."

he's never had a panic attack in his life.


Anyhow, sorry it's so rough right now, I know when I start abx, my anxiety will go through the roof. That's what I'm afraid of. Give me pain, give me nausea, anything but anxiety!


take care,

Ocean

--------------------
http://www.healingfromlymedisease.blogspot.com/

Sick since 1996...Diagnosed 10/2008

IgM:23-25 IND, 31+++, 39 IND, 41 +++
IgG: 31 IND, 41++, 58+


---

Posts: 1619 | From Ohio | Registered: Jan 2003 | IP: Logged |

pab
Frequent Contributor (1K+ posts)
Member # 904


posted

---

quote:

---

Originally posted by adamm:
Getting closer everyday, and it's not looking like it's going to be treatable for me.

---

adamm,

If you aren't getting any better with your current LLMD, is there any reason you aren't going to different LLMD?

--------------------
Peggy

~ ~ Hope is a powerful medicine. ~ ~


---

Posts: 2775 | From MN | Registered: Apr 2001 | IP: Logged |

oxygenbabe
Frequent Contributor (1K+ posts)
Member # 5831


posted

---

Feelfit, I've had issues about that, but I found the following works:

1) When you take your walk, do it in nature, in a peaceful surrounding. In the city the best I can do is the park, but that's much better than congested city streets and stores. Nature is nourishing and you will feel safer there. Less people is better.

2) Go on a familiar path when you take your walk, get used to it. I use my Ipod as well.

3) Sort of say, "So?" So what if I fainted, would it be such a big deal? Just sort of put it in it's place. Albert Ellis talked about this in his rational emotive therapy.

4) Try to get absorbed in the world around you. I mostly only take walks on sunny days as I am very affected by gloomy weather. But even when it was horribly cold, like 12 degrees out recently, I put on long underwear and took my walk.

I can imagine you're worried about that swallowing issue. I don't recommend benzos very often as they become highly addictive, but they may help with the swallowing issue.

---

Posts: 2276 | From united states | Registered: Jun 2004 | IP: Logged |

seekhelp
Frequent Contributor (5K+ posts)
Member # 15067


posted

---

Yep, I can relate on a level. It's hard to get over. Some have made good suggestions here, but practicing them is hard! I'd strongly consider anti-anxiety meds or even anti-depressants if the situation never changes. Life is just too short to not live at all.

If it's not physical symptoms stopping you from walking, but anxiety, then it's worth a shot. Pot calling the kettle black? No, I just care. If you've already tried all things and they failed, then at least you tried, right? Sometimes the cards we're dealt aren't the best. I'm right there with you.

My Dad, while not educated about TBDs one bit but has his share of health issues, says often to me the following: 'You always say you almost collapsed, almost fainted, almost this, almost that. Doctors don't care about almosts. If you collapse, then they may take you seriously.' Not the best advice, but truthful.

I know you've busted your ### to get better and have been through s lot. This disease is just not fair. Neither of us has had the treatment we needed based on what others' say here.

---

Posts: 7545 | From The 5th Dimension - The Twilight Zone | Registered: Mar 2008 | IP: Logged |

Piegirl
LymeNet Contributor
Member # 14786


posted

---

My heart goes out to you. I know this all too well. I still struggle with this everyday. I have come a long way though.

When I was at my sickest I was afraid of EVERYTHING. "What if's" ran through my head every minute of everyday. I was so scared that I could barely do anything by myself.

I think this came from the fact that I felt so sick (so part of it was from Lyme itself), I feared what was wrong with me, and I feared what my family and others would think of me if they truely saw how bad I was effected by this illness.

I was so sick and needed a lot of help but, tried to act as normal as possible in fear of rejection.

In the four years since then, I am able to do alot more, both illness wise and from the emotional trama from the illness.

These are some things that I can now do by myself without freaking out about the what ifs:

be at home all day by myself

drive around town all by my self (unless I'm feeling sick that day)

go into some stores that I know I won't be in for very long

go the ATM and withdraw money

go for a 30 min walk

Some things I still feel paralized by fear (however sometimes I truely just feel too sick) are:

doing grocery shopping by myself
starting a new job

I agree with being out in nature, it's very important. Also, something that I really feel helped me is yoga. It has really helped me to start to trust my body and myself again.

Another thing is that when I'm overrun by what if's I just imagine the what if accually happening and then I tell myself "that if ____ happened then I would still completely love myself" and picture what that would look like in my head. This takes some practice but can change things instantly for me.

If the issue is more physical limitations causing fear then the most helpful thing I have found is to start slowly. Walk for a 1/2 block and turn around and come home, do this for awhile until you can trust it then go a little further.

Like you I would fear passing out in public places from feeling really sick and then I would panic. By just slowly working on myself with this it has gotten better. I totally understand.

It's a process but, so worth it every time you are able to do something you have not been able to do in a long time whether it be from physical or emotional limitations.

It will get better. Make sure you are not being hard on yourself for dealing with this. The PTSD that comes from having this disease and dealing with it's effects are something we only understand. I have not found anyone else who gets it, including therapists.

Mary

---

Posts: 161 | From AZ | Registered: Feb 2008 | IP: Logged |

bettyg
Unregistered



posted

---

i want to be dead serious for a minute here and recoginize this young woman!

Alex Hermstad, Iowa, 16 now, and paralyzed and ventilator the last 2 years of 4 year illness.

read her story on caring bridge site:

http://www.caringbridge.org/visit/angelsforalex

uncle mike used to post regularly here about what was going on and NOT going on as promised.

please remember folks like alex/others who are so much worse off than us. thanks!

---

IP: Logged |

2roads
Frequent Contributor (1K+ posts)
Member # 4409


posted

---

Oh Betty....that is so sad.


You can't help but cry.


Do you know if she's seing doc J?


When I gime my son all his meds I fear about permanent hearing loss and liver toxicity....but then I see the other side of the coin.


I always come back to your dambed if you do and dambed if you don't.....that's one big reason for me why this illness is so hard.

I hope a breakthrough comes soon to couple with all the meds for less dosing and better treatment.

I fear my children getting bit again. It's not like you can go down to your local doctor and get the help you need. How scary to be in this zone.


I am depressed because of that fear. I don't let them do much that would get them rebit.....but they are in our yard....sometimes in others. I can't keep them in a bubble.


I keep one in a pool (hopefully no ticks a floatin off some other swimmer) and the other by my side with tick checks....but how I quake in my boots.


I think of this child, and just wish they were all grown up and off my watch, because I don't think I could handle that scenario.


Adamm, please don't say that! There must be something else you can do Adamm, just think. Reorganise and right down what you've taken and how you've changed life style patterns. Maybe you'll see a new regiment somewhere.


Please try to be positive. It's not the answer, but it helps.


I know we all need to try and stop stressing for the good of our health....its hard to do on every level.


Love you guys


Grett

---

Posts: 2214 | From West Chester, PA | Registered: Aug 2003 | IP: Logged |

Rambler
LymeNet Contributor
Member # 18794


posted

---

FeelFit,

The physical body is what holds us to this earth. Don't let go.

I have had all kinds of crazy mental health stuff- BUT, for some reason loosing my body has been way more traumatic than loosing my mind....

How weird is that?

Moving my body is the only thing that keeps me here.

It hurts, but at least I can feel the connection.

--------------------
Be Well


---

Posts: 103 | From Out West | Registered: Jan 2009 | IP: Logged |

feelfit
Frequent Contributor (1K+ posts)
Member # 12770


posted

---

Thank you everyone. I am just in a bad, bad, place with lots of new symptoms appearing...

Actually ones that I have had before, but they were fleeting, now they are sticking around.

I am scared yes, becuase of stories like Alexs' Or of Al who went into a 14 day coma. When my brain is so severely affected, I think the worst.

Seek, your Dad is right. I have "almost collapsed", "almost fainted" hundreds of times....literally. But I've never gone down.

Babe, Piegirl, Ocean, and others, thanks for the advice and hand holding.

Adamm, I feel for you. You are such a fine young man, it kills me to thinkthat you are going through this. As others have suggested, time for a new doc? I know it is well past time for me.

Also a thank you to Barbarame, a poster on here who defines "bravery". thank you for your friendship.

I will not give up, but I may need some help to get through this....maybe lexapro.

Bless each and everyone of you,
Feelfit

---

Posts: 3975 | From usa | Registered: Aug 2007 | IP: Logged |

bettyg
Unregistered



posted

---

grett,

alex's family had contact w/dr. j; couldnn't travel with her.

---

IP: Logged |

2roads
Frequent Contributor (1K+ posts)
Member # 4409


posted

---

I hope that means he's involved in her case and getting her on track....although an exam is so meaningful.


Thanks for the info.

It gives me some hope.

---

Posts: 2214 | From West Chester, PA | Registered: Aug 2003 | IP: Logged |
Contact Us | LymeNet home page | Privacy Statement

Powered by UBB.classic™ 6.7.3

---
The Lyme Disease Network is a non-profit organization funded by individual donations. If you would like to support the Network and the LymeNet system of Web services, please send your donations to:
The Lyme Disease Network of New Jersey
907 Pebble Creek Court, Pennington, NJ 08534 USA
http://www.lymenet.org/
---
Home | Flash Discussion | Support Groups | On-Line Library
Legal Resources | Medical Abstracts | Newsletter | Books
Pictures | Site Search | Links | Help/Questions
About LymeNet | Contact Us
---
© 1993-2020 The Lyme Disease Network of New Jersey, Inc.
All Rights Reserved.
Use of the LymeNet Site is subject to Terms and Conditions.
---