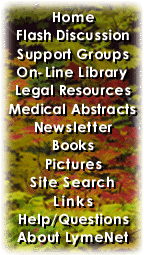 ---
LymeNet on Facebook
LymeNet on Twitter
---
---
The Lyme Disease Network receives a commission from Amazon.com for each purchase originating from this site.
When purchasing from Amazon.com, please
click here first.

Thank you.




Dedicated to the Bachmann Family


LymeNet needs your help:
LymeNet 2020 fund drive

The Lyme Disease Network is a non-profit organization funded by individual donations.

| | |
| --- | --- |
| | |
Author
Topic: Those who have teenagers

Just Julie
Frequent Contributor (1K+ posts)
Member # 1119


posted

---

I am in a pickle of a dilemma. History: I, and both my sons have lyme. We were all treated w/ abx (only) for 3-4 yrs, and have been off all abx/treatment for 4 yrs. No bites, and no backsliding to speak of.

My oldest son (19) has been out of high school for 2 yrs, has been working full time with my husband in family business, and now wants to take a vacation to EUROPE. He knows about avoiding tick areas, not walking in forests, tall grass, etc. I have done my job as mother for the past 9 yrs in educating both my sons on this, and for the most part, I thought I did a good enough job.

But . . . you knew there was one?! The 19 yr old is planning on a trip to Europe, with another 18 yr old (whose parents are european, and they go over 3-4 times per year, but live here in US)and thinks that he will be "fine" without telling his friend (the 18 yr old) that he is not going to be going to place where he could get another tick bite.

There will circumstances beyond control about this sort of thing, and I dont'know how to handle this. I asked him not to go, he won't hear me. I told him if he gets another tick bite, then I'm out. I will not live through this again, and I mean it. I spent years and years trying to make my way through the muddy swamp of getting treatment, and then living through the years of that, that I'mm just done.

I don't know what I"m asking, really, just want to know if there are any parents here on this board who have had similar situation with their teens who want to travel, and not give complete thought to the possible outcome of another tick bite. This 19 yr old lives at home, we pay for his medical insurance, he drives a family car, eats our food, etc. Not on his own by any means.

And if he does relapse from getting another tick bite? I would be expected to pick up the pieces without any support from my husband, who has said that there will be no more LLMD visits (LLMD is famous SF one who only takes cash and is $$$).

My belief system is and has been, if you knowingly do something you shouldn't, you can't complain about the consequences.

Please help me, I've been struggling with this issue for a month now, and can't seem to find a way through it.
Julie

--------------------
Julie


---

Posts: 1027 | From Northern CA | Registered: May 2001 | IP: Logged |

Janice70
LymeNet Contributor
Member # 16319


posted

---

I assume you will not be paying for any of the trip expenses.

When he is out in nature, will he be wearing long sleeved shirts, socks, and long pants, all sprayed with permethrin? Pants tucked into socks and shirt tucked into pants? Skin sprayed with DEET? Bringing a stash of doxycycline in case he notices a tick bite?

If he won't talk to his friend about avoiding tick infested areas, I think you should discuss it with the parents.

Emphasize with your son the financial and dating consequences of getting another tick bite. You won't be paying for treatment, so all his previously disposable income will go to treatment. He'll probably go into debt. Girls want guys who have money to spend on them, not sick guys in debt.

---

Posts: 311 | From CA | Registered: Jul 2008 | IP: Logged |

Just Julie
Frequent Contributor (1K+ posts)
Member # 1119


posted

---

Cactus, I got your PM, but your mailbox is full, so I can't reply to yours!

Janice, no, he is paying from his savings that he's put away for his 2 yrs of working full time since he got out of high school.

He really hasn't been "out in nature", since I have vetoed every camping/outside mountain type trips associated with his schools, since 2000, when our lyme nightmare first started. We live with open space, and ticks right out our backdoor, so we have completed curtailed any activity that is not on concrete/pavement in our neighborhood. It has been a total life style change, with education every step of the way!

You would think, that having been done, that this would not even have come up. The wild card in it all is my son's friend, and his parents. All of whom I know, and they know I have been dealing with lyme, but they do not know details, just that we do not go off into brush areas, off the trail, etc.

I did discuss it with my son's friends mother this morning. I could barely get through what I had to say, and it was awkward feeling to me. She assured me that they would be traveling in cities/towns, and not off into nature, or woody areas. In Portugal, one of their stops, she told me that the dogs that are just hanging about in the streets, all have ticks everywhere on them! I cringed. She said, but of course "they're dog ticks" and shrugged. I felt my heart drop. Seems to be a losing battle. She said "there's lyme in Europe"? So I again knew the educational level that I was dealing with, with this issue, and I am not up for pushing my stance on this matter.

My son knows how I positively am against this trip. The variables that will present themselves will be more than he can handle, I know that for a fact. I did not think about having him take a bottle of doxy, but I will now, if I am even a part of this when it comes about, which is this July.

My husband is not going to say a word about the whole deal. He seems to be uninvolved, and has no respect for how I feel. The marriage, well, ah, that's a different subject, but goes along with how I feel very alone in this dilemma.

I am so very tired. I have told my son that I will not be the caregiver, if he comes back with a tick bite and needing treatment. I am just done. Sounds strange to say and even think that I am going to be not "there" for a potentiall ill child, but I have been more than clear on this subject, and no one seems to be hearing me.

Janice, thank you for replying, I will take your points and present them to my son. And Cactus, I hope I can reply to your PM if you clear out your mailbox.
Julie

--------------------
Julie


---

Posts: 1027 | From Northern CA | Registered: May 2001 | IP: Logged |

charlie
Frequent Contributor (1K+ posts)
Member # 25


posted

---

....The last few times we went to CT (in a particularly endemic area too) we took amoxicillin as a prophylactic, since it doesn't require your immune system to mount a response and gets it while in the bloodstream.

Then one of the tetracyclines upon returning home...I forget which drug it was.

All was well. Waiting for a bite is unwise...it's inevitable and the abx won't hurt you. Don't listen to anyone who says it will.

My non professional 2 cents worth.

Charlie

---

Posts: 2804 | From Texas | Registered: Oct 2000 | IP: Logged |

cactus
Frequent Contributor (1K+ posts)
Member # 7347


posted

---

Charlie, that's a great idea - address it ahead of time, that way bite or no bite, you're covered.

Julie, I cleaned out my box.

--------------------
"Did you ever stop to think, and forget to start again?" - A.A. Milne


---

Posts: 1987 | From No. VA | Registered: May 2005 | IP: Logged |

adamm
Unregistered



posted

---

If he's going to be in a hyperendemic area, perhaps you could get him 3 months of abx to take with "just in case."

---

IP: Logged |

Just Julie
Frequent Contributor (1K+ posts)
Member # 1119


posted

---

thank you guys. I will PM you tomorrow Cactus. I have no problem with taking/giving abx, either before, or after.

I know waiting for a bite is unwise Charlie. I"m more preventative minded, rather than a mop up after the inevitable. It's my personality, nurse's training, firstborn, take charge nature. I've stopped fighting it, and am trying to get my innate inborn personality to "let it go".

Oh, did I mention I was a Girl Scout?

You folks are great. I knew the support would be here, where else would I be able to find other like minded people who've been through something like this, similar, or have situations that they've already lived through? No where. That's why I'm still here.

--------------------
Julie


---

Posts: 1027 | From Northern CA | Registered: May 2001 | IP: Logged |

bettyg
Unregistered



posted

---

do you have under our skin dvd?

could you arrange for son's friend/parents to come over and watch it with you? just a thought...

---

IP: Logged |

Wimenin
LymeNet Contributor
Member # 15294


posted

---

Im a parent with two kids in their 20's. All I can say is, you have to let go and let them make choices for themselves. Its not easy, and you're being a great parent by giving smart advice, but, ultimately its their life, their choice, and they're probably going to do what they want anyway.

And as much as you would say you wouldnt go through it again, as a parent, you would do it again in a heartbeat, because being a good parent means being supportive, even when your kids do things against your wishes.

Perhaps prevention is the best medicine, and using permethrin soaked clothing (bagged and only used for those hikes), would offer some great protection.

---

Posts: 514 | From . | Registered: Apr 2008 | IP: Logged |

lpkayak
Honored Contributor (10K+ posts)
Member # 5230


posted

---

W said:

--------------------------------------------------------------------------------
Im a parent with two kids in their 20's. All I can say is, you have to let go and let them make choices for themselves. Its not easy, and you're being a great parent by giving smart advice, but, ultimately its their life, their choice, and they're probably going to do what they want anyway.

i agree-and was about to say something like that. my kids are now 40,36,26, and 25. all but the 36 yr old have been dx and tx more than once.

they are adults. they also have this messed up thinking that comes from growing up seeing me so sick with lyme and dealing with it them selves-taking cooler to school so their probiotics would stay cold etc.

there is something to say about letting them go and enjoy themselves too..there's no gurantee it won't come back and no date now that we know of when we will be able to accurately dx and tx to cure.

they need to have some fun when they can. my kids chose really healthy living-good food and a lot of exercise and that i believe has helped keep their loads low and prevented them from getting real sick again.

that said-i believe staying on amox makes a whole lot of sense , using doxy after a bite makes sense too-but of course you don't always know when you get bit and please remember!!!

i don't know why this message doesn't take hold!

permethrin kills ticks...deet doesn't. don't mis them...but a very small amount of permethrin will kill ticks before they can get on you...

--------------------
Lyme? Its complicated. Educate yourself.


---

Posts: 13712 | From new england | Registered: Feb 2004 | IP: Logged |

joysie
LymeNet Contributor
Member # 11063


posted

---

I am the parent of a teenager with lyme, and I have what is probably an unpopular opinion. Granted, her case seems uncomplicated, but..

We live on a wooded piece of property in MD. We have 3 dogs, cats and horses. All but the horses go in and out of the house. My daughter's only sport and passion is horseback riding, both competitive and for pleasure.

When we both got sick, I realized we needed to be extremely vigilant (I never really thought about the ticks before-they have been here for 20 years and blah,blah,blah). So we have been much more careful.

But we have never and will never stop having pets, being outside on our own property, etc. Call this foolish, but it's never even been a decision we made-the alternative means another change in quality of life that would be unacceptable.

Julie, you have educated him as well as you can. Get him on meds as Charlie suggested and then let him go to Europe. He'll have to be careful the rest of his life, and you won't be able to be there. There are ticks everywhere.

Best of luck to you. It is so hard to be a parent.
Kris

---

Posts: 520 | From Maryland | Registered: Jan 2007 | IP: Logged |

lpkayak
Honored Contributor (10K+ posts)
Member # 5230


posted

---

FOR THOSE WHO DON'T WANT TO READ THE WHOLE THING THE MOST IMPT PARAGRAPH IS THIRD FROM THE END-COMPARING DEET AND PERMETHRIN


www.wildernetwork.org/deet_vs_permethrin.html

DEET versus Permethrin
as a Tick Repellent
By, Tom Grier

Babel Fish Translation

star WILDER Home

star Quick Facts

With the best of intentions, parents across this country try to protect their kids from Lyme disease by slathering their children in gallons of tick repellent. But what says tick repellent on the label is usually nothing more than mosquito repellent given a face-lift. Thanks to aggressive marketing by manufacturers, it is difficult to find a tick repellent that doesn't use DEET as its main ingredient.

DEET is an excellent mosquito repellent, but it is a fairly poor tick repellent. The reason we are inundated with so many DEET repellents is because there are several huge corporations that manufacture hundreds of variations of DEET products. Only a few manufacturers use the more effective tick repellent ingredient approved for human use: 0.5 % permethrin.

Permethrin is a synthetic pyrethoid insecticide that is widely used as an insecticide in both agricultural and home applications. There are pros and cons to using either DEET or Permethrin for personal use, but when it comes to efficacy of disabling ticks before they can feed on you: Permethrin wins hands down!

Permethrin is a spray that is used on clothes only! If ingested permethrin is toxic and can cause a variety of neurologic symptoms, and prolonged exposure in rats caused lung cancer. It is also highly toxic to aquatic systems and fish. For this reason care must be given to using pyrethroid insecticides on yards that drain to near by aquatic systems. When permethrin is sprayed on clothing, it becomes odorless and can last for several weeks with a single application. Once it is applied most ticks will curl up and fall off if they make contact with the clothing, and the ticks will eventually die if there is prolonged exposure. Care must be given to all insecticides to ensure that they are as safe and effective as they can be without human and ecological side effects. Permethrin is used in over 100 million applications a year in agriculture and home use. But its use as a tick repellent on clothing is a tiny fraction of the amount used world-wide for insect control. The military tested permethrin on soldiers and published a 67 page report of its efficacy and safety. In these studies soldiers completely saturated their clothes inside and out with permethrin and let them dry and then used DEET on the skin and outside of the clothing.

For domestic use, smaller amounts of spray are quite effective for most day hikers and campers. Permethrin sprays are best applied to clothing outdoors in well ventilated areas, applied directly on the outside of clothing especially in those areas that are most likely to come in contact with ticks including: shoes, socks, pant legs, belt lines, cuffs, collars and hats. For further protection from ticks and mosquitoes, mosquito sprays containing 35% DEET or less can be applied to bare skin.
------------------------------------------------------------
Pros and Cons:
DEET needs to be applied regularly and can only work as it is evaporating. Permethrin works for weeks after it has dried on clothing fibers.
DEET has a pungent aroma and works best when you
can still smell it evaporating Permethrin is odorless when dry and works for weeks.
DEET is applied directly to the skin and can be absorbed through the skin. Permethrin is applied to clothing only and has limited contact to the skin.
DEET does not kill or disable ticks, and is a poor tick repellent. Permethrin works instantly and is extremely effective. It is the tick repellent of choice by the military. It also kills many other biting insects but is a poor mosquito repellent.
DEET can melt synthetic clothes like nylon. Permethrin causes no damage to any known cloth or synthetic fiber.
DEET products are easy to find. Permethrin is hard to find and more expensive.
DEET also repels fish and is not a good tackle box buddy. Permethrin is directly toxic in small quantities to fish and care should be taken to minimize its exposure to aquatic systems.
DEET has been implicated in causing neurological symptoms by absorption through the skin. Permethrin is applied to clothing not the skin, but also is neurotoxic in animal models when ingested.
DEET is an excellent mosquito repellent but a very
poor tick repellent. Permethrin causes ticks to curl
and die on contact.
----------------------------------------------------------
Permethrin containing products that are approved for human use ae manufactured by Coulston labs, and can be found under labels such as Duranon, Permanone, Repel w/permethrin, and Congo Creek Tick Spray. A 0.5 % veterinary permethrin product can be found in most feed stores and horse supply shops as a horse tick repellent. The veterinary products tend to cost about half the price per ounce as the human-use product.

In a field test that the Minnesota Insect-Borne Disease Education Council did in Jay Cook State Park in Northern Minnesota, they found that the permethrin products out performed the DEET containing tick repellents. A walking shoe was sprayed with Duranon 0.5% permethrin and then three weeks later it was tested against its matching mate that was sprayed with Deep Woods Off 35 % DEET. The ticks that made contact with the Duranon shoe immediately rolled up and dropped off. The ticks on the soaking wet DEET saturated shoe continued to crawl unimpaired.

To avoid ticks wear light colored clothing. Tuck your pants into your socks. Tuck your shirt into your pants, and wear a hat. Spray your shoes, socks, belt-line, collar, and hat with a permethrin containing tick repellent. (Ticks like to move upward so tucking clothes in is quite effective). Do a tick check after walking in high-risk areas, and put any clothes that might have live ticks on them into a hot dryer for thirty minutes to kill all insects. Keep your Family Safe ! Do Tick Checks !

To view a document with more information on Permethrin's toxic effects to aquatic systems go to:
www.pesticide.org/Permethrin.pdf

--------------------
Lyme? Its complicated. Educate yourself.


---

Posts: 13712 | From new england | Registered: Feb 2004 | IP: Logged |

opus2828
LymeNet Contributor
Member # 15407


posted

---

I have thought about this many times. I am the mom of two kids who are still young - ages 6 and 3 - and currently treating.

It scares me to think that one day, they will have to make their own decisions about their health. But, they will.

What you want most is to protect your son - that's what a mother wants.

Since you can't be there to protect him, I think taking the doxy is a great idea.

I would start it before he leaves and continue it for at least 4-6 weeks after he returns.

This is the only way he could be protected.

And if he chooses not to take the doxy, well you've done all you can do. Say a prayer and hope all goes well.

But, I know as a mother, it still gets to you.

Good luck with this.

---

Posts: 581 | From CT | Registered: May 2008 | IP: Logged |

Just Julie
Frequent Contributor (1K+ posts)
Member # 1119


posted

---

thank you all. All perspectives are taken in, and I appreciate each and every one who has taken the time to tell me their story and opinion. Those that have walked ahead of me on this, with older children, those are the stories that I absolutely need to let sink in.

But, thank you all. Really.
Julie

--------------------
Julie


---

Posts: 1027 | From Northern CA | Registered: May 2001 | IP: Logged |

Dawnee
Unregistered



posted

---

I would get him some abx to be taking as a precautionary measure. Hand him a bottle of bug repellant and leave it at that.
My 15 yr old daughter has Lyme disease. Shoot.. so do I, my husband and probably our younger two.
We still go camping, hiking etc. We don't want to be so cautious that we don't live our lives doing what we love to do.
We are as careful as we can be.. bug spray,long sleeves, careful tick checks etc. My 15 yr old will be on her way soon on a week long canoe/camping trip with her youth group.
Yes...I worry about ticks. Always will.
But I won't let my kids be scared of the outdoors either.

---

IP: Logged |

jblral
LymeNet Contributor
Member # 8836


posted

---

I have a 17 year old daughter who is finally much better after having been quite sick for 3+ years. We had more than our share of parent/child battles like what you describe. One of the most important lessons I've learned through all this is to let her make her own decisions. When we have a disagreement like this, I state my case and then let go. (It's hard, I know.) I learned a lot from reading the book "Loving What Is," by Byron Katie. It's about not tearing yourself into pieces over things you can't change. Interestingly, I find my daughter makes BETTER decisions when she knows the ball is totally in her court.

---

Posts: 991 | From California | Registered: Feb 2006 | IP: Logged |

lymeparfait
Unregistered



posted

---

Hang in there "just julie"

You are not alone.

It's hard to let go, but that is what we as parents are called to do. It's so hard to do this knowing about lyme!

I have let go, and then I take it back! IT's hard to keep sane knowing what this disease can do! Caring for my teens is my constant struggle...even more than my own physical problems with lyme.

My ND told me recently that I wuld not get better if I did not let their situatins go...and take care of my own health first.

My son is now in the military!!!! I freaked out when he told me that was the life he wanted! He has been living in the woods and in god forsaken places, with so many pathogens and who knows what type of biological warfare chemicals. So a camping trip or walk in the woods is mild to me now! But it's still the same outcome if they get infected or reinfected.

On the brighter side...he feels loved and supported by me when I was able to truely tell him, that I have let him go, and It is his life!

I have told him more times than I should about how to protect himself, and what to do if, etc...so much so that he asked me never to mention the word Lyme to him again. He says, "mom, just let go. god has me in his perfect plan." then I cry, hug him and let him choose his life and battles.

A mother never truely lets it go...but she can move forward in peace, knowing she has done her best while he is in her care.

When our children need us, they will come to us. I Keep notes for them and their medical history for when they need it or for if it is passed to their children.

I pray for all mothers of children with lyme!

LP

---

IP: Logged |

Just Julie
Frequent Contributor (1K+ posts)
Member # 1119


posted

---

thanks Lymeparfait . . . I like your "move forward in peace" comment.

Unfortunately, for this mother, my son has NOT moved away from home. I have told him that that is perhaps what he should do, if he wishes to choose unwisely. And then, paying his own rent, buying his own food, doing his own laundry (he does this here, but it's with a mom provided washer/dryer!) cleaning his own bathroom, paying for his own car/insurance, etc., then I truly would be able to "let go".

I think this is truly the crux of my issue. While he wants to be able to go out and make his own choices (where to go on vacation, which is what this issue is all about), and sure, he can go ahead and do that as an "adult", he's not living like one (an adult). He's 19. A lot of 19 yr olds are still in their parents care, if not while physically living at home, perhaps living away at college, with expenses being covered. At least medical benefits/care.

I will always worry for both my sons--ages 16 and 19 now. Forever, and always.

I believe I will have an easier time of it when they are not physically in my care, in my home. And then, when/if they need help with healthcare issues (yes, I'm still a nurse, so cognizant of what THAT--*health care* -- truly means) I can step back and give them all the wisdom that I have come to acquire in my horrendous nightmare that lyme disease has come to mean in my life.

But until then, well. I wake up and still have the dead weight of realization that it will be my world, my reality, if a son of mine makes a decision to choose foolishly, and continue to live under my roof, with my rules, and my monetary responsibility in place.

It's harsh, but it's where I'm at. I would completely be able to "let it go" if he were not living at home.

Again, I appreciate all the input!

--------------------
Julie


---

Posts: 1027 | From Northern CA | Registered: May 2001 | IP: Logged |

lpkayak
Honored Contributor (10K+ posts)
Member # 5230


posted

---

i just had another thought-not for you julie cuz of distance-but for others who are reading this

one thing i did when my kids were really rebelling about tx in high school is i made them go see a social worker who specializes in counseling children with lyme

she happened to live near us-she is at many lyme conferences ets and vey knowledgeable

she is located in ct or ny

if anyone wants contact info just pm me

i made them each have one appt and counted on her to let them know the truth about lyme..i figured they were rebelling agao=inst me so if i took me out of the picture maybe they would hear the message-i don't know if they did but i know they finished college and are both working on doctorates---one is studying artemesia!!!

--------------------
Lyme? Its complicated. Educate yourself.


---

Posts: 13712 | From new england | Registered: Feb 2004 | IP: Logged |

Lymepool
LymeNet Contributor
Member # 15827


posted

---

This is an amazing thread! So full of information. Special thanks to ipkayak for the DEET/Permetherin info.

I have a teenager with Babesia/Bartonella and I definitely "hear where you are coming from", Just Julie. The fact that our lives become so controlled by the actions, foolish or not, of our teens can be overwhelming.

When I get really concerned about a risk, I ask myself the question, "Is this as risky as being in a car?" Around 40,000 people are killed every year in car accidents, and many more are injured.

Yet, almost every day, I get in my car, buckle the seat belt and drive on. The car has airbags, good crash test ratings, and I watch my driving as well as the other cars on the road. I have chosen to live a life outside of an easy walk from my house. I do what I can to reduce the risk, but I think about what I need to gain, like my paycheck.

I live in an area with deer and ticks. I don't go into the woods, but others do. It is possible that I could brush up against someone in the grocery store who has ticks on their clothing. The neighbor's dog rushes out of the woods to greet me in the yard. You never really know. Just be prepared as best you can and have a good fall back position.

If I'd know three years ago, that an afternoon outside at school in a "special" program meant crawling around in the brush, I would have sprayed my kid down with some sort of "bug juice". (I knew it would be sunny, so I did put on the sunscreen.) Have had to deal with the fact that I am only human and can't always predict the future.

Would I have actually kept her out of the program, knowing what I do know now? I doubt it, I would just take the preventive measure and taken her straight to the LLMD for a round of antibiotics/testing if I found ticks like I did the evening after the woods adventure. (Kept watching for a bullseye rash, but she got babesia instead of Lyme. )

That day in the woods opened up a sense of wonder at the world and created a sense of "one could survive, if necessary, in tough conditions". A good lesson. That idea of pushing on is getting us through the trials of this illness.

I was fortunate to travel to Europe as a young adult with a friend. Even though I had been away to college and out of the house for a few years, the trip gave me a sense of really being "grown up" and able to function on my own. I gained a knowledge of my place in the world as an independent person, not just others taking care of me.

I'm looking forward to my teen being old enough, well/strong enough, to make this trip someday. I, on the other hand, hope to be on a cruise in the South Pacific or maybe riding a camel past the pyramids in Egypt.

---

Posts: 170 | From New Jersey | Registered: Jun 2008 | IP: Logged |
Contact Us | LymeNet home page | Privacy Statement

Powered by UBB.classic™ 6.7.3

---
The Lyme Disease Network is a non-profit organization funded by individual donations. If you would like to support the Network and the LymeNet system of Web services, please send your donations to:
The Lyme Disease Network of New Jersey
907 Pebble Creek Court, Pennington, NJ 08534 USA
http://www.lymenet.org/
---
Home | Flash Discussion | Support Groups | On-Line Library
Legal Resources | Medical Abstracts | Newsletter | Books
Pictures | Site Search | Links | Help/Questions
About LymeNet | Contact Us
---
© 1993-2020 The Lyme Disease Network of New Jersey, Inc.
All Rights Reserved.
Use of the LymeNet Site is subject to Terms and Conditions.
---