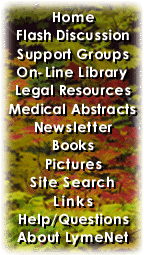 ---
LymeNet on Facebook
LymeNet on Twitter
---
---
The Lyme Disease Network receives a commission from Amazon.com for each purchase originating from this site.
When purchasing from Amazon.com, please
click here first.

Thank you.




Dedicated to the Bachmann Family


LymeNet needs your help:
LymeNet 2020 fund drive

The Lyme Disease Network is a non-profit organization funded by individual donations.

| | |
| --- | --- |
| | |
Author
Topic: Aphasia (long-term inability to speak)

swachsler
LymeNet Contributor
Member # 18155


posted

---

I got Lyme and Babs in Jun 07, tho I was only tx for Lyme, and too minimally. Eventually I had a full-out collapse of all functioning. Part of this was aphasia, which I still have.

Has anyone else experienced long-term inability to speak? I mean, I open my mouth and I feel my diaphragm exerting to push out sound, but nothing comes out. I can usually making a short humming sound (mouth closed), but most of the time can't make any sound EXCEPT if it's "unintentional," i.e., I can yell in surprise if I'm startled, but if I try to yell on purpose, nothing comes out. Same thing with spontaneous laughter.

Occasionally my voice comes back late at night, starting out squeaky and quiet, and eventually sometimes returning to my regular, strong voice, but it always goes away when I go to sleep.

I've been using writing, typing, and sign language to communicate since Nov. 07. I have a lot of neuro Lyme symptoms (auditory hallucinations, mood/personality/psych changes, etc.,) but the voice thing seems to be a combination of muscular (diaphragm not moving right or too weak - I always have less voice if I've stood or walked or otherwise used my abdominal muscles the previous day) and neuro.

Has this happened to anyone else? If so, how long did it take to regain speech? What tx did you use?

Currently I'm on Mepron, artemisin, Zithromax, Bicillin, Cholestryamine, and Nystatin. Thanks for any info.

---

Posts: 223 | From Western Mass. | Registered: Nov 2008 | IP: Logged |

lymeladyinNY
Frequent Contributor (1K+ posts)
Member # 10235


posted

---

Hi swachsler - I, too, have this symptom but it's not as severe as yours. There seems to be no rhyme nor reason to this for me. I might go months having no difficulty, and then suddenly I'll have days upon days where I can't speak.

It comes and goes without warning and I don't know how to treat it. It seems to be connected with babesiosis for me. Your current treatment is similar to mine. How long have you been on this treatment?

It seems like when I started treating babesiosis last fall the symptom went away again.

I feel for you. I know that when I was writing notes to everyone they complained they couldn't read my writing or they were just too impatient to "listen". Very, very frustrating.

Take care - Lymelady

--------------------
I want to be free


---

Posts: 1170 | From Endicott, NY | Registered: Sep 2006 | IP: Logged |

shelly23
LymeNet Contributor
Member # 16124


posted

---

You should get a hold of genal she is a speech therapist who herslef had language speaking problems

--------------------
Shelly
~ IGM~Positive
CDC Positive
23-25 +
31+++
34++
41+


I am a Dreamer, Believer, and Conquer; I will overcome this disease !!!


---

Posts: 382 | From Alabama Via PA | Registered: Jun 2008 | IP: Logged |

seibertneurolyme
Frequent Contributor (5K+ posts)
Member # 6416


posted

---

Hubby has had lost his voice a few times, but I think the longest episode lasted only 8 hours. These episodes happen when he has a very severe attack of neuro symptoms.

Swachsler,

Not sure if a brain SPECT would be helpful or not.

Here is a link to a little girl who not only lost the ability to speak but was close to paralyzed as well. She seems to be making a remarkable recovery. Both speech and movement are improving. There is a link to email her mom if you want on that site.

http://www.caringbridge.org/visit/kayaraigh

Hope you can find some answers soon.

Bea Seibert

---

Posts: 7306 | From Martinsville,VA,USA | Registered: Oct 2004 | IP: Logged |

bettyg
Unregistered



posted

---

welcome! glad you came out publicly after i sent you my welcome post early this am!!


i'm so sorry for your loss of voice. i was a secretary for 26 years answering phones daily, and i had this problem too when my voice would come/go all day long, BUT NOTHING LIKE YOU.


member GENEAL is a former speech pathologist; she posts in SUPPORT, and has recently started working.

so go to support and look for a POST GENEAL STARTED, and from there copy your link above, and send to her on pa private message and she could reply PUBLICLY so her words will help many members vs. only 1 ...

good luck! we're here for you. check out the caring bridge site ... many lyme folks there!

---

IP: Logged |

swachsler
LymeNet Contributor
Member # 18155


posted

---

Thank you, thank you, thank you! I am sitting here crying, because I have been trying for 16 months to find other people who understand. And when I first posted this, I checked it almost every half hour, and there were no replies, and I thought my loneliness would just continue.

This means so much to me.

I actually did post when I joined a few months ago, to an old thread, I think it was LymeLady's, but either I didn't do it correctly or nobody saw it.

I actually found out about Lymenet because a friend of mine is a member, and she saw a thread about someone who lost her voice for a day. I printed it out and highlighted all the relevant sections and mailed or brought it to all my doctors. I don't think a single one read it. That was before my positive blood tests. Now that the Igenix faxes say "positive," it's a "real" symptom....

I've wanted to come to Lymenet for info and support before, but was too cognitively impaired to figure out how to get to the forums! Today, I've spent all day hopping from one thread to the next!

OK, to respond to your questions and comments....

LymeLadyNY - Yes, sometimes it is without rhyme or reason for me, too. I can go two weeks without being able to utter an intelligible word, and then one day, in the evening I'll get "squeaky" (Minnie Mouse on helium) and then over time it gets stronger, and wahla! I sound like my old self. (And I call as many people as I can.) And the next day it's gone.

When I did an antibx-provoked urine test (before my poz bloodwork), I injected Rocephin and Bicillin IM and for 3 glorious days in a row, my voice worked most of the time. But once I went on bicillin regularly, it went away worse, and then when I went on Mepron, it disappeared completely for many weeks, without respite.

There are some things that are relatively predictable. If I get super sleep deprived, it goes. If I leave the house, it goes. In fact, it had come back for most of every day for two weeks a year ago, and I thought I was cured, then I went in for a liver sonogram (1 hour, round-trip), and it was gone again -- worse than before -- for months. In July, a good friend died, and I went to the memorial, which meant 4 hours in the car and another 3 or 4 at the shul, and since then, I've almost never had a "normal" voice day.

OK, my partner just brought me in some food and I showed her the posts and sobbed, and now I have to eat, but I will reply more later.

---

Posts: 223 | From Western Mass. | Registered: Nov 2008 | IP: Logged |

swachsler
LymeNet Contributor
Member # 18155


posted

---

OK, I'm back.

Abt tx: I self-diagnosed in July 07. I've actually been disabled by (non-tick) chronic illness since '95, so I missed some of the initial symptoms bec I was mistaking them for my "regular" symptoms, but then I got joint pain, which was totally new, my PCP largely shrugged it off but said "Lyme test," I looked up the symptoms online, remembered the *something* I'd pulled off the nape of my neck 3 wks earlier that had left a big bug bite, saw the new flat, big red blotch there, and bec I'm allergic to Tetracycline, I was put on Amoxicillin.

I herxed on that (though I was not familiar with the term or the concept, which turned out to be a big problem later) for about a month and over time everything got better BUT the rash. Also, I turned into a crazy, mean B#@*! Which I did not recognize as a symptom. And I had the most agonizing periods of my life, where I was vomiting with pain, which I didn't connect to Lyme. I was also having babs symptoms I didn't recognize as symptoms bec of too many other symptoms from my previous disabilities and bec I was so cognitively impaired.

Anyway, after about 3 months of almost ruining my LTR with rage and suicidality, etc., we suddenly realized that my Ms. Hyde personality coincided w/the start of antibx. Since I've frequently had bad reactions to drugs, I went off it. Within 24 hours, my personality had mostly normalized and within 36 my Lyme symptoms had roared back. I went on Cefuroxime. I switched to an LLD, who doubled that dose and added a 7 day/monthly pulse of Flagyl. More herxing.

I had various tests: abnormal CD57, abnormal ISAC panel, some abnormal monocyte and leukocytes, but always the TBD were negative or ind. I had the rash biopsied, BUT there was a miscommunication between surgeon, LLD, and lab, and they only tested for Lyme, not babs or bart, which had been our intention. A month later, it came back negative.

I was getting worse, and then I went on Rifampin for a week, which felt like I was murdering myself. By the time I went off it, I was in horrible body pain, 24/7 migraines, vertigo, nausea, etc. Soon after, I lost the ability to speak and largely to move. My friends and partner thought I was dying and essentially forced me to go to the ER, where they found nothing wrong except my elevated liver enzymes (thank you, Rifampin), and where I had a bad reaction to IV morphine and got no nausea relief at all from their strongest IV anti-nausea med.

(That was the beginning of many months of intermittent, usually partial, paralysis, so I'm really interested in talking to that mom mentioned above.)

I've pretty much been in bed full-time since. Now, on a good day, I transfer to my powerchair once or twice a day to go to the kitchen for food and can do some parts of personal care w/assistance. On a bad day, I have too much pain, weakness, and exhaustion to move limbs, transfer to commode, feed myself, etc.

Anyway, I stayed on 1000 mg 2xday Cefuroxime and the monthly Flagyl pulse until Feb 08, when my LLD said she couldn't "justify" treating me anymore w/out "proof" and told me the meds weren't helping anyway, I might as well go off. And because my partner revealed some of the goofier aspects of my voice problem, my LLD suggested a psychiatrist.

More aphasic weirdness backstory: When I originally lost my voice, *some* of the time I could sing, or speak French or German in a perfectly normal-sounding voice, even when I couldn't speak intelligible English. Even though I researched aphasia and discovered it was not unusual to have bilingual aphasia (can speak in one language but not another), and that stroke survivors often use singing as speech therapy (because they can sing but not speak), almost everyone decided that if I could sometimes sing or say a sentence or two of French, I must be nuts. (The *only* medical professional I ever saw who showed genuine curiosity to discover the cause of the problem and help me, and did not at all get weirded out by my vast array of symptoms, was a wonderful SLP. I even made him an audio tape because he wanted to consult with other professionals! Sadly, I was too sick to ever go see him or his colleagues again.) For the record, now my vocal capacities have deteriorated, and I can only sing when my voice is mostly on its way back anyway. (I use that as my home-grown SLP technique to nudge it along when it's weak, but has potential), but I can no longer parle Francais or specht Deutsch.

I went untreated until Oct. 08, when I had what I considered to a miraculous response two - five days post IM injection of Rocephin and Bicillin (voice returned, improved cognition, various herxing), and then the magical positive Lyme and babs blood tests, which my LLD was ecstatic over, and totally changed her attitude about treating me. I now understand, especially from the clips I've seen about Under Our Skin, that she wanted to help me before but felt like it was too much of a risk for her. And now she knows what a babs rash looks like (turns out it's probly not an EM after all, and I do still have it).

Oct. 08 I started bicillin 3xwk, and went through big-time herxing. A month later (Nov. 08) went on Zithro and Mepron (more severe herxing). I started to do a bit better in late Dec/Jan, including reduced body pain and weakness, more normal personality/moods, and some reemergence of my voice, then went to 3xday 200mg artem and mostly crashed/herx. We upped my bicillin to every-other day a month ago, and my voice has totally disappeared again, plus bad psych symptoms again. I'm not sure if I should stay the course or not. I only just learned a few days ago that there's such a thing as overherxing (that it can be dangerous).

Really, what I want is Rocephin, but I'm afraid of the PICC line.

This is a novella, and I'm wiped out, but if you're read this far - THANK YOU!

I'm very eager to check out that link above, and will continue to answer questions and hope to swap info with others about anything Lyme/co-related, especially aphasia stuff.

Will post more another time. Again, thank you, thank you, thank you. Please, keep posting. I've been in a drought, and this is like a little oasis.

Peace,
Sharon

---

Posts: 223 | From Western Mass. | Registered: Nov 2008 | IP: Logged |

bettyg
Unregistered



posted

---

sw, so glad you feel you are NOW getting the much needed support you needed along time ago when you joined!!


nothing is better than; I'M NOT ALONE; THERE IS HOPE, AND SUPPORT ELSEWHERE !!

---

IP: Logged |

Geneal
Frequent Contributor (5K+ posts)
Member # 10375


posted

---

Hi.

Aphasia is a language disorder.

Not a voicing disorder.

Inability to understand what is being said to you (receptive aphasia)

Or inability to find words, finding the wrong words, grammatical errors,

Errors in writing, reading, etc.

I would highly recommend that you see an ENT.

It sounds like apraxia of the vocal folds.

However, no Speech Therapist is allowed to address voicing concerns

Without a diagnosis and recommendations from an ENT.

You may have some Vagal nerve issues (Lyme loves this cranial nerve)

The Vagal nerve innervates the vocal folds.

Singing is a "back door" into the "language" areas of the brain.

Most often used with those who are globally aphasic,

Or have severe dementia.

"Singing" is stored in a different area of your brain that speech/language.

Please PM me if you think there is anything I can do to help.

You don't need a Lyme Literate Medical ENT.

It would be nice, but you just really want to get a

Specialist to determine why you are unable to attain voicing.

Then if appropriate, a referral to a Speech Therapist for therapy.

Hugs,

Geneal

---

Posts: 6250 | From Louisiana | Registered: Oct 2006 | IP: Logged |

swachsler
LymeNet Contributor
Member # 18155


posted

---

Hi Geneal,

I do have some of those other cognitive symptoms you describe. However, I already had them to some degree before Lyme. I suffered chronic carbon monoxide poisoning in 1995, along with some other chemical exposures, and have CFIDS and MCS as a result. So, I already have problems reading, concentrating, sometimes can't take in what others say, have stimulation overload, can't find the right words, etc. (e.g., before I post anything, I have to check it again and again for the places I left out words, used words that sound similar but have totally incorrect meanings to the ones I meant, places I wrote the opposite of what I mean -- like not using "not", etc.).

It all got a lot worse with Lyme&co, however, and some of it has a different feel -- different types or shades of cognitive dysfunction than before -- too.

But yes, that's a different problem than the voicing. For instance, I already knew some ASL (thank God) before I got Lyme&co, so a lot of the time I sign to communicate now, and when my cognition is bad, I often have problems with using the opposite sign of the one I mean, forgetting signs, doing them backwards, etc., which feels just like the cognitive impairment I have when I'm speaking.

I did see an ENT. That was one of the first referrals I requested from my PCP.

I was pretty sure he would say there's nothing wrong with my vocal cords, because *some* of the time (and especially back then -- it's less often now), I can talk, and sound 100% normal.

Also, except for rare occasions when things are really bad, I can make a short humming sound (mouth closed), which I can change in pitch and inflection to indicate "yes" (mm-HMM) or "no" (UM-mm) and feel my vocal cords vibrate.

So I went to an ENT, and he told me my vocal cords are fine. He checked everything that I guess ENTs check, and said it was all fine.

He said I should see an SLP, but I'd already planned to see one anyway, because I was doing the desperate rounds of doctors, trying to get help.

But now, I can't see an SLP or anyone else because I'm too sick from Lyme & co (bedbound), combined with my other, existing disabilities (can't take the exposures due to MCS). I've learned that, since The Great Lyme Crash (post-Rifampin), going anywhere sets me back months, or seemingly permanently, and I'm not going to do that for something that *might* eventually help (though I doubt it) for reasons I explain below.

One thing I don't think I explained yet is that it seems definitely to be related to levels of muscle pain and exhaustion. For example, for a long time I was too weak to sit up or stand, and if I did, I could feel that it required my abdominal muscles to work more than they were able, and the next day and/or following days I was sure to have no voice. It feels like my diaphragm would get too weak. I don't know exactly what the mechanism is, but I wonder if maybe there is some sort of neuromuscular weakness/paralysis of my diaphragm sometimes?

Like, when I used to be able to sing, or speak French (which, again, I can't do anymore now that it's worse), I was making those sounds "from the top of my head" -- high pitched -- like, through my nose, like humming, not "from the diaphragm" as you should. French is a very nasal language, so I don't know if that's why, or if it's neuro because French and German were languages I learned and/or heard growing up.

Let me try to explain what seems to happen: if I try to speak, I feel myself take a breath (chest and belly expand, which hurts -- most of the time I have to breathe shallowly) and then the flow of air seems to stop when it gets to my mouth. If I try to force myself to speak (depending on how much voice I have, I may or may not be able to say anything intelligible), my muscles, including in my torso (chest, abdomen, etc.), get really painful, and I get really winded. That, in combination with a lot of other things, is why I think it's primarily a muscular issue.

I've discovered that sometimes I can force out a few words, very slowly and painfully, if I pin my chin to my chest and speak that way (with my head craned down). I can say "If...I...pin...my..." and then I'm too exhausted -- no air, even if I take breaths -- to get any more than that out.

However, there has to be some neuro component, because how come I can yell if startled or laugh spontaneously, but if I *try* to yell or laugh, I can't? (My vocal cords have to be fine for me to produce the kind of laugh or yell I do, which sound totally normal, don't they?)

Occasionally -- again, this is only if my voice is already on its way back, and I have something to work with -- if I'm *really* angry (which, because of Lyme Rage, happens more than I or anyone else would like), I can yell an expletive that I otherwise am not able to say or yell intentionally. Then I'll be surprised, and I'll try to "catch" the talking by saying more, and it doesn't come.

Another thing that's different now from when I routinely had a few hours of normal speech most nights, is that now, on the rare occasions my speech comes back, if I talk a lot to get my voice back to normal, and continue conversing, it stays around, but if I'm alone again for a while and not using my voice, when I next try to use it, an hour or two later, it's gone again. It didn't used to go away except during sleep. (Which is another reason I think it's related to muscle stuff, because I always wake up with a lot of muscle pain, and then often it diminishes somewhat after I've been awake for a while.)

I actually am not looking for an SLP, ENT, or any other medical person to work on my voice per se, because it's so clearly related to my Lyme and Babs that I don't see how they could fix it unless I get better. (Or, does anyone think otherwise?)

In fact, I've wondered if the other people I've heard of who have Lyme who have lost their voices also have babesia, because there are some times when the feeling like I cant breathe and not getting enough breath is a big component to not being able to voice, so I'm wondering if it only happens to people who have both? Maybe it's a combination of symptoms interacting?

My loss of voice coincided with all the other Lyme/babs symptoms and treatment things. For example, when I started bicillin, when all my symptoms got worse from herxing, is when my voice went away more, and when I went on Mepron is when it was gone all the time for weeks.

So, I don't think an ENT or SLP can do anything. I think I have to get better -- kill the bugs. I don't know if going untreated for so many months, when my voice got worse, means there's been permanent damage. I hope not. I still believe that eventually I will get better from these illnesses and get my voice back.

I know there was someone in Under Our Skin (I haven't yet seen it, but I saw this in a clip on youtube) who was using speech software, which I use too, who said he lost his voice; it seems like maybe after treatment his voice came back. That's what I'm hoping. Does anyone know?

Thanks again, everyone, for reading or offering insight, suggestions, links, etc. I really would love to talk to other people who have lost their voices like this, too, so if you know anyone, please ask them to get in touch.

-Sharon
P.S. I feel like I need to interject that I'm not crazy! This is absolutely real. Anyone who knows me knows I *love* to talk. I'm a writer, a lover of words (I actually read the thesaurus and dictionary for fun), with background in teaching, theater, and public speaking. Having to communicate in a second language in which I'm not fluent (ASL) or by notes/typing, pains and frustrates me deeply. It's been like torture. Nobody loves talking more than me.

---

Posts: 223 | From Western Mass. | Registered: Nov 2008 | IP: Logged |

swachsler
LymeNet Contributor
Member # 18155


posted

---

LymeLady-

You said "it seems to be connected to babesia for me."

That's my theory, too! But I don't have any hard data or obvious things to point to, it's more intuition and a few things I've noticed. (I mention it a bit in my looong post above.)

Can you please tell me why you think it's related? Do you know others w/Lyme AND babs who have lost their voice? Or JUST babs?

Can you tell me more about the symptoms you've noticed coming and going w/voice loss? Any details about what, when, etc.?

Thank you!
-Sharon
P.S. I don't know if some of these posts should be private messages? I'm not sure what the netiquette is for this. I also don't know how to do that, but if I should, please tell me.

---

Posts: 223 | From Western Mass. | Registered: Nov 2008 | IP: Logged |

Geneal
Frequent Contributor (5K+ posts)
Member # 10375


posted

---

Speech is the most neurologically complex act the body can perform.

While I agree that many of your symptoms are consistent with expressive aphasia,

Your voicing situation continues to sound like apraxia.

For example with apraxia, if I ask you to

"Light a cigarette" (something you've done before)

You can't do it.

However, if you aren't thinking about it or asked to do it,

You can just due to the autonomy of the act.

It is a disconnection between voluntary acts and execution.

So while you can laugh (automatic),

Voicing (voluntary) is disconnected somewhere between the message and muscles.

Breathing for speech is different than automatic breathing too.

Breathing exercises may help with the connection.

Try this. It is called a yawn-sigh approach.

See if when you yawn as you exhale the air, if you can get some voicing.

Start with an H such as Haw.

I have had diaphragm issues with babesia including diaphragm spasms.

While breath support is decreased and at times very weak,

I learned to shorten my sentences and say only what I had to

To get the message across. Like "come", "no", etc.

ASL is great but limits you to communicating to others who know it.

I know of a couple of breathing exercises that you can do laying down.

PM me if you are interested.

Let me know if the yawn sigh method helps at all.

It may take a few times to get it.

Sending you positive thoughts and prayers.

Hugs,

Geneal

---

Posts: 6250 | From Louisiana | Registered: Oct 2006 | IP: Logged |

swachsler
LymeNet Contributor
Member # 18155


posted

---

Geneal,

OMG! You're a genius! This is so exciting!

The yawning thing worked! I just did it!
I yawned, and then I tried it with "Haw."
And it came out great.

So then I tried saying "yawn" while I yawned, and then I could do it!

And right now I can speak one word, if I saw only one word, and it comes out normal.

I think this is related: sometimes when I'm trying to get my voice back, if I repeat something that I've just heard (like the last phrase from a book on tape), I can say that, but I can't say something that I just think of, off the top of my head. So, I just repeat the same sentence or phrase that I *can* say, over and over, and sometimes I can get my voice back that way (but sometimes not). Yes, I do a lot of things that would sound or look funny if someone else was around! (Sometimes I sign to myself, too, because I tend to be an external processor, and since I lost my voice, I can't really talk about my feelings anymore without external language.)

I can also sometimes, once I've gotten the parroting thing going, then speak words that I *see* (like, I have the word, "BREATHE" taped to my overbed table to remind me when I'm having Lyme rage), so after I was successfully saying, "Yawn," just now, I happened to see that and said, "Breathe," and it came out totally normal!

And now I can say the other phrase on the sign, which is "Take deep breaths"! And weirdly, it is easier to say it if I'm looking at it than if I try to say the same phrase looking away. I can say it intelligibly, but not as clearly/"normally."

However, now that I've just done all this talking -- sort of on adrenaline bursts -- I feel *really* wiped out. When I try to say other stuff, I'm getting more out -- more normal-sounding words -- but not as good as just one word or two words, and then it kind of trails off as my breath goes.

But this is the OTHER cool thing that just happened (I'm really on a high now!), after the successful "yawn" and "breathe" things, I could yell at the dog to be quiet! ("Quiet!") But I wasn't doing so well with trying to call him or talk to him otherwise, so I stopped trying, but when he barked again, I had a spontaneous response ("Quiet!") and then I tried just piggy-backing from there to "Good boy!" which worked! And then "Come here!" And it all sounded totally normal!

So now I can say about five words in a row, right out of the blue! I'm going to keep trying these things and see how they work over time. This is sooooo exciting! I'm going to forward these posts to my partner, or maybe call her upstairs and startle the heck out of he! Hee hee hee.

And yes, Geneal, please do email me. I just now figured out how to do private messages, so I'm going to post this and try that.

Excitedly,
Sharon
P.S. Now I can read entire phrases or short sentences aloud from this post! I have to stop and take breaths, and if I turn my head away and try to say something else, it gets "choppy" and whispery, but I'm definitely making progress.

---

Posts: 223 | From Western Mass. | Registered: Nov 2008 | IP: Logged |

swachsler
LymeNet Contributor
Member # 18155


posted

---

Geneal,

Right now, I am successfully talking to the dog. :-D

I have a HUGE smile on my face, I'm sitting here giggling to myself, I'm so happy. It's AMAZING to feel like I have any control over this!

Honestly, that's been one of the hardest things about losing my voice, is the total unpredictability of it. In a way, it's sometimes been more difficult to deal with when it comes and goes than when I don't have it at all, because of the constant adjustment and sense of loss and disappointment when I think it's come back, and then it's gone again.

You said, "It sounds like apraxia of the vocal folds.

However, no Speech Therapist is allowed to address voicing concerns

Without a diagnosis and recommendations from an ENT."

It sounds like there are different kinds of apraxia. So you are saying this is apraxia of the "vocal folds." Can you explain more what that means? It sounds like a neurological issue.

But then, it also sounds like a vocal cord issue (?) and that an ENT should have referred me. But the ENT told me everything looked fine to him, and he had no idea what the problem was. Should he have? Should I have gotten this diagnosis when I saw him over a year ago?? The SLP didn't have a diagnosis, either, and he spent a long time with me and had me try all sorts of exercises, and he knew that I could laugh spontaneously and such.

>>You may have some Vagal nerve issues (Lyme loves this cranial nerve)

The Vagal nerve innervates the vocal folds."

Can you explain more about this? What the vagal nerve is and how it's acting on the vocal folds?

Thank you SO much!
-Sharon

---

Posts: 223 | From Western Mass. | Registered: Nov 2008 | IP: Logged |

swachsler
LymeNet Contributor
Member # 18155


posted

---

Dear Bea Seibert,

You said your husband loses his voice during "very severe attack of neuro symptoms."

Can you tell me what those attacks are like? What kind of neuro symptoms?

Did the SPECT scan show anything? I have wondered if there would ever be a test that would show what these bugs are doing in my brain.

I haven't had a SPECT scan, but I had an MRI of my brain and, after an exam, a neuro sent me for one of of my cervical and thoracic spinal cord. None of them showed anything except some sort of, apparently minor, disk issue in my neck. (I can't remember now. Maybe bulging disk?)

I asked her if that could have any bearing on my neuro symptoms, like voice, inability to lift legs, etc., and she said no.

When she examined me, in addition to "weakness," and the fact that I couldn't speak, she also said I have "hyperreflexia," but later when the MRIs were normal, she said it was wasn't meaningful because the MRI and other tests were normal, and "a lot of young women have it." I'm 39, so I'm not sure if that classifies me as young or not. ;-b

This was the only neurologist who would see me. The first one "declined the referral" and said I should see a neurolgist specializing in Lyme (like they grown on trees).

There IS a LLD neuro, and I *tried* to set up an appt to see him (in a different state), but when he found out how sick I was, he refused to take me on because he was concerned that if I needed emergency care, he'd be too far away. I told him I have a PCP (nearby), that I only wanted to consult with him, but he wouldn't return my calls.

So, when I finally found an LLD, I just decided to focus on that, and figured that when I got better, the speech would come back.

I'm going to astound my parents now by calling them up without the TTY (:-D) and then look into that link you provided.

Thank you!
-Sharon

---

Posts: 223 | From Western Mass. | Registered: Nov 2008 | IP: Logged |

LymeMECFSMCS
LymeNet Contributor
Member # 13573


posted

---

Geneal,
Could you post the breathing exercises to do while lying down on this thread publicly? I'd like to see them too. I have not lost my voice like Sharon (hi Sharon!) but I now get so winded from speaking I have stopped speaking. And I'm definitely doin' a lot of lying down!

BTW, Sharon, you might want to check out the thread on Primiquine/babesia. I am awaiting babs results from Clongen labs but if I come back positive I might try it since Mepron turned out to be a nightmare.

There's also Cryptolepsis and Quina for babesia, which I don't think you've tried (tinctures).

---

Posts: 929 | From Massachusetts | Registered: Oct 2007 | IP: Logged |

Geneal
Frequent Contributor (5K+ posts)
Member # 10375


posted

---

Here are some of the breathing exercises that I've used

With a variety of patients to target the diaphragm and

Try to make it work as well as increase breath support for speech.

I've used them for myself too.

With babesia and air hunger, I have taught myself to

Pull air in (even in a bad way).

I've been lifting my shoulders to "pull" that air in.

Bad.....It is call clavicular breathing and it isn't good for speech.

So....here are some of them.

I'll add more as I think of them.


-To target the diaphragm while laying in bed,

Place a hard cover book (small at first)

On your stomach. Make sure as you breathe, the book moves up and down.

Try to pick one that won't slide off on every breath.

The added (even slight) weight of the book, makes the diaphragm work

Even if it is just a little harder.


-This one is great, especially if you have children.

Sit at a table. Get a straw and a ball of cotton.

Blow that cotton ball as far as you can down the table.

If with a child, sit across from each other and blow the cotton back and forth.

Don't blow fast. Blow slow and steady.

Don't do too many in a row.

May cause dizziness.

When I did this I would blow my cotton ball to one of my children.

Then they would blow it back.

I would make some silly comment, tell the next child to get ready,

Then rest a few seconds, then blow.

The kids loved this game.


-Blow bubbles outside. Blow bubbles with a straw in a cup of water.

The thicker the consistency of liquid the harder it is to "blow".


-When you get really good, blow up an "easy" balloon.

I was able to incorporate a lot of these activities into a "game"

With both of my children.

I've had to place my hand on my diaphragm to focus on that muscle.

I've had to learn how to relax my shoulders and not breathe from them.

Singing songs also helped me.

I'll add some more as I think of them.

Hugs,

Geneal

---

Posts: 6250 | From Louisiana | Registered: Oct 2006 | IP: Logged |

LymeMECFSMCS
LymeNet Contributor
Member # 13573


posted

---

Geneal thank you for posting that.

Sharon, two things:

one, I think that thing about talking off the top of your head is what singers call "using your head voice." My ex, a choral conductor, used to talk about this, and there are probably exercises in the world of singing to enhance that.

two, I just read in a book by Dr. Jay Goldstein that penicillin has some neurotoxicity by some mechanism reducing GABA in the brain and can induce seizures -- this is also true of other antibiotics. I think in my case some of what I have thought was herxing from Bicillin could have been neurotoxicity, esp. since I'm so sensitive. I have added GABA to my regimen -- something you might consider (I think Neurontin also raises GABA??).

---

Posts: 929 | From Massachusetts | Registered: Oct 2007 | IP: Logged |

bettyg
Unregistered



posted

---

sw, could you go back to your replies starting 3-4-09 114 am i believe?

please start breaking up all those long, solid blocks of text that we neuro patients can not read or comprehend; we want to learn from this post as well as geneal's helpful exercises ok, and want to help you if you help us as well

please use my guidelines below ok!

---

IP: Logged |

TF
Frequent Contributor (5K+ posts)
Member # 14183


posted

---

This is a WONDERFUL thread!

It is thrilling to read how one person can help another, and so quickly and profoundly also.

This topic is fascinating to me. Lyme induced apraxia. Fascinating.

---

Posts: 9931 | From Maryland | Registered: Dec 2007 | IP: Logged |

swachsler
LymeNet Contributor
Member # 18155


posted

---

Update:

Yes, 3 cheers for Geneal!!

Today, my voice did not come back full-on like yesterday.

(I think it was already on it's way back yesterday, and the yawn-sigh technique "goosed" the process along quite a bit.)

However, today (which would otherwise be a "no-voice day") I have been able to successfully make voice phone calls and talk to my PCAs by using the yawn-sigh technique!

I just have to speak very slowly and concentrate a lot on my breathing. I speak one word at a time (or however much I can get out on one breath), breathe, then do the next one.

It's exhausting, and I think frankly I am pushing too much because IT'S SO EXCITING, but I think in time I will get the hang of it better (and chill out).

It is easier to do lying down than sitting up, but I'm having a hard time sitting up today anyway. I just keep making phone calls, when I shd be resting, because I want my friends and family to hear my voice!

I sound weird -- there's no emotion or inflection in my words -- but they are CLEAR almost all the time, as long as I breathe in the right spot.

I'm going to email my doctor and tell her I HAVE A DIAGNOSIS!

After seeing an ENT, SLP, 2 LLDs, PCP, neurologist, etc., who all said, "I have no idea. It's a mystery," Geneal dx me AND gave me a useful therapy by internet!!!

-Sharon

---

Posts: 223 | From Western Mass. | Registered: Nov 2008 | IP: Logged |

Geneal
Frequent Contributor (5K+ posts)
Member # 10375


posted

---

You made my day Sharon.

I do so love to help.

I've received so much help, love and support from this site.

So glad to be able to "use" my "other" skills to help you.

Don't do too much too fast.

Stay well hydrated.

Keep me posted.

It may be an up and down process.

Don't give up.

PM me if I can ever do anything for you.

Thanks for making my day.

Hugs,

Geneal

---

Posts: 6250 | From Louisiana | Registered: Oct 2006 | IP: Logged |

dguy
LymeNet Contributor
Member # 8979


posted

---

For me, loss of voice has been related to swelling in my voicebox area. It's infection related: for me steroids initiated the problem, and taking them again stops the problem (at the cost of the infection growing worse, of course).

---

Posts: 727 | From USA | Registered: Mar 2006 | IP: Logged |

bettyg
Unregistered



posted

---

sharon,

so glad geneal's exercises helped you; and great posting for us neuro patients!! big thanks...

---

IP: Logged |

heiwalove
Frequent Contributor (1K+ posts)
Member # 6467


posted

---

this thread made me tear up in the best way. hooray for geneal, hooray for the lyme community coming together to help each other through.

perhaps there is a speech therapist as adept as geneal practicing somewhere in your general vicinity? or even better, with these new techniques and exercises maybe the added expense & exhaustion of more appointments/practitioners won't be necessary at all.

much hope & love & best of luck to you, sharon.

~heather.

--------------------
http://www.myspace.com/violinexplosion


---

Posts: 1848 | From seattle, wa | Registered: Nov 2004 | IP: Logged |

lymeladyinNY
Frequent Contributor (1K+ posts)
Member # 10235


posted

---

Hi Sharon, I'm so, so glad that Geneal's advice is helping you.

I've been reading through everything here and it IS a fascinating thread.

The reason I believe mine is babs related is because I have other babs symptoms that coincide. The loss of speech, for me, is going away with ongoing babesia treatment, along with a bunch of other symptoms.

Being bedridden is one of my babesiosis symptoms!

I remember that during my episodes of inability to speak I was also suffering from diaphragm spasms. Also, if I had a rush of adrenaline my speech would return briefly.

In general, I'd start out with a sudden inability to even whisper, followed by a slow return of function. For example, I'd be able to whisper a bit, then I'd be able to sing or speak at a high pitch. Next, my voice would return but would sound like I had an accent. Then, my normal voice would come back.

It wasn't like clockwork, but in general, this was the progression. And then, boom, without warning, I'd be back to square one and unable to even whisper.

Last night I took artemisinin and about three hours later I had a reaction. The reaction included diaphragm spasms and hoarseness. This happens every time I take artemisinin so I really, really think it's all related to babs.

I'm pulling for you and thinking of you, Sharon! I hope it all gets better for you soon!

- Lymelady Julie

--------------------
I want to be free


---

Posts: 1170 | From Endicott, NY | Registered: Sep 2006 | IP: Logged |

swachsler
LymeNet Contributor
Member # 18155


posted

---

Hi Julie,

Wow, this is JUST like me:

...start out with a sudden inability to even whisper, followed by a slow return of function. ... whisper a bit, then ... sing or speak at a high pitch. Next, my voice would return ...sound like I had an accent. Then, my normal voice ...

... And then, boom, without warning, I'd be back to square one and unable to even whisper.

That's how it is with me, too.

Sometimes it doesn't come back at all, or to full, but when it does, that's exactly what happens.

It hasn't been consistent every day since "Geneal Day." (wink, wink)

But, I have been able to talk at least *some* every day. I do also think I'm hitting a better voice period again, so I have more to work with.

But I can force out some words even when I have very little to work with. That makes a BIG difference.

If your voice totally goes out on you again, Julie, try the yawn-sigh thing, and see if you can morph it into speech.

I will be so interested to hear what happens!

You have to concentrate on each word and breathing out each word using your diaphragm.

It's wacky!

Oh, and the differentiation between the babs and Lyme for me has not been that obvious, so I haven't been able to differentiate its relationship to my voice.

But I did intuitively feel it was related to babs or to the juncture of babs w/Lyme. So it's very affirming to hear your experience.

-Sharon

---

Posts: 223 | From Western Mass. | Registered: Nov 2008 | IP: Logged |
Contact Us | LymeNet home page | Privacy Statement

Powered by UBB.classic™ 6.7.3

---
The Lyme Disease Network is a non-profit organization funded by individual donations. If you would like to support the Network and the LymeNet system of Web services, please send your donations to:
The Lyme Disease Network of New Jersey
907 Pebble Creek Court, Pennington, NJ 08534 USA
http://www.lymenet.org/
---
Home | Flash Discussion | Support Groups | On-Line Library
Legal Resources | Medical Abstracts | Newsletter | Books
Pictures | Site Search | Links | Help/Questions
About LymeNet | Contact Us
---
© 1993-2020 The Lyme Disease Network of New Jersey, Inc.
All Rights Reserved.
Use of the LymeNet Site is subject to Terms and Conditions.
---