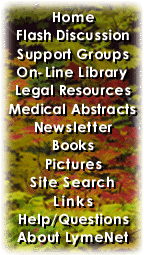 ---
LymeNet on Facebook
LymeNet on Twitter
---
---
The Lyme Disease Network receives a commission from Amazon.com for each purchase originating from this site.
When purchasing from Amazon.com, please
click here first.

Thank you.




Dedicated to the Bachmann Family


LymeNet needs your help:
LymeNet 2020 fund drive

The Lyme Disease Network is a non-profit organization funded by individual donations.

| | |
| --- | --- |
| | |
Author
Topic: Please Help me: Length of Treatment

Corey
Junior Member
Member # 19343


posted

---

Hey Everyone,

Please take time to read this and respond to my questions. I am very sick, and I'm in Georgia.

No one knows anything here!


I have had symptoms of Lyme Disease for about a little over a year and I made the doctor test me for Lyme. my Lyme came up positive and my western blot did as well. What you should know is that I reside in Savannah, GA where no one knows about Lyme Disease, actually it took them this long to treat me. (I assume I got infected in Rhode Island, NJ, or NC where I was hiking.) I had gotten bit multiple times and did have a rash, but thought if it was Lyme it would be more prominent. I had all the symptoms except for facial paralysis.

Now, I am seeing an infectious disease doctor. I practically made him put me on antibiotics. (I was also one of his first cases of Lyme) I was on treatment for a month and a half and my doctor took me off saying that everything is gone, (he didn't test me again)

I know I need to stay on these longer, because I eventually started to feel better on the last days of my medicine. My symptoms are all all gradually creeping up on me again.

I am only 22 and I feel like I'm going to die.

My question for everyone is:

How long were you on doxycycline for?

Are inter venous drugs worth it?

Would most doctors argue that you should be on Antibiotics longer than 1-2 months?

If I need to be on longer what arguments should I give to the idiot.

Thank You

I appreciate anything you could answer for me.

---

Posts: 5 | From Savannah, GA | Registered: Mar 2009 | IP: Logged |

jenin98
LymeNet Contributor
Member # 12617


posted

---

you need an llmd. did you test at IGenx?
I travel 4.5 hours to see me llmd, so you might have to travel, but it is worth it.
Jenin

---

Posts: 455 | From Maryland | Registered: Jul 2007 | IP: Logged |

Munch
LymeNet Contributor
Member # 11323


posted

---

I've been on them for close to 3 years. Every time I go off, my symptoms come back. Like the last person said, you'll need to see a LLMD or find a sympathtic holistic type practioner who believes in chronic Lyme.

---

Posts: 192 | From Dwight, IL USA | Registered: Mar 2007 | IP: Logged |

bettyg
Unregistered



posted

---

welcome corey,

DO NOT GO TO SEE INFECTIOUS DRS!! they undertreat you up to 3 wks. max antibiotics and then you become chronic, which they don't believe in.

post in SEEKING DR. forum; copy your post there and show the states you are WILLING TO GO TO IN SUBJECT LINE!

2 llmds in georgia!! fyi


Welcome; i'm so glad you found us!! You've come to the right place for education and support!


Dr. Burrascano's most recent "Diagnostic Hints and 2008 Treatment Guidelines for Lyme and Other Tick Borne Illnesses" @

http://www.ilads.org/lyme_disease/treatment_guidelines.html


Dr. B's Supplement List
http://www.lymepa.org/Nutritional_Supplements.pdf


this link, making the most of your LLMD visit, may help you also.
http://flash.lymenet.org/scripts/ultimatebb.cgi?ubb=get_topic&f=1&t=020605#000005


please see BettyG's newbie package info on the link below; click on link at bottom of my package. Check it out as time permits for you!

http://tinyurl.com/Bettyg-NEWBIE-PACKAGE

***************

please go to my newbie links, copy the entire thing, and then print this off....FINANCIAL BURDENS compiled by melanie reber
print off pages 74 - 92; outstanding info there. i believe there are a few more general comments there without links!! print that off too as it's newer info from members thru their own personal, tragic experiences.


Betty's POSTING GUIDELINES . many of us have neuro lyme where we can NOT read long solid block text and be able to comprehend and read it as is.

please edit your post by CLICKING PAPER/PENCIL ICON to right of your name. that opens up BOTH subject line and body text.

now please break up your WORDY SENTENCES into one sentence paragraphs. Then hit ENTER KEY ``TWICE`` after each paragraph; we need that space for comprehension.

NOTE: you do NOT have to use "", just show the name of person you are responding to, and then type your comment.

IF you need to use "", PLEASE DELETE "BOLD" CODES so it's regular type text we read vs. the DARK, HARSH/PAINFUL BOLDING. delete the first 4 characters of 2ND LINE of a ""

[QB] just delete these 4 characters, and BOLDING is GONE! my eyes will really appreciate that; it's one very bad side effect of my having lyme for 38.5 years!! xox

then go to left hand corner and mark box to receive ALL REPLIES, and click EDIT SEND

we thank you for helping us; otherwise, we will SOB, SCROLL ON BY, since we can't read to help you. If I see posts like this, I SOB them; to hard on me.
------------------------------------------------------

People seeking doctors might be able to get help from their state online information and support group. Nearly 3,400 people belong to state groups. Some of the groups are small but more than 20 of them have 50 or more people and seven have over 100.

To find your state group, go to
http://health.groups.yahoo.com/group/statenamelyme

Type your state name and lyme as one word, like this -
http://health.groups.yahoo.com/group/newyorklyme

South Carolina is the only state that needs a hyphen between the statename
and lyme, e.g. http://health.groups.yahoo.com/group/southcarolina-lyme

The groups are moderated and you have to apply. Most don't allow doctor names, but once on the group, you can ask for doctors in a certain area and ask people to email you privately.
*******************************************

---

IP: Logged |

sutherngrl
Frequent Contributor (1K+ posts)
Member # 16270


posted

---

You need a LLMD(lyme literate medical doctor). I travel out of state to see one. They are the only ones that know anything about LD. They also know about the other infections carried by ticks.

I was never on doxycycline, but have been on 4 different antibiotics.

I have been in treatment for 10 months.

Almost every state has Lyme Disease, its just that most people get diagnosed with other things like Fibromyalgia, Chronic Fatigue Syndrome, MS, etc.

---

Posts: 4035 | From Mississippi | Registered: Jul 2008 | IP: Logged |

D Bergy
Frequent Contributor (1K+ posts)
Member # 9984


posted

---

The rule of thumb I have seen is that it takes six months of hell and then you will gradually start to improve. That is for a chronic Lyme infection.

Of course age, length of infection, etc are all going to factor in how long it will be for any given individual, but it is not going to be fast in any case.

Dan

---

Posts: 2917 | From Minnesota | Registered: Aug 2006 | IP: Logged |

Geneal
Frequent Contributor (5K+ posts)
Member # 10375


posted

---

I don't think an ID doc even thinks about

Co-infections like babesia or bartonella.

I am 28+ months into treatment.

However, I also have co-infections which makes treatment longer

And more difficult.

I strongly advise you to see a LLMD.

Welcome to the board.

Hugs,

Geneal

---

Posts: 6250 | From Louisiana | Registered: Oct 2006 | IP: Logged |

Keebler
Honored Contributor (25K+ posts)
Member # 12673


posted

---

-


Lyme symptoms list at www.anapsid.org.


--============


www.clinicaladvisor.com/Controversy-continues-to-fuel-the-Lyme-War/article/117160/


From the May 2007 issue of Clinical Advisor


CONTROVERSY CONTINUES TO FUEL THE "LYME WAR" -(author's details at link)


As two medical societies battle over its diagnosis and treatment, Lyme disease remains a frequently missed illness. Here is how to spot and treat it.

Excerpts:


Meet the players


The opponents in the battle over the diagnosis and treatment of Lyme disease are the Infectious Diseases Society of America (IDSA), the largest national organization of general infectious disease specialists, (and)

and the International Lyme and Associated Diseases Society (ILADS), an organization made up of physicians from many specialties. ( www.ilads.org )


IDSA maintains that Lyme disease is relatively rare, overdiagnosed, difficult to contract, easy to diagnose through blood testing, and straightforward to treat ( www.journals.uchicago.edu/CID/journal/issues/v43n9/40897/40897.html - Accessed April 6, 2007).


ILADS, by contrast, asserts that the illness is much more common than reported, underdiagnosed, easier to contract than previously believed, difficult to diagnose through commercial blood tests, and difficult to treat, (especially)

especially when treatment is delayed because of commonly encountered diagnostic difficulties ( http://www.ilads.org/guidelines.html - Accessed April 6, 2007).

. . .


**** " . . .To treat Lyme disease for a comparable number of life cycles, treatment would need to last 30 weeks. . . ." ****


`` . . .Patients with Lyme disease almost always have negative results on standard blood screening tests and have no remarkable findings on physical exam, so they are frequently referred to mental-health professionals for evaluation.


"...If all cases were detected and treated in the early stages of Lyme disease, the debate over the diagnosis and treatment of late-stage disease would not be an issue, and devastating rheumatologic, neurologic, and cardiac complications could be avoided..."


. . . * Clinicians do not realize that the CDC has gone on record as saying the commercial Lyme tests are designed for epidemiologic rather than diagnostic purposes, and a diagnosis should be based on clinical presentation rather than serologic results.


- Full article at link above, containing MUCH more detailed information.


-===


Co-infections (other tick-borne infections or TBD - tick-borne disease) are not discussed in the Savely article due to space limits. Still, any LLMD you would see would know how to assess/treat if others are present.


==========================

www.jneuroinflammation.com/content/5/1/40


Persisting atypical and cystic forms of Borrelia burgdorferi and local inflammation in Lyme neuroborreliosis


===========================


This article has much attention on both lyme and Cpn:


http://tinyurl.com/preview.php?num=64y3rv

(then clink "PROCEED TO THIS SITE")


May 2008 Volume 39 Number 5 LABMEDICINE
www.labmedicine.com - American Society for Clinical Pathology


CHRONIC BACTERIAL AND VIRAL INFECTIONS IN NEURODEGENERATIVE AND NEUROBEHAVIORAL DISEASES

- by Garth Nicolson, Ph.D.

===========================


AFTER reading the articles above this will make more sense and, sadly, shows the state of treatment (and - with the new committee gathered, it is still a horrible situation for there are no real experts on the new panel):


www.ct.gov/ag/cwp/view.asp?a=2795&q=414284

Connecticut Attorney General's Office

Press Release

Attorney General's Investigation Reveals Flawed Lyme Disease Guideline Process, IDSA Agrees To Reassess Guidelines, Install Independent Arbiter

May 1, 2008

Attorney General Richard Blumenthal today announced that his antitrust investigation has uncovered serious flaws in the Infectious Diseases Society of America's (IDSA) process for writing its 2006 Lyme disease guidelines and the IDSA has agreed to reassess them with the assistance of an outside arbiter.


- cont'd at link.

Printable version: www.ct.gov/ag/cwp/view.asp?a=2795&q=414284&pp=12&n=1


===============


TESTING

You should also be evaluated for coinfections. Not all tests are great in that regard, either, but a good LLMD can evaluate you and then guide you in testing. One of the top labs is:

www.igenex.com

IGENEX

-----

There are a couple other good labs for certain tests: Fry; Clognen; Focus. Your LLMD will know. Some say MDL does good work (but I don't know if they test all the bands).


========================

VERY important to read - even BEFORE testing:

Dr C's Western Blot explanation:

http://flash.lymenet.org/ubb/ultimatebb.php?ubb=get_topic;f=1;t=042077


===========

TREATMENT

www.ilads.org

ILADS

The International Lyme and Associated Diseases Society (ILADS) provides a forum for health science professionals to share their wealth of knowledge regarding the management of Lyme and associated diseases.


links to treatment: http://www.ilads.org/lyme_disease/treatment_guidelines.html


and

http://www.betterhealthguy.com/images/stories/PDF/LYMDXRX2008-October.pdf

Dr. Burrascano'sTreatment Guidelines (2008)


=====================


www.lymediseaseassociation.org

Lyme Disease Association


- In the menu to the left of their home page, you can order DVDs of past ILADS seminars. You might also be able to borrow some from your local lyme support group.

This are invaluable to understanding how these infections work. And, none of this is taught in medical schools. None.


=====================


http://flash.lymenet.org/ubb/ultimatebb.php?ubb=get_topic;f=1;t=029917


treepatrol's - Topic: Newbie Learning Help Links 5/21/08


=======


http://flash.lymenet.org/ubb/ultimatebb.php?ubb=get_topic;f=1;t=069262


Topic: BettyG's NEWBIE PACKAGE, 7.19.08, with TABLE OF CONTENTS FOR ALL!


======


Find your local SUPPORT GROUP for help in finding a doctor, etc.

www.lymenet.org/SupportGroups/UnitedStates


======


Post in: SEEKING A DOCTOR

http://flash.lymenet.org/ubb/ultimatebb.php?ubb=forum;f=2


======


This book, by an ILADS member LLMD, holds great information about treatments options and support measures:


http://tinyurl.com/6lq3pb (through Amazon)


THE LYME DISEASE SOLUTION (2008)

- by Kenneth B. Singleton , MD; James A. Duke. Ph.D. (Foreword)

You can read more about it here and see customer reviews.

Web site: www.lymedoctor.com


========


http://tinyurl.com/5vnsjg


Healing Lyme: Natural Healing And Prevention of Lyme Borreliosis And Its Coinfections - by Stephen Harrod Buhner

web site options: www.gaianstudies.org/lyme-updates.htm


================

http://tinyurl.com/5drx94


Lyme Disease and Modern Chinese Medicine - by Dr. QingCai Zhang, MD & Yale Zhang

web site: try www.sinomedresearch.org and use "clinic" and then "clinic" for the passwords or call Hepapro through www.hepapro.com


=================


http://tinyurl.com/5crsjv


Cure Unknown: Inside the Lyme Epidemic (2008) - by Pamela Weintraub

This details what an entire family went through. Having this knowledge of their journey will help others to get better, faster treatment.

http://www.cureunknown.com


==========================

FILM:

http://www.underourskin.com

UNDER OUR SKIN


DVD is $40. and worth every penny. It explains a lot.


-==


http://flash.lymenet.org/scripts/ultimatebb.cgi?ubb=get_topic;f=1;t=020605


MAKING THE MOST OF YOUR LLMD VISIT


From Melanie Reber


-

---

Posts: 48021 | From Tree House | Registered: Jul 2007 | IP: Logged |

Keebler
Honored Contributor (25K+ posts)
Member # 12673


posted

---

-

Corey,

Drop the ID doc (infectious disease). He is wrong. You need more complex treatment. As it may take some time to find a doctor, see books by Zhang and Buhner for suggestions on what to do in the meantime if you run out of doxy.

Olive leaf extract is something that might also help at this time. It will help offset yeast infections from antibiotics and also help some with overall infections.

Milk thistle will help your liver better tolerate treatment.

All that - and more - in Singleton's book.

-------


Doxy, is usually not enough alone. Lyme requires a combined protocol.


Testing again will not matter.


You do not need more tests for lyme. It will not go away that soon and testing just can't be done as in other infections to monitor progress. It does not work that way.


However, you should be assessed for other tick-borne disease (TBD) such as babesia, bartonella, ehrlichia, etc. A good LLMD will know how to guide you.


I do hope you were instructed to take lots of probiotics and avoid all artificial sweeteners, MSG, alcohol, etc. and eat a healthful diet.

You can find probiotics at www.vitacost.com


You can read more about probiotics at:

http://www.vrp.com/ArticlesSearch.aspx?k=Probiotics


-------


I know all this can be overwhelming and very frightening.

Do you have a best friend or group of friends with whom you can set up some sort of learning circle?

This is a lot for anyone to handle on their own. I hope you have great emotional support around you. It's a big project and you at least need friends and family who can learn along side you so that they understand.


Best of luck to you. Take the very best care of yourself as possible.


-

---

Posts: 48021 | From Tree House | Registered: Jul 2007 | IP: Logged |

MariaA
Frequent Contributor (1K+ posts)
Member # 9128


posted

---

There is a good doctor in Raleigh NC and a very, very good and well-known one in South Carolina. Post in 'seeking a doctor' and see if you can find out about anyone else closer to you. Raleigh is a pretty cheap place to travel to from where you are, hotels aren't expensive, there are buses that go there from Savanna, etc. My roommate goes to that LLMD and had a good experience with him. The guy in SC is one of the best known Lyme doctors but I think he's more expensive.

--------------------
Symptom Free!!! Thank you all!!!!

Find me at Lymefriends, I post under the same name.
diet: http://lymefriends.ning.com/group/healthylowcarbrecipes
Homemade Probiotics thread
Herbal Links Thread


---

Posts: 2552 | From San Francisco | Registered: Apr 2006 | IP: Logged |

Lymetoo
Moderator
Member # 743


posted

---

Where's Corey??

Forget about ID drs. They know nothing!!! Hard to believe, yes .. but it's true. Don't find out the hard way.

Find an LLMD right away. Your life depends upon it. Yes, you'll have to travel.

--------------------
--Lymetutu--
Opinions, not medical advice!


---

Posts: 95252 | From Texas | Registered: Feb 2001 | IP: Logged |
Contact Us | LymeNet home page | Privacy Statement

Powered by UBB.classic™ 6.7.3

---
The Lyme Disease Network is a non-profit organization funded by individual donations. If you would like to support the Network and the LymeNet system of Web services, please send your donations to:
The Lyme Disease Network of New Jersey
907 Pebble Creek Court, Pennington, NJ 08534 USA
http://www.lymenet.org/
---
Home | Flash Discussion | Support Groups | On-Line Library
Legal Resources | Medical Abstracts | Newsletter | Books
Pictures | Site Search | Links | Help/Questions
About LymeNet | Contact Us
---
© 1993-2020 The Lyme Disease Network of New Jersey, Inc.
All Rights Reserved.
Use of the LymeNet Site is subject to Terms and Conditions.
---