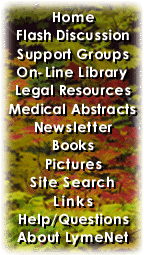 ---
LymeNet on Facebook
LymeNet on Twitter
---
---
The Lyme Disease Network receives a commission from Amazon.com for each purchase originating from this site.
When purchasing from Amazon.com, please
click here first.

Thank you.




Dedicated to the Bachmann Family


LymeNet needs your help:
LymeNet 2020 fund drive

The Lyme Disease Network is a non-profit organization funded by individual donations.

| | |
| --- | --- |
| | |
Author
Topic: quest. on pain, can this amount i am in really be only from lyme??

MY3BOYS
LymeNet Contributor
Member # 17830


posted

---

for those of you with the experince i welcome any help on this and apologize in advance for the length, but trying to giv3e details to get any/all help i can

one of my main problems is pain, SEVERE pain. i have over 80% of the lyme symp. to but the pain and cognative stuff is the worst!! L knee started up over 3 yr ago, had multiple cortisone inj which made it worse. had mri and bone scan.

this worried me: several small cysts to tibia an d femur with lytic lestions- this was done 08

every doc has been unsure of what that is or means. ortho guy: sometimes a cyst will show up and is just incidental, is nothing, goes away and does NOT cause pain. usually only 1 may be seen. not several!!!! and is near the knee joint itself on each bone. LLMD doesnt know either. PCP was hoping ortho would know. was not showing as abcess so ortho said PT 3xwk (i was already working out 3xwk and on PT plan from the therapist i worked with then)

L knee also has hx of previous trauma with scope x2 over 15 yr ago with residual cartlidge damage.

currently having severe pain in L knee ( always, every day), all other joint off and on. R knee and R shoulder/scapula area are now daily. neck, lower back daily. some of it is like a deep bone pain

headaches, muscles hurt (everywhere!!! gluts and quads have calmed down some with zith/mepron) neuropathy and ridicular neuropathies everywhere

have noted CNS, peripheral and autonomic nervous system haywires- neuro tx like am MS pt, lyme friendly


tried pain doc locally before lyme dx, was being worked up for MS and pain doc wanted to shoot steroids into my spine. that was it. his statement was i dont do pills, go to PCP for that. i was shocked--- this is a pain dr??? glad i held of on trying that, think would have done me in

recently meet with new pain doc, tried duragestic patch first, nothing. sencond patch broke skin out in blisters. (LLMD using this guy)

changed to methadone 10 mg twice dialy. only gives about 4 hr of relief, sometimes less esp on IV days (rocephin 2g IV every 12h mon-thur)

other meds are: Neurontin 800mg 3xd, baclofen 10 mg 3xd, cymbalta daily, lodine 800mg 2xd, ultram 100mg every 4 hr (gives maybe 2 hr of lesser pain) and norco 10/325 every 4 (again, may lighten knees up some or not touch me at all)

also on bio-identical hormone tx with progesterone witch has some effect to ease pain/aches

lyme meds: rochin, mepron, zith.
tyroid support with cytomet, levothyroxine- temp stays around 97 still. when 99 i am "fevered". on all the usually supps even zyflamend for inflammation

the pain is just so severe, its crazy. I do have so understanding of pain, why/how/ what meds work how but that does NOT help me now!!

my LLMD and neuro have tried to help, pain guy wants to give methadone 3 wks and then see. this is getting into 3rd week and will call again (he only works 1d week and is 5 hr away, by LLMD)

i have mri findings on cervical and lumbar spine. buldging disks, some nerves pinched at L4/5 with annular tear and arthritic changes to spine in general. found oa in s/i joint 7 yr ago.

can lyme in and of itself cause this much pain??? getting worried maybe something else might be going on as well. R knee started hurting more constant on lower, inner aspect where it feels like a bruise kinda then has gotten worse. this is how my L knee started. I really thought knee was sports injury related from increase in work out trying to loose weight after baby #3.

have chronic lymph node swelling, everywhere. was initially worked up for cancer back 9 yr ago bc of it. has gotten worse iwth lyme tx.

tx with autoimmune meds for years, and just dx with lyme this sept

i have tried ignoring it, meditation tech, moving, heat (my heating pad is new snuggle budddy), ice, pressure, no pressure, everything, walking makes to muscle and bone pain worse but i do walk. my muscles have just been wasting even when was working out 3 times week, and get so weak, my legs shake with stairs. i have been going for weekly massages the last 3 weeks now, was going every 2-3 wks. (thanks to my wonderful mother who gave 6 mo prepaid massages for me..love her)

was doing high cardio areobics (for over a yr) until feb when had surj for port, knocked me on my butt. now see that kind of aggressive work outs are not recommended but LLMD never said anything against it.??

in work, when i had patients in this kind of intractable pain the diagnosis involved were usually severe, mostly cancers. i know pain is the bodys way to alert us, but i am tierd of being alterted!!
any insight, help, tips would be appreciated. i cant work safely anymore but have 3 kids at home to take care of best i can. hubby has job that requires travel mon-fri. he can not change jobs- need this income

thanks in advance

--------------------
i am not a Dr. any info is only for education, suggestion or to think/research. please do not mis-intuprest as diagnostic or prescriptive, only trying to help. **

dx in 08:lyme, rmsf, bart, babs, and m.pneumonia.


---

Posts: 422 | From TX | Registered: Oct 2008 | IP: Logged |

JamieLiz
Junior Member
Member # 18825


posted

---

Hi !

I am gonna have to keep this short as I am not feeling very well, but I wanted to offer a few words as I was struck by some of the similarities in our joint problems and the meds we have taken.


Our joint pain sounds very similar and involves many of the same joints.

Mine, too started in them knees.

I was diagnosed with Rheumatoid Arthritis in 2001 and treated with Immunosupressing drugs until Lyme diagnosis in Sept 07.

Because of the Arthritis drugs and steroids, the Lyme was given free reign in my body and has destroyed all the cartilage in both knees, wrists, r elbow, r shoulder, under collarbone.

The pain can DEFINITELY be from Lyme.

I suspect your pain will decrease with the continuation of the antibiotics.

It did for me. Granted I still have a TON of pain, just not the level, degree I had before.

The only way I can explain it, is the EXTREME swelling, redness went mostly away when the antibiotics took hold.

It's like the bacteria " calmed down " a bit, if that makes any sense.

The Bakers Cysts I got all the time went away and only come back when I have to stop the antibiotics ( for gastritis )

I fully believe all your pain can be caused my LYME. It is a brutal bacteria .

I hope this helps a little.

Jamie and Sable ( my puppy )

---

Posts: 5 | From Saratoga Springs, NY | Registered: Jan 2009 | IP: Logged |

JamieLiz
Junior Member
Member # 18825


posted

---

p.s.

Besides pain meds, what I have found most helpful is Reiki. I have NO IDEA how or why it works, I just know it works well and instantly. It's crazy really. I took a Level I class ( atunement ) over the summer so I can now give Reiki to myself.

I also have a heating pad on me 24-7 and am looking into getting an infared heating lamp or heating pad because it heats from the inside out and it feels comforting and soothing on painful joints.


Jamie and Sable

---

Posts: 5 | From Saratoga Springs, NY | Registered: Jan 2009 | IP: Logged |

bettyg
Unregistered



posted

---

have you thought about having knee replacements for both knees?

my late dad had both knees replaced; he said the best thing was NO MORE PAIN IN KNEES!

he also was a NEVER DIAGNOSED LYME PATIENT OF 80 YEARS!! reading of your pain, etc. was just like me talking to him. he was so glad he did both.

he was able to dance again, but very limited since he had congestive heart failure for 20 years.

---

IP: Logged |

MY3BOYS
LymeNet Contributor
Member # 17830


posted

---

orthos (2) refuse to attempt knee replacement since not all of the joint itself is degenerated. i did ask about this and even expected it. really thought the onset of pain 3 yrs ago to L knee was going to have be a full joint replacement. thought no way knee could hurt this bad and NOT have to replaced-- wrong

i fully think the cortisone shots to L knee is why it hurts so bad. think this gave lyme a breeding ground and place to set up house. have came across research that says lyme lilke to go to places of preexitingury in joints,scar tissues, etc

jamie and betty- thank you for taking the time to read and respond. betty you are always so grasious to everyone on here to try to help, i have noticed that and appreciate you for what u do.

hoping some one else on here has tried the heavy meds and at what combo/ dose worked??

i waas very dis-agreeable to methadone as i am a nurse (was?? until 8/08 anyway). did my homework and am aware that it works on to diff nerve signals/path, cheaper than long dose morphine types, less drug tolerance etc.

here is the thing, even with my pharmocology knowledge- i was gonna try it anyway b/c i just can not go on like this!! this pain is just zapping me physically, emotionally, everything. only upside has been my spiritual health has only gotten stronger. i have sat in bed, just rocking and doing everything not to cry (just makes head pressure worse) and praying, talking to God. i have gotten 1hr breaks at the worst times i needed it most

i was using the agressive workouts to cause/induce endorphine relief- helped to dull pain for few hrs, of course muscles would always be worse so would go at it again- vicous cycle

have used yoga, can not do now bc of autonomic dysregulation. my heart/bp goes nuts when i change positions, balance is gone. when i bend over things fade to black if stand up to fast. miss yoga and will look into Reiki- thanks

also going to look into accupuncture, LLMD has seen it help some pts and is open to it. found one within mile of my house and have gotten good reviews from folk in my community by asking around. just concerned with cost, hear that can get expensive.

everyone here i am sure is limited on what all you can use that is an extra expense. wish i could go back to work full time right now to help our family income, hubby does sales and obviously economy has dropped his pay down from last yr but is still to good a job for him to leave right now


anyone out there on the heavy stuff please respond or PM if not comfortable posting it on the board....thanx!!!!

--------------------
i am not a Dr. any info is only for education, suggestion or to think/research. please do not mis-intuprest as diagnostic or prescriptive, only trying to help. **

dx in 08:lyme, rmsf, bart, babs, and m.pneumonia.


---

Posts: 422 | From TX | Registered: Oct 2008 | IP: Logged |

Snailhead
LymeNet Contributor
Member # 18091


posted

---

I just wanted to say I'm sorry for your pain. This pales in comparison, but I have just realized I need to bump up from darvocet to vicodin, and it's hard. It's hard knowing you may keep needing more and more. I'm glad you are a nurse (in my opinion they are at a way higher level than drs as far as care). I would say if you start with heavier meds try half the dose and then add second half in an hour if needed.

God bless you, I'll pray for you. Amy

---

Posts: 374 | From United States | Registered: Nov 2008 | IP: Logged |

Sparrow
LymeNet Contributor
Member # 11734


posted

---

My daughter is the lymie and has had a headache for about 8 years now. She is always in tremendous pain. We have seen several pain drs and she has been on just about everything.

Currently, she is on methadone and it has levelled everything out. The pain dr we see does not prescribe any short term pain meds--like vicodin. It was hard adjusting to that, but she has. She uses muscle relaxers instead and they help. Zanaflex worked great, but she had some other problems with it, so she is on baclofen now.

Her pain level is still about an 8 and sometimes it just shoots up to a 10. Her pain dr will give her a shot of ketamin and those help. We usually have to go in before her monthly appointment for a shot and then she gets a shot at her monthly appointment. Her pain level has been about a 6 or 7 after a ketamin shot, but it has not gotten much lower than that.

She has some joint pain but nothing like yours. Her pain is mostly head, neck and back , and stomach. I would do anything to get rid of her pain. Most people do not understand it, but fortunately her current pain dr does.

She gets some acupuncture also from this dr and it does help. In fact, usually when we go in for the pain shot she gets acupuncture in her neck and that does help. The last appointment, he did some to help her stomach pain.

I also have an infrared heating pad. It doesn't help my daughter, but it helps my diabetic son with some of his pain. I think it helps more with joint and back pain.

So , my suggestions are to try muscle relaxers if you haven't, see if you might get any kind of pain injections besides steroids from your pain dr, and maybe see about getting an infrared heating pad.

I know how much you hurt and I hope you can find some relief. In fact, I wish the "experts" would at least figure out something that would work on the unbelievable pain lymies have if they can't figure out a cure.

---

Posts: 177 | From God's Grace | Registered: Apr 2007 | IP: Logged |

hshbmom
Frequent Contributor (1K+ posts)
Member # 9478


posted

---

Hi M3B,


Have you tried pool or aquatic therapy? I've heard the hot water, plus the pressure from the water, and less weight bearing while in the water work wonders.


I'm anxious to try this, but it hasn't worked out yet.


Also, I urge you to try acupuncture. My pain doctor said to try 5-6 sessions to see if it was going to help.


Have you heard of the oral supplemental amino acids to help supply the building blocks for neurotransmitters?


See my post in the following thread:

http://flash.lymenet.org/scripts/ultimatebb.cgi/topic/1/76005?


There may be other suggestions there to may help you deal with this terrible pain.

---

Posts: 1672 | From AL/WV/OH | Registered: Jun 2006 | IP: Logged |

pab
Frequent Contributor (1K+ posts)
Member # 904


posted

---

quote:

---

Originally posted by Sparrow:
My daughter is the lymie and has had a headache for about 8 years now. She is always in tremendous pain.

---

Sparrow,

My sons have pain like your daughter. They have had severe, unrelenting headaches since at least 1999. Son #2 has head & body pain. A good day is a 6. Son #1's pain is primarily headache. A good day for him is a 8.

I would do just about anything to relieve their pain.

--------------------
Peggy

~ ~ Hope is a powerful medicine. ~ ~


---

Posts: 2775 | From MN | Registered: Apr 2001 | IP: Logged |

kelmo
Frequent Contributor (1K+ posts)
Member # 8797


posted

---

My daughter's pain is always around a 6-9. Even with pain medication.

---

Posts: 2903 | From AZ | Registered: Feb 2006 | IP: Logged |

MY3BOYS
LymeNet Contributor
Member # 17830


posted

---

thanks for the info, advice and esp. the prayers!

i thought stimulation of any kind/electrical was bad?? may have re-read dr b stuff. i would worry for me that adding and elect. would fry the nerve pathways more?

sparrow- has the pain dr upped her methadone dose? and how often? the 10mg just helps for that bit. from what i have read though the half life is long so increasing the freq. of taking it stays apart several/ 12 hr or so. the need for breakthrough meds is such an issue!! and yes i am on baclofen three times daily already and flexeril prn daytime, soma at night- think i left that off earlier. also take clonopin at night.

i do use hot baths all the time, glad have a big tub. i use the gym hottub when not on iv tx's and steam room as well. water does help while i am in it. the gym one is great and i have it figured out on the jets to move my legs along the seat and hit the diff jets on legs like a massage.

this is just so fustrating! when i was working as hospice nurse i always did my best to make sure my patients were not in pain, clysis lines, plo cream compounds, what ever it took. the goal alwasys was to decrase pain AND mantain mental function. no one wants to be knocked out all the time...ok well sometimes that thought sounds good.

you should not have to be dying to get pain control, it just is not right

on the infared heating pad-- where do you find that?? think mine is just good heating pad, can do moist heat. also have these "beanie" things with rice and flax seed in it and warm up in microwave-- very good for neck, able to get in more comfortable postion on neck and side of my head for headaches. massage therapist uses this in her massage to warm area will work on next, she makes them for clients for $30 i think??

and i understand your childrens pain..i am done with the pain scale thing!! if i keep telling docs is always 7+ and mostly over 10 then what??

sorry, just in bad mood. rainy here and knees are hurting very bad and headache too. night for now and a sincere thanks for the responses.

--------------------
i am not a Dr. any info is only for education, suggestion or to think/research. please do not mis-intuprest as diagnostic or prescriptive, only trying to help. **

dx in 08:lyme, rmsf, bart, babs, and m.pneumonia.


---

Posts: 422 | From TX | Registered: Oct 2008 | IP: Logged |

lpkayak
Honored Contributor (10K+ posts)
Member # 5230


posted

---

i couldn't read all but most of my pain is joints and i have found vicoden doesn't touch it. only thing that works is ibuprofen. it is the only way i can get away form it for 20+ yrs. i am careful to always eat with it and at one time doc gave me carafete to take before i took it.

so far i am ok but do have reflux.

also-studies show lyme pain can be worse than cancer pain and more debilitaing than congestive heart falure. so no pain is too bad for it to be lyme

my knees were good candidates for replacement and i did that last march-about 9 yrs after docs said i needed them done. now my thinbs really need to be done-but it is a more risky surgery and i can't find a good hand guy. its been 4 yrs i've needed tham done

if the xrays show surgery will help-do it. but many do get better with abx

good luck

--------------------
Lyme? Its complicated. Educate yourself.


---

Posts: 13712 | From new england | Registered: Feb 2004 | IP: Logged |

Sparrow
LymeNet Contributor
Member # 11734


posted

---

pab, I can't imagine how you take care of 2 with haedaches. I do have other children--3 boys in fact--but they do not seem to be symptomatic--thank God!

MY3BOYS, my daughter takes 20mg of methodone 2x/ day. He says it is important to raise the dose slowly with this med.

The heating pad is Thermotex and I ordered it on line. It was pricey, but it does help with back aches and joint issues. I have seen infrared imbedded clothing and braces, but I don't know if those work. They are cheaper though.

Also, I wondered if you have tried magnet therapy. One of the times my daughter crashed, I ordered a wool mattress pad from Costco. It also had magnets in it. She did sleep better with it. She got better and wanted to use her lap top in bed, so we took it off. We did notice the sleep improvement though right away. I know you can buy braces with magnets.

I don't know how you feel about alternative treatments, so I apologize if this in not in your comfort zone. Ten years ago I would have thought magnet therapy was loony, but TBDs redefined my thinking and I investigate anything now.

Since you are a nurse you probably have had your vitamin D checked, but supplementing that made a huge difference in my daughter's treatment. I had to ask to get it checked and it was alomost nonexsitent.

---

Posts: 177 | From God's Grace | Registered: Apr 2007 | IP: Logged |

hshbmom
Frequent Contributor (1K+ posts)
Member # 9478


posted

---

I'm thinking about contacting an oncologist who deals with bone cancer...and seeing how they address that type of pain.


I wonder if anyone with Lyme has ever done this. The severity of the pain must be close to that of bone cancer.

---

Posts: 1672 | From AL/WV/OH | Registered: Jun 2006 | IP: Logged |

MY3BOYS
LymeNet Contributor
Member # 17830


posted

---

just posting and update for those of you that responded or may have even just read this and sent up a little prayer my way- big thanks : (and i originally posted an error- methadone was 5mg twice daily for total of 10/day--had the other dose stuck in my head, think that is was the M.A. told me on phone really??)

gotta say- gonna give God ALL the glory in this as the prayers did work.

went to "new" pain doc yesterday here locally. (think i mentioned other one was 5 hrs away by LLMD but has being getting lyme pt from LLMD obviously. his office was passive about pain levels not being even touched and would be total of 6 wk before could make appt with him- no phone triage, not the med. assit, no nurse) this one is just few miles down the road!!

i have now been delivered into the hands of a LOCAL doc who is not only willing to tx by pain, but was overwhelmed herself at the amount of issues i do have going on

my meds were doubled in does and now is 3xd for main pain control, still have the norco if need. but looking for this to ease the need for every 4hr breakthough (ha! was never gone!). she is very open to giving me some leway to decrease from max dosing she wrote for, i went in armed and ready! all my own health record and list of "lyme links" i have compiled for MD's- she left the links alone and though i did good enough job breaking it down for her.

even told me she does not take calls from pt's by phone and the girls play interference but if i have any issues to leave msg for her and she will call me- my case is just to big

in answer to few suggestions: have tried magnets- no luck for me, has helped other pt's i have had over the yrs though so i do not discredit there use

i worked hospice a number of yrs so i have a pretty open mind for the most part and have seen a lot in those experiences and learned from each.

i have been walking to slowly build back up endurance and me and my mom will start doing some easy laps this weekend with use of those float boards. (gotta love mom ! doesnt matter how old u get, she still always got my back!!)

looked into reiki- very interesting and will send you PM if you dont mind with some quest. think may be more open minded to this. seems simialar to accupunture but works with the "whole" of the energy flow instead of just tapping into it to re-direct like accupunture. plus see you can learn this yourself, no way i can do accupuncture myself!! thanks for the info on that

legs are getting worse, by far is marked diff. in lower and upper strenth- doc noted it yesterday . even not understanding lyme fully she was very open to what i had to say about it, my explanations and got the "MS induced" theory so she could easily relate. she could not compleate my exam on legs due to the pain from her just trying trigger points, PROM, etc. she is very willing to work with me on this and found my case a challange and told me i seemed very well educated and a lot of pt.'s they get are just drug seeking and she could see i was not. this was such a relief

hsbmom- in all honesty i do not think oncologist would help with the pain. they are cancer only. doc like that (specific speacialty) dont go out of their own box. ur appt would most likely end up in him telling you to find pain doc- you might get good referral from it but pls. dont get hopes up on onco. managing pain. i had pts from onco in SEVERE pain by time they got to us and the dr's are just very leary about wrinting for the stronger meds- they leave that to the "pain mngt doc". pain is fully outsourced is seems. will send prayers back your way- may you be sent to who will be of help to you family for your needs

sparrow- so sorry for ur daughter. have fears of my oldest having this- testing to be soon. he is having lots of joint pains. i know he is growing but as a mom gotta say i think lyme has hold. for my head, back, neck areas all i can say is i use heat pad and my pack with rice/flax seed esp for head/neck- jsut works better on those areas. adn going for weekly massage (1hr to 1 1/2hr) every wk for 4-5 wk now ? has helped neck and shoulder much. yest. went in and she did back/neck only and worked on r back shoulder for at least 1/2 appt and feels much better now. i do take baclofen 3xd and soma at night for the muscles. i use Flex Creame from Dr B's site and everyone in our house has come to love it, even my son. maybe give that a go?? my dose of meth will now be 10mg three times daily. Methadone is kinda scary- but is very good med for pain like this. just watch for heart issues. if she has not had cardio look may be a good idea. Meth has a longer half life (stays in your system longer, so dont want a build up). can prolong q-t interval in heart so just as a caution make sure that is looked at and if she has any feelings in chest/heart/pals/anything make sure she knows to tell yo u. is actually preferred med. right now. it works on multiple pain receptors and tolerance is slower to build vs. oxy type meds.

again- big thanks to all!! very much appreciated.

--------------------
i am not a Dr. any info is only for education, suggestion or to think/research. please do not mis-intuprest as diagnostic or prescriptive, only trying to help. **

dx in 08:lyme, rmsf, bart, babs, and m.pneumonia.


---

Posts: 422 | From TX | Registered: Oct 2008 | IP: Logged |

Rambler
LymeNet Contributor
Member # 18794


posted

---

God, this thread scares me...

I'm really in the thick of it.

--------------------
Be Well


---

Posts: 103 | From Out West | Registered: Jan 2009 | IP: Logged |

MY3BOYS
LymeNet Contributor
Member # 17830


posted

---

rambler- sorry if my post scared you. no intention of doing that, just trying to see if others have had the same or similar pain issues and seeing what they have found that may help.

i have exhausted most of what i know, so looking for other opinion, and open to alternative therapies with all the learning i have been doing on lyme....want to know my ememy here!

didnt mean to scare anyone, was just looking for help and advise. thanks to all

--------------------
i am not a Dr. any info is only for education, suggestion or to think/research. please do not mis-intuprest as diagnostic or prescriptive, only trying to help. **

dx in 08:lyme, rmsf, bart, babs, and m.pneumonia.


---

Posts: 422 | From TX | Registered: Oct 2008 | IP: Logged |

glm1111
Frequent Contributor (5K+ posts)
Member # 16556


posted

---

Look in General Support at a post titled "Can pain medication cause more pain"


Brooke was on the show intervention and she has some interesting info on this. So sorry you are suffering so much.

Also please be aware that pain meds dehydrate and deydration can cause pain.

Gael

--------------------
PARASITES/WORMS ARE NOW
RECOGNIZED AS THE NUMBER 1 CO-INFECTION IN LYME DISEASE BY ILADS*


---

Posts: 6418 | From philadelphia pa | Registered: Jul 2008 | IP: Logged |

astriapage
LymeNet Contributor
Member # 17120


posted

---

MY problem with pain is I can't take any NSAIDS because of artificail valve in heart.

Right now I am so confused on what to take or do, I am starting to have bad problems with my knees and my legs hurt so bad-on top of everything else hurting!

I have tried everything-trust me-and some things help, but I worry about progressing to the next level, and what people think?

My pharmacist knows the hell I have been through, open heart and all, but now I think he wonders, but he says there are 2 other people on the island with Lyme, and they are alot like me.

This has been so hard and frustrating!

---

Posts: 303 | From Jekyll Island, GA | Registered: Sep 2008 | IP: Logged |

Pinelady
Frequent Contributor (5K+ posts)
Member # 18524


posted

---

The cysts sound like classic parasite infection to me. I would look it up. They like the long bones. Not saying that is what they are ,just that it is possible and easy treated.

--------------------
Suspected Lyme 07 Test neg One band migrating in IgG region
unable to identify.Igenex Jan.09IFA titer 1:40 IND
IgM neg pos
31 +++ 34 IND 39 IND 41 IND 83-93 +
DX:Neuroborreliosis


---

Posts: 5850 | From Kentucky | Registered: Dec 2008 | IP: Logged |

sk8ter
LymeNet Contributor
Member # 8671


posted

---

Please web search RSD Reflex Sympathetic Dystrophy. This can be started by a small sprain, injury, surgery, or in my opinion virus,lyme,etc. It can spread and is horrible. I believe it is caused by overload of toxins either by environmental or viral, bacterial. They do nerve blocks for it or Ketamine infusions, but many are trying alternatives, HBOT, Dynatron machines, infared saunas to calm and rest the sympathetic nervous system. God bless you in your search for relief.

---

Posts: 871 | From orange county, ca. | Registered: Jan 2006 | IP: Logged |

bettyg
Unregistered



posted

---

you mentioned reike;

i had my 1st massage ever and explained about my lyme and my fibro in all 18 of 18 pressure points of pain.

she decided to do reike on me; i complained it hurt like hell and to ease up; nope, this is the way it should be done. she just would not listen to me, and to pay $60 for all this additional pain was UNACCEPTABLE.

do you hurt just having people touch you lightly even? I DO; my entire right side can NOT be touched at all.

just food for thought so you are not took as i was!

took me many years to go back and have a full massage done. i was doing this monthly but my left leg/hip got bad, and the massage $50 - $60 would NOT LAST EVEN 30 MINUTES! gave up on them.

then had xrays done showing my left hip was bone on bone, and had new hip put in 2 yrs. ago 2 wks ago! big difference.

but surgeon chipped hip bone and informed me i have SOFT BONES; ones of a person 20 years OLDER than what i am now...i turned 60 lately. boy did that make me feel old.

always said i'm an 18 yr. old in an 81 yr. old body! lol

---

IP: Logged |
Contact Us | LymeNet home page | Privacy Statement

Powered by UBB.classic™ 6.7.3

---
The Lyme Disease Network is a non-profit organization funded by individual donations. If you would like to support the Network and the LymeNet system of Web services, please send your donations to:
The Lyme Disease Network of New Jersey
907 Pebble Creek Court, Pennington, NJ 08534 USA
http://www.lymenet.org/
---
Home | Flash Discussion | Support Groups | On-Line Library
Legal Resources | Medical Abstracts | Newsletter | Books
Pictures | Site Search | Links | Help/Questions
About LymeNet | Contact Us
---
© 1993-2020 The Lyme Disease Network of New Jersey, Inc.
All Rights Reserved.
Use of the LymeNet Site is subject to Terms and Conditions.
---