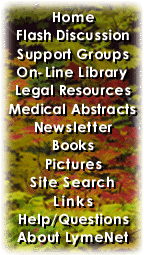 ---
LymeNet on Facebook
LymeNet on Twitter
---
---
The Lyme Disease Network receives a commission from Amazon.com for each purchase originating from this site.
When purchasing from Amazon.com, please
click here first.

Thank you.




Dedicated to the Bachmann Family


LymeNet needs your help:
LymeNet 2020 fund drive

The Lyme Disease Network is a non-profit organization funded by individual donations.

| | |
| --- | --- |
| | |
Author
Topic: What do you do when you're uncomfortable about starting a new drug? (Rifampin)

Janice70
LymeNet Contributor
Member # 16319


posted

---

My ILADS LLMD prescribed Rifampin last appointment, but the appointment seemed rushed

and he quickly mentioned it was for bartonella, but didn't tell me why he thought I had

bartonella, other than the numbish feeling in my lower left leg/ankle that just started. He also

didn't say how long he planned for me to take it.


I'm feeling much improved on Omnicef, zithromax, and plaquenil. I think my remaining symptoms

are from Lyme in the CNS, so I was hoping to get on something that really penetrated the CNS. I

have bad memory issues, minor vision problems, (but eyes are fine), slightly numb left cheek,

and minor tingling in fingers and toes (much improved). The numb feeling in lower left leg

and ankle is a recent thing.


My symptoms that could be from babesia are night sweats and heavy/numb feeling in left arm. I am

on Nutramedix Enula and Mora for that.


LLMD seems to think BLT is enough for my husbands bartonella, which we're all pretty

convinced he has. I'm also on BLT.


I am uncomfortable taking a drug when I am not convinced of the necessity for it, and how long

I would have to take it once I started. (I don't want to cause any resistant TB bacteria to

grow, for example, if I don't take Rifampin for months--it's a common TB drug, and I don't know

if I'm a TB carrier). Rifampin can cause liver problems, and I've read about some bad

experiences with the drug. I am going back and forth between just doing what my LLMD says, and

wanting to respect my gut feelings until my LLMD gives me further information and understanding

at my next appointment in a month.


And if anyone has any insight into the numb feeling in lower leg and ankle, that would be

great!

---

Posts: 311 | From CA | Registered: Jul 2008 | IP: Logged |

Myco
LymeNet Contributor
Member # 9536


posted

---

I am in the same boat and we share the same LLMD. Zithromax and Doxy have gotten me to the point where I feel fairly well but still have major anxiety issues, night sweats, waking with a smothering feeling and some late afternoon fatigue.

I thought I had Babs but my LLMD wants to treat Bart first because of all the anxiety and remaining cog problems. Also wants me to take Rifampin.

I am also taking BLT and Enula but have not been on them long enough to know.

Decisions!

---

Posts: 770 | From USA | Registered: Jul 2006 | IP: Logged |

WildCondor
Unregistered



posted

---

Rifampin is used for bartonella. It will either work or it wont. Try it out, see how you do. It will make you pee red, which is normal.
Trust your LLMD.

---

IP: Logged |

LymeMECFSMCS
LymeNet Contributor
Member # 13573


posted

---

I know of at least one person who had a horrific experience with Rifampin, but my own experience was pretty good. However, you're right about Rifampin: once you start, you're in it for awhile.

Did your LLMD do any liver testing before starting the drug? Generally, ongoing liver panels are recommended with Rifampin and maybe it would comfort you to know the status of your liver before you even start.

I started Rifampin after a period of having elevated liver enzymes, and I did a lot of liver support and cleansing before starting. I think that helped.

You might try houttuynia herb (what's in HH capsules). Personally I think it has a similar action to Rifampin but is less toxic. You could just try it to see if it generates a herx. Or ask for more testing, like Clongen's bartonella species panel, before you decide to move forward.

---

Posts: 927 | From Massachusetts | Registered: Oct 2007 | IP: Logged |

djf2005
Frequent Contributor (1K+ posts)
Member # 11449


posted

---

rifampin is #1 drug according to many for neuro stuff.

its intracellular and will work or wont.

can take 6 months or more to see improvement.

it helped me IMMENSELY. it was the drug that gave me one more piece of my life back.

this with bicillin after 2+ yrs of treatment rotated with a lot of other abx mind u pushed me into remission.

if i take it again today, i herx.

i am living in harmony w the bugs 4 now, its a sick way to live but its the best weve got.

good luck

trust your llmd

derek

--------------------
"Experience is not what happens to you; it is what you do with what happens to you."

[email protected]


---

Posts: 2269 | From Lansdowne, Pa | Registered: Mar 2007 | IP: Logged |

Keebler
Honored Contributor (25K+ posts)
Member # 12673


posted

---

-

You said you are concerned about liver problems if you start this new Rx.


What is your current liver support ? Will that be changed or stay the same? Liver support is vital and can make all the difference in how well you can tolerate a medicine.


-

---

Posts: 48021 | From Tree House | Registered: Jul 2007 | IP: Logged |

lymephobic
LymeNet Contributor
Member # 17556


posted

---

I am heading into month 5 on rifampin. It has worked wonders for me. It really hit the CNS symptoms from bart.

My last remaining symptoms are neck pain and stabbing headaches behind my eye. But the really good news is that I think in the past month I have only had 2 or 3 days with that pain. The rest have been symptom free!!!

The bad days were PMS days for me so I expected it, and it really wasn't all that bad.

I have my liver and kidneys checked at every appt (every month or every 2 months) and so far so good. For the liver I drink a ton of lemon water, try to work out as much as possible and take hot baths to sweat out the toxins.

Good Luck and I hope you have as much success on this as I have.

---

Posts: 193 | From New Jersey | Registered: Oct 2008 | IP: Logged |

viva
LymeNet Contributor
Member # 8183


posted

---

Hi Janice,

I think you may have the same LLMD as my husband, who is on BLT drops and his 2nd (long) course of Rifampin. He has taken other orals with Rifampin in the past, and is currently taking it alongside IV medication.

He has never tested positive for bartonella, but has gotten clinical diagnoses from 2 LLMDs, and has responded well to Rifampin. I was especially worried about him starting it up again after being off for a while (the resistance issue), but it has proven effective the 2nd time as well.

Anyway, I was also very wary of Rifampin when he started. I agree with those who advise you to make sure you're doing liver support and detox. There are plenty of good ways to do that. My husband's have included Medcaps DPO, sarsaparilla/smilax, lemon-olive oil drink (surprisingly effective, and endorsed by LLMD), FIR sauna, epsom salt baths...lots of good info on Lymenet.

I can only remember one time that his liver enzymes were borderline high, and they came down quickly.

Whenever my husband starts on a new med, I always do a Lymenet search to find other peoples' takes on the pros and cons. It helps me know what to ask the LLMD, and what to watch out for. Everyone responds so differently; you can get the breadth of reactions from posts, but the bottom line is how you yourself fare with the meds.

In the end, I take a deep breath and trust our LLMD, and ask whatever questions I have, and watch my husband like a hawk. So far, so good.

Sincerely,
Viva

---

Posts: 532 | From southeast US | Registered: Oct 2005 | IP: Logged |

lpkayak
Honored Contributor (10K+ posts)
Member # 5230


posted

---

are you supposed to add the rifampin to all the other stuff you are taking? that might be hard.

i started rifampin without worrying too much-just a quick review of bart symptoms and side effects...and wow-did i get hit hard. the psyc stuff hit really =hard...but i was ready for it...so knew even tho i felt wierd and was fantasizing about suicide...really it was a herx. i felt it...but i knew it wasn't real.

crying for no reason too.

so i backed way off...took small bits of the pill...herxed-pain in a lot of places too...and gradually built up to full dose.

the herxes gradually got less to nothing in about 4 months.

my llmd (very experien=ced) believes in cutting down to small dose...even a sliver if necessary and then build up. but he also treats one thing at a time.

its hard to understand why some want to get bart first-some babs. but we don't have all the answers so have to trust them i guess. i think it would be better to stick with one llmd for a few yrs than move around.

it does concern me about being on so many things at once. how to know what is causing what? hard on your liver etc.

i did a lot of probiotics, antifungals, milk thistle, and lemon water

good luck

--------------------
Lyme? Its complicated. Educate yourself.


---

Posts: 13712 | From new england | Registered: Feb 2004 | IP: Logged |

mojo
Frequent Contributor (1K+ posts)
Member # 9309


posted

---

I did only five weeks of Rifampin (had to go off due to elevated Liver enzymes) and my CD 57 shot up temporarily. I also have full range of motion back in my right shoulder - which I haven't had in many years!

It's been several months that I've been off and the shoulder is still good. I wish I could go back on the Rifampin - and maybe someday I will.

It works for Bart and Lyme, I think.

---

Posts: 1761 | From USA | Registered: May 2006 | IP: Logged |

joe-nm
Member
Member # 18054


posted

---

Hi Janice,

I have been on Rifampin for ten weeks for Bartonella. It worked well by reliveing the pain behind my eyes, front headache, ringing in ears and some muscle pains. I had no side effects.

It has not relived my vision which flickers up and down or side to side. My LLMD now wants me to switch to Biaxen and Plaquenil for these sysmptoms.

It's interesting how different doctors use different approaches for, supposedly, the same organism (Bartonella). It makes you wish the doctors would talk to one another and come up with a set of best practices for every one.

I think this is why everyone respects Dr. Burascanno so much because he ties drugs to each organism and sysmptom.

I hope you continue to get well!

Joe-NM

---

Posts: 54 | From New Mexico | Registered: Nov 2008 | IP: Logged |

Munch
LymeNet Contributor
Member # 11323


posted

---

I was on 250 mg. of Rifampin 2X a day for about 9 months as my "background" abx while I was on heparin. Rifampin was one of only a handful of Abx that I could take while on heparin for hypercoag issues.

This Abx helped control "fibro" type pain (muscle) and the constant stiff neck. I had no side effects other than some orange pee.

---

Posts: 192 | From Dwight, IL USA | Registered: Mar 2007 | IP: Logged |

METALLlC BLUE
Frequent Contributor (1K+ posts)
Member # 6628


posted

---

I get a Comprehensive Metabolic panel prior to taking the drug, then I take it for a week or two, and then I retest my numbers.

That is how I protect myself.

--------------------
I am not a physician, so do your own research to confirm any ideas given and then speak with a health care provider you trust.

E-mail: [email protected]


---

Posts: 4157 | From Western Massachusetts | Registered: Dec 2004 | IP: Logged |

METALLlC BLUE
Frequent Contributor (1K+ posts)
Member # 6628


posted

---

It's just a panel that almost every laboratory offers.

Comprehensive Metabolic Panel

Also known as: CMP, Chem 12, Chemistry panel, Chemistry screen, SMA 12, SMA 20, SMAC (somewhat outdated terms)

Formal name: Comprehensive Metabolic Panel
Related tests: Basic Metabolic Panel

What is it?

The Comprehensive Metabolic Panel (CMP) is a frequently ordered panel of tests that gives your doctor important information about the current status of your kidneys, liver, and electrolyte and acid/base balance as well as of your blood sugar and blood proteins. Abnormal results, and especially combinations of abnormal results, can indicate a problem that needs to be addressed. The CMP is typically a group of 14 specific tests that have been approved, named, and assigned a CPT code (a Current Procedural Terminology number) as a panel by Medicare, although labs may adjust the number of tests up or down. Since the majority of insurance companies also use these names and CPT codes in their claim processing, this grouping of tests has become standardized throughout the United States.

The CMP includes:
Both increased and decreased levels can be significant.

Proteins
Albumin, a small protein produced in the liver, is the major protein in serum. Total protein measures albumin as well as all other proteins in serum. Both increases and decreases in these test results can be significant.

Electrolytes


Sodium
Potassium
CO2 (carbon dioxide, bicarbonate)
Chloride

The concentrations of sodium and potassium are tightly regulated by the body as is the balance between the four molecules. Electrolyte (and acid-base) imbalances can be present with a wide variety of acute and chronic illnesses. Chloride and CO2 tests are rarely ordered by themselves.

Kidney Tests


BUN (blood urea nitrogen)
Creatinine

BUN and creatinine are waste products filtered out of the blood by the kidneys. Increased concentrations in the blood may indicate a temporary or chronic decrease in kidney function. When not ordered as part of the CMP, they are still usually ordered together.

Liver Tests


ALP (alkaline phosphatase)
ALT (alanine amino transferase, also called SGPT)
AST (aspartate amino transferase, also called SGOT)
Bilirubin

ALP, ALT, and AST are enzymes found in the liver and other tissues. Bilirubin is a waste product produced by the liver as it breaks down and recycles aged red blood cells. All can be found in elevated concentrations in the blood with liver disease or dysfunction.

How is the sample collected for testing?

The CMP uses a tube of blood collected by inserting a needle into a vein your arm. Ask your doctor whether you should be fasting for 10 to 12 hours prior to the blood draw. Depending on the reason for ordering the CMP, it may be drawn after fasting or on a random basis.

How is it used?

The CMP is used as a broad screening tool to evaluate organ function and check for conditions such as diabetes, liver disease, and kidney disease. The CMP may also be ordered to monitor known conditions, such as hypertension, and to monitor patients taking specific medications for any kidney- or liver-related side effects. If your doctor is interested in following two or more individual CMP components, he may order the entire CMP because it offers more information.

When is it ordered?

The CMP is routinely ordered as part of a blood work-up for a medical exam or yearly physical. Although it may be performed on a random basis, the CMP sample is usually collected after a 10 to 12 hour fast (no food or liquids other than water). While the individual tests are sensitive, they do not usually tell your doctor specifically what is wrong. Abnormal test results or groups of test results are usually followed up with other specific tests to confirm or rule out a suspected diagnosis.

--------------------
I am not a physician, so do your own research to confirm any ideas given and then speak with a health care provider you trust.

E-mail: [email protected]


---

Posts: 4157 | From Western Massachusetts | Registered: Dec 2004 | IP: Logged |

Starfall1969
Frequent Contributor (1K+ posts)
Member # 17353


posted

---

My LLMD just prescribed Rifampin for me too, and I'm a little edgy about starting it.

The more I read now, the more scared I get.

I'm only on Doxy right now, and my dx for Lyme, bart andbabs at this point is just clinical; I have to go in for the IgeneX testng.

My Ehrlichia actually came back positive from Quest labs, which was a surprise.

Any wya, the only thing he told me about Rifampin is that it makes all bodily fluids red, so not to freak out.

He didn;t say anything about liver problems, or side effects or anything.

He did do some blood work to check my liver, and he said it looks "perfect," so at this point I guess it's not a major concern.

I'll definitely make sure he checks that though.

---

Posts: 1682 | From Dillsburg, PA | Registered: Sep 2008 | IP: Logged |

METALLlC BLUE
Frequent Contributor (1K+ posts)
Member # 6628


posted

---

Starfall, all medications have been known to cause problems in patients. Rifampin is one of the harder drugs on people's systems, but hundreds of thousands of people use it each year with no side effects at all (except orange/red fluids).

Just do your homework and know the drug and what to look for, and get some basic testing every few weeks to keep tabs on your bodies ability to manage it, and that's all. If you have serious side effects or reactions, you simply stop the drug and the probability is significantly high, that it ends there and you're fine.

--------------------
I am not a physician, so do your own research to confirm any ideas given and then speak with a health care provider you trust.

E-mail: [email protected]


---

Posts: 4157 | From Western Massachusetts | Registered: Dec 2004 | IP: Logged |
Contact Us | LymeNet home page | Privacy Statement

Powered by UBB.classic™ 6.7.3

---
The Lyme Disease Network is a non-profit organization funded by individual donations. If you would like to support the Network and the LymeNet system of Web services, please send your donations to:
The Lyme Disease Network of New Jersey
907 Pebble Creek Court, Pennington, NJ 08534 USA
http://www.lymenet.org/
---
Home | Flash Discussion | Support Groups | On-Line Library
Legal Resources | Medical Abstracts | Newsletter | Books
Pictures | Site Search | Links | Help/Questions
About LymeNet | Contact Us
---
© 1993-2020 The Lyme Disease Network of New Jersey, Inc.
All Rights Reserved.
Use of the LymeNet Site is subject to Terms and Conditions.
---