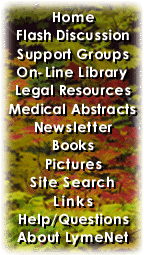 ---
LymeNet on Facebook
LymeNet on Twitter
---
---
The Lyme Disease Network receives a commission from Amazon.com for each purchase originating from this site.
When purchasing from Amazon.com, please
click here first.

Thank you.




Dedicated to the Bachmann Family


LymeNet needs your help:
LymeNet 2020 fund drive

The Lyme Disease Network is a non-profit organization funded by individual donations.

| | |
| --- | --- |
| | |
Author
Topic: I AM A FLOATING HEAD

drewby
Member
Member # 15253


posted

---

hey all,

From the time I wake up until the time I go to bed, I feel like I am a floating head like I'm not connected to my body. It is like this every day but seems to be aggravated by Caffeine and Nicotine(trying to quit)I drink a ton of water so I'm not dehydrated.

It is very strange. About 5 times a day I get the sudden feeling that i will just pass out. I walked off an elevator at work and almost hit the floor like my legs are just going to give out and I will black out.

I wouldn't call it a Dizzy, because there is no spinning. My vision is blurry and hazy but I just got my eyes checked and they are normal. I am alos extremely sensitive to loud sounds. I will jump at a car door slamming.

I have had Lyme, Bartonella and Rocky Mountain for 5 years and currently on a low dose treatment of doxy. Only being treated for the last 8 months

My face, lips, fingers and tops of may hands all tingle. My back goes cold and I get these feelings of near passing out but I have never actually passed out.

This is beyond being tired. I get plenty of sleep but wake up feeling like this. I have sleep apnea and sleep with a CPAP machine.

This is fairly new and the worst of my symptoms. I can deal with being numb and tingling but this floating head feeling is really messing me up.

I really don't get it. I have ben to Doctors that have said its Sinus problems, Dehydration, Vaso Vagal response and even anxiety.

My doctor told me it was fluid in my ears and told me to take Sudafed for a couple of weeks. It does actually help for an hour or so after i take it.

Anyone have any ideas or similar feelings? Thanks

---

Posts: 29 | From New York | Registered: Apr 2008 | IP: Logged |

jocus20
LymeNet Contributor
Member # 11576


posted

---

Depersonalization/Derealization is the common term for what you are experiencing. I too have this symptom and it was one of the first symptoms at the onset of my illness.

For me it has never gone away. It only gets better and worse at times.

There is conflicting info on what causes this symptom. Some people say its bartonella related while others say its babesia. Some people say its from lack of bloodflow to the brain as a result of the infections.

Whatever causes it for each person i cannot say. But i sympathize with you. It is the worst symptom by far i think.

I will say that u probably need to see a better llmd if your only on low dose doxy. That is not going to do much for lyme or any tbi for that matter. The only option for treating these diseases is aggresive therapy.

Good luck,
Joe

--------------------
http://www.myspace.com/jocus20

also check out my videos:

http://www.youtube.com/user/jocus20


---

Posts: 247 | From PA | Registered: Apr 2007 | IP: Logged |

sparkle7
Frequent Contributor (5K+ posts)
Member # 10397


posted

---

re: I drink a ton of water...

Maybe it's all the water you drink? - (just a joke.... I'm sorry, I hope you have a sense of humor) The image of a floating head was just too intriguing...

I don't know the answer to this issue. I have more physical pain than psychological or over-sensitization symptoms. Pain can cause anxiety but I don't think you mentioned that you were in pain. I do have eye problems, too.

I know many people with Lyme have these types of issues that you mentioned. I think they are associated with tick borne illnesses. It would probably be difficult to find anyone to say that, though.

Even with the best LLMD it's tough... Unfortunately, there are no easy answers here. Good luck. I hope you can find something that will help you.

---

Posts: 7772 | From Northeast, again... | Registered: Oct 2006 | IP: Logged |

Al
LymeNet Contributor
Member # 9420


posted

---

Do a search here on lymenet for (NMH)
Neurally Mediated Hypo tension.

---

Posts: 789 | From CT, | Registered: Jun 2006 | IP: Logged |

Keebler
Honored Contributor (25K+ posts)
Member # 12673


posted

---

-

Until the smoke clears, it may be hard to sort this out. That, alone, might be tipping the room, so to speak and also contributing to many of the other symptoms.


You will feel much better when the cigarettes and caffeine are gone because of their harsh effects on your heart, circulation, the inner ear stuff and your liver's ability to clean out toxins from lyme. Stopping smoking may be the single most important thing that will help clear some of the symptoms - you should see some progress within a week or two.


Good luck with your plan. It's worth it. Be sure to have your vitamins and support supplements in place.


-

---

Posts: 48021 | From Tree House | Registered: Jul 2007 | IP: Logged |

lymeHerx001
Frequent Contributor (1K+ posts)
Member # 6215


posted

---

I have this every day. Its vertigo. I had it become chronic about 5+ years ago, went to yale did homeopathy and the whole nine yards.

Diagnosis from the ducks was MAV (migrane associated vertigo) they recomended Vestibular Rehab therapy to which I am still waiting for a call from.

---

Posts: 2905 | From New England | Registered: Sep 2004 | IP: Logged |

drewby
Member
Member # 15253


posted

---

Thanks for all the responses everyone. I guess I need to see another neurologist and Cardiologist and get another MRI and possibly a tilt table test. All the suggestions seem like possibilities.

I do need to stress that nothing is spinning and I don't really feel dizzy in the normal sense (like when you spin around) but just wandering around daily in this thick haze like my legs and arms are someone elses with sudden feelings that I will black out. My legs feel unstable. It's like having the Flu all the time.

So far, I have not been diagnosed with anything except Lyme, but this is fairly new symptom. I always had numbness and tingling for the last 5 years but the feeling of being completely "out of it" is within the last 6 months or so.

---

Posts: 29 | From New York | Registered: Apr 2008 | IP: Logged |

Starfall1969
Frequent Contributor (1K+ posts)
Member # 17353


posted

---

sparkle, lol. Too much water, floating head, lol.

Actually the first thing I thought of was a Native American (Leni Lenape, I think) story I heard called the Flying Head--"Flying Heads can fly real fast, but they aren't too smart..."

Anyway, yes, I know exactly what you're talking about.

I can be sitting at the table having dinner and suddenly feel like I'm floating off into outer space.

It has happened a couple times when I was driving--that is SCARY.

It's just a very disturbing feeling, and yes, I've been told it's anxiety or stress too.

My LLMD wasn't sure which infection causes it (I have Lyme, bart and babs).

---

Posts: 1682 | From Dillsburg, PA | Registered: Sep 2008 | IP: Logged |

drewby
Member
Member # 15253


posted

---

I'm sure anxiety could have something to do with it.

Today was a bad day. Woke up in a fog. Blurry vision(my eye exam last week was FINE) Sweaty hands. Felt like the floor was moving to meet my feet when I took steps. Completely spaced out. I'm ok once I get to my car and sit. I'm ok sitting at my desk.

Felt like I was going to pass out in the shower. Dragged myself to work. Had about 5 episodes of near passing out but I NEVER actually pass out. Very weak and foggy.

Face,lips, hands shoulder tingling and my back goes cold. Legs feel like Twizzlers.

I tried making a cardio appointment but they dont take my insurance. Tried another Cardio and they need a referral even though I have PPO. Need to get referral from my LLMD.

I think I need a tilt table test to confirm if I have NMH. I know I have Lyme. I could have Candida, CFS, EBV, Thyroid problem, Hypoglycemia LOL.

I know its not in my head because I had depression for the last 15 years. I know depression. This is new.

My Halter Monitor, EKG, MRI, monthly bloodwork, etc have all been normal.

---

Posts: 29 | From New York | Registered: Apr 2008 | IP: Logged |

laura_from_nh
Member
Member # 18885


posted

---

I have this too. i have only undergone treatment for four months and have not seen a change yet. my LLMD says it is from Bartonella and will start treating me with additional antibotics in a few weeks when i see him.

look up depersonalization and derealization in google. i think you'll find the definition to be similar to what you're feeling. i feel for you. i'd keep all my other symptoms if just that would go away.

--------------------
Misdiagnosed and untreated from 1993-2008.
- iGenex positive western blot for LD: 9/08
- Clinical diagnosis for Babesia: 2/09
- Positive blood smear for Bartonella: 3/09

Started treatment: 1/09


---

Posts: 91 | From New Hampshire | Registered: Jan 2009 | IP: Logged |

TerryK
Frequent Contributor (5K+ posts)
Member # 8552


posted

---

Tilt table test seems like a very good idea. Also, blood sugar testing. I have NMH and have experienced your symptoms but also some of them seem like blood sugar issues which I have too.

The blurry vision for me can sometimes be toxins. If I add wheat grass for awhile, the vision gets a lot better.

Sounds like you've got some investigating to do.

Hope you figure it out. When you do (and you will if you keep at it), please come back and let us know.

You might want to invest in both a blood sugar meter and a blood pressure cuff then next time you have an episode, measure both. The electronic blood pressure cuffs often don't work well for people with NMH. My doctor had me get one that is manual but has all the stethoscope built into the cuff. Much easier to use when you are taking your own blood pressure.

Terry

---

Posts: 6282 | From Oregon | Registered: Jan 2006 | IP: Logged |

TerryK
Frequent Contributor (5K+ posts)
Member # 8552


posted

---

drewby wrote:
Felt like I was going to pass out in the shower.

Try cooling the shower down and see if that helps. If it is NMH, warm temps will make it worse.

drewby wrote:
I'm ok once I get to my car and sit. I'm ok sitting at my desk

This happens with NMH. Standing causes the blood pressure to drop and some people also get a higher pulse at that time because the body is trying to keep blood circulating.

Be very careful in case you do pass out. As soon as you feel light headed, sit down ASAP and put your head down. These episodes can make you very tired. Maybe increase your salt (use sea salt if you can) and see if that gives you fewer episodes.

You might also have something on hand to eat to see if your symptoms respond to food.

Stay away from caffiene.

Edited to add:
Be careful with getting too much salt, especially if you have any history of high blood pressure.

Terry
I'm not a doctor

---

Posts: 6282 | From Oregon | Registered: Jan 2006 | IP: Logged |

Amy C
LymeNet Contributor
Member # 19297


posted

---

I get similar problems often.

I get dizzy, lightheaded, drunk like feeling, nausea and motion sickness.

Sometimes it is triggered by something as simple as watching tv. Very strange!

When I was younger I used to black out a lot too.

Oh and I don't smoke and I only drink 1/2 cafe, 1 cup a day. Very sensitive to caffiene!

--------------------
My lyme disease blog:
http://lymetimes3.blogspot.com/
One BIG Lyme family!
I tested CDC + 10/08
My mom Igenex + 11/08 & My brother Igenex + 4/09, My 2 boys some + & IND bands, clinical diagnosis 3/09 (youngest has Aspergers too)


---

Posts: 470 | From Painesville, Ohio | Registered: Mar 2009 | IP: Logged |

kensadams
Member
Member # 19272


posted

---

Hi Drewby,

[new to the board - this is my first post/reply! Lyme untreated but on my way to LLMD in a couple of weeks]

Going through something similar as well.

Just before Thanksgiving '08 I passed out in the bathroom (I am 6'5" so it is a long way down :) - following that I went through a month or so of the same disconnected feeling you describe.

I wanted to share a couple of thoughts in the hope that they are helpful (I am not an MD though so this should not be considered advice)

Went to see a cardiologist following the passing out/fall and he came to the conclusion that hypotension is a likely cause of this problem (tilt table testing in a few weeks to confirm NMH).

He suggested (rather than putting me on something like Florenef) to first try increasing my intake of electrolytes by drinking Gatorade.

I too was also drinking a lot of water during the day (something like 2-4 liters) in trying to keep myself hydrated - my cardiologist said two things concerning this: 1) drinking large quantities of regular water alone can cause problems as it will flush out existing electrolytes like salt and potassium important for maintaining blood pressure 2) coffee exacerbates the problems as it is a diuretic causing you to retain less water overall.

He suggested that I drink 1:1 ratio of gatorade to the regular water that I was drinking...and kick some of the coffee.

Due to the cost of gatorade (and to eliminate the sugar) I made my own electrolyte solution after searching the web and settled on the following:
- 2 quarts water
- 1/2 tsp of salt
- 1/4 tsp of nu-salt (potassium)
- 1/2 lemon, squeezed
> this approximates the salt/potassium ratio of gatorade. Doesn't win awards for it's taste, but not a real problem...

I started drinking a couple of liters a day of this and it made a really big difference in how I felt.

I drink about a liter a day now as it is not bothering me as much - I still occasionally go through periods of feeling like I will pass out when standing - increasing my intake of electrolytes helps.

Hope this helpful...

Ken

p.s. here is text from Burascanno's Lyme Guide on NMH:
Neurally mediated hypotension (NMH) is not uncommon. Symptoms can include palpitations, lightheadedness and shakiness especially after exertion and prolonged standing, heat intolerance, dizziness, fainting (or near fainting), and an unavoidable need to sit or lie down. It is often confused with hypoglycemia, which it mimics. NMH can result from autonomic neuropathy and endocrine dyscrasias. If NMH is present, treatment can dramatically lessen fatigue, palpitations and wooziness, and increase stamina. NMH is diagnosed by tilt table testing. This test should be done by a cardiologist and include Isuprel challenge. This will demonstrate not only if NMH is present, but also the relative contributions of hypovolemia and sympathetic dysfunction. Immediate supportive therapy is based on blood volume expansion (increased sodium and fluid intake and possibly Florinef plus potassium). If not sufficient, beta blockade may be added based on response to the Isuprel challenge. The long term solution involves restoring proper hormone levels and treating the Lyme to address this and the autonomic dysfunction.

---

Posts: 37 | From Massachusetts | Registered: Feb 2009 | IP: Logged |

drewby
Member
Member # 15253


posted

---

I will definitely try the Gatorade. I have did try to drink some salt water but man, that is nasty. I'm in the process of setting up some appointments with various doctors, cardio, my ENT and maybe a new LLMD.

Today I took a few Motrin in the morning and it seemed to help reduce my symptoms a little. I had stopped taking ibuprofen months ago because i had a couple of liver tests that were elevated. I'm thinking it probably reduced some inflammation that was making my symptoms worse, but who knows.

I really appreciate all the responses.

---

Posts: 29 | From New York | Registered: Apr 2008 | IP: Logged |

drewby
Member
Member # 15253


posted

---

NMH was confirmed this week by a Tilt Table Test. What a horrible experience that test is. They stopped it before I actually blacked out.

Dr has me increasing fluids and salt and stopping caffeine. He wants to hold off on any meds but says he might try an SSRI like Prozac becuase they are known to help this condition even though they are intended to treat depression.

Of course the Cardiologist wont make the Lyme connection but I think its obvious.

I have been taking a break from Abx for the last 4 months or so but i think its now time to step it up with a more aggressive treatment.

Between the inconclusive lesions on my brain, the NMH and the laundry list of Lyme symptoms, I think its safe to say low dose Doxy is not going to help me. I want to avoid IV ABX if I can and am thinking of orals + IM Rocehin and IM Bicillin. I have become used to doing self injections with the B12 shots I give myself.

I have been sick for 6 years now.

---

Posts: 29 | From New York | Registered: Apr 2008 | IP: Logged |

[email protected]


Member
Member # 20152


posted

---

Ken, thanks for sharing the recipe. I'm going to try that.

Drewby, I have had those symptoms for years, all while

taking Paxil, an SSRI. Please, please Google 'ssri withdrawal' before agreeing to take one.

SSRI withdrawal symptoms are very similar to neuro-Lyme symptoms. Not fun.

---

Posts: 57 | From western Virginia | Registered: Apr 2009 | IP: Logged |
Contact Us | LymeNet home page | Privacy Statement

Powered by UBB.classic™ 6.7.3

---
The Lyme Disease Network is a non-profit organization funded by individual donations. If you would like to support the Network and the LymeNet system of Web services, please send your donations to:
The Lyme Disease Network of New Jersey
907 Pebble Creek Court, Pennington, NJ 08534 USA
http://www.lymenet.org/
---
Home | Flash Discussion | Support Groups | On-Line Library
Legal Resources | Medical Abstracts | Newsletter | Books
Pictures | Site Search | Links | Help/Questions
About LymeNet | Contact Us
---
© 1993-2020 The Lyme Disease Network of New Jersey, Inc.
All Rights Reserved.
Use of the LymeNet Site is subject to Terms and Conditions.
---