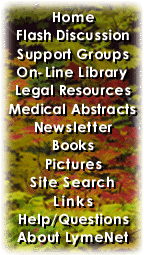 ---
LymeNet on Facebook
LymeNet on Twitter
---
---
The Lyme Disease Network receives a commission from Amazon.com for each purchase originating from this site.
When purchasing from Amazon.com, please
click here first.

Thank you.




Dedicated to the Bachmann Family


LymeNet needs your help:
LymeNet 2020 fund drive

The Lyme Disease Network is a non-profit organization funded by individual donations.

| | |
| --- | --- |
| | |
Author
Topic: Grass / Yard Treatment to Kill Ticks???

Paul M in MA
Member
Member # 14630


posted

---

My daughter, who's fighting Lyme and Babesia, just came into the room to tell me she found another tick crawling on her neck. She was out in the yard earlier.

Is there some kind of chemical treatment or spray that I can use to treat my grass, shrubs, and trees to make it tick free?

We have deer 30 feet from our house several times a week eating my trees. I'm sure this is part of the problem.

Thanks, Paul.

---

Posts: 80 | From Massachusetts | Registered: Feb 2008 | IP: Logged |

migs
LymeNet Contributor
Member # 16496


posted

---

Good question. I got my Lyme from a tickbite in my backyard. My wife won't let the kids out there anymore. It's like jail for them.

---

Posts: 410 | From Victoria BC, Canada | Registered: Jul 2008 | IP: Logged |

bettyg
Unregistered



posted

---

paul and migs,

i used search feature above; tried killing ticks; killing ticks in yard in medical....nothing although we've had many conversations.

try this and this is what you will get so read down thru and then click on link after you have completed this:

click search
type in deer
medical
subject line
click search and this all popped up!


You searched for keywords: 'deer' |
62 matches found | Pages: 1 2 3 4 New Search
this is page ONE ONLY!!
***************************

Topic Date Forum

The Use of Harvested White-Tailed Deer and GIS...Indiana 26-03-2009 Medical Questions


this info was new to me, deer tick virus 29-12-2008 Medical Questions


Pennsylvania is Deer Infested, Are all Deer Infested with Tics? Do All Tics Have LYME 10-12-2008 Medical Questions


Wisc Deer Tick surveillance 24-11-2008 Medical Questions

Deer news article 22-11-2008 Medical Questions


Deer hunters reminded of South Texas fever tick quarantine 23-10-2008 Medical Questions


It would be ideal IMO stop Lyme by inoculating deer 02-10-2008 Medical Questions


Article - Researchers want your deer ticks 09-09-2008 Medical Questions


Article - Oh deer - Action pending on Lyme disease issue 26-08-2008 Medical Questions


Article - County to continue deer hunting 24-07-2008 Medical Questions


Deer tick larvae 22-07-2008 Medical Questions


CDC Incidence Map for Deer Ticks here 08-07-2008 Medical Questions


Please advise! My baby had a deer tick on him 26-06-2008 Medical Questions


DEER TASK FORCE meeting I attended in Ames, Iowa 5-20-08; is deer meat SAFE TO EAT ??
22-05-2008 Medical Questions


Deer Don't Bite People, Ticks Do 23-03-2008 Medical Questions


Herbal remedy for natural deer-borne killer. 16-03-2008 Medical Questions


DIVERSITY OF BABESIA INFECTING DEER TICKS -maybe a reason for neg testing w/Babs Sx? 06-01-2008 Medical Questions


Oh deer, deer. Ruldoph's red nose was acatully an EM rash. 21-12-2007 Medical Questions


Excellent article in Deer and Deer Hunter Magazine on Lyme and coinfections 16-12-2007 Medical Questions


Deer Problem 22-11-2007 Medical Questions

---

IP: Logged |

Leelee
Frequent Contributor (1K+ posts)
Member # 19112


posted

---

I was at a meeting last week and someone suggested using garlic powder. She was selling humongous containers of it.

I don't know if it really works, or if it washes away in the rain, or just what.

Having about a thousand deer in our yard I imagine it would take truck loads to do any good for us.

Maybe an exterminator could at least spray around your foundation and doors so the ones that try to sneak in would be prevented.

--------------------
The ultimate measure of a man is not where he stands in moments of comfort and convenience, but where he stands at times of challenge and controversy. Martin Luther King,Jr


---

Posts: 1573 | From Maryland | Registered: Feb 2009 | IP: Logged |

tickbattler
Unregistered



posted

---

This is what we use and it works great.

http://www.pestproducts.com/ticks2.htm


Permethrin is supposed to be the best for killing ticks. We do this 2-3 times per year on our lawn. You need to spray after the egg sacks hatch, which I think is in late June or early July. The egg sacks won't be killed by it.

We are about to do the first spray and then will do another mid summer and another in the fall.

You can also buy the Sawyer spray for your clothing.

tickbattler

---

IP: Logged |

Pinelady
Frequent Contributor (5K+ posts)
Member # 18524


posted

---

I bought a flock of Guinea to eat them.

They seem to be immune to everything but bobcat.

They cannot keep up. This year is going to be bad.

I got them 2 years ago and at first it was great.

They really reduced the numbers.

Now I feel I am going to have to pin them up and spray.

I dont have the occasional tick.

I have the clouds of ticks in the woods.

--------------------
Suspected Lyme 07 Test neg One band migrating in IgG region
unable to identify.Igenex Jan.09IFA titer 1:40 IND
IgM neg pos
31 +++ 34 IND 39 IND 41 IND 83-93 +
DX:Neuroborreliosis


---

Posts: 5850 | From Kentucky | Registered: Dec 2008 | IP: Logged |

luvs2ride
Frequent Contributor (1K+ posts)
Member # 8090


posted

---

Do you have pine or cedar trees in your yard?

We have a few and the ticks only seem to be in those areas. We own 3 acres of mostly open grass and I am out in it constantly. As long as I avoid the trees, I don't see any ticks on my dogs.

I personally have not had a tick on me in over 2 yrs. I take lots of herbs that include garlic and I take B vitamins. Both are supposed to keep away ticks, mosquitos and flies. Seems to work well for me.

I would not use chemicals if you can avoid it. The chemicals are toxic, plain and simple. They weaken and disease our bodies slowly, overtime. Especially children whose immune systems are weaker and their bodies are developing.

A strong immune system will be our best defense again future infections. Strengthen the body and cut down the trees if you can.

My husband refuses to cut down ours. We only have a few, so I just avoid them.

I ride horses and am out in the woods and fields a lot. Still no bug bites. Garlic and B vitamins as well as a really good diet.

Luvs

--------------------
When the Power of Love overcomes the Love of Power, there will be Peace.


---

Posts: 3038 | From america | Registered: Oct 2005 | IP: Logged |

luvs2ride
Frequent Contributor (1K+ posts)
Member # 8090


posted

---

This is taken from:

http://drlwilson.com/Books/saunabook.htm


Toxic metals. According to the United States EPA, toxic metals are the second worst environmental problem. Pesticides may contain lead, copper, arsenic and other metals. Fifty million mercury amalgam fillings are still placed in America each year. Tons of it is dumped into the air from coal-burning power plants and paper-making. Aluminum compounds are routinely added to table salt and municipal drinking water supplies. Arsenic and lead used in pesticides and insecticides find their way into the water and food supplies. In my experience, everyone has excess toxic metals, whether or not they show up on any test.

Some toxic metals replace vital minerals in enzyme binding sites. However, they do not function as well. When they accumulate, they contribute to hundreds of physical and emotional health conditions.



Lead contributes to more than 100 conditions including neuromuscular and bone diseases, fractures, mental retardation, hyperactivity, anemia and others. Some historians believe the Roman Empire fell because lead water pipes slowly poisoned the people and decreased their strength and intelligence. Sources of lead include old paint, inks, pesticides, a few hair dyes, solder and other metal products. During sauna therapy, I have observed lead to have a sickly sweet odor as it is eliminated. Elimination of lead was confirmed with hair mineral testing.



Cadmium contributes to high blood pressure, heart disease, cancer, fatigue, arthritis, violence, infections, back pain and other conditions. Common sources are cigarette or marijuana smoke, refined foods and tap water. One may feel tired for a few days if one eliminates a lot of cadmium at one time.



Mercury toxicity is present in almost everyone today. Mercury is found in silver amalgam dental fillings, tuna and swordfish, contact lens solution, vaccines and various other products. Mercury may contribute to hypothyroidism, an impaired immune system, digestive problems such as yeast infections, emotional difficulties, learning disabilities, ADHD and many other conditions. Mercury elimination, if heavy, may be accompanied by a fishy odor during a sauna session.



Aluminum is associated with memory impairment and Alzheimer's disease. Aluminum is widely used in beverage cans, aluminum foils, antiperspirants, antiacids, and aluminum cookware. Peppermint, spearmint and wintergreen are naturally high in aluminum.



Fluoride contributes to brown staining of the teeth, weakened bones, hip fractures, hypothyroidism, mental impairment, birth defects and cancer. Fluoride compounds are found in pesticides, air pollution, toothpastes, and are added to many water supplies. Foods processed with water including baby foods and juices often contain too much fluoride.

Large, worldwide studies show little or no benefit of fluoride for tooth decay, contrary to many news reports. Only the United States, Australia and Great Britain continue to add toxic fluoride compounds to drinking water.



Chlorine toxicity is associated with fatigue, heart disease, cancer and renal problems. Chlorine is required in the body, and found in salt and other foods. Many chlorinated cmpounds, however, are highly toxic. These include chlorinated tap water, chlorinated hydrocarbons used in pesticides and other chemicals, bathing in chlorinated water, pools and hot tubs, and the use of chlorine bleach and other chlorine-containing household products.



Arsenic contributes to liver and kidney damage, weakness, diarrhea, muscle spasms, headaches and other symptoms. Sources include pesticides, beer, tap water, table salt, paints and other chemical products.



Physiological minerals may also become toxic. For example, hexavalent chromium is toxic while trivalent chromium is not. Vital minerals can also become toxic if they are unusable by the body. Calcium is needed in the bones. When it accumulates in the arteries, joints, kidneys or elsewhere it becomes toxic. A similar situation occurs with iron, manganese, chromium, copper, selenium and other vital minerals, contributing to many health conditions. Of these, the most commonly seen are copper, iron and manganese toxicity. They will often be revealed on a hair mineral test at some point if one pursues a corrective nutrition and sauna therapy program. All three of these minerals help support weak adrenal glands.

Copper is high in vegetarian proteins and associated with zinc deficiency and adrenal exhaustion, both very common conditions. Copper imbalance contributes to emotional conditions, skin problems, joint pain, cancer, migraine headaches and premenstrual tension. The symptoms of copper toxicity are identical to the symptoms of premenstrual tension. Copper elimination in a sauna may be accompanied by a rotten egg odor. This is probably sulfur that is bound to copper to protect the body from the worst effects of excess copper.

Manganese is found in unleaded gasoline and foods such as tea. Both copper and manganese are needed in the body. However, the body may convert manganese into a toxic, oxidized form (MnO6) that helps support weak adrenal glands. This manganese is not usable and must be eliminated. Manganese elimination in a sauna may cause a slightly metallic odor.

Iron toxicity is also very common, although often not revealed on standard tests. Iron is added to all white flour products such as breads, crackers, pasta and pastry. Vitamin and mineral supplements often contain a lot of iron. Iron can accumulate to help support weak adrenal glands. It is stored in the liver and other organs and may contribute to heart disease, cancer, emotional difficulties and other health problems.

Sauna therapy is excellent to remove excess minerals, whether they are toxic metals or unusable or excess physiological minerals.



Biological Toxins. Infection plays a role in more conditions than previously thought, from artery disease and ulcers to arthritis and colitis. Many bacteria and fungi produce endo-and exotoxins that cause both local and systemic disease. More and more of them are resistant to drug therapy. Bodies weakened by toxic chemicals and heavy metals are more subject to attack by infections.

Many infections are chronic, causing nagging complaints that never go away. This occurs especially in parts of the body with poor circulation such as the joints, ears and sinuses. Heating the body is a natural mechanism the body uses to fight infections. Sauna therapy not only heats, but powerfully improves circulation to help fight both acute and chronic infections.



Radiation. An article in The Ecologist, April 2001 issue begins by stating ``the (radiation) equivalent of a nuclear war has already happened''. This may not be an exaggeration. The article carefully details that 1900 nuclear tests, accidents and nuclear waste dumping have exposed everyone on the planet to the equivalent of 1000 Hiroshima bombs.

The article reveals details of previously classified accidents including one in Greenland in 1968. A B-52 crashed at a secret nuclear base and its cargo of four nuclear bombs detonated, sending up a cloud of plutonium 25,000 feet into the air. According to US documents, 1250 nuclear weapons have been involved in accidents, a number of which ``resulted in or created the potential for plutonium dispersal''. The Soviet Union was notorious for its cavalier attitude about nuclear accidents. A 1991 film documents the poisoning of hundreds of thousands as a result of accidents at their first plutonium factory at Chelyabinsk in the Ural mountains.

Using the official `radiation risk' estimates published in 1991 by the International Commission on Radiological Protection, planetwide contamination will cause 175 million cancer deaths and another 350 million non-fatal cancers. It will also cause another 235 million illnesses and 588 million children to be born with birth defects such as brain damage, mental disability, spina bifida and childhood cancers.

Depleted uranium, a waste product which every nation that has atomic weapons has in abundance, is another source of radiation exposure. To get rid of it, it is often made into ammunition that was used in the Gulf War, Bosnia and Kosovo. Leukemia rates have increased in these areas since its use.

Another hidden source of radiation are the fluoride compounds added to many municipal water supplies. Hydrofluosilicic acid, the source of most fluoride for water supplies, is a smokestack waste produce that contains radioactive particles and heavy metals along with fluoride.

Other sources are medical and dental x-rays, medical waste that may contain radioactive materials, CAT and other scans, smoke alarms and proximity to food irradiation facilities.

Radiation is carried on mineral particles. The minerals lodge in the cells where they disrupt DNA synthesis. This causes defective protein synthesis resulting in innumerable subtle metabolic dysfunctions. As the defective proteins replicate, the metabolic errors also multiply.

Electric light sauna therapy promotes rapid turnover of body cells. The deeply penetrating high heat kills damaged cells which are more heat-sensitive than normal cells. Eliminating the radiation-containing cells helps the body eliminate radioactive particles faster and prevents replication of these cells. Over a period of time, light sauna therapy can dramatically reduce the amount of mutated DNA and radioactive material in the body. One needs to continue sauna use on a maintenance basis because exposure to radiation continues throughout one's life.

--------------------
When the Power of Love overcomes the Love of Power, there will be Peace.


---

Posts: 3038 | From america | Registered: Oct 2005 | IP: Logged |

Paul M in MA
Member
Member # 14630


posted

---

Thanks to all who responded with great information! I appreciate it.

---

Posts: 80 | From Massachusetts | Registered: Feb 2008 | IP: Logged |

JaimieB
LymeNet Contributor
Member # 19076


posted

---

I am glad I seen this thread. The ticks are out like crazy at my place. My neighbor and I both want to spray our yards for ticks. I would love to have chickens or something but I am in City limits. Bleah!

Thank you for the information!

---

Posts: 171 | From the land of oz | Registered: Feb 2009 | IP: Logged |

aileenhome
LymeNet Contributor
Member # 3960


posted

---

I have a fenced yard and 2 golden retrievers. Even although I use Frontline on them, they still bring ticks inside. One day I picked off 8 ticks crawling on one dog last fall after he had been outside. After being bitten twice last year I called in a company that sprays spring, summer, and fall. I don't want the chemicals for my family or for my dogs but I have to do something.

---

Posts: 133 | From Far Hills, NJ 07931 | Registered: May 2003 | IP: Logged |

catskillmamala
LymeNet Contributor
Member # 12536


posted

---

I have guinea hens and I spray beneficial nematodes in the yard that my kids play in. The nematodes are parasites to ticks, isn't that fun! Hah, revenge. I got mine at arbico organics but I know other places sell them. They come in a powder, you mix with water and spray before a rain so they percolate into the soil. They're fine for people and pets so I spray them right on my garden too.

---

Posts: 524 | From Hudson Valley, NY | Registered: Jul 2007 | IP: Logged |

luvs2ride
Frequent Contributor (1K+ posts)
Member # 8090


posted

---

catskill,

I like that suggestion.

--------------------
When the Power of Love overcomes the Love of Power, there will be Peace.


---

Posts: 3038 | From america | Registered: Oct 2005 | IP: Logged |

Just Julie
Frequent Contributor (1K+ posts)
Member # 1119


posted

---

Just Don recommended Talstar pesticide spray. I bought it, used it, and it worked. Tempo is also one I think he recommended on here, if he didn't, I found it via an internet search, and tried that as well. It worked, but I think I had trouble getting it one time, and found a company that had Talstar, and used that. I am a middle aged woman, ticks out my back door, outside only cat (who is Frontline Plus'ed year round) and I spray this stuff myself.

Sure, pesticides are deadly, but then so is a tick bite, especially if you have already been bitten before, have taken abx up the wazoo, have lyme children, can't move from your tick infested neighborhood (yes, me) and have to DEAL on a daily basis, some form of near panic when dealing with outside anything stuff. I'm not a prisoner in my home, yet I am not a yee-haw who goes bounding out into the tall grass/wooded areas of my Northern California psuedo-paradise anymore either.

Just a well educated, once bitten, now know better middle aged, problem solver, fixer personality, woman. Trying her best to live with this @#$% issue, because until heaven comes, we have to face reality of living where we live, and trying to keep ourselves, and our kids, safe from yet another dive down the well (the hell hole that is lyme treatment in the US today).

Spray your yard, use stuff that works, and hope that you don't have to regret going "green", or "not letting the ticks win" (they will if you get bit again).

In California, Tempo and Talstar are outlawed. I buy mine from ebay and say "screw the law".

--------------------
Julie


---

Posts: 1027 | From Northern CA | Registered: May 2001 | IP: Logged |

Just Julie
Frequent Contributor (1K+ posts)
Member # 1119


posted

---

I think I got it switched around: Just don recommends Tempo. I tried both Tempo and Talstar. Both work. Sorry!

--------------------
Julie


---

Posts: 1027 | From Northern CA | Registered: May 2001 | IP: Logged |

Robin123
Moderator
Member # 9197


posted

---

Two suggestions, and I'd like to know if any of you would like to try them and report back --

Someone in NH awhile back reported spraying grapefruit seed extract on herself, the dog, in her home and in the yard and reported seeing no more ticks.

Second, I just had a long chat with the TKO Orange folks at a garden show I was recently educating at.

TKO Orange is from oranges. It's a nontoxic, essential oil. It's what oranges use to keep bugs away.

The TKO folks said it can be used as an effective bug repellent/killer as long as no one is allergic to citrus.

You put a couple drops in a spray bottle, fill it up with water, and then spray. I spray my clothing, not my skin.

Pets can be lightly misted with it. The TKO folks said it would be ok on cats too. A woman said she rubbed it on her dog's fur.

It has an orange smell, so just air out the home if you're trying it there. I've seen it kill bugs on impact.

It's biodegradable so would have to be applied frequently if you were going to try it in the yard.

It's also an awesome cleaner and gets everything out, spots, mold, etc. It cleaned my walls of fire smell after a fire.

www.TKOOrange. Also sold as Orange Guard in stores.

---

Posts: 13101 | From San Francisco | Registered: May 2006 | IP: Logged |

migs
LymeNet Contributor
Member # 16496


posted

---

Good replies. I'll be spraying.

---

Posts: 410 | From Victoria BC, Canada | Registered: Jul 2008 | IP: Logged |

tickbattler
Unregistered



posted

---

Hi all,

Has anyone used the mosquito barrier product? I plan to use it in conjunction with my favorite permethrin product (Dragnet- from the site I mentioned above).

I am now paranoid about even mosquitos and black flies transmitting stuff!

By the way, I just tried to order the mosquito product over the phone and the guy was a real jerk. I just asked one question about how much to mix with water and he told me to read the label when I got it. He was too much in a hurry to answer even some simple questions.

He clearly needs some sales training. I was so angry I actually hung up on him and bought it online. If there was another brand sold by a different company, he would have lost the sale!

tickbattler

---

IP: Logged |

imagine2
LymeNet Contributor
Member # 3136


posted

---

Hi tickbattler,
Do you know if Dragnet is toxic to cats/dogs if they ingest the grass that has been sprayed?

I'm really interested in this product and thank you so much for posting it. I just need to make sure that my 25 year old kitty and dog are safe to "graze around" as they inevitably will do.

---

Posts: 677 | From Virginia | Registered: Sep 2002 | IP: Logged |

tickbattler
Unregistered



posted

---

Hi imagine,

I am not sure, but I presume it is safe after it dries. I would recommend calling them because, unlike the mosquito barrier guy, they at Professional Pest Products are really, really helpful. They will spend all the time you need to reassure yourself about the product.

tickbattler

---

IP: Logged |

Just Julie
Frequent Contributor (1K+ posts)
Member # 1119


posted

---

Tempo and Talstar ARE safe, once they are dry. Before the spray/liquid dries, the bottle says to keep pets and people "off" the area(s).

--------------------
Julie


---

Posts: 1027 | From Northern CA | Registered: May 2001 | IP: Logged |

imagine2
LymeNet Contributor
Member # 3136


posted

---

Hi tickbattler and Julie,

I just called the company and they explained that Talstar and Dragnet were equally effective against ticks...just different chemicals.

The person I talked to did confuse me a little, saying that it takes 2 initial treatments, no more than 2 weeks apart.

When I asked about treating after the eggs hatch in 2 months, she said eggs hatch ALL the time. That's just "peachy".

---

Posts: 677 | From Virginia | Registered: Sep 2002 | IP: Logged |

Alv
Unregistered



posted

---

unbelivable ...

I found a tick inside my house right after My rife machine....If I was not there for rifing I would have never seen it.

Does any body knows what else is that you can use it inside the house and to be organic.

---

IP: Logged |
Contact Us | LymeNet home page | Privacy Statement

Powered by UBB.classic™ 6.7.3

---
The Lyme Disease Network is a non-profit organization funded by individual donations. If you would like to support the Network and the LymeNet system of Web services, please send your donations to:
The Lyme Disease Network of New Jersey
907 Pebble Creek Court, Pennington, NJ 08534 USA
http://www.lymenet.org/
---
Home | Flash Discussion | Support Groups | On-Line Library
Legal Resources | Medical Abstracts | Newsletter | Books
Pictures | Site Search | Links | Help/Questions
About LymeNet | Contact Us
---
© 1993-2020 The Lyme Disease Network of New Jersey, Inc.
All Rights Reserved.
Use of the LymeNet Site is subject to Terms and Conditions.
---