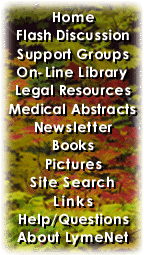 ---
LymeNet on Facebook
LymeNet on Twitter
---
---
The Lyme Disease Network receives a commission from Amazon.com for each purchase originating from this site.
When purchasing from Amazon.com, please
click here first.

Thank you.




Dedicated to the Bachmann Family


LymeNet needs your help:
LymeNet 2020 fund drive

The Lyme Disease Network is a non-profit organization funded by individual donations.

| | |
| --- | --- |
| | |
Author
Topic: How does prolonged chronic pain change you?

bwillis
LymeNet Contributor
Member # 18811


posted

---

I have been in pain so long now I'm beginning to wonder what kind of things have changed in my personality that I don't even notice. My wife is an angel and keeps saying every day , "we're going to get this, you will feel better". Her faith keeps me going.

But I wonder if I have to live like this with no change for years and years what will I change into. Will I become more depressed, will I give up? Is that what finally happens to people with this disease and then we don't hear from them any more?

Some say there is hope, you will improve but mostly I see people confused like me, having tried many things and still in pain and ill. Do people really get better or are they just not here any more because they gave up?

How long can a person take it and still keep going?

---

Posts: 199 | From utah | Registered: Jan 2009 | IP: Logged |

daphne
LymeNet Contributor
Member # 2340


posted

---

good morning!

all i can talk about is our family experince with this garbage.

i have been really sick since 95', but they have said that i was born with this as was or son, who used to suffer so many many health issues, such as up to 18 seizures per day, we had to do cpr on him 7 times before his 1st birthday, etc..

as for the chronic every single minute of your life "PAIN", yes it will change you.

it will change the way you deal with people, and the people who you truly let get close to you.

but it does not all have to be in a negative way.

i have noticed that over the past couple of years, i have pretty much cleaned house of all of the whiners, complainers, and all together life sucking individuals we used to call friends.

you know the people who begin every conversation about how bad things are for them that day, NEVER ask how you are, (because they do not care) but the minute you start to discuss how you have been, they have to go.

i decided that life is just too short, especially when you are in pain every second of every day, to be drawn in by what i call "the poor me crowd"

we all have and are entitled to those moments when we must have our own pitty party.

but you cannot allow yourself to stay there too long, or it is really hard to pull yourself out of that place.

i have changed into a totally different person. i actually had to learn to tell people "NO", because i do not feel good.

when talking to people, i let them vent, then i say ok, now it is my turn. and i get to vent aobut my day.

the ones who truly care about you get this, and allow you to. and believe me you will feel better after just talking your day out.

you do not have the option of giving up, you have family who need you.

but i hope you can take strength from knowing that.

i try to use each day to show my kids that no matter what we will get through this, as my son also has this disease and i know he is looking at how i deal with what is thrown at us, to know how he is to handle it.

don't misunderstand, there are still days that i sit in a ball crying til there are no more tears. but then i have to get back up and make dinner.

i used to be a total ocd person about everything, from the house, the ironing, the yard, everything.

but all it was doing was slowly killing me. i still would love to have my house sparkling, but i had to let go of a few things, and i learned that it is alright if the dishes wait til later.

people tell me all the time how much i have changed, but i know it is not all in a negtive way.

i think whe you are as sick as most of us here are, you cannot help but be changed by it, especially by the physical pain.

i know this sounds very corny, but i try to find atleast one thing positive out of each day.

sometimes, i have to think long while, and maybe it is just the pretty blue bird who sat on the window while i was crying, but it is there.

sorry this is so long. you just sounded very beat down by this whole nightmare of lyme disease.

i hope if nothing else, this gave you a bit of hope.

--------------------
(((HUGS!!!))),daphne


---

Posts: 232 | From ft. worth, texas, | Registered: Apr 2002 | IP: Logged |

jt345
Unregistered



posted

---

Hey bwillis

I have been changed. I no longer worry about what people think. My wife tells Me I have became negative. But I don't think that is really so.

I don't pull pounches,I tell it like it is. Most of the people who would call me back when I was healthy don't anymore. But I got used to that.

I find Myself reaching out more to people who really need help. I guess I have come to know what is important too Me.

I laugh at ones Who really have nothing too complain about. And if they want too waste their time that's fine by Me.

One thing I have not became used too is being looked through as if I am not there. But people don't ,can't begin too understand what we go through each day just to get up,and smile.

I try too smile more,I try too laugh at things I can't do .One thing I do ,do is concentrate on what I can do. Just because I have to take pain meds to get through the day dosn't make me any less a person.

I feel sorry for the ones Who have drifted away,they don't know what they are missing. I am still Me.

I would make a list of what You can do ,and strive too make it longer. One thing I have not gotten used too ,is being disabled. Maybe ,it was how I was raised,but I do not like getting My mounthly check. I have yet too shake the guilty feeling of doing something. I do not like being dependant on a government program.

I know I shouldn't but sometime I feel if I can do this ,then I should beable too work. But Who in their right mind would hire someone who would come too work on a day to day base.And no insurabce company would cover someone like Me. I take way too many meds too be insured.

So Yes I have changed,some for the worst ,but inside more for the good. The choice is Yours.

appleseed

---

IP: Logged |

kellyjk4
LymeNet Contributor
Member # 19731


posted

---

Hi bwillis.

I'm sorry you're having a hard time.

I've had lyme disease for about 30 years, and my first LLMD appt is next month.

Over the last few years, as my symptoms have become worse, I know I've changed.

I value my family so much more than I used to.

There have been many times when I've considered taking my life to stop this pain, but thinking of my family has stopped me.

I've learned to be very selective in my choice of friends.

Wasting time with someone who doesn't really have a clue doesn't interest me anymore.

I know I'm not the fun, outgoing parent or wife that I want to be, and that is frustrating, but I've learned to try harder than I thought I could.

The most definite change for me is that I realize how strong I am.

The pain that I feel everyday would put most people under the table, but I handle it (mostly).

I didn't know I could do that a few years ago.

Depression goes hand in hand with chronic pain, so I just try to roll with it as much as possible when it hits me hard.

Most of all, I've learned to appreciate those moments of beauty that come along.

As goofy as it sounds, I make sure to stop and enjoy the simple things that remind me why I'm fighting so hard.

Don't worry about how you will change. The people that love you will still love you.

Use your energy and strength to focus on getting better.

I absolutely believe that a positive attitude can make a huge difference.

I hope you feel better soon.

--------------------
Take care -kelly
---------------


---

Posts: 330 | From TX | Registered: Mar 2009 | IP: Logged |

bwillis
LymeNet Contributor
Member # 18811


posted

---

I don't want to become something I'm not. I don't want to be the disease but it seems that is what is happening.

This is why I ask the second question. Do people really get better or are they gone because they gave up and became the disease or worse.

Maybe I don't have what it takes to live such a life, I really don't know.

---

Posts: 199 | From utah | Registered: Jan 2009 | IP: Logged |

AZURE WISH
Frequent Contributor (1K+ posts)
Member # 804


posted

---

bwillis - People do get better. And they often leave the site because they are back to living.

Some people have a rougher road due to various issues like coinfections, secondary issues lyme created etc. I think there is a higher porportion of these people (myself being one of them) that hang out on these kinds of boards on a regular basis.

No matter how sick I get I KNOW I am more than the disease. The disease may change and determine what I do but it is up to me to define myself. I KNOW who I am and this disease can do whatever it wants to me but at my core I am still me.

I am sorry I cant remember how long you have been sick. But please realize that the loss this disease creates can cause one to go through a grieving process, which i feel is completely natural.

Also, do you keep a symptom log? Sometimes improvements can be subtle or slow and it is easier for me to see improvements with symptom log than relying on my memory alone (especailly with this disease).

I know it is rough but Hang in there

--------------------
multiple chemical sensitvity group:
http://www.lymefriends.com/group/multiplechemicalsensitivities

Group for artists. All media welcome:
http://www.lymefriends.com/group/creativecorner


http://groups.yahoo.com/group/Lyme_Artist


---

Posts: 3860 | From nj,usa | Registered: Mar 2001 | IP: Logged |

daphne
LymeNet Contributor
Member # 2340


posted

---

i am not sure if you are talking about people leaving this board and not coming back, or people whom you know?

if it is people on the board, again i can only speak for me,

i joined in 2002, after being properly diagnosed, i cannot get on here each day, or even each week.

but i do check in from time to time, even if it is just to read and catch up on what you all are talking about.

i do not respond to many postings, just not that comfortable i guess, but i do read alot of them.

so i think alot of the people may be like me and they are here, just not posting.

i have to conciously make a choice each day, NOT to let this disease take anymore away from me.

i have a beautiful new granddaughter whom i am not even able to hold, as i am afraid i will drop her.

but i can lie on the floor with her. no, this is not how it was supposed to be. this was not the plan for our future.

we wanted to watch our grandchildren here at our house, not have someone else watch them, but i am not able to do that now.

i can just concentrate on what i still CAN do.

do people get better? i do not know. i read where some have. i have been told i will not, it is too progressed.

on the other hand, we caught my sons early enough through me finally getting the correct diagnosis, that he hopefully will not have the same future as his mom does.

i have to hold on to that, i am alright with my going through this because it means he may not have too.

the only suggestion i can honesly give you is to find some joy, some bright spot in your life, like your family, and hold that very dear to you.

right now, let that be your reason for getting out of that bed one more time and fighting this.

then tomorrow, find something to add to that, soon, you will see you have a full list of reasons to fight.

i am so very sorry you are in such a struggle right now.

the mental toll does get better, and worse. you will always have ok, good, bad, and awful days.

i over heard my husband on the phone telling someone who asked how i was, "well, she has shi**y days and really shi**y days, today is just shi**y, so we are happy!

and i thought wow, that really was true.

everyone reacts to this differently, and to chronic pain differently.

i hope others will post and hopefully help you with the answer you are looking for.

i just wanted you to know that you are n ot alone in this fight.

which is one of the BIGGEST reasons i do still log on to this sight. to know that i am not alone.

even though i am very lucky in that i have a great supportive family and a few wonderful friends, whom i cherish.

they really do not fully understand what it is like to go through this.

god bess you! and try not to be so hard on yourself.

--------------------
(((HUGS!!!))),daphne


---

Posts: 232 | From ft. worth, texas, | Registered: Apr 2002 | IP: Logged |

xoxoxox
LymeNet Contributor
Member # 18778


posted

---

Hi bwillis-
We definitely get what you are going through!

For me, there were periods of time I felt just like you described and contemplated giving up.

How could I possibly live the rest of my life with pain like this when just trying to make it to nightfall seemed impossible?

The good news is that the pain subsided and is now more tolerable. It's unclear what caused the change but I will take it.

And it's been three months since I needed pain pills to dull the pain.

Coming to this community where people were having similar experiences was a big help.

Just hang onto that faith you have in your wife and remember that these symptoms are ever evolving. One day you will wake up and it will be a little less painful than before.

That day really does come!

Sending you lots of prayers,
Danni

--------------------
----------
Danni


---

Posts: 311 | From Glen Mills, PA | Registered: Jan 2009 | IP: Logged |

bettyg
Unregistered



posted

---

daphne,

outstanding advise; A+ work; i was really impressed as i read each of your supportive statements for willis!!!


daphne, trying to refresh my neuro lyme mind of 39 yrs; were you the one with a close friend who works on oprah's staff??

did your friend ever say why oprah ISN'T airing any lyme program and especially UNDER OUR SKIN?


willis, i think there are many who do not post; they read only.

also many have gotten better and moved on. few may have left; many banned the last couple of years too, and many members were just plain TROLL troublemakers, and banned/posts deleted.


willis, for me personally, i've had chronic lyme since age 21; didn't know it was lyme until 5 yrs. ago at age 55. i don't know what person i was before lyme.

i do know now i'm a very strong person, a leader with a NON-STOP ACTIVISM VOICE THAT WON'T GO AWAY, compassionate and caring person who goes out of my way helping others passing along the GOLDEN RULE to all i encounter.

i live with my frozen ice packs on my neck/lower back area numbing most of my pain.

i'm proud to be the person i am today! i have nothing to compare myself to; i don't remember the other betty in my life!

---

IP: Logged |

John S
LymeNet Contributor
Member # 19756


posted

---

I whine and complain all the time. Does it help? Yes! It is cathartic, but you will most likely be alone. Laugh and the whole world laughs with you and cry and you cry alone. The problem with this disease is you need people's sympathy over an extended period of time and people find it comfortable to give sympathy only for a short period before you are a drain.

I've become one of those negative life draining people to those without this disease mentioned above, but that is how I feel at the moment and so be it for now. I am not going to put up a facade about the way I feel for the benefit of those around me.

Life alone will change you, life with a disease doubly so.

---

Posts: 743 | From New York | Registered: Apr 2009 | IP: Logged |

bwillis
LymeNet Contributor
Member # 18811


posted

---

I'm really not trying to whine or complain, at least here. I'm just trying to figure out how I'm going to do it. If I'm going to be like this for this next 25 years with every day the same, where does the hope come from.

Do people take abx for years and years always hoping to improve with no change. Where does the hope come from. Some one, more than one I presume must have gotten better or people wouldn't keep trying this treatment.

My problem is really embedded in the fact that I'm doing what my Lyme doc says, I'm trying everything in every way that I can to feel better, but I never see any real progress. And the pain is something my fifty years of living never prepared me for. If I knew there would come a day when I would feel better it would help. So far nothing that has happened gives me much hope.

Cans that hope come from hearing about others alone? I'm not sure.

---

Posts: 199 | From utah | Registered: Jan 2009 | IP: Logged |

toby67
Unregistered



posted

---

bwillis - hang in there!!! I too have constant chronic deep bone pain. some days i can stretch and exercise through it with aleve or advil. other days i lay in bed moaning and take the strong pain meds and sleep.

After two years of treatment, i'm finally getting a few more days of relief, and not as many of the "in bed" days. but when i have them, trust me, i have a full blown pity party.

It does change you, you can't help it, mostly because you have to live in silence and live misunderstood. With lyme, we walk and talk and get around, so the pain is out of sight out of mind to those that see us.

When my husband is super supportive of all of this i'm going through, but even he lapses alot...

Eventually, I have to get stuff done, so when i do feel less pain, I go into overdrive. He sees me doing housework, helping with homework,

running kids all over town to sports, etc, he forgets thats its taking everything i have to hide my pain from my kids.

But once they are all in bed for the night, i crumble. And then he says, "you had a good today, huh?" and i want to scream...

"NO!! I didn't have a good day at all, I was faking it!!!" And i get angry and bitter.

I don't want to be babied or applauded, but it drives me crazy that he makes assumptions like that. So i don't even go there with the rest of my family or friends. They don't get it, they will never get it.

So they think I have changed -

Keep going, and only count the good days!!! Good luck, and know you're not alone.

---

IP: Logged |

John S
LymeNet Contributor
Member # 19756


posted

---

My friend's sister was cured by Burrascano. She had the disease for many years and was in a very, very bad condition.

I've spoke to her and met her and I don't think she is making anything up, so people can go into remission, but even Burrascano says some people are non responsive to treatment.

Let's hope we are treatable and pray for those who are not.

---

Posts: 743 | From New York | Registered: Apr 2009 | IP: Logged |

bettyg
Unregistered



posted

---

quote:

---

Originally posted by John S:

I whine and complain all the time. Does it help? Yes! It is cathartic, but you will most likely be alone.

Laugh and the whole world laughs with you and cry and you cry alone.

The problem with this disease is you need people's sympathy over an extended period of time and people find it comfortable to give sympathy only for a short period before you are a drain.

---

john, i'd like to center in on one word you said ... you need people's sympathy and to give sympathy....

i'd like to rephrase that to ... you need people's COMPASSION AND UNDERSTANDING not their sympathy.

to me if you are wanting sympathy, we are in the begging type stage. i want to use another word, but darn it, my neuro mind won't let me!

also, my late sister who died at 41 of advanced breast cancer to the liver said this to me...

"if all i do is complain, people WILL AVOID ME; i need people around me to talk to, so i put a smile on my face and go on."

i personally never heard her complain once during the 2 times she had cancer leading to her early death until 1 day i walked into her hospital room, and she was crying galore talking to one of the nurses.


willis, the longest i believe i've read of someone being on long-term abx is 4 years! so how about making a calendar showing the month you started treatment and the month of 4 years to come.

CIRCLE that date. you've set yourself a GOAL. we all want to be able to achieve the goals we set.

i understand everything you have said above; we all do. we want to be able to plan for QUALITY LIFE AGAIN with family and friends and not be in pain and in the shape we are today.

each night i thank god for the shape i and my hubby are in; it could be MUCH WORSE; and i thank my lucky stars we are where we are today.

i guess it's the POLLYANNA in me; it was my favorite movie and comic book; i read it daily growing up and never miss it on cable when it airs

---

IP: Logged |

4Seasons
LymeNet Contributor
Member # 14601


posted

---

I am not sure how prolonged chronic pain has changed me, because I don't know who I would be if I had not lived with it for 28 years.

I do know that it has made me so grateful for any good thing, no matter how small. I really try not to overlook any little gift, no matter how small.

Life with chronic pain is the hardest thing imaginable. No one understands it unless they live it. You have to keep looking for every little good piece. You have your wife. Look into her eyes when you are suffering and see the love there. Listen to her words of comfort, really listen and know that she is by your side.

you are so in my thoughts. I hope you can find some answers. Please don't give up. There are changes for the better as well, tho it may seem impossible now. take care

--------------------
"Life isn't about waiting for the storm to pass, it's about learning to dance in the rain."
Anonymous


---

Posts: 450 | From California | Registered: Feb 2008 | IP: Logged |

John S
LymeNet Contributor
Member # 19756


posted

---

Good point Betty G, but as with everything else in life everyone needs to find their own path that they are comfortable with. There is no way I can go through this without complaining and venting. I just have to find other people who like to complain and vent too =) Birds of a feather.

---

Posts: 743 | From New York | Registered: Apr 2009 | IP: Logged |

Jasmin
LymeNet Contributor
Member # 19959


posted

---

bwillis, I thought that your doctor had many successful cases. Or am I remembering wrong? Are you doubting that number? I ask because if my doctor doesn't work out I was planning on seeing yours.

--------------------
Never doubt in darkness what the daylight proves to you.


---

Posts: 418 | From Utah | Registered: Apr 2009 | IP: Logged |

bwillis
LymeNet Contributor
Member # 18811


posted

---

She does, I'm worried about the ones who haven't responded. I don't want to be one.

---

Posts: 199 | From utah | Registered: Jan 2009 | IP: Logged |

groovy2
Frequent Contributor (1K+ posts)
Member # 6304


posted

---

Hi All--

Constant pain can change you if you let it-

Personally I got real good at hiding what I was going threw- Most of my friends had no idea how much pain I was in for 15 yrs-

One thing I learned was to Not let myself get to depressed because it is MUCH harder to get
back up if you allow yourself to go very low-

Spend some time each day doing something that makes you laugh - and is fun -

Dont worry about being one of the people that Dont get well- Most people Do Get Better-

I was as sick as a person can be and still be alive- and now after 4 yrs of Good Treatment
I am doing Really Good- Symptom and Pain Free

Getting well again wont happen as fast as you want it to but- You will get Better-

It is most likely that you will get sicker
during treatment -
Dont let this freak you out-

Its just what happens when the bugs are being killed off--Herx--

Its Very Important to keep a Positive Attitude-
Stay buzzy but Do Not push yourself to hard-
--REST--

Eat Good- Take you medicine ON TIME-
Drink as much water or tea as you can per day
--Gallons-- it helps alot--

Learn as much as you can about your illness-

Once you get Well again --
Pass on what you have learned to others and
then Move On with Your Life --Jay--

---

Posts: 2999 | From Austin tx USA | Registered: Oct 2004 | IP: Logged |

kylasrain
Member
Member # 12031


posted

---

Bwillis,

I hear what you're saying and ask myself the same questions constantly.

Chronic pain really does mess with you. Sometime I feel resentful; sometimes I feel grateful. Other times I avoid all activities, afraid I am a glass house and will shatter. Other times I try to fool myself into thinking I could be a rock climber or ballet dancer if I wanted to. In the end, I just keep on "keepin' on".

What is the alternative? Death? Since I don't believe in any sort of life after death, I've logically decided to choose life. Sometimes I just watch TV or take a nap, have a pitty party and 'wait it out'. It always gets better!

But I have changed. For sure. And the others are right; you learn to let a lot of things go. I used to worry about little things, like getting the laundry finished before bed or cleaning out all of the closets. Now? Forget it.

I hear about others with kids/spouses, etc. I don't know how they do it. I've concluded that we have no idea what we're capable of until we have to; we are resilient!


I feel like I'm drifing through life, but I'm not sure others are better off. They're just distracted.

I too wonder if I will get better, but I am starting to learn to go with the flow. Take it day by day. I can't control everything anymore.

I don't know if we'll get better. But why not? Why not me?

Fight!

Love,
Kyla

--------------------
http://kylahikeson.blogspot.com


---

Posts: 97 | From CA | Registered: May 2007 | IP: Logged |

painted turtle
LymeNet Contributor
Member # 7801


posted

---

hi bwillis,

i don't post a lot these days for several reasons but i do read often

chronic pain has made a difference in me,

i've become a bigger B*%$& than I ever was before!!!!!!!! and grumpy as well. but this is also due to the encephalopathy.

i've gotten wrinkles i don't think i would have gotten without this pain, the stress of the pain

my face is a natural frown and never was before i got the entrenched trigeminal neuralgia

chronic pain is definitely stressful in a lot of ways

i no longer make effort with antibiotics because i am pretty sure i am dealing with autoimmune and other processes like hypercoagulation, methylation problems, etc.

and am convinced that real progress from here, after over three years since diagnosed

lies more in other avenues

(i was a real late stager, still am but rather than the full blown encephalitic insanity, it's different now, it's more like a broken ness kind of thing

like, post seizure. post stuff and lots of fatigue.

i keep at it with different efforts and methods and continue to see real slow kind of progress

--------------------
www.lymefire.blogspot.com


---

Posts: 855 | From United States of Mind | Registered: Aug 2005 | IP: Logged |
Contact Us | LymeNet home page | Privacy Statement

Powered by UBB.classic™ 6.7.3

---
The Lyme Disease Network is a non-profit organization funded by individual donations. If you would like to support the Network and the LymeNet system of Web services, please send your donations to:
The Lyme Disease Network of New Jersey
907 Pebble Creek Court, Pennington, NJ 08534 USA
http://www.lymenet.org/
---
Home | Flash Discussion | Support Groups | On-Line Library
Legal Resources | Medical Abstracts | Newsletter | Books
Pictures | Site Search | Links | Help/Questions
About LymeNet | Contact Us
---
© 1993-2020 The Lyme Disease Network of New Jersey, Inc.
All Rights Reserved.
Use of the LymeNet Site is subject to Terms and Conditions.
---