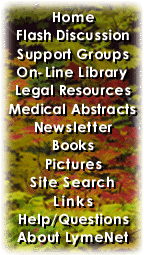 ---
LymeNet on Facebook
LymeNet on Twitter
---
---
The Lyme Disease Network receives a commission from Amazon.com for each purchase originating from this site.
When purchasing from Amazon.com, please
click here first.

Thank you.




Dedicated to the Bachmann Family


LymeNet needs your help:
LymeNet 2020 fund drive

The Lyme Disease Network is a non-profit organization funded by individual donations.

| | |
| --- | --- |
| | |
Author
Topic: General Laparoscopy and/or Endometriosis Questions

Skyler
LymeNet Contributor
Member # 11549


posted

---

I have all these questions. If any of you wonderful Lymies can answer any of these questions that would be great! I am scared. I am, right now, trying to decided weather I even want to take this rout.

***My medical history and reason for asking listed below question section***

1. What should I expect if I were to decided to go ahead with a Laparoscopy procedure?

2. Any complications I should be weary of?
Anything I should know before hand?

3. With this type of surgery, will it effect me with greater risks due to the Lyme and other tick born illness? More specifically, did you find your lyme getting worse after this surgery?

4. Is it worth the risk?

5. What kind of scar does it leave?

TO the Females that have endometriosis:

1. How has this effected you?
2. What symptoms affect you the most?
3. What treatments have you tried?
4. What treatments have worked for you?


***I have Lyme, Babesia, Ehrlicha, Anaplasma.
IN THE PAST : My entire history of being a ovulating female has been a painful one. Never once has my period not made me bed-ridden. I have always been in so much pain that time of the month that I can not walk up right. I vomit and have cold sweats from the stabbing pain (I know its from the pain and not the hormones because If I can take a pain pill for my pain, I do not feel nauseated, vomit or get the cold sweat from the burning stabbing pain.
More than once, I have actually had pain so bad from my period that I black out and/or pass out.

Birth control in the past never helped when it came to my pain.


MORE RECENTLY : Last month, my pain was so bad, my boyfriend had to take me to the ER, where they administered an IV and 2 shots of morphine, which still did not help my pain enough to where I could walk upright or move much. After that, the pain continued for 2 weeks, so intensely, I could not walk very well, could not lift anything or move my torso. (Of course, this means no sex without intense pain. This, for me, is a big problem, as I am sure many of you know sex helps with Lyme pain a great deal. My Lyme has me in pain all the time, and sometimes having intercourse alleviates pain, help keeping me sane.

The hospital scheduled me for a sonogram which showed nothing abnormal, and was excruciatingly painful. From that I do know my organs have no abnormalities. Endometriosis does not shop up on a sonogram.

NOW : I have an appointment tomorrow with a doctor to see what to do next. I already know the only way to get a real diagnosis and thus help for this is if I get a Laparoscopy done.

After reading about this, I did in fact get scared. I love medicine, and surgery does not freak me out (as I use to work in a hospital and watch surgery live often). But, this does scare me. The skin on my torso does not stretch very much without pain and getting very tiny stretch marks on it. I also do not want any more scars. Mostly, I am afraid how it might affect my health with the lyme and other tick born illness.
I am also very scared of what they might find. With my pain this intense... I just want to have kids.
My lyme has been getting So much worse. I am now about as bad as I was before I started treatment. I have not slept more than an hr a night for the past month, as I am under SO much stress with this and work and lyme.

IF you can answer any of these questions for me, and tell me about your experience, that would help so much.

Thank you for your time.

--------------------
I'm probably sleeping...


---

Posts: 419 | From Florida | Registered: Apr 2007 | IP: Logged |

rachellemarie
LymeNet Contributor
Member # 16419


posted

---

Hi there, I have the same problem as you. I've had endometriosis for atleast 20 years (I'm 37 now) and have had 2 laparoscopy surgeries for it. At the time I had both surgeries, I didn't have lyme symptoms, so I can't speak on how it would affect your lyme.

I too have had HORRIBLE pain both during my period and when I ovulate. I too have passed out from the pain, split open my chin one time from passing out while trying to walk to my front door!

If you have a good surgeon, the surgery should go well. Make sure they take the air back out of you after they are done. During the procedure, they pump your abdomen with air to better facilitate the surgery. If they don't pump it back out, like they didn't do during my first surgery, you deal with LOTS of pain as it then has to leave on it's own afterwards and take weeks to do. You'll be in pain afterwards for a few days, but they will give you narcotics for the pain and probably nothing like the pain you had with the endometriosis!

You have small incisions in your stomach...one at your belly button and two down further on either side. Mine are bare visible. Not a big deal.

If you have any other questions, feel free to email me at [email protected]

The surgery did help me. At the time I had it done, I was in HORRIFIC pain. I haven't been too bad since that surgery, which was in 1999...but not sure if it was a direct result of the surgery or if I am just getting better on my own.

Rachelle

---

Posts: 215 | From Phoenix, AZ | Registered: Jul 2008 | IP: Logged |

micul
LymeNet Contributor
Member # 6314


posted

---

Skyler asks:

quote:

---

3. With this type of surgery, will it effect me with greater risks due to the Lyme and other tick born illness? More specifically, did you find your lyme getting worse after this surgery?

---

I think that it depends upon how far along in treatment of Lyme and company you are, and if you have been doing some effective protocols that have led to significant progress.

It sounds to me though that you are not doing very well, and that your pain has been increasing as a result. So, if this is the case, then I think that this surgery would only add to your problems at this time....I wouldn't risk it myself until I was doing much better.

--------------------
You're only a failure when you stop trying.


---

Posts: 945 | From U.S | Registered: Oct 2004 | IP: Logged |

Need Lots of Help
LymeNet Contributor
Member # 18603


posted

---

Skyler,

I have had the laproscopy done twice. They put a small incision in my belly button, and two close to the hip bones. Each one was probably an inch.

The worst of the pain for me was like Rachell mentioned the gas afterwards.

I have not had endimetrosis though, so I can not speak to that.

Shalome

---

Posts: 893 | From Florida | Registered: Dec 2008 | IP: Logged |

jbiology
Member
Member # 15839


posted

---

I had my laparoscopy for endometriosis a couple of years before I was diagnosed with lyme (though I was symptomatic at the time... just not properly diagnosed yet).

First of all, don't worry about the scars... I can't even find mine without really looking hard.

As for what to expect for the surgery, it will most likely be a "same day", outpatient procedure. They'll put you under, make a couple of tiny incisions, stick a camera in to look around then use a laser to cauterize (burn) off any uterine/scar tissue they find. When I had mine done it was for exploratory purposes (and resulted in my endo diagnosis). I had a lot of misplaced uterine tissue on my colon, which caused a great deal of my pain.

I had no complications that I can remember. After a few days of narcotics and rest, I felt sooo much better! I had my procedure done about 9 years ago and have recently been questioning whether it's time for another one. But even now my symptoms are not as bad as they were then.

As for how the Lyme will effect this, that's difficult to predict, each person is different. However, I think it will effect your overall pain load. What I mean by that is that our bodies can only take so much pain. When some parts of our bodies hurt long or strong enough, it makes the rest of our bodies tired and start to hurt too. So, if you can eliviate a major cause of pain in your body, it should also help reduce your overall pain load. Does that make sense?

As far as endometriosis in general. In addition to a "soft uterus" that swells a great deal, I get major clots which make contribute to very heavy and painful periods. I also have fibroids (in my uterus as well as my breasts). They swell a lot during my period. I believe that laparoscopy can be used to remove those as well... though that requires an incision in the uterine wall which would take a while to heal.

The laparoscopy has been the biggest help for my symptoms. However, I also get some relief from heat or ice applied to just the right spot. Using my exercise ball and widening my hips (like they taught me in childbirth class) helps a little, so does raspberry leaf tea.

Oh yeah, another "treatment" (not recommended if you have Lyme) is to have a kid. My ob/gyn says they "clean you out really well", even better than surgery!

Good luck. You're in my prayers!

--------------------
I can do all things through Christ who strengthens me.+++
Diagnosed with Lyme in 2005. Suffered for years before that. Still treating/fighting it.
Son diagnosed with Lyme and Babesia in 2007. Son diagnosed with Asperger's in 2011.


---

Posts: 40 | From Maryland | Registered: Jun 2008 | IP: Logged |

jtavares76
Member
Member # 19216


posted

---

I have suffered with endometriosis for the past 15 years. The doctors have performed a total of 5 laproscopic surgeries in the past and I am scheduled for my 6th one next week.

Generally, it takes a few days to recuperate depending on how extensive the endometriosis is throughout the abdomen. I tend to have a problem with it growing on my intestines which results in severe pain.

However, the pain is extremely intense during ovulation and menstruation as well. At times, taking to bed with a heating pad is the only thing that helps.

I have tried various pain meds/birth control to alleviate the symptoms but the surgery has been what has helped the most.

I am not sure how this will affect your Lyme treatment b/c I am still looking into a lyme dx (after recently being dx with fibromyalgia) for myself and I am not receiving lyme treatment as of yet.

I wouldn't stress out about endometriosis affecting your ability to conceive just yet. Prior to conceiving my daughter, I had an ovary removed due to the severity of my endometriosis. I was able to conceive without difficulty.

However, I was an exception to the rule of pregnancy eliminating the endometriosis. When I had my C-section, they needed to put me under general anesthesia once they opened me up b/c the endometriosis was so extensive and they needed to cauterize it.

---

Posts: 72 | From Massachusetts | Registered: Feb 2009 | IP: Logged |

Skyler
LymeNet Contributor
Member # 11549


posted

---

Everyone, Thanks so much for all your help! I scheduled the surgery for later this month. But I am still not sure. MY lyme has been making me so sick. I was really getting better for a while, but recently had to go off medications and just lost a year and a half of progress. We will see. I think I am going to jump back rather quickly.

jtavares76, Your story is crazy. It gives me a great deal of hope as for having kids and dealing with the surgery, being you have opted to do it so many times.

Amanda, Thanks for the pointer on the steroids! I will definitely make sure they don't give me those.

micul, You bring up a very good point!

rachellemarie, I will make sure they take out the gas. I can't believe they would leave it in there like that! That would be so painful.

--------------------
I'm probably sleeping...


---

Posts: 419 | From Florida | Registered: Apr 2007 | IP: Logged |

Shosty
Unregistered



posted

---

My daughter has endometriosis (and had Lyme, maybe still has it) and I strongly recommend that you look into excision surgeons, rather than the standard laparoscopy, teh latter of which has cauterization rather than cutting (excision is actually done with surgical scissors).

If you want to PM me I can give you some MD names.

Endometriosis care has controversies just as Lyme does. Try to research a little before committing to the surgery, just so you don't have to have additional ones unnecessarily.

My daughter's first laparoscopy did nothing. She got worse, and had intestinal blockages, got very sick.

The second laparoscopy, only 6 months later, with the excisionist, completely cured what ailed her.

A good excisionist will also look at the other side of organs, and will go deep into the pelvis. The first surgeon missed a band of inflamed tissue around her appendix, and the second one got it, and took her appendix out. What a difference.

I personally have some autoimmune trouble after surgical procedures, perhaps related to my Lyme, perhaps not. Not a big deal. You really have to have the surgery to clarify your situation.

We have also found that we need antibiotics more than other people after any procedures. So, if you are not currently on antibiotics, make sure you are getting them after surgery. You might even need different abx than the ones you are on. Discuss with your Lyme mD and ghe gyn. surgeon, and maybe even have them talk to each other.

Also, bioidentical progesterone cream might help you. You can ask your gyn. to prescribe it.
Good luck...and going to an excisionist is a litte bit like going to an LLMD!

[ 05-07-2009, 08:19 PM: Message edited by: Shosty ]

---

IP: Logged |

Tiramisu
LymeNet Contributor
Member # 15082


posted

---

I just found your post!

I had laparoscopy 2003 to diagnose and cauterize my endo. This actually brought out my Lyme sx and was the beginning of my long journey for a diagnosis.

I'm currently treating Lyme on a clinical basis, with no known co's.

I have been putting off another lap for a long time now, but will probably go through with another, now that I've found a caring Gyn to treat me.

I'm also worried what another lap will do to my Lyme sx. But I fear it's on my bladder now, and may have grown back on my sigmoid colon, and I'd be foolish to let that progress.

My pain sometimes makes me throw up. It's hard to tell if my upper leg pains are from endo, or Lyme & Co. Also get the doubling-over pain when it's in the center.

I supposedly had a bad reaction to the anesthesia afterward and was vomitting, but I'm hopeful my next surgery won't be like that.

In the following days, the pain was not as bad as I expected. I think I had about 2 years of relief.

Eventually tried Lupron, 2 injections (which really hurt) each shot lasted 3 months. I had 6 months of relief.

I've gone back and forth on this for so long, but I don't want to have actual damage to my bladder or other organs with scar tissue and adhesions...so that helps me make the decision.

**As far as asking if it's worth the risk -- I know someone who had severe endo, but wanted to get pregnant. She put off having a hysterectomy for the endo, and was told if she had waited any longer she'd have needed a colostomy bag from the damage done by the endo! She had already had 2-3 lap's, plus a few rounds of Lupron, and was quite a severe case. She was unable to get pregnant, btw.


If anyone knows a decent forum or message board for endo, could you please PM me the info?

---

Posts: 175 | From SW PA | Registered: Mar 2008 | IP: Logged |

Shosty
Unregistered



posted

---

The scar is small. The extent of work done inside varies. Again, just to emphasize, get the lap done by an excisionist. You can PM me for names.

---

IP: Logged |

jentytib
LymeNet Contributor
Member # 14375


posted

---

I had a Lap done when I was 18. I had bad periods since I was 13. I am glad I had it done. It "cleaned" me out of scar tissue.

DO NOT DO NOT DO LUPRON!!!

I did that at age 20 and I now have opstiopinea (spelling)

The lap was fine. It is the only true way for an Endo diagnosis. I do remember burping to get the gas out for the next day or so.

Put Vitamin E on the scar to lessen it if you want.

I had Lyme at the time but did not know.

I would worry about your fertility though. I now have 2 boys but had them at age 24 and 28 because of low fertility rate due to the Endo. I had to see a reproductive endocrinologist to get prego with both kids.

The thing with endo is you can have a ton of pain and only a few lesions or not much pain and be covered in lesions.

--------------------
http://alwaystrustyourgut.blogspot.com


---

Posts: 182 | From United States | Registered: Jan 2008 | IP: Logged |

Shosty
Unregistered



posted

---

Want to add that there can be disagreement about diagnosis from a lap, even with a biopsy sent to a lab. The first surgeon said our daughter had endometriosis, even thought the sample was lacking certain characteristics (glands and stroma), because there was "hemociderin", meaning blood, at the lesion.

The second surgeon, a purist, was an excisionist. He took a lot of tissue out, and also the appendix, which was inflamed and had a large band of tissue wrapped very tightly around it. He could not say for sure that any of it was endometriosis, because, again, there were no glands or stroma. Everything was very abnormal looking inside, but the lab gave no definite answers.

Her pain is gone after the excisionist's lap, so we don't really care. But the lap by the mainstream doc did nothing. Also, cautery does not go deep enough: it is better for a surgeon to cut the endo out, deeply.

Ask questions. Don't have a surgery that is not done properly, and many, many gyn's are not doing it properly.

Most laps takemaybe 45 minutes, but the excisionist took 3 hours. Very carefully done. PM me if you like.

---

IP: Logged |

tickalert
LymeNet Contributor
Member # 7033


posted

---

If you are considering surgery, please find someone who is very experienced with endometriosis. I've had endo since 1993 and also had numerous laporoscopies which didn't work long term.

My doc wanted to do a hysterectomy after I had one of my daughters. So glad I didn't. The one thing that's worked for me is doing acupuncture and working with an experienced herbalist who does acupuncutre. That is the only thing that has kept me pain free.

Occassionaly I'll get very mild pain but nothing like what I experienced many years ago.

In my opinion, surgery is very hard on the bad and would probable challenge your immune system even more. Since you don't know for sure wht's going on, the best course of action might be for you to have a difinitive diagnosis to know what your dealing with.

My acupuncturist is a Doc of Oriental Medicine who trained in China. I've been so impressed with what he's been able to diagnose with out me every telling him what was wrong.

Best of luck...keep us posted as to what you decide to do.

---

Posts: 911 | Registered: Mar 2005 | IP: Logged |

Skyler
LymeNet Contributor
Member # 11549


posted

---

why nnot do lupron?!?!?

I have the vial sitting in my livingroom with the needles ready...

I did the surgery, can not take birth control because of side effects and so this is my only option to control the reoccurrence of the endometriosis.

--------------------
I'm probably sleeping...


---

Posts: 419 | From Florida | Registered: Apr 2007 | IP: Logged |

massman
Unregistered



posted

---

Aaaahhhhhhhhhhh !

Surgeries and drugs that only treat symptoms.

Why so little interest in treating the cause ?

[ 10-18-2009, 11:00 PM: Message edited by: massman ]

---

IP: Logged |

cantgiveupyet
Frequent Contributor (1K+ posts)
Member # 8165


posted

---

My one LLMD was against me using Lupron because lyme loves estrogen. Ive heard of non lyme patients having trouble with Lupron as well.

It was suggested to me and I decided not to do it.

--------------------
"Say it straight simple and with a smile."

"Thus the task is, not so much to see what no one has seen yet,
But to think what nobody has thought yet, About what everybody sees."

-Schopenhauer

pos babs, bart, igenex WB igm/igg


---

Posts: 3156 | From Lyme limbo | Registered: Oct 2005 | IP: Logged |

Skyler
LymeNet Contributor
Member # 11549


posted

---

but, if lyme love estrogen, and lupron cuts off your estrogen, that would be a good thing then...

--------------------
I'm probably sleeping...


---

Posts: 419 | From Florida | Registered: Apr 2007 | IP: Logged |

IckyTicky
Frequent Contributor (1K+ posts)
Member # 21466


posted

---

I had severe endo. I ended up having to have a complete hysterectomy (ovaries included) at the age of 29. Scars aren't bad, mine was vag/lap assisted.

A very well known LLND in California told me she has a friend who is an OB/GYN that is becoming an LLMD because she has done her own research on Endometriois and the Lyme connection. In her own studies, she had tested endometrial tissue in her patients with Edometriosis and 100% of them came back positive for Lyme. She beleives that if you have endometriosis, you have Lyme.

--------------------
IGM: 18+, 23+, 30+, 31+++, 34+, 39IND, 41++, 58+++, 66+, 83-93IND
IGG: 31+, 39IND, 41+
Also positive for Mycoplasma Pneumoniae and RMSF.
Whole family of 5 dx with Lyme.


---

Posts: 1014 | From Texas | Registered: Jul 2009 | IP: Logged |

Pinelady
Frequent Contributor (5K+ posts)
Member # 18524


posted

---

It may be worth your while to ask for a sample for biopsy by Igenex if it has been a while. I greatly improved on laproscopy and got a bladder tack and uterus straightening for the price of one. I am glad I took care of it.

--------------------
Suspected Lyme 07 Test neg One band migrating in IgG region
unable to identify.Igenex Jan.09IFA titer 1:40 IND
IgM neg pos
31 +++ 34 IND 39 IND 41 IND 83-93 +
DX:Neuroborreliosis


---

Posts: 5850 | From Kentucky | Registered: Dec 2008 | IP: Logged |

massman
Unregistered



posted

---

Thanks IckyTicky.

Hadn't thought of that connection !

Not sure why there is such a focus on surgery - that is like putting duct tape on an injury.

---

IP: Logged |

Lymetoo
Moderator
Member # 743


posted

---

quote:

---

Originally posted by IckyTicky:
She beleives that if you have endometriosis, you have Lyme.

---

Was true for me.

--------------------
--Lymetutu--
Opinions, not medical advice!


---

Posts: 95256 | From Texas | Registered: Feb 2001 | IP: Logged |

Skyler
LymeNet Contributor
Member # 11549


posted

---

I had the surgery, was in stage 2. They removed the spots, but I still have bad pain.

To prevent it from coming back, they put me on neuvo ring, because I react very badly to Birth Control pills.

For some reason (never experienced this on the pill) I got SO depressed and was constantly crying on the Neuvo Ring.

So... Now, I am at a point where I am still in a lot of pain, and need to take something to prevent this from becoming a bigger problem.

My Gyn Doctor things the Lupron shot is the way to go. I went ahead and bought it, as this pain is so bad, but now I am getting a little worried about the possible side effects, and wondering if anyone has tried this.

Thank you all so much for your help with this. I felt so scared, but everyone's input helped me feel better about all this.

--------------------
I'm probably sleeping...


---

Posts: 419 | From Florida | Registered: Apr 2007 | IP: Logged |
Contact Us | LymeNet home page | Privacy Statement

Powered by UBB.classic™ 6.7.3

---
The Lyme Disease Network is a non-profit organization funded by individual donations. If you would like to support the Network and the LymeNet system of Web services, please send your donations to:
The Lyme Disease Network of New Jersey
907 Pebble Creek Court, Pennington, NJ 08534 USA
http://www.lymenet.org/
---
Home | Flash Discussion | Support Groups | On-Line Library
Legal Resources | Medical Abstracts | Newsletter | Books
Pictures | Site Search | Links | Help/Questions
About LymeNet | Contact Us
---
© 1993-2020 The Lyme Disease Network of New Jersey, Inc.
All Rights Reserved.
Use of the LymeNet Site is subject to Terms and Conditions.
---