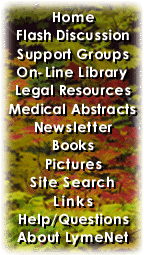 ---
LymeNet on Facebook
LymeNet on Twitter
---
---
The Lyme Disease Network receives a commission from Amazon.com for each purchase originating from this site.
When purchasing from Amazon.com, please
click here first.

Thank you.




Dedicated to the Bachmann Family


LymeNet needs your help:
LymeNet 2020 fund drive

The Lyme Disease Network is a non-profit organization funded by individual donations.

| | |
| --- | --- |
| | |
Author
Topic: Saliva Transmission?

SBWPartner
Junior Member
Member # 20239


posted

---

My partner has chronic Lyme and also has Babesia. We recently saw UOS and are now wondering about sexual transmission, specifically whether these diseases can be transmitted by saliva via kissing or oral sex? We are lesbains, so intercourse is not an issue. We have had unprotected sexual contact since she was bitten but we now want to know whether we should be careful about this.

---

Posts: 2 | From Western Mass | Registered: May 2009 | IP: Logged |

adamm
Unregistered



posted

---

Well--there's some reason to suspect that it can be; however, to my knowledge, nothing's ben proven yet.

The second article on lyme-rage.info speaks to the possibility.

---

IP: Logged |

Keebler
Honored Contributor (25K+ posts)
Member # 12673


posted

---

-

Kissing may be fine but for other kinds of intimate contact, that is a question that is not quite clear but some researchers think it is possible. If one partner has a new case of lyme or a major flare, I think more caution would be wise.

In the case of a pregnant woman, certainly, lyme can be passed from mother to baby and there are many solid medical references to that.

You may want to search (see search feature above) previous threads here at Lyme Net about this. If you search "sexually transmitted" or "sexual" you may find the thread you need. There is not quick answer but, after reading works from a few researchers, you'll have a better idea of the considerations.


You can also cross search at PubMed and Google with borrelia as the key term for lyme, too.

My hands are just a wreck today or I'd offer more.

Also to consider, some patients with lyme also have other chronic stealth infections (see: http://flash.lymenet.org/scripts/ultimatebb.cgi?ubb=get_topic;f=1;t=069911#000000 )

and everyone (women and men) should be checked for HPV strains, too, as that is important to know when in any intimate relationship. HPV can also be transmitted to the throat:


www.rdoc.org.uk/hpv.html

Excerpts:

. . .

The most dangerous HPV's, 16 and 18, which are transmitted through sexual contact are known to cause up to 95% of cervical cancers. Now these two HPV's are also being linked to oral cancer.

. . .

In 25% of 253 patients diagnosed with head and neck cancers, the tissue taken from tumors was HPV positive and HPV 16 was present in 90% of these positive HPV tissues.

. . . .

-

---

Posts: 48021 | From Tree House | Registered: Jul 2007 | IP: Logged |

bettyg
Unregistered



posted

---

welcome partner,

when you do a search look for the name of this woman, LIDA MATTMAN, i think that's the correct spelling to her last name.

huge researcher; recently died; age 90; i BELIEVE YES TO SALIVA; but look for her work to see how it's stated!! she found many things and presented them at her last or 1 of her last lyme conferences since i joined here 5 yrs. ago.

again, this is from my neuro lyme memory of 39 yrs!! so it may not be 100% accurate, so check it out using google & pubmed as keebler suggested.


Welcome; i'm so glad you found us!! You've come to the right place for education and support!


Dr. Burrascano's most recent "Diagnostic Hints and 2008 Treatment Guidelines for Lyme and Other Tick Borne Illnesses" .

PAGES 17-19 discuss ADULT & KIDS MED TREATMENTS!

http://www.ilads.org/lyme_disease/treatment_guidelines.html


Dr. B's Supplement List
http://www.lymepa.org/Nutritional_Supplements.pdf


this link, making the most of your LLMD visit, may help you also.
http://flash.lymenet.org/scripts/ultimatebb.cgi?ubb=get_topic&f=1&t=020605#000005

http://flash.lymenet.org/ubb/ultimatebb.php/topic/1/77378

***************

TREEPATROL'S NEWBIE LEARNING LINKS ... over 1000 links of good info and guidelines galore!! MUST SKIM & READ !!

http://flash.lymenet.org/ubb/ultimatebb.php/topic/1/29917
************************************************************************


Betty's suggested POSTING GUIDELINES . many of us have neuro lyme where we can NOT read long solid block text and be able to comprehend and read it as is.

please edit your post by CLICKING PAPER/PENCIL ICON to right of your name. that opens up BOTH subject line and body text.

now please break up your WORDY SENTENCES into one sentence paragraphs. Then hit ENTER KEY ``TWICE`` after each paragraph; we need that space for comprehension.

then go to left hand corner and mark box to receive ALL REPLIES, and click EDIT SEND

we thank you for helping us; otherwise, we will SOB, SCROLL ON BY, since we can't read to help you. If I see posts like this, I SOB them; to hard on me.
------------------------------------------------------

People seeking doctors might be able to get help from their state online information and support group. Nearly 3,400 people belong to state groups. Some of the groups are small but more than 20 of them have 50 or more people and seven have over 100.

To find your state group, go to
http://health.groups.yahoo.com/group/statenamelyme

Type your state name and lyme as one word, like this -
http://health.groups.yahoo.com/group/newyorklyme

South Carolina is the only state that needs a hyphen between the statename
and lyme, e.g. http://health.groups.yahoo.com/group/southcarolina-lyme

The groups are moderated and you have to apply. Most don't allow doctor names, but once on the group, you can ask for doctors in a certain area and ask people to email you privately.
*******************************************

This explains the medical politics around lyme WHY you need an ILADS-educated or ILADS-member LLMD (and there are also some ILADS-member LL NDs (naturopathic doctors):

www.clinicaladvisor.com/Controversy-continues-to-fuel-the-Lyme-War/article/117160/


TESTING

You should also be evaluated for coinfections. Not all tests are great in that regard, either, but a good LLMD can evaluate you and then guide you in testing. One of the top labs is:

www.igenex.com IGENEX

-----
There are a couple other good labs for certain tests: Fry; Clognen; Focus. Your LLMD will know.
========================

VERY important to read - even BEFORE testing:

Dr C's Western Blot explanation is discussed here:

http://flash.lymenet.org/ubb/ultimatebb.php?ubb=get_topic;f=1;t=042077

"With most infections, your immune system first forms IgM antibodies, then in about 2 to 4 weeks, you see IgG antibodies. In some infections, IgG antibodies may be detectable for years.

Because Borrelia burgdorferi is a chronic persistent infection that may last for decades, you would think patients with chronic symptoms would have positive IgG Western blots.

But actually, more IgM blots are positive in chronic borreliosis than IgG. Every time Borrelia burgdorferi reproduces itself, it may stimulate the immune system to form new IgM antibodies.

Some patients have both IgG and IgM blots positive. But if either the IgG or IgM blot is positive, overall it is a positive result.

Response to antibiotics is the same if either is positive, or both. Some antibodies against the borrelia are given more significance if they are IgG versus IgM, or vice versa.

Since this is a chronic persistent infection, this does not make a lot of sense to me. A newly formed Borrelia burgdorferi should have the same antigen parts as the previous bacteria that produced it.

But anyway, from my clinical experience, these borrelia associated bands usually predict a clinical change in symptoms with antibiotics, regardless of whether they are IgG or IgM."
===========

TREATMENT *** www.ilads.org

ILADS
The International Lyme and Associated Diseases Society (ILADS) provides a forum for health science professionals to share their wealth of knowledge regarding the management of Lyme and associated diseases.
===========
i'm going to try to post a link here with info on SUCCESSFUL LAWSUITS WON ON LYME DISEASE from www.lymenet.org site!
look on LEFT side :legal resources" !! all WINNERS!

---

IP: Logged |

canbravelyme
Frequent Contributor (1K+ posts)
Member # 9785


posted

---

No one really knows, and there needs to be more research.

There has been discussion on this board as to whether Bb can be transmitted by skin contact. I do recall it being stated it is tranmittable through rashes.

This we do know:
Transmitted by a tick
Bb found in semen

2 female mice in a cage. One Bb positive, the other negative. Over a period, the negative mouse turned positive.

This is a question that haunts me. We could be more contagious than people with HIV, who at least know what's safe.

Dr. S in California tells me that as long as I'm on abx, I'm safe as far as he's concerned.

Sometimes I sense I am safer than other times. I listen to this and follow common sense.

I would definitely keep an eye on your own health, do all the things you need to optimize and get tested for Lyme periodically.

Best wishes,

--------------------
For medical advice related to Lyme disease, please see an ILADS physician.


---

Posts: 1494 | From Getting there... | Registered: Aug 2006 | IP: Logged |

MariaA
Frequent Contributor (1K+ posts)
Member # 9128


posted

---

Virtually no STD's transmit through human saliva other than the very few that are specifically adapted for it (specifically mono and herpes)- which is one reason that kissing and cunnilingus are some of the 'safest' forms of sex from the perspective of avoiding AIDS and many other STDs.

Lesbians are traditionally the lowest-risk group for STDs/AIDS, other than cases where drug use is an AIDS infection risk or where heterosexal sex is also involved. I think this is probably also the case with Lyme and kissing or other 'safer' sex activities not involving blood.

I really, really doubt that Lyme would transmit in either way. Some LLMD's dont even believe that sexual transmission of Lyme through other forms of sex is even possible. It's certainly never been proven.

There is a bunch of research (sorry, I don't have it with me right now, but it's in the Buhner Healing Lyme book) that talks about why Lyme is specifically adapted to transmission through ticks- mostly it's because the tick bite process includes a couple of steps that suppress the bitten mammal's immune system, which allows the spirochete to transmit. It's not supposed to be as easy to have this transmission take place without the tick saliva there, or direct blood/placenta transmission during transmission from mothers to the fetus.


Here's a post from LymeMD (a pretty interesting doctor in Maryland), talking about why it may not be possible to see sexual transmission with Lyme"
http://lymemd.blogspot.com/2008/06/vertical-and-horizontal.html

Obviously there are a lot of couples with Lyme, but it's just as easy to explain this through environment- for example, if the mice in your backyard are infected, the humans may have both been bitten by infected ticks and just not realized it. Here's a Lymemd post talking about just how easy it is for someone to be bitten and pick up Lyme even if they don't engage in what we think of as risky 'outdoors' type of activities:
http://lymemd.blogspot.com/2009/01/hard-to-catch.html

Lastly, with the mouse study that someone referenced above, I always wonder if they ruled out one of the mice biting the other as the mode of transmission in that study.

--------------------
Symptom Free!!! Thank you all!!!!

Find me at Lymefriends, I post under the same name.
diet: http://lymefriends.ning.com/group/healthylowcarbrecipes
Homemade Probiotics thread
Herbal Links Thread


---

Posts: 2552 | From San Francisco | Registered: Apr 2006 | IP: Logged |

duke77
LymeNet Contributor
Member # 5051


posted

---

For years the CDC has claimed HIV is not transmitted through saliva. Recently, in Africa some mothers chew the food before feeding it to their babies or infants, the CDC acknowledged that there have been cases of transmission through saliva.

http://www.efluxmedia.com/news_Pre_Chewing_Babies_Food_Linked_to_HIV_Transmission_13705.html

I would say Lyme is transmitted through all bodily fluids. There was a study of mice one male was infected with Lyme and the other male was not. After three months both tested positive for Lyme and both were males so sexual transmission was taken out of the equation.

---

Posts: 649 | From United States | Registered: Dec 2003 | IP: Logged |

'Kete-tracker
Frequent Contributor (1K+ posts)
Member # 17189


posted

---

If the partners have healthy mouths (gums, etc) it's highly doubtful BB can be contagious between kissers.
Though it is occasionally found in the saliva of an infected individual (typ 1 who is acutely ill w/ Lyme), there are no known cases of oral transmission. Which doesn't say a whole lot.

Personally, I don't believe this method of transmission is viable, but I'm no pathologist.
It would seem to be much less risky than intercourse, though!

duke- a tick could've easily cross-infected the 2nd mouse with Lyme in that study. How well did they control that study?

---

Posts: 1233 | From Dover, NH | Registered: Sep 2008 | IP: Logged |

duke77
LymeNet Contributor
Member # 5051


posted

---

Kete-tracker I don't know how well they controlled that study. I would have to assume they inspected or flea dipped the mice before the study. Otherwise the test would be a complete waste of time if as many controllable variables weren't addressed prior. I have a question for you?

there are no known cases of oral transmission.

How do they know this to be true?

---

Posts: 649 | From United States | Registered: Dec 2003 | IP: Logged |

'Kete-tracker
Frequent Contributor (1K+ posts)
Member # 17189


posted

---

I saw a medical review a few years back on Lyme case studies in CT, & most all cases were deemed due to Ixodes tick bites, a few were "transplacental", a couple were suspected blood transfusion and a few "unknown".

So who really knows, huh?
It's just that sexual & oral contact were never mentioned/listed as a "probable source". (Niether were cigarettes, if U get my drift.)

Here's an interesting 1999 study involving hamsters: (Note contact transmission 'attempts')

Woodrum JE, Oliver JH Jr.
Institute of Arthropodology and Parasitology, Department of Biology, Georgia Southern University, Statesboro 30460, USA.

A hamster was inoculated with the SI-1 strain of Borrelia burgdorferi and subsequently served as a host to larval Ixodes scapularis Say.

Approximately 68% of the nymphs resulting from the fed larvae were infected. Nymphs from this group were fed on uninfected hamsters, and 3 of 4 males and 6 of 6 females became infected.

The infected hamsters were allowed to mate with uninfected partners to test for venereal transmission. Six infected females were mated with 6 uninfected males, whereas 3 infected males were mated with 6 uninfected females. None of the uninfected hamsters became infected after mating.

Two protocols were used to determine if transplacental transmission of B. burgdorferi occurred. One group included 6 nonpregnant infected females that were subsequently mated and became pregnant.

Three of the females were allowed to carry to full term, whereas the other 3 were killed prior to parturition. All fetuses and offspring were negative for B. burgdorferi based on cultures and monoclonal antibody assays.

Another group of 6 females was infected via tick bite after becoming pregnant; those females were allowed to carry fetuses to birth and all were negative.

-->Attempts at contact transmission of B. burgdorferi from 2 infected females to 2 uninfected male and 2 uninfected female hamsters and from 2 infected males to 2 uninfected male and uninfected female hamsters via urine or feces failed.

PMID: 10386432 [PubMed - indexed for MEDLINE]

---

Posts: 1233 | From Dover, NH | Registered: Sep 2008 | IP: Logged |

lymeberry
Unregistered



posted

---

Didn't Dr. Willy Burgdorfer get the disease from a splash of rabbit urine getting in his eye? I don't think tick salvia needs to be involved because horsefly bites can spread the disease and the spirochetes have been found in all bodily fluids. There is no test to tell you that you no longer have the disease.

Safe sex is the best way to go even if on abx.

---

IP: Logged |

heiwalove
Frequent Contributor (1K+ posts)
Member # 6467


posted

---

personally i don't think kissing poses much of a threat. just because the bacteria has been found/cultured in saliva does NOT mean it is capable of being transmitted that way.

i am a lesbian too and i understand your concerns and frustrations. almost no research has gone into the possible sexual transmission of lyme and coinfections, let alone the potential (or lack thereof) for nonheterosexual sexual transmission.

your partner is treating, on abx -- this is one enormous safeguard in your favor. another you may want to consider just in case is ingesting one or two preventative herbs yourself on an ongoing basis. i am not an herbalist but there are many possibilities, some of which are included in buhner's protocol. allicin/garlic also contains anti-spirochetal properties, i believe.

in my opinion your partner is not toxic -- no need to withhold kisses.

--------------------
http://www.myspace.com/violinexplosion


---

Posts: 1848 | From seattle, wa | Registered: Nov 2004 | IP: Logged |
Contact Us | LymeNet home page | Privacy Statement

Powered by UBB.classic™ 6.7.3

---
The Lyme Disease Network is a non-profit organization funded by individual donations. If you would like to support the Network and the LymeNet system of Web services, please send your donations to:
The Lyme Disease Network of New Jersey
907 Pebble Creek Court, Pennington, NJ 08534 USA
http://www.lymenet.org/
---
Home | Flash Discussion | Support Groups | On-Line Library
Legal Resources | Medical Abstracts | Newsletter | Books
Pictures | Site Search | Links | Help/Questions
About LymeNet | Contact Us
---
© 1993-2020 The Lyme Disease Network of New Jersey, Inc.
All Rights Reserved.
Use of the LymeNet Site is subject to Terms and Conditions.
---