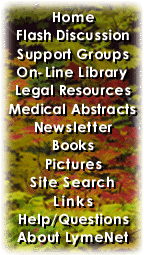 ---
LymeNet on Facebook
LymeNet on Twitter
---
---
The Lyme Disease Network receives a commission from Amazon.com for each purchase originating from this site.
When purchasing from Amazon.com, please
click here first.

Thank you.




Dedicated to the Bachmann Family


LymeNet needs your help:
LymeNet 2020 fund drive

The Lyme Disease Network is a non-profit organization funded by individual donations.

| | |
| --- | --- |
| | |
Author
Topic: I am so very confused and frustrated

mhande
Junior Member
Member # 17291


posted

---

HI,

I have had undiagnosed lyme for two years and finally- even though none of the blood tests or spinal tab showed any antibodies- got treated for lyme.

I was given ceftriaxone for 30 days, 2000mg s a day.

I had the herx reaction 3rd day which lasted a few days, then everything went silent.

On the fourth -last- week I had trouble with my heart. i thought I was dying.

My symptoms were mild but back for a few days after the treatment.

Now it has been 3 weeks the treatment is over and I am having pain at the back of my eye, ear pain, throat pain, and stiff neck.

My neurologist said this treatment was a definitive treatment so she just sent me home and asked me to go back after 6 months.

she believes that i am treated.

Obviously my case is not a terrible one when i hear about people with such harsh conditions.

However, my stiffneck is killing me, my memory

problems and depression is real bad, my joints

are much better but eye and ear pain is also bothering.

Overall, I am not feeling well. My doc also refused to follow with doxycycline.

My doc is a neurologist who also treats lyme and one of the good doctors in Long Island New York.

I still believe she does not really believe I have lyme.

The only thing that made her maybe consider my treatment was the elevated white blood cells in the spinal fluid ( it was 11).

So I cannot make her understand that my symptoms are continuing.

She says it will take a few months and then I will be fine...

My concern is , are there stages of infection.

Since there is no evidence of lyme or coinfections in none of my tests, and I was bitten by a mosquito not a tick, is it possible I might have a mild case that might be cured by 30 days of ceftriaxone and then I will be Ok in the future?

Is this possible, or no matter what it will get worse in the future...

My other concern is transmitting the lyme to my husband, is it sexually or any other way transmitted?

Is there any way of getting pregnant safely without taking medication?

I had lyme, got treated, no active infection in my blood or spinal fluid, does this make it safe to get pregnant?

I am so scared.

I am 29 and newly wed, never had children, and dying to have babies in the short future.

But now all my world went upside down with the news about lyme and pregnancy.

I do not really know what to believe , where to go.

I am not working and we are a low income family,I cannot afford a lyme literate doctor.

So my only hope is the response I will get from here.

Thanks already for your interest and time,
Hande

[ 05-17-2009, 02:07 PM: Message edited by: mhande ]

--------------------
hande.


---

Posts: 6 | From queens, ny | Registered: Sep 2008 | IP: Logged |

TF
Frequent Contributor (5K+ posts)
Member # 14183


posted

---

Hande, you need to continue to be treated for lyme disease. You need treated for at least 2 months past the date that all of your symptoms go away.

30 days is NOT long enough for someone who has had lyme for 2 years.

If the patient is still sick, it makes no sense for the doctor to tell you to just wait and you will be better, but that is what non-lyme literate doctors are trained to tell patients regarding lyme disease. That's why you need to find what we call a lyme literate doctor who knows to treat the patient until the patient is no longer sick.

All of my information comes from the Dr. Joseph Burrascano lyme disease treatment guidelines. He is the guru on lyme disease not only in the US but also in the world.

Here is a link to his guidelines:

http://www.ilads.org/lyme_disease/B_guidelines_12_17_08.pdf

Especially read "Course During Therapy" starting on page 16. That tells you the minimum amount of time lyme must be treated.

Also, read the section on co-infections. You most likely got more than just lyme disease from that tick. You need tested by a good lyme lab (such as Igenex in Calif) for all lyme co-infections and treated for all that you have.

You can never get rid of lyme if you don't treat all the other infections the tick gave you also. People don't get just lyme disease alone, in Dr. Burrascano's experience.

Also, Burrascano says that spinal taps rarely show lyme, so he does not recommend them. Everything you have said points to the fact that your doctor is not an expert on lyme disease by any means.

So, just a few points of information for you to see that lyme is a very complex disease and it takes a lot of expertise to get rid of it for you. You need to post in "Seeking a Doctor" to find a lyme doc that you can afford.

The lyme will not go away on its own. I suggest you ask family or your church to help you pay for treatment so that you can be well again.

Good lyme treatment is generally expensive.

Since you are still sick with lyme disease, postpone pregnancy for right now. When you are healthy is the best time to decide to have a baby.

---

Posts: 9931 | From Maryland | Registered: Dec 2007 | IP: Logged |

nenet
Frequent Contributor (1K+ posts)
Member # 13174


posted

---

mhande, I am so sorry that you are in such a situation, we understand how you are feeling right now, and we are here to help you. Welcome to lymenet - I'm sorry you have to be here, but it's a good place to get support and information.

No matter your scenario, there are ways to solve this problem. Many here have been in difficult economic straits, and there has been a lot of advice offered through the years and gathered to help people find ways to afford a visit to an LLMD, or to pay for their meds.

There are ways around these obstacles. Your most important lesson here is that nothing can come before your health. Even just considering finances, no one can afford to be so sick and not do anything about it - remaining sick is just too expensive. Much less the toll on your quality of life. You must see an LLMD, and get better.

Regarding your "Lyme Literate" Neurologist, it appears they are not as they advertise themselves, because their knowledge of Lyme Disease is sorrily lacking. Please see this recent thread which gathers evidence from multiple published and peer-reviewed scientific studies, which prove persistent infection after improper (too-short, etc.) treatment with antibiotics:

"Studies On Persistent Borrelia Burgdorferi Inspite Of "Adequate" Antibiotics"

http://flash.lymenet.org/ubb/ultimatebb.php/topic/1/80749


For more studies, please see this pdf from www.lymeinfo.net :

Relapse/Persistence of Lyme Disease Despite Antibiotic Therapy:

http://www.lymeinfo.net/medical/LDPersist.pdf


There are some LLMDs that can take insurance. Do you have that? Also, some will work with patients on a sliding scale. There are also organizations and charities that will help people that are sick and cannot afford travel to healthcare, etc.

As you do your research and look for help here, this is all information that can be provided for you, as many people here are eager to help you get what you need.

I am about to go to bed now, and too exhausted from a very busy day (busy for me, anyway), so I will write more tomorrow.

Please rest easy that you will solve this, and you will have our support and help in your effort. The Lyme community is a strong one, and able to help you with your burden.

--------------------
Dr. C's Western Blot Explanation

Lymenet Success Stories

ILADS Treatment Guidelines

Medical & Scientific Literature on Lyme

"Long-Term Antibiotic Therapy Improves Persistent Symptoms Associated with Lyme Disease"


---

Posts: 1176 | From KY | Registered: Sep 2007 | IP: Logged |

Wimenin
LymeNet Contributor
Member # 15294


posted

---

Find a LLMD in your area, schedule an apptmt, start treatment, and begin the road to recovery. The people here have heard your story many, many times, and we live it daily. Take control of your health, and do something proactive about it.

The fact that you had a herx reaction...twice...is another sign that yes, you likely have lyme.

But see a LLMD who will make a clinical diagnosis, and likely test you through igenex labs as well. The majority of neuros, infectious disease doctors, HMO PCP dont believe in lyme, and likely wont support LLMD protocols either.

Its your health, your choice... you're among friends here... welcome aboard...!

---

Posts: 514 | From . | Registered: Apr 2008 | IP: Logged |

Michelle M
Frequent Contributor (1K+ posts)
Member # 7200


posted

---

Has your doctor even heard of coinfections? Those can be worse than lyme itself. Your neurologist probably doesn't know anything about them because she is lyme-illiterate.

You will not get better if you have babesia or some other coinfection. And those are treated with different drugs.

A stiff neck is a BAD thing, and a sign of brain inflammation.

I would return with ILADS guidelines and ask to be treated as well as tested for coinfections. Though it would be preferred to find an LLMD somewhere, somehow, who knows what he is doing. Neurologists are typically pretty scary people and devoted lyme denialists. You could hand them a sheaf of peer-reviewed studies demonstrating the persistence of the bacteria despite treatment, and they would simply cover their eyes and ears and refer you to the IDSA guidelines.

I wish you luck!

---

Posts: 3193 | From Northern California | Registered: Apr 2005 | IP: Logged |

Nexis
Member
Member # 19780


posted

---

Contact the ILADS online and ask them to refer you to a LLMD in your area, and also that you are on low income and need a LLMD.

You sounds to have some other tickborne illness, co-infections, and this neurologist of yours does not seem to be a pro for Lyme disease/co-infections.

Alike the other poster said, you cannot place anything before your health. You cannot live without being properly treated. I made the mistake by being cheap and waiting for things to get better. I regret it. I am now on 2nd year with all the neuro symptoms and muscle pains, and lost 2 years of my life. Don't let it happen to you. Be proactive.

---

Posts: 24 | From JAPAN | Registered: Apr 2009 | IP: Logged |

bettyg
Unregistered



posted

---

welcome!

noticed this is your 2nd post only so will send you my newbie welcome letter with basic links of good info including chronic lyme literate LYME TREATMENT GUIDELIENS, ETC.

also, look for additional link of FINANCIAL BURDENS/WHAT DO I DO NOW LINKS! burdens link is at bottom of what do i do so it's NOT overlooked!!

http://flash.lymenet.org/ubb/ultimatebb.php/topic/1/73069
***********************

Welcome; i'm so glad you found us!! You've come to the right place for education and support!


Dr. Burrascano's most recent "Diagnostic Hints and 2008 Treatment Guidelines for Lyme and Other Tick Borne Illnesses" .
http://www.ilads.org/lyme_disease/treatment_guidelines.html


PAGES 17-19 discuss ADULT & KIDS MED TREATMENTS!
http://flash.lymenet.org/scripts/ultimatebb.cgi/topic/1/80440?#000006
Dr. B's Supplement List
http://www.lymepa.org/Nutritional_Supplements.pdf


this link, making the most of your LLMD visit, may help you also.
http://flash.lymenet.org/scripts/ultimatebb.cgi?ubb=get_topic&f=1&t=020605#000005

http://flash.lymenet.org/ubb/ultimatebb.php/topic/1/77378

***************

TREEPATROL'S NEWBIE LEARNING LINKS ... over 1000 links of good info and guidelines galore!! MUST SKIM & READ !!

http://flash.lymenet.org/ubb/ultimatebb.php/topic/1/29917
************************************************************************


Betty's suggested POSTING GUIDELINES . many of us have neuro lyme where we can NOT read long solid block text and be able to comprehend and read it as is.

please edit your post by CLICKING PAPER/PENCIL ICON to right of your name. that opens up BOTH subject line and body text.

now please break up your WORDY SENTENCES into one sentence paragraphs. Then hit ENTER KEY ``TWICE`` after each paragraph; we need that space for comprehension.

then go to left hand corner and mark box to receive ALL REPLIES, and click EDIT SEND

we thank you for helping us; otherwise, we will SOB, SCROLL ON BY, since we can't read to help you. If I see posts like this, I SOB them; to hard on me.
------------------------------------------------------

People seeking doctors might be able to get help from their state online information and support group. Nearly 3,400 people belong to state groups. Some of the groups are small but more than 20 of them have 50 or more people and seven have over 100.

To find your state group, go to
http://health.groups.yahoo.com/group/statenamelyme

Type your state name and lyme as one word, like this -
http://health.groups.yahoo.com/group/newyorklyme

South Carolina is the only state that needs a hyphen between the statename
and lyme, e.g. http://health.groups.yahoo.com/group/southcarolina-lyme

The groups are moderated and you have to apply. Most don't allow doctor names, but once on the group, you can ask for doctors in a certain area and ask people to email you privately.
*******************************************

This explains the medical politics around lyme WHY you need an ILADS-educated or ILADS-member LLMD (and there are also some ILADS-member LL NDs (naturopathic doctors):

www.clinicaladvisor.com/Controversy-continues-to-fuel-the-Lyme-War/article/117160/


TESTING

You should also be evaluated for coinfections. Not all tests are great in that regard, either, but a good LLMD can evaluate you and then guide you in testing. One of the top labs is:

www.igenex.com IGENEX

-----
There are a couple other good labs for certain tests: Fry; Clognen; Focus. Your LLMD will know.
========================

VERY important to read - even BEFORE testing:

Dr C's Western Blot explanation is discussed here:

http://flash.lymenet.org/ubb/ultimatebb.php?ubb=get_topic;f=1;t=042077

"With most infections, your immune system first forms IgM antibodies, then in about 2 to 4 weeks, you see IgG antibodies. In some infections, IgG antibodies may be detectable for years.

Because Borrelia burgdorferi is a chronic persistent infection that may last for decades, you would think patients with chronic symptoms would have positive IgG Western blots.

But actually, more IgM blots are positive in chronic borreliosis than IgG. Every time Borrelia burgdorferi reproduces itself, it may stimulate the immune system to form new IgM antibodies.

Some patients have both IgG and IgM blots positive. But if either the IgG or IgM blot is positive, overall it is a positive result.

Response to antibiotics is the same if either is positive, or both. Some antibodies against the borrelia are given more significance if they are IgG versus IgM, or vice versa.

Since this is a chronic persistent infection, this does not make a lot of sense to me. A newly formed Borrelia burgdorferi should have the same antigen parts as the previous bacteria that produced it.

But anyway, from my clinical experience, these borrelia associated bands usually predict a clinical change in symptoms with antibiotics, regardless of whether they are IgG or IgM."
===========

TREATMENT *** www.ilads.org

ILADS
The International Lyme and Associated Diseases Society (ILADS) provides a forum for health science professionals to share their wealth of knowledge regarding the management of Lyme and associated diseases.

---

IP: Logged |

mhande
Junior Member
Member # 17291


posted

---

Hi,

Thank you to all of you for your concerns and help.


I have seen a cardiologist for my heart issues

and he said I do not have any problems do to Lyme,


just some mild murmur and I will have echo cardiogram for that this week.


It has been a full month after my IV ceftriaxone treatment.


My symptoms that are back are stiff neck on a larger area and almost every day,


it goes almost to the middle of my back on my spine,


i still have too much pressure in my head,


i am having lover back pains out of no where,


and I have inflammation all over my body even though I am eating very healthy.


I asked my rheumotologist to follow with doxycycline for some time,


now he is giving me 2 weeks of 200mgs a day doxy, which is funny..


I asked him about CD-57 test , he was not aware, hopefully he will be ordering that , too.


Obviously my case is a milder case than many of you,


I do not know if this treatment worked for me or not,


or even if it did, will it come back or not...


I know you will all tell me to see an LLMd, but it is really impossible for me in the next 3-4 months...


I will not even be here in the US due to some

obligations


and we do not have lyme in my country so no
doctors who can treat me there.


I am counting on the herbal supplements which I

have to search and learn.


I ordered Stephen Buhner's 'healing lyme' book and


I will try to stick with herbs and stuff until I

can see an LLMD.


I would really appreciate if you could point me

to the right direction on the herbal supplements.


And, dear "Dan's mom" , I am trying to send a

private message but your inbox is full I believe


Thank you all for your concerns,


I will update every news I get on my case...


It is wonderful to know I am not alone.


God Bless you all,

best wishes,
hande...

--------------------
hande.


---

Posts: 6 | From queens, ny | Registered: Sep 2008 | IP: Logged |

Nexis
Member
Member # 19780


posted

---

Contact ILADS and they can do a doctor consultation with a doctor that is willing to give you medication in your country.


Where are you located abroad?

---

Posts: 24 | From JAPAN | Registered: Apr 2009 | IP: Logged |

lnc2000
Member
Member # 18440


posted

---

mhande...

other countries are much easier to get abx, i got them w/o pres....i was n the exact same situation as yours. My doc gave me Doxy 100mg 2x/day which will only kake it worst because it not strong enough to kill all bacterias, and make them resistant to the meds. My LLMD gave me amoxicilin 500mg 2x/day and it been helping me so much better. ask your doc for higher dose of doxy..

---

Posts: 36 | From Springfield VA | Registered: Dec 2008 | IP: Logged |

Shosty
Unregistered



posted

---

Do you have any insurance? As another person said, it is possible to get good care that does not cost much at all, if you have any kind of insurance.

Why are you seeing a rheumatologist? Why are you seeing a neurologist? What symptoms and referral process led you to them? Are their visits costly or covered by insurance?

Just don't have a handle on your financial situation.

---

IP: Logged |
Contact Us | LymeNet home page | Privacy Statement

Powered by UBB.classic™ 6.7.3

---
The Lyme Disease Network is a non-profit organization funded by individual donations. If you would like to support the Network and the LymeNet system of Web services, please send your donations to:
The Lyme Disease Network of New Jersey
907 Pebble Creek Court, Pennington, NJ 08534 USA
http://www.lymenet.org/
---
Home | Flash Discussion | Support Groups | On-Line Library
Legal Resources | Medical Abstracts | Newsletter | Books
Pictures | Site Search | Links | Help/Questions
About LymeNet | Contact Us
---
© 1993-2020 The Lyme Disease Network of New Jersey, Inc.
All Rights Reserved.
Use of the LymeNet Site is subject to Terms and Conditions.
---