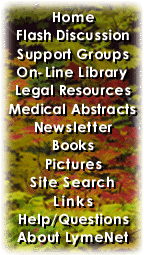 ---
LymeNet on Facebook
LymeNet on Twitter
---
---
The Lyme Disease Network receives a commission from Amazon.com for each purchase originating from this site.
When purchasing from Amazon.com, please
click here first.

Thank you.




Dedicated to the Bachmann Family


LymeNet needs your help:
LymeNet 2020 fund drive

The Lyme Disease Network is a non-profit organization funded by individual donations.

| | |
| --- | --- |
| | |
Author
Topic: Worst Insomnia Ever.....

Tracy9
Frequent Contributor (1K+ posts)
Member # 7521


posted

---

I AM HAVING THE WORST CASE OF INSOMNIA EVER.....I cannot sleep at all, and I was exhausted all day today....which of course makes no sense but that is the nature of Lyme Disease.

Here is what I've taken:

1 Lunesta 3 mg
1 Restoril 30 mg
3 Seroquel 150 mg total
3 Nature's Way Sleep Aids
1 Vicodin 5/500

Then about 5 hours later, still WIDE AWAKE, I just took:

1 more Lunesta
1 more Restoril
1 more Seroquel

What the hell is up with this? These are enough drugs to knock down an elephant and I CANNOT fall asleep. Now I'll be sleeping ALL DAY tomorrow. This so sucks!

I wish I knew the answer for how to fix this. Some nights my sleep meds work fine, most nights they eventually work, but then there are rare nights like tonight where I am just screwed.....!!!

--------------------
NO PM; CONTACT: [email protected]

13 years Lyme & Co.; Small Fiber Neuropathy; Myasthenia Gravis, Adrenal Insufficiency. On chemo for 2 1/2 years as experimental treatment for MG.


---

Posts: 4480 | From Northeastern Connecticut | Registered: Jun 2005 | IP: Logged |

Dekrator48
Frequent Contributor (5K+ posts)
Member # 18239


posted

---

Tracy,

My only advice is that perhaps you and your LLMD should take another look at your cortisol and hormones.

Perhaps adjustments with supplements that can help correct low cortisol in the a.m. and high cortisol in the p.m., plus adjustments as needed to progesterone, estrogen, and testosterone could help.

I am sleeping better since starting DHEA and bioidentical hormones.

Hope you figure this out and get some sleep.

--------------------
The fibromyalgia I've had for 32 years was an undiagnosed Lyme symptom.

"For I know the plans I have for you", declares the Lord, "plans to prosper you and not to harm you, plans to give you hope and a future". -Jeremiah 29:11


---

Posts: 6076 | From Pennsylvania, USA | Registered: Nov 2008 | IP: Logged |

Wimenin
LymeNet Contributor
Member # 15294


posted

---

My first reaction to reading your post was this... Can you fall asleep without all the meds?

It really seems as though you're taking a lot of different things and perhaps the interaction amongst them has your internal clock off.

Do you fall asleep, just at the wrong times, or are you unable to fall asleep no matter what the hours?

Ive always been a strong advocate of avoiding meds if possible, and when it comes to sleep even more so. I know thats not easy when in pain, or if you're in the habit of needing the sleep aids, but maybe its time to try and get some sleep without an aid.

Helpful sleep thoughts:
-don't eat any foods right before bed, especially any sugars, nuts, caffeine, fatty carbos.
-take a bath or shower a couple hrs before bed to raise your body temps, so that it naturally falls by the time you go to sleep.
-have the temp in your bedroom set lower.
-have it very dark in your bedroom.
-dont watch any television right before bed, unless its a boring, happy, movie to get you sleepy.
-have someone, or give yourself, a complete head to toe body massage to relax your entire body.
-if stressed over items, write them down and then forget about them.
-go to bed at the same time every night, even weekends.
-if in bed and can't sleep, get up, read a book, not television, then go back to bed 30 minutes later.
-turn on a sound machine, or fan to create white noise to drown out all other noises.
-put a towel or clothes over the clock so that you can't see what time it is. After you set your clock to get up in the morning, forget about it.

These are just a few of the different things you can do to create a restful environment for sleep. If you've been taking different meds for a while, it may take a few nights before your body readjusts to sleeping without aids.

Finally, if you do fall asleep, do you wake up in the middle of the night, and if so, what wakes you?...yourself (sleep apnea), noises, smells, light, thoughts, etc..

Just my two cents....

---

Posts: 514 | From . | Registered: Apr 2008 | IP: Logged |

blaze
Unregistered



posted

---

I agree that cortisol is likely involved. You might be interested in this article...

http://www.westallisnow.com/userstoriessubmitted/40808987.html

...A few studies that have measured the biological effects of microwave radio emissions from cell phone towers find that they increase free radicals and oxidative stress, lower glutathione (GSH) and lower cortisol levels.

Photographs of red blood cells exposed to cell phone signals show red blood cell aggregation, an abnormal condition. The distorted red blood cells impair oxygen delivery and the removal of CO2 and this alone has vast consequences for cardiovascular health.

Currently, there are no investigations on the effects of cell phone signals on impairing the body's immune response against viral, fungal and bacterial infections while empirical evidence grows that cell phone radiation may be degrading and impairing the immune system of millions of people worldwide.

From the common cold to the flu, infections are lasting much longer than they use to from 10 days to several weeks or even months. Microwave radiation weakens the integrity of cell membranes and accelerates the aging process. Millions of people exposed 24/7 to microwave radiation from cell phone towers are being slowly cooked. The long term damage may be irreversible...

---

IP: Logged |

kreynolds
Frequent Contributor (1K+ posts)
Member # 15117


posted

---

WHOA!! That combo would knock me out for sure, especially the Serequel....

I am sorry you are having trouble sleeping and when I read posts about insomnia I normally give my opinion about Seroquel, but you are on it!

I feel for you! Get some rest!

--------------------
Diagnosed CDC + 6/2007

Quest: + IGG Bands 18,23,39,41,58,66 and 93.

Quest: + IGM Bands
23,39

Quest: + Bartonella (B.Henselea & B. Quintana),+ Babesia, and + Mycoplasma and Lyme-Induced Addisons Disease

+ Biofilm blood test 12/2010


---

Posts: 1185 | From New York | Registered: Apr 2008 | IP: Logged |

MY3BOYS
LymeNet Contributor
Member # 17830


posted

---

soooo sorry you are having insomnia from H*&l.

your right- thats enough meds to knock most folks out--for days

hope you are able to sleep and get back "on track"

for me- soma, clonopin, and sleep tab (that really is just 50mg of benadryl) do the trick

on bio-identicals too and can say they make BIG differance. helped pain only some but do help sleep and overall mood

--------------------
i am not a Dr. any info is only for education, suggestion or to think/research. please do not mis-intuprest as diagnostic or prescriptive, only trying to help. **

dx in 08:lyme, rmsf, bart, babs, and m.pneumonia.


---

Posts: 422 | From TX | Registered: Oct 2008 | IP: Logged |

amkdiaries
LymeNet Contributor
Member # 7035


posted

---

I know how horrible it is. I fell asleep on and off all night and awoke at six o'clock in the morning with sleep meds. I feel almost psychotic and the pain is off the chart.

Sometimes I find that walking in the early evening makes me sleep at night but not any form of exercise.

Sleep deprivation is one of the worst forms of torture.

---

Posts: 425 | From NY, United States | Registered: Mar 2005 | IP: Logged |

luvdogs
LymeNet Contributor
Member # 9507


posted

---

Hey Tracy - I hear you on the insomnia thing. Maybe I should come to your place and we can play scrabble all night and maybe play with bunnies etc.. I got to bed at 7 a.m. today and then had to wake up at 9 a.m. and boy do I feel just friggin perky as all hell! I am sorry you are going thorugh all that! I find that certain Lyme treatments make it almost impossible to sleep, whether it is side effects of abx or die-off of the bugs... I find that the macrolide and plaquenil combo for me is an insomnia creator - Biaxin being worse than zith though.

I also find that multivitamins - even if taken in the a.m. - make for NO SLEEP for me and many that I know. Many of the B-vitamins contribute to this. So, I instead tend to take individual vitamins that I know do not keep me awake. And I take them in the a.m. Also, depending on the abx that I am on I can up or down my tea intake to 1 cup- 3 cups per day. That one cup, even if taken in the a.m., can keep me awake all night if I am on the right/ wrong abx...

I cut and pasted from another insomnia thread... I will paste some pertinent things here... from that thread - I recently copied them for myself - this is parts of the thread that is going on here on Lymenet from a couple days ago:

"These are some ideas of things that have helped hubby in the past. Insomnia used to be a pretty significant symptom but had gone away for several years until he started trying to treat the mystery parasite recently. Seems like the plaquenil causes insomnia for him.

In the past it always seemed like insomnia was one of his babesia symptoms. We thought it was either related to bloodflow issues or extra adrenal stress from the babs.

Hubby generally does well with melatonin and herbs such as valerian, hops, passionflower, scullcap or catnip. But when his nervous system is overstimulated there are other things that work better for him.

He does not do well with prescription sleep meds -- Ambien gave him amnesia for example. He has been on Ativan for 5 years but that has never helped with sleep. Actually he is down to 1 mg of Ativan now from his high of 8 mg so hopefully that will be a non issue soon.

Often insomnia is a serotonin issue. But with tickborne illnesses supplemental serotonin precursors can cause problems. When the Healing Lyme book came out I put hubby on Resveratrol. It keeps the serotonin from converting to quinolinic acid which is a neurotoxin.

Recently put hubby back on p5p (pyridoxal 5 phosphate). This is the activated form of B6 and is needed to make serotonin. Also helps the body absorb or utilize magnesium -- I always forget which. He takes 50 mg of the p5p with his evening meal.

He also used to take l-tryptophan and 5HTP as well. Have not added those back yet this time. He never did well on prozac or any of the psychotropic meds.

As a last resort you could try the spice nutmeg. It is used in India as a sleep aid. I just put it in empty vitamin capsules and hubby takes one if needed during the night. Too much could cause very vivid dreams.

Another sleep aid I have added back is Relora. This is a proprietary combo of magnolia and phellodendron herb. The magnolia has actually been shown to help kill malaria so may help with the mystery parasite as well. Hubby takes one 250 mg capsule per night.

And to help calm your brain during the day l-theanine may be helpful. In the past hubby took that 2 or 3 times a day.

This is not medical advice, just my opinion based on hubby's experiences.


My daughter settled on Geodon 140mg, 1mg Klonipin, 3mg melatonin, and one OTC Simply Sleep. If you can sleep well at night, that's half the battle during the day."

---

Posts: 584 | From Rhode Island | Registered: Jun 2006 | IP: Logged |

Tracy9
Frequent Contributor (1K+ posts)
Member # 7521


posted

---

Definitely I have Cortisol issues. My LLD said my extreme fatigue and all that is probably related to Adrenals and Thyroid, and I am supposed to get a couple more tests so she can get the dosages right.

I already did the saliva test but didn't mail it right away so I have to do it again. I'm also supposed to get a blood test like 6 hours after I take the Hydrocortisone I think.....I think I really need to get on this and get these tests taken care of.

I am so extremely fatigued all day, but I hit this wall of insomnia around midnight. I am going to try like heck to go to sleep before then tonight.

Most nights, my sleep meds do work, but can take up to two hours to kick in. Oh and she did tell me at the last visit to take DHEA, that I am low in that and Zinc. I have to find my notes from the last visit because I am confused.

Plus I ordered the DHEA and can't find it....I hope it didn't get thrown out by accident. A whole box of supplements that I cannot find....

Thanks for the suggestions though. I do think Adrenals and Thyroid are my biggest issues.

Oh, and once I fall asleep, I'm out for the night. I have no trouble waking up during the night. I sleep a good solid 10 to 12 hours.

--------------------
NO PM; CONTACT: [email protected]

13 years Lyme & Co.; Small Fiber Neuropathy; Myasthenia Gravis, Adrenal Insufficiency. On chemo for 2 1/2 years as experimental treatment for MG.


---

Posts: 4480 | From Northeastern Connecticut | Registered: Jun 2005 | IP: Logged |
Contact Us | LymeNet home page | Privacy Statement

Powered by UBB.classic™ 6.7.3

---
The Lyme Disease Network is a non-profit organization funded by individual donations. If you would like to support the Network and the LymeNet system of Web services, please send your donations to:
The Lyme Disease Network of New Jersey
907 Pebble Creek Court, Pennington, NJ 08534 USA
http://www.lymenet.org/
---
Home | Flash Discussion | Support Groups | On-Line Library
Legal Resources | Medical Abstracts | Newsletter | Books
Pictures | Site Search | Links | Help/Questions
About LymeNet | Contact Us
---
© 1993-2020 The Lyme Disease Network of New Jersey, Inc.
All Rights Reserved.
Use of the LymeNet Site is subject to Terms and Conditions.
---