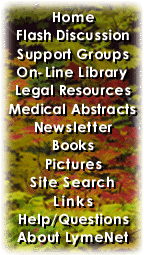 ---
LymeNet on Facebook
LymeNet on Twitter
---
---
The Lyme Disease Network receives a commission from Amazon.com for each purchase originating from this site.
When purchasing from Amazon.com, please
click here first.

Thank you.




Dedicated to the Bachmann Family


LymeNet needs your help:
LymeNet 2020 fund drive

The Lyme Disease Network is a non-profit organization funded by individual donations.

| | |
| --- | --- |
| | |
Author
Topic: Help my brother is very sick

adirienzo
Member
Member # 19993


posted

---

Hello to anyone who can give us advise.My older

brother is a landscaper and abouta month or 3

weeks ago got very very sick with a high fever

and flu like symptoms. As things progrssed he

went to the doctor and was given a zpack. last

week while he at the pharmacy he collapsed and

lost consciousness. He was sent to the hospital

where he was admitted and started on some iv

antibx. he did recall finding a tick on his

stomach before he got ill. he is having serious

dizziness and lightheadedness and weakness. I am

afraid for him because they also put him on

steroids, I am not sure why. I also know that

last year he had chest pains that dropped him to

the ground. He is not lyme aware and needs

support. My mother told me today that the

doctor mentioned something about crystals in his

ears. Is that a symptom as well? Any advise

would be greatly appreciated.

---

Posts: 31 | From north attleboro, ma | Registered: Apr 2009 | IP: Logged |

disturbedme
Frequent Contributor (1K+ posts)
Member # 12346


posted

---

Here's an article I found explaining ear crystals and what they do, etc.:

"Ear crystals" can only mean benign paroxysmal positional vertigo, or BPPV. First, let's make sure that you and I are talking about the same thing. Patients with BPPV experience a severe spinning sensation (vertigo) in response to particular changes in head position. The most common complaint is vertigo after rolling over in bed. Quite often, patients have problems only after rolling over in a particular direction. People with BPPV are often intolerant of other head movements, such as looking upward or looking over one shoulder.

Vertigo in BPPV lasts only for several seconds -- never more than one minute, though feeling off-balance may persist for much longer. A person may have several attacks in a short interval (perhaps a week), followed by a remission that may last for months or years.

Usually, an ear, nose and throat doctor (ENT) can make this diagnosis based solely upon the patient's description of symptoms. The ENT can also put the patient through particular positional changes to provoke vertigo, and then observe the patient's eyes. When the patient is feeling vertigo, his or her pupils will bob up and down (vertical nystagmus) or turn in a characteristic manner (torsional, or rotational nystagmus).


BPPV is "benign" in that it does not signify anything life-threatening to the patient (such as a brain tumor). "Paroxysmal" refers to the fact that the episodes are brief and self-limited. The "positional vertigo" aspect of BPPV should be evident from the description above.

So, what on earth are "ear crystals?" The medical term for these is "otolith" or "otoconia." Everyone has otoliths. They are found in two inner-ear organs, the utricle and the saccule, collectively known as the "otolithic organs." These organs are responsible for our ability to sense a gravitational field. In other words, even if you are in a pitch-dark room, submersed in a swimming pool (thus deprived of visual cues and musculoskeletal cues), you will still know which way is up, thanks to your otolithic organs.


The nerve endings in the otolithic organs are embedded in a gelatinous membrane known as an "otolithic membrane." Also embedded in this membrane, like grapes in jello, are the otoconia. They are tiny calcium carbonate/calcite crystals. Their whole purpose is to make that jello as heavy as possible. That way, when you tilt your head in a gravitational field, the otolithic membrane moves accordingly, thus stimulating the nerve endings underneath.

Now we move from hard scientific fact to the realm of theory. Experts theorize that otoliths may become liberated from the membranes and are then free to float through the inner-ear fluid. These free agents are capable of stimulating other parts of the inner ear. In particular, with regard to BPPV, they are thought to most commonly stimulate a structure responsible for our sense of rotational motion. The result is a sense of rotational vertigo.

Fortunately, there is a very simple and virtually risk-free treatment for BPPV. A positional maneuver (known as the Epley maneuver, for the doctor who developed it) allows the otoliths to "settle out" in a region of the inner ear where they will not cause problems. Patients can be taught this maneuver and can practice it at home. If, in fact, your husband's diagnosis of "ear crystals" corresponds to BPPV, then he needs to ask his ENT about the Epley maneuver."

--------------------
One can never consent to creep when one feels an impulse to soar.
~ Helen Keller

My Lyme Story


---

Posts: 2965 | From Land of Confusion (bitten in KS, moved to PA, now living in MD) | Registered: Jun 2007 | IP: Logged |

Pinelady
Frequent Contributor (5K+ posts)
Member # 18524


posted

---

Have him tested for Lyme anyway. Preferably by Igenex or a Lyme specific lab. He sounds like

classic lyme to me. And doctor should be aware of cardiac possibilities. Crystals are not questioned

unless there has been head trauma. Inner ear infections will cause the vertigo. Meineres

disease. Since he has symptoms long before this I would say please check for Lyme.

--------------------
Suspected Lyme 07 Test neg One band migrating in IgG region
unable to identify.Igenex Jan.09IFA titer 1:40 IND
IgM neg pos
31 +++ 34 IND 39 IND 41 IND 83-93 +
DX:Neuroborreliosis


---

Posts: 5850 | From Kentucky | Registered: Dec 2008 | IP: Logged |

Leelee
Frequent Contributor (1K+ posts)
Member # 19112


posted

---

I would suspect Lyme, unfortunately. If I could offer any advice at all, I would suggest being ruthlessly persistent in considering Lyme and co-infections. It is a disease that confuses doctors all the time and your brother's symptoms are quite serious.

Canlyme.org has an excellent list of symptoms you can print out for your brother.

I do not know anything about ear crystals, but the other symptoms is he is suffering from could indicate Lyme, especially since he recalled a tick bite and subsequent high fever.

Is it possible for him to have an Igenex Western Blot done? Perhaps while he is still in the hospital, even?

I hope he finds an answer to his health problems and that he is able to recover. You are a very kind sister to search for answers for him. I know you are terrified and concerned. I wish you, your brother and your mother all the best in this journey.

--------------------
The ultimate measure of a man is not where he stands in moments of comfort and convenience, but where he stands at times of challenge and controversy. Martin Luther King,Jr


---

Posts: 1573 | From Maryland | Registered: Feb 2009 | IP: Logged |

seibertneurolyme
Frequent Contributor (5K+ posts)
Member # 6416


posted

---

You need to know that Lyme disease is not the only infection you can get from a tick. Even without a rash I would suggest your brother be tested for Rocky Mountain Fever. Other common coinfections are babesia (similar to malaria), Bartonella (similar to cat-scratch fever) and ehrlichia or anaplasma.

Unfortunately the tests for the coinfections are not much better than the Lyme tests and that is why people will suggest you see a LLMD (Lyme literate medical doctor). Many hospital docs and infectious disease docs don't know much about tick-borne infections.

Good luck to your brother.

Bea Seibert

---

Posts: 7306 | From Martinsville,VA,USA | Registered: Oct 2004 | IP: Logged |

psano2
LymeNet Contributor
Member # 11711


posted

---

I don't know about ear crystals, but the description of vertigo that disturbedme gave fit me well, before I was diagnosed.

I was unable to sleep on the side that I was used to, and could only sleep on the other side without getting dizzy.

I never realized that the symptom had a name, and never really mentioned to my LLMD because I had so many other symptoms.

That was a great description, by the way, disturbedme.

---

Posts: 975 | From California | Registered: Apr 2007 | IP: Logged |

Geneal
Frequent Contributor (5K+ posts)
Member # 10375


posted

---

Ear crystals are related to vertigo.

Medicines such as benadryl, phenergan (sp?) and others

Are often used to control this.

Some physical therapists are trained in movements

Such as to re-align the crystals.

I would first suspect Lyme.

Have him tested via Igenex.

Hugs,

Geneal

---

Posts: 6250 | From Louisiana | Registered: Oct 2006 | IP: Logged |

adirienzo
Member
Member # 19993


posted

---

Thanks everyone.

---

Posts: 31 | From north attleboro, ma | Registered: Apr 2009 | IP: Logged |

DJP
LymeNet Contributor
Member # 5893


posted

---

My GP told me the dizziness was related to the crystals in the ear theory.
However, when I went to the ENT he told me that was old theory and that the newest info shows that it is a latent virus that is in your system and is normal kept in check by your immune system. When your immune system is compromised the virus can overcome it.
He gave me an antiviral and it did help along with the antibiotics.
He was at UMASS and I can problem find his info, PM me if you want it.

---

Posts: 441 | From USA | Registered: Jul 2004 | IP: Logged |

Keebler
Honored Contributor (25K+ posts)
Member # 12673


posted

---

-

DJP,

Glad your ear problem was made better.


However, crystals in the ear can still absolutely be on cause of vertigo for some. Disturbed me, in a post above, describes this well - benign paroxysmal positional vertigo, or BPPV.


Bacteria and viruses can also be a frequent cause of vertigo. And lyme often causes varies kinds of vertigo and other ear troubles, too.

A simple test can determine if or crystals are the problem and then something called the Epley maneuver can help - if and only if - the crystals are the reason for BPPV.


More about that here:


http://flash.lymenet.org/scripts/ultimatebb.cgi?ubb=get_topic;f=1;t=065801


Topic: TINNITUS: Ringing Between The Ears; Vestibular, Balance, Hearing with compiled links

===============


adirienzo,

Most likely, your brother's dizziness is from lyme or from the antibiotic reaction, especially if it is azithromycin, biaxin or minocycline.

When he is treated properly, the dizziness should get better.

-

---

Posts: 48021 | From Tree House | Registered: Jul 2007 | IP: Logged |

Keebler
Honored Contributor (25K+ posts)
Member # 12673


posted

---

-

adirienzo,

I just saw this thread today. How is your brother doing?


-

---

Posts: 48021 | From Tree House | Registered: Jul 2007 | IP: Logged |

DJP
LymeNet Contributor
Member # 5893


posted

---

Keebler,
Thanks for the clarification, with my lyme brain I may have mis understood

---

Posts: 441 | From USA | Registered: Jul 2004 | IP: Logged |

adirienzo
Member
Member # 19993


posted

---

He was put on zithromax and he is still dizzy

and unfortunetly tht had also given him a short

course of steroids. I believe the dizziness did

not start until he passed out in cvs and hit his

head. They did an mri and said he had an air

pocket near his Jaw?? He is still somewhat weak

and believes he ahd a viral infection. He told

me he was tested for lyme a couple of years ago

which was neg. I did try to tell him that did

not matter and he needed to be tested by a

better lab but I think because his funds are low

he is reluctant to do that. I myself am trying

to get treated by an LLMD but am having

difficulty getting an appt in the near future

with someone who takes ins. I have an apt with

one but she cannot she me until November.

---

Posts: 31 | From north attleboro, ma | Registered: Apr 2009 | IP: Logged |
Contact Us | LymeNet home page | Privacy Statement

Powered by UBB.classic™ 6.7.3

---
The Lyme Disease Network is a non-profit organization funded by individual donations. If you would like to support the Network and the LymeNet system of Web services, please send your donations to:
The Lyme Disease Network of New Jersey
907 Pebble Creek Court, Pennington, NJ 08534 USA
http://www.lymenet.org/
---
Home | Flash Discussion | Support Groups | On-Line Library
Legal Resources | Medical Abstracts | Newsletter | Books
Pictures | Site Search | Links | Help/Questions
About LymeNet | Contact Us
---
© 1993-2020 The Lyme Disease Network of New Jersey, Inc.
All Rights Reserved.
Use of the LymeNet Site is subject to Terms and Conditions.
---