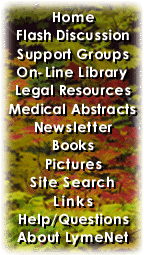 ---
LymeNet on Facebook
LymeNet on Twitter
---
---
The Lyme Disease Network receives a commission from Amazon.com for each purchase originating from this site.
When purchasing from Amazon.com, please
click here first.

Thank you.




Dedicated to the Bachmann Family


LymeNet needs your help:
LymeNet 2020 fund drive

The Lyme Disease Network is a non-profit organization funded by individual donations.

| | |
| --- | --- |
| | |
Author
Topic: My eyes are stinging, burning, and itching - please, advice?

bernieb4
Member
Member # 14654


posted

---

This is sort of long, but please stick with it. I need someone's help, and I took all the time to write it. If I read yours and had an answer, believe me, I would offer it.


One week ago now I began having eye symptoms - more serious than the typical ones I suffer from due to lyme(soreness, fatigue, sensitivity, etc.).

I had been biking quite a bit and I live in the city. In other words there's tonnes of crap in the air: pollens, dust, construction particles.

First, my eyes felt like I just had gotten stuff in them, which maybe I had. Then they were sore, so I used Clear Eyes Dry Eye Relief when I got home. It helped at first. The next day they were drier, stung more and itched more.

Day 3: They really burned, stung, itchced and were clearly red and inflamed. I called my llmd. He prescribed me some Gentamicin abx eye drops. I took them for one day. It didn't get better.

Day 4: I decided to go see a doctor in person to have them examine my eyes. This doctor was certain from the get go that my eye problems were allergies, along with my runny nose and sneezing (which I explained had been going on for at least 2 months straight, and didn't seem to be allergies).

She prescribed Zyrtec and Patanol(Rx eye drops), which I have been taking.

Three days later I saw another dr. because the symptoms hadn't improved and, in fact, worsened some. He said the Patanol was indeed working - "it was working to well". I said (in my head), "Well, that's funny..I thought working would mean it was functioning, serving a purpose, being effective, you idiot."

He said I just needed to take them only twice a day instead of 4 times because they had dried my eyes out. And he told me to buy some fake tears and some Lacrilube for nighttime to get rid of the dryness, which was still prominent, he said.

So now I have my bag of eye goodies, some undoubtedly wasted money, and two not so intellectual MDs.

Maybe I did develop allergies. I know that can happen, and this did happen last year in mid-June. That time I assumed it was the Lyme and I treated it with Gentamicin. I believe it subsided after two weeks or so. So was it allergies or was it the Gentamicin successfully fighting the Lyme?

I wish I knew.

An allergy is a disorder of the immune system, I read. Two types of white blood cells give off histamine which stimulates high inflammation response, which is in turn your allergy.

I also came across this interesting bit while researching (regarding one of the allergy-stimulating white blood cells):

"Basophils appear in many specific kinds of inflammatory reactions, particularly those that cause allergic symptoms. Basophils contain anticoagulant heparin, which prevents blood from clotting too quickly. They also contain the vasodilator histamine, which promotes blood flow to tissues. They can be found in unusually high numbers at sites of exoparasite infection, e.g., ticks."

What I gathered from that: The basophils contain histamine, which send more blood to body tissues(where Lyme loves to hide). There are tons of them at the site of tick bites - the body wants blood to flow to tissues to show that those areas are inflamed and need white blood cells to fight off the borellia burgdorferi.


I think that is correct. And perhaps, whoever wrote that article knew nothing of Lyme and, for that reason, wrote "unusually high".


Anyways, the Zyrtec gives me a sore throat, a headache and makes me weak - like I felt that gray day I got Lyme (Memorial Day 2007).

So I am wondering if this is what's going on - Zyrtec (an antihistamine) blocks the histamine, which stimulates inflammation. Because it is blocked, free radicals (pollens, grasses, etc)roam freely without the body getting an inflammation notice.

Maybe this would be pleasant in a non-Lymer, but in me, because I have other free-roaming radicals (Bb lyme), my body ignores that along with ignoring the pollens/grasses/etc.

And so I wonder: maybe the Zyrtec does work, BUT because it works, maybe the lyme spirochetes have a field day and begin to reinfect all my body tissues once again. Thus, Zyrtec halts the allergy response, but at the same time makes my body vulnerable to lyme (which, as I said, has always badly affected my eyes).

If you've stuck with me thus far, you may how my hypotheses have driven me to this unanswerable conundrum I'm stuck in.

All these miles of words and strung-together thoughts, and all I really want is to know how the heck do I make my eyes stop itching and burning?


If any of you who read this(and I pray someone does), have what they think is an adequate remedy, PLEASE let me know of it!

I do not think I will take this Zyrtec again. I think it made my brain fog increase as well, and this sore throat and weakness really is identical to the day I got lymed.

Anyone else who has supposedly 'developed allergies' recently after contracting lyme disease, please let me know how they've coped or their theory.

And as noted, an allergy is a "disorder of the immune system", a hypersensitivity to free radicals, which I believe is due to the overstimulated immune system that results from lyme. In other words, the immune system just wants to fight off everything it sees that it doesn't recognize, after having fought so many invading spirochetes.

I posted this under another thread because I wanted to make sure someone read it, and it's long, so I figured people wouldn't. I appreciate your time.

---

Posts: 98 | From WI | Registered: Feb 2008 | IP: Logged |

luvs2ride
Frequent Contributor (1K+ posts)
Member # 8090


posted

---

bernieb4

I am not sure what is wrong with your eyes but bacteria is a very likely possibility.

I have begun putting 1 drop daily in each eye of colliodal silver and my eyes are clear, bright and reading just a tad better than before.

I believe it is just another way to fight all the infections in my body.

It is a safe thing to try.

My doctor recommends (and I use) Argentyn 23. I also have successfully used Silver Shield by Nature's Sunshine.

Argentyn 23 has 23 ppm
Silver Shield has 18 ppm

Both are ionized silver which my doctor says is important.

A lot of people here have used and like Methosilver. I have not used it and can't comment on it. It is not ionized and the website doesn't like ionized silver.

You might want to give one of these brands a try and see if it helps.

--------------------
When the Power of Love overcomes the Love of Power, there will be Peace.


---

Posts: 3038 | From america | Registered: Oct 2005 | IP: Logged |

Pinelady
Frequent Contributor (5K+ posts)
Member # 18524


posted

---

Hey B this was one of my worst symptoms until I

went neuro. I told Dr.s I was going blind and

even developed blister like blebs occasionally. I

had 2 eye docs tell me it was allergic response.

I am telling you it is not. It is actual

infection of Bb. My LLMD prescribed Sufacet Sod.

eye drops which have helped. Prescribing on the

side of caution. There are horrible pics of

animals on the web who are infected this way and

blind. I will not post here you can look it up.

Other bacteria are also know to do this like

syphilis.

--------------------
Suspected Lyme 07 Test neg One band migrating in IgG region
unable to identify.Igenex Jan.09IFA titer 1:40 IND
IgM neg pos
31 +++ 34 IND 39 IND 41 IND 83-93 +
DX:Neuroborreliosis


---

Posts: 5850 | From Kentucky | Registered: Dec 2008 | IP: Logged |

Pinelady
Frequent Contributor (5K+ posts)
Member # 18524


posted

---

I have used Colloidal Silver. It is very soothing

at 200ppm. I have even opened my eyes while soaking

in Epsom salts baths to see if that would help and

found it soothing. But with the Sulfa Sod Sol. I am

getting brown eye sleepies. So I think it may be

helping some. Have you ruled out Shingles?

--------------------
Suspected Lyme 07 Test neg One band migrating in IgG region
unable to identify.Igenex Jan.09IFA titer 1:40 IND
IgM neg pos
31 +++ 34 IND 39 IND 41 IND 83-93 +
DX:Neuroborreliosis


---

Posts: 5850 | From Kentucky | Registered: Dec 2008 | IP: Logged |

hope4sofia
LymeNet Contributor
Member # 20577


posted

---

Hi there,

I did read your whole post, I think your theory made some sense. I'll admit, I'm pretty brain foggy right now, so had some trouble.

I can tell you that I've had eye symptoms quite a bit over the years. Even though I had sjogrens at one point.

I just started Lyme treatment on Tuesday and burning/stinging eyes was one of my first herx symptoms. Right now, they fell full - like they're dry and swollen. Have you felt that way?

Are you currently treating for Lyme?

--------------------
Sofi


---

Posts: 150 | From Northern California | Registered: Jun 2009 | IP: Logged |

bernieb4
Member
Member # 14654


posted

---

Thanks for the advice guys.

I will research the Sufacet and Colloidal Silver(I never heard of putting it in your eyes, but I'll read into it).

I do worry about all these preservatives and chemicals that I'm putting into my eyes, and I do not want to add another ingredient to the mix quite yet. Not until I see an intelligent ophthalmologist, that is.

Sofi,
Right now my eyes feel similar to what you describe in your post: full, dry, and swollen, but that is not how they have felt, and I'm not sure if that's a good or bad sign. I'm glad they're not burning strongly right now.

My vision is horrible from this Lyme, and I'm on my fourth Rx of lenses in about two months - none of them felt comfortable on my head or didn't make me feel depersonalized.

I am once again treating, as of last week, with 300mg Clindamycin daily. I have treated Lyme for approximately 16 months altogether.

Here's a list of some of the abx I've tried:

doxycycline 400mg daily
minocycline 400mg daily
rifampin 600mg daily
metronidazol 500mg daily
gentamicin eye drops

levafloxacin
biaxin 1g daily
ciprofloxacin 1g daily
azithromycin
cefuroxime
augmentin

non-abx:

flucanazole 200mg
nystatin oral solution
carisoprodol
belladonna alkaloids
tonnes of herbs
provigil

and i'm sure i've forgotten something...

---

Posts: 98 | From WI | Registered: Feb 2008 | IP: Logged |

Need Lots of Help
LymeNet Contributor
Member # 18603


posted

---

My eyes have been burning like crazy. I noticed the burning more and more as I got sicker and sicker.

Now, they burn all day every day. The only thing that has helped me is the CVS allergy drops. But, they sting, and then they become addictive. Basically, you need more and more, so I had to stop that.

My doctor today mentioned the sjogerns and is testing me for it. He said that sjogerns is also an autoimmune problem.

I think I will try the sliver though, because my eyes are killing me. Mine only feel ok when I push each side of my eyes with my fingers. Like on my tear duct and the outside corner. But, I can't do that all day long.

I too have taken all sorts of allergy meds, but no relief.

Shalome

---

Posts: 893 | From Florida | Registered: Dec 2008 | IP: Logged |

bejoy
Frequent Contributor (1K+ posts)
Member # 11129


posted

---

For symptoms try Similasan Allergy Eye Relief Homeopathic eye drops. "Relieves itching, burning and watering."

It works great for me when the pollens are out. I get them at the natural foods store, but have also seen them in the pharmacy of the regular department store.

Homeopathics generally have no side effects and don't interact with other medications.

--------------------
bejoy!

"Do not go where the path may lead; go instead where there is no path and leave a trail." -Ralph Waldo Emerson


---

Posts: 1918 | From Alive and Well! | Registered: Feb 2007 | IP: Logged |

opus2828
LymeNet Contributor
Member # 15407


posted

---

I have had good results with the Similasan dry eye relief homeopathic eye drops. Got them at CVS.

I had similar sensations - burning, feeling sandy, gritty, feeling dry and this helped.

---

Posts: 581 | From CT | Registered: May 2008 | IP: Logged |

EyeBob
LymeNet Contributor
Member # 12572


posted

---

Bb and the co-infectors can and do cause considerable low-grade ocular surface inflammation. This causes dryness and irritation. It can be very stubborn. You'd be wise to start, and stay with a consistent regimen of quality artificial tears to suppliment and help quell your inflammation. To date I know of no direct evidence that topical ABX treatment helps, but in theory, it could. The problem with topical ABX is that they don't do your tear film production any favors. Go buy some Systane artificial tears and use them every 2-3 hours. Buy some Celluvisc or Genteal Gel for use just before bedtime. Do this for 2-3 weeks then ask yourself how you feel. An additional approach which has shown some benefit is the use of topical NSAIDs like Voltaren, Acular or Nevanac. Ask your LLMD if he/she thinks that a month's worth of this would help....but pretty much figure that artificial tears are part of your foreseeable future.

BTW, dry eye symptoms seem to be very common with Bb. They tend to get better when your symptoms get better. I would also suggest that yeast may play a role in it, but that's only my hypothesis.

bt

---

Posts: 299 | From New Hampshire | Registered: Jul 2007 | IP: Logged |

bernieb4
Member
Member # 14654


posted

---

eyebob, you seem to know an awful lot about eye specifics - are you an ophal. or an optometrist?

All I've read about NSAIDS is that they INcrease photosensitivity.

I have been using Lacrilube, which seems to be the same as Genteal Gel.

The artificial tears I have include:propylene glycol and glycerin propylene.
How does that compare to Systane drops, which has polyethylene gycol and propylene glycol?

Should mine be equally effective do you think? If not, I'll buy the others, because I am desperate.

I used Similasan Dry Eye last year with minimal effect. I never used the Simi. Allergy Relief though.

Even homeopathic remedies can further irritate, especially when it's your eyes - they're just so sensitive.

---

Posts: 98 | From WI | Registered: Feb 2008 | IP: Logged |
Contact Us | LymeNet home page | Privacy Statement

Powered by UBB.classic™ 6.7.3

---
The Lyme Disease Network is a non-profit organization funded by individual donations. If you would like to support the Network and the LymeNet system of Web services, please send your donations to:
The Lyme Disease Network of New Jersey
907 Pebble Creek Court, Pennington, NJ 08534 USA
http://www.lymenet.org/
---
Home | Flash Discussion | Support Groups | On-Line Library
Legal Resources | Medical Abstracts | Newsletter | Books
Pictures | Site Search | Links | Help/Questions
About LymeNet | Contact Us
---
© 1993-2020 The Lyme Disease Network of New Jersey, Inc.
All Rights Reserved.
Use of the LymeNet Site is subject to Terms and Conditions.
---