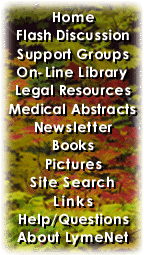 ---
LymeNet on Facebook
LymeNet on Twitter
---
---
The Lyme Disease Network receives a commission from Amazon.com for each purchase originating from this site.
When purchasing from Amazon.com, please
click here first.

Thank you.




Dedicated to the Bachmann Family


LymeNet needs your help:
LymeNet 2020 fund drive

The Lyme Disease Network is a non-profit organization funded by individual donations.

| | |
| --- | --- |
| | |
Author
Topic: my suggestion for tackling wormser and others..

polar blast
LymeNet Contributor
Member # 9142


posted

---

it is clear that we need to come together and change what is going on. we cant use this chat room for in depth lyme disease discussion anymore. we need to make support groups in all areas of the united states that when called for a meeting then there would be the patients and a head of the support group who is a delegate for there state. that delegate is in charge of meeting with all other delegates of all other states to discuss in depth...who has lyme?who is a troll? what is the current treatment? and this is to get a better understanding of who we are dealing with..so in my opinion...

WE ARE GIVING TO MUCH INFO ON THIS BOARD!

THERE ARE TROLLS GOING OVER ALL POSTS!

THE BEST WORD IS NO WORD!

WE NEED TO STIFEL THE INFO TO OUR ENEMIES!

THIS IS THE ONLY WAY....

LIMIT WHAT THEY CAN USE..

---

Posts: 593 | From long island ny | Registered: Apr 2006 | IP: Logged |

bettyg
Unregistered



posted

---

you have got that right! i'm proof!

---

IP: Logged |

losferwrds
Unregistered



posted

---

The reason that Wormser and Company can say what they want is

because there simply is not enuff research being done and the

lyme tests are diagnostic and lousy.

Without clincal trials, research and activism the ISDA will always

win. We know we are chronically ill, but we simply have no

scientific proof.

Until someone comes up with a test, that definatively find ketes

in you body, we won't win the argument. Until that time

wormser will continue to stick his head in the sand cause we

have no hard science to prove the bugs are still in us.

That being said, how we get the awareness and funding, that

say Autism gets? Thats a biggy right now, and prolly related to

lyme.

---

IP: Logged |

polar blast
LymeNet Contributor
Member # 9142


posted

---

absense of proof is NOT proof of absense!!!it is like the fire dept not responding because it has no proof there is a fire!!messed up...

---

Posts: 593 | From long island ny | Registered: Apr 2006 | IP: Logged |

losferwrds
Unregistered



posted

---

If you read wormsers paper on chronic lyme all his viewpoints are based on science, if he had lyme himself he would maybe be a bit more open minded, but he doesn't, so all he has to go by is clinical studies which are few and far between.

Based on the posters on the board, it certainly appears that chronic lyme exists, but how many can even produce a positive PCR test?

One group, I think lymefriends raised money for research, all they got was 100,000 dollars, thats peanuts and a joke.

The company I work for only has 1000 employees and raises a half million dollars a year for the United Way, why, cause the united way is known, they send representives to our company to explain what our donations are going too and how they are using our money to help people.

I am not activist, I don't throw partys, I go and stand in the corner. But its gonna take money to shut up wormser and unfortunately this disease takes the fight outta people cause
there is very little activism going on.

MONEY>>>RESEARCH>>>PROOF>>>ISDA WILL RESPONDS APPROPRIATELY.

The ISDA are doctors, most doctors are robots, they don't speculate they simply respond to scientifc proof, and no one providing is that, Spock on StarTrek would have the same view of chronic lyme as Wormser.

ILADS is simply too small and underfunded. thats why we are all being swept under the rug.

---

IP: Logged |

pryorka
LymeNet Contributor
Member # 13649


posted

---

Plenty of studies have been done proving lyme still exists, IDSA simply ignores them. These are all studies that prove the persistence of infection, Wormser was even involved in one of the older studies, but since he was bribed by insurance companies he has ignored the research even he conducted.

Persistence or Relapse of Lyme Disease Despite ``Appropriate'' or ``Conventional''
Antibiotic Therapy
 Straubinger RK. PCR-based quantification of Borrelia burgdorferi organisms in canine tissues over a
500-day postinfection period. J Clin Microbiol. 2000;38(6):2191-2199.
 Straubinger RK, Atraubinger AF, Summers BA, Jacobson RH. Status of Borrelia burgdorferi infection
after antibiotic treatment and the effects of corticosteroids: an experimental study. J Infect Dis
2000;181(3):1069-1081.
 Warner G, O'Connell S, Lawton N. Atypical features in three patients with florid neurological Lyme
disease. J Neurol Neurosurg Psychiatry. 1999;67(2):275.
 Oksi J, Marjamaki M, Nikoskelainen J, Viljanen MK. Borrelia burgdorferi detected by culture and
PCR in clinical relapse of disseminated Lyme Borreliosis. Ann Med. 1999;31(3):225-32.
 Zamponi N, Cardinali C, Tavoni MA, Porfiri L, Rossi R, Manca A. Chronic neuroborreliosis in
infancy. Ital J Neurol Sci. 1999 Oct;20(5):303-7.
 Kufko IT, Mel'nikov VG, Andreeva EA, Sokolova ZI, Lesniak OM, Beikin IaB. Comparative study of
results of serological diagnosis of Lyme borreliosis by indirect immunofluorescence and
immunoenzyme analysis. Klin Lab Diagn. 1999;3:34-7.
 Treib J, Fernandez A, Haass A, Grauer MT, Holzer G, Woessner R. Clinical and serologic follow-up
in patients with neuroborreliosis. Neurology. 1998 Nov;51(5):1489-91.
 Straubinger RK, Straubinger AF, Summers BA, Jacobsom RH, Erb HN. Clinical manifestations,
pathogenesis, and effect of antibiotic treatment on Lyme borreliosis in dogs. Wien Klin Wochenschr.
1998;110(24):874-81.
 Meier P, Blatz R, Gau M, Spencker FB, Wiedemann P. Pars plana vitrectomy in Borrelia burgdorferi
endophthalmitis. Klin Monatsbl Augenheilkd. 1998;213(6):351-4.
 Straubinger RK, Straubinger AF, Jacobsom RH, Chang Y, Summer BA, Hollis N, et al. Two lessons
from the canine model of Lyme disease: migration of Borrelia burgdorferi in tissues and persistence
after antibiotic treatment. J Spirochet Tick Borne Dis. 1997;4(1/2).
 Straubinger RK, Summers BA, Chang YF, Appel MJ. Persistence of Borrelia burgdorferi in
experimentally infected dogs after antibiotic treatment. J Clin Microbiol. 1997;35(1):111-6.
 Priem S, Burmester GR, Kamradt T, Wolbart K, Rittig MG, Krause A. Detection of Borrelia
burgdorferi by polymerase chain reaction in synovial membrane, but not in synovial fluid from
patients with persisting Lyme arthritis after antibiotic therapy. Ann Rheu Dis. 1998;57(2):118-121.
 Weber K. Treatment failure in erythema migrans: a review. Infection. 1996;24:73-5.
 Nanagara R, Duray PH, Schumacher HR Jr. Ultrastructural demonstration of spirochetal antigens in
synovial fluid and synovial membrane in chronic Lyme disease: possible factors contributing to
persistence of organisms. Human Pathology. 1996;27(10):1025-34.
 Mursic VP, Wanner G, Reinhardt S, Wilske B, Busch U, Marget W. Formation and cultivation of
Borrelia burgdorferi spheroplast L-form variants. Infection. 1996;24(3):218-26.
 Bayer ME, Zhang L, Bayer MH. Borrelia burgdorferi DNA in the urine of treated patients with
chronic Lyme disease symptoms. A PCR study of 97 cases. Infection. 1996;24(5).
 Oksi J, Kalimo H, Marttila RJ, Marjamaki M, Sonninen P, et al. Inflammatory brain changes in Lyme
borreliosis. A report on three patients and review of literature. Brain. 1996 Dec;119(Pt 6):2143-54.
 Valesova H, Mailer J, Havlik J, Hulinska D, Hercogova J. Long-term results in patients with Lyme
arthritis following treatment with ceftriaxone. Infection. 1996;24(1):98-102.
 Preac Mursic V, Marget W, Busch U, Pleterski Rigler D, Hagl S. Kill kinetics of Borrelia burgdorferi
and bacterial findings in relation to the treatment of Lyme borreliosis. Infection. 1996;24(1):9-16.
 Steere AC. Musculoskeletal manifestations of Lyme disease. Am J Med. 1995;88:4A-44S-51S.
 Vartiovaara I. Living with Lyme. Lancet. 1995;345:842-4.
 Malawista SE, Barthold SW, Persing DH. Fate of Borrelia burgdorferi DNA in tissues of infected
mice after antibiotic treatment. J Infect Dis. 1994;170:1312-1316.
 Bradley JF, Johnson RC, Goodman JL. The persistence of spirochetal nucleic acids in active Lyme
arthritis. Ann Intern Med. 1994;120(6):487-9.
 Shadick NA, Phillips CB, Logigian EL, Steere AC, Kaplan RF, Berardi AB, et al. The long-term
clinical outcomes of Lyme disease. A population-based retrospective cohort study. Ann Intern Med.
1994;121(8):560-7.
 Klempner MS, Noring R, Rogers RA. Invasion of human skin fibroblasts by the Lyme disease
spirochetes, Borrelia burgdorferi. J Infect Dis. 1993;167:1074-1081.
 Haupl T, Hahn G, Rittig M, Krause A, Schoerner C, Schonherr U, et al. Persistence of Borrelia
burgdorferi in ligamentous tissue from a patient with chronic Lyme borreliosis. Arthritis Rheum.
1993;36(11):1621-6.
 Chancellor MB, McGinnis DE, Shenot PJ, Kiilholma P, Hirsch IH. Urinary dysfunction in Lyme
disease. J Urology. 1993 Jan;149(1):26-30.
 Reik L Jr. Stroke due to Lyme disease. Neurology. 1993;43(12):2705-7.
 Battafarano DF, Combs JA, Enzenauer RJ, Fitzpatrick JE. Chronic septic arthritis caused by Borrelia
burgdorferi. Clin Orthop. 1993;297:238-41.
 Liegner KB, Shapiro JR, Ramsay D, Halperin AJ, Hogrefe W, Kong L. Recurrent erythema migrans
despite extended antibiotic treatment with minocycline in a patient with persisting Borrelia burgdorferi
infection. J Am Acad Dermatol. 1993;28(2 Pt 2):312-4.
 Georgilis K, Peacocke M, Klempner MS. Fibroblasts protect the Lyme disease spirochete, Borrelia
burgdorferi, from ceftriaxone in vitro. J Infect Dis. 1992;166(2):440-4.
 Cooke WD, Dattwyler RJ. Complications of Lyme borreliosis. Annu Rev Med. 1992;43:93-103.
 Feder HM Jr, Gerber MA, Luger SW, Ryan RW. Persistence of serum antibodies to Borrelia
burgdorferi in patients treated for Lyme disease. Clin Infect Dis. 1992 Nov;15(5):788-93.
 Dinerman H, Steere AC. Lyme disease associated with fibromyalgia. Ann Intern Med. 1992;117:281-
5.
 Sigal LH. Summary of the first 100 patients seen at a Lyme disease referral center. Am J Med.
1990;88:577-581.
 Logigian EL, Kaplan RF, Steere AC. Chronic neurologic manifestations of Lyme disease. New Engl J
Med. 1990 Nov 22;323(21):1438-44.
 Nadelman RB, Pavia CS, Magnarelli LA, Wormser GP. Isolation of Borrelia burgdorferi from the
blood of seven patients with Lyme disease. Am J Med. 1990;88:21-26.
 Dieterle L, Jubina FG, Staudacher T, Budingen HJ. Neuro-borreliosis or intervertebral disk prolapse.
Dtsch Med Wochenschr. 1989;114(42):1602-6.
 Kohler J, Schneider H, Vogt A. High-dose intravenous penicillin G does not prevent further
progression in early neurological manifestation of Lyme borreliosis. Infection. 1989;17(4):216-7.
 Schmidli J, Hunziker T, Moesli P, et al. Cultivation of Borrelia burgdorferi from joint fluid three
months after treatment of facial palsy due to Lyme borreliosis. J Infect Dis. 1988;158:905-906.
 Dattwyler RJ, Halperin JJ. Failure of tetracycline therapy in early Lyme disease. Arthritis Rheum.
1987;30:448-450.
 Berger BW. Treating erythema chronicum migrans of Lyme disease. J Am Acad Dermatol. Sep
1986;15(3):459-63.

---

Posts: 499 | From Indiana | Registered: Oct 2007 | IP: Logged |

losferwrds
Unregistered



posted

---

Nice list, the most recent paper is 9 years old, thats what I am illustrating, none of the research is progressing. So why would the IDSA change their viewpoint??

The IDSA and Insurance company are not our enemys, what does a insurance company have to gain by paying for a lifetime of pain medicine for someone misdiagnosed with fibromyalgia?
Research and Proof, I am sorry but simply being chronically ill is not good enuff.


Proving lyme chronic is is step 1, finding a cure is step 2, cause oral abx can only put lyme in temporary remission if your lucky.
Do you ever look at peoples signatures and the meds they have been on, for years, and they're still here sick??? WHY? They are finding LLMDs that disagree with Wormser and getting treated long term with abx but they still aint getting well. So what makes Wormser so wrong? The only thing he's wrong about is the chronic part, the use of long term abx, he isn't too off the mark there unless every one gets long term IV rhocepherin, and even people that get that relapse!

Go on the research page ILADS, your are lucky to find 10 papers and not one written in 2009, its june the year is half over ,they are ineffective in raising awareness, getting research funded or doing any decent research.


Wormser and Company can only work with information they have. When ILADS is recognized like JDF or ACS then maybe we'll get somewhere, until then good luck trying to get cured.

---

IP: Logged |

pryorka
LymeNet Contributor
Member # 13649


posted

---

Well I think you're mostly right, but one thing is for sure, the research has been done proving lyme is chronic so step 1 is taken care of. There's not much sense in repeating all the research just to say it was done in the last few years. But the next steps like you said are just not getting done and it's all because of companies looking at short term profits and bribing the right organizations with the power to influence academic institutions and the medical community. It took the government to fund research to cure TB so it will probably take the same for lyme, but the private sector wants the government out of the picture so they can profit as much as possible so.... yeah who knows how this will all work out.

But what makes Wormser so wrong is taking bribes, ignoring medical research, blatantly manipulating data to draw false conclustions, and lieing to patients leaving them to suffer and not try anything.

Our llmds at least try to treat patients, yeah some don't get better after long periods of time but we all know many factors play into treatment and still research is suppressed concerning those factors (coinfections, heavy metals, immunology).

Part of the reason ILADS isn't recognized at the level these other oganizations are is because they don't take payouts from drug companies to fund research promoting corporate interests. They also don't get money from insurance companies to suppress the existence of certain illnesses. Most of our national medical associations are simply tools of the private industry, all which do profit based research rather than scientific research.

---

Posts: 499 | From Indiana | Registered: Oct 2007 | IP: Logged |

seekhelp
Frequent Contributor (5K+ posts)
Member # 15067


posted

---

I agree 100% with what you say losferwrds.

---

Posts: 7545 | From The 5th Dimension - The Twilight Zone | Registered: Mar 2008 | IP: Logged |

bettyg
Unregistered



posted

---

pry,

could you go back please and BREAK UP your link with all those links/info you showed after EACH one with a double space!! then we neuros could enjoy what you posted today ok huge thanks. xox


we can read only SHORT paragraphs now long ones; lyme has taken that way too.

---

IP: Logged |

lakes592
LymeNet Contributor
Member # 18905


posted

---

Work is still being done and research is ongoing. Lets not forget about Dr. Alan MacDonald's research of the biofilm and proof that Chronic Lyme disease exists. Not to mention the research that members of this site do on their own time.Just because we don't hear about everything all the time the work is being done.

--------------------
If you keep doing nothing...nothing changes!

www.underourskin.com


---

Posts: 579 | From NH | Registered: Jan 2009 | IP: Logged |

wtl
LymeNet Contributor
Member # 19883


posted

---

Thank you, losferwrds.

---

Posts: 822 | From midwest | Registered: Apr 2009 | IP: Logged |
Contact Us | LymeNet home page | Privacy Statement

Powered by UBB.classic™ 6.7.3

---
The Lyme Disease Network is a non-profit organization funded by individual donations. If you would like to support the Network and the LymeNet system of Web services, please send your donations to:
The Lyme Disease Network of New Jersey
907 Pebble Creek Court, Pennington, NJ 08534 USA
http://www.lymenet.org/
---
Home | Flash Discussion | Support Groups | On-Line Library
Legal Resources | Medical Abstracts | Newsletter | Books
Pictures | Site Search | Links | Help/Questions
About LymeNet | Contact Us
---
© 1993-2020 The Lyme Disease Network of New Jersey, Inc.
All Rights Reserved.
Use of the LymeNet Site is subject to Terms and Conditions.
---