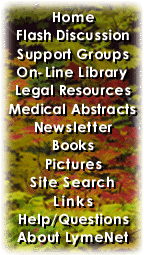 ---
LymeNet on Facebook
LymeNet on Twitter
---
---
The Lyme Disease Network receives a commission from Amazon.com for each purchase originating from this site.
When purchasing from Amazon.com, please
click here first.

Thank you.




Dedicated to the Bachmann Family


LymeNet needs your help:
LymeNet 2020 fund drive

The Lyme Disease Network is a non-profit organization funded by individual donations.

| | |
| --- | --- |
| | |
Author
Topic: Lyme experts, I need your help!

nnlpups
Member
Member # 19602


posted

---

I apologize for posting this on the medical questions forum, just didn't think my thread in the other forum would get looked at much.

I need to "interview" someone for a school assignment. There are about 8 basic questions about Lyme Disease that I need answered.

This assignment was given on short notice, so I don't have much time to complete it.

If any of you have time to help, I'd really appreciate it! Just send me a PM and I'll send you the questions.

---

Posts: 22 | From Lala Land | Registered: Mar 2009 | IP: Logged |

Janice70
LymeNet Contributor
Member # 16319


posted

---

Why not post the questions here on the board, for everyone to see?

---

Posts: 311 | From CA | Registered: Jul 2008 | IP: Logged |

nnlpups
Member
Member # 19602


posted

---

Sure, here they are:

1. What is Lyme Disease and how can you get it?

2. How is it diagnosed?

3. Is there a cure?

4. What is the difference between the IDSA and the ILADS view on Lyme Disease?

5. What conditions can Lyme be confused for?

6. Can you get Lyme anywhere in the U.S.?

7. Can you get Lyme from anything other than ticks?

8.Why does Lyme seem to make some people sicker than others?


Also, if you have suggestions for better questions, I'd like to hear them.

---

Posts: 22 | From Lala Land | Registered: Mar 2009 | IP: Logged |

Keebler
Honored Contributor (25K+ posts)
Member # 12673


posted

---

-

nnipups,

I'm curious: What is the college you are attending? The course? Who is the instructor (a medical professional)?


I am glad to see you want to learn more about lyme disease. There are no easy or short answers. What is the length of the report? Is it to be a one page information sheet or a discussion?


I suggest looking at these links. It's best to get this information from LDA or ILADS. It will require a lot of reading but it could save your life someday.


It's best if you read from below and then compile your own report from the experts' work below. However, there may be someone who will come along with the energy to answer your questions thoroughly but also concisely (that's never my forte).


The best I can do is point you in the right direction.


But, backing up, if this assignment was given on short notice, I believe your instructor is at fault. No one - no one - can do justice to this topic on short notice. It requires a tremendous amount of reading to understand enough to write even a short report that will be adequate and free of mistakes.


Can you ask for more time so that you can do this justice? That is only fair if your instructor values accuracy.

-

[ 06-22-2009, 11:48 AM: Message edited by: Keebler ]

---

Posts: 48021 | From Tree House | Registered: Jul 2007 | IP: Logged |

Keebler
Honored Contributor (25K+ posts)
Member # 12673


posted

---

-

http://cassia.org/checklist.htm

Symptom checklist for lyme.

-----------

http://cassia.org/essay.htm

When to Suspect Lyme - by John D. Bleiweiss, M.D.

=================

Thanks to TF:

a good video that explains the controversy, go to this link: http://www.kettmann.com/Lyme

It is a tape of a great show on lyme disease done by a Boston TV station a few months ago.

When you get to the site, select the link to view the show. The show was taped by a girl on LymeNet and she put it on-line for all of us to be able to view it.

You will learn a lot about the medical controversy surrounding lyme disease and why it is so hard to find a doctor who knows how to cure a person of lyme disease.

=======

These first 3 posts may not mean much but, after you read a bit, you'll see that getting proper diagnosis and treatment has been very difficult for lyme and TBD (tick-borne disease) patients. You might just want to glance a the top three treads to get an idea of what is being done to help change that.

In news, Spring of `09:


http://www.lymedisease.org/news/lymepolicywonk/114.html

Over 1,600 pages of analysis and research studies delivered by ILADS to the IDSA, contesting IDSA recommendations.

------------

http://www.lymedisease.org/news/lymepolicywonk/115.html

The Association of American Physicians and Surgeons (AAPS) takes IDSA to task

------------

http://www.lymedisease.org/news/lymepolicywonk/117.html

Germany Says No to IDSA Lyme Guidelines

=================

Now, to more practical links for you at this point in time:


http://www.lymeinfo.net/lymefiles.html


LYME DISEASE MEDICAL LITERATURE SUMMARIES

--==================

www.lymeinfo.net/medical/LDSymptoms.pdf


Lyme Disease Symptoms


---========

This explains WHY patients need an ILADS doctor (a lyme literate, or LLMD):


www.clinicaladvisor.com/Controversy-continues-to-fuel-the-Lyme-War/article/117160/


From the May 2007 issue of Clinical Advisor


CONTROVERSY CONTINUES TO FUEL THE "LYME WAR" -(author's details at link)


As two medical societies battle over its diagnosis and treatment, Lyme disease remains a frequently missed illness. Here is how to spot and treat it.

Excerpts:


Meet the players


The opponents in the battle over the diagnosis and treatment of Lyme disease are the Infectious Diseases Society of America (IDSA), the largest national organization of general infectious disease specialists, (and)

and the International Lyme and Associated Diseases Society (ILADS), an organization made up of physicians from many specialties. ( www.ilads.org )


IDSA maintains that Lyme disease is relatively rare, overdiagnosed, difficult to contract, easy to diagnose through blood testing, and straightforward to treat ( www.journals.uchicago.edu/CID/journal/issues/v43n9/40897/40897.html - Accessed April 6, 2007).


ILADS, by contrast, asserts that the illness is much more common than reported, underdiagnosed, easier to contract than previously believed, difficult to diagnose through commercial blood tests, and difficult to treat, (especially)

especially when treatment is delayed because of commonly encountered diagnostic difficulties ( http://www.ilads.org/guidelines.html - Accessed April 6, 2007).

. . .

" . . .To treat Lyme disease for a comparable number of life cycles, treatment would need to last 30 weeks. . . ."


`` . . .Patients with Lyme disease almost always have negative results on standard blood screening tests and have no remarkable findings on physical exam, so they are frequently referred to mental-health professionals for evaluation.


"...If all cases were detected and treated in the early stages of Lyme disease, the debate over the diagnosis and treatment of late-stage disease would not be an issue, and devastating rheumatologic, neurologic, and cardiac complications could be avoided..."


. . . * Clinicians do not realize that the CDC has gone on record as saying the commercial Lyme tests are designed for epidemiologic rather than diagnostic purposes, and a diagnosis should be based on clinical presentation rather than serologic results.


- Full article at link above, containing MUCH more detailed information.


-===


Co-infections (other tick-borne infections or TBD - tick-borne disease) are not discussed in this article due to space limits. Still, any LLMD you would see would know how to assess/treat if others are present.

=========================


This is what you want to avoid from happening:

www.jneuroinflammation.com/content/5/1/40


Persisting atypical and cystic forms of Borrelia burgdorferi and local inflammation in Lyme neuroborreliosis


=========================


Dr Martz's recovery from paralyzing "ALS" that turned out to be Tick-borne disease:


http://www.dreamdoctor.com/radio/battle.shtml


===========================


This article has much attention on both lyme and Cpn:


http://tinyurl.com/preview.php?num=64y3rv

(then clink "PROCEED TO THIS SITE")


May 2008 Volume 39 Number 5 LABMEDICINE
www.labmedicine.com - American Society for Clinical Pathology


CHRONIC BACTERIAL AND VIRAL INFECTIONS IN NEURODEGENERATIVE AND NEUROBEHAVIORAL DISEASES

- by Garth Nicolson, Ph.D.

===========================


TESTING

Most doctors don't know how to order the correct tests and most labs don't do the correct tests. A LLMD will know the best labs and the best tests.


Patients should also be evaluated for coinfections. Not all tests are great in that regard, either, but a good LLMD can evaluate you and then guide you in testing. One of the top labs is:

www.igenex.com

IGENEX

-----

There are a couple other good labs for certain tests: Fry; Clognen; Focus. Your LLMD will know.


========================

VERY important to read - even BEFORE testing:

Dr C's Western Blot explanation is discussed here:

http://flash.lymenet.org/ubb/ultimatebb.php?ubb=get_topic;f=1;t=042077

"With most infections, your immune system first forms IgM antibodies, then in about 2 to 4 weeks, you see IgG antibodies. In some infections, IgG antibodies may be detectable for years.

Because Borrelia burgdorferi is a chronic persistent infection that may last for decades, you would think patients with chronic symptoms would have positive IgG Western blots.

But actually, more IgM blots are positive in chronic borreliosis than IgG. Every time Borrelia burgdorferi reproduces itself, it may stimulate the immune system to form new IgM antibodies.

Some patients have both IgG and IgM blots positive. But if either the IgG or IgM blot is positive, overall it is a positive result.

Response to antibiotics is the same if either is positive, or both. Some antibodies against the borrelia are given more significance if they are IgG versus IgM, or vice versa.

Since this is a chronic persistent infection, this does not make a lot of sense to me. A newly formed Borrelia burgdorferi should have the same antigen parts as the previous bacteria that produced it.

But anyway, from my clinical experience, these borrelia associated bands usually predict a clinical change in symptoms with antibiotics, regardless of whether they are IgG or IgM."


===========

TREATMENT

www.ilads.org

ILADS

The International Lyme and Associated Diseases Society (ILADS) provides a forum for health science professionals to share their wealth of knowledge regarding the management of Lyme and associated diseases.


links to treatment:

http://www.ilads.org/lyme_disease/treatment_guidelines.html

ILADS Treatment Guidelines


and

http://www.ilads.org/lyme_disease/B_guidelines_12_17_08.pdf

Dr. Burrascano'sTreatment Guidelines (2008) - 37 pages

Sections regarding self-care:

Go to page 27 for SUPPORTIVE THERAPY & the CERTAIN ABSOLUTE RULES

and also pages 31-32 for advice on a safe, non-aerobic exercise plan and physical rehabilitation.


----

http://www.lymepa.org/html/dr__j__burrascano_september_20_15.html


Burrascano's Powerpoint presentation 9-20-08


=====================


www.lymediseaseassociation.org

Lyme Disease Association


- In the menu to the left of their home page, you can order DVDs of past ILADS seminars. You might also be able to borrow some from your local lyme support group.

This are invaluable to understanding how these infections work. And, none of this is taught in medical schools. None.

=================


http://tinyurl.com/5crsjv


Cure Unknown: Inside the Lyme Epidemic (2008) - by Pamela Weintraub

This details what an entire family went through. Having this knowledge of their journey will help others to get better, faster treatment.

http://www.cureunknown.com

-

---

Posts: 48021 | From Tree House | Registered: Jul 2007 | IP: Logged |

Marnie
Frequent Contributor (5K+ posts)
Member # 773


posted

---

1. Lyme disease is an infection caused by a spirochete, a gram negative bacteria (more than one cell wall), named borrelia burgdorferi (or Bb for short). Spirochetes look like worms under a high powered microscope. Bb is usually transmitted from the bite of an infected insect - a teeny tiny deer tick most of the time. However, Bb can cross the placental barrier, so if mom is pregnant, Bb can be transmitted to her fetus. Authorities say Bb cannot be passed via sexual intercourse, but many do not believe that.

2. The diagnosis of lyme used to be based on looking for antibodies (our response to) Bb's outer cell wall proteins (= antigens). Looking for Bb's actual DNA is far more reliable. Researchers are working on more accurate DNA testing (Florida) right now.

3. Yes. People HAVE completely recovered using "out of the box" thinking and methods (which includes IV abx AND IV Mg given over many days). Usually that COMBINATION is not used.

Other therapies, primarily using the electromagnetic spectrum (sound/light), do look to work as well and Pycnogenol (1 mg per pound of body weight per day) + many $$$ HBO (= hyperbaric oxygen) "dives".

The following holds great promise IF given fast enough.

It is "a new formulation of doxycycline hyclate that is programmed to release the drug over a 20 day period is 100% effective." It is an injection!

http://www.sciencedaily.com/releases/2008/03/080319193029.htm

4. I'm not into group views. I'm a free thinker and a free researcher.

5. In many diseases and esp. in lyme, symptoms overlap and this has led to misdiagnosis. Here is one list:
http://lymebook.com/blog/testing-diagnosis/misdiagnosed-diagnosis-mimics-great-imitator/

6. Yes. Geographic locations:
http://health.nytimes.com/health/guides/disease/lyme-disease/risk-factors.html

or: http://www.cdc.gov/ncidod/dvbid/lyme/ld_rptdLymeCasesbyState.htm

7. Other vectors?

http://www.geocities.com/HotSprings/Oasis/6455/insects-biblio.html

8. If SARS and Swine Flu responses are any indication...those who mount the most severe response are the sickest. Doxycycline works in several ways, but one way is the fact that it does indeed alter our immune response, but it does NOT completely suppress it (as do steroids)! Of course, the presence of co-infections greatly complicates the situation.

9. You should know how to PREVENT lyme! For girls...ticks don't like Lily of the Valley cologne (hope your boyfriend does!). Guys...pine tar oil soap is also a repellant and safer than Deet.

Other ideas:

http://www.webmd.com/news/20070614/its-tick-time-prevent-lyme-disease

http://www.cdc.gov/features/lymedisease/#animals

http://www.cdc.gov/ncidod/dvbid/lyme/ld_prevent.htm

Hope this helps.

---

Posts: 9402 | From Sunshine State | Registered: Mar 2001 | IP: Logged |

nnlpups
Member
Member # 19602


posted

---

Keebler,

You can just ignore the 2 PMs I sent you. I'm having a mentally slow day today, and only just now really understood your posts.

I think I've got enough good info from what you and Marnie have posted.

Thank you both

---

Posts: 22 | From Lala Land | Registered: Mar 2009 | IP: Logged |

Keebler
Honored Contributor (25K+ posts)
Member # 12673


posted

---

-

In my efforts to be sure to have all the information, being concise is really hard for me. I do hope you find what you need. I'm glad to see that Marnie replied. That really helps.

==================

FILM:

http://www.underourskin.com

UNDER OUR SKIN


DVD is no longer for sale but you might see if your local support group has a loaner copy. It explains a lot.

-

---

Posts: 48021 | From Tree House | Registered: Jul 2007 | IP: Logged |

nenet
Frequent Contributor (1K+ posts)
Member # 13174


posted

---

I am no expert, but I do a lot of reading, and have been researching into the available literature on Lyme since 2005. I will try to answer your questions to the best of my ability with limited energy and time. Each of these are all questions worthy of a book, truly, a whole Library of Alexandria.


First of all, please check www.lymeinfo.net

It is replete with info about the disease, symptoms, diagnosis, treatment, and medical and scientific references. This is must-read material for anyone looking into Lyme.



quote:

---

"1. What is Lyme Disease and how can you get it?"

---

A- Sorry, I cant answer the first part. It's too big for me right now.

Second part - you can get it from the bite of a vector, or via the placenta, congenitally.




quote:

---

"3. Is there a cure?"

---

A - No, only remission. There is not accurate testing, therefore no way to prove the absence of latent infection. However, there can be alleviation of symptomatic Lyme, or remission, with proper treatment and lifestyle changes.



quote:

---

"4. What is the difference between the IDSA and the ILADS view on Lyme Disease?"

---

A - Check the ILADS website:

http://www.ilads.org/lyme_disease/treatment_guidelines_clearing_compare.html

- they go into detail on this difference in their treatment guidelines comparison page. Their treatment guidelines pdf also cites research studies that back up their protocol.



quote:

---

"5. What conditions can Lyme be confused for?"

---

A - there are really far too many to list here. Seriously. I believe there is a thread here that has multiple posts regarding this. It should contain something like "misdiagnoses" and "lyme" - let me know if you can't find it. I am going to make a post after this one with a brochure of sorts that I put together that lists several of these.



quote:

---

"6. Can you get Lyme anywhere in the U.S.?"

---

A - YES. It is in all 50 states, and in many many other countries all over the world. You can check the CDC epidemiology study map for 1980 to today for the reported cases. Please remember that the CDC estimates that their numbers are far below likely actual cases of Lyme Disease.

The CDC reporting criteria are very strict for beaurocratic science reasons, and are not meant to be used for diagnosis, according to the CDC (e.g. the "CDC positive" criteria on Western Blot lab results is meant to be used for this reporting, not for diagnosis). This goes some way to answering your question number 2, as well:



quote:

---

"2. How is it diagnosed?"

---

A - Clinically, by a physician literate in the nature and pathology of Lyme and associated tick-borne infections. Testing is only meant to be used to support a positive diagnosis, when it is positive. A negative test result is not meant to be used to rule out Lyme, even according to the CDC. If you need to reference, let me know. It is on their site.




quote:

---

"7. Can you get Lyme from anything other than ticks?"

---

A - YES. I think it is Melanie Reber that runs a site that collects tons of info on various Lyme vectors. I wish I could rememebr exactly. Anyway, what I recall offhand that had been found to carry and even transmit Lyme:

several different species of ticks, mites, fleas, sand fleas, mosquitoes (one known case of transmission that I am aware of). Also it can be passed congenitally via the placenta, or *possibly* after birth via breastmilk. It has been found in semen, and other bodily fluids, as well, but so far, no studies have been done to prove or disprove sexual, breastmilk, *or casual*, transmission.



quote:

---

"8.Why does Lyme seem to make some people sicker than others?"

---

A- For many many many reasons.

1. First, there are many known strains that have been proven to cause Lyme infection in humans, and over 300 strains worldwide of the Lyme Disease organism. I believe there are about 112 discovered so far in the US alone. They keep disovering new ones all the time.

Some are far more virulent than others. There was a very recent study in the last 2 years that found one strain that recently mutated in both the US and Europe at the same time (a "clone") that had a much higher virulence than the other strains.

It was posited that this strain might be responsible for the recent upswing in worsened cases of Lyme. No one knows if this is true. It's not even know whether many of the ailments that peole have suffered and died from for centuries, or longer, weren't caused by Lyme.

2. Each tick has its own special mix of pathogens that it picks up and carries around from host to host. The risk profile of each vector is dynamic, and the concoction of co-infections you receive has a large effect on your immune response, and your symptoms. It has been shown that some pathogens can and do potentiate other infections (for instance, Bartonella with Lyme is far worse than either one alone, Babesia, Bartonella and Lyme even worse, etc.).

3. Each person's overall health, immune system, genetic profile, and set of latent infections, is unique. Each of these factors plays a very large role in the pathology of the Lyme in each person.

You might understand this concept better if you apply what you might have learned about AIDS - Lyme patients are susceptible to opportunistic infections because Lyme and some co-infection deplete the immune system. If someone has an old EBV infection for instance, it can become active again, thus further complicating their Lyme profile.

4. Some people get treated right away (within the first day or so), and others don't find out until long after the infection occured, when the Lyme has had a chance to reach the CNS, brain, heart, and other deep tissues that are difficult to reach with antibiotics.

Unlike syphilis, its closest genetic cousin, Lyme does not like to stay in the blood, but loves cartilaginous tissues, where blood does not reach nearly as well as in the venous bloodstream. Antibiotics therefore are less effective than in syphilis, and certain kinds need to be used that are able to cross the blood brain barrier (BBB), heart, synovial fluid in the joints, and Central Nervous System (CNS).

There are other reasons, but I need to stop here.


I hope that at least partially answered all of your questions, save the ones I mentioned I would address in my next post. Again, I highly recommend you check out lymeinfo.net

--------------------
Dr. C's Western Blot Explanation

Lymenet Success Stories

ILADS Treatment Guidelines

Medical & Scientific Literature on Lyme

"Long-Term Antibiotic Therapy Improves Persistent Symptoms Associated with Lyme Disease"


---

Posts: 1176 | From KY | Registered: Sep 2007 | IP: Logged |

nenet
Frequent Contributor (1K+ posts)
Member # 13174


posted

---

Here is the other post I said I would make - it might go some way to answering your first question, and some of your others, more fully.

I hope this helps you somehow. If you are already finished w/your project, hopefully it will help someone else.


There doesn't seem to be any single source I have found that encapsulates the key information I feel is really important about Lyme.

So, below is a summary I put together over the last couple of weeks of how Lyme can be contracted, what symptoms can result, how to avoid it, and links and info on how to find treatment. Please take some time to read this, as I care about you all and want to try to keep you, and your loved ones, from going through the devastation of this disease.


News Videos:

Linked below are two very informative and important news segments on Lyme:


**From Chronicle HD, TV 5, in Boston, MA. Originally aired Tuesday, April 21: "Ticked" (four parts - runtime 20:40 minutes)

http://www.thebostonchannel.com/news/19196711/detail.html


**From Baltimore, MD ABC News Channel 2, "2 Your Health" aired May 20, 2009: "Lyme Disease" (video located at upper right of page - runtime 3:29 minutes)

http://www.abc2news.com/mostpopular/story/Lyme-Disease/u_7pzXtvekmNfVg1DJfllA.cspx


Lyme is the most common and fastest-spreading vector-borne infection in the United States. Lyme is in every state of the US, even Hawaii (as well as in many other countries). You can catch Lyme, and other infections (viral, bacterial, and protozoal), from several species of ticks, not just the most publicized Deer tick. You can contract Lyme as soon as the tick is attached, not just after the commonly publicized 24 hours. Nymphal (and adult) Deer ticks are a common transmitter of Lyme Disease, as they are so small they are very difficult to detect and remove before attachment; they are the size of the period at the end of this sentence. Adult Deer Ticks are not much larger, and can appear to be a speck of dirt or a dark freckle.

Some co-infections like Rocky Mountain Spotted Fever (RMSF) can be contracted from simply touching the tick or its fluids or excrement. Always handle ticks with a "tick removal kit" (like this one: www.lyme.org/tickkit/tickremovalkit.html ), which can be purchased in many drugstores or found online, OR with good tweezers and a steady hand, making sure to remove the head without smashing the tick. If at all possible, save the tick in an airtight container, and send it to be analyzed by a Tick-Borne-Disease specializing lab.

Below is a sample of the many possible symptoms of Lyme disease. The first symptoms can start immediately after a tick bite, or they can first appear weeks, months, and in some cases, even years later. Symptoms generally relapse and remit, meaning that they can come and go. One hour, day, week, or month, you can be feeling sick, then the next you're feeling better for a while, and so on. You can have one symptom or a spectrum of symptoms - some may not manifest until the infection spreads to particular tissues, particularly the CNS, but it is interesting to see how it can mimic other ailments (dissemination to CNS can occur in as little as 12-48 hours, as observed in some animal studies).


Lyme Disease Symptoms (Partial List):

1. Unexplained fevers, sweats, chills, or flushing
2. Flu-like symptoms or malaise
3. Fatigue, tiredness, poor stamina
4. Unexplained hair loss
5. Swollen or painful glands/lymph nodes
6. Sore throat
7. Headache
8. Rash - either bulls-eye or other forms. Can vary in form, color, and number, and appear in areas other than tick bite. Less than 50% of confirmed Lyme cases report remembering a rash. A bulls-eye rash from a tick bite is DIAGNOSTIC for Lyme Disease.
9. Irritable bladder or bladder dysfunction, Interstitial Cystitis
10. Upset stomach, GERD, or acid reflux
11. Change in bowel function - constipation, diarrhea
12. "Sick all the time" - seem to catch every illness that comes around
13. Disturbed sleep - too much, too little, early awakening
14. Cranial nerve disturbance (facial numbness, pain, tingling, palsy or optic neuritis, Bell's Palsy)
15. Lightheadedness, wooziness, syncope
16. Increased motion sickness, vertigo, poor balance, or change in gait
17. Pain, stiffness, and/or swelling of the joints, neck, or back, traveling or localized
18. Tendon and ligament pain or stiffness
19. Neck creeks and cracks, neck stiffness, neck pain
20. Muscle pain or cramps, traveling or localized
21. Ears/Hearing: buzzing, ringing, ear pain, sound sensitivity, loss of hearing
22. Jaw pain or stiffness
23. Twitching or tics of the face or other muscles
24. Tingling, numbness, burning or stabbing sensations, shooting pains
25. Muscle spasms; limb or head jerks
26. Difficulty swallowing, tight throat
27. Tremor
28. Eyes/Vision: double, blurry, increased floaters, light sensitivity, pain, uveitis
29. Heart palpitations, chest pain, pulse skips, heart block, heart murmur, or valve prolapse
30. Shortness of breath, air hunger, cough, painful lungs
31. Chest pain or rib soreness, costochondritis
32. Mood swings, irritability, depression, bipolar disorder
33. Unexplained menstrual irregularity or increased PMS symptoms
34. Unexplained milk production, breast pain
35. Sexual dysfunction or loss of libido
36. Testicular pain/pelvic pain
37. Unexplained weight change - loss or gain
38. Confusion, difficulty in thinking
39. Difficulty with concentration, reading
40. Forgetfulness, poor short term memory
41. Disorientation: getting lost, going to wrong places
42. Difficulty with speech or writing, difficulty with word-finding
43. Exaggerated symptoms or worse hangover from alcohol
44. New food sensitivities or allergies

Symptoms that can be found in disseminated Lyme Disease (called Disseminated late-stage Lyme Disease, or Neuroborreliosis) can generally appear anywhere from several days after infection, to many years later:

45. Seizures
46. Autism, ADHD, OCD
47. MS-like Lesions in brain and/or spinal cord on MRI
48. Paralysis
49. Dementia
50. Psychosis
51. Auditory and visual hallucinations

Lyme symptoms are systemic, or multi-systemic. Lyme can be the cause of, or cause sets of symptoms that can be misdiagnosed as:

* Fibromyalgia (FMS)
* Chronic Fatigue Syndrome (CFS)
* Lupus
* Rheumatoid Arthritis (RA)
* Parkinson's
* Multiple Sclerosis (MS)
* Autism
* Alzheimer's
* Reynaud's Syndrome
* Amyotrophic Lateral Sclerosis (ALS)
* IBS (Irritable Bowel Syndrome)
* Ulcerative Colitis
* Chron's Disease
* and many others.


For a more complete, however not exhaustive, listing of possible symptoms, complete with extensive Medical literature citations, please see this pdf file:

http://www.lymeinfo.net/medical/LDSymptoms.pdf


For further reading and research, this site has excellent pdf files that contain well-organized collections of Medical source studies on the subject:

http://www.lymeinfo.net/lymefiles.html

If you would like to know more, please ask. If you have been bitten by a tick, please see a Lyme-knowledgeable Doctor for evaluation. Testing is not generally useful within about 6 weeks of infection, as it looks for antibodies that aren't created in easily detectable amounts until several weeks after infection. The ELISA test is very inaccurate, and misses up to 75% of DNA-proven Lyme Disease (according to recent Johns Hopkins study), so do NOT submit to an ELISA. Rather, request a kit for the Lyme Western Blot (IgG and IgM) to be sent to a Lyme Disease reference lab, such as IgeneX in California. IgeneX is considered the gold standard of Lyme testing at the moment. More on how Igenex performs a more accurate test: www.igenex.com/innovations3.htm

Even with the Western Blot, many proven cases of Lyme will be seronegative. There are many reasons for this, but suffice to say that Lyme testing is only meant to be used to support your Doctor's clinical diagnosis. The CDC says that a negative test does not rule out Lyme Disease, and that Lyme is a clinical diagnosis. In light of that, it is in your best interest to go to a Lyme Specialist to be properly evaluated, diagnosed, and treated. I would be happy to help find a Lyme Specialists near your area.


To avoid infection with Lyme and other tick-borne diseases, please find some effective tick repellent, and use it! There are many natural repellents available that are actually MORE effective than DEET. One that we use is Lewey's EcoBlends ( www.buzzoff.us ), which is also safe for pets and horses, and it can be found in several stores and purchased online. Whatever you buy, use it, and check for ticks frequently - especially in the hair, back of knees, and any creases, like the neck, arms, groin, etc.

For more information on Lyme Disease and its treatment, please see International Lyme and Associated Diseases Society (ILADS) website: www.ilads.org

--------------------
Dr. C's Western Blot Explanation

Lymenet Success Stories

ILADS Treatment Guidelines

Medical & Scientific Literature on Lyme

"Long-Term Antibiotic Therapy Improves Persistent Symptoms Associated with Lyme Disease"


---

Posts: 1176 | From KY | Registered: Sep 2007 | IP: Logged |
Contact Us | LymeNet home page | Privacy Statement

Powered by UBB.classic™ 6.7.3

---
The Lyme Disease Network is a non-profit organization funded by individual donations. If you would like to support the Network and the LymeNet system of Web services, please send your donations to:
The Lyme Disease Network of New Jersey
907 Pebble Creek Court, Pennington, NJ 08534 USA
http://www.lymenet.org/
---
Home | Flash Discussion | Support Groups | On-Line Library
Legal Resources | Medical Abstracts | Newsletter | Books
Pictures | Site Search | Links | Help/Questions
About LymeNet | Contact Us
---
© 1993-2020 The Lyme Disease Network of New Jersey, Inc.
All Rights Reserved.
Use of the LymeNet Site is subject to Terms and Conditions.
---