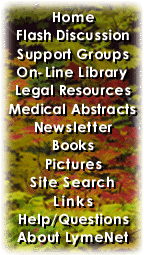 ---
LymeNet on Facebook
LymeNet on Twitter
---
---
The Lyme Disease Network receives a commission from Amazon.com for each purchase originating from this site.
When purchasing from Amazon.com, please
click here first.

Thank you.




Dedicated to the Bachmann Family


LymeNet needs your help:
LymeNet 2020 fund drive

The Lyme Disease Network is a non-profit organization funded by individual donations.

| | |
| --- | --- |
| | |
Author
Topic: I need to know now....who has gotten better from this board? The truth...

nessa143143
Member
Member # 20340


posted

---

I'll be honest, because I really need to know. I am tired of holding back my questions and opinions. I am a normal girl, 28 years old, mommy to a 3 year old. I am not extreme on either side of the Lyme war. I just have questions.

I never hesitate to sign a petition or put my STRONG opinion stamped on things from "the other side"...and I would like to be able to do that here. How come I feel limited as to what I can say here, amongst people that are like me, suffering like me, people who have lost like me, and I can speak freely when I write to the other side, aka, doctors, writing congressmen, signing petitions, whoever it may be? I just want to ask questions and say what I think here...I don't want to feel afraid. So, I won't anymore. I am just like you. I want to get better. I should be able to have my opinion here. I have Lyme, just like you. I want to get better, just like you.

I came on a year and a half ago and it's still the same people here. It's a world of people doing what seems to be extreme treatment (rife, endless abx, herbs out the wazoo, HBOC, looking at their poop to see if worms came out, it really gets kinda weird to me after a while) to get better and spending so much money on treatment when I don't see anyone LEAVE here or come back to "check" on people that aren't better yet, or to share their secrets.

I am SO ill in so many different ways. My life was lost when I got this disease...at age 27. I have lost everything. Marriage, step daughter, my savings, my health, MY LIFE, even the relationships with my CLOSE family and I have changed. I feel like an outsider. I am looked at different. I am a strain to even talk to, they don't know what to say any more, I feel like a freak of nature, or a joke, or almost like no one really cares or believes me any more. I can barely keep up with my son. I am often caught staring into space, thinking of how I am dying, how scared I am to die, tear faced in pain, usually just STARING, envisioning something else instead of actually living in the moment and enjoying my 3 year old.

I want to know who on this board has left and gotten better. Those of you who have been there longer than me, I would like you to tell me if people have left this board and what they did. I just don't understand this. I come on here for hope but I just don't find it. No one seems to leave.

I feel like it gets to a point where people are in secret competition of degrees of illness, how much money they've lost, how many people in their family are sick, and everyone wears their bands of their WB in their signatures. I mean, people actually have to point out if they got a positive from Quest or Labcorb instead of IGenex. I actually have a positive from both, CBC positive from Labcorp and from IGenix, but I can't bring myself to wear it on my sleeve to be a part of the competition. Why do people here do this when they preach the VERY WORDS that TESTING DOES NOT MATTER. IT'S A CLINICAL DIAGNOSIS. If you believe this so much, why does everyone here wear your testing on your sleeve? I feel like it's almost bragging, in a weird way, of being more legitimate, being more sick, I don't know....But why does everyone do this? It goes against the very thing that we here preach, that tests are a joke...unless they come from IGenex (of course!). Why do we wear our Labcorp or Quest positives on our sleeve when it is THEM that we bash and say their testing is a joke? If everyone here thinks IGenex is so great, then it seems like we wouldn't even bother mentioning if we were Lapcorp or IGenex positive...you get my drift.

I have lots of questions but I never feel like I am able to ask them because I will be banned....and I know that others have felt this way as well. I have real questions that I want answered but I just don't want every one to hate me. I feel like if you say you don't believe certain things or question things that you are considered negative or a "non believer". I am just a normal person who wants answers and I sometimes fear that the one sided nature of this board can be dangerous. I think that each side of this is dangerous. Both sides. Each seem to be very extreme.

Is this a place where everyone can ask questions without getting hounded or banned? Am I allowed to do that? In the past, I've made posts under my other name (b/c I lost my password to my other) and I have had others messaging me that they would ask to have me banned because my opinion or question was not "Lymenet Friendly". I never heard from the mods, so I am not accusing them.

I have just gotten so ill lately. I have lost hope. No one seems to move on from this board and it seems like if they have, they should want to come on and check on us, or to brag on how great they are doing to give us hope.

I stopped treating in Sept, I believe, of last year. I have no money to keep treating. Even if I did have money, I don't know if I would keep treating, I have no reason to keep going, I don't see people on any message board to be better. Some people claim to be 90% better, but keep treating, due to things that seem trivial to me and might be unrelated to Lyme...maybe that's why no one leaves and keep treating?

Can someone tell me who has left and how they got better? How long is realistic? 5 years? 10 years? How much money? $20,000? $50,000? $100,000

I hate this disease. I hate things that don't have answers. I am a "figure out the plan and fix it" kind of person, there is nothing out there except for 2 groups of people claiming the other is crazy. The people in the middle can't ask legit questions or have their own "in the middle of the road opinions"...I thought you just had to have Lyme to be a member of this board, I didn't know you had to believe everything that everyone on here does.

Can someone encourage me? Who gets better? Who got better? Do you remember their circumstances? How many years? Co-infections? Their seems to be so few of people that get better that, it should be easy to remember those who got better. Is there anyone out there that just lurks that IS BETTER? I'd like to know the TRUTH.

---

Posts: 63 | From Hell - Or at least it feels like it, Oh, I mean Tampa, FL. OOOps! :D | Registered: May 2009 | IP: Logged |

feelfit
Frequent Contributor (1K+ posts)
Member # 12770


posted

---

If you go to General and click on "success stories" you will find some inspiration. Or do a search....for more stories.

---

Posts: 3975 | From usa | Registered: Aug 2007 | IP: Logged |

Aniek
Frequent Contributor (1K+ posts)
Member # 5374


posted

---

Remember that many people who get better don't hang around this board anymore. But a number have shared their success stories.

--------------------
"When there is pain, there are no words." - Toni Morrison


---

Posts: 4711 | From Washington, DC | Registered: Mar 2004 | IP: Logged |

feelfit
Frequent Contributor (1K+ posts)
Member # 12770


posted

---

I also feel your pain and your frustration. But until there is a "better" plan, this is all we've got. The sad truth.

I think you can ask any question here. there are some rules, but they are only for protection of doctors and to ensure that we are courteous to one another. No biggies.

Feelfit

---

Posts: 3975 | From usa | Registered: Aug 2007 | IP: Logged |

Pam08
LymeNet Contributor
Member # 19203


posted

---

I understand your frustration. It is hard to be sick day after day and not really hear of anyone getting better.

I have read the "success stories" link on this board and it is nice but it seems like they are mostly third person stories where someone sent an e-mail to someone saying that they are now well again or in remission and that e-mail got passed along here. There don't seem to be many first person stories in there from actual members who are now well again. It would be nice to hear it first hand rather than seeing e-mails from people and not knowing where they came from.

Don't get me wrong...I do appreciate that the link is here. It is nice to read that people have gotten better. It is just that when you are sick for so long you really want to hear first hand that someone has gotten better.

Nessa...sorry I don't have the answers that you are looking for but I hope you find them. Don't give up hope. I know that is hard sometimes but hang in there.

Oh...I think the reason that a lot of people post their test results in their undersigning is just to help people respond to them. Normally if you ask a question about treatment people will want to know how long you have been sick and if you have been diagnosed with lyme or are unsure you even have lyme or what co-infections you might have. Knowing those things sometimes helps people to answer your question better.

So I think lots of people post that information so they don't have to keep answering the same questions over and over. It is right there for people to see before they respond to you. I don't know if that helps you are not. But that is my impression on why people post that info. I have my info below as well because I have been on other message boards where folks said it is helpful to know that stuff before they answer questions that you have asked.

Take care and hang in there!

--------------------
Sick since 10/2001. Tested CDC positive for Lyme 10/2008 through Quest and Igenex. Started treatment 1/2009 with LLMD. Lyme, Erichilosis, Chlamydophila Pneumoniae, Q Fever, Strep Syndrome and probably a few others I am forgetting.


---

Posts: 451 | From Virginia | Registered: Feb 2009 | IP: Logged |

maps
LymeNet Contributor
Member # 19758


posted

---

I will not be able to write that well, too sick and in pain but you can see my posts on prohealth.com, chronic fatigue. I am a real person sick 12 years.

I have some of the same thoughts as you. I feel this whole situation is insane, something we can not talk about in the real world.

Just writing to say that I have met in person two people who are in treatment.

One I got to know by the lady in my corner store asking another customer whose daughter had lyme if I could talk to him, he left his number with the lady. I called him.

He came over with his daughter who is now ten. They went through the nightmare of no one being able to figure out what was wrong with his daughter when she was eight. She was hospitalized three times and put in phyic hospital for three weeks.

He wad investigated as they believed something bad was happening at home. He found her sypmptoms on the internet and did the igenex test and she has been in treatment for 8 months.

She is now back in school and doing well with still some pains. I talked to her and was so sad at what she had to endure. She will stop antibiotics in september.

The other person was through my pharmacist, i have only talked to her on the phone, she has done intravenouse antibiotics and regular and i think she has been treating for about three years.

she did not sound very good.

It seems to me that the longer you have it the harder it is to get rid of.

This whole situation is unreal, scary and sooo lonely. I understand how you feel about has anyone ever got well.

For me meeting this little girl keeps everything a little more real.

We are desperate people willing to try just about anything to get our lives back.

I see an llmd july 13 but am already on 400mg doxy/day andthe incredible abdominal pain is less, so I have hope and certainly will post progress.

I am grateful to the people on this board because if it were not here and many of the sick people were not fighting for us I think i would have gone crazy thinking i am the only person in the world to have this problem.

Under Our Skin shows people getting better and there is a post with success stories.

I really hope that you can find what you are looking for, in fact what we are all looking for.

regards
maps

--------------------
1999 CFS, 2002 CMV Myco pneumonia
1 year antibiotics on and off
2002 EBV, 2009 Positive Igenex Borellia and Babesia, Brain mri severe white matter disease
Monoclonal Gammopathy. On and off antibiotics since sept. March 9 started iv antibiotics


---

Posts: 328 | From somewhereelse | Registered: Apr 2009 | IP: Logged |

seekhelp
Frequent Contributor (5K+ posts)
Member # 15067


posted

---

Amen...good post. I have lots of thoughts on the topic but will reserve them for now.

Feelfit's point is a great one. What do we do is the million dollar question. I wish I knew the answer.

If you have tested for everything under the sun and came back negative (outside of TBIs), then it's a tough call. Anyone who has a positive outlook on Bb treatment who truly read this site in detail is in denial. I don't need to read success stories. I read about current people on aggressive treatment who make little to no progress or relapse ASAP. That alone tells a sad story about this illness (if we are correctly Dxed - HUGE if).

As another poster said here, all Lyme advocacy efforts need to be directed at proving Bb is in a person's body directly (not Ab). I have no idea why every LLMD doesn't care more about this aspect. Proof first, theories second.

The biggest thing that has gotten to me on this board is people saying things like:

"I'm over Lyme, but Babesia and heavy metals are my existing problem."

"Mold is the issue now, not TBIs."

"95% in remission, but parasites are the last thing plaguing me."

"It's not Bb anymore, it's thyroid/adrenal issues"

And so on and so on. The truth is we just don't know where lines are drawn and newcomers read this site and may truly believe these self-assessments are fact. You just don't hear things like I feel normal and I don't need to consume tons of supplements, detox metals, etc. Isn't that what we want: NORMALCY? Normal is not having to pay tons of $$$ to retain/achieve better health. I'm guessing we all forgot what normal is.

---

Posts: 7545 | From The 5th Dimension - The Twilight Zone | Registered: Mar 2008 | IP: Logged |

lymeparfait
Unregistered



posted

---

Don't give up, please have hope. It is a different journey for us all. Because it is not just lyme disease.

I talk to many people who have gotten better and many are in remission from lyme. They gave me hope. The ones who have work on balancing their body, mind and spirit. Not just focused on killing pathogens.

I am now in remission or I say lyme free. But am not the same as before I had any lyme symptoms.

We do forget what healthy is, but when you are not fatigued, and have no flu, no joint pain, no foot cramps, no lung and breathing problems, no allergies...you know you are better.

I was a mess before my basic antibiotic treatment. Now I do have other things from the treatment...because abx do harm to your total body...but it was necessary I believe to get my symptoms down, and begin my healing.

I am a lucky one the responded to the antibiotics very well, but also my body started to feel bad from the antibiotics after 1 1/2 years...that's when I stopped. Moved to natural protocols which continued my healing of additional things...this worked for me.

Now I remain here, as I am here for help with the residual effects like candida from antibiotics, no deep sleep, and learning from wise people about heavy metals and total body healing.

I had my dental amalgams removed safely, and immediately my brain fog lifted! My neuro symptoms were the worse! My llmd didn't help me with any of these residual things...only my friends here on lymenet. I am forever grateful to them for encouraging me, and now my life is back.

Also many posters here have been my family or friends when I could not talk with anyone about this. It is a habit to read and post...that at some point soon, I will abandon. I will have to break the habit. We cannot live in lyme forever, it is not meant to be.

People come here sick, receive treatment, compare notes and symptoms, get rid of one co-infection and then another, and then finally work on the residual of all the other dysregulations that are left specifically emotions and detox. This is how the people I speak with get better.

I have learned the most effective thing anyone can do to begin their healing is to work on forgiveness, and for me it was specifically letting go of my anger toward this crazy lyme disease!

I relate to your original post with all the frustration you feel, but it has taken me 2 years to recognize my anger, and to release it...now when I did, my lyme was moved into remission, at the same time. This is truth. This was an amazing revelation to me.

There is something to our emotions, and illness. I encourage anyone reading this to seriously consider areas in their life that need adjustment and release, not just work on your meds.

Someone told me that they were shocked at posters like me who use the word lyme in their tag name. That you are what you say you are. I'm lymeparfait....that hit me. Who wants to curse themselves?

I have full intention now to change my tag name...because I now understand about the emotions of association. If you say it , it is you. I am learning all the time about the emotional connections.

This is a journey of balancing your body in everyway. It has taken two years, but I now look at this journey as a gift.

---

IP: Logged |

METALLlC BLUE
Frequent Contributor (1K+ posts)
Member # 6628


posted

---

Unfortunately Nessa, your concerns are real and the truth is as complicated as the disease. Here is the bottom of the barrel -- no sugar coating -- truth. Most people "improve" -- but if I go from 4% functional, to 5%, I've improved. Is that really an improvement?

That's exactly what I've witnessed. People do improve, some more than others. Because "Lyme" is a complicated illness, the name itself isn't even accurate. People with this complicated illness are usually suffering a variety of complex interrelated health problems.

Whatever problems a person had before Lyme are multiplied three times over or more. If you've got Lyme and you're still sick after a year or two of antibiotics (like most patients with Chronic Lyme), then chances are it's not just Chronic Lyme. Chronic Lyme Disease really should be redefined as Chronic Lyme Disease and associated infection complex. Abnormalities in multiple system functions ranging from hormone levels and neurotransmitters to the very hydrocloric acid that your stomach produces to digest food. Patients bodies collapse beneath environmental problems that healthy people come in contact with daily but whom don't end up ill. Mold, toxins, heavy metals. When the body doesn't work right, and Lyme is involved, you can guarantee that *a lot* of things aren't going to work right as time passes.

Opportunistic infections take advantage, and we end up with a truly horrific situation.

So, how do we deal with this daunting illness? What will happen? If you're fortunate, you recover enough of your health to carry on doing activities you once did, while being mindful of your bodies needs in order to avoid relapse. If by some chance you go into remission and never fall ill again -- you're in the minority of people I've met with this illness.

If this is too hard to accept then don't accept it. You have to take things as you're able. As far as what you can and can't say here -- say whatever you like. I do. I open my trap all the time. Some call me a loose cannon. That's fine with me. Sometimes I'm nice, sometimes I'm a dick.

I've been on treatment for 7 years and I'm only 35-40% functional. That is the reality. I'm still learning new ways to bring that number higher. Maybe I'll succeed, maybe I won't. When I first began, I was near 0%. Is it a life? Yes, but a very small one confined mostly to four walls, a telephone and a computer. I've been able to do some work on my car and carry on a romantic relationship, but most people on the outside looking in pity me and would say I'm pathetic.

I disagree with them. You'll have to make a decision and dig deep if you want to take on this illness. I chose to fight, and I'm choosing to win. Whether I do or don't is unknown.

The only encouragement I can offer you is that you increase the probability of success if you choose to find a solution.

--------------------
I am not a physician, so do your own research to confirm any ideas given and then speak with a health care provider you trust.

E-mail: [email protected]


---

Posts: 4157 | From Western Massachusetts | Registered: Dec 2004 | IP: Logged |

seekhelp
Frequent Contributor (5K+ posts)
Member # 15067


posted

---

Michael, you truly have a way with words. I'm always so impressed how articulate you can be. I admire that.

Michael, only if LLMDs were so blunt as you. I feel like many sugar coat their success rates. They provide such confidence in the beginning of how beatable chronic Lyme is, but most of the time the same patients are there indefinitely and outwardly show abnormalities.

Perhaps if they were more in tune with statistics on here, they'd approach the initial talk differently?

---

Posts: 7545 | From The 5th Dimension - The Twilight Zone | Registered: Mar 2008 | IP: Logged |

METALLlC BLUE
Frequent Contributor (1K+ posts)
Member # 6628


posted

---

Seek,
People do whatever they can to survive, including lying to themselves. Most of us couldn't survive if we remained consistently conscious to the truth of this tragic illness.

To overcome obstacles in life and achieve something worthwhile, we have to avoid focusing on how many times we've been hit (or might be hit) and direct our energy on taking the next hit (or throwing the next punch) and getting back up when we fall down.

If someone thinks of a better way to psychologically approach the adversity we experience feel free to educate me on your philosophy.

I don't believe in much of anything other than what I've observed in this world. This world has confirmed time and time again that things we imagined impossible at one time in human history are now common place. From horseback to mach 3, from iron swords to nuclear war. We've found the cure to diseases that once were believed to be a punishment from God.

Bottom-line: The seemingly impossible just takes a little longer.

--------------------
I am not a physician, so do your own research to confirm any ideas given and then speak with a health care provider you trust.

E-mail: [email protected]


---

Posts: 4157 | From Western Massachusetts | Registered: Dec 2004 | IP: Logged |

pepperspeck
LymeNet Contributor
Member # 18837


posted

---

I was in a terrible place when I first joined this board. After several years of very, very aggressive antibiotic treatment and a year or so of detox (yeast, mercury,other metals,parasites) I was thrilled with my improvement.

Was I cured? No. I am in the midst of a relapse right now and am kicking myself for thinking that I was stronger than what made me so ill in the first place. I have damage to my body that may never be repaired.

I no longer seek a "cure". I was too far gone when I was finally diagnosed. I seek the longest time possible here on this earth. Even if it is not what I recall (or observe in others) normal to be.

--------------------
I found my original identity! It has been a bit over 12 years...can't blame me for forgetting my password, right?!!

Member red (Member # 1886)
Registered: 26 November, 2001
70 posts


---

Posts: 164 | From NJ | Registered: Jan 2009 | IP: Logged |

TerryK
Frequent Contributor (5K+ posts)
Member # 8552


posted

---

Sorry you are feeling so frustrated. As feefit said, there are a few rules but aside from that, you can ask anything related to lyme.

Pam08 wrote:
I have read the "success stories" link on this board and it is nice but it seems like they are mostly third person stories where someone sent an e-mail...

No. They are from the archives here at lymenet. Real lymenet members who posted their success story. Melanie and others have been kind enough dig them out of the archives and put them all together for us. THANKS!!!

Treatment can take a long time for many of us because by the time we end up here, we have been misdiagnosed for years to decades and the infections have run rampant.

Treatment is not an overnight process and often takes a lot of effort to learn and remediate all the issues that have been caused by these infections. Patience is important.

Not all infections that are carried by ticks are known so we are dealing with lyme and some number of identified and unidentified infections.

Just this morning I found a study from 1995 that said 8 new strains of mycoplasma had been discovered in ticks in my State. I haven't fully researched yet but in 2006 it looks like they figured out that they are potential pathogens. I've certainly never been tested for them. I don't think this is unusual.

For many of us, it's often a matter of finding the right combination of treatment along with cleaing up our body (heavy metals, diet, other toxins), dealing with genetic issues that slow or stop our progress (methylation, HLA detox etc.) and the list goes on and on.

I've been in treatment for 3 years. I'm still really sick but I've had many improvements. It has been slow and has taken a lot of effort and money. I get discouraged sometimes but what else can I do? I must push forth and keep working at it.

Hang in there. Keep learning and finding your specific issues and work on them to the best of your ability. There is no quick fix unfortunately but I think the majority of us do get better. I've been here 3+ years and many of the members have come and gone.

Terry

---

Posts: 6282 | From Oregon | Registered: Jan 2006 | IP: Logged |

gemofnj
Frequent Contributor (1K+ posts)
Member # 15551


posted

---

Nessa,

ME. (RAISING MY HAND WAVING) DEFINITELY better and currently in remission. Perhaps I was not as sick as some here, or had many coinfections.

I was sick for 6 months before I was diagnosed in treatment for over 8 months. Even my LLMD thought my treatment was too short and recommended TOA cats claw for 3 months.

Currently, I can run/walk a 2 miles almost every day, or bike or golf again, and my energy level is normal most days. I can work and feel pretty normal and it has been 6 months of remission.

There are some physical things that have changed due to lyme, like my EKG and heart rate. Or weakness in my wrists.

I continue to take vitamins, herbal antifungals, immune booster and good quality probiotics and can truly say I never really took gazillions of supplements, but did add new things

from time to time to my protocol, either at the recommendation of my LLMD or from people who had good results from here.

I do live in the shadow of lyme. Maybe I am just plain lucky. Who knows if and when I will relapse, but I am going down swinging!

Im trying to stay informed by reading here and hope that maybe I can touch or help one person in some small way--even if it is to provide a source of more information or sympathize as I can totally relate that lyme sucks.

Lately I have been writing to congress people and sending in my rebuttal comments to ridiculous articles, all with hope that some day voicing out can help others.

I am so sorry that you are among those that post to this site and havent gotten any better since the onset of your treatment. I cant even imagine how it feels to keep looking and looking for a clue to why my health was not improving.

Im sure I would be feeling very angry too because we all desperately want OUR LIVES back. Or at least a little normalcy again.

It is so hard to be optimistic, but I have to believe that you cant give up a chance to maybe read something here or elsewhere that could provide information or lead you to a better course of treatment.

Its clearly understood how you are sick of reading posts from the same folks and there is seemingly no one who gets better.

There are some posts that are a bit much but you take them with a grain of salt. There are also many nice and helpful posts where people have shared ideas and suggestion tips they thought worked for them.

We cant forget that people are posting here because they are also sick, or have perplexing problems, or need feed back, or are scared, need encouragement, or need to vent, or have no one to chat with, or need someone who will JUST take the time to listen.

Wishing everyone a small step forward!

---

Posts: 1127 | From atlantic city, nj | Registered: May 2008 | IP: Logged |

randibear
Honored Contributor (10K+ posts)
Member # 11290


posted

---

i hope i will be as articulate as others.

frankly, i don't know how long i've had this illness but i moved to texas in 1980 and i think that the stress of getting married, moving away from family, changing jobs, etc., brought it to the forefront.

i did have an episode at about age 12 when i was in tennessee. i had a fever of about 104, was hospitalized for weeks, and the doctors never found out what was wrong. i believe that's when i was bit. i had been exploring a delapidated southern mansion and it was overgrown with weeds.

of course, i firmly maintain that my mother had lyme and she could have passed it on to me. so who knows.

my symptoms got progressively worse until in 2006, june 5th, to be exact, i was rebitten behind the left knee. a perfect bullseye. that started the doctor search and money down the drain. i spent probably with all the tests, around 50 grand to date, but insurance has paid a lot of it.

this has also cost me my marriage, however, we are still together, but it will never be the same. he doesn't understand nor accept lyme, just as my family and his think i am a chronic complainer or don't want to do anything and am anti-social. they don't want to understand or learn anything about lyme. if you're not in a cast, then you're not sick.

i went to one jerk (and lymetoo knows who it was and he was a jerk), but he did diagnose me with lyme. due to his abuse, i left and went untreated for over a year or so.

i had to retire from a job i loved (civil rights specialist) because i was using so much sick leave and my coworkers thought i was faking. thank God, i had my 30 years and got a full retirement and medical care but i miss my friends at work and getting out.

i seldom go out as i'm too tired.

i'm sorry i'm not addressing your question very well, but let's say i have good days and then i have horrible days.

i react strongly to most antibiotics and my doc is at a loss. biaxin seemed to work but that along with flagyl trashed my system and i developed severe yeast, so i switched to the buhner protocol.

whether i am getting better or not, well, frankly, i seem to be just treading water. not getting worse but not getting to where i feel like going out or being in society either.

i have gained a ton of weight almost 100 pounds and the depression caused by this is also a huge problem for me.

i praise the Lord, i am not wheelchair bound, have not lost my mental faculties, strength, or sense of humour.

without my faith and the people on this board to support me, there have been days when, frankly, i just didn't want to go on. i really would have like to have died, but because of my faith, i would never commit suicide. i truly understand those that do.

lyme takes almost everything we have and we must continue on.

i wish you the best but i know that you, like most of us here, will seek many treatments, some medical and some alternative. it's a constant search for answers and the medical community, just, well, doesn't want to help us.

all i can say is this board and the people on it have always answered my repeatedly often ignorant questions and done so graciously. believe me, there are other boards where the people are horrendous...

please keep posting and we will all get through this together. sometimes that's the only thing that helps keep me sane, is that knowing others are going through or have gone through, the same thing.

--------------------
do not look back when the only course is forward


---

Posts: 12262 | From texas | Registered: Mar 2007 | IP: Logged |

Lymetoo
Moderator
Member # 743


posted

---

I'm doing very well, considering I've had Lyme for 50 yrs. I think I have a very good quality of life.

I hope you get to that point as well! Do not give up!!!

I'm just hanging around because I'm addicted to the people here.

So forgive me for "still being here!"

--------------------
--Lymetutu--
Opinions, not medical advice!


---

Posts: 95327 | From Texas | Registered: Feb 2001 | IP: Logged |

Parisa
LymeNet Contributor
Member # 10526


posted

---

My husband is not cured but after three years of illness and two years of Lyme treatment he is at about 90%. He was severely ill with more symptoms than we could keep track of. The first year he didn't make much improvement. For him, IV antibiotics and IVIG (not an option for most) made the difference.

---

Posts: 984 | From San Diego | Registered: Nov 2006 | IP: Logged |

Geneal
Frequent Contributor (5K+ posts)
Member # 10375


posted

---

A lot of people who live or have lived Lyme

For a long time do leave the board when they get well.

Maybe so they can focus on life again.

Some wonderful people stay and share their wisdom and

Insight and experiences with everyone they can.

I have completed 33 months of treatment.

Not in remission yet, but feeling fairly good most of the time.

I am back to work as a Speech Pathologist.

Something I didn't think I would ever do again.

This board was an answer to my prayers.

I will always be tied to this place and my friends here.

If for nothing else, they have been the light at the

End of a very dark tunnel for a very long time for me.

They know what it is to walk a mile in my shoes.

And yours.

I've never worried about what I've posted here.

However, I try to remain respectful.

Agreeing to disagree if you will.

I plan on getting to remission.

Other than my husband and children who have Lyme also,

My friends here will be the first to know.

Also know that there are many ways to measure success.

My life may not ever be exactly the way it was prior to

Getting really ill. In many ways it is so much better.

Sometimes it is easier to measure success one little baby

Step at a time. After several little steps, take a look back.

You'll see that they add up to some pretty big steps over all.

Hugs,

Geneal

---

Posts: 6250 | From Louisiana | Registered: Oct 2006 | IP: Logged |

glm1111
Frequent Contributor (5K+ posts)
Member # 16556


posted

---

Back in 1983 when I first collapsed, I couldn't walk or talk and was so fatigued I could not feed myself literally. I didn't have a clue what was wrong, but I kept thinking "I don't know what this is, but I will find an answer and get well"

After being misdiagnosed for over 25 yrs, I have taken lots of antibiotics, herbs, salt/c, IVIG, 4 mos of meditation, juicing, fasting, reiki, macrobiotics, and YES even LOOKING IN THE TOILET FOR WORMS AND PARASITES!! (Which I found plenty of)

This is what it is when you are misdiagnosed for so long. This is what it takes. So forgive me if I am only 90% better. Everyone on here is fighting for their life and I admire them for such a valiant fight.

I personaly don't know why we have to explain ourselves as to why we are having such a hard time getting well. This is considered an incurable disease. Hope has to come from within and it's up to you to decide if you want to win!!

Gael

--------------------
PARASITES/WORMS ARE NOW
RECOGNIZED AS THE NUMBER 1 CO-INFECTION IN LYME DISEASE BY ILADS*


---

Posts: 6418 | From philadelphia pa | Registered: Jul 2008 | IP: Logged |

bettyg
Unregistered



posted

---

nessa, i have extreme neuro lyme as well as many others on here, and we can NOT read your long paragraphs. could you break them all up please?

there were a few short lined one; majority were loaded w/text.

if you are willing to help us out; we're willing to read what you wrote and then advise you ok a 50-50 win.


Betty's suggested POSTING GUIDELINES . many of us have neuro lyme where we can NOT read long solid block text and be able to comprehend and read it as is.

please edit your post by CLICKING PAPER/PENCIL ICON to right of your name. that opens up BOTH subject line and body text.

now please break up your WORDY SENTENCES into one sentence paragraphs. Then hit ENTER KEY ``TWICE`` after each paragraph; we need that space for comprehension.

then go to left hand corner and mark box to receive ALL REPLIES, and click EDIT SEND

we thank you for helping us; otherwise, we will SOB, SCROLL ON BY, since we can't read to help you. If I see posts like this, I SOB them; to hard on me.

---

IP: Logged |

treepatrol
Honored Contributor (10K+ posts)
Member # 4117


posted

---

This board has helped through support !
But the healing to me has come through God,my Dr. and perserverance,& 8 years abx's.

What 8 years?
Yes I was infected 13 years before treatment and bitten hundreds of times .

--------------------
Do unto others as you would have them do unto you.
Remember Iam not a Doctor Just someone struggling like you with Tick Borne Diseases.

Newbie Links


---

Posts: 10564 | From PA Where the Creeks are Red | Registered: Jun 2003 | IP: Logged |

PB4
Member
Member # 20799


posted

---

Nessa,
I understand where you are coming from. I think we are all still trying to deal with something very difficult. I keep feeling like I woke up in someone else's life. Whose body is this? We are all working through things and the lack of knowledge by the medical profession, as well as lack of understanding by the rest of the world makes it really challenging.I think we are sometimes shell shocked and so surprised by the things that have now become a reality for us.

I think we are encountering so many people here who are still "in the trenches fighting". The ones who have found a way to get better no longer need to have the support here. They are out enjoying a better quality of life. I have met some. I know it is possible. I have not dealt with this for a very long time like some here and I have found a need to immerse myself in everything I can possibly read. We need to educate ourselves and find out how to take care of ourselves.

I have recently decided that I need to back off a little from constantly thinking about and reading about this disease. I may visit here for information or support, but I need to force myself to read other books and renew some of my interests in things that I am still able to do. I want to be able to talk with people about more than just Lyme. I need to tell these little monsters that reside inside me that they are not the sum total of who I am.

My heart goes out to you. You are so young and you have a little one. That three year old is reason to keep going. Don't give up. There are some folks here who have given some good advice. LymeParfait said some things that I needed to read.

I will start a new protocol in a few days. I told myself I will give it 100%. I will let folks know if it is a good treatment.

Prayer has made a huge difference for me. I will pray for you and your 3 year old.




---

Posts: 78 | From Maryland | Registered: Jun 2009 | IP: Logged |

Starfall1969
Frequent Contributor (1K+ posts)
Member # 17353


posted

---

Nessa,

I'm sorry you're feeling so frustrated, and I'm sorry you feel you can't ask and say what's truly on your mind.

Like a lot of others, I don't have any hard and fast answers either, and a lot of this disease frustrates the he(( out of me.

I have symptoms, and I have been tested for every disease under the sun, and everything comes back normal.

My Lyme tests are technically negative, as is my babesia tests, although I have many symptoms of both. The only test that definitely came back glaringly positive was ehrlichia.

So I question too whether I'm treating the right thing, but what else could it be? Some days I do feel miles better than I was, but other days I feel much worse and am sure I'm barking up the wrong tree.

And yes, I too get frustrated and soemtimes freaked out about what I read people going through with treatment, and sometimes I get a little annoyed because certain people seem to have the same set of answers for every question--

like you need to address worms, parasites, take certain supplements, do this or that for liver/adrenal/thyroid support--

I'm not saying any of those things are wrong or right, it just gets a little annoying when every question, no matter what it's about, the answer is (pick one of the above).

And I also get frustrated when I post questions that don't seem to get an answer. Sometimes I feel like I'm being ignored or people don't care about what I'm going through, yet there are questions on here that get 20, 30, 40, 100 answers.

So I for one do understand your frustration with this site. It's a wonderful resource and support group, but just remember that it is run by people, and people are not perfect and do not have all the answers.

Most of us on here are struggling with issues too; I guess some are just more common than others and "easier" to answer than others.

So hang in there, and don't be afriad to speak up when you need to.

---

Posts: 1682 | From Dillsburg, PA | Registered: Sep 2008 | IP: Logged |

sixgoofykids
Moderator
Member # 11141


posted

---

I don't spend as much time here so I have skimmed over your post and skipped the responses .... so please consider that when reading my response. It's not that I don't care, it's that I'm busy. I care, and that's why I come here every day to check in and give hope.

I am better. I was disabled by Lyme and co. and now I'm better. I have had it for 36 years .... this "flare" sick for 6 years.

I still have a few digestive issues that I'm working on. I still have a little air hunger. But I'm 100% functional. I work out four days a week, I take care of my family, and I enjoy life again. I make plans because I know I'll feel good.

It took 20 months of meds, then I stopped meds, went to Germany for the Bionic 880 treatment. I came home, continued with the Bionic 880 (and still treat monthly for maintenance and to get rid of the air hunger).

I take vitamins (including vitamins for KPU), triphala, resveratrol, and probiotics for the gut issue. I exercise. I eat right. I get sunshine.

Like you, I didn't like the idea that so many chronic Lyme patients are here so long, so I was open to trying something new. I am not saying long term abx aren't the best out there right now in the US, I'm just saying I was willing to experiment.

Germany cost roughly $13,000 (including the purchase of the Bionic 880). I spent probably close to triple that on my LLMD treatment.

I always took vitamins before, so it doesn't bother me to add a couple herbs to the mix. I don't care if I need to treat with the Bionic 880 once per month forever. Some days I am only 90% ..... but you know what? Healthy people are only 90% some days, too.

--------------------
sixgoofykids.blogspot.com


---

Posts: 13449 | From Ohio | Registered: Feb 2007 | IP: Logged |

sixgoofykids
Moderator
Member # 11141


posted

---

Oh, parasite treatment has been crucial for me. I still feel bad from parasite die off whenever I begin a new parasite treatment. Still functional, but kinda bad.

--------------------
sixgoofykids.blogspot.com


---

Posts: 13449 | From Ohio | Registered: Feb 2007 | IP: Logged |

Nicole_Denise
LymeNet Contributor
Member # 20620


posted

---

Hi nessa,

I also am incredibly frustrated by the controversial "two-sided" nature of Lyme.

When I first found info on Lyme, I was excited, because I finally had something that made sense to me (based on my symptoms).

But I soon started to wish that I could have found something more "normal".

I would have loved to get a second (unbiased) opinion, but the split is so extreme, I sometimes wonder if that is possible.

I trust the lyme doctor I am seeing, but I occasionally have my doubts...

the "what if the other people are right" moments.

But when you look at all the scientific studies and research behind the LLMD's and ILADS, it's difficult not to have faith in them.

For me- I am praying that my Igenex tests come back, because then I will have something concrete that supports the Lyme diagnosis.

I understand that Lyme really is a clinical diagnosis, but unless I have positive test results, I know I will always be wondering.

I've just started treatment, and I can say I've noticed a difference.

Of course- since I've just started, I'm still Herxing, and so that difference is negative.

Still, I am hopeful. I am lucky that I found this early (I am fairly sure I have only had it for two years, and during those two years, I had periods of "remission" even without treatment)

I have a friend of the family whose daughter went from completely incapacitated to 90% healthy, in just less than a year.

They think she will be 100% in the next six months or so. She did this just with antibiotics.

So there is hope.

Keep your head up! And don't be afraid to post questions.

---

Posts: 503 | From Alberta, Canada | Registered: Jun 2009 | IP: Logged |

METALLlC BLUE
Frequent Contributor (1K+ posts)
Member # 6628


posted

---

quote:

---


I know it is possible.


---

I wanted to quote this, because it's the core of everything I said. Full recovery is possible.

Additionally. I want to say that I appreciate the repetitive nature of some people's persistence in presenting a point of view. I don't progress well unless people "erode" my skepticism.

It is annoying, don't get me wrong, but thank you for doing it.

--------------------
I am not a physician, so do your own research to confirm any ideas given and then speak with a health care provider you trust.

E-mail: [email protected]


---

Posts: 4157 | From Western Massachusetts | Registered: Dec 2004 | IP: Logged |

EyeBob
LymeNet Contributor
Member # 12572


posted

---

I have never posted in the "success" page because I'm not sure that I'm as well as I can be, but I am a lot, lot, lot better. ABX oral treatment along with discontinuing alcohol, eating less carbs and starting lexapro is the majority of what I've done. Pretty simple. Pretty sure that all I had/have is Bb.

I hope that it helps in some small way to know that lots of us get better (and most if not all, then leave)

bt

---

Posts: 299 | From New Hampshire | Registered: Jul 2007 | IP: Logged |

caat
Frequent Contributor (1K+ posts)
Member # 2321


posted

---

---

Posts: 1436 | From Humboldt county ca usa | Registered: Mar 2002 | IP: Logged |

caat
Frequent Contributor (1K+ posts)
Member # 2321


posted

---

I rarely post here anymore because I got rid of the 2 major infections- lyme and bart (or something like bart) and it takes about all of my energy trying to get back into some level of "normal". I am still recovering- I got rid of the bart 2 years ago. It takes a few years to recover after one or two major illnesses.

But I do think I got rid of them and I never would have without help from this board.

I am still dealing with an enlarged heart, heart and optic nerve damage etc etc and a few less major infections- EBV and parasites. I had lyme for many many years and it did some permanent damage. BUT... I'm not bedridden and in severe pain 24/7 anymore. AND I'm grateful to have more than a semblance of a life again. There is definitely hope.

When someone has lost years of their life to a disease, once they have gotten rid of it it is sometimes very depressing to go back and visit it frequently. I know that may seem very inconsiderate to many here, but it's what happens sometimes. That is why a lot of us who have gotten better rarely post here.

BUT many of us do get better. And your chances of getting better are much better than they were 5 or 10 years ago because the LLMDs have more experience and the other doctors are a little more sympathetic (OK, maybe not much but definitely more so than before).

Is there hope? YESSSSSSSSSS!!!!!!!!

If you are curious you can search for posts by me on rocephin and on bartonella. All of the info I have to share is archived here. I do have a web site but there are better ones...

Groovey2 just posted a "getting better" post you might find interesting as well.

---

Posts: 1436 | From Humboldt county ca usa | Registered: Mar 2002 | IP: Logged |

lymephobic
LymeNet Contributor
Member # 17556


posted

---

I have gotten better. Like gemofnj I have been in treatment for about 9 months on abx and I am a whole lot better.

I am choosing to go off the abx and continue with herbs because I fear the abx will cause other issues.

My llmd agrees with me.

I have been asked to post in success stories and I have chosen not to at this point. Not because I don't want to help others, but until I am off all abx, herbs, and supplements I wouldn't normally take...in my humble opinion...I am not a 100% success yet.

I have gotten much support and many answers from this board and would not be where I am at without it.

Do I feel some go to the extremes as you said...yes...but I don't read those posts.

---

Posts: 193 | From New Jersey | Registered: Oct 2008 | IP: Logged |

lymemomtooo
Frequent Contributor (1K+ posts)
Member # 5396


posted

---

Nessa, I do not know the answer and am not a dr. just a mom in the trenches of Hell.

My daughter continues to still be alive. Each day that is a blessing. Is she well? No..Will she ever be well? I do not know...

But she has come a long way. She had deteriorated into an invalid that was bedroom bound and had out of her mind nightly episodes. Often violent rages with homicidal and suicidal attempts involved.

That is gone..She now has major issues with type 1 diabetes and the inability to ever be in good blood sugar control. It seems to be our main player. Even in the ICU's they can't get her under control.

She has some brain damage and isnt' able to go to a regular college or have a normal career. She has a social life and can work a day or two a week. Then severely penialized by social security. that is a whole story in itself..

But within the big picture, she is better. I think she might be a lot better if she had been more compliant and had not had so many psych issues. Not sure this helps since I think you are looking for the carrot that says she is cured.

Good luck and strength for this struggle. lmt

---

Posts: 2360 | From SE PA | Registered: Mar 2004 | IP: Logged |

Pinelady
Frequent Contributor (5K+ posts)
Member # 18524


posted

---

Praise God almighty yes I am better. I think it

depends on how long the patient had it before

finding it- the length of the road to recovery.

Why-because my LLMD told me it may take a year. I

feel like I am guessing I am about a third of the way there.

--------------------
Suspected Lyme 07 Test neg One band migrating in IgG region
unable to identify.Igenex Jan.09IFA titer 1:40 IND
IgM neg pos
31 +++ 34 IND 39 IND 41 IND 83-93 +
DX:Neuroborreliosis


---

Posts: 5850 | From Kentucky | Registered: Dec 2008 | IP: Logged |

sutherngrl
Frequent Contributor (1K+ posts)
Member # 16270


posted

---

Nessa, I feel your frustration!

And please don't feel like you can't say what you want to say here. This is a support site and we all need to be supportive. If you ever get cross words, just realize that its a sick person having a bad day.

I have been ill for over 3 years and in treatment for just over 1 year. I have made minimal improvement. Is this discouraging? Yes, but I'm not giving up.

My doctor recently called my Lyme "refractory lyme", which means "hard to treat". Some people just take longer to get better, and it's that way with many illnesses. But I truly believe I am getting better; just very very slowly.

The people here are all in the same boat. Of course you don't have well people just hanging around here to talk about illness.

I always think, what is the alternative to this? Giving up? NO WAY! I feel like this is the fight of my life, at least so far it is. And I want to win!

It has taken me a year to let go of some of the frustration and to learn what true patience is. LD is definetly a teacher of patience. Without patience you cannot deal with LD.

Take some time to be here, ask questions, read about other peoples struggles. You will find that you are not alone. I hope that you will find comfort in that.

[ 06-27-2009, 03:45 PM: Message edited by: sutherngrl ]

---

Posts: 4035 | From Mississippi | Registered: Jul 2008 | IP: Logged |

groovy2
Frequent Contributor (1K+ posts)
Member # 6304


posted

---

Hi All--

I have gotten Much Better--
close to 100%--

I have Zero Babs or lyme symptoms--

I was infected 21 years ago and was
as sick as a person could be and still be alive-

You Can Get Well --I Have --

Treatment was No Fun -extremilly painful-
and took about 4 years of treatment-
and about $135,000 in medicine and
doctor bills --

I am Lucky that before I got sick I made
piles of money and spend it wisely-

There are Thousands of people from LN
that have gotten better and have moved on
with the Rest of there lives-

Its is Important to stay Positive -
Take your Meds On Time-
Eat Healthy-
Drink Gallons of water or Warm Tea per day-
REST --

Get A Good LLMD - and realize that this
is going to take Time -

You Can get Better--I have--Jay--

---

Posts: 2999 | From Austin tx USA | Registered: Oct 2004 | IP: Logged |

catskillmamala
LymeNet Contributor
Member # 12536


posted

---

I'm not done, but I am SO MUCH BETTER.

For a whole year I could not drive, work or parent and now I am fully functioning. Working full time, parenting, volunteering, gardening, etc. I even went to a concert a few weeks ago.

I was unable to do anything and just waiting until bed time every day. I nearly had to close my law practice, gave up some very important board positions in my community and literally contemplated my own death.

My symptoms were fatigue, joint pain and severe light and sound sensitivity. I did 6 months oral abx, went off and relapsed hard. Did 5 months oral abx, 2 months IV, and another 11 months orals. With tons of detox, chiropractic, acupuncture and supplments. I also starting rifing after IV.

I am doing really, really good. I still can't eat sugar, drink alcohol, skip meals or stay up late, but I AM OUT OF BED and OUT OF THE HOUSE and HAVING FUN WITH MY CHILDREN.

I would say that all in all, with insurance coverage for my orals and IV abx the total treatment has been more than $50K.

I don't come to this board when I am feeling great and the same thing is true for the local lyme support group I facilitate, as people get better they stop coming.

There is hope and even if I can't live like I did before, and even if I relapse, I am loving every minute of feeling well enough to function.

---

Posts: 524 | From Hudson Valley, NY | Registered: Jul 2007 | IP: Logged |

Myco
LymeNet Contributor
Member # 9536


posted

---

I am 90% better since starting treatment (not as aggressive as it should have been) in 06'. I had a laundry list of almost 50 symptoms then. I now am only dealing with an inflamed vagus nerve which my LLMD thinks is due to untreated Babesia. That is my only symptom besides some lingering twitching while finishing off my Bart treatment.

There are MANY who have recovered (most are long gone from this site). I find those that do had an LLMD who followed an AGGRESSIVE Dr. B protocol. I have taken the metal out of my mouth, detoxed with every supplement known to man, chinese herbs etc...BUT the ONLY THING THAT REALLY HELPED ME WAS THE ANTIBIOTICS.

What hurt me the most was following blind leads to purported "magic bullet" cures involving all kinds of crazy alternative treatments. DON'T WASTE YOUR TIME.

Find an LLMD who follows Dr. B's protocols and LISTEN TO HIM.

My 2 cents.

Be well.

---

Posts: 770 | From USA | Registered: Jul 2006 | IP: Logged |

EWT1638
LymeNet Contributor
Member # 11315


posted

---

Nessa,

I spent 9 years for accurate dx. 2 yrs fighting Lyme, Babs and Bart. Many abx and with time, I started feeling great (still a little brain foggy and still needed a short nap) I started exercising and getting involved again. Then I made what turned out to be two dumb decisions, I wanted to "detox" my body (totally messed up my intestinal track!) from all the abx, so I quit all meds...cold turkey and went back to work for the first time in 17 yrs. At a law firm...very stressful. Within 1 1/2 wks I crashed...back to my doctor now I am starting back on new meds, no job. Hopefully they will kick in quickly.

See if you can participate in a meds study with your LLMD, if you can not afford meds. Talk to the companies that make the drugs, some have been able to get them at reduced costs. Watch the film, "Under our Skin", then get your family to watch it with you. They WILL start to see the light.

I wish I could tell you more. I will leave you with this though, my faith in Jesus has brought me through. He didn't take me out of it, but he has walked along side me the whole time. If you can, find a local support group that prays. Hope is everything...pray often for peace.

--------------------
When you reach your "wits-end" remember this: "Peace I leave with you, my peace I give you. I do not give as the world gives. Do not let your hearts be troubled and do not be afraid." John 14:27


---

Posts: 395 | From Loudoun County Virginia | Registered: Mar 2007 | IP: Logged |

Katrina
LymeNet Contributor
Member # 15236


posted

---

Well,

I started 5 years ago with a lyme diagnosis. I probably was sick for 6 to 9 months but I felt fairly normal. Just headaches and some numb fingers.

Then it hit like a lead balloon. Severe neuro, fatigue, all three heart valves affected, shortness of breath. I couldn't walk or drive. My legs felt like anchors.

I was treated right away with IV antibiotics (4 weeks) and then one year of orals. I did really well and felt 90% normal. I never discontinued antibiotics but a year or so later I relapsed back to 5-10%. In the hospital twice. Once I was unsure I would make it out.

For the next three years I kept searching for the reason why I couldn't recover. I finally went to a specialist, another LLMD (I already had one). I found out I had babesia duncani the entire time. This last year is the first year of treating babesia and I have seen great improvement compared to the previous 4. I have gone from bedridden to living life again. It is not back to normal or perfect but it is much much better.

I have felt many times that this forum is depressing. However, you can learn a great deal about what others are using to get better. You can freely ask questions and get many very good responses. Remember to use this forum for the good things it has to offer.

I have improved from 10% in bed most of the time to between 50-70% most of the time. I have even had a few 80% days and for sure hours of time where I have felt normal.

Had I not persued this last diagnosis I am quite sure I would not have had this much success.

I have been able to enjoy many days with my family that I never had before. I still have episodes of feeling poorly however they are less severe and are usually 35-40% days most of them are not in bed.

I hope you find some comfort in this. I am very grateful that I did not give up.

Blessings to you.


For me it was most definately a

---

Posts: 219 | From Michigan | Registered: Apr 2008 | IP: Logged |

motownlyme
LymeNet Contributor
Member # 11485


posted

---

Nessa,

Thank you for having the courage to post what I think a lot of us feel. I wish I could tell you I'm in the sucess category, but I'm not... yet.

I'm like you. Still in the trenches. What keeps me going is the hope that I will have my life back.

Some people call me stubborn. I prefer to think of it as determination. I'm determined to get well and when I do I WILL come back and post in success stories so those who are suffering so much like us will know there is hope.

Maybe those of us out there who know people who have recovered can encourage them to come and post in success stories.

---

Posts: 237 | From WV | Registered: Mar 2007 | IP: Logged |

R62
LymeNet Contributor
Member # 18531


posted

---

not every one who gets the Bb gets sick. my husband is very functional, headaches here and there and leg pain that is not keeping him from working in yard all day or fishing for days on vacations.

all of his brothers have to have it growing up where they did and with as many tick bites.. knee out here (jogger), back goes out there (carpenter) but nothing like chronic lyme.

all my sisters in law who are married to the men above were tested a few summers ago and positive CDC with IDSA docs.. all short term treated and they are fine. not to say something will not flare badly in the future.. but they are fine.

met a woman at yoga was bedridden with Bb for 10 years.. starting recovering (no medication that i remember her telling me about) and she has been well for i think 10 or so years

i think there are factors we are not yet aware of. perhaps the straw that breaks the camels back. then it takes time. i dont think the point of no return is very broad. ive heard enough stories of people recovering at least enough to function and have a life they can enjoy.

it often feels like there is a point of no return and i question a lot.

---

Posts: 861 | From USA | Registered: Dec 2008 | IP: Logged |

robfar
Member
Member # 20250


posted

---

hi
i had lyme 3 times over 20 years.

the 1st time it took 6 months to recover but i did. mostly stiff neck, brain fog and swollen lymph nodes.

10 years later i got it again(lived in a highly tick area in ny) and it took 4 months.

this time has been tough(moved to the shore with no ticks, but of course my son had soccer games 10 miles away in the woods)

been suffering with anxiety, brain fog and some joint pain

anyway, i have recovered almost 100% from lyme in the past and hope this time will be the same.

also, i inially tested positive on a quest elisa and negt on the w/b. a 2nd laborp elisa and stoney brook w/b were neg which made my anxiety worse.

finally went for the igenex which confirmed it and relieved my anxiety about 75%. i guess this is why i post my results as i am just happy to know what it is i am fighting.

best of luck to you. even when i fully recover i will try to post here for enouragment to others as this site has helped me soo much this time.

--------------------
rjf


---

Posts: 62 | From pt pleasant nj | Registered: May 2009 | IP: Logged |

dontlikeliver
Frequent Contributor (1K+ posts)
Member # 4749


posted

---

Hi,

I only very rarely check Lymenet these days. That's because I now have a life again.

I was at about 20% in 2003 when I joined Lymenet. For the last year, I have been hovering around 80%-90% well. I am happy at this level and able function very well these days. Working, exercising, etc.

Life is not perfect, but compared to how sick I was for years; it's not far off.

---

Posts: 2824 | From The Back of Beyond | Registered: Oct 2003 | IP: Logged |

psano2
LymeNet Contributor
Member # 11711


posted

---

I was near death when I found this board. It's taken 4 years, but I'm much better, probably 80% of normal. FYI.

---

Posts: 975 | From California | Registered: Apr 2007 | IP: Logged |

Toppers
LymeNet Contributor
Member # 20083


posted

---

I have gotten much better already after only a month of Biaxin. Bear in mind I have only had symptoms for a year (nearly 100% neuro) and my response time could be related to my length of sickness.

I tested positive for lyme, ricksetta, and bartonella according to IgeneX.

I'm not celebrating yet, but if you told me a month ago I would be saying I have improved there is no way I would believe it.

---

Posts: 499 | From Cleveland Ohio | Registered: Apr 2009 | IP: Logged |

dj
Member
Member # 20969


posted

---

Nessa,
Even though I am new here, I've been reading posts for the past few years or so. I have to tell you it's the only thing that got me this far!

I am with you on some of items you mentioned. Like I still don't really understand why we have to pay for these expensive tests over and over when it is really a clinical diagnosis. If I test positive then they say I have it (which could actually be a false positive). If it comes out negative, then they say I can still have it and based on my symptoms prescribe me meds. So to me, why take the tests if they don't really prove anything definite? Since my insurance won't pay it, it's all out of pocket and Fry labs (maybe $300/test) - that eats up savings very quickly.

However, like I first stated - this is the only place that others really understand what you're going through. They've all been through it. You know the reg doctors testing you for everything BUT lyme. Even when you mention it to them they just ignore you or act like you're crazy. They want to give you mind altering drugs but not abx.

Family really doesn't understand unless they have it too. You will look rather normal but are so fatigued, in pain, or whatever...but since you look ok they figure it's in your head or you're a big complainer.

I have never been as bad as some others here so I am rather lucky. I'd say I was at about 60% and have gotten up to feeling 90% better - but that has dropped back down to about 80%. Of course that is just my own judgments so take that with a grain of salt.

I have taken abx for the full time. Different types and varying amounts. I am thankful that my llmd will prescribe them for me and grateful that my insurance has paid for most of it. (but lots are not covered and I just couldn't afford to purchase those)

I am not 100% yet, but feel that I would be bed ridden or dead if I wasn't on abx. So, at least I can hold down a job and keep on hoping that my body will eventually fight this disease on it's own.

You sound really frustrated and I feel for you - especially since you are so young and have many good years ahead of you.

Please contact me as I'd like to send you a DVD...i watch these all the time to keep my mind positive (as much as possible) and hopeful.

Take care!!

--------------------
I am not a doctor and am only expressing my opinions...please do not take this as medical advice.


---

Posts: 44 | From US | Registered: Jun 2009 | IP: Logged |

pryorka
LymeNet Contributor
Member # 13649


posted

---

I want to reiterate what myco said about not wasting time on miracle cures and a lot of the hocus pocus that's advertised on this board. Stick to what has been proven to work and use common sense. It's sad hearing that people pay hundreds of dollars for water and other scams. You can run around for years doing things like that. People know we're desperate and are apt to believe crazy things and give them money. Trust ILADS and trust science and I think we'll all find a way to get better at some point.

---

Posts: 499 | From Indiana | Registered: Oct 2007 | IP: Logged |

kellyb2411
LymeNet Contributor
Member # 15467


posted

---

Hi Nessa,

I can understand what its like to get this disease at your age. I got sick in January last year at age 26 and at the time. I am now 28 and also have 2 small children aged 2 and 4.

Ever since I got this disease I feel like you that I've lost ME. I don't know who I am anymore, all I remember is me with Lyme. I can't be the mother I want to be to my children or the wife I want to be for my husband. My daughter who is 4 has told me she worries about me being sick. That broke my heart.

90% of my time is taken up thinking about Lyme. My husband has been reasonably supportive but gets sick of me talking about Lyme. I think he thinks I like talking about it. Does he realise I wish I didn't have to?? I want to go home and not have to feel guilty for eating a piece of fruit for its sugar content and not to not have to worry about nearly burning my skin off in hot empsom salt baths.

I'm lucky enough to be back to about 85% after treating this for 12 months. It took me about 6 months to get treatment and I made most of my improvement from 200mg doxy per day per Burrascano's guidelines within the first 4-6 months.

The problem with this disease is that it isn't a worry just for now, but its a worry for the future and whether you're going to have to deal with this for the rest of your life. Its a worry I just don't want to have, but that's what's I've been dealt with.

I spend a lot of time worrying and I have days where I still feel down. I'm really happy at the progress I've made, but I still have some ground to make and its just very draining not knowing what is around the corner and worrying if you're going to go backwards.

After plateuing at about 85% I am now trying salt/c. I want to get off antibiotics, that's my goal. I know a lot of people who have gone from severly ill to getting their life back on this. Its a rollercoaster ride to get there though from what i've heard, but worth it.

I'm sure there is an answer out there for you. Draw on all of the support networks you can. I know its hard, but you need all the help and support you can get. I understand what its like to feel like nobody believes you, Lyme doesn't even exist where I live.

Know that everyone here knows what you are going through and believes you. Stay strong and keep your chin up.

Even though I'm feeling a lot better, some days I still feel like giving up, but then I look at my little girls and they give me the strength to keep going.

--------------------
Sx Start Jan 08 (test neg, but herxing)Susp Lyme, Bart + Babs??

ABX
Doxy 400mg + Amox 1g Jun - Sep 08
Rifampin 600mg + Biaxin 1000mg
Tinidazole 1000mg/day - Sep 08 to June 08

Currently taking Salt/C 15g (himalayan salt)

85-90% better


---

Posts: 231 | From Australia | Registered: May 2008 | IP: Logged |
Contact Us | LymeNet home page | Privacy Statement

Powered by UBB.classic™ 6.7.3

---
The Lyme Disease Network is a non-profit organization funded by individual donations. If you would like to support the Network and the LymeNet system of Web services, please send your donations to:
The Lyme Disease Network of New Jersey
907 Pebble Creek Court, Pennington, NJ 08534 USA
http://www.lymenet.org/
---
Home | Flash Discussion | Support Groups | On-Line Library
Legal Resources | Medical Abstracts | Newsletter | Books
Pictures | Site Search | Links | Help/Questions
About LymeNet | Contact Us
---
© 1993-2020 The Lyme Disease Network of New Jersey, Inc.
All Rights Reserved.
Use of the LymeNet Site is subject to Terms and Conditions.
---